A few TV items on this fine Wednesday
Vartan to be Killed off ALIAS?
TV Guide Online is reporting that ABC has all but said that the character of Michael Vaughn, played by Michael Vartan, is being killed off the spy series.
EDITOR'S NOTE: SNIFFLE. (NOT THAT THE PALPABLE CHEMISTRY BETWEEN VAUGHN AND SYDNEY IS STILL REALLY THERE. BUT

STILL

......)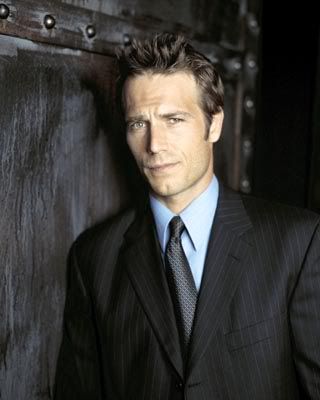 Various rumors continue to circulate about Vaughn in the press, but only time will tell if he is truly exiting ALIAS. ABC's reps continue to show a lot of support for the actor and describe him as being well liked on the set by all. They also denied rumors that his name was not to be mentioned on set due to his one time relationship with Jennifer Garner.
EDITOR'S NOTE: I WONDER IF THEY ARE ALL ACTING LIKE GROWN-UPS OR IF THE WHOLE THING IS THAT CHILDISH AND TAWDRY? SAD..... (BUT WE MUST PUT OURSELVES FAITHFULLY IN J.J.ABRAMS' CAPABLE HANDS, AND HOPE HE DOES RIGHT BY US).
NBC presides over 'Union' pilot
NBC has given the green light to a pilot from scribes David Israel and Jim O'Doherty for a domestic comedy to star Greg Grunberg
EDITOR'S NOTE: SPEAKING OF FRIENDS OF J.J.......
and Beth Lacke.
The NBC Universal Television Studio project dubbed "Grand Union" revolves around Grunberg's trials as the manager of a Long Island grocery store and at home with his colorful family.
The project was penned on spec by Israel and O'Doherty this year when the duo was in the final months of their overall deal with Carsey-Werner Co.
9/11 Reflected in Fall Sci-Fis
June 20, 2005
By A.J. Frutkin
Most analysts credit ABC's
Lost
with spurring next season's flurry of network sci-fi dramas.
But the events of Sept. 11, 2001, also may have impacted the trend.
In ABC's
Invasion
, a Florida community faces the unsettling aftereffects of a hurricane. On CBS'
Threshold
, government officials try to stave off an attack from outer space. NBC's
Fathom
finds scientists coming face-to-face with mysterious creatures from the deep.
Far from Steven Spielberg's benign view of aliens in
ET: the Extra Terrestrial
or
Close Encounters of the Third Kind
, what these series share is a portrayal of the unknown as menacing.
Such observations may not be that surprising.
EDITOR'S NOTE: NO, THEY'RE NOT. IN FACT THIS SEEMS A TAD FACILE AND HEAVY-HANDED. (IMHO....)
After all, in an age of global terrorism, suicide bombers and underground cells, the idea of hostile forces infiltrating America's neighborhoods, schools and workplaces is a top-of-mind subject not only for viewers, but for Hollywood creators as well.
"
We live in a very unstable time
," said Shaun Cassidy, creator of
Invasion
. "
People are afraid because there is no rule book and no assurances.
"
EDITOR'S NOTE: YEAH, WELL, DA DOO RON RON TO YOU TOO.
Some media buyers are reluctant to directly link 9/11 to next season's sci-fi and mystery shows, noting that broadcasters are more concerned with creating escapist fare than programs steeped in social and political metaphors.
EDITOR'S NOTE: AND MOST AD FOLKS WOULDN'T KNOW WHAT A META WAS PHOR, IF IT FELL ON THEM.
"
The media's motivation is to make prime-time hits
," said John Rash, Campbell Mithun's chief broadcast negotiator. "
But at a time of an undefined end to the war on terrorism, let alone the wars in Iraq and Afghanistan, these shows may have tapped into the current American psyche."
EDITOR'S NOTE: SEE, NOW...YOU'VE GONE AND WASTED A PRIME OPPORTUNITY TO USE THE WORD 'ZEITGEIST'. SHOULDN'T MISS THESE CHANCES. (
CAUSE SOON, YOU WILL BE BURNING IN H-E-DOUBLE-CHOPSTICKS JUST FOR BEING IN THE AD BIZ, AND HEAVEN KNOWS IF YOU'LL BE PUNDITING FROM THE NETHERWORLD
).
Cassidy noted his series primarily is a family drama about a blended household and the challenges that arise both from divorce and re-marriage. Although he said he didn't set out to create an allegorical tale about 9/11, "
obviously it was in my subconscious
."
Brannon Braga, exec producer of
Threshold
, echoed Cassidy's sentiments, noting that any reference to 9/11 was "
not intentional
."
However, with three TV series all dealing with the unknown, the terrorist attacks "
must be in the zeitgeist...There's something in the blood right now
," Braga added.
EDITOR'S NOTE: OH, HUZZAH! I KNEW WE COULD COUNT ON BOOB-HEAD BRAGA TO TOSS IN

THE

WORD. WHAT A RELIEF. (YOU KNOW HOW YOU SORT OF HOLD YOUR BREATH WAITING FOR BAD NEWS AND HOW GOOD IT FEELS JUST TO GET IT OVER WITH?)
"
There can be no doubt that, even subconsciously, 9/11 is a thematic undercurrent in our show, for sure."
Intentional or otherwise, the unease portrayed in next season's sci-fi and mystery shows is a sign of the times, agreed several advertisers.
"
It's no secret that popular culture and entertainment are driven by what is happening nationally and internationally,"
said Tom Weeks, director of entertainment at Starcom."
I definitely think we're in a culture where the idea of good versus evil has been heightened. In a post-9/11 world, where there are no easy answers, all these shows are reflective of what this country is going through
," Weeks added.
EDITOR'S NOTE: WHY? THE ELECTION DIDN'T SEEM TO BE REFLECTIVE OF IT? WHAT MAKES THEM THINK THE MAJORITY IS EVEN PAYING ATTENTION? (WHAT

ME

?

BITTER

? NAWWWW.....)
AND SPEAKING OF UPCOMING SCIFI (WHICH MAY OR MAY NOT BE RELATED TO OUR 'ZEITGEIST'....UMMM...STUFF) ----
Yahoo! Sneaks SUPERNATURALS
Yahoo! TV has teamed up with the WB to sneak preview the first episode of the new series SUPERNATURAL. The show stars Jensen Ackles and Jared Padalecki.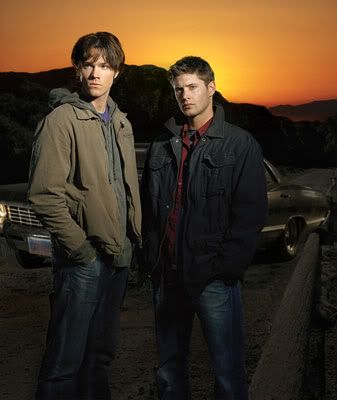 The story is about Sam Winchester (Padalecki) who has done his best to escape his family's eerie history. Unlike his older brother, Dean (Ackles), Sam rejected their father's obsessive quest to uncover the evil forces that claimed the life of the boys' mother, Mary. Putting as much distance as possible between himself and his family, Sam left home and went away to college. His new life includes a beautiful girlfriend, Jessica, and law school. Dean, however, took a very different path, following their father, John, into the "family business." When Dean arrives on Sam's doorstep with the news that their father has vanished, Sam has no choice but to put his personal plans on hold and join Dean on the road.
In this Yahoo! TV Exclusive, watch the entire first episode of the new series 'Supernatural' before it airs on The WB.
From the network that brought you 'Buffy,' 'Charmed' and 'Smallville,' brace yourself for a new kind of paranormal thriller. 'Supernatural,' as brothers Dean and Sam Winchester hit the road in search of their missing father, facing off against evil paranormal forces along the way.-->
Premieres Tuesday, September 13, at 9/8C on The WB.
Watch it now:
'Supernatural'
- Preview the entire 60 minute first episode [viewer discretion advised].
http://tv.yahoo.com/feature/supernatural.html
EDITOR'S NOTE: WISH MY COMPUTER WAS IN THE SAME ROOM AS MY LOVELY TV (AND MORE IMPORTANTLY, MY COMFY FUTON). I HAVEN'T WATCHED THIS YET, BUT MIGHT TRY TO CHECK IT OUT TONIGHT).