Star Wars....the stuff to buy
New Look for 2006 Packaging
Looking beyond this year's explosive release of Episode III, which caused flecks of molten lava to adorn Star Wars collectibles of all types, Lucas Licensing recently unveiled the new product look for Star Wars goods in 2006.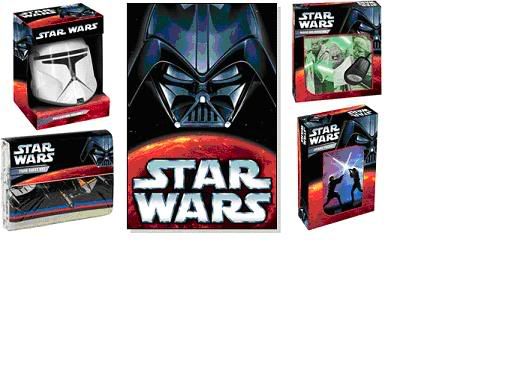 The new design builds on familiar elements from the '05 collection, such as the prominence of Darth Vader -- the character whose redemption is now clearly at the heart of the saga.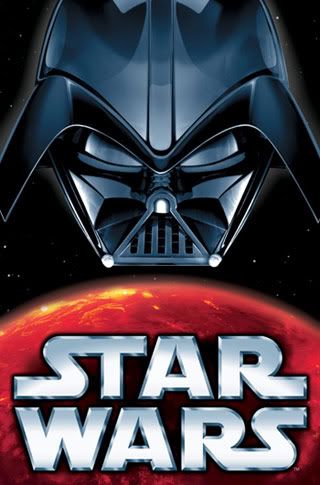 Gone is the lava and orange hue, replaced with a more timeless silver lettering and planetary view.
EDITOR'S NOTE: NICE THEMATIC TRANSITION, REALLY. SO THE PACKAGING IS NO LONGER ABOUT THE TORMENT OF THE FIRES OF YOUKNOWWHERE BUT ABOUT THE TRANSITION TO REDEMPTION. (IF ONE WISHES TO HEAVILY PONDER TOY PACKAGING…..AS WE NO DOUBT DO).
Exclusive Covert Ops Trooper Available Now at StarWarsShop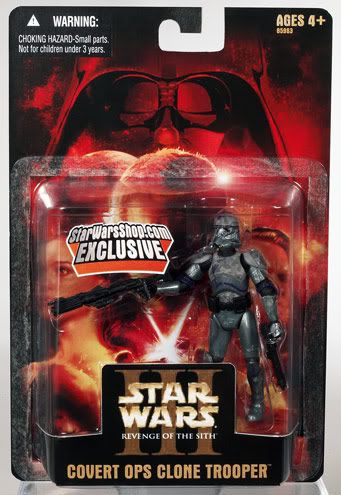 Some missions do not rely upon the overwhelming numbers and battle strength of the clone army. Sometimes, you need covert op troopers to get the job done and seal an enemy's fate, often long before anyone is even aware that they're on the scene. The covert ops troopers are the infiltrators of the clone forces, using prototype armor coated with light-warping material called reflec to escape detection and their advanced training to move silently through enemy territory.
Commemorating the release of Revenge of the Sith on DVD, StarWarsShop is offering an exclusive new Covert Ops Trooper figure, packaged on a special backer card sporting the Episode III DVD logo.
The covert ops trooper is partially covered in a vac-metallized finish, with camouflaged patterning on select sections of armor. Armed with a DC-15 blaster and DC-15A rifle, this is one trooper not to be trifled with. EDITOR'S NOTE: I LOVE IT WHEN MY TOYS ARE ALL HIGH-TECH AND MANLY. AND UMMM….PLASTIC. AND CLONED.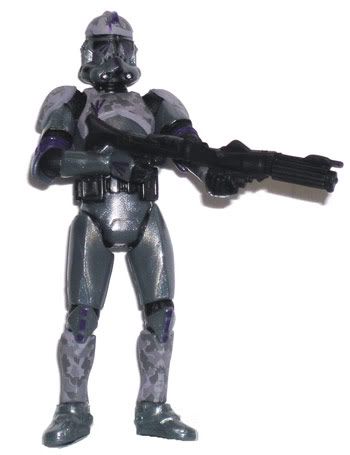 This figure is among the first in a new line of troopers being released by Hasbro in the coming months. Make sure to head on over to StarWarsShop
http://shop.starwars.com/catalog/product.xml?product_sku=SWHBECTF
and start your collection with this limited exclusive today!
EDITOR'S NOTE: Price: $13.99
Titanium Series Ultra Star Wars Vehicles
Hasbro invites you to take your Titanium Series collection to the next level with the new Titanium Series Ultra Star Wars vehicles. Each of these hefty die-cast vehicles feature surprising action features, display stands, and intricate micro-detailing - including an embossed mini Titanium Series logo under each vehicle.
Beginning with the X-wing fighter and Republic Gunship, the Titanium Series Ultra vehicles will launch exclusively at Wal-Mart this fall.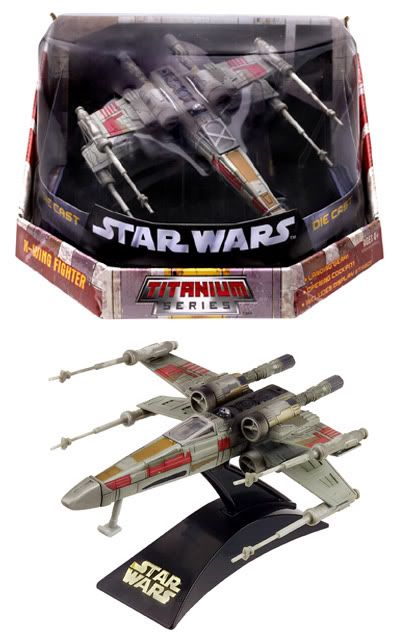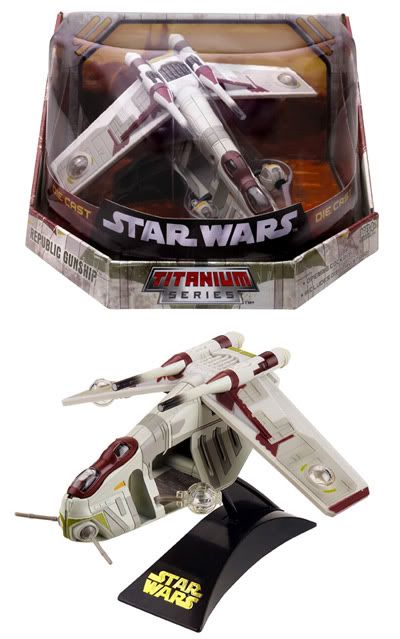 In January 2006, more vehicles will be made available at most retailers where Star Wars toys are sold. EDITOR'S NOTE: THESE ARE PURTY. NOTHING LISTED THE PRICE THOUGH.
X-wing fighter The X-wing fighter is more than just your average starship -- it is the cornerstone of the Rebellion's starfighter corps. The ruggedly built X-wing fighters are propelled by sublight engines and are armed with laser cannons and proton torpedoes. Each fighter is equipped with an astromech droid, which serves as a co-pilot and technician during intense space battles against the evil empire.
Features: landing gear, opening cockpit, and display stand.
Republic Gunship The Republic Gunship is the primary vehicle used by clone troopers to transport infantry and attack enemy forces. When used a battle, this gunship is capable of raining down a barrage of powerful lasers and rockets. Versatile in nature, the Republic Gunship can provide air-to-air ground support quickly and effectively.
Features: opening cockpit and display stand.

Star Wars Logo Deluxe Solid Metal Belt Buckle

Our Price: $23.99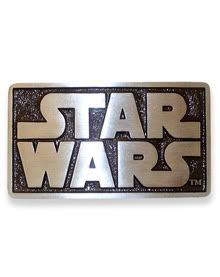 Star Wars belt buckles are back! This new solid metal belt buckle resurrects the look of the very first Star Wars buckles produced in 1977, and has been updated with a steely new look that truly defines Star Wars chic. Measures approximately 4" x 2".
Cast from solid metal
Ships Sep 23
Deluxe Darth Vader Die Cast Metal Belt Buckle
Our Price: $23.99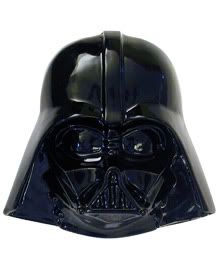 Star Wars belt buckles are back! Fashion-savvy fans can strut their Star Wars stuff with this black and bold Darth Vader helmet buckle, the first of its kind ever produced. This great retro accessory is sure to stylishly define your Star Wars chic. Cast in heavy metal and measures approximately 3.5"H x 3.5"W x 1.5"D.
Cast from solid metal
Ships Sep 23
Commemorative Episode III DVD Toys
There will be three "new" Commemorative Episode III DVD Collections coming out this fall, each with a different theme.
Look for 3-pack sets focusing on the Clone Troopers, Jedi Knights, and Sith Lords.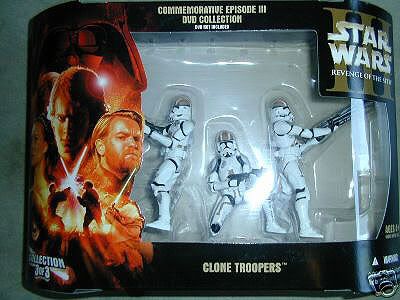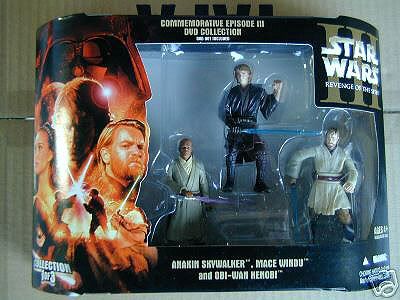 All the figures are repacks, but the Clones are also repaints.
EDITOR'S NOTE: IT'S SUCH A RACKET TO REPACKAGE REPAINTS AND MAKE A BIG DEAL OUT OF THEM. ON THE OTHER HAND, THEY SURE ARE COOL PACKAGES! (SUCKER, THY NAME IS QOTD….)