It's Tuesday and it's time for MOVIE news
EDITOR'S NOTE: JUST A PASSLE OF MOVIE ITEMS I'VE COLLECTED IN THE PAST FEW DAYS. IN NO PARTICULAR ORDER -----
Sommers Out, Spielberg in on COLLIDE
Stephen Sommers has stepped off Paramount's remake of WHEN WORLDS COLLIDE as writer, director and producer. In turn, the studio has hired Steven Spielberg to produce the film.
No decision has been made yet on whether Spielberg will direct the film or not.
EDITOR'S NOTE: AND MORE ON THIS…..
Stephen Sommers heads to Museum

Stephen Sommers has signed on to direct "Night at the Museum" for 20th Century Fox, says The Hollywood Reporter. While taking on the Fox film, he is stepping aside from writing/directing/producing chores on Paramount Pictures' "When Worlds Collide."
Steven Spielberg, who directed Paramount/DreamWorks' summer sci-fi hit "War of the Worlds," is boarding "When Worlds Collide" as a producer and will develop the film for Paramount.
"Museum," which is loosely based on Milan Trenc's children's book "The Night at the Museum," will be produced by Chris Columbus and Michael Barnathan through their 1492 Pictures. Sommers and partner Bob Ducsay also are producing through their Sommers Co. The script was penned by Thomas Lennon and Robert Ben Garant, with revisions by Scott Frank.
The family comedy centers on a goodhearted but bumbling security guard at the Museum of Natural History who accidentally trips an ancient curse that causes the animals and insects on display to come to life, wreaking havoc in the area.
EDITOR'S NOTE: I BET THE MUSEUM ATTENDANCE WENT UP, THOUGH!
Sommers, whose helming credits include "The Mummy" and "Van Helsing," had been attached to write and direct "Collide," a remake of a 1951 sci-fi film that starred Richard Derr and Barbara Rush.
Picard is Bambi's father?
Sci-Fi regular Patrick Stewart will take a rest from zipping about in his starship to help out Disney, providing the voice of the title character's father in the upcoming "Bambi 2".
Due for release on DVD in Feb, the sequel sees the legendary deer reuniting with her father. Thumper, Flower and Faline will also be back, says Variety, whilst the sequel will introduce new characters, including Thumper's rambunctious sisters.
Country singers Martina McBride and Alison Kraus will provide the music for the film.
Also in the works over at Disney are sequels to "The Emperor's New Groove" and "Brother Bear", says the trade.
EDITOR'S NOTE: DESTINED TO MAKE YOU RUN OUT TO IMMEDIATELY BUY THE FAR SUPERIOR ORIGINALS (AND BURN THE KNOCK-OFFS).

Kill Shot takes down Jane
Before he straps on his hostler again to play Skull T-Shirt adorned Frank Castle in "The Punisher" sequel, Thomas Jane is doing time over at the Weinstein Co.
Jane's been recruited to co-star with Mickey Rourke and Diane Lane in "Kill Shot", based on the literary offering by Elmore Leonard, reports Production Weekly.
The movie, directed by John Madden, fixes on a couple who become the target of two killers when they stumble upon an extortion plot. Jane and Lane would play the couple on-the-run, with Rourke playing captain bad-ass.
EDITOR'S NOTE: YAWN. OH. LOOK. I CAN TYPE WITH MY EYES CLOSED AND MY HEAD RESTING ON MY KEYBOARD.
The movie lenses October 11th in Toronto.
Portman, Bardem star in Forman's Goya biopic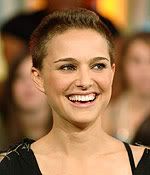 EDITOR'S NOTE: THE WOMAN CAN'T LOOK BAD…BALD, NEAR BALD, WHATEVER. (WOW)
Acclaimed Czech director Milos Forman is to direct a film about Spanish grand master Francisco de Goya starring Javier Bardem and Natalie Portman, focusing on one of Spain's most bloody chapters, the Inquisition.
"Goya's Ghosts" tells the story of the last years of the Spanish Inquisition, when the Church tortured and executed suspected Jews, as told by the painter, played by Stellan Skarsgard.
Portman plays Goya's muse Ines, falsely accused of heresy, while Bardem plays a sinister monk, Brother Lorenzo, the film production company said Wednesday.
Goya (1746-1828), considered one of the fathers of modern art, was a bold and prolific court painter who continued working until he was 82.His uncompromising attitude in depicting his time, which included Napoleon's invasion of Spain, has long made him a subject of fascination.
There have been several films about his life, including one by renowned Spanish director Carlos Saura.
The film is Forman's first directing project since 1999's "Man on the Moon" and filming is due to start in September.
It is also Bardem's first major venture since starring in Alejandro Amenebar's 2005 Oscar-winning film "The Sea Inside."The film earned the Spaniard the best actor prize at the Venice film festival for his role as a paraplegic fighting for his right to die.
Forman's Goya film is also backed by a clutch of renowned cinema veterans. It will be produced by Saul Zaentz, who worked on the Oscar-sweeping Amadeus directed by Forman 20 years ago, and also produced "The English Patient," another Oscar-winner.The script is a collaboration between the Czech director and Jean Claude Carriere, who worked frequently with Spanish film maestro Luis Bunuel, most notably on "The Discreet Charm of the Bourgeoisie" and "Belle de Jour."
A-list leads eyeing 'Stompanato'
Keanu Reeves and Catherine Zeta-Jones are circling "Stompanato," a biopic about Johnny Stompanato, the boyfriend of actress Lana Turner who was killed by her young daughter, Cheryl Crane. Adrian Lyne is attached to direct. Producing the project are Contrafilm's Beau Flynn and Tripp Vinson along with Erwin Stoff. The script was written by David and Janet Peoples ("12 Monkeys") and Sebastian Gutierrez ("Snakes on a Plane"). The project has landed on the steps of Warner Bros. Pictures but has not made the studio its home yet as dealmaking has not started.
EDITOR'S NOTE: ZETA-JONES WOULD ACTUALLY AGREE TO WORK WITH KEANU? FIRST SHE MARRIES AN OLD PIECE OF FURNITURE, AND THEN SHE DECIDES TO MAKE MOVIES WITH A YOUNG PIECE OF FURNITURE. THE WOMAN SHOULD TAKE UP INTERIOR DESIGN. (ALTHOUGH, WHO WOULD WANT HER WITH SUCH QUESTIONABLE TASTE?!)

Brace for Star Trek : The Beginning
Erik Jendreson is the chap with the tough task of not only penning a new "Star Trek" movie but reassuring Paramount that there's juice in the ol' Enterprise yet.
He talked to Dreamwatch - via
TrekWeb
- magazine about his plans.
According to the scribe, "Star Trek : The Beginning" will be set after the events of TV's "Enterprise" but before Captain Kirk ever boarded the space-ship.
"
We're looking at a very small group of men and women, particularly focusing on one character
," Jendresen says. "
There are a couple of ships, including a principal ship, but this is not a traditional captain and crew of a starship story in the least."
From the sounds of it, Jendresen's script may centre on 'The Romulan War'.
"
It would look at the inciting incident that started everything…The story is big and epic, and it isn't as antiseptic as the television stories had to be".
Is he confident?
"
I'm excited about this project and I think the chances of it getting made are good,"
reveals Jendresen. "
It all depends on what the studio thinks, and Paramount has been through significant changes lately. But the people who are making the decisions are pretty responsible folk with a fine body of work behind them. So, we'll see. Right now, I'm optimistic
."
EDITOR'S NOTE: IF HE IS OPTIMISTIC, HE HASN'T BEEN PAYING ATTENTION. AS LONG AS THE TREK PROPERTY IS STILL IN THE IRRESPONSIBLE AND CYNICAL HANDS OF THE FOLKS THAT HAVE BEEN MIS-MANAGING IT FOR THESE PAST SEVERAL YEARS, ONE CAN ONLY CROSS FINGERS AND KEEP OUR HEADS DOWN. OPTIMISM IS FOR NEWCOMERS.

Boreanaz doing it for Charity

Looks like former "Angel" star David Boreanaz might have a big-screen after all - and he can thank the mutant Nightcrawler for it.
British actor Alan Cumming wants the bulky thirty-something actor to play a role in his new film, "Suffering Man's Charity".
According to Whedon.info the "X-Men" star told Attitude Magazine that "
I'm trying to put my own film together, get all the money in place. I play this really sort of weird uptight music teacher, and he takes in this younger man who's a novelist, and he tries to help him, of course with an unspoken attraction there - and I get jealous when he brings a girl home and we have a huge fight and I wind up tying him up with Christmas lights and saying "who's the faggot now?". Then I proceed to go kind of crazy, real Mommie Dearest, Tenessee Williams-on-crystal kind of thing. We want to get my friend David Boreanaz from Angel for the boy, if the timing permits."
EDITOR'S NOTE: I'M THINKING CUMMING SHOULD HIRE A PROFESSIONAL PUBLICIST FOR THE FILM, IF AND WHEN THE TIME COMES. CAUSE THIS ISN'T MAKING ME WANT TO RUSH OUT AND SEE IT.
Previous reports about the film suggested that Boreanaz was the film's director - but according to more recent reports, it's actually Cumming who will be stepping behind the camera for this one.
Meantime, CanMag.com reports that Boreanaz is one name being thrown about for the forthcoming "Star Trek : The Beginning". The TV regular would play a Starfleet Officer.
EDITOR'S NOTE: PANDERING TO FANBOYS. BUT DOES BOREANAZ REALLY HAVE THE CHARISMA TO CARRY A MOVIE? (MY VOTE WOULD BE NO, BUT I HAVE YET TO BE FULLY INCULCATED INTO THE CULT-OF-WHEDON)
Neve Campbell in talks for Scream 4
After years of rumours, whispers, bulldust and mere fan-boy hoping, seems Bob and Harvey might be dusting off the much-loved "Scream" series, after all.
EDITOR'S NOTE: SHOULD I RUSH RIGHT OUT AND WATCH THE FIRST 3? NAW……..
Talking to IconsofFright, Wes Craven, director of Ghostface's first three outings, announced that star Neve Campbell has had discussions with the studio about a "Scream 4". According to Craven, the Weinsteins might be keen on pitting Sidney Prescott against the masked maniac again and have sounded out Campbell to see if she's keen.
From the sounds of it, and as he himself hasn't been contacted about it yet, Craven won't be involved in the film.
Patrick Lussier, editor of the "Scream" movies, told Moviehole recently that he wouldn't be surprised if the newly formed Weinstein Co. dust off the franchise. "
Given the success of the first three wouldn't you be surprised if they didn't?
", he asks.
EDITOR'S NOTE: SINCE THEY DON'T HAVE M.MOUSES'S DEEP POCKETS TO PULL FROM ANY MORE, THEY NEED TO HAVE SOMETHING CHEESY (AND LUCRATIVE) TO PAY FOR ALL THEIR ARTSYFARTSY STUFF, EH?

EDITOR'S NOTE: FURTHER SIGNS OF THE ENDTIMES……

The Dukes of Hampstead?
With Daisy's shorts putting more than a few cheeks-on-seats in the states (the film took over $30 million in it's opening weekend) Warner is apparently pushing forward with a sequel to silver screen retool "Dukes of Hazzard".
According to
Sky News
, the studio is looking at doing another two films in the series, with the original cast already signed for seconds.
EDITOR'S NOTE: AT LEAST THEY'RE WARNING
US?
Jessica Simpson, who will apparently get quite a hefty fee to reprise her role as sexy DD, tells the site that the next one could be set in London. They would be "Lost in London", says the buxom crooner. "
I think Daisy and those crazy boys will have a great time here in the UK."
EDITOR'S NOTE: WHAT HAVE THOSE SWEET BRITS EVER DONE TO US?! (WELL, YEAH, THAT WHOLE BOSTON TEA THING, BUT THAT WAS LIKE….UMM….A LONG TIME AGO, RIGHT?)


'A Good Year' for Cotillard
Marion Cotillard has signed to star opposite Russell Crowe in Ridley Scott's "A Good Year," based on the novel by Peter Mayle. Tom Hollander also will join the cast, which includes Albert Finney, Aaron Eckhart and Didier Bourdon.
Scripted by Marc Klein, the film is about failed London banker Max Skinner (Crowe), who moves to Provence, France, to tend a vineyard he inherited from his uncle (Finney). There, he encounters Cotillard's character, a beautiful California woman who says she is a long-lost cousin and lays claim to the property. Hollander plays a pompous, scheming real estate broker.
Cotillard, a French actress best known for her roles in Tim Burton's "Big Fish" and Jean-Pierre Jeunet's "A Very Long Engagement," also stars in Abel Ferrara's "Mary," set to hit the Venice-Deauville-Toronto circuit next month.
EDITOR'S NOTE: I BELIEVE THIS IS SHE (WITH BILLY CRUDDUP IN "BIG FISH")

Actors to Provide Voices for Reeve's YANKEE
A number of stars have agreed to come on board and voice the characters for Christopher Reeve's computer-animated feature YANKEE IRVING. Reeve was directing the movie from his home at the time of his death.
Rob Reiner, Whoopi Goldberg, Brian Dennehy, William H. Macy, Mandy Patinkin, Dana Reeve, Robert Wagner, Richard Kind, Raven Symone and New York Yankees manager Joe Torre have joined the cast of the independently produced feature film. Jake Syzmanski voices of the lead character.
The story cetners on a boy who travels across the country on a mission to return Babe Ruth's bat before the deciding game of the 1932 World Series
EDITOR'S NOTE: SUPER CAST, HUH?
Sevigny Lands in Fincher's ZODIAC
David Fincher has cast Chloe Sevigny in his feature film ZODIAC, which he is directing for Warner Bros. and Paramount Pictures.

She will play the girlfriend of Robert Graysmith (Jake Gyllenhaal), a San Francisco Chronicle cartoonist who tried to crack the mystery of the infamous serial slayer. The Zodiac killer terrorized the San Francisco area from 1966-78, committing at least 37 murders and documenting his exploits in snide missives mailed to the newspaper.

EDITOR'S NOTE: SEVIGNY IS ONE OF THOSE PEOPLE WHOSE NAME I KEEP HEARING, BUT I CAN'T REMEMBER IF I'VE SEEN HER IN ANYTHING. (AND WHILE WE'RE AT IT ---HAVING A SENILE MOMENT ----DID I LIKE HER?)





Sony Pays Millions for THE GRAYS


Sony Pictures will pay writer Ken Nolan $3 million for his 75-page treatment, THE GRAYS. Nolan based his material on Whitley Strieber's yet-to-be published novel.



The story centers an alien race who essentially function as the "United States of the cosmos" -- running things on Earth as well as on other worlds. Operating in secrecy, the aliens are unwilling to reveal themselves for fear of altering mankind's development. It is a fictional exploration of the effect aliens have on mankind

.

EDITOR'S NOTE: FORGET THE MOVIE. I THINK I WANT TO READ THE BOOK. (SOUNDS LIKE A VERY GROOVY PREMISE, EH?)



Fuqua to Direct BY ANY MEANS NECESSARY
Paramount Pictures has hired Antoine Fuqua to direct the action-adventure film BY ANY MEANS NECESSARY. The story centers on law enforcement turning to a jailed mobster to help prevent a possible terrorist attack.

Fuqua directed such films as KING ARTHUR, TRAINING DAY, and THE REPLACEMENT KILLERS.

EDITOR'S NOTE: SO HE'S NOT REALLY SPORTING A TREMENDOUS BATTING AVERAGE, EH?



Dan Pyne wrote the script for NECESSARY. Lorenzo Di Bonaventura will produce.



Bullock in Talks About PREMONITION


Sandra Bullock is in talks to star in TriStar Pictures' PREMONITION. The script was written by Bill Kelly and the film will be directed by Mennan Yapo.

Bullock will play a housewife whose husband dies in a car crash and is shocked when he appears alive the next day.

Adam Shankman, Jennifer Gibgot, Sunil Perkash, Hyde Park Entertainment's Ashok Amritraj & Jon Jashni will produce the thriller.
Owen and Aniston DERAILED Pics
The Mikael Håfstrom thriller DERAILED starring Clive Owen and Jennifer Aniston is due to open on October 21st.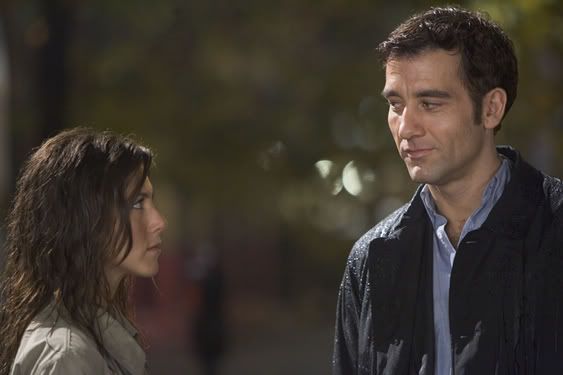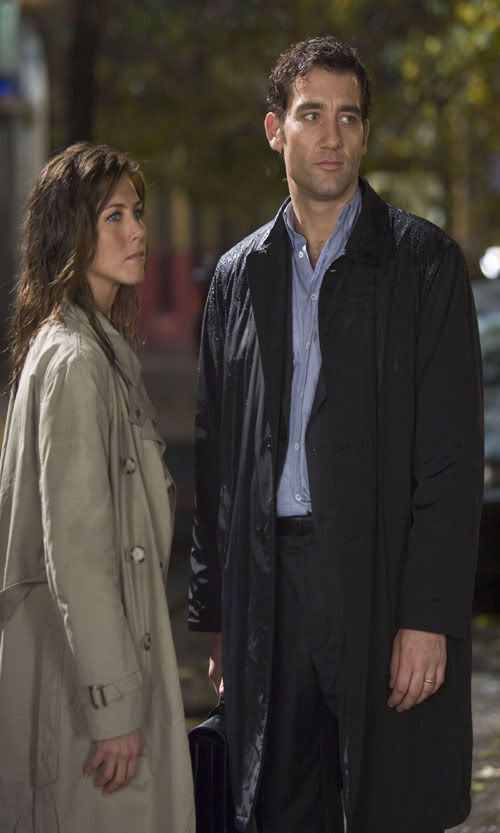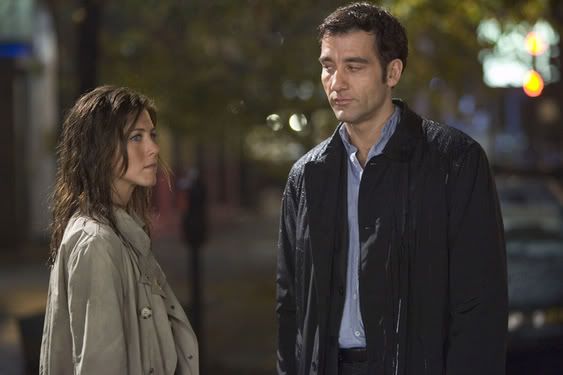 DERAILED is a suspense thriller about a successful ad executive and loyal family man Charles (Owen) who meets an alluring and sexy woman (Aniston) on his morning commute. Flirtation quickly escalates into passion. But this casual fling quickly turns dangerous when a violent criminal confronts and pulls them into a dangerous plot. Now with their entire lives thrown terrifyingly off-course, Charles must figure out how to turn the tables and somehow save their families.
EDITOR'S NOTE: THEY

ARE

VERY ATTRACTIVE. BUT IT SORT OF SERVES THOSE WEE NAUGHTY SCAMPS RIGHT, DOESN'T IT? (YES, MORAL JUDGEMENT IS TOUGH ON MY LITTLE PLANET. BUT THEM'S WHAT DESERVED TO BE SPANKED, IS

SPANKED

, DURN IT!)
Schwentke Boards RUNAWAY TRAIN
20th Century Fox has signed Robert Schwentke to direct the action-thriller RUNAWAY TRAIN. The story centers on a rail company's frantic efforts to stop an unmanned, half-mile-long freight train carrying enough combustible liquids and poisonous gas to wipe out a nearby city.
EDITOR'S NOTE: STARRING KEANU REEVES AND SANDRA BULLOCK? (OH…WAIT…..)
The script is inspired by the true events of a few years ago, when a runaway freight train carrying thousands of gallons of toxic acid hurtled along nearly 70 miles of track with no one aboard, threatening about 50,000 people.
EDITOR'S NOTE: SO IF WE LOOK UP THE NEWS STORY, WE'LL KNOW HOW IT TURNS OUT AND WE CAN SKIP THE MOVIE?
Mark Bomback wrote the script.
Clarice Starling wants her revenge
Looks like Jodie Foster's breaking her 'one film every five years' rule. The "Flight Plan" star is circling "The Brave One", an urban suspense thriller from Joel Silver.
The uber action-producer will have Foster playing a woman who struggles to recover from a brutal attack and sets out on a mission of revenge. Cynthia Mort wrote the film from an original script by Roderick and Bruce Taylor. "The Brave One" is being eyed for a Winter start, says Variety.
Casting News: Angelina Goes 'Beowulf'
Angelina Jolie may have just begun shooting "The Good Shepherd" with Matt Damon , but has sights set on starring in the latest Robert Zemeckis performance-capture opus "Beowulf."
This is the same technology Zemeckis used to make Tom Hanks digital in "The Polar Express" and employed in the upcoming "Monster House," which is set for release next summer.
Variety reports Jolie will play the queen of darkness
EDITOR'S NOTE: WILL THIS EVEN CONSTITUTE ACTING? (I MEAN, WE KNOW SHE ALREADY HAS THE COSTUME, HAVING WORN IT TO THE OSCARS OR GOLDEN GLOBES ONE YEAR),
who tempts the Viking on his quest to be king. Jolie will join a cast that includes Ray Winstone, Anthony Hopkins, Brendan Gleeson and Robin Wright Penn.
Damon, Ruffalo, Paquin and Margaret
The tasty triple-decker sub of Matt Damon, Mark Ruffalo and Anna Paquin is being aligned for Kenneth Lonergan's "Margaret", says Variety.
Set to shoot in the Big Apple next month, the film tells of a New York teenager, her actress mother and the girl who tries to make amends for her wrongdoing in a traffic accident. Paquin has already plonked her name down on a contract, but Damon and Ruffalo have yet to officially agree. J. Smith-Cameron and Jeannie Berlin are also in talks to play roles in the film.
EDITOR'S NOTE: SUPER CAST, IF IT COMES ABOUT.
Anthony Minghella and Dan Halsted will executive produce the Fox Searchlight and Camelot Pictures pic.
Willis Is Berry's PERFECT STRANGER
Bruce Willis has signed on to star with Halle Berry in PERFECT STRANGERS. James Foley will direct the film which is expected to go into production in early 2006.
The psychological thriller is set in the world of the Internet.
It centers on a woman (Berry) who goes undercover, both on and offline, to investigate a friend's murder. Willis will play one of the chief suspects she is investigating.
EDITOR'S NOTE: SO IS HE THE BAD GUY (IN ONE OF HIS CREEPY, BALD ROLES)? OR IS HE THE SUSPECT-WITH-THE-HEART-OF-GOLD THAT ENDS UP GOING TO BED WITH HER? (AND WILL SHE BARE HER BREASTS?

AGAIN

? WHICH FOR

HER

, IS KINDA LIKE

ACTING

?)

SORRY…..SORRY…..
The original script was written by John Bokenkamp. It has since been rewritten by Frank Rinzulli and Todd Komarnicki.
Why'd it Have to Be SNAKES... ON A PLANE?

BlackFilm.com is offering a few images from the upcoming Samuel L. Jackson film, SNAKES ON A PLANE (aka FLIGHT 121).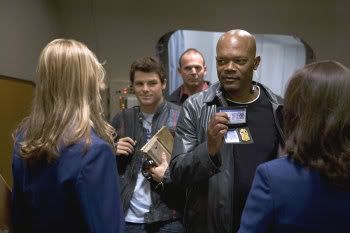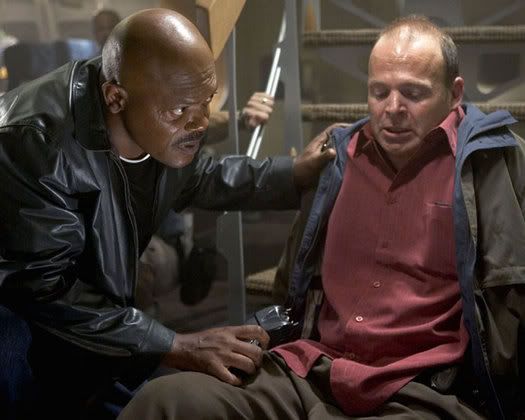 The film stars Samuel L. Jackson, Flex Alexander, Rachel Blanchard, and Juliana Margulies.
The story centers on an FBI agent on a plane crossing over the Pacific Ocean, when an assassin bent on killing a passenger who in a witness in protection custody, lets loose a crate full of deadly snakes.
EDITOR'S NOTE: AND HERE I THOUGHT IT WAS GOING TO BE SOMETHING

FAR-FETCHED

. (GOOD CAST, THOUGH. POOR JULIANA MARGULIES. SO LOVELY AND TALENTED. AND YET SHE'S BECOMING A BIT THE BAD OMEN FOR MOVIES, ISN'T SHE?)
The New Line film is supposed to hit theaters later this year.
EDITOR'S NOTE: MORE SAMUEL L. JACKSON NEWS….

'Freedomland' eligible for Oscars
Columbia Pictures is planning an exclusive release for Revolution Studios' drama "Freedomland" on Dec. 23 in New York and Los Angeles, which would make it eligible for Academy Awards consideration.
The film will expand nationwide Jan. 13, according to Jeff Blake, vice chairman of Sony Pictures Entertainment and president of worldwide marketing and distribution for the Columbia TriStar Motion Picture Group.
EDITOR'S NOTE: SO WE'LL HAVE TO SCRAMBLE TO SEE IT IF WE WANT TO GET OUR BALLOTS IN ON TIME. (SNICKER)

Directed by Revolution founder Joe Roth and produced by Scott Rudin from a screenplay based on his novel by Richard Price, the mystery/drama stars Samuel L. Jackson, Julianne Moore and Edie Falco
EDITOR'S NOTE: OOOO…COOL CAST.
'Truth' hurts as ThinkFilm plans to appeal NC-17
Call it a case of ratings interruptus.
ThinkFilm said Friday that it plans to appeal the NC-17 that the MPAA Classification and Ratings Administration has awarded Atom Egoyan's "Where the Truth Lies."
The only problem is that, according to the MPAA, the group hasn't officially published the movie's rating yet, and no appeal date has been set.
EDITOR'S NOTE: OOPS.
Based on a murder mystery by Rupert Holmes, "Truth" concerns an investigation into an unsolved murder that marred the career of a '50s stand-up comedy team (Kevin Bacon and Colin Firth). The film includes a menage a trois sex scene involving Bacon, Firth and actress Rachel Blanchard that many observers expect will result in an NC-17, which would make the movie off limits for viewers younger than 18
EDITOR'S NOTE: ATTRACTIVE PEOPLE. BUT CAN'T WE ALL JUST STAY MOSTLY

CLOTHED

? (SORRY…MY OLD AGE IS SHOWING?) I MEAN, IF THEY AREN'T NAKED IN THE PRIVACY OF MY ROOM, WHAT IS THE

POINT

REALLY?

Pseudo-scribe seals real deal
When Touchstone Pictures last week bought the script for "The Proposal," a romantic comedy that Mandeville Films' David Hoberman and Todd Lieberman are attached to produce, the company thought it was buying an original screenplay by a writer named Jennifer Kirby.
But as soon as the script sold, Pete Chiarelli -- a former creative executive at MGM who has since become president of Kurtzman and Orci, the recently formed DreamWorks-based production company of writers Alex Kurtzman and Roberto Orci -- stepped forward to reveal that he in fact was masquerading as Kirby.
He'd created the female pseudonym -- Jennifer is Chiarelli's wife's name, and Kirby is his mother's maiden name -- because
"I really
wanted to throw people off the scent. I didn't want it to be weird for people, executives, that I knew to read it. I didn't want my friends put in a position to say, 'Dude, your script sucked.' If it was going to sell, I wanted it to sell on its own merits."

As an exec at MGM, Chiarelli oversaw such productions as "The Amityville Horror" and "The Pink Panther." He began writing after the MGM-Sony layoffs in mid-April.
Touchstone Turns Chatwin & Levieva INVISIBLE
Touchstone Pictures has signed Margarita Levieva and WAR OF THE WORLDS' Justin Chatwin to star in the supernatural thriller THE INVISIBLE. David Goyer will direct.
The story focuses on a teenager (Chatwin) who, after being attacked and left for dead, finds himself in limbo, invisible to the living and racing against time to find his body before he truly perishes. The only person who might be able to save him is his attacker, a troubled girl (Levieva) who is on the run from the law.
EDITOR'S NOTE: AND HERE I THOUGHT

I

WAS HAVING AN EXCITING AND DANGEROUS WEEK!
'Southland' has room for 3 women
Cheri Oteri, Amy Poehler and Jill Ritchie have signed on to join Dwayne "The Rock" Johnson, Sarah Michelle Gellar and Seann William Scott in Richard Kelly's indie "Southland Tales."
Miranda Richardson, John Larroquette, Jon Lovitz, Will Sasso, Wood Harris, Bai Ling, Joe Campana and Wallace Shawn also have joined the ensemble cast.
EDITOR'S NOTE: I'M BEGINNING TO FEEL LEFT OUT. (ALMOST EVERYONE IN THE WORLD APPEARS TO BE IN THIS MOVIE).
The story is set in a futuristic Los Angeles as it teeters on the brink of social, economic and environmental disaster. Oteri will play a villainous lesbian bodybuilder
EDITOR'S NOTE: WELL, SO WHAT ELSE IS NEW?!
, while Ritchie will play a porn star and the best friend of Gellar's character.
Universal Says Cooper & Phillippe Are in BREACH
Universal Pictures has signed Ryan Phillippe and Chris Cooper to star in BREACH. The espionage thriller will be directed by Billy Ray. Writer turned directory Ray wrote such films as SUSPECT ZERO, HART'S WAR, VOLCANO, and most recently FLIGHTPLAN.
BREACH centers on aspiring FBI agent, who is handpicked to work for renowned operative within information assurance, a new division created to protect all classified FBI intelligence. The young trainee develops a growing respect for the arrogant uber-agent, only to find that his mentor might be the nation's most dangerous security risk.
EDITOR'S NOTE: AH….GOVERNMENT WORK. (AND WHAT ABOUT THE UNDERLYING PHYSICAL ATTRACTION BETWEEN THEM? WHERE'S ALAN CUMMING??!!)
Izzard and Faris Sign for SUPER EX
Eddie Izzard and Anna Faris have signed on for SUPER EX. They join a cast that already includes Uma Thurman and Owen Wilson.
The Ivan Reitman directed comedy centers on a man who learns that his girlfriend is a superhero and breaks up with her when she becomes too controlling and neurotic. She then uses her powers to torment and embarrass him.
Izzard will play the villainous Professor Bedlam and Faris will play Hannah, the love interest of Wilson's character. Eddie Izzard and Anna Faris have signed on for SUPER EX. They join a cast that already includes Uma Thurman and Owen Wilson.
The Ivan Reitman directed comedy centers on a man who learns that his girlfriend is a superhero and breaks up with her when she becomes too controlling and neurotic. She then uses her powers to torment and embarrass him.
Izzard will play the villainous Professor Bedlam and Faris will play Hannah, the love interest of Wilson's character.
EDITOR'S NOTE: SEE, NOW, I'D

SO

BE THERE. EXCEPT THERE'S THIS LAW: NO OWEN WILSON AFTER LABOR DAY. OR BEFORE LABOR DAY, FOR THAT MATTER.
CRASH's Haggis Heads to CASINO ROYALE
CRASH and MILLION DOLLAR BABY's Paul Haggis has been hired to rewrite CASINO ROYALE for Sony and MGM.
The previous draft was written by Neal Purvis and Robert Wade.
Producers Barbara Broccoli and Michael Wilson are bringing in director Martin "GOLDENEYE" Campbell to direct the film.
REDFORD AND NEWMAN MAY PAIR UP AGAIN ONSCREEN!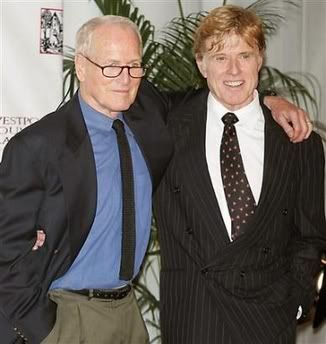 Actors Paul Newman (L) and Robert Redford pose during a fundraiser in Westport, Connecticut, in this October 14, 2004 file photo.
EDITOR'S NOTE: NEWMAN LOOKING FANTASTIC AND REDFORD LOOKING SLIGHTLY EMBALMED.
Robert Redford may soon be reunited on screen with Paul Newman but don't expect a sequel to "Butch Cassidy and the Sundance Kid" or "The Sting," which paired one of Hollywood's most popular double acts three decades ago.
"
All these years went by and nobody came up with any ideas that were anything but corny and kind of low grade so we just decided probably that wasn't going to happen,"
Redford said.
"
But now there's something rolling around that we're talking about it, and the real question is whether he can remember his lines or not,"
the 68-year-old Redford said in a dig at Newman who turned 80 this year.
Media reports earlier this year suggested the two would pair up in an adaptation of Bill Bryson's travel book "A Walk in the Woods," the story of the author's hike through the American wilderness with a friend.
EDITOR'S NOTE: WOULDN'T THIS BE

NEAT

? A LOVELY CAPPER ON SUCH A CHARISMATIC TEAMING.
Redford said he was superstitious about discussing details of projects that were not finalized.
"
I think Paul and I are probably alike in that we're reluctant to talk about something that is not real yet, but we are talking about it,"
he told reporters in New York while promoting his new film "An Unfinished Life."
Redford said it was surprising considering Hollywood's penchant for remakes that nothing had come to fruition since the mob and gambling film "The Sting" in 1973 and the 1969 hit "Butch Cassidy," about two bank robbers who flee to Bolivia.
"
The stuff that came to us wasn't any good
," Redford said.
"(They said) can you do a sequel to 'The Sting?' No, leave that one alone ... don't try to milk it."
EDITOR'S NOTE: WELL, THEY DID MAKE A SEQUEL TO "THE STING". PROBABLY JUST AS WELL THAT WE DON'T DISCUSS IT, THOUGH. (SHUDDER)
"What about a sequel to 'Butch Cassidy?' Well the guys died in it, what is it going to be, a spiritual film? Well how about a prequel? That's pretty desperate."
One film that he is planning a sequel to is "The Candidate" from 1972, in which he played a Democratic Party candidate for the Senate who has no hope of winning and who finds his ideals compromised by the realities of politics.
Redford said in the sequel he will play the same character 30 years on, who is now president of the United States.
"
Right now I'm frightened for my country
," he said in one of several political asides during a news conference by the actor who makes no secret of his liberal leanings.
"
Actors have every right to speak out but they carry more responsibility to know what they're talking about,
" he told Reuters in an interview, adding that he enjoyed "
lobbing grenades from a distance."
But he said he had no intention of stepping into active politics like action star Arnold Schwarzenegger, who is now governor of California."
I would have to be just consumed with ego and self-absorption. When you enter the political arena it's so full of compromise and so full of knots, you tie yourself up
," he said.
EDITOR'S NOTE: I HOPE HE IS SAYING THAT ARNIE IS 'CONSUMED WITH EGO AND SELF-ABSORPTION'. I MEAN, I HOPE THAT WASN'T JUST SELF-EFFACING, BUT ALSO A DIG. (HATE TO WASTE SUCH A GOOD DESCRIPTION OF THE GOVENRNATOR).