Monday in front of the Television (News)
TNT Tells Devlin to TALK TO ME
TNT and INDEPENDENCE DAY's Dean Devlin are teaming to produce the pilot for the hourlong TV show TALK TO ME.
The series will be set in the world of hostage crisis negotiators and will center on the head of a hostage negotiators unit, along with the conflicts that arise between his team and the SWAT division. Paul Guyot wrote the script for the pilot.
Devlin told Variety that every episode will open in the middle of a crisis, with the clock ticking.
EDITOR'S NOTE: HAS DEAN DEVLIN EVER HAD AN ORIGINAL IDEA? WOULD HE KNOW IT IF IT FELL ON HIM?
Hallmark Sets Sail With BLACKBEARD
In June of next year, the Hallmark Channel will run its four-hour action-adventure miniseries, BLACKBEARD.
EDITOR'S NOTE: SO SET THOSE DVR'S NOW!
The miniseries will star Angus Macfadyen, Richard Chamberlain, Stacy Keach and Rachel Ward. Macfadyen will play Blackbeard.
The story will be a "slightly fictionalized take on the tales of the pirate Blackbeard." BLACKBEARD will shoot in Thailand.
WB Joins With O'Bannon's CULT
The WB has announced they will produce the pilot episode of FARSCAPE creator Rockne S. O'Bannon's CULT.
EDITOR'S NOTE: COULDN'T THEY JUST BRING BACK "FARSCAPE"? (
SNIFFLE….AND NO, I AM NOT GOING TO

GET OVER IT
!)
O'Bannon says the show is "
very creepy
" and that it "
gets-under-your-skin
."
The thriller centers on two lead characters who try to get to the bottom of a series of mysterious deaths and disappearances that may be linked to fans of a TV show called ... "Cult." The characters will try to figure out what this bizarre subculture is all about.
Astin to run Rings around 24
Comeback kiddo/hobbit Sean Astin is signing up for a stint at CTU.
The "Lord of the Rings" fave, and beloved son of Gomez Addams, is joining the cast of "24" next season, says Variety. He'll be a part of the skeinskein's Counter Terrorist Unit; beyond that, the network is staying mum about Astin's character.
In addition to the new role on "24", Astin has been asked to play a role in "Click", re-teaming with his "50 First Dates" co-star Adam Sandler.
EDITOR'S NOTE: AND SPEAKING OF TOO MUCH SUSPENSE……
Berman is VANISHED for Fox TV
CSI's Josh Berman has made a deal with Fox TV for a new pilot called VANISHED. The show will center on the country's fascination with missing women.
The story revolves around Sarah Collins, a senator's wife who goes missing as part of a larger conspiracy. The story behind her disappearance will unfold throughout the season, as told through the eyes of law enforcement, family members and the media.
Berman told Variety that, "
Each week more secrets will be exposed. We're going to have the thrill ride of an investigation."
He continues to serve as an executive producer and writer on CSI.
EDITOR'S NOTE: FOX TV --- ALL THRILL RIDE, ALL THE TIME. (NOT RECOMMENDED FOR VIEWERS WITH HEART CONDITIONS)
AND NO, I STILL HAVE NOT BEEN ABLE TO MAKE MYSELF WATCH PAST THE FIRST EPISODE OF THIS RECENT SEASON'S "24"……
Fox gives a 'Guy' a break with Reitman
Fox Broadcasting Co. has acquired a half-hour comedy script from veteran filmmaker Ivan Reitman.
Reitman, whose credits include the theatricals "Old School" and "Road Trip," is on board as executive producer of "That Guy," which centers on a 35-year-old man who decides to embrace a "second puberty" and start living his life like a 21-year-old. Reitman pitched "Guy" with the script's writers, Josh Lobis ("The Tracy Morgan Show") and Darin Moiselle ("Special Unit 2").
EDITOR'S NOTE: OK. UMM….DEAR IN THE HEADLAMPS TIME WITH SO MANY WAYS TO GO HERE...........
1) HOW DOES THIS MAKE THE FELLOW IN THE SHOW DIFFERENT THAN MOST MEN?
AND 2) THEY'VE JUST PINPOINTED THE TYPICAL FOX TV VIEWER
.
"Guy," which drew interest from multiple broadcast networks, comes with a penalty attached.
EDITOR'S NOTE: STUPIDITY? (NOT THAT THAT IS PENALIZED MUCH THESE DAYS)
A studio deal has yet to be signed.
Fox entertainment president Peter Liguori praised "Guy" as cutting-edge material. "
This is newer, fresher comedic turf to be playing on,
" he said. "
The fact that Ivan is attached only gives me more confidence."
EDITOR'S NOTE: YOU SEE YOURSELF IN THIS SHOW, DON'T YA HUN?
"It was very clear that Peter connected to both the concept of the show and the type of comedy immediately,"
said Reitman, who collaborated with Liguori when he was a marketing executive at HBO in 1996 on the original movie "The Late Shift."
EDITOR'S NOTE: WERE THERE ANY WOMEN IN THE ROOM? DID THEY '

CONNECT

' WITH IT TOO
?
Jackie Marcus of Reitman's Montecito Picture Co. also is attached as executive producer.
Montecito has been trying to develop TV projects in recent years, mostly on the drama side, including a CBS pilot "Cooking Lessons" that didn't make the schedule in 2004.
"I've wanted to bring my particular comedic point of view to television and find a show that allows me to do that,
" Reitman said. "
I thought 'That Guy' certainly sounded like the right one."
Should "Guy" make it to air, Reitman would consider directing an episode, but he would have to fit it into a busy schedule. He is scheduled to begin shooting the feature film "Super Ex," starring Uma Thurman and Luke Wilson, in October in New York.
LOST Found in Court?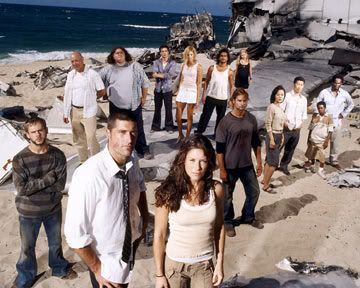 EDITOR'S NOTE: GRATUITOUS "LOST" CAST SHOT.
Writer Anthony Spinner is suing ABC and Touchstone Television over the series LOST for allegedly taking his concept for a TV show that he worked on for Sid and Marty Krofft Productions.
Spinner claims he was hired in 1977 to write, develop and produce a show about a group of airplane crash survivors who struggle to survive in a jungle where they encounter strange creatures and dangerous characters.
He is seeking "
unspecified damages for claims including breach of contract and fraud
."
EDITOR'S NOTE: ON THE ONE HAND, SHAME ON ABC/J.J. ABRAMS IF THEY'VE BEEN NAUGHTY. ON THE OTHER HAND, HOW MANY LAWYERS DOES IT TAKE BEFORE WE HAVE TOO MANY? (AND SINCE 1977?)
Minear to write and direct Spike film
Looks like the wheels are finally in motion. Tim Minear ["The Inside"] has been tapped to write and direct the long-awaited "Spike" telemovie for the brothers Warner.
The WB agreed to the "Angel" spin-off earlier this year, but creator Joss Whedon's been reportedly too busy to think thrice about it.
Solution?
Rope in an ol' bud to take the ropes.
Minear, via Whedonesque, let the cat out of the bag, saying "I
had lunch with Joss and he asked me if I wanted to write and direct some blonde vampire movie thing. Should I do it? (I of course said yes right off, still) Anything under 13 hours scares me. And anything over 13 hours... um. I got nothin'."
Aint it Cool confirmed the news with Minear. "
Yeah, that's me. Probably shouldn't have said anything, but what the hell. You're behind this somehow, aren't you?",
Minear joked.
No word on when the telemovie, with James Marsters reprising his role as Spike aka 'William the Bloody', will air.
Survey: 'Surface,' 'Ghost Whisperer' surprise hits
Media buyers have panned CBS' new fall drama "Ghost Whisperer" as a show destined to fail, but if you listen to the buzz and sentiment expressed by average TV viewers on the Internet, the show has a strong chance of getting solid audience levels and succeeding.
EDITOR'S NOTE: OF COURSE 'AVERAGE TV VIEWERS' ARE ALSO PARTLY TO BLAME FOR "STARGATE" STILL BEING ON THE AIR, AND THE LENGTH OF RUN OF "TOUCHED BY AN ANGEL", SO WHAT THE HECK DO

THEY

KNOW?!

Other new primetime network shows that received low marks from media agencies and TV critics -- from NBC's "Surface" and CBS' "Threshold" to Fox's "Bones" and "Kitchen Confidential" -- are all being talked up positively online among potential viewers, according to the 2005 TV Trends survey produced by Trendum.
The New York-based company creates trend reports based on its monitoring of daily Web conversations about television, movies and celebrities that take place on message boards, bulletins, online communities and in-digital media.
Trendum, started in 2000, became a business affiliate of Mediaweek and The Hollywood Reporter parent VNU earlier this year.
In its 2004 TV Trends survey, Trendum predicted, based on the unsolicited Internet conversations it monitored, that new ABC drama "Lost" would be a breakout hit, an opinion not shared by most media agencies and TV critics going into last season. Trendum also predicted the runaway success of ABC's "Desperate Housewives" last season when other media observers hedged their bets on the show
EDITOR'S NOTE: THEN AGAIN, THE AVERAGE IQ OF A MEDIA BUYER IS APPROXIMATELY THE SAME AS THEIR AGE…..25. (
AND YES, I….SHUDDER….AM A MEDIA BUYER. BUT MY IQ IS EVEN LOWER, SO I'VE STAYED IN THE BIZ TILL MY AGE IS SIGNIFICANTLY HIGHER THAN THE NORM
).

New 'Life' for ABC
Fox TV Studios, Edwards Family Producing New Version of Reality Series

By Christopher Lisotta
ABC is going for reality nostalgia with a remake of one of television's oldest reality series: "This Is Your Life."
The network is finalizing a deal for a six-episode order for "Life" from Fox TV Studios, which is developing the series with help from the family of Ralph Edwards, who created and hosted the first evolution of "Life" as a radio program beginning in 1948.
Traditionally, each episode of "Life" surprised either a celebrity or an ordinary person by announcing he or she was the subject of the show. The subjects were then honored with reminiscences from family members and longtime friends. The original run of "Life" honored a number of iconic celebrities, including Dick Clark, Jayne Mansfield, Johnny Cash and Lou Costello. The series featured Ronald Reagan as a guest host.
ABC, which has four reality series scheduled to air in the fall, could use "Life" as a quick fix if any of its new or returning fall series fail to attract viewers.
EDITOR'S NOTE: PROGRAMMING BANDAIDS.
"Life" fits into ABC's overall reality brand, which focuses on feel-good life improvement themes-such as those explored in "Extreme Makeover: Home Edition" and "Wife Swap"-as opposed to reality series that thrive on competition or that are more mean-spirited.
EDITOR'S NOTE: DARNING WITH FAINT PRAISE. (BUT IT DOES BEAT A SHARP STICK IN THE EYE, I GUESS)
"
We believe ABC is the perfect home for such an iconic brand as 'This Is Your Life,'
" Fox Television Studios Executive VP of Alternative Development Holly Jacobs said in a statement. "
The spirit of our show is celebration as we honor the life and work of some very special people."
The show also could tap into some of the celebrity appeal ABC's summer reality series phenomenon "Dancing With the Stars" proved to have. "Dancing," which featured B-list television and music personalities, was a hit with viewers and helped regenerate the career of one contestant in particular, actor John O'Hurley.
"The original 'This Is Your Life' was more than just one of America's best-loved television shows, it became a cherished part of the American vernacular,"
Andrea Wong, ABC's executive VP of alternative programming, specials and late-night, said in a release.
ABC and Fox TV Studios are keeping format details for the latest incarnation of "Life" under wraps for now. The companies also declined to reveal when the new show might debut or who will host.
"Life" is being executive produced by Barbara Dunn-Leonard, president of Ralph Edwards Productions; and Gary Edwards, executive VP of the company and the son of Ralph Edwards; along with Mindy Moore, Fred Siegel and Jon Vein.
"
We are proud to be one of the first television production companies established in Hollywood and to carry on that tradition by working with ABC and Fox Television Studios
," Ms. Dunn-Leonard and the younger Mr. Edwards said in a joint statement. "
We believe 'This Is Your Life' will continue to impact TV audiences and maintain its rightful place in the American entertainment culture."
"
Life" was first heard as a segment of radio's "Truth or Consequences" in 1946. It then ran as a radio show from 1948 until 1950. It moved to television in 1952, running on NBC until 1961.
The show received Emmy Awards in 1954 and 1955. In 1957 it won a Golden Globe Award. In 1981 David Frost hosted a two-hour special of the show in honor of "Life's" 30th anniversary. A short-lived syndicated version appeared in 1983 with Joseph Campanella as host, and in 1993 another NBC "Life" special aired with Pat Sajak as host. In May, 18 episodes of "Life" were released on DVD.
Mr. Edwards, 92, began his career in radio in San Francisco to help pay his way through the University of California. After graduation, he went to New York to work as an announcer for CBS Radio. His first producing venture, the radio version of "Truth or Consequences," premiered in 1940 and ran for 14 years. A television version of "Truth" began in 1950, followed by "Life." In 1956 Mr. Edwards launched the career of Bob Barker, who took over hosting duties on "Truth" from Jack Bailey. Mr. Edwards was also a producer of the original courtroom syndicated series "The People's Court," which debuted in 1981 and ran until 1993. He received a Lifetime Achievement Award at the 2001 Daytime Emmy Awards.
EDITOR'S NOTE: AND NOW......LET THE NETWORK FALL SEASON GAMES BEGIN! -----
Off-Air Ploys Bid for Elusive Viewers

Broadcasters Step Up Nontraditional Promotion
By Jon Lafayette
If you're thinking about getting a tattoo, you may end up getting a network TV promo instead.
Put in the word "tattoo" as a query on an online search engine and the reply you get may well be an ad for "Prison Break," which premieres tonight on Fox as part of its early fall-season launch.
You may also see an ad for the same show if you put in the words "prison" or "prison guards."
The promos will let viewers watch clips and get other information about the program. Fox has made deals for placement with major search engines as part of a program that also targets numerous Web sites with very specific content developed by network marketers assigned to work on just that Web site.
It's all part of networks' expanding efforts to promote TV shows in an increasingly competitive marketplace on multiple distribution platforms through everything from long-form on-air promos to guerrilla marketing.
Last year ABC was able to funnel its marketing resources behind "Desperate Housewives" and "Lost" and used gimmicks such as signage on dry cleaning bags. Those shows became hits.
EDITOR'S NOTE: AND THE GOOD WRITING AND FUN CASTING HAD NOTHING TO DO WITH IT. IT WAS THOSE GAL-DURNED DRY-CLEANING BAGS! (AND IF YOU DO ENOUGH SEARCHING ONLINE AND GET STUPID PROMOS INSTEAD OF WHAT YOU ARE LOOKING FOR, YOU STOP GOING TO THAT SEARCH ENGINE, YES?)
"
These alternative things got us a lot of attention
," said Mike Benson, senior VP of marketing for ABC Entertainment. "
This year we're in the weird position where I don't want to talk about anything because I know my competition wants to know what I'm doing. I know they're looking for their dry cleaning bag."
Viewers this fall will see promos for new shows-sometimes even entire pilot episodes-via cable, DVD, the Internet, blogs, e-mail, podcasts and even video-enabled T-shirts.
EDITOR'S NOTE: QUE?
They'll be in locations such as ballparks and college campuses, on planes and cruise ships, in theaters and on city streets, highways and shorelines. Messages will be imprinted on everything from nail files to trashcans to dollar bills and, yes, even dry cleaning bags.
The point is that it is no longer enough to just promote on a network's own air.
"
We have to do this in order to really reach the audience that we have to reach, so we're not just preaching to the choir,"
said Chris Carlisle, executive VP of marketing for Fox Broadcasting.It is a particularly acute situation this fall, with summer viewing down on the broadcast networks.
"
It's been a tough summer and yet if you keep plugging away at certain shows you can accumulate enough gross ratings,"
said Vince Manze, president of The NBC Agency. "
The key is you need to be everywhere,"
he said.
To make that happen, NBC has increased its off-network budget by about 30 percent, Mr. Manze said. Other networks are also giving their off-network efforts higher priority, with Internet budgets up and spending on print program listing declining.Often the marketing dollars are flowing to sister companies.
"
One of the most important things that we do now is leverage our corporate assets and platforms and get the word out,"
Mr. Carlisle said of Fox.
For instance, all 24 of the Fox Cable networks will air a 90-second simulcast preview of "Prison Break" in the commercial break closest to 8 p.m. (ET), during its premiere tonight:
"As much as possible, really roadblock across our assets, our channels, and really try to entice people to see this big event,
" Mr. Carlisle said. "
In today's market, with so many channels and choices and Internet and cellphones and back-to-school and all that competition, it's got to be an event or else you're not going to stand out.
"
EDITOR'S NOTE: NO. IT HAS TO BE A GOOD SHOW. IT HAS TO BE ENTERTAINING. THEY CAN'T ALL BE AN 'EVENT'. IF YOU JUMP UP AND DOWN AND MAKE NOISE LIKE THEY

ARE

ALL AN EVENT, YOU VERY QUICKLY WEAR OUT YOUR POTENTIAL AUDIENCE. (EVER HEAR OF THE BOY WHO CRIED WOLF?)
For NBC Universal, which is coming off a difficult year, the fall launch is a corporate priority, so NBCU divisions have been matched with NBC shows. The Universal Studios Theme Park in Orlando, Fla., has an attraction offering viewers a sneak peek at "Surface," which the network considers a family show. Mr. Manze said the screenings have been popular and have been expanded. Visitors get an item of "Surface" merchandise and a comment card for feedback that goes to the NBC research department.
NBC, like the other networks, is doing street-level marketing. For instance, it is sending out teams wearing shirts with thin video screens showing scenes from NBC show "My Name Is Earl." NBC is also putting stickers on dollar bills in 15 markets where it owns stations to promote "Three Wishes." The stickers urge people who find the money to use it to do a good deed, which is in keeping with the spirit of the show. Network representatives will randomly use the dollars to buy gasoline or groceries for others.
The networks also are buying ads on cable, and for CBS, the networks owned by Viacom are attractive.
"They are happily some of the best-delivering networks for our target demo, so we do a lot of stuff with them,"
said George Schweitzer, president of the CBS Marketing Group.
Last year NBC and ABC each spent more than $10 million on cable in August and September, according to Nielsen Monitor Plus, and Mr. Schweitzer said CBS spent a similar amount.
Fox had problems last season launching new shows after the World Series. This season, Fox is launching its shows earlier than the other networks. Its promos use the theme, "
The fall season starts on Fox,"
which sums up the network's strategy.
"It's all about bringing them out, getting people invested in the shows and the returning shows, and then promoting them through baseball,"
Mr. Carlisle said.
When looking for viewers online, "
We sit and dissect each show and think about every single possible access point or contact point that we think can reach a segment of the audience that might be interested in this more than normal,"
Mr. Carlisle said.
For its show "Reunion," Fox located reunion .com, which arranges reunions. Promotional material for the show will be available at dozens of gatherings organized by the Web site.
Fox has also assigned producers to create content for Web sites. By working closely with the production team and talent, the network feels it can generate material that Web sites will be eager to distribute. "
Through creative and inventive ways you can really get a much bigger footprint out there,"
said Mr. Carlisle, "
whether it's by leveraging our talent or access or exclusivity for a period of time. And it really pays off great dividends
."
EDITOR'S NOTE: AND I BET WHEN YOU BABBLE MARKETING JARGON LIKE THIS, EVERYONE GETS EXTREMELY EXCITED. (SMIRK).
Fox is also being aggressive in producing podcasts for Fox.com, featuring interviews with actors and producers and behind-the-scenes stories. Fox is also culling lists of e-mail addresses from many sources.
For "Bones," for example, it's using databases ranging from fans of actor David Boreanaz to readers of Kathy Reichs, the crime-solving author on whose life the series is based.
While consumer marketers are increasingly turning to new media to sell their products, television promotion executives insist their own airwaves remain their most valuable form of advertising.
"
People write about the water coolers or the cleaner bags or the blimp or the helicopter, but let me tell you, more people sometimes read about those than actually see them,
" Mr. Schweitzer said. "
The major, major driver of television marketing is on-air television promotion. And the good news for CBS is that our position there is very strong."
Over the course of a year each major network devotes about $500 million worth of airtime to promotion.
EDITOR'S NOTE: MOST OF IT SPENT GIVING AWAY IMPORTANT PLOT POINTS OR SHOWING THE FUNNIEST PUNCHLINE.
Last August and September, according to Nielsen Monitor Plus, NBC's promo time was worth $291 million, by far the most of any network. CBS's promos were worth $175 million, ABC's $164 million, Fox's $68 million, The WB's $39 million and UPN's $21 million.
Each big network's spending on other forms of media is between $20 million and $25 million, one promo executive said. Promo executives said they are airing longer spots for their shows and that viewers stay tuned, rather than fast-forwarding or changing channels as they do with many other types of commercials.
"
We look at the marketing of each of these shows more as entertainment content and not just selling,"
Mr. Benson said. "
Whether you use on-air or the Internet or some of the other alternative marketing that we're doing, having a much more content-rich experiential tactic will allow the audience to get invested with it and share it with other people."
While the broadcasters are doing more promotion online, they are wary of strengthening the Internet portals, which could become rivals as broadband video becomes more popular.That means the home base for video of CBS's new-season video is CBS.com. "
We have the wherewithal to do it, we have the means to promote it. We'd like to keep building our site,"
Mr. Schweitzer said. "
Yahoo! AOL and Google and MSN, they all have traffic and they all do business. But we're in business too."
"
I think you'll see all the networks, certainly NBC, making a stronger play to control our own product,"
Mr. Manze said. "
Right now it's a split between how much we need to promote 'The Office,' and we'll certainly get bigger numbers on AOL or Google or those sites, versus keeping our product and controlling our product."
Fox has the first few minutes of "Prison Break" available on AOL, and will be putting the beginning of "Kitchen Confidential" on Yahoo! The network is looking into streaming episodes of its shows online for viewers who miss them on Fox, but it hasn't decided whether to work with an established portal or its own site, Mr. Carlisle said.
But the networks said their best weapon is video. And on their own air, they're using longer and longer messages to get viewers involved with their shows.
At CBS that means a few two-minute previews and spots that are more often 40 seconds and 60 seconds long this year, compared with :30s and :20s in past years, Mr. Schweitzer said. Other networks are going even longer. ABC has been running a 3 AND A HALF-minute promo for "Extreme Makeover: Home Edition" and has similar-length spots ready for other shows.
Mr. Benson said: "
One of things that we learned last year is that by running longer spots we could really get people invested in the characters and the programs and what these shows were and have more fun with the marketing, use music more effectively. This year we've gone beyond that. "
EDITOR'S NOTE: AS AD PODS GET LONGER, SHOWS GET SHORTER. IF THE PROMOS ARE 3 OR 4 MINUTES LONG, BY THE TIME THE SHOW….ALL 21 OR 42 MINUTES OF IT…COMES ON, WE WILL HAVE SEEN A GOODLY PERCENTAGE OF IT IN CLUMPS OF PROMOS.
The networks are also looking to stretch their marketing budgets by taking on promotional partners. NBC and Mazda have teamed for a new-season initiative that inserts cars into some NBC promo spots and drives viewers to an NBC.com micro site called NBC First Look, where they can see trailers and other material about NBC shows and enter a sweepstakes.
"
What was cool about the Mazda thing was we came up with an idea that didn't disrupt our creative trailers for the three shows that were integrated into the Mazda contest, '[My Name Is] Earl,' 'E-Ring' and 'Surface,'"
Mr. Manze said. Mazda provided NBC with about $8 million in off-channel exposure, including distributing 2 million promotional CDs.Similarly, CBS has partnered with the high-end housewares retailer Williams-Sonoma. DVDs that feature cooking segments with CBS talent and clips from CBS shows are being distributed in stores.
Sister Cable Nets to Repurpose All 6 New NBC Series

By Jon Lafayette
NBC Universal plans to give all six of its new prime-time NBC shows extra exposure on its cable channels at the beginning of their runs this fall
"Surface" will get play on Sci Fi Channel; "E-Ring" and "Three Wishes" will be repurposed on USA Network; "My Name Is Earl" and "Inconceivable" will run on Bravo; and "The Apprentice: Martha Stewart" will get a berth on CNBC.
EDITOR'S NOTE: 'REPURPOSED'. SHUDDER. (MY COMPUTER IS NOW POWERED BY THE ENERGY GIVEN OFF WHEN DANIEL WEBSTER SPINS).
"
Clearly, we want to get as much attention and as much sampling as possible for our fall shows,"
said Jeff Gaspin, president of NBC Universal cable entertainment, digital content and cross-network strategy.
"What we're able to do with cable assets combined with a network is play the strategies of both and mix them up."
NBC Universal has the rights to repurpose these programs on any of its platforms, Mr. Gaspin said. During the first three weeks of the season, episodes of "Surface," a family adventure series about a mysterious new form of undersea life, will debut in the series' regular time period at 8 p.m. Mondays on NBC, then the same episodes will get additional airings on Sci Fi.
EDITOR'S NOTE: OH DARN. I HOPE IT DOESN'T PREEMPT THE FINE QUALITY PROGRAMMING REGULARLY SHOWN ON SCIFI. (I'D HATE TO MISS THE LATEST MOVIE WHERE B AND C STARS GET EATEN BY ENOURMOUS HOUSEPLANTS OR BY ALIENS THAT MASQUERADE AS PATIO FURNITURE)
During the fourth week of the season, Sci Fi will run a "Surface" marathon in prime time, a strategy Mr. Gaspin said NBC has used successfully in cable, most recently with Bravo's "Project Runway."
"
You see it a lot in cable, where shows don't start that strongly, and after three weeks go by you start marathoning the episodes
," he said. "
People get to catch up, and then by episode four it spikes."
After a modest start, "Project Runway's" ratings in week six were triple its launch number, he said.
He added that when the shows run on cable, they will contain promos that ensure viewers know that the program regularly can be found on NBC.
The repurposing is not planned to last beyond the first four weeks of the season.
EDITOR'S NOTE: GOOD. SO BY OCTOBER WE CAN STOP SAYING THE WORD 'REPURPOSE'?
"Then you start getting into the
exclusivity value,"
Mr. Gaspin said.
Repurposing used to be a touchy subject because networks and their affiliates believed that a strong bond between program and channel was paramount. But now, Mr. Gaspin said, viewers have adapted and no longer get confused if a show winds up on a different channel.
EDITOR'S NOTE: CAUSE FACE IT….MOST PEOPLE DON'T GIVE A YOUKNOWWHAT. AND A LARGE PORTION OF THE VIEWING LUMPOCRACY DON'T REALLY KNOW WHICH CHANNEL THEY ARE WATCHING AT ANY GIVEN TIME
ANYWAY.
Affiliates also favor this kind of repurposing as long as "
the ultimate goal is to create a hit series for the network,
" he said.Mr. Gaspin said that if an NBC show provides one of the cable networks with a significant ratings increase, the length of the run could be "
reconsidered
." But keeping them on cable was unlikely. "
This is not about trying to help out the cable nets. This is the cable nets helping out the network,"
he said.
NBC is not the only network running its shows on its cable siblings. Fox will run a "Prison Break" marathon on cable channel FX. The marathon is designed to help viewers catch up with the series after its hiatus for the World Series. It will also give viewers who didn't watch the first episodes a second chance to sample the show.
Here is the cable schedule for the repurposed NBC shows:
EDITOR'S NOTE: THERE IS A SPECIAL PLACE IN THENETHERYHOTPLACE FOR THE MARKETING SAP WHO CAME UP WITH THAT WORD. (WONDER IF IT'S THE SAME DOOFUS WHO CAME UP WITH 'METRIX'?)
The premiere episode of "Surface," which is produced by NBC Universal Television Studio, will be seen on Sci Fi on Tues., Sept. 20, at 11 p.m. The same episode will appear Fri., Sept. 23, at 6 p.m. and Sun., Sept. 25, at 11 p.m. The second episode will appear on Sci Fi on Thursday, Sept. 29, at 11 p.m. and the first two episodes will be shown Oct. 2 at 9 a.m. and 11 a.m.
EDITOR'S NOTE: I ASSUME ALL TIMES ARE EST
.The third episode will air Tues., Oct. 4, at 11 p.m., and Oct. 9 at midnight.
During the fourth week, Sci Fi will show all four episodes from 7-11 p.m. Oct. 11. On Oct. 16, it will show episodes three and four. Sci Fi also helped promote "Surface" with a special that looked at the special effects used on the series.
USA will run the first episode of "Three Wishes," produced by Glassman Media and NUTS and hosted by Amy Grant, on Sept. 29 at midnight. The cable network will run the second episode on Oct. 7 at 2 p.m. The reality series' regular time period on NBC is Fridays at 9 p.m.
"E-Ring," the Pentagon action drama from Jerry Bruckheimer Television and Warner Bros. Television starring Benjamin Bratt and Dennis Hopper, is slated for Wednesdays at 9 p.m. on NBC and will appear Sept. 24 on USA at midnight. USA has also been running a 1and a half-minute trailer for NBC's comedy "Earl" from 20th Century Fox Television.
The first episode of "Earl," scheduled for Tuesdays at 9 p.m. on NBC, will run Sept. 25 on Bravo at midnight. The second episode will run Sept. 29 at 11 p.m.
The first episode of fertility clinic dramedy "Inconceivable," which is set to air Fridays at 10 p.m. on NBC, will be shown Sept. 30 at 7 p.m. on Bravo; the second episode will run Oct. 7 at 7 p.m. The show is produced by Touchstone Television in association with Tollin/Robbins.
It was unclear at press time when "The Apprentice: Martha Stewart," from Mark Burnett Productions and Trump Productions, would run on CNBC. Its regular time slot on NBC is Wednesdays at 8 p.m.