Not Star Wars/Monday with Harry Potter
EDITOR'S NOTE: I HAVE BEEN CONTROLLING MYSELF ADMIRABLY, I THINK. FOCUSING TODAY ON THE WORLD BEYOND

STAR WARS

.
I MUST WARN YOU THAT THIS CAN'T POSSIBLY LAST. I WAS JUST AT TARGET WITH DWEEBPAL SAMANTHA, AND ALREADY, THE DELUGE OF STAR WARS FOODSTUFFS HAS BEGUN. (I HOPE EVERYONE LIKES POPTARTS AND ASSORTED KEEBLER COOKIES, CAUSE YOU'RE GOING TO BE EATING A LOT OF THEM).
SO TOMORROW....TIME PERMITTING.....

MUCHO

STAR WARS'ING.
BUT NOW, SOME HARRY P:
P.S. FOR THOSE OF YOU WHO HAVEN'T READ THE BOOK OF GOBLET OF FIRE, THERE ARE SOME

SPOILERS

IN HERE. (OF COURSE, THE TRANSLATION FROM THE FRENCH IS SO YODA-SPEAK SIDEWAYS, YOU MIGHT NOT EVEN FULLY CATCH THE SPOILERS). BE YOURSELF FOREWARNED.
Premiere Magazine Set Report
Thanks to
DanRadcliffe.co.uk
for the translation!
Tuesday, 15th of February, Leavesden Studios, in Hertfordshire, northern London, almost 3 quarters of an hour by car.
Here takes place the most exclusive filming on earth:
Harry Potter and the Goblet of Fire
.
Filming began in July, and since, no newspaper has been allowed by Warner Brothers, via Burbank, California to spend a day at Leavesden Studios. So our wonderful day is placed under the sign eminently exciting of world exclusiveness.
EDITOR'S NOTE: THE TRANSLATION WAS OBVIOUSLY DONE BY SOMEONE WHO KNOWS SOME FRENCH, BUT EITHER DOESN'T KNOW HOW TO TRANSLATE INTO THE VERNACULAR, OR ISN'T A FLUENT ENOUGH FRENCH OR ENGLISH SPEAKER TO MAKE THE COMPLETE TRANSITION. (BUT IT'S FUNNIER THIS WAY, HUH?)
Jany Temime is a dresser for the costumes of POA and GOF, we take too with last year. The French woman of the Harry Potter series, a nice woman, funny, intelligent, talented and talkative without taboos is going, while a few hours, to open the doors of this huge filming, with an incredibly familiar atmosphere. Are you ready? Draw in your tongue that is hanging,
EDITOR'S NOTE: LOL!! I MIGHT NOT MAKE IT THRU THIS TRANSLATION WITHOUT FALLING DOWN FROM LAUGHING SO HARD.
we arrive, here, just right now, or almost!
First of all, the place. Since October 2000, the indoors and special effects scenes of Harry Potter have been filmed here, in these huge hangars for planes that was used for the Royal Air Force during the Second World War.
15 to 20 meters high and on thousand of square meters surrounded by a big park, itself surrounded of a high netting with barbed wire, guarded by security guards. Phew! Not a fortified camp but almost! The craziest rumors spread about this since the paparazzi have tried to land on the studios' roofs by helicopter.
Harry Potter arouses all the curiosity, that's a fact. But the studios had seen others. But never had things been as far as that. The "Potter Enterprise" (that is installed here for the 7 films) hasn't hesitated to build in hard, to that last. Everyone lives there all the years like at home, or like at school since the children-extras have lessons at the studios all the week.
EDITOR'S NOTE: ROFL. I THINK THE TRANSLATOR HAS CREATED THEIR VERY OWN LANGUAGE. (I WONDER IF THEY KNOW YODA?)
And as the space isn't missing, the author J. K. Rowling has also demanded that many elements from the decor of the three first films be kept there. As if she wanted to use this huge "wardfurniture" to make a museum or maybe open a theme park for the glory of her hero. That wouldn't be stupid at all.
WELCOME TO POTTER CITY
So the place is as if you were there. The first fence gone through, we enter in the subject: an owl-trainer makes three postowls working a hundred meters farther.
Welcome in the best magic world. In front of the building's main entrance, we must wait a minute as we can't enter without being accompanied. In front of that seems to be the rest of a quidditch stand. It's 10am, it's sunny, Rupert Grint (aka Ron Weasley) arrives at work as cool and ginger as we can imagine. Wow Ron! Wow a journalist The surprise is mutual. The handshake is quick. We all have other things to do. The hours spend. Mike Newell is filming. Jany doesn't hesitate one second: We go on set A, like that you can see how the filming is happening? Oh, right! (pinch me, I dream!!)
EDITOR'S NOTE: PINCH

ME

, I SAY OUCH.
From the outside, it's a scaffolding cube. From the inside, the Gryffindor common room with around between 60 and 100 persons. In addition to the technicians, there are the children's make-up girls, their doubles (each of them has a light double, a stunt double and a double who is more than 16 years old for the time of filming overtakings) and some parents.
They start to carry out by the installation with the light doubles. Harry has just won the golden egg task in front of a dragon (for those who don't follow). He comes back in the Gryffindor common room where a triumph is expecting him.
EDITOR'S NOTE: HOW NICE FOR HIM THAT HE IS EXPECTED BY A TRIUMPH. (BETTER THAN BEING EXPECTED BYA FAILURE, I SUPPOSE).
As he has to do when we shoot with children (and there are many), Mike Newell repeats the scene many times.
He will film only a few seconds at the end of the morning before lunch. The director joins us in front of the control monitor, look at it, smile at Jany and leave to chat with the Gryffindor boys. He places the actors, gives advice, set the tone and again we hear all of those howls of happiness.
Mike cares a lot in his work on the relations between teens and in widening the competition between Harry and Ron. He makes all in a delicate way, for the comedy moments and when the tragedy of Cedric's death happens, with a lot of softness, you will see.
And the scene with Voldemort, Jany? No, I can't speak about that. Daniel Radcliffe, less tall than we imagined, goes out a few seconds to get water, he passes one to the doubles, and goes in front of the camera again. You can visit? What, sorry? (stupid answer that will be often back, with wide open eyes).
THE POTTER'S SET
The next set is empty. That's a huge white room with green walls. Without a doubt, the quidditch scenes are filmed here. Jany confirm. Still a few meters and it's the shock: Let's go! Go in!
Two solid wood doors, 5m high and 15 cm thick -we would have to be Hagrid to open them, and we come into the Great Hall of Hogwarts, built with real stones, true walls, and true floor. Well, the true Hogwarts Hall! Long silver plated curtains to the floor (well! well!), three painters are putting white paint to erase the decoration of an evening.
We have just shot the big scene of the Yule Ball. If you saw them waltz, if you saw the excitement...The girls have only been told about what they were going to wear ("why has she got this pretty dress and not me?"). We have known all those children, and we have seen all them grow up, falling in love one and others, it's very touching. Well let's go!
Let's go! Just a second, a little second. Please! Jany laughs, appreciates that magic is working. She started to work on the film in February. Harry Potter is one year of her life at each time. But she doesn't get bored of that. I understand, me too, I'm a little bit addicted. Let's go now! The big doors are shutting. The walk until Jany's studio continues. The huge Weasley's tent/house, the one at the Quidditch World Cup, has pride of place in a corner, true cool mess, that we can mistake with a traditional product stand of the Agriculture Show.
On set D, through the space between two doors (closed with chains), we can have a look at the lake, into the under-water scenes which have been filmed (That won't be easy to go down this dream). I'm going to show you the main characters'costumes.
Back at the studios entrance. A huge white tent had been installed for TV. It is here that the interviews for the release of the film in November are directed. In a corner are cups from the trophy room. All of them, without exception, are engraved of an imaginary competition name. The worry of the detail is pursued with extreme.
EDITOR'S NOTE: YES. I'M SURE IT IS. (LOL)
In the opposite corner, the costumes are exposed.
EDITOR'S NOTE: BUT NONE OF THE ACTORS, I HOPE?

THE FASHION SHOW OF READY-TO-WEAR POTTER
Let's begin with Harry. He needed a new costume for the tournament and, of course I wanted that to be like the very sport line I created for the last episode.
In red and black, the Rastignac of Hogwarts will enter the competition as if he went in the boxing ring. The lace sweat and the cape with a hood with his name printed on it is inspired by the boxing. As if aggressiveness was more important.
Here it's Maugrey Fol-Oeil, the new dark arts teacher.
EDITOR'S NOTE: UMMM...THAT WOULD BE 'MAD-EYE MOODY' IN AMERICAN.
With him, I had a great time creating a sort of warrior look, an action man who would have a long experience. Leather coat threadbare (like Mad Max) covered by a long raincoat dust-cache worthy of western-spaghetti.
EDITOR'S NOTE: OK...I CAN'T GO ON. GIVE ME A SEC TO PULL IT BACK TOGETHER.
Fol-Oeil will have all of an adventurer, a bit crazy and ready to draw at the lesser remark. Ah! Rita Skeeter, the poison journalist! So this green color of that little sexy woman's suit she wears when she corners Harry in the broom cupboard. She had to appear like seen through a teen's eyes discovering the feminine allure. The other suit is for the tournament. You see the little dragon's tail behind? Cute, isn't it? To impose her "executive woman" style, it reminds me of the 80's.
In a style closer to us, there's the new Malfoy array, very Prada, in black suit and turtleneck, more wealthy kid than ever. And many women's clothes that seems to be more older. French girls' costumes of Beauxbâtons, who are led by our compatriot Clémence Poésy [she plays Fleur Delacour in the film] are going to create the effervescence in Hogwarts. I tell you just right now; GOF is definitely placed under the sign of the awakening of sexuality.
EDITOR'S NOTE: THE 13TH SIGN OF THE ZODIAC?
But that isn't emphasized. From which this reference to the 30's, it's very feminine, but that doesn't show anything. We stay in the awakening. Ah! Sorry, but it's time.
EDITOR'S NOTE: OY YOU SEX-OBSESSED FRENCH PEOPLE!
The hour of the ritual that makes it appear again the big studios of the 30's atmosphere: each day, between 1 and 2pm, Mike Newell brings together his major colleagues to have lunch in the projection room to view the rushes. This time we can't go in. Jany moves away. Somewhere in this immensity, children's shouts resound suddenly. That means it's the break. Canteen, besides! The time to sniff some dishes typically British and to make with a packed-lunch heated up in the microwave, Jany appeared again. (no comment).
You want to see the cemetery? Well...(yes, sure, the wizardly atmosphere limits the vocabulary).
EDITOR'S NOTE: OH IS

THAT

WHAT HAPPENED?!
That's a fabulous set, building at 2 meters of the floor and rests entirely on scaffoldings.
We take a little sloping way and we are between dozens of gravestones hundreds of years old. It's here that that the fight between Harry and Voldemort will take place, organ note of the story and, between us, of all the JKR series.
For the anecdote, the names written on the gravestones are those of the technical crew, to avoid copyrights if someone would recognize himself in the names written on the screen. And Voldemort? That will be a great moment. No one else other than Ralph Fiennes would have played Voldemort. It's...OK, that's it. We go to the studio.
Tell me, Harry Potter on a CV, that must open all the doors right? I don't know, but in life, it's incredible. When I go back in the South of France where I have a house, I'm Mrs Potter, an idol for the children and my friends.
Other example, I wanted to make the Beauxbâtons girls' hats by Philip Tracy. Generally, Philip works for the Queen and for some celebrities, that's it. He has hesitated a bit, and then he told me: "
OK, do you know? I will do it for my niece. Like that, she will respect maybe a bit more
." Wicked right?
THE POTTER CLOTHING INDUSTRY

On 200 square meters, hundreds of costumes and accessories labeled, are all suspended. There are so many characters and extras for this fourth film (for their Yule Ball scene and the World Cup one), and it's also necessary to wear each double.
All the basic models are made here, in this seam studio where the little hands bustle about like bees. It's also the case for the majority of the clothes, that's about jeans or simple pullovers. Previously, the production bought; now it's made on the spot, that's easier.
Mike knew that he had to do a modern film, but he also brought his own ideas. First English director who works on Harry Potter, he uses his background. I went in the public school atmosphere and he describe it very thoroughly in the film while developing the teacher/pupils relation. His approach is also more theatrical and, of course, more glamourous. That's what we expected from him, isn't it?
Alfonso Cuaron ["The Prisoner of Azkaban"] who had spotted your work in "Character" [Oscar of the Best Foreign Film in 1997] and had seen you come. He spoke to Mike so that he keeps you, or what?
A phone mobile rings: the few notes of the Harry Potter prologue play themselves. Before, they all had this ringing, we became mad. I'd like to have it too... Jany shakes the head of the kind: "But how old are you?". She follows on.
To convince Mike, I had to pass a 4 hour oral examination, show him my book, tell him about my ideas. He had the choice between keeping me or not. Like J. K. Rowling, he saw all the costumes, gave his opinion on all. Normal.
But they aren't alone. Our dresser must also hold account of the children's opinion, become teens. It's a bit more difficult because sometimes it totally irrational. They are adorable, our babies, but it's finished, you can't propose them anything.
Emma [Watson], for example, who has a crowned temperament, won't ever wear clothes she doesn't like! It can't be!
At the beginning of April, Jany Temime, who wanted to be a Latin teacher, is going to meet the director of the next Harry Potter film to know if she's up again for a third time. I hope I will continue. You know, it's very difficult to drop Harry Potter. Yes, now I know.
EDITOR'S NOTE: I HAVE BEEN TRANSPORTED. NOT NECESSARILY TO HOGWARTS, BUT TO SOME MISTY ISLE WHERE THEY SPEAK IN YIDDISHMISHMASHYSIDESADDLE. I THINK OF IT NOW AS HOME.
Article by Ghislain Loustalot for Première.
EDITOR'S NOTE: SINCE YOU SURVIVED YODA-GOES-TO-HOGWARTS, HOW ABOUT SOME PICTURES AS A REWARD?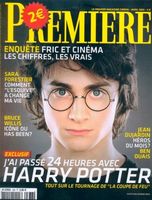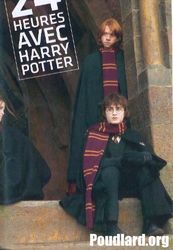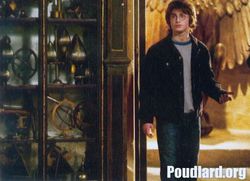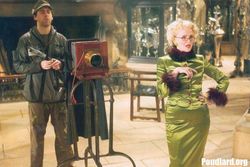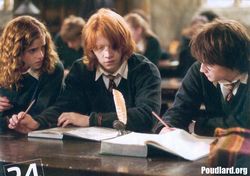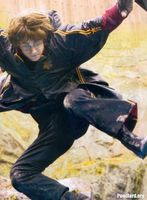 EDITOR'S NOTE: FLEUR, BARTY CROUCH, DUMBLEDORE