Not Star Wars/Monday Odds-n-Ends
EDITOR'S NOTE: THE STUFF THAT GATHERS IN MY DRAFTS FOLDER.....
FOR YOU NARNIA FANS.....SOON-TO-BE COLLECTIBLES:
Dark Horse' Line of Narnia Collectibles
Weta Collectibles is proud to present our new range of exclusive collectible polystone sculptures.
The Collection celebrates the release of the first installmanet of "The Chronicles of Narnia", Disney's "The Lion, the Witch, and the Wardrobe", directed by Kiwi, Andrew Adamson.
Hand sculpted at Weta Workshop by the same team of artists who designed the armour, weapons and many of the creatures for the film.
Darkhorse comics have joined with us as the premier distributor for this exciting limited edition collection.
The Quantity of the product line is only estimated at this point, as are the designs of the statues and exactly what products will be available. This is a very exciting line, one that could grow by the time the movie comes out.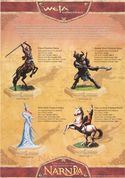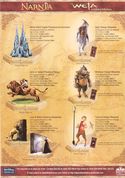 Orieus Polystone StatueUS Suggested Retail Price: $175.00Release Date: 9th December 2005
General Otmin Polystone StatueUS Suggested Retail Price: $150.00Release Date: 9th December 2005
White Witch Polystone StatueUS Suggested Retail Price: $180.00Release Date: 1st October 2005
Peter on Unicorn Polystone StatueUS Suggested Retail Price: $300.00Release Date: 1st October 2005
White Witch Castle Polystone EnvironmentUS Suggested Retail Price: $150.00Release Date: 9th December 2005
Satyr Design MaquetteUS Suggested Retail Price: $150.00Release Date: 1st December 2005
Includes "In insight to the design process" booklet on the development of the character
Girls on Aslan Polystone StatueUS Suggested Retail Price: $300.00Release Date: 1st October 2005
Minoboar Design MaquetteUS Suggested Retail Price: $150.00Release Date: 1st October 2005 Includes "In insight to the design process" booklet on the development of the character
Tumnus Design MaquetteUS Suggested Retail Price: $150.00Release Date: 1st October 2005 Includes "In insight to the design process" booklet on the development of the character
Lion & Witch Polystone BookendsUS Suggested Retail Price: TBDRelease Date: 1st October 2005
EDITOR'S NOTE: KEEPING WITH THE COMPLETELY RANDOM FLOW....
All Hyundai models to have XM
Hyundai Motor Co. will become the first automaker to equip all of its U.S. models with XM Satellite Radio, the companies said Wednesday. Shares of XM's parent rose 3% in early trading.
The feature will be factory-installed in all models starting in 2006, including the Sonata, Santa Fe, Elantra and upcoming replacement for the XG350 sedan.
EDITOR'S NOTE: UNFORTUNATELY, SOME MODELS STILL MAY OR MAY NOT HAVE AN

ENGINE

, BUT THE XM SATELLITE THING IS GROOVY. (
SNICKER....)
EDITOR'S NOTE: MORE RANDOMNESS....
DISNEY CLASSICS ON DVD
Heroic Benji and a buddy
It seems like everyone has one – that favorite movie, perhaps seen once in childhood, that we can never find again. The DVD revolution has brought a lot of those lesser-known classics back into the light of day, but there are still a few impossible-to-find holdouts.
Well, if you've been desperately searching for a fondly remembered Disney flick, you may be in luck – the Disney Movie Club has announced a new series of DVD releases dubbed the Exclusives.
These are family movies that have never before been released on DVD, mostly live-action. EDITOR'S NOTE: IS IT JUST ME, OR DOES THIS HAVE DWEEBPAL ANDREW'S NAME ALLLLLLL OVER IT?!
Read on and discover if the first wave of releases will include your must-have movie!
"The titles selected to be the first of the Exclusives collection are somewhat varied, in an effort to appeal to the broad taste of DMC members," explains John Flynn, Executive Director of the Disney Movie Club.


"The first three releases really do offer something for everyone – adorable animals, heartwarming drama, and sidesplitting comedy".
They are: • "Benji the Hunted," the classic tale of one of America's favorite canine heroes. • "Wild Hearts Can't Be Broken," a story of a courageous young runaway who fulfills her dream of joining the circus by diving horses from a platform into a pool of water. When a tragic accident leaves her blind at the height of her career, her determination leads to great triumph.
• "Mail to the Chief," a fun tale of a middle-school student who gives advice to a person he meets on the Internet with the screen name "Average Joe." Only later does he discover this individual is none other than the President of the United States.
How were they chosen? According to John, it all comes down to consumer demand. "We log thousands of title requests each year. People request even the most obscure films and television shows. We even get requests for sequels to films that have never been created, such as 'Toy Story 3' and 'Dumbo 2'!" He adds, "If there is any potential audience for a given title, we do our best to make it available."
The Disney Movie Club will continue to rummage through the vaults and release films that have previously been unavailable on DVD. John hints that there are quite a few '60s comedies that might be in the works for upcoming releases, but he won't give us more specifics – we'll just have to wait and see.

How do you get these flicks? They're only available to Disney Movie Club members – one of the perks of joining the club.
Here's the scoop: visit DisneyMovieClub.com to sign up, then choose three of their Disney DVDs for free; shipping and processing is free.
By joining, you agree to purchase five more titles over the next two years at regular Club prices, which start at $19.95. When you've done that, you become a VIP member and get added goodies like free gifts.
And, of course, when the next batch of lost treasures appears on DVD, Disney Movie Club members will be the ones getting to say, "OH! That movie! I love that one! I never thought I'd see it again …"
EDITOR'S NOTE: AND A WEE BIT MORE FREEFORM DWEEBING...
(WITH THANKS TO DWEEBPALS ANGELA AND CORDIE FOR PASSING THIS ALONG):
The Lord of the Rings Motion Picture Trilogy—The Exhibition
at the Houston Museum of Natural Science


HOUSTON— The Houston Museum of Natural Science welcomes visitors to the world of Frodo, Sam and the rest of the Fellowship to Houston at 12:01 a.m. on June 4, 2005 with The Lord of the Rings Motion Picture Trilogy—The Exhibition. This exhibit takes visitors behind-the-scenes of the Academy Award-winning films and opens up the world of Middle-earth for exploration.

This groundbreaking exhibition brings the fascinating world of movie making to life through hundreds of pieces of memorabilia from the epic film trilogy, including original costumes and jewelry, as well the central icon of all three films—The One Ring. A variety of hands-on interactive activities provide the opportunity to explore new technology, creating a completely unique experience.

"The Lord of the Rings films combine science and engineering with creativity and imagination," said Joel A. Bartsch, president of the Houston Museum of Natural Science. "The films have so many fans, but even those that are unfamiliar with the trilogy will be fascinated by how such a rich fantasy world was created with real-world science."

Through the props actually used in the trilogy, visitors can explore innovative techniques used in the films, such as computer-generated special effects and animatronics. Exclusive interviews with cast, crew and the director are shown in videos playing throughout the exhibit.

"The films in the trilogy were award-winning blockbusters," said Carolyn Sumners, Ed.D., spokesperson for the exhibit and director of astronomy and the physical sciences at the Houston Museum of Natural Science. "With such a fabulous story, The Lord of the Rings entertains, but it also has the ability to engage the imagination and educate the mind. The exhibit is fascinating and the science is sensational."EDITOR'S NOTE: IT'S QUITE A STRETCH, BUT IT'S FUNNY LISTENING TO THEM WHEELING OUT SCIENTISTS TO JUSTIFY A MOVIE EXHIBIT AT A SCIENCE MUSEUM. (NOT THAT I CARE, AND NOT THAT IT MEANS I WON'T WANT TO BE ONE OF THE FIRST IN LINE. I'M JUST POINTING OUT THE SILLINESS IN WATCHING 'INTELLECTUALS' TURN THEMSELVES INTO HUMAN PRETZELS TO GET COMFORTABLE WITH MONEY-MAKER EVENTS).

An interactive scaling activity reveals how filmmakers can make the actors appear to be Hobbit-sized or wizard-sized using an ingenious mix of trick photography, forced perspectives and props of different scales. Visitors can even see themselves transformed as Hobbit- or Wizard-sized in their own photo that will be available for purchase. EDITOR'S NOTE: WHAT ABOUT FOR THOSE OF US (ODDBOB) WHO ARE ALREADY HOBBITS? CAN WE SEE THEM TURNED INTO HUMANS?

Witness special effects demonstrations, including the combination of real and digital action, and computer-generated-image technology (CGI). Examine film props up close, including a display of Hobbit hands and feet; other prosthetics that transformed the actors; and weapons belonging to Arwen, Gandalf, Frodo and Aragorn. Marvel at the amazing artistry of costumes like Arwen's riding attire, Galadriel's stunning dress and Gandalf's robes, all one-of-a-kind.

Additional interactive components, developed by the Museum of Science in Boston, enhance the experience of every visitor. A motion capture exhibit allows film enthusiasts to step in front of a camera and watch as a computer translates their movement with a foam sword and shield into digital action on a nearby screen. A scaling line-up uses an ultrasonic sensor to detect whether visitors would be a diminutive Hobbit or a towering Dwarf, based on height. A 3-D scanner records the contours of participants' faces and displays the resulting wireframe animation instantly on a screen in front of them. Outside the scanning booth, they can manipulate the image using special effects technology to discover how they would look as a giant stone colossus.EDITOR'S NOTE: IT ACTUALLY IS A FORM OF TRUE SCIENCE. AND THIS SOUNDS VERY FUN AND VERY COOL!

Houston Museum of Natural Science interpreters will be available throughout The Lord of the Rings Motion Picture Trilogy—The Exhibition to answer questions, engage visitors in hands-on activities and offer additional insight into the trilogy's behind-the-scenes science and technology.

Developed and presented by the Museum of New Zealand Te Papa Tongarewa in partnership with New Line Cinema. This exhibition was made possible through the support of the New Zealand Government.

© 2005 New Line Productions, Inc.; The Lord of the Rings, The Two Towers, The Return of the King and the characters, events, items and places therein, are the Trademarks of The Saul Zaentz Company, d/b/a Tolkien Enterprises, under license to New Line Productions, Inc. All Rights Reserved. Local support for the exhibit is provided by Time Warner Cable and The Examiner Newspapers.

Tickets for the special exhibition are $17.50 for adults; $14.50 for children (3 – 11) and seniors (62+); $9.50 Museum Members; and $13.50 for groups of 20 or more. For tickets, or more information, visit www.hmns.org or call 713-639-4629. Information in Spanish is available at 713-639-4603.

The Houston Museum of Natural Science—one of the nation's most-heavily attended museums—is a centerpiece of the Houston Museum District. With four floors of permanent exhibit halls, including the Wortham IMAX® Theatre, Cockrell Butterfly Center, Burke Baker Planetarium and George Observatory and as host to world-class and ever-changing touring exhibitions, the Houston Museum has something to delight every age group. With such diverse and extraordinary offerings, a trip to the Houston Museum of Natural Science, located at One Hermann Circle Drive in the heart of the Museum District, is always an adventure.