Not Star Wars/Monday Television News
Devil's Daughter Dies; Leaping Slayer Returns
Maybe all the campaigning by TRU CALLING fans worked out after all.
This week Eliza Dushku and Jason Priestly return to the small screen in all their corpse-assisting, day-reliving glory.
Then again, maybe not, since it's only back to burn off the remaining episodes in place of gone-to-the-hereafter POINT PLEASANT, whose ratings were far more apocalyptic than its plotlines.
I only hope that TRU makes the most of their brief return, since the show had ratcheted the dramatic stakes to a whole new level at the end of the first season, what with Jason Priestly revealed as an "evil leaper", to borrow from QUANTUM LEAP parlance. Now we'll get to see a bit more of where the writers were headed. Let's hope they stick to the deep waters of moral ambiguity from season's end and don't get blown back onto the "corpse-of-the-week" reef on which they began.
EDITOR'S NOTE: I REALLY LIKED THIS SHOW. BUT THE FINALE WAS ALMOST A YEAR AGO. CAN ANYONE REMIND ME WHAT WAS GOING ON WHEN IT ENDED? (AND I DON'T RECALL SEEING THIS LISTED IN THE TV GUIDE, SO I'M NOT SURE WHEN, EXACTLY, IT IS GOING TO BE ON. MORE WHEN WE KNOW SOMETHING, I GUESS).
Of course, TRU's good fortune comes at the loss of POINT PLEASANT, but that's not much of a loss since POINT never made the quality-leap that TRU did. Eight episodes in (five remain unaired), the main character was still flat and uninteresting, the assorted subplots were more BOLD AND THE BEAUTIFUL than BUFFY, and for a show besotted with the supernatural, it had yet to produce even a single scary moment. Well, maybe Elisabeth Harnois' attempts to emote…and I thought Kristen Kreuk lacked range.
EDITOR'S NOTE: GIGGLE. SO IT'S NOT JUST ME WHO CAN'T WAIT FOR YOUNG SUPES TO MOVE ON FOR GOOD FROM HIS LANA OBESSION? (BY THE BY, SEE KRISTIN KREUK ARTICLE, BELOW)
I will, however, miss the malevolent duo of Lucas (Grant Show) and Amber (Dina Meyer). They definitely proved the old adage that it's more fun to play bad, and consequently were the liveliest thing about POINT (was it just me or were they the only characters in that town with a sense of humor?).
EDITOR'S NOTE: SINCE THEY ARE ALSO ABOUT THE ONLY PEOPLE ON THE SHOW OLD ENOUGH TO VOTE, I'M THINKING.....IN MY OLD-BITTY, CURMUDGEONLY WAY,..... THAT BEING AN ANOREXIC TEENYBOPPER IS WAY WAY SERIOUS BIZ?
Show especially brought back fond memories of BABYLON 5's Mr. Morden.
EDITOR'S NOTE: OOO....VERY GOOD B5 MEMORIES. MORDEN...EVIL, AND

CUTE

!
At least Morden got a properly memorable exit; these poor souls just vanished in a cloud of half-baked horror cliché's.
Super Talk From Kristin Kreuk
Up, Up And Away…HNR Chats With Kristin Kreuk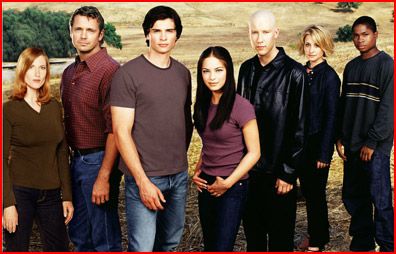 There's no question about it: Kristin Kreuk's career is taking off, even though "stardom" is a moniker with which the young actress is not completely comfortable. EDITOR'S NOTE: GOOD. CAUSE SHE'S VERY PRETTY, BUT I HAVE FURNITURE WITH MORE CHARISMA. (OF COURSE, FURNITURE FROM IKEA IS KNOWN FOR THAT.....)

For the 23-year-old Kreuk, whose Smallville character of Lana Lang began as a study in the bucolic motif—a orman Rockwell vision of Kansas come to life in the form of the girl next door—opportunity seemed almost inevitable from the beginning. Uniquely beautiful; possessed of both intelligence and innate acting ability,EDITOR'S NOTE: ????? Kreuk seems almost born for the world of film, even if she's not quite certain she wants to devote her entire life to it. And in a business that all too often seems to eviscerate young actors, her measured approach seems healthy.

Admittedly, it's a trite cliché to call acting a tough business. But with something less than seven percent of all actors in Hollywood actually making a living as full time thespians, I'll risk sounding redundant and stress the point: acting is a tough business.

More so if you live in Vancouver, where despite a vigorous film industry, opportunities are rather finite..

That's the rule. Then there's the exception…and the exceptional. Kreuk's caution notwithstanding, her aforementioned beauty, smarts and talent have helped propel her into the front ranks of today's young actors, opening doors that most only dream about.

The whole thing began quite unexpectedly. Born and raised here in Vancouver, destiny called in 2000—Kreuk's senior year of high school—when the casting director of the fledgling CBC TV series, Edgemont began faxing local schools seeking an exotic-looking girl to play the part of "Laurel." With only her Eric Hamber high school acting experience behind her, Kreuk nevertheless auditioned and won the part.

The Edgemont role opened the door to the producers of Smallville, who quickly identified her as their ideal Lana Lang. It's been a "meteoric" (pun intended)EDITOR'S NOTE: SO WHICH BUDDING HIGH SCHOOL REPORTER/FAN BOY WROTE THIS?? rise to the top ever since.
As many of you probably already know, when
Smallville
finishes season four this spring, Kreuk will spend her hiatus alongside Jimi Mistry filming
Partition
, an epic romance set in India during the last days of the British Empire—a time of political and religious upheaval. Kreuk will play a 17-year-old who is traumatized by the events that separate her from her family as India is divided into two countries.
It's a serious and dramatically demanding role, but until then, she continues to focus on her duties with
Smallville
. We caught up with Kristin just before it was announced that she would appear in
Partition
and chatted briefly with her about
Smallville
and acting in general…
Robert
: Looking back over the past four seasons of
Smallville
, is there a favorite episode that stands out in your mind?
Kristin Kreuk: It's hard to answer that after almost four years. I like a lot of the Lex-centric episodes. I think Michael [Rosenbaum] did a great job with "Shattered" the year before last. It was great for the show, for his character, and I'd definitely have to rank that among my favorites.
Robert:
Clearly, working on the CBC series
Edgemont
was a very different experience than
Smallville
. No blue screens…no visual effects. Was that a big adjustment for you—going to a relatively effects heavy series?
Kristin Kreuk: Not necessarily. I'm not really involved in the effects that often, although this year I must admit I have become more involved in them. It's certainly interesting. You do learn a lot working on an effects show, and nowadays so many shows have so much in the way of effects that it's good practice. But overall, I actually think Smallville is a lot easier than Edgemont, because on Edgemont I had to perform about 13 pages of dialogue a day. It was the kind of a show where you didn't have any time to sit and process. On Smallville we have so much time and that makes it much easier. [Laughs] Sometimes it doesn't seem like we have that much time, of course.
Robert
: Probably your earliest experiences acting were on stage in high school. Looking back on those early years, do you miss the feedback of the live audience, and do you have any desire to go back to theater at some point?
Kristin Kreuk: I only did theater in high school, and I loved it so much; yeah, I must tell you I loved being on stage. Oddly enough, I'm actually a little intimidated by it now because I know some really great stage actors who are so wonderful and it just freaks me out. But I'd love to eventually get back on stage. Maybe in a very small place [laughs] where there's no pressure and I can feel comfortable. It took me so long to get used to working in film and I would definitely like to go back the other way.
Robert
: Has there ever been a moment in
Smallville
, where you were searching for the essence of a line or a scene, and you found yourself thinking back to some moment in acting class where you'd been given a great piece of advice by an early acting teacher?
EDITOR'S NOTE: OH GAG....(SORRY. SAY THE LINES. TRY NOT TO RUN INTO THE FURNITURE).
Kristin Kreuk: Wow, what a great question!
EDITOR'S NOTE: SNICKER....
I think
really through season one in general—and this is going to perhaps seem like a vague answer—I was struggling a lot with the character of Lana because I couldn't relate to her fully, and I would think back to my acting classes that I took all through high school where we had free reign over characters. We took those characters and created them by ourselves, and we made them into full people by writing up epic studies of their traits and giving them histories and so forth. With Lana I felt a little stuck because I was following what was on the page, and I remember discussing this with Allison [Mack] who has helped me a lot. And she said to me, "Well it's up to you to shape these characters. You can't wait for someone else to do that for you. Then, the writers will follow your lead." Which I didn't understand at all [laughs]. So that's a big lesson that I learned…and continue to learn in a lot of ways.

But again, it's precisely what I did with every single character I ever played throughout high school, and ironically, I stopped doing it when I started playing Lana.
Robert:
So it came as a bit of a revelation to you that you could actually employ lessons learned in your earliest days of acting?
Kristin Kreuk: Yeah, it took me a while to sort through the process.
Robert:
Do you have any desire to leave Vancouver when
Smallville
is finished and pursue acting in Los Angeles?
Kristin Kreuk: Um, I don't know. I think we've still got at least a couple of years left on Smallville; at least one more year after this one. I'm still somewhat uncertain and I'm still living day to day. It also depends on what opportunities come my way and if I fully decide on something else I want to do. [Laughs] I really have no idea.
Robert
: Are there any specific characters or roles that you've always wanted to play?
Kristin Kreuk: Do you mean like classical theater, for example?
Robert
: Open-ended question…any role at all.
Kristin Kreuk: As an abstract exercise, I'm honestly not certain. I didn't get an opportunity to read a lot of plays when I was in high school. I think I've talked about this before, but a role like Cate Blanchett's in Elizabeth would be amazing to play. She's a strong female character with a massive story arc. She starts out in one place and ends up in a completely different realm. I think that is terrifically challenging and you have so much material to work with and get to play a fully rounded female character absent any clichés. I think that's still hard to find today in TV or in film, and I think that sort of role would be such a great experience. I'd love to do that.
Robert:
I asked Tom [Welling] if it was more fun to play villains, and he indicated that it's fun to play against type whenever you can.
Kristi
n Kreuk: I agree with Tom. I think it's fun when you've been working on a show for a while to play something that is opposite to the character you've been portraying. Personally, I also believe that it's easier to play villains; you've got freer reign. You must remember too, though, that the best actors who play villains are completely sympathetic. For example, Ray Fiennes plays villains all the time. Take Schindler's List. You could still feel for Ray Fiennes' character even though he was quite despicable.
Robert:
Complex and multidimensional, in the tradition of the best villains.
Kristin Kreuk: Exactly. But on our show, when you get to play a villain, it's usually a fun character designed to camp it up a little. And it's great, because they allow you to make a fool of yourself.
EDITOR'S NOTE: KINDA LIKE WHEN YOU'RE INTERVIEWED, I GUESS.....

Robert:
A number of actors, like George Clooney, for example, have a reputation for playing practical jokes on-set. Are there any practical jokers among your cast on
Smallville
?
Kristin Kreuk: The boys definitely play more practical jokes on one another more than anyone else; the boys as in Tom and Michael. And they do it a lot! And Jensen (Ackles) has jumped on the bandwagon now, too.
The biggest
practical joke I can remember—and I'm sure Michael's told this story before—was when actress Emmanuelle Vaugier [Dr. Helen Bryce] was in our cast, and she did this thing where she put fake poo all over the seat of his toilet in his trailer. [Laughs] She mixed up this concoction and then got some sort of stinky stuff—I don't know what it was—and stunk up his entire bathroom. He walked in and there was all this brown "stuff" everywhere…
Robert
: I'll bet he appreciated that.
Kristin Kreuk: [Laughs] Oh, yeah, he freaked out. I think that was probably the best practical joke I'm aware of. There's also little jokes that happen constantly on-set.
Robert
: Playing Lana Lang on this series has really propelled you into the limelight. How do you react to the whole teen sex symbol and glamour aspect that's accompanied this role…and does your family struggle with it at all?
Kristin Kreuk: I don't think they've struggled with it, and I tend to shy away from it in a lot of ways. I did one British men's magazine a while back, Arena, and that's really all I've done to push that image. Honestly, I know I say this a lot, but it's not part of my life in a "real" sense.
Robert
: Do you have a favorite activity or pastime that helps you decompress when you're not filming?
Kristin Kreuk: I like both reading and writing. I've also been painting recently, though I'm hideous at it. But it's great fun and kind of meditative. And I know I've said this umpteen times before, but I do enjoy spending time with my friends.
I also really enjoy traveling. Every chance I get I take off somewhere and see the world. I find that it puts my life in perspective…and if I feel like it, it's nice sometimes just to lie on a beach and chill out.
Robert
: Thanks for taking time out to talk with us today, Kristin, and continued success with your career.
Kristin Kreuk: Thank you; it was nice chatting with you too.