Breaking DWEEBing
Editor's Note: Now HERE's some weird and unexpected news.....
NORTON IS THE NEW HULK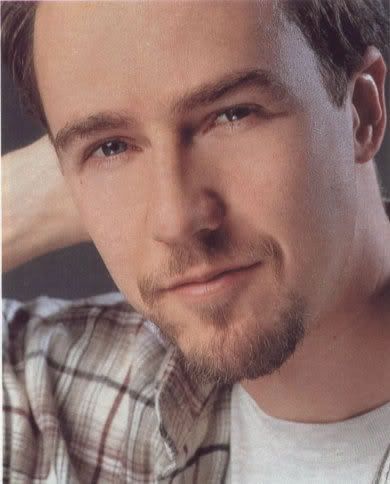 Edward Norton is about to get smashed by a big, green, gamma-powered giant.
In a bit of a surprise, Variety reported last weekend that Norton will take over the role of Bruce Banner from Eric Bana (who was not expected to return) in "The Incredible Hulk."
The signing of the Oscar-nominated actor is just another impressive catch for newly independent Marvel Enterprises, which locked down Robert Downey Jr., Terrence Howard and Gwyneth Paltrow for their live-action version of "Iron Man."
The studio says this new "Hulk" will be less serious than 2003's "Hulk" (directed by Ang Lee) and will be more in line with the comic book and TV series. Marvel also says the picture will leave the monster's origin story to the first movie as it picks up with Banner on the run trying to avoid capture by turning into that misunderstood green menace (perhaps he should stop breaking things like expensive automobiles, glass windows and fire hydrants).
Editor's Note: Or perhaps they can hire screenwriters and actors with actual charisma.
Just another way to go with it.....
This role is an eyebrow-raising choice for the normally dour Norton, who scored a nice hit last summer with "The Illusionist," but hasn't starred in a blatantly commercial film since 2003's "The Italian Job." (That role was forced on him by Paramount Pictures to fulfill a contract that also gave Norton his breakout role in "Primal Fear" seven years prior.)
The actor also has a reputation for spending too much time in the editing room of his movies, especially because he usually doesn't have the additional title of either director or producer. This will make for an interesting mix for "Incredible Hulk" director Louis "leverage-less" Leterrier, whose resume of "The Transporter" movies and "Unleashed" won't do much to squelch the opinions of his leading man ("
Yes, Louis, Ed's on the phone again with more suggestions
").
Marvel hasn't announced if Jennifer Connelly will return as Banner's love interest Betty Ross, but a spy told the Hitlist they expect to recast the role.
Editor's Note: Maybe with someone who can act? (again, just a

radical

suggestion....)
Additionally, look for Sam Elliott who played General Ross (Betty's father and the man whose mission is to end the Hulk's reign of terror) to be the only returning actor from the first "Hulk."
In any event, "The Incredible Hulk" will start shooting this summer in Toronto in anticipation of a June 13, 2008 release.
Editor's Note: Norton is always an asset to a film. Strange choice for him, though. Wonder what they promised him to get him on board? (
Yes, Mr. Norton, we'll be sending you the first-born children of each of the Marvel Board of Directors via UPS
....)