Woe is I...and alack!
Editor's Note: Another year in which I STILL cannot attend the Disney Star Wars weekends.
I am bereft.
(And you thought I was the QOTD?)
rimshot....
Here's the blurb from the Disney PR juggernaut:
A Galaxy Far, Far Away—Up Close & Personal
Meet one of the creative forces behind Star Wars™ Weekends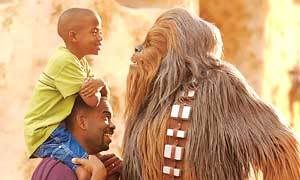 Editor's Note: Aww.....Look at the happy fake people interacting with the happy fake Chewbacca!
Whether you're a dyed-in-the-wool Jedi junkie, or even if you can't always tell a Jawa from a Wookiee,
Editor's Note: If you can't tell a Jawa from a Wookiee.... (well, for one thing, you're probably not reading THIS missive). But really, you are going to go into Chalmun's Cantina, and something you mistakenly call a Jawa is going to WookieWhup you BAD!
you won't want to miss Star Wars Weekends at Disney-MGM Studios every Friday, Saturday and Sunday, June 1 to June 24.
"
Star Wars Weekends is a totally immersive event in the ideal setting of Disney-MGM Studios
," Walt Disney Entertainment Show Director Mark Renfrow told us. "
Surrounded by three-dimensional settings and set pieces, like Endor Village, the planet of Tatooine and the AT-AT walkers, we really make it possible for everyone to live the fantasy of meeting celebrities and characters—while enjoying all the features created exclusively for the event."
Non-stop Star Wars fun and adventure
You can meet characters like Darth Vader, Anakin Skywalker, Chewbacca, Darth Maul, Princess Leia and even Jedi Mickey, and get autographs from some of the greatest names in Star Wars history.
There's nothing like the excitement when kids meet the Star Wars characters.
Editor's Note: Not the REAL ones. It's like Santa...at the mall, yes?
"It's great to see their reactions
," Mark said. "
It's as if the characters stepped right off the screen to meet, play and sometimes actually duel with them
." (Of course, you don't have to be a kid to connect with your favorite interplanetary pals!)
Editor's Note: SEEE!! SEEEEE!!!! TOLD Ya!
Young Guests may be chosen to wield a lightsaber and join the Jedi Training Camp, where a Jedi Master shows them the ropes on how to deal with the galaxy's most treacherous villains. They can also test their Star Wars knowledge at the Padawan Mind Challenge.
Seeing the stars from beyond the stars
Seeing—and maybe even talking with—celebrities is an exhilarating part of Star Wars Weekends. This year's guest list includes Kenny Baker (R2-D2), Peter Mayhew (Chewbacca), Ray Paul (Darth Maul) and more.
Editor's Note: The typo on Ray Park's name is on the Disney website!!!! (Do you think they meant RU Paul?)
Every day during the Weekends, you can enjoy
Stars of the Saga
, a live celebrity talk show in which you may find yourself asking one of our visiting Star Wars celebrities one of the questions. Also daily, look for
Legends of the Force: A Star Wars Celebrity Motorcade,
where you can cheer celebrities and characters as they make their way along Hollywood Boulevard.
Mark is particularly excited about
Behind the Force
, a 20-minute, big-screen film presentation edited from over 1,000 hours of Lucasfilm footage.
"
You can't see 'Behind the Force' anywhere else but Disney-MGM Studios
," Mark said. "
And this year, the story will be all about the 30 years of Star Wars, taking you from the saga's conception to where it's going in the future."

Editor's Note: Woe, alack and ALAS!!!
The ultimate Star Wars thrill ride and more
It wouldn't be Star Wars Weekends without a voyage or two aboard Star Tours,
Editor's Note: Ok, THAT I'm not sorry I'm missing. (I get motion sick just THINKING about it).
plus the fun finale of
Hyperspace Hoopla
, a musical comedy romp.
Editor's Note: "Hyperspace Hoopla"? Oh dear oh dear oh dear. (The words 'musical comedy romp' are pretty much NEVER a good sign. And then pair them with Star Wars, and there is a very bad tremor in the Force).
"
It's a chance for even the Star Wars characters to let their hair down
," said Mark.
"
And seeing a Wookiee let his hair down is usually quite impressive!"
Editor's Note: BAD PR man, BAD BAD!!! It's the spice mines of Kessel for YOU!