Movies, we got movie dweebing!
Editor's Note: I mean, wouldn't you rather Dweeb than...say...WORK? I know

I

certainly would.
A couple of sad items, first up ---
Propmaster killed in accident on set of THE KINGDOM
An assistant propmaster was killed on the set of the upcoming film THE KINGDOM which stars Jamie Foxx and Jennifer Garner.
The accident occurred as 25-year-old Nick Papac of Los Angeles was driving an all-terrain vehicle on the freeway, which has been closed to the public. He crashed the golf-cart-like vehicle into a sport utility vehicle carrying the director of the film, Peter Berg, according to a press release from officials with the movie. After paramedics with Universal Pictures/Forward Pass attended to Papac, he was airlifted to a local hospital, where he died a few hours later from severe head injuries.
THE KINGDOM is a thriller set in the Middle East which will revolve around an FBI team located in the Middle East investigating a terrorist bombing.
Bruno Kirby dies at 57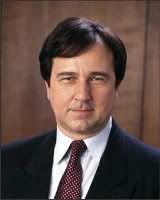 Bruno Kirby died on Monday at the age of 57. His wife, Lynn Sellers, said in a statement that Kirby died due to complications related to leukemia.
"
We are incredibly grateful for the outpouring of support we have received from Bruno's fans and colleagues who have admired and respected his work over the past 30 years,
" Sellers said. "
Bruno's spirit will continue to live on not only in his rich body of film and television work but also through the lives of individuals he has touched throughout his life."
Kirby played in a multitude of films and shows over various years, including:
Good Morning, Vietnam, When Harry met Sally
and
City Slickers
. He was seen most recently in an episode of
Entourage.
Editor's Note: One of those sidekick/second tier character actors who always turned in really nice little bits. RIP, sir.
Depp and Burton board SWEENEY TODD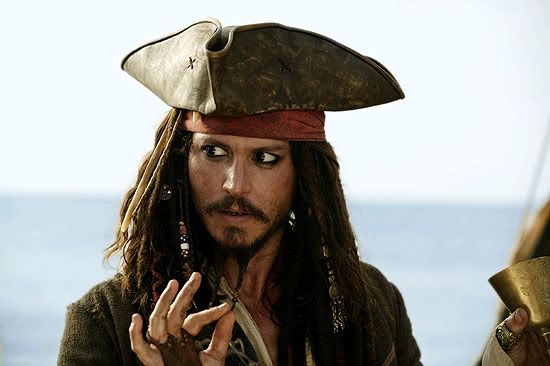 Editor's Note: Do we ever REALLY tire of seeing pics of Johnny Depp in pirate regalia? Naw......
DreamWorks Studios announced today that Johnny Depp has been set to star and Tim Burton to direct
Sweeney Todd
, the award-winning Stephen Sondheim musical thriller.
Editor's Note: How very very cool is this!!???
The co-production with Warner Bros. will star Johnny Depp as the titular Demon Barber of Fleet Street. Depp is currently starring in the record-breaking blockbuster,
Pirates of the Caribbean: Dead Man's Chest. Sweeney Todd
marks the 6th collaboration between the actor and director. The previous Burton-Depp films have been
Charlie and the Chocolate Factory, Tim Burton's Corpse Bride, Ed Wood, Edward Scissorhands
and
Sleepy Hollow
.
Walter Parkes and Laurie MacDonald will partner with Richard Zanuck and John Logan to produce the screenplay adaptation which was written by Logan. Production is planned to begin early next year for a late 2007 release. Paramount will distribute for DreamWorks domestically and Warner Bros. internationally.
The story of
Sweeney Todd
is of a wrongfully imprisoned barber in Victorian England who sets out to seek revenge on the judge who imprisoned him.
Editor's Note: All you thesp dweebs out there are now incessantly humming "Attend the tale of Sweeney Todd", aren't you?! And hearing piercing factory whistles?
Producer/Writer John Logan's most recent screenplays were
The Aviator
and
The Last Samurai
, and he was nominated for an Oscar for his work on DreamWorks'
Gladiator.Christopher Walken Now In Hairspray
Replacing Jim Broadbent as Wilbur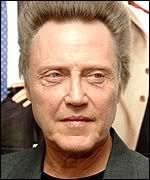 We know we promised no more
Hairspray
casting stories, but this one's a little bit more interesting.
Jim Broadbent is no longer playing Wilbur Turnblad – father of the lead character Tracy. Nope, for unexplained reasons he's out and Christopher Walken is in. Yes, that's right – the legendary dance fanatic will be putting his skills to use opposite John Travolta in drag. We can picture it now. Pardon us while we take a shower…Much better.
While he didn't reveal the reason for Broadbent being announced and then replaced, director Adam Shankman has been talking up the new Wilbur.
"
Chris was the person Scott and I wanted in the first place, and this is a happy ending to this particular saga,
" Shaiman told Variety. "
It seems like this part allows him to coalesce all his skills into one role. I am constantly pessimistic, but I look at this cast and feel like I've fallen into an old MGM musical."
Whatever makes you happy, Shankman.
Hairspray
arrives next year
Editor's Note: Neither coupling is exactly PRETTY. But I was kind of enjoying the Broadbent casting idea. Walken will put a creepy spin on it, huh? Although, the show IS kinda creepy, now that I think about it. Funny, but definitely odd.
Will we see a sequel to SUPERMAN RETURNS?

According to Variety, Warner Bros. is seriously contemplating whether they should go ahead with a sequel to SUPERMAN RETURNS.
In their article Variety revealed that WB and Legendary Pictures might have a shot at breaking even on the film, but that it remains a long shot. Because the film is struggling not to lose money for it's studios, they are trying to decide if they want to gamble on a sequel.
Director Bryan Singer told fans at the Comic Con that he planned to have a sequel in theaters sometime in 2009, but the studio hasn't signed him for a sequel.
The good news is that a sequel will likely cost much less as test effects are done and many of the sets can be reused by the studio. Legendary and WB, who share production costs on the film, have dumped an awful lot over the years to develop this film (a rumored $350 million), and it would be hard to just walk away. Right?
Time will tell with this one.
Editor's Note: I'm cool either way, frankly. The film didn't stink, but I can't feel very passionate about it either.
Dominic Purcell is the new HULK?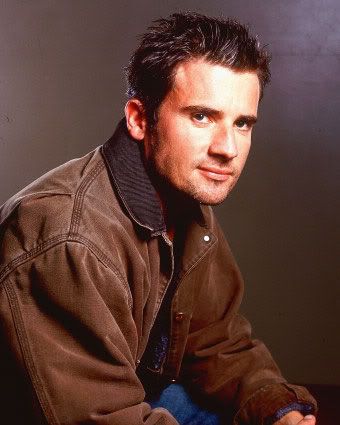 Rumors are flying and they have pegged Dominic Purcell as the man to play the title role in the next HULK movie.
Purcell was reportedly asked about the rumors during an interview with New York radio station WPLJ where he gave a stammering non-denial.
Purcell has been seen on the hit TV show PRISON BREAK as well as in BLADE: TRINITY where he played Dracula.
Louis Leterrier will direct the upcoming HULK film, which Marvel has promised to return to it's comic roots.
Editor's Note: Or just roots with a plot?
Daniel Craig signs on to star in THE GOLDEN COMPASS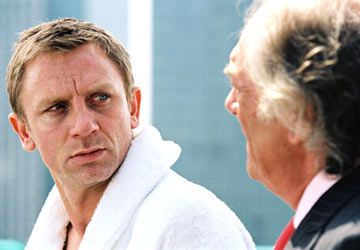 Daniel Craig has signed on to star in the upcoming film THE GOLDEN COMPASS for New Line. THE GOLDEN COMPASS will be the first installment of a potential trilogy based on the Philip Pullman series His Dark Materials.
The story follows 11-year-old Lyra Belacqua, a precocious orphan growing up within the precincts of Jordan College in Oxford, England. It quickly becomes clear that Lyra's Oxford is not precisely like our own - nor is her world. In Lyra's world, everyone has a personal dæmon, a lifelong animal familiar. This is a world in which science, theology and magic are closely intertwined.
Craig will play Lord Asriel, a ruthless and mysterious adventurer who is the uncle of Lyra, the young girl who will journey to a parallel universe in an attempt to save her best friend.
Editor's Note: I'm not sure how Mr. Craig will have time to sleep or eat he has so many roles (and rumored roles) on the fire. But this is EXCELLENT casting. I can absolutely picture him in the part.
Paul Bettany was previously rumored for the role. Craig will join Adam Godley (Pantalaimon), Nicole Kidman (Marisa Coulter), Clare Higgins and Dakota Richards (Lyra) in the cast.
Chris Weitz wrote the script and will direct for the studio. Craig will shoot the film and then return for the 22nd installment of the James Bond series, which has already been scheduled for a May 2, 2008 release.
James McAvoy will star in WANTED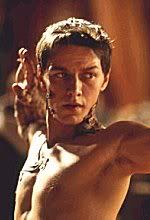 James McAvoy(he played Mr. Tumnus, the Faun, in "The Chronicles of Narnia: The Lion, the Witch and the Wardrobe") has signed on to star in the upcoming Universal Pictures film WANTED. The film will be directed by Russian director Timur Bekmambetov.
The sci-fi action film will follow a put-upon young man who discovers that his long-lost father is an assassin. After his dad is murdered, the son is recruited into a covert organization of killers and trained to follow in his father's footsteps.
Editor's Note: Good thing his dad wasn't something ookie.....like a politician or an ACTOR.
WANTED is based on a Top Cow comic book which is considered hard-core and thus you can expect the film to be rated R.
Bradley Cooper joins CASE 39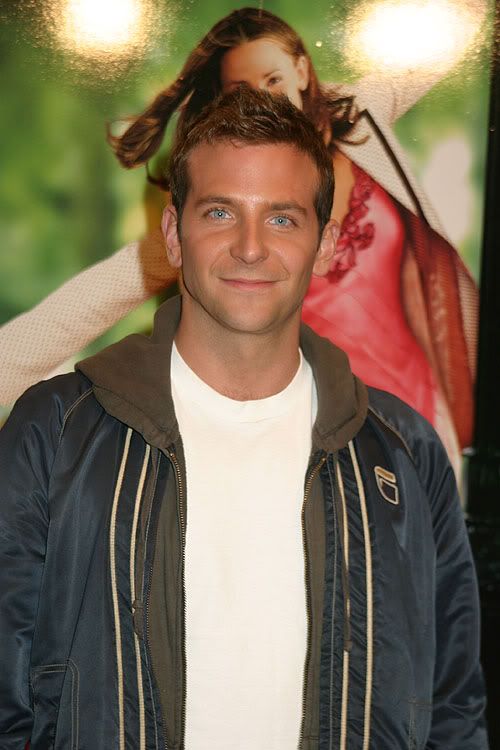 Editor's Note: I wonder if he knows that he has part of Jennifer Garner's face growing out of his head?
Bradley Cooper has signed on to star in the upcoming Paramount Pictures film CASE 39. Cooper will join Renee Zellweger, Ian McShane, Kirsten Storms and Alexis Thorpe in the film.
The script is by Ray Wright and centers around an idealistic social worker (Zellweger) who saves a 10-year-old girl from her abusive parents. She later discovers that the girl is not quite as innocent as she thought.
Cooper will play a detective who is the love interest of Zellweger's character.
Editor's Note: Wow! What a coup for him! (Of course, since he isn't quite as big a star as Zellweger, this could mean his character is going to die about 3/4 of the way through the film. B-list paired with A-list often have to be sacrificed to the Hollywood Gods, eh?lest they...and we....forget their place.)
Ah well....still....GOOD for him!
German director Christian Alvart will direct the Paramount Pictures horror film which is due to start shooting later this summer in Vancouver.
David Paymer joins OCEAN's 13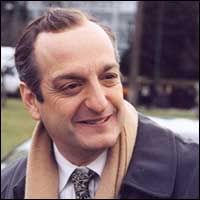 According to Variety, David Paymer has been added to the all-star cast of OCEAN's 13. He will join George Clooney, Brad Pitt, Matt Damon, Ellen Barkin and Don Cheadle to name a few.
The film will follow the continuing criminal exploits of Danny Ocean and his crew of crooks. It will be directed by Steven Soderbergh.
A fully operational casino was built on-set for the cast and crew of the sequel. The 'Ocean's Club lounge' will also double up as a cafeteria, where cast and crew will eat breakfast and lunch together - and there will be a 24-hour bar where the stars can hang out at the end of the day's filming.
You can expect the film to hit theaters on June 8, 2007.
Al Pacino confirmed for Ocean's 13
It's been rumoured for weeks, but here's the official stuff, thanks to our friends at Warner Bros:
PACINO JOINS CLOONEY, PITT AND DAMON FOR FILMMAKERS JERRY WEINTRAUB AND STEVEN SODERBERGH IN NEW "OCEAN'S"
Award-winning actor Al Pacino will join the all-star ensemble cast of "Ocean's 13" for producer Jerry Weintraub and director Steven Soderbergh, playing Willie Banks, owner of a high-profile casino and hotel in Las Vegas.
Pacino, who earned an Oscar for his starring role in "Scent of a Woman" and was nominated eight times, also earned two Tony Awards, for his roles in "Does the Tiger Wear a Necktie?" and "The Education of Pavlo Hummel." Among his iconic characters are the part of Michael Corleone in the Godfather trilogy, as well as unforgettable performances in such films as "Dog Day Afternoon," "Donnie Brasco," "Glengarry Glen Ross," "Scarface" and "Serpico." In 2005 Pacino was honored with the American Film Institute's Lifetime Achievement Award.
The cast of the first two "Ocean's" movies, including George Clooney, Brad Pitt, Matt Damon, Andy Garcia, Don Cheadle, Bernie Mac, Casey Affleck, Scott Caan, Eddie Jemison, Shaobo Qin, Carl Reiner and Elliott Gould, will return. Ellen Barkin will join the ensemble for its third outing.
The film will be co-financed by Warner Bros. Pictures and Village Roadshow Pictures. Warner Bros. will distribute worldwide in all territories except Australia, New Zealand, Singapore and Greece, where Village Roadshow will distribute.
Principal photography is expected to begin July 21, 2006, in Las Vegas and Los Angeles, from a script by Brian Koppelman & David Levien. Weintraub will produce the Jerry Weintraub Productions – Section Eight production. Jessica Goodman will oversee the production for Warner Bros. Pictures
Editor's Note: Ok. Now I'm beginning to feel hurt that I wasn't asked to be in this movie. I mean, everyone ELSE in the world is in it, huh?
Charles Rovin talks about THE DARK KNIGHT
Producer Charles Rovin recently talked with Black Film about the upcoming film THE DARK KNIGHT.
"The script is in the process of being written
," Rovin said. "
There isn't a screenplay that exists right now."
Talking about how the film got it's name Rovin said, "It
was a title that Chris (Nolan) suggested and everybody really embraced. We thought it was a really good natural progression from "Batman Begins."
Regarding when the film will start production Rovin said, "
We are supposed to start shooting what we call a pre-shoot, which we know what that is, in January and the main body of the film will start in March."

Editor's Note: So I guess somebody had better get crackin on that script thingy, huh?



X-tra X-Men Movie?
When it comes to a money-spinning franchise, 'the final chapter' is never, 'the final chapter' - just ask the guy in the hockey mask.
Lauren Shuler Donner, executive producer of the "X-Men" movies, says they're keen to do an "X-Men 4" but it's going to a little harder to get all the cast back – because most of the big-name ensemble are no longer under their rule.
"
The newer cast members are signed, and the older cast members are not
", Shuler Donner tells the LA Daily News.
What that means is that whilst "X-Men 3" stars Shawn Ashmore, Aaron Stanford, Ellen Page and Ben Foster are probably locked into doing the next one – should there be one – the original stars, including Halle Berry, Hugh Jackman, Rebecca Romijn, Famke Janssen and Anna Paquin, are not.
One possible solution – and something that many are predicting will probably happen – is to do an "X-Men: The New Mutants" movie. Because that would primarily feature on a 'next generation' of sorts, those original 'bigger' stars won't need to return (though with Jackman doing a "Wolverine" movie, and obviously still keen to swim in that river, he might agree to appear).
FANTASTIC FOUR sequel gets another title
According to
Superhero Hype
, the upcoming sequel to 20th Century Fox's FANTASTIC FOUR has received another title change.
The movie was previously known as
Fantastic Four and The Silver Surfer
, but will now be known as
FANTASTIC FOUR: RISE OF THE SILVER SURFER
. The second film, directed by Tim Story, is set to hit theaters on June 15, 2007.
In the sequel, the enigmatic, intergalactic herald, The Silver Surfer, comes to Earth to prepare it for destruction. As the Silver Surfer races around the globe wreaking havoc, Reed, Sue, Johnny and Ben must unravel the mystery of The Silver Surfer and confront the surprising return of their mortal enemy, Dr. Doom, before all hope is lost.
Michael Chiklis, Ioan Gruffudd, Chris Evans, Jessica Alba and Julian McMahon star.
Editor's Note: Or, as rumored, PARTS of Julian McMahon.
Josh Brolin joins AMERICAN GANGSTER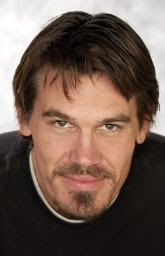 Josh Brolin has signed on to join the cast of the upcoming film, AMERICAN GANGSTER.
The crime flick will star Russell Crowe and Denzel Washington and be directed by Ridley Scott.
The Universal Pictures film is based on the life of drug-kingpin-turned-informant Frank Lucas (Washington), who shipped heroin back to the U.S. in the coffins of soldiers killed in Vietnam. Lucas was brought to justice by lawman Richie Roberts (Crowe). The two then worked together to expose the crooked cops and foreign nationals.
Steve Zaillian wrote the screenplay and was recently rehired by Universal to rewrite the script, which was at one point rewritten by Terry George.
I AM LEGEND schedules six month shoot
According to Production Weekly, the upcoming Warner Bros. film, I AM LEGEND, will have a shoot lasting over six months. The sci-fi film stars Will Smith and will be directed by Francis Lawrence.
I AM LEGEND will begin filming on September 23 and continue until March 31.
Smith will play Robert Neville, the last living man on Earth. Every other man, woman, and child has become a vampire, and they are all hungry for Neville's blood. By day, he is the hunter, stalking the sleeping undead through the abandoned ruins of civilization. By night, he barricades himself in his home and prays for dawn.
I AM LEGEND is scheduled for a November 21, 2007 release.
Fox joins Anderson on 'Darjeeling'
Fox Searchlight is getting into the Wes Anderson business. The Fox specialty division will be the home of the writer-director's latest project, "The Darjeeling Limited," which will star Anderson vets Owen Wilson, Jason Schwartzman and Adrien Brody
Editor's Note: I think I can put up with Owen Wilson in exchange for Adrien Brody. I

think

.
. Principal photography is set to begin at year's end in India.
The three will play brothers on a spiritual journey through India after the death of their father.
"Darjeeling" is based on a screenplay from Anderson, Schwartzman and Roman Coppola. Anderson and Coppola will serve as producers on the film. Searchlight specializes in offbeat, quirky fare, which happens to be Anderson's trademark. Anderson's previous films, "Rushmore," "The Royal Tenenbaums" and "The Life Aquatic With Steve Zissou," were all made for Touchstone Pictures under the guidance of Nina Jacobson, former president of the Walt Disney Motion Picture Group.
'Barley' grows U.S. output via IFC First Take
NEW YORK -- IFC Entertainment has acquired all U.S. distribution rights to Ken Loach's "The Wind That Shakes the Barley," this year's Festival de Cannes winner, for its IFC First Take program. As part of that program, the film, which stars Cillian Murphy, will be released simultaneously in theaters and via video-on-demand on cable television in the spring. It marks the first time a winner of one of the most prestigious awards in the world, the Palme d'Or, will be distributed via the controversial new "day-and-date" model.
"
This film could have gone either way
" as either a traditional IFC Films theatrical release or as part of the innovative First Take slate, IFC vp marketing Ryan Werner said. "
But it's a great symbol of the kind of prestigious film we want for the program. It shows people that we're not just putting any film in First Take. We also wanted it to reach the widest possible audience."
Warner Bros buys THE BRIGANDS OF RATTLEBORGE

Warner Bros. Pictures has purchased a script by Craig Zahler entitled THE BRIGANDS OF RATTLEBORGE. Warner will produce the film with the help of Vertigo Entertainment's Roy Lee and Doug Davison.
The film is a dark Western which revolves around three ruthless men who rob, rape and maim the town's wealthiest residents during a torrential rainstorm; the local sheriff and a vengeful doctor seek retribution.
No other details are available.
Editor's Note: I think they covered it pretty well. Really bad guys. Three of them. Lots of rain. 2 good guys out to fight the good fight. Got it.
Sony Pictures Animation acquires CLOUDY WITH A CHANCE OF MEATBALLS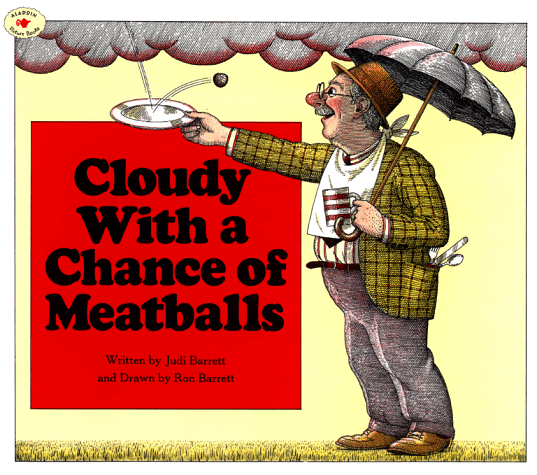 Sony Pictures Animation has snatched the film rights to the classic children's book CLOUDY WITH A CHANCE OF MEATBALLS.
The film will be based on the book by Judi and Ron Barrett which is set in a fanciful world where it rains juice and snows mashed potatoes and spaghetti. The movie's plot will center around a scientist who tries to solve world hunger only to see things go awry as food falls from the sky in abundance.
"
This is a project that we put into development right after we formed the company
," said Yair Landau, president, Sony Pictures Digital. "
It's one of my favorite books. It's something we chased right away."

Banks, Weisz consider yes on 'Maybe'
Elizabeth Banks and Rachel Weisz
Editor's Note: Two VERY pretty, charismatic ladies!
are in negotiations for "Definitely, Maybe," a romantic comedy from Working Title and Universal Pictures.
Separately, Banks has snagged a lead role in "Joe Claus," Warner Bros. Pictures' Vince Vaughn comedy.
Written and directed by Adam Brooks, "Maybe" centers on a soon-to-be-divorced political consultant who has to answer some hard questions from his 11-year-old daughter as he explains his promiscuous past. Ryan Reynolds, Derek Luke and Isla Fisher already have been cast.
Banks will play Reynolds' college sweetheart who dumps him for his brother, but the two reunite years later. Weisz will play a woman Reynolds dates after Banks.
Editor's Note: Who is this Ryan Reynolds, and does he deserve these two women? (Probably

not

....)
Mary McCormack joins 1408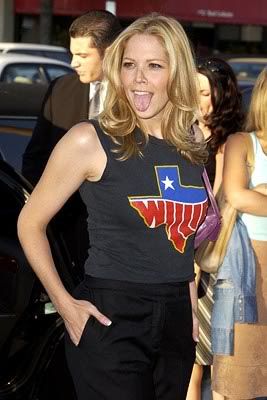 Mary McCormack has signed on to start in Dimension Films' upcoming horror film
1408.
She will take over the role which was to be played by Kate Walsh (
Grey's Anatomy
) who was forced to exit due to scheduling conflicts with her ABC/Touchstone TV series.
McCormack will join John Cusack and Samuel L. Jackson in the big screen adaptation of Stephen King's
1408
.
Cusack will play a debunker of paranormal occurrences who encounters real terror when he checks into the notorious Room 1408 at the Dolphin Hotel. McCormack plays Lilly, his ex-wife and the mother of his young daughter.
The film is set to be filmed this summer in the U.K. via director Mikael Hafstrom (
Derailed
).
Susan Sarandon In Eleanor And Colette
In a drama with Helena Bonham Carter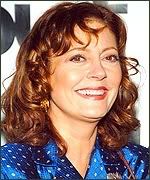 The idea of two famous actresses developing a "special friendship" on screen is likely enough to get some fans hot under the collar. But hold your lascivious pit ponies for a moment, because we're talking serious drama with not a whiff of exploitation cinema about it (stop looking disappointed in the back, there).
And, after all, the two stars in question are Helena Bonham Carter and Susan Sarandon, so we're expecting
Eleanor And Colette
to be the height of good taste. The plot has Eleanor (Sarandon) unhappily living in a psychiatric institute. But when she aims to file a legal complaint against her doctors for the psychological drugs they've been administering, she retains the services of attorney Colette (Bonham Carter) and the two bond as the legal battle drags on.
German-born director Rolf Schuebel is calling the shots on the film, based on Marc Bruce Rosin's script. The cameras gear up next spring in San Francisco, Vancouver and Germany.
Four Thesps New To Be Kind Rewind
Def, Diaz, Glover & Farrow all starring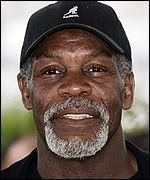 The cast of Jack Black and Michel Gondry's new comedy
Be Kind Rewind
has grown by four.
Mos Def, Lords Of Dogtown's Melonie Diaz, Danny Glover and no lesser thesp than Mia Farrow have all agreed to join the comedy about a weirdo (Black, naturally) who becomes magnetized while trying to sabotage a power station. A trip to the local video store to visit his pal (Def) leads to all the tapes being wiped. Desperate to help him keep his job, Black helps to recreate all the videos the store's only loyal customer wants to rent with the help of Def's co-worker (Diaz).
New Line is behind the film and shooting starts next month in New Jersey.
Black Flies Attracts Darren Aronofsky
Considers medical drama

Just how will Darren Aronofsky follow The Fountain?
One possible project is the freshly announced
Black Flies
, a medical drama at Paramount.
Aronofsky is attached to direct the adaptation of Shannon Burke's novel, which sees a young ambulance tech in New York whose big dream is to attend medical school. But during his service with the wheeled treatment unit, he finds that life is full of problems and misadventures, as his mentor is so numbed by the job that he starts making crucial mistakes.
Sopranos
writer/producer Todd Kessler will write the adaptation, but there's no word on when – or if – it will go into production.
Christopher Plummer Recalls My Dog Tulip
Voicing an animated movie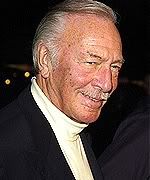 If your idea of cinematic heaven is Christopher Plummer and Isabella Rossellini adding their voices to the animated tale of a boy and his dog, then be prepared to get happy.
Because the two thesps, along with Lynn Redgrave, Brian Murray, Paul Hecht, Peter Gerety and Euan Morton have agreed to lend their tonsil talents to
My Dog Tulip
. It's based on novelist JR Ackerley's book about his 14-year friendship with the German Shepherd he rescued.
Editor's Note: I can tell. This is one where I'm going to cry at the trailer and then have to run home and hug my doggie.
The film should arrive some time in 2008.
Delpy marks '2 Days' on her calendar
Oscar-nominated screenwriter Julie Delpy is returning to foreign affairs. The indie filmmaker, who starred in and co-wrote Richard Linklater's "Before Sunset," has penned and is directing "2 Days in Paris." She stars opposite Adam Goldberg
Editor's Note: Adam Goldberg....one of THE most annoying actos on the planet. Talented...but very annoying.
in the European romantic comedy set over a 48-hour period in the City of Lights. Delpy's original screenplay portrays two days in the relationship of an extremely neurotic New York-based couple. She stars as French photographer Marion, while Goldberg plays American interior designer Jack.
Dan Futterman Playing Daniel Pearl
Capote writer in A Mighty Heart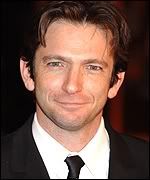 When it was announced that Angelina Jolie would play Marianne Pearl, widow of kidnapped and killed reporter Daniel in
A Mighty Heart
, there was nothing about who would play the man himself.
Now the information is out – Dan Futterman, an actor who enjoyed much more success as a screenwriter with this year's
Capote
– was signed at the same time as Jolie, but director Michael Winterbottom chose to keep his casting a secret. Why? In true Winterbottom style, the actor was spirited to Pakistan for a strictly guarded 10-day location shoot.
"
It was important to shoot in the actual places where things happened
," Futterman told the Washington Post on his return. "
There are lots of little things that were important to Michael, not least of all the people and the sound of the language spoken
."
And Futterman – who was selected after a two-hour meeting with Winterbottom – revealed that the focus of the film will be more on the search for Pearl than his life story. "
We talked a lot about the balance, showing enough to make an impact. By all accounts, he and Mariane had a really blessed relationship."
A Mighty Heart
should arrive in cinemas next year.
Editor's Note: Because I am a full-service QOTD and think only of YOU, my lovely dweebpals, I now present you with a couple of items I give not a whit about.
It's just the kind of devoted QOTD I am....
Guillermo del Toro talks HELLBOY 2
Guillermo del Toro recently talked to the Latino Review about his recently green lit project, HELLBOY 2.
Talking about the story, Del Toro said it would be "
sort of the magical world declaring war on the human world. The first one was dealing with a much more urban environment, and the second one is more in a mythical type of environment, more magical. So hopefully it's closer to some of the aspects of the comic book that we couldn't portray in the first one."
Del Toro went on to say that shooting wouldn't begin until late April or early May, "
We have a long prep ahead of us. We're going to shoot this one in Budapest, in Hungary and we're going to shoot a little bit in London, and we're going to do pre-production and post-production in London. ... We definitely have all the regulars: Hellboy, Abe Sapien and Liz Sherman are back. We have two characters from the fantasy world, which are a prince and a princess that we will be casting very soon."
Universal picked up the film after it was left in limbo with Revolution Studios out of business. Revolution Studios made the original film via it's distribution deal with Columbia Pictures.
HELLBOY 2 is aiming for a summer 2008 release.
Kevin Smith planning Horror film
Comedy director Kevin Smith (Clerks 2) told AintitCoolNews that he was planning a horror film as his next project.
"
I feel after seven comedies it's time to take a left turn and do a straight up different movie, in this case horror,
" said Smith.
"
Its gonna have all of the horror you'd expect, blood and guts... and tits. No, no, no, not that, I'm talking about man tits. What? What's so bad about man tits? I have tits! They're sexy! And hairy.
Editor's Note: Gosh. I hope the movie is every bit as clever and high-brow as that! Gosh, do I ever.
"
But, yeah, I'm doing a horror movie
," Smith continued.
"(It won't be made) for a year or two. I just got done making a movie, I'm not rushing into another. Probably two years."

Editor's Note: Awww...so long? Well darn and shucks. And drat it all.
Oh...look...ANOTHER one I don't care about!
Morgan Creek tracking down third 'Ventura'
Morgan Creek has begun the detective work on a kooky cold case. The production company has hired Jeff Sank and brothers Jason and Justin Heimberg to write a third installment of the hit franchise "Ace Ventura."
The two previous "Ventura" comedies -- 1994's "Ace Ventura: Pet Detective" and the following year's "Ace Ventura: When Nature Calls" -- grossed more than $180 million domestically and helped establish Jim Carrey as one of the highest-paid comedy actors in Hollywood. The latest pet project is expected to center on the eccentric detective's son, who steps into his father's shoes to take over the family business.
Editor's Note: So....all of the stupidty but none of the star power. Goodie gumdrops. (giggle).