A Little More Dweebing on a Friday
Editor's Note: I think the BEST way to end the week/kick off the weekend is by pondering Tobey Maguire's chest.....don't YOU?!
New SPIDER-MAN 3 poster hits web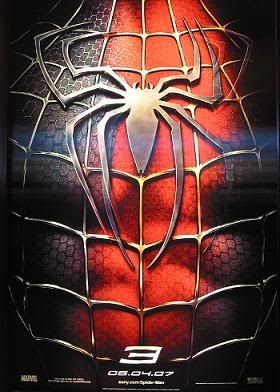 Sony has released a new SPIDER-MAN 3 via superherohype.com.
The film stars Tobey Maguire (Peter Parker/"Spider-Man"), Kirsten Dunst (Mary-Jane Watson), Bryce Dallas Howard (Gwen Stacy), Topher Grace, Thomas Haden Church and Theresa Russell.
It hits theaters May 4, 2007.
TELEVISION NEWS:
'Devil's' deed at Sci Fi; USA nabs 'Pirates'
PASADENA -- Sci Fi Channel on Thursday announced a development slate that includes the scripted series "Devil's Advocate" from Mark Burnett and a mini-series titled "Outpost" from Lynda Obst.
The network also said that Emmy nominee Peter Krause (HBO's "Six Feet Under") has been tapped to star in its upcoming limited-series event "The Lost Room."
Separately, USA Network has acquired cable TV rights to the hit sequel "Pirates of the Caribbean: Dead Man's Chest" from Buena Vista Television.
The an-nouncements were among several made Thursday during the NBC Universal cable networks' portion of the Television Critics Assn. summer press tour at the Ritz-Carlton Huntington Hotel.
'Degrees' ensnares Alexander
Jace Alexander has signed on as a producer and director of the upcoming ABC drama "Six Degrees," from Touchstone Television and executive producer J.J. Abrams.
Editor's Note: J.J. gooooood.....
"Six Degrees," created by Stu Zicherman and Raven Metzner, revolves around a group of six strangers in New York who are drawn into a mysterious web of coincidence that gradually brings them closer together.
The ensemble cast includes Jay Hernandez, Bridget Moynahan, Hope Davis, Campbell Scott, Dorian Missick and Erika Christensen.
Editor's Note: The message here is that only very very ATTRACTIVE strangers hav weird/cool things happen to them. (So no 'mysterious webs' for

me

, thank heavens)!
sniffle...... (
just once, I'd like my very own 'mysterious web'. sniffle some more.....)
The show landed the plum post-"Grey's Anatomy" Thursday 10 p.m.
Editor's Note: EST
slot on ABC's fall schedule.
Trio heading for 'Bianca' at Lifetime
Rachel Ward, Shirley Jones and Simon Rex have joined Virginia Williams on Lifetime's upcoming primetime soap "Bianca: Journey to Paradise."
Kieran Hutchinson, Stephen Martines, Vanessa Lengies, Samantha Shelton and Matt Funke also have been cast in the series, which has a 20-episode order. Filming on "Bianca" begins next month on the Gold Coast of Australia.
The novela, from FremantleMedia North America, is slated to premiere in October and will air Saturdays at 10 p.m., followed by reruns of ABC's hit "Desperate Housewives."
"
We are extremely excited to add this series to Lifetime's Saturday night lineup,"
Lifetime Entertainment Services president of entertainment Susanne Daniels said. "
In adding this sexy new series to our schedule, we are creating a destination for TV viewers looking for a Saturday night escape with 'Bianca: Journey to Paradise' and 'Desperate Housewives' airing back-to-back."

Editor's Note: I'm afraid my tv would explode if I actually turned on Lifetime. (just out of PRINCIPLE).




Animated talk from 'South Park' duo
PASADENA -- "South Park" co-creators and executive producers Trey Parker and Matt Stone didn't hold back when expressing their opinions about the decisions to remove the episode poking fun at Scientology and Tom Cruise from the network's repeat schedule or the decision to blank out the image of Muhammad during another episode.
"
So there are two things we can't do on Comedy Central: show Muhammad or Tom Cruise,"
Parker said Thursday during the MTV Networks portion of the Television Critics Assn. summer press tour at the Ritz-Carlton Huntington Hotel.
The duo said they had no doubt that the "Trapped in the Closet" episode was yanked as a result of Cruise's starring this summer in "Mission: Impossible III," the movie from Paramount, Comedy Central's sister company.
Editor's Note: So the message from Comedy Central is that they will be cutting-edge.....as long as their parent company isn't paying attention? Brave. Bold.
CBS News opens its vault
NEW YORK -- CBS News for the first time is opening its decades of video archives to the public by teaming with CustomFlix and Amazon.com to offer DVDs of classic CBS News programming.
The deal initially will give access to dozens of full-length reports and segments from the "CBS Evening News" and "60 Minutes" that have aired since 2000. But in the future, CBS News will offer more of its video that stretches back to the 1950s and includes all of the big stories of the past 50 years including the Kennedy assassinations, the Apollo space program, presidential elections and the Sept. 11 attacks.
"Up until now it's been closed except to researchers,"
CBS News senior vp Linda Mason said. "
This opens it up to the public. It's a sampling now, but the variety will grow over time."

Editor's Note: This is pretty cool. Makes me wish I was working on something that required news clips, just to take advantage of it.
And speaking of cool stuff available at the click of your mouse........
TV Land Will Launch New Broadband Video Player
TV Land will launch a new broadband video player on its Web site late this summer which will allow fans to stream full-length episodes of both classic shows from the network's library along with TV Land originals.
The new broadband player will debut on Aug. 24 as part of a larger overhaul of TVLand.com.
Each month, full episodes of a single classic series will be featured, starting with the 1960s western
Daniel Boone
in September, followed by
Star Trek
and
That Girl
later in the year.
Editor's Note: Anyone

else

now have the Daniel Boone theme song stuck in their heads? (arggghhhhh)
In addition, in September, select clips and outtakes from the misunderstanding-filled
Three's Company
will be highlighted in the new channel.
While a growing number of cable networks have launched branded broadband video channels on the Web over the past year plus, most have focused on repurposing extra footage from original series owned by that particular network--such as MTV Overdrive's
Laguna Beach After Show
. Networks that rely on a heavy rotation of off network series, such as TNT or TV Land have been limited in their broadband approach, since Web rights have not always been included in such deals.
With the launch, TV Land appears to found the means to address the digital rights issue for specific classic TV shows.
Beyond the older series that are TV Land's staple, the yet-to-be-named broadband channel will showcase a variety of the network's growing slate of originals. Users will be able to stream full episodes and clips from properties like the
TV Land Awards, Sit Down Comedy with David Steinberg
and the new Mr. T reality series
I Pity The Fool
.
Besides episodic fare, the site will also house
Retromercials
--the network's popular classic TV commercials, as well as on demand, landmark clips from select shows--such as a
Happy Days
scene featuring The Fonz jumping over shark on water-skis and a
Good Times
scene showing the Evans family getting hit with the news that family patriarch James had died.
MOVIE NEWS:

Universal nabs TAG comic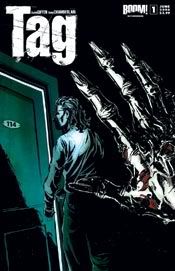 Universal Pictures has snatched up the rights to the horror comic book TAG, published by Boom! Studios.
The comic is set in motion when an average Joe strolls down the street after a fight with his girlfriend when a random stranger tags him, handing off an ancient pagan curse. He begins to literally die, seeing his body begin to decompose every day before his very eyes. Cursed, he must either surrender or find the next victim to tag.
Editor's Note: Wow. It seems like a really stinky dilemma, until you think of some people you'd really LIKE to tag with a decomposing curse. Old employers....who, now that I think about it, might already have been tagged, given the smell......government folks, bad dates.......Never mind. No dilemma at all.
No director, writer, or cast has been listed as of yet.
Sheen on 'Talk' radio for Lemmons
Martin Sheen is returning to the Beltway. Television's former "The West Wing" president has landed a role in director Kasi Lemmons ("Eve's Bayou") mid-1960s real-life story "Talk to Me" for Focus Features.
Sheen will play E.G. Sonderling, the owner of a D.C. radio station that employs controversial black on-air personality Ralph Waldo "Petey" Green (Don Cheadle).
Editor's Note: Sheen and Cheadle! Great casting!
As the radio station's owner, Sonderling gives Green his big break, thereby helping the outspoken commentator become an iconic radio personality in a turbulent era distinguished by vibrant soul music and shifts in social consciousness.
Foxx has the 'Power' with Uni and Platt
Jamie Foxx and his manager Jaime Rucker King have seen "The Power of Duff" and are coming aboard the project as producers, joining Marc Platt, who already has been developing the feature film via his Marc Platt Prods. Foxx and King will help develop the drama, which Foxx is eyeing as a possible starring vehicle. "Power" has been a hot property at Universal, which won the script in a bidding war last year, paying $900,000 against $1.25 million.
The script attracted Russell Crowe and Ron Howard at one point as well as Tom Hanks.
Written by Stephen Belber, "Power" follows a Rochester, N.Y., TV news anchor who after the death of his father begins praying aloud for things to happen while reading the evening news. When his prayers start coming true, it ignites controversy about whether he's a prophet, a pundit or a charlatan.
Hageman brothes will adapt THE LIES OF LOCKE LAMORA

Variety reports that Warner Brothers has tabbed the Hageman brothers to adapt Scott Lyncy's fantasy epic THE LIES OF LOCKE LAMORA for the studio.
Locke Lamora
, the first of a seven-book series, hit the stands earlier this summer in the United Kingdom and United States to rave reviews.
Editor's Note: And I have heard

nothing

of this. Anyone out there in dweebland know about it?
The story follows the adventure of a likable con artist as he and his band of followers, the Gentlemen Bastards, navigate the Venice-like city of Camorr.
This is the second Warners project for Kevin and Dan Hageman. They recently adapted the book
Carpe Demon: Adventures of a Demon-Hunting Soccer Mom
for 1492 Pictures, which is producing for the studio.
Apatow, Rogen hooking up for 'Super Bad' pic
Judd Apatow is reuniting with his "The 40-Year-Old Virgin" star Seth Rogen for the comedy "Super Bad" at Columbia Pictures. Apatow is producing the high school-themed film, while Rogen is penning the screenplay with Evan Goldberg and will co-star. Greg Mottola ("The Daytrippers"), who directed several episodes of Apatow's short-lived TV series "Undeclared," will helm "Super Bad," with Apatow regular Jonah Hill and Michael Cera on board to star. "Saturday Night Live's" Bill Hader is in talks to co-star.
The story revolves around two co-dependent high school seniors (Hill and Cera) who set out to score alcohol for a party, believing that girls will then hook up with them and they will be ready for college. But as the night grows more chaotic, overcoming their separation anxiety becomes a greater challenge than getting the girls.
Editor's Note: So it's like the C-student "American Graffiti"?
MISC. NEWS:

Spengler back in swing with comic-book lineup
PARIS -- Pierre Spengler, one of the original producers of "Superman," is returning to comic-book adaptations with a 12-picture slate drawn from titles in the catalog of French graphic novel publisher Humanoides Associes.
The first to go into production will be the live-action film "I Am Legion," adapted from the World War II political intrigue penned by Fabien Nury and illustrated by top U.S. graphic artist John Cassaday.
Spengler's company, Clubdeal Ltd., will produce the slate, and he is in discussions with a U.S. distribution partner for a bulk deal on the 12-film package.