STAR WARS Catching up
Editor's Note: Rounding out our week of catching up post-QOTD vacation -----

2006 Art Of Ralph McQuarrie International Art Competition
The Art of Ralph McQuarrie
web site is announcing a Call for Entries to all illustrators, designers and budding artists alike to submit their best, original works to the Art of Ralph McQuarrie International Art Competition.
Academy Award winning designer Ralph McQuarrie is best known for his unforgettable work on the Star Wars Trilogy.
Entries for the competition will be accepted starting July of 2006 with the final deadline in March of 2007. Winners will be announced in May of 2007 on the official Ralph McQuarrie website.
Submission guidelines, prizes, and official rules can be found at
www.RalphMcQuarrie.com.Submissions
will be evaluated and judged by our featured judges - Ralph McQuarrie and Doug Chiang.
In addition to the his work on the Star Wars Trilogy, Mr. McQuarrie's other films include Close
Encounters of the Third Kind, E.T., Raiders of the Lost Ark
, and
Cocoon
, for which he received an Academy Award. As a contemporary to Ralph McQuarrie, Production Designer Doug Chiang continued that excellence on such films as the Star Wars Prequels,
Forrest Gump, Polar Express, War of the Worlds
and received both an Academy Award and British Academy Award for his work on
Death Becomes Her
.
"
I've received so many requests to evaluate artists portfolio's that I thought this would be a great way to gain exposure for the incredible work that is out there
," says Mr. McQuarrie. The contest will accept works in conventional and digital formats.
The Art of Ralph McQuarrie International Art Competition
is dedicated to showcasing new and talented graphic artists and designers. If you think you've got what it takes to be an award-winning, cinematic designer, then visit the official website at
www.RalphMcQuarrie.com
.
Be sure to stop by and also check out the new website design for
http://www.ralphmcquarrie.com/
that was recently updated as well!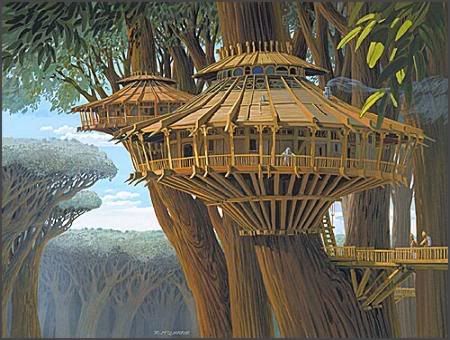 Kashyyyk, before it was over-developed.
Star Wars: Dark Times!!
Randy Stradley of Dark Horse Comics has just announced a new comic series set in the "Dark Times" between
Revenge of the Sith
and
A New Hope:
The dark times are here. Even as the worlds of the former Republic are drawn into the iron grip of Palpatine's Empire, the galaxy seems adrift in a sea of chaos, lawlessness, and despair. On Coruscant, Darth Vader waits for his Master to reveal his vision for the future. But is there a plan beyond obtaining power? On New Plympto, Jedi Master Dass Jennir leads a Nosaurian army in a war they have already lost. Is this what in now means to be a Jedi?
Dark Times #1 is the gateway to a new era in Star Wars history, an era where the future is grim, evil is on the rise, and all paths seem to lead nowhere…

Editor's Note: Hey gaming buddies....this is right in our game time period! We should think of this as study guides!
Behind Binks: Buster & Bugs
As the multi-talented artist who provided the voice and real world reference for the computer-generated prequel character Jar Jar Binks,
Editor's Note: Anybody messes with my pal JJ, deals with ME!
actor Ahmed Best used his expertise in physical comedy for the role. In addition to his dance training, Best says that he drew most of his inspiration from comedic icons both real and imaginary.
"
The major influence for Jar Jar was a lot of Buster Keaton -- his moves and antics
," Best says. "
But as far as comedy and timing, for me it was Bugs Bunny. That's where I got most of my comic timing. I'm a big Bugs Bunny fan, and a lot of the reactions and looks would come from the whole Looney Tunes kind of feel. But when we first started doing it, George Lucas wanted a Buster Keaton-like character for Episode I. And there were a couple of Buster Keaton movies that we were inspired by for some of the scenes, especially in the army scene in Episode I -- the final battle with the droids and the Gungans."

More than just comic relief, Best believes Jar Jar manages to exhibit many laudable traits. "I
think his greatest quality is his honesty
," Best says. "
Whether you like the character or not, he is what he is. There are no pretenses, and there is nothing else other than what he is. He just wants to do good all the time, and he's not a character that has any secrets or a dark side."

Having the one character known completely for his dark side as a close friend isn't easy. "
It's hard to say what Jar Jar thinks of Anakin because he has been with Anakin ever since he was nine years old,"
Best explains. "
And he's seen Anakin grow up to discover his powers and lose his family. They've been kind of like, dare I say, brothers, in the whole struggle. So when Anakin was being influenced by Palpatine, I'm sure Jar Jar was a bit put off, maybe a little scared for Anakin, maybe a little protective. But there's really nothing that Jar Jar could do about it."

Editor's Note: Palpatine vs. Jar Jar.....now THERE's a Pay Per View event people would cough up big bucks for, eh?!



Star Wars Named 'Overall Best License Of Year'
Star Wars was named the Overall Best License of the Year by the International Licensing Industry Merchandisers' Association (LIMA) at its awards ceremony the night of June 21 in New York City. That is the top award from the association representing an industry that many say the original Star Wars movie jump-started nearly 30 years ago.
Star Wars was chosen as the year's top license by the board of LIMA from among dozens of other licensed brands. Howard Roffman, President of Lucas Licensing accepted the award with seven other members of his team, and thanked LIMA and its members.
"
It definitely helps to have a property as great as Star Wars that has been around for 30 years, and coming from a brilliant visionary like George Lucas. But it took more than that to make Star Wars a licensing success. It began with our team at Lucas Licensing, which I think is the best team in the business.

"
We're also lucky to have a great group of licensees who have a real passion for Star Wars,"
Roffman added. "
And we couldn't have done it without the tremendous support from retailers, particularly Wal-Mart, Target, and Toys "R" Us, as well as our promotional partners."

Editor's Note: Thank the evil Empires. Palpatine would be proud.



LIMA noted that its "best in show" award recognizes "the property that has had a significant and profound impact on the licensing community at retail and in the general marketplace during calendar year 2005." Last year was the biggest ever for Star Wars merchandise, with $3 billion of worldwide retail sales. Not only was
Episode III Revenge of the Sith
the highest grossing film at the global box-office, but Star Wars was the Number 1 Entertainment License of the year, Boys Toy line, Movie-based Video Game franchise, and Licensed Publishing franchise.
The Licensing International show is a 3-day annual trade event that gives owners and agents of intellectual properties the opportunity to showcase their brands to high-profile manufacturers, retailers, licensees, and promotional partners. This year marked the first time in a decade that Lucasfilm has been a show exhibitor, but most of the action took place off the floor where Licensing team members had wall to wall private discussions about both the Star Wars and Indiana Jones brands.
Also at the awards ceremony, attended by a record 1,100 guests, the award for Best Film, Television & Entertainment Brand Licensee of the Year Award went to Hasbro Inc. for its Star Wars Lightsaber Battle Game.
Don't Swat at Yoda

Ever wonder what it would be like to see Yoda fly by your head or hear Chewbacca buzz instead of roar?
Editor's Note: umm...no. Not really.
Now you can find out thanks to entomologists Arnold Menke and David Vincent.
Editor's Note: ok. Well, go ahead, then.
These bug experts named new wasp species discovered in 1983 after their favorite Star Wars characters: Polemistus chewbacca, Polemistus vaderi, and Polemistus yoda.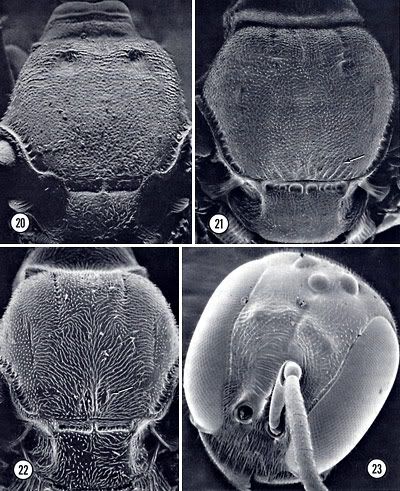 Though these aren't the Star Wars-named wasps, they are related and closely resemble them.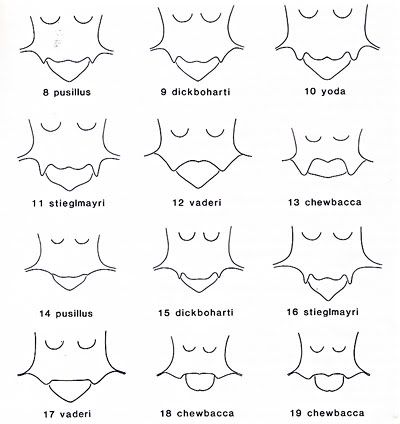 These illustrations help show how the Star Wars named wasps are different from others.
"
For a recent paper we chose to review the New World species of the poorly-known wasp genus Polemistus,
" Menke explains. "
After borrowing material for this study, we found several new species which we then named after Star Wars characters. Naming a new species is usually done by a scientist working on a particular group of organisms. Sometimes such a person will name a new species after the discoverer, as a tribute or as an acknowledgement."

This isn't the first time a scientist has named an insect after his favorite Star Wars character. The Head of the Department of Entomology at the Natural History Museum of London, Dr. Quentin D. Wheeler, honored the Dark Lord of the Sith by naming his discovered beetle Agathidium vaderi after Darth Vader himself, which you can read more about in
Dark Beetle of the Sith.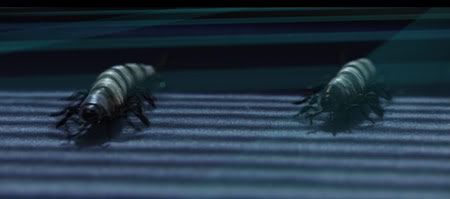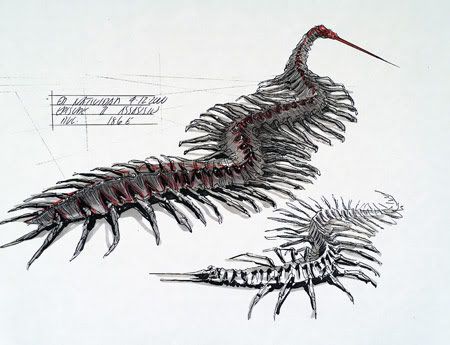 While some entomologists pay tribute to Star Wars characters by naming newly-discovered species, often times the Star Wars artists themselves are influenced by the insect world. For example, as artists sketched out ideas for the wide array of characters and background creatures for
Attack of the Clones
, filmmaker George Lucas specifically requested a centipede-like insect capable of injecting poison into its victims -- namely the young Senator Amidala as she slept. These creepy critters were later called kouhuns.
Another Star Wars species heavily influenced by the insect world, and in this case resemble Polemistus wasps the most, are the Geonosians. These buggy creatures were originally inspired by African termites, but eventually evolved into something a bit more regal. According to the book
The Art of Star Wars: Episode II Attack of the Clones
, "
As sentient beings of the Star Wars universe, culture and clothes were key to the [Geonosian] species design, with costume concepts ranging from tribal gowns and diaphanous dress to armor and heavy fabrics. The final design emphasized their organic connection to the environment, with a less functional, more ornamental look to Geonosian dress."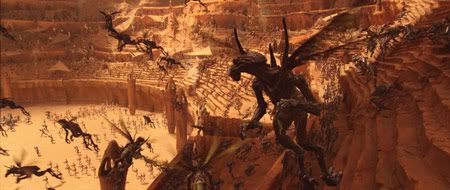 In the Star Wars galaxy there are two kinds of Geonosians who live in the busy hive -- wingless drones who do most of the work and winged aristocrats and royal warriors who maintain safety. In the real world, social wasps like paper wasps, hornets and yellow jackets also live in paper nest colonies. Like the Geonosians, many of the wasps in a colony are workers who build the nest and gather food for their larvae. While all Geonosians have hard exoskeletons (skeletons on the outside of their bodies), long faces, multi-jointed limbs, and speak in a strange clicking language, wasps have a somewhat different appearance. While wasps also have wings and multi-jointed limbs, most female wasps have something the Geonosians are lacking -- a stinger.
Editor's Note: Chicks Rule!
Even though the Polemistus wasp species may somewhat resemble and share primitive behaviors of the insect-like race of Geonosians (without wearing clothes, of course) more than their namesakes of Yoda, Chewbacca and Darth Vader, Menke felt that his favorite characters deserved the honorary bug titles more.
"
Darth Vader, Yoda and Chewbacca were an integral part of why the Star Wars films had such appeal when they first debuted,"
Menke recalls. "
The movies were exciting and fun. And even though the new species of wasps don't look like the characters, I wanted to add a little humor in the otherwise rather dry subject of taxonomy. Our use of Star Wars characters for new species names simply reflected our great enjoyment of the movies and their characters. They provided us with names that were out of the ordinary and memorable."

If you would like to learn more about wasps and other insects, please visit your local or school library for more detailed books.
EDITOR'S NOTE: Before we get to the pics for the week (two weeks), let's look back at the career of Tim Hildebrandt in memorial to his passing a few weeks ago.
Tim Hildebrandt Remembered
Twin Sons of Star Wars
For millions of fans around the world, the Star Wars poster that Tim and Greg Hildebrandt created in 1977 became the definitive illustration of that galaxy far, far away. It's an exciting, vibrant and unforgettable image that is even more astonishing when you realize that it was created in just 36 hours. While it's only one of countless beautiful pieces of art that Tim created in his life -- including hundreds of other inspired Star Wars illustrations -- the Star Wars poster is truly iconic and will always loom large in the imagination. We will miss Tim's artistry and talents tremendously.-- George Lucas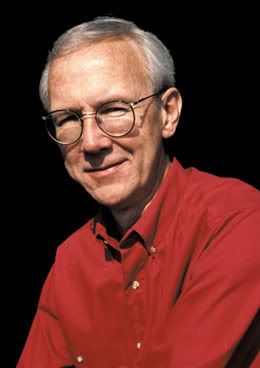 Tim Hildebrandt, who made up one half of the prolific artist team known to many Star Wars fans as the Brothers Hildebrandt, sadly passed away recently from complications due to diabetes. Tim and twin brother Greg Hildebrandt shared a vast and varied career of illustration spanning several genres, from children's fairy tales and comic book heroes to Tolkien landscapes and epic space fantasies. For Star Wars fans, however, the legacy of Tim and Greg Hildebrandt goes back to the very roots of the Star Wars phenomenon.
Among the earliest images fans associate with 1977's release of A New Hope is the classic poster illustration of Luke and Leia heroically poised before a looming Darth Vader. Though this poster's design was originally conceived by Tom Jung (whose artwork was ultimately used for theatrical display), it was the Hildebrandt's unique take on it that was enthusiastically embraced by the public and fervently sought out by eager fans (Read an interview with Greg Hildebrandt about the making of this poster here).
Editor's Note: full web address in case the link (above) doesn't work.(http://www.starwars.com/community/news/family/f20060629/indexp2.html)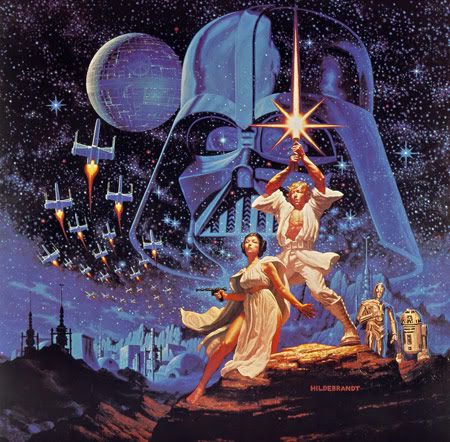 T-shirts and pin-up posters bearing the Hildebrandt artwork became wildly popular, capturing at once the fantasy, humanity, and uniqueness of the Star Wars experience. Sales of merchandise bearing the Hildebrandt image were unprecedented, successfully carrying the Star Wars message into schoolyards and suburban neighborhoods -- places traditional theater and billboard advertising couldn't reach. Newspapers also ran the Hildebrandt artwork throughout the year, infiltrating Sunday morning breakfasts and train rides to work.
The success of the image quickly spread across national borders -- a rare Spanish-language one-sheet featuring the Hildebrandt artwork was printed for international use, and in England, a rare horizontal poster devised in the standard 30"x40" British quad format expanded the image's landscape to accommodate the film's title. It is one of the most beautiful and sought-after Star Wars posters today.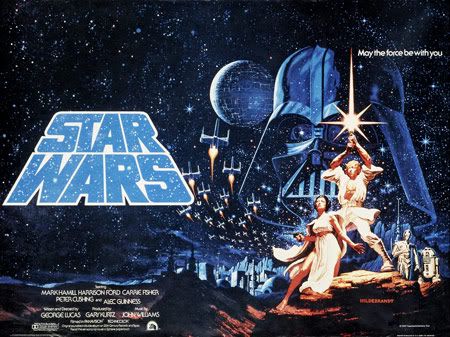 Many fans are familiar with the brothers' famous poster image, but Tim and Greg Hildebrandt also created two more Star Wars images in 1977 which were included in the widely-published Star Wars Album. While the U.S. version includes a dramatic image of Obi-Wan and Vader locking sabers, international printings showcase a dimly-lit cantina scene. Though rarely seen, the style and mood of these illustrations re-emerged years later in a prolific series of paintings done by the brothers for 1996's Shadows of the Empire trading card set.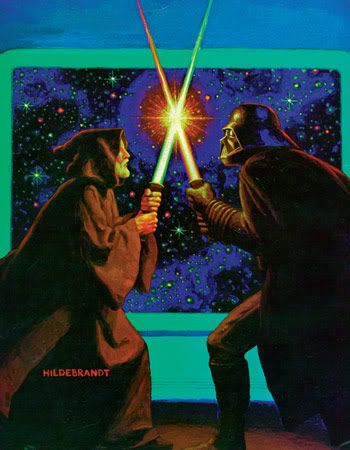 Marketed as a "Star Wars multi-media event", Shadows of the Empire bridged the years between The Empire Strikes Back and Return of the Jedi and introduced a new threat to the galaxy -- crime lord Xizor. In a rush of creativity, the brothers feverishly painted scores of images inspired by the storyline, culminating in a 100-piece Hildebrandt-illustrated Shadows card series.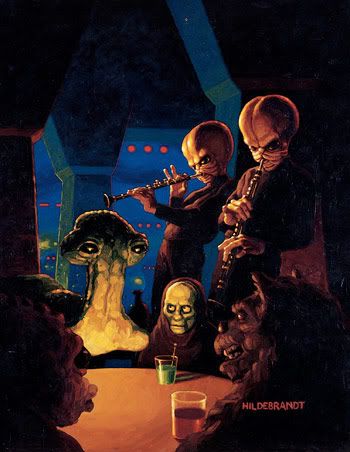 According to The Art of the Brothers Hildebrandt, which reproduced each of the Shadows artworks along with sketches and descriptions, Tim's favorite from the series was a quiet image of R2-D2 and C-3PO among the trees of an ancient forest. Tim explained that he always enjoyed the opportunity to incorporate nature and technology, a preference he'd exhibited years earlier in an unused piece of merchandising art done for Return of the Jedi. In it, the cold angular lines of an Imperial scout walker stand in stark contrast to the lush organic forms and soft filtered light of Endor. Fittingly, the juxtaposition of technology with nature was one of the formative visions that inspired George Lucas to create Star Wars in the first place.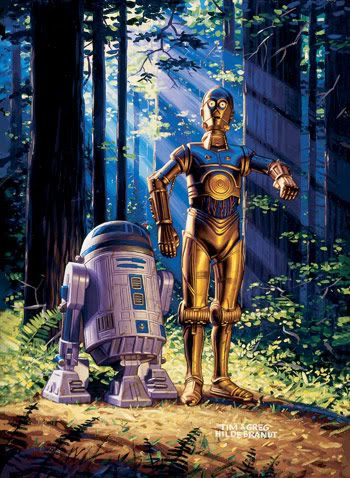 Editor's Note: I'm not a huge fan of the Hildebrandt style, (they are sort of the Leroy Neimans of dweebing), but this one is lovely.
1999's Episode I inspired a second flood of Star Wars artwork from the Brothers Hildebrandt, this time for the profusely-illustrated Great Big Flap Book. Creating scores of new paintings from The Phantom Menace, the brothers were again able to infuse the spirit of their earliest Star Wars designs into this artwork, earning them the rare distinction of having illustrated for both Star Wars trilogies.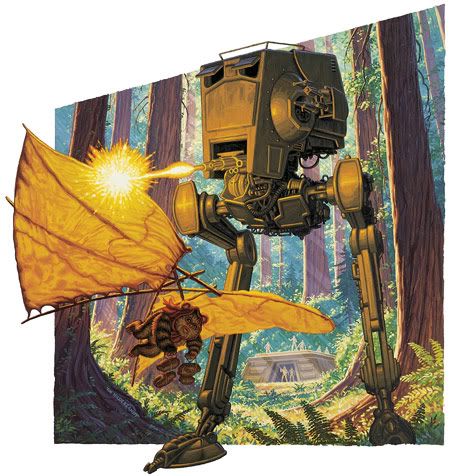 Though their work in the Star Wars universe became less intense in recent years, Tim and Greg Hildebrandt continued to make public appearances amid their busy schedules, attracting throngs of eager fans hoping to share a moment with the artists whose name had become synonymous with Star Wars illustration. Like the lone red "HILDEBRANDT" signature that glows like a brand on their earliest works, the iconic image of Luke and Leia standing triumphant beneath a radiant star-filled sky remains deeply engrained in the public mind -- probably more so than any other image associated with the saga.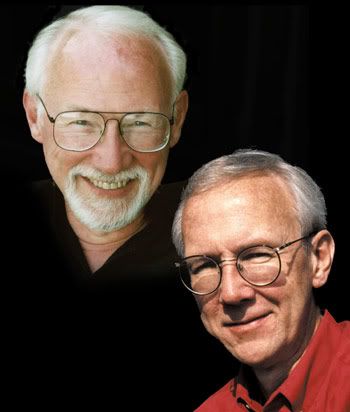 For fans and art lovers alike, Tim's contribution to the Star Wars saga, to the Hildebrandt aesthetic, and to our imaginations will be deeply missed.
To view artwork by Tim, Greg, and the Brothers Hildebrandt, please visit their official website here Editor's Note: Again....not sure if the links are working....(http://www.spiderwebart.com/default.asp)

EDITOR'S NOTE: And now the Pics for the past couple of weeks ---

First up, another couple 2007 sneak pics: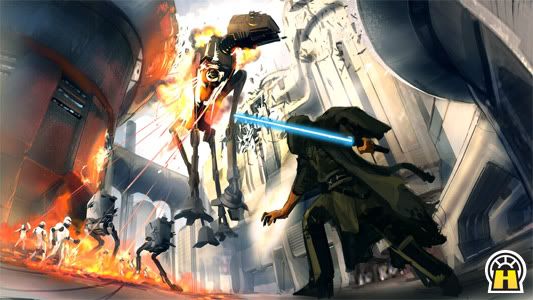 Only different in your mind, my young apprentice...

A galaxy awaits the next storm...
And the rest of the pics for the past couple of weeks ----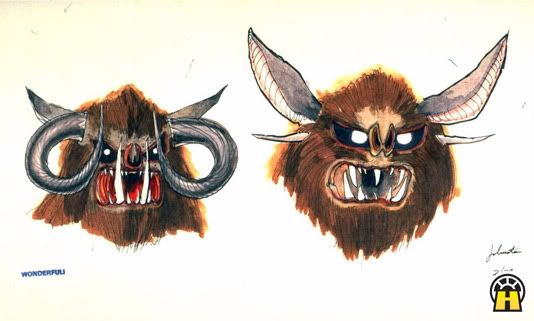 These Joe Johnston illustrations represent some of the earliest explorations of what would become the wampa ice creature.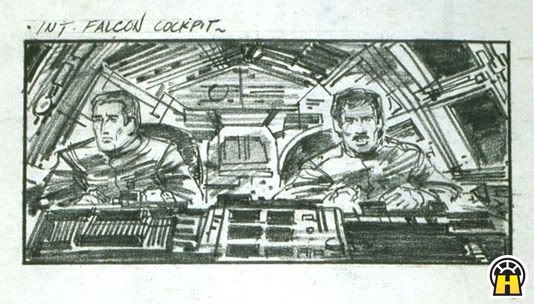 This unattributed storyboard illustration gives Lando Calrissian a human copilot for his attack on the Death Star, rather than the Sullustan Nien Nunb.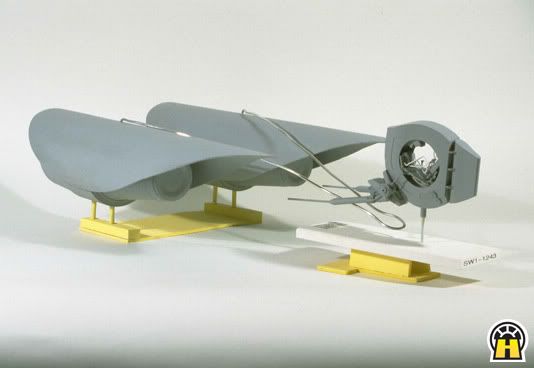 Concept models -- such as this one of Teemto Pagalies' Podracer -- helped establish the basic shape and lines of all of the Episode I vehicles.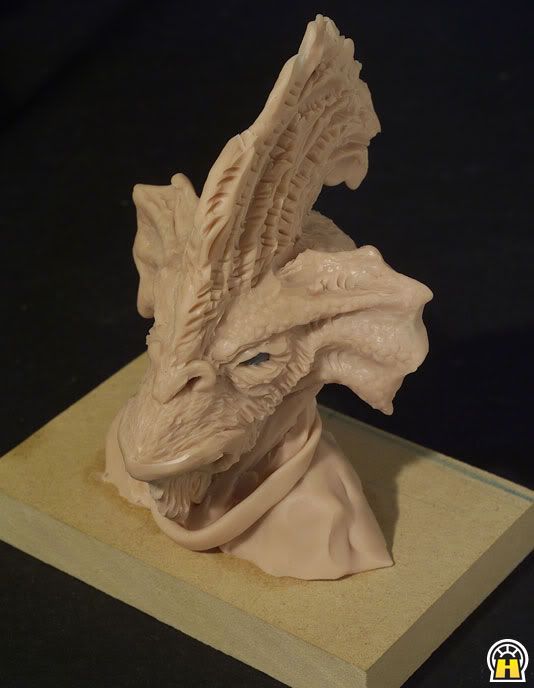 Sculptors Robert E. Barnes and Michael Patrick Murnane embarked on a free-for-all sculpting jamming session to produce scores of Episode II alien concepts, including this fin-headed specimen.
Editor's Note: And let's close out the Star Wars catching up with a poster worthy of OddBob (although it isn't from him, it sure COULD be, huh?)!