Tuesday Movie Dweebing
Editor's Note: This first item is either HUGE BREAKING NEWS.....or complete rumor-mongering. Fun, either way -----
Natalie Portman is INDIANA JONES' daughter?
Rumors are floating around saying that Natalie Portman may have been cast in yet another Lucas film, this time as Indiana Jones' daughter.
Karen Allen let the following slip in a Q&A session following a RAIDERS OF THE LOST ARK screening: "
Oh, and I just heard Natalie Portman was cast as Indy's daughter."
Allen would not clarify and no official word has been given, so take it for what it is, yet another INDIANA JONES rumor.
Depp And Zwigoff Have Happy Days
Adapting French novel
Source:
The Hollywood Reporter
Given how high he's riding with the
Pirates
sequel, our guess is Johnny Depp could get any old idea he jots down on a post-it note greenlit with a blockbuster production budget attached in seconds.
Fortunately for all of us, he's being a little more careful than that.
While part of us is wishing he'd use that power to resurrect Terry Gilliam's
The Man Who Killed Don Quixote
, we can't help but applaud as he reaffirms his indie credentials by seeking out
Bad Santa's
Terry Zwigoff for an adaptation of French Novel
Happy Days
.
It's an entirely Fonz-free tale of a Thirtysomething bloke who decides to ditch his cosy family life and check into a rest home for the elderly. There he meets an old terminal cancer patient, strikes up a close bond and spirits her away for a special journey to fulfil her final wish.
"Johnny Depp asked me to do the film,"
Zwigoff blabbed to Variety. "
He said he chose me because I'm very Hal Ashby-like. I took that as a compliment. It's a very quaint, fantastical story
."
Jerry Stahl, best known for
Permanent Midnight
, will co-write the script.
Tim Story gives a FANTASTIC FOUR update
Tim Story posted a new entry in his myspace blog and it deals with the upcoming FANTASTIC FOUR film.
Story writes:
Sorry guys,
I've been going crazy prepping this thing. Just got back from Vancouver, which is of course where we will be filming the movie, and things are shaping up. It's the hard part of the phase where I have to make the ..'s work. Even with 100+ mil, there's never enough money. Editor's Note: Raise your hand if you think that people who say things like this need a

spanking

? (Of course it's not HIS money, and at this point, he probably doesn't even realize those numbers represent CASH). Looking at the plan for the new Baxter Building interior and it's going to be hot. We're going more high tech and we're giving Reed Richards and the gang more gadgets this time around. The "4" logo will be everywhere as we are used to seeing it. They are a corporation now.

I'm going to use some looks that have been inspired from more recent comics, like in "The Ulimate Exstinction" and a little from the "Ultimate Fan Four" series. I know what you're thinking "Kirby, Kirby, Kirby!" There will be much props given to Kirby throughout the movie.

What I'm really excited about is the Fantasticar. It's coming guys in all it's glory. Wait until you see it. It's going to split in pieces and all that. Johnny and Ben fight over who should fly it. All the fun you expect.

Anyway, I'm jumping off. My kid's bday is today and I gotta set up a jumper and blow up balloons. Can't get in trouble. Sorry I haven't been giving you guys more info on a regular basis. I will. Understand there's always so much secrecy with this stuff but I'm going to continue to share in every way I can. Hopefully I'll be able to show some pictures in the near future. I want to keep you guys close to this process. It's going to be fun.

Until next time.

P.S. I'm typing so fast, so if anything's misspelled, forgive me.
Hopefully a picture of the Fantasticar will be leaked shortly!
Editor's Note: Yeah. Cause I don't think I'll be able to SLEEP till I see.......zzzzzzzzzzzzzzzzzzzz
Angelina Jolie lends voice to KUNG FU PANDA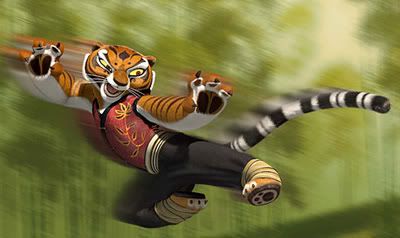 According to the USA TODAY, Angelina Jolie will be providing her voice to the animated film KUNG FU PANDA for DreamWorks. Jolie will voice Tigress, a martial-arts master.
Editor's Note: Playing herself, yet again! (giggle)
The film follows Po the Panda, voiced by Jack Black, who slings noodles in a restaurant and loves kung fu but doesn't have the body for it. When Po is revealed as the Chosen One to save the animals, Tigress must get the slacker panda into fighting form.
Editor's Note: When lumpy shlubs get chosen do they ever question that hand-o-fate that is doing the chosing? Maybe hand-o-fate doesn't have the Panda's (or OUR) best interests at heart?
Dustin Hoffman, Jackie Chan, Lucy Liu and Ian McShane also voice characters for the film.
Intermedia moves on THE DROWNING MAN

Intermedia has optioned Adam Alleca's sci-fi action-thriller film THE DROWNING MAN reports The Hollywood Reporter.
THE DROWNING MAN is based on Hideshi Hino's manga
Living Corpse
and centers on a man who wakes up without a pulse and soon discovers that he is at the center of a macabre government experiment.
Editor's Note: Plus, he's President! (no...wait...if he woke up without BRAIN activity, THEN he would be President. Without a pulse would be Chief Justice of the Supreme Court? Minority Whip?)
No release date or cast info is available as of yet.
Vaughn is on 'Enemies' list
Paul Haggis wants to appoint Vince Vaughn to the post of treasury secretary in his hot-button political drama "Against All Enemies," the film version of Richard Clarke's inside-Washington memoir.
While no offer has been made to the "Wedding Crashers" star because Columbia Pictures is fine-tuning the film's budget, the helmer has had discussions with Vaughn about filling the role of former Treasury Secretary Paul O'Neill.
Sean Penn, who recently cast Vaughn in his drama "Into the Wild," has been widely reported to be on board to play Clarke.
"Enemies" chronicles how the Bush administration handled the al-Qaida threat both before and after the Sept. 11 terrorist attacks. The former U.S. terrorism czar's story offers an insider's account into the nation's security apparatus, featuring a cast of Washington power brokers.
While Clarke's book has been criticized by the Bush administration, his version of the administration's security failures and its decision to go to war with Iraq has been backed up by testimony from O'Neill.
Haggis is supervising scribe James Vanderbilt as he pens the second draft of the screenplay based on the book published by Free Press in 2004. Vaughn is onscreen in "The Break-Up," which has grossed more than $114 million domestically.
Editor's Note: Between Haggis and Clooney and Michael Moore, (and VP Gore), we're fighting back.....

one movie at a time

!
The Hills Have Weisz
German born-director Martin Weisz, whose latest film is "Rohtenburg" starring Keri Russell, will be heading to "The Hills".
The filmmaker has been tapped to direct the sequel to Wes Craven's "Hills Have Eyes", says
Fangoria
. Weisz stepped in to direct when the studio's original choice, Michael J. Bassett, passed due to a scheduling conflict.
The site also reports that actor Michael Bailey Smith, who played Pluto in the first film, has been reenlisted to star in the sequel. He'll play a new character in this one – obviously, since Pluto bit the dust in the last one – the leader of the mutants.
Editor's Note: Well shucks, you gave away the big ending. Guess I won't go see it then.....(snicker)
"The Hills Have Eyes 2" – or whatever the heck it's called – hits cinemas next March.
LL Cool J, the Superhero?

LL Cool J could be starring in a film version of the comic "Panther" – if Jamie Foxx gets his way.
"
I said, 'My man, you the only cat that can really pull this off. There's this black superhero called Panther
",
Contact Music
quoted Foxx as saying.
I assume he's referring to 'The Black Panther', a fiercely proud warrior-ruler of his people, and former member of 'The Avengers'.
The "Ray" star has been enlisted to help fellow musician LL (his co-star from 1999's "Any Given Sunday") get a film based on the Marvel comic, off the ground.
"
We're trying to get this Panther production set up, because I think he'll smash that
."
Dead Casting
Say what you will about the man – I admit, he's the king of cheese – but I like Steve Miner's stuff. I think he did some nice work on "Dawson's Creek" and he put a nice polish on "Halloween H20", and did a wonderful job on the highly underrated "Lake Placid". In fact, I think the only film I really loathed of his was the lacklustre "Texas Rangers" – a film that put people, as in the hottest young stars at the time, before plot.
Now, according to
Bloody Disgusting
, Miner is attached to direct "Day of the Dead", a remake of the classic 1985 Zombie film about a world overrun by flesh hungry zombies and the small group of survivors, holed up in an underground military bunk, who go up against them.
According to the abovementioned site, Ving Rhames - who starred in the recent "Dawn of the Dead" remake – will also be starring in this one. He'll be joined by spunkrat, Mira Sorvino, who's no stranger to monster-mashing movies, having starred in the giant-bug thriller "Mimic".
The remake will film – like so many other horror movies of late – in Bulgaria.
Liu, Murphy are lead 'Detectives'
Lucy Liu and Cillian Murphy are set to star in "Watching the Detectives," a romantic comedy from Toronto-based Peace Arch Entertainment and New York-based Plum Pictures. Paul Soter of Broken Lizard fame wrote the script and is making his directorial debut on the movie.
"Detectives" centers on a film noir buff (Murphy) whose world is turned upside down when a beautiful, unpredictable femme fatale (Liu) provides far more adventure than he ever experienced -- and possibly more than he can handle.
Shooting is due to start this week in New York.
Uni bites into 'Dracula' spec for De Luca
Universal Pictures has sunk its teeth into "Dracula Year Zero," a spec written by Matt Sazama and Burk Sharpless. Michael De Luca is producing.
The script chronicles the epic origin of Dracula, weaving vampire mythology with the true history of Prince Vlad the Impaler. It depicts Dracula as a flawed hero in a tragic love story set in a dark age of magic and war, repositioning him more as a vengeful hero than the monster seen in Bram Stoker's classic novel.
Editor's Note: Blah blah blah...ALL the bad guys are not really

bad,

they're just misunderSTOOD.
Editor's Note: AND SPEAKING OF HORROR CHARACTERS….
Upcoming Film Spotlight: THE INSATIABLE
A vampire film you can sink your teeth into
Editor's Note: I'd snark that no one has ever used THAT lame joke before, but since this movie stars my sweetie, Sean Patrick Flanery, I think we really CAN sink our teeth...ahem.....well....YOU know......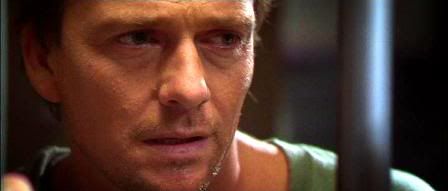 Editor's Note: Mine! Mine! Mine!
What if you met the girl of your dreams … but she was evil?
Editor's Note: Well, then you'd be dweebpal Samantha! (giggle)
Writer-directors Cary Solomon and Chuck Konzelman explore this conundrum in their recently wrapped vampire film THE INSATIABLE.
The duo's directorial debut, a twisted love story with horror, comedy and action elements, follows a drab guy named Harry (Sean Patrick Flanery)
Editor's Note: Yummyyummyyummy.
whose dull life becomes more interesting when he witnesses a female vampire (Charlotte Ayanna) feast on a homeless guy in an alley. Harry hatches a plan to trap her in his basement to stop her from killing ... falling in love with her in the process.
Produced by Lawrence Mortoff, Tony Cinciripini, and Javier Chapa, among others, the cast of THE INSATIABLE also includes Josh Hopkins (L.A. CONFIDENTIAL), Boyd Kestner (BLACK HAWK DOWN), and Jon Huertas ("Sabrina, The Teenage Witch").
Shot in Austin, Texas, THE INSATIABLE boasts a technological milestone being the first film shot with a special converter that makes it possible to record a CinemaScope size (aspect ratio 2.35:1) image with an HD camera. This enables HD films to be shown in theaters without having to crop the image and avoiding vertical resolution loss.
Editor's Note: yeah, but did they remember to have a SCRIPT. (I always worry when they tout the tech stuff)
Solomon and Konzelman are veterans in the screenwriting world with numerous studio and TV network sales as writers, producers and now directors. Some of their notable projects include INFERNO at Warner Bros., TOKYO GHOST STORY at Fox, DEAD AGAIN at CBS and the duo were the creators of THE IMMORTAL TV series starring Lorenzo Lamas.
THE INSATIABLE is currently in post-production and will be screened at film festivals early this fall.
Jackson hops on 'Jumper'
Samuel L. Jackson is teleporting into a starring role for Regency Enterprises' "Jumper." Doug Liman is directing the sci-fi thriller, making it his first feature helming gig since "Mr. & Mrs. Smith."
Based on the Steven Gould novel, "Jumper" follows a kid from a broken home who discovers that he has the ability to teleport. In his quest for the man he believes is responsible for the death of his mother, the kid draws the attention of the National Security Agency and another youth with the same abilities.
Jackson will play the NSA agent tracking the jumper, and may have ulterior motives for finding him. Tom Sturridge, Jamie Bell and Teresa Palmer already have been cast.
Magnolia lines up 'Cocaine' rights
NEW YORK -- Magnolia Pictures has nabbed all English-language territory rights to Billy Corben's "Cocaine Cowboys," which chronicles the Miami-based drug trade explosion of the 1980s and its impact on society.
The documentary hits theaters in the fall. Jan Hammer, who composed the music for the "Miami Vice" TV series and the upcoming film version, scored "Cocaine," which features interviews with top cops who sniffed out offenders, along with criminals up and down the cocaine food chain, from drug kingpins to dealers and killers.
"It's 'Miami Vice' stripped of its cool pretension and peopled by characters that make Al Pacino's Scarface look like a wimp,"
Magnolia Pictures president Eamonn Bowles said. "
'Cocaine Cowboys' is a visually imaginative, fantastically constructed and too-strange-not-to-be-true account of how the Miami of today was built."

Leguizamo, Gibson, join 'The Take'
John Leguizamo, Tyrese Gibson, Rosie Perez, Bobby Cannavale, RZA and Meagan Good will star in the Los Angeles-set indie "The Take." Ithaka Films is producing, and Hatchet Films is financing. Music video helmer Brad Furman will make his feature directorial debut on the film, which was written by Josh and Jonas Pate (creators of NBC series "Surface").
"Take" revolves around an armored-truck driver (Leguizamo) who is shot during a heist in East Los Angeles and chronicles the lengths he goes to after rehabilitation to track down the criminal (Gibson) who shattered his life. The low-budget film will be shot guerilla-style without sets in predominantly Latino neighborhoods.
Shooting is set to begin in September.
Ian McShane joins CASE 39
Ian McShane (Deadwood) has signed on to star with Renee Zellweger in CASE 39 for Paramount Pictures. McShane will play a cop who helps Zellweger investigate the case.
The script is by Ray Wright and centers around an idealistic social worker (Zellweger) who saves a 10-year-old girl from her abusive parents. She later discovers that the girl is not quite as innocent as she thought.
Also cast in the film are Kirsten Storms and Alexis Thorpe. German director Christian Alvart will direct the Paramount Pictures horror film which is due to start shooting later this summer in Vancouver.
Hogan leads WB's chase for 'Vermeer'
P.J. Hogan has signed on to direct "Chasing Vermeer," Warner Bros. Pictures' adaptation of Blue Balliett's best-selling children's book. Plan B is producing.
Described as a "Da Vinci Code" for tweens, "Vermeer" is a mystery adventure that revolves around a boy and girl who attend the University of Chicago's Laboratory Schools, a school for the gifted. The two sixth graders team to solve the theft of a painting by 17th century painter Johannes Vermeer.
The book, published by Scholastic, features codes and clues in the illustrations by Brett Helquist, artist of "Lemony Snicket's A Series of Unfortunate Events."