The STAR WARS News is back on FRIDAY!
Lucas given helming chair at L.A. fest
George Lucas will serve as guest director at the 2006 Los Angeles Film Festival, which is scheduled for June 22-July 2 in Westwood under the auspices of Film Independent.
Lucas will create a sidebar program of films that have inspired his work and also will host a festival retreat at his Skywalker Ranch in Marin County, Calif.
"
He is the ultimate independent filmmaker
," FIND executive director Dawn Hudson said. "
His talent and his contributions to cinema make this year a true milestone for the Los Angeles Film Festival as a world-class event."
EDITOR'S NOTE: YEAH. PLUS...HE ROCKS.
Tarkin Gets LOST
Jeff Frost from Yorkville, Illinois writes:
"Just a heads up for ya!
Australia's Wayne Pyrgram, who played Scorpius on "Farscape"

EDITOR'S NOTE: R.I.P. SNIFFLE.

and Governor Tarkin in one of those exciting "Star Wars"
movies
, joined the cast this week as "Isaac," a physical therapist.
EDITOR'S NOTE: I BELIEVE HE WAS THE AUSSIE FAITH HEALER.
7x7 Explores Lucasfilm's New Location
The new Lucasfilm headquarters located in the Presidio of San Francisco is the subject of a photo-intensive feature article in the latest issue of
7x7,
San Francisco's premiere magazine.
The beautiful
Letterman Digital Arts Center
is spotlighted from the perspective of a San Franciscan, and a Star Wars fan.
As writer Karen Palmer notes in the article, "
For a Star Wars fanatic, being offered a tour of the brand new, famously top-secret Letterman Digital Arts Center -- George Lucas' new home for Lucasfilm Ltd., Industrial Light & Magic and LucasArts -- is like being a kid again... and getting an invitation to the biggest candy store on the planet."
The 10-page article features fantastic photos by Cesar Rubio and quotes from people who helped make, maintain and work within the new facility.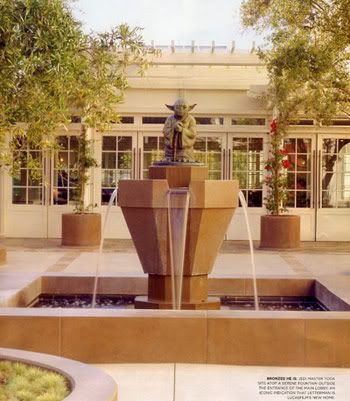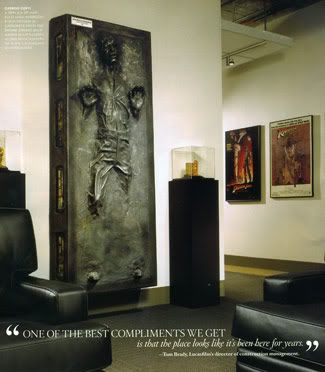 EDITOR'S NOTE: WOULD YOU NOT

INSTANTLY

GO TO WORK FOR A COMPANY WITH THIS IN THE LOBBY!?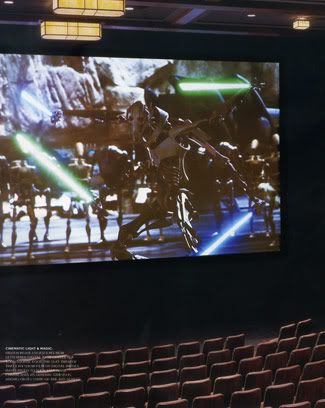 EDITOR'S NOTE: OH....LOOKIE! MY NEW TV ROOM!
EDITOR'S NOTE: AND NOW, SOMETHING SPECIAL FOR ODDBOB (AND HIS STRANGE ATTRACTION TO DARTH MAUL) ---
Exclusive Video Interview: Ray Park on His Life and Upcoming Projects
Here's an interview that the IESB website had last week with Ray Park
Ray Park has been busy lately and can expect to stay even busier in the near future with a recent change of management.
While everybody quickly remembers him as Darth Maul or Toad from the first X-Men film, Park has become a versatile actor. With two movies coming out later this year, the first being Sci-Fi Channel's
Slayer
in which he plays a pair acrobatic Vampires and second being
What We Do Is Secret,
where he plays L.A. club owner Brendan Mullen.
Ray has not left his roots behind, he actually cameos in Kyle Newman's
Fanboys
which is about a group of friends that have a mission to break into Skywalker Ranch and watch
Star Wars: The Phantom Menace
early as a wish to a dying friend.
So what is next for Ray?
Ray has several projects that he will be working on later this year that will continue to keep him very busy but with the Star Wars TV just right around the corner I had to ask if there was anything that he would like to do on the upcoming series.
Simply put Ray says that he would do whatever George would ask him to, revisit Darth Maul's early days to maybe playing a Jedi or even helping out with choreography. Scheduling permitting, he would go back to Star Wars in a heartbeat.
Don't take my word for it. Click on links below and watch our exclusive video interview with Ray Park.
http://iesb.net/upcomingfilm/041006c.php
EDITOR'S NOTE: AND THIS NEXT ONE'S FOR ME....I'M STILL A LUKE GIRL, AT HEART----
Mark Hamill's New Projects
Hollywood vet Army Archerd interviews Mark Hamill on his blog and gets the scoop on Mark's animated
Fort Frankie
, including his recent trip to the Presidio...
"Mark Hamill is readying, among many projects, "Fort Frankie" and the investors want him to make three dimensional computer-generated characters.
It's an animated comedy about a building in a big city from the point of view of pets that live there. Mark asked his old boss George Lucas for whom he played "Star Wars'" Luke Skywalker if he could come up to Lucas' Presidio location to get some CGI pointers.
"
I spent an entire day,"
Mark enthused to me. "
Now the show will be computer generated, rather than the 'line animation,' like the cartoons we watched as kids.
"
Hamill is also readying to direct a live action feature based on his graphic novel, "The Black Pearl."Paul Tamasy and Eric Johnson have joined the screenwriting team with Hamill who says the story
"
explores the moral uncertainty of our current times, with several new substantial characters and a new surprise ending sure to shock audiences -- it's like 'Fargo' meets 'Batman.'"

Star Wars Weekends Guest List For 2006
Starwars.com reports that the following Star Wars celebrities will be attending
Star Wars Weekends in 2006.

May 19, 20 & 21 - Rick McCallum & Peter Mayhew
May 26, 27 & 28 -- This weekend is still being planned.
June 2, 3 & 4 -- Jay Laga'aia and Bonnie Maree Piesse
June 9, 10 & 11 -- Jeremy Bulloch & Temuera Morrison
Also as previously reported, Warick Davis will also be attending as a celebrity host for all four weekends!
Ewan McGregor Adopts Daughter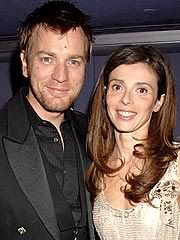 McGregor and Mavrakis
CREDIT: RICHARD YOUNG / REX
Ewan McGregor has a new addition to his family: a 4-year-old girl from Mongolia.
"
I can confirm Ewan McGregor and his wife Eve Mavrakis have adopted the girl but cannot comment further,
" a rep for the Scottish-born actor tells PEOPLE.
McGregor, 35, and Mavrakis, 39, have two biological daughters: Clara, 10, and Esther, 4.
The couple, who met on the set of the British TV crime series Kavanagh QC, have been married since 1995.
Mavrakis, a production designer, most recently worked on the British movie
Imagine Me & You
. Born in France and raised in China, she served as production interpreter on the Chinese set of Steven Spielberg's 1987 movie
Empire of the Sun
.
In 2004, McGregor and best friend Charley Boorman spent three months on a globe-spanning 20,000-mile motorcycle odyssey for the Bravo TV series
Long Way Round
. Mongolia was one of the stops on their journey. Before the trek, McGregor told reporters that his wife and daughters "
understand and are fully behind us, (though) I think if the whole thing was called off tomorrow they would probably be delighted."
EDITOR'S NOTE: DURING THE SHOW...WHICH WAS WONDERFUL, BY THE WAY........ MCGREGOR WAS VISIBLY MOVED BY HIS INTERACTIONS WITH LOCAL CHILDREN IN SOME OF THE REMOTE AREAS HE AND BOORMAN TRAVELLED THRU. HE APPEARED TO TAKE THE OUT-REACH PART OF THEIR MISSION VERY SERIOUSLY, AND THERE WAS AT LEAST ONCE WHEN HE SEEMED READY TO PLOP ONE OF THE KIDS ON HIS BIKE AND TAKE THEM BACK TO BRITAIN RIGHT THEN AND THERE.
Hallmark Keepsake Ornaments 2006
Four new ornaments will be released in 2006 to continue your collection of Star Wars Keepsake Ornaments from Hallmark.
EDITOR'S NOTE: ONLY FOUR!?
For the first time ever, the animated Star Wars universe is represented by the Clone Wars versions of Asajj Ventress, Anakin Skywalker, and Yoda.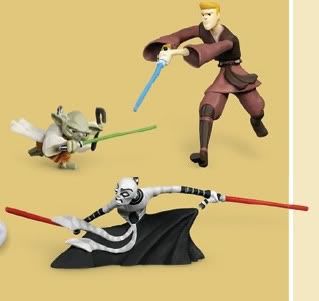 Measuring from 1 1/4" to 2 3/4" high, this set of three minatures will retail for $15 US or $19.99 CDN.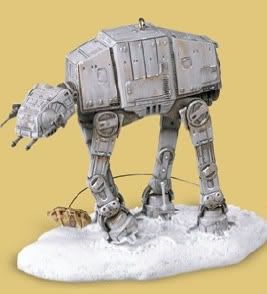 For vehicles this year, a "Magic" (battery-operated) ornament of an Imperial AT-AT and Rebel Snowspeeder from
Star Wars: The Empire Strikes Back
plays sounds of the battle of Hoth when you press the button. $28 US, $39.95 CDN.
Tenth in the series, Hallmark has again sculpted Luke and Yoda, also from S
tar Wars: The Empire Strikes Back
. $15 US or $19.99 CDN.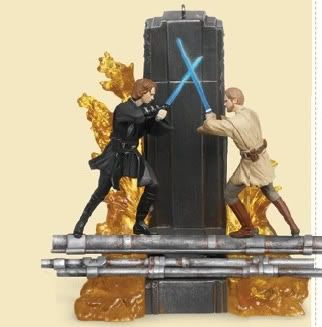 Lastly, from
Revenge of the Sith
comes the classic duel of Anakin and Obi Wan.
EDITOR'S NOTE: DOESN'T THIS ONE LOOK

ESPECIALLY

GROOVY!?
Another "Magic" ornament that lights up the sabers and plays sounds and dialogue from the movie. $28 US or $39.99 CDN.
It looks like a nice assortment that is sure to please many fans and ornament collectors alike!
July 2006 Comics
Here's a look ahead at what Dark Horse Comics has planned for your Star Wars reading this summer.
Tales of a distant Star Wars future continue in
Star Wars: Legacy #2
. Over the bodies of their enemies, two Jedi make a pact that will set them on the path to a greater danger than they have ever known . . .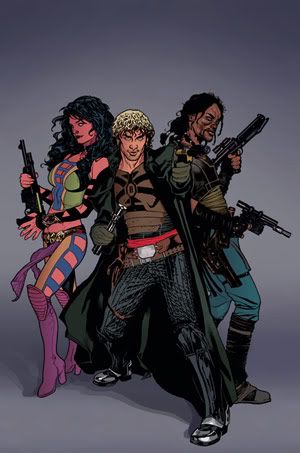 Bounty hunters capture a prisoner whose presence will test their resolve -- and the strength of their alliance . . .
A Sith apprentice is given the honorific "Darth" and sent to hunt a quarry whose capture -- or death -- could shake an empire to its foundations . . .
And a Princess finds herself alone in the galaxy, pursued by those she once counted as allies.
Star Wars: Legacy #2
is by the fan favorite team of John Ostrander, Jan Duursema, Dan Parsons and Brad Anderson, with a cover by Adam Hughes. It is scheduled for release on July 5.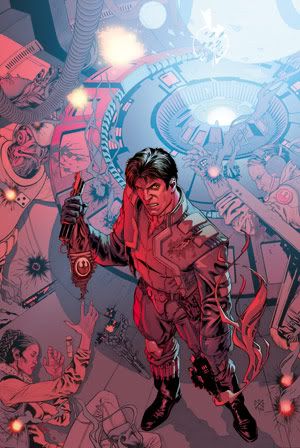 Meanwhile, in the classic trilogy era, Luke Skywalker faces a squad of stormtroopers when he attempts to bring his boyhood friend Imperial officer Janek "Tank" Sunber over to the Rebellion. Was Tank's plan to defect discovered by the Empire before he could get away, or are the troopers a plot to trick the Alliance into letting Sunber into the heart of their operations? It might not even matter, because while Luke is off on his renegade rescue mission, the Rebel Fleet comes under attack -- from inside the command ship!
Star Wars: Rebellion
is by Rob Williams, Brandon Badeaux and Wil Glass. It is scheduled for release on July 12.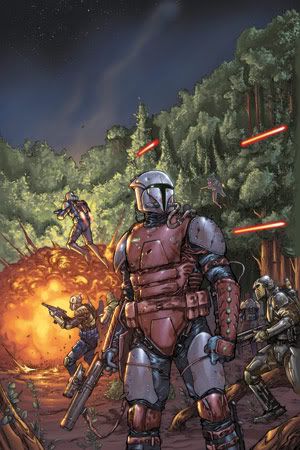 In the distant past, the wildest adventure in the ancient history of Star Wars gets wilder in a brand-new story arc featuring the most feared warriors in the galaxy -- Mandalorians!
Leaving the treacherous streets of Taris behind them, fugitive Padawan Zayne Carrick and the rag-tag crew of the Last Resort cook up a scheme to pilfer much needed supplies from an unsuspecting bunch of miserly miners. Unfortunately, any attempts at avoiding attention are for naught when the group finds they've landed themselves smack dab in the middle of the Republic and Mandalorian conflict!
Star Wars: Knights of the Old Republic #7
is by John Jackson Miller, Dustin Weaver, Michael Atiyeh, and Brian Ching. It is scheduled for release on July 26.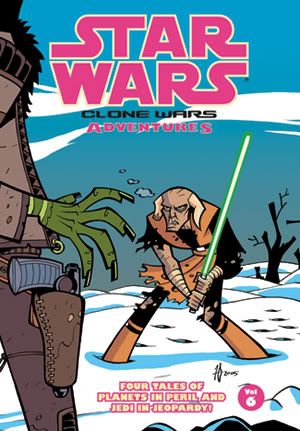 Continue, the Clone Wars do.
EDITOR'S NOTE: STOP IT STOP IT STOP IT! 900 YEARS OLD, AND HE CAN'T LEARN BASIC BASIC? (HE'S THE ANTONIO BANDERAS OF THE STAR WARS GALAXY).
Four more thrilling tales of planets in peril and Jedi in jeopardy! The last days of the Jedi are at hand, but if their Order is to fall, they're going down swinging!
Presenting another round of lightning-paced, action-packed, all-ages Star Wars goodness, all told in the same stripped-down stylization as Cartoon Network's micro-series.
Star Wars: Clone Wars Adventures Volume 6
features the works of Haden Blackman, Mike Kennedy, the Fillbach Brothers and Stewart McKenny. It is scheduled for release on August 9.
Star Wars Artist Series: David Rabbitte
The Making of an Artist
When Star Wars illustrator David Rabbitte first laid eyes on a peculiar press kit from 20th Century Fox, he knew his life would be forever influenced by images of bizarre alien creatures and dazzling spaceships.
"
I was seven when the first Star Wars film was released
," Rabbitte recalls. "
I remember my brother came home one day and showed me the booklet that Fox was sending out to generate interest in the movie. I had a look at the photos of the characters inside and was so excited. When the film was finally released, my brother went to see it with his friend, but decided to leave me at home because he figured some of the images would be too scary for me. I was really upset. Thankfully, later my dad took me along with my friend and we went to see it at the drive-in. I'll never forget that day! Interestingly enough, just as one of the most exciting parts came up in the film -- the
Falcon
's escape from the
TIE fighter
s -- the sound went out! You could hear people yelling to fix it quick!"

After seeing the film, as well as "The Making of Star Wars" televised special, Rabbitte's childhood fascination with a galaxy far, far away was further fed by his appreciation for artist Ralph McQuarrie's pre-production art and Industrial Light & Magic stop-motion creatures.
"Ralph McQuarrie has been a major influence in terms of his character and ship concept art
," Rabbitte says. "
Growing up I didn't see too many movies with designs that measured up to his work. I also love Joe Johnston's work. His storyboards are fantastic, and helped me understand storyboarding for my own projects. And of course, Phil Tippett's stop-motion creatures really inspired me."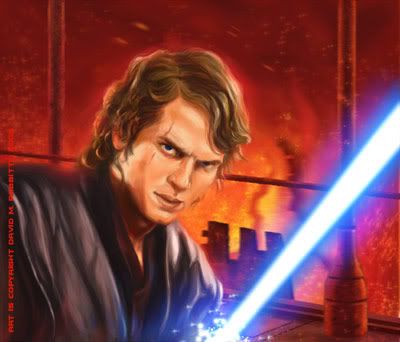 Born in Massachusetts, Rabbitte and his family relocated to his father's homeland of Ireland when he was only eight years old. He remained there during college as he attended Galway R.T.C. (Regional Technical College) for a one-year foundation course in general art. He then went on to do a three-year course at Dun Laoghaire School of Art and Design in Dublin, where he studied illustration, graphic design and animation.
"
I was in the same course and in the same art classes as another known Star Wars artist, Kilian Plunkett,"
Rabbitte says. "
We kept in touch on and off over the years, and while he was busy doing comics he knew I wanted to get in on doing Star Wars art someday, so I think he was pretty happy for me when I eventually got to do sketch cards for Topps."

Rabbitte's first officially-licensed project for Lucasfilm revolved around the immensely popular Star Wars Heritage artist sketch card series from Topps.
"I was at San Diego International Comic-Con in 2004 and was aware that sketch cards were becoming a huge hit with fans. So when I saw Topps Editor Matt Saunders sitting at the his booth I approached him and asked if he still needed any more sketch card artists and right away he said yes! After showing some samples of my Star Wars art he asked for my contact information and said he'd be in touch. Within just a few days after Comic-Con was over he emailed me and asked me to send him scans of my work so he could get them approved by Lucasfilm. I got approved pretty quickly and it was finally official -- the cards were sent out to me and I was drawing Star Wars characters...and getting paid for it!"

EDITOR'S NOTE: COMIC-CON ROCKS!



Of all the characters, Rabbitte admits he has a few favorites that he doesn't mind drawing over and over again.
"I loved drawing Han Solo and Chewie as a kid,"
Rabbitte says. "
I drew them all the time! My current favorite is
Anakin
because he's so central to the whole Star Wars saga.
And I like drawing him with the dark scowl and his face has a lot of character. I also like drawing the
clone troopers
and
stormtroopers
because they have such a great design that never seems to go out of style!"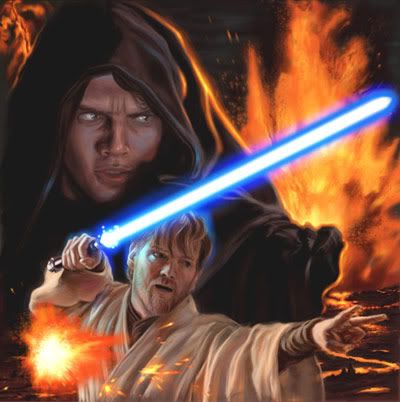 Rabbitte's work impressed Topps so much that they asked him to continue drawing sketch cards for the
Revenge of the Sith
series, and later the
Lord of the Rings Evolution
series.
In addition to his work with Topps, Rabbitte illustrates for roleplaying games such as his Warhammer art for Sabertooth Games, Decipher cards, Fantasy Flight Games and Kenzer and Company. He was also commissioned to illustrate a set of three painted book covers for the X-Men novel trilogy
X-Men: The Legacy Quest
published by I-Books.
Traditional illustration isn't Rabbitte's only specialty. Fans paying close attention to the end credits for some of their favorite animated films might spot his name as an animator. Starting in 1993, Rabbitte worked as a background artist at Don Bluth's animation studio in Dublin, Ireland on a feature called
The Pebble and the Penguin
. Later Rabbitte relocated with Bluth and his company to Phoenix, Arizona -- home to 20th Century Fox Animation Studios -- where he did background art and concept art for the films
Anastasia, Bartok the Magnificent
and
Titan A.E..
Most recently, with his new projects at Fat Cat Animation, Rabbitte served as a digital background artist for such features as
Fat Albert
and
Curious George
.
Process
Keeping his assignments varied helps Rabbitte stay inspired to try new things, as well as to challenge himself as an artist. "I'm always pushing myself to be better at what I do," Rabbitte says. "It's a never-ending uphill climb but for me it's totally worth it."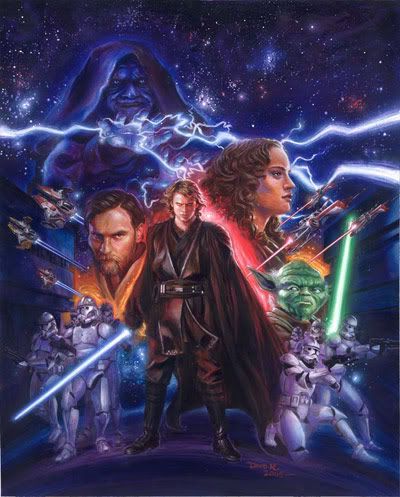 Rabbitte's process from beginning to end for an illustration assignment is fairly straightforward.
"
Usually before I start anything I do some research and find reference for what I need, especially if there are characters in the picture,
" Rabbitte explains. "
Sometimes I will look for some dynamic poses and interesting angles to work from. If I can't find the exact pose I need I will get someone to model for me. For a poster or book cover, I like to draw the characters separately on different paper then composite them later either in Photoshop or paste them together in the composition I like. Once the characters, background and other elements are put together, I transfer it down onto Illustration board."

"
Sometimes I like to add acrylic gesso to the board if I want a bit of a textured look, but mainly for the background; the faces I like to keep clear of that because they require more attention to detail,"
Rabbitte continues. "
I then
start to put down the general colors and establish the lighting for the scene, followed by blocking in the colors for the characters. I find it's best to work this way rather than finish off a section of the art and then go onto the next because you're never sure how the whole piece is going to work together. You will get a more general feel for how the final piece is going turn out."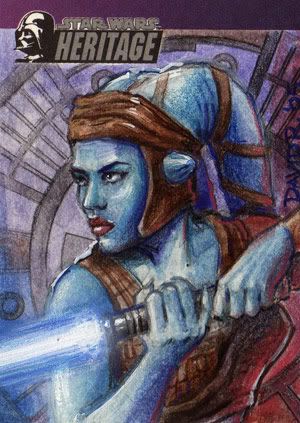 Though the process sounds streamlined, Rabbitte admits that each assignment comes with its own collection of challenges.
"When designing a cover for a book or comic some of the biggest challenges include coming up with an exciting composition that will draw the viewer into the art,"
Rabbitte says. "
You could have an exciting layout but if there is an element in the work that distracts the viewer it could ruin the effect you're going for. Coming up with a color scheme is also a challenge. The color should reflect the mood and idea behind the picture. Usually if you're doing a warm colored painting of, say, oranges and yellows an accent color of blue and purple will complement it pretty well.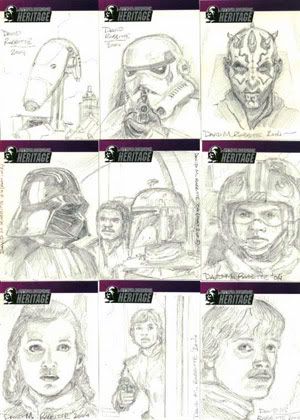 Rabbitte also likes to look at the work from other Star Wars illustrators for inspiration and encouragement.
"
I really like Brian Ching's work
," Rabbitte says. "
There's something about how he draws the character's faces and I like how he uses a confident free line rather than the heavy-handed look some artists use. Tsuneo Sanda is another one of my favorite current illustrators. I've made some good friends in this line of work. The thing that stands out for me most is that the Star Wars artists have some of the most diverse personalities. While some want to talk for hours, others can be a little shy. I think on some level, we're all a little weird."
EDITOR'S NOTE: NO, REALLY?! (GIGGLE)
Weird or not, the fans are more than happy to discuss Star Wars with Rabbitte and his fellow artists.
"Meeting fans have been great
!" Rabbitte says. "
Most of them are real nice people who just want to hear what you're working on next. I haven't set up a table at too many conventions so far, so most of the fans I've met are through email. I get a real kick out of people who write and say 'I'm a big fan of your work.' I'm always shocked when people know who I am! One of the times I was set up at a table in a comic book store some guy came up to me and couldn't stop shaking my hand because I worked on Star Wars art!"

EDITOR'S NOTE: AND YOU WENT AND GOT YOUR SHOTS UPDATED AFTERWARDS?
When fans greet Rabbitte at conventions, he's always eager to encourage them to pick up a pen and draw their favorite Star Wars characters. With his experience in illustration and animation, Rabbitte has plenty of advice for budding artists.
"
If you feel you have something to contribute to the art world, never, never give up trying to get work -- even if it takes years
," Rabbitte says. "
Try and look objectively at your own work and ask yourself, 'How does this measure up to other published work? Is it as good?' Take other experienced artists' criticism with grace and use their advice to push yourself further. That's not to say every artist's opinion is the right one, but if what they say makes sense to you, as one Sith Lord advised, 'Use my knowledge, I beg you.'"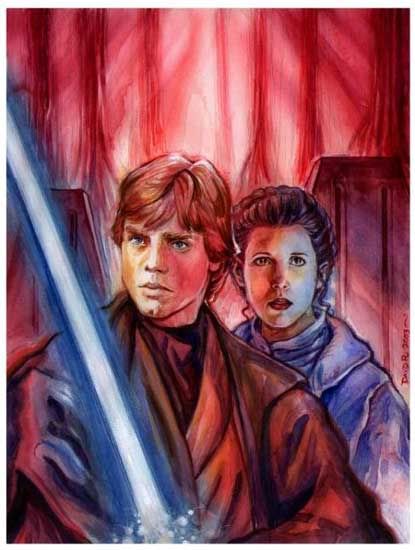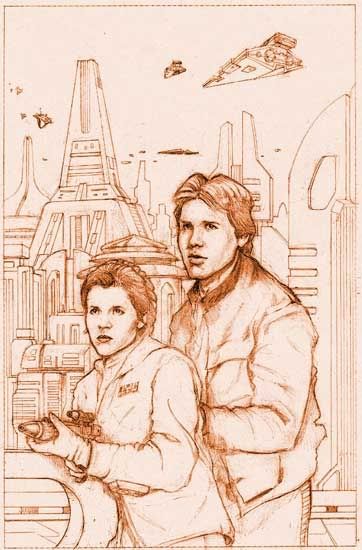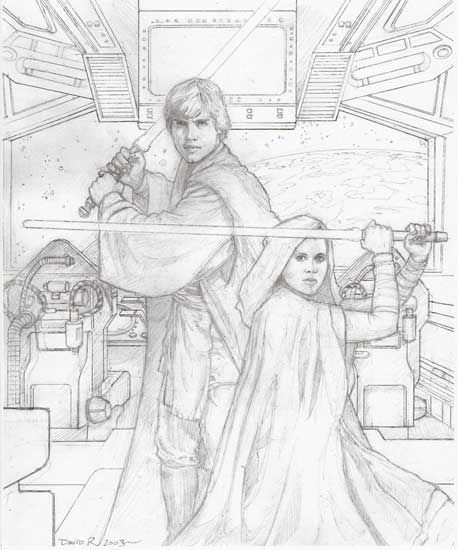 EDITOR'S NOTE: THIS GUY'S STUFF IS OK. NOT MY FAVORITE (A LITTLE UNSUBTLE, A LITTLE LESS EMOTIVE). BUT OK.
To read more about Rabbitte's upcoming projects, visit
his official site
,
http://www.skyhookentertainment.com/home.html
EDITOR'S NOTE: AND NOW....THE WEEKLY PICS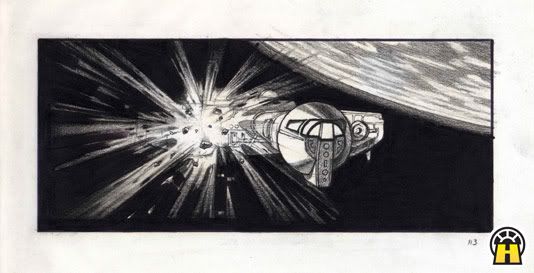 The Rebel blockade runner gets slammed hard by Imperial fire in this early storyboard attributed to Alex Tavoularis.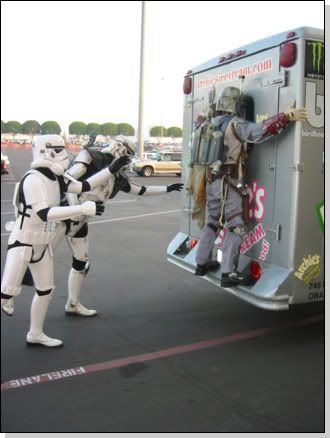 Fett

really

likes ice cream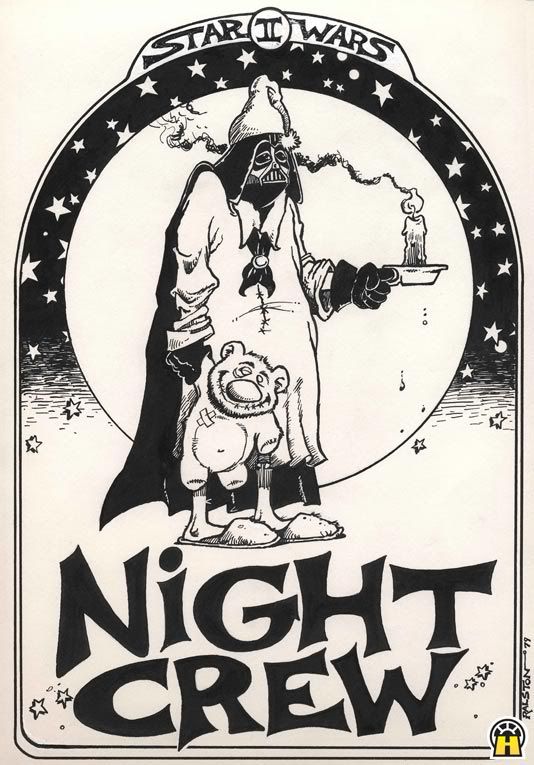 The busy production schedule for Empire required the ILM crew to work into the wee hours, as illustrated here by Ken Ralston.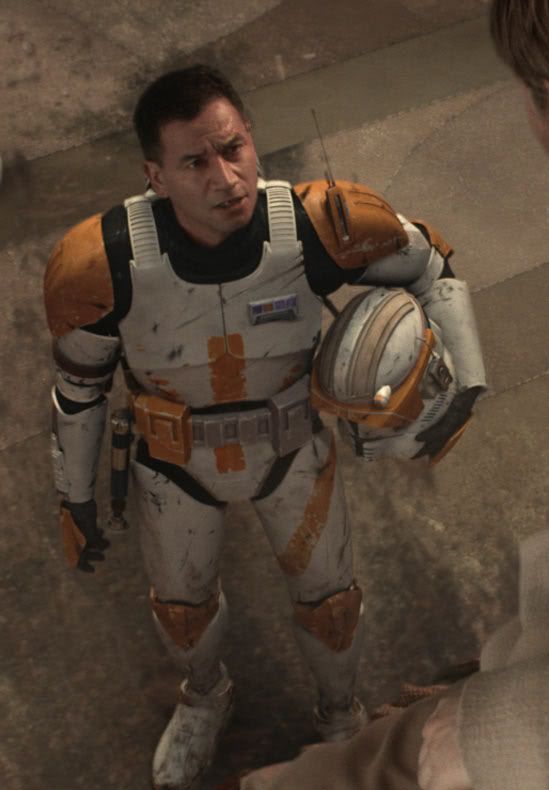 Obi-Wan Kenobi makes one last request to his loyal Clone Commander Cody (Temuera Morrison) moments before Order 66 is executed.
EDITOR'S NOTE: TRAITORS! DON'T GET ME

STARTED!

(NOW I'M ALL VERKLEMPT!)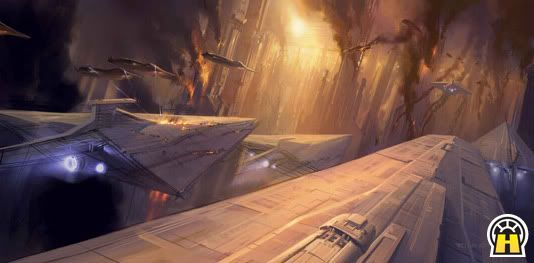 The battle for Coruscant reaches into the skyline in this stunning painting by Ryan Church.
EDITOR'S NOTE: OOOO....PURTY!