Hump Day (April 5) Movie News
EDITOR'S NOTE: WOW. JUST BUNCHES OF ITEMS TO POST.
BUNCHES.
Indy 4 Update
While on a promotional tour for EIGHT BELOW, Frank Marshall told OptusNet that the next installment in the Indiana Jones series could be shot in Australia.
Marshall said the film "
is still on the frontburner."
He also added, "
We really have to get the story right. The story has to be really good for any of us to do it and there are three pretty strong-willed creative minds involved in saying yes."
EDITOR'S NOTE: BLAH BLAH BLAH. LIPS MOVING. NOTHING IMPORTANT COMING OUT. (ALMOST AS BAD AS WHEN RICK MCCALLUM SPEAKS).
Marshall will produce the film along with George Lucas. Lucas is currently writing the script with David Koepp.
The storyline will follow on from the first three films and "
Harrison is going to play the character and it is going to be 10 or 12 years later,
" said Marshall.
EDITOR'S NOTE: SNORT. 10 OR 12 YEARS? TRY 20 OR 25 YEARS?
SUPERMAN RETURNS in 3D
EDITOR'S NOTE: COME ON...THE GUY HAS REALLY BIG THIGHS, DOESN'T HE? (LIKE BEN AFFLECK IN "DAREDEVIL" SCARY-BIG).
IMAX Corporation and Warner Bros. Pictures have announced that Superman Returns will become the world's first live-action Hollywood feature to be converted from 2D to IMAX 3D.
IMAX Corporation will use its proprietary 2D to 3D conversion technology to convert approximately 20 minutes of the film into An IMAX 3D Experience, the most immersive cinematic 3D in the world. EDITOR'S NOTE: OK. SO STAR WARS WON'T BE THE FIRST. BUT IF SUPES DOES WELL, IT MAKES MORE THEATERS GET ON THE BANDWAGON FOR UNCLE G TO CONVERT ALL 6 SW PICS RIGHT!!??? (DROOLING ON KEYBOARD.....)
"Releasing select sequences of Superman Returns in IMAX 3D marks a groundbreaking moment in movies," said Dan Fellman, President of Domestic Distribution at Warner Bros. Pictures. "This film is going to give fans an opportunity to be immersed in a major live-action motion picture like never before." EDITOR'S NOTE: I JUST HOPE IT ISN'T IMMERSED IN A BAD MOVIE. (NOT THAT FAT THIGHS ARE NECESSARILY AN INDICATION, BUT....WELL..."DAREDEVIL"?)
The epic action-adventure will be transformed into the unparalleled image and sound quality of The IMAX Experience through IMAX DMR (Digital Re-Mastering) technology. The film will be simultaneously released to IMAX(R) and conventional theatres on June 30, 2006. Warner Bros. Pictures will be the exclusive distributor of the film to the growing IMAX theatre network worldwide.
"The test scenes that have been converted into IMAX 3D look, sound and feel absolutely amazing," added Bryan Singer. "The magic of IMAX 3D will envelop audiences in this story, enabling them to feel the emotion, drama and suspense in a completely new and unique way."
During select sequences of the film, a visual cue designed by Singer will indicate when audiences should put on and remove their IMAX 3D glasses.
"Five out of the seven films in our 2006 line up now feature IMAX 3D," said Greg Foster, Chairman and President of IMAX Filmed Entertainment. "We are thrilled that moviegoers will be able to experience Bryan Singer's unique and exhilarating vision. Through the magic of IMAX 3D, they will feel as if they are actually flying alongside the man of steel, weaving in and out of Metropolis." EDITOR'S NOTE: SO I SHOULD BRING SOME DRAMAMINE ALONG, I GUESS!
'Simpsons' off sofa to big screen
Homer Simpson has hit the big screen in a short teaser trailer announcing a theatrical feature version of the long-running TV series "The Simpsons."
The "Simpsons" teaser debuted Friday before screenings of 20th Century Fox's "Ice Age: The Meltdown."
The clip announces Fox's July 27, 2007, release date for "The Simpsons Movie."
The animated 28-second clip opens on a giant superhero "S" shield. "Leaping his way onto the silver screen," intones a narrator, "the greatest hero in American history!" Cut to Homer sitting on his couch in his tighty whities and T-shirt. "I forgot what I was supposed to say," Homer says. The narrator continues, " 'The Simpsons Movie,' coming to the screen July 27, 2007." "Uh, oh ...," says Homer, "we better get started."EDITOR'S NOTE: GUESS I'M GOING TO HAVE TO STUDY UP ON SIMPSONS LORE, SO ALL THE IN-JOKES DON'T GO OVER MY HEAD.
Paul Giamatti is Cinema's latest Santa Claus
Paul Giamatti's going to take a breather from the opaque stuff for a while to do an outright comedy with Vince Vaughn.
The film, previously titled "Fred Claus" (due to a rights issue, they're no longer able to use the name), centres on Santa's black-sheep brother, who returns to the North Pole after vanishing a while back. Giamatti will play Santa himself, says Variety.
The film will be directed by Dave Dobkin - who previously worked with Vaughn on "Wedding Crashers".
Jackson Will Manage 1408
Dimension Films has set Samuel L. Jackson to star in 1408.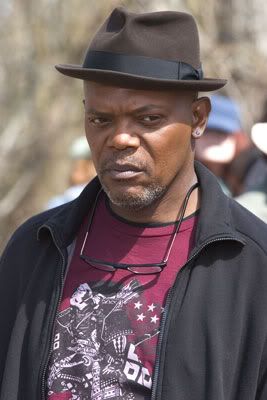 Based on a short story by Stephen King, the story cetners on a debunker of paranormal occurrences (John Cusack) who encounters real terror when he checks into the notorious Room 1408 at the Dolphin Hotel. Jackson plays the manager of the hotel.
Mikael Hafstrom will direct from a script rewritten by Scott Alexander and Larry Karaszewski. Lorenzo di Bonaventura will produce.
Elvis,Charmed I'm sure
Former "Charmed" star Brian Krause is going from McGowan to Memphis.
According to TV Guide, the actor (wonder if he's scrubbed "Return to the Blue Lagoon" off his CV, yet? hmmm) will join media-fave Tom Sizemore ("Natural Born Killers, "Heat") for a new film called "The Headhunters".
Says the site, "he'll play Elvis Presley's longtime friend and bodyguard. Tom Sizemore is his costar, so that should be a fun shoot." Indeed. EDITOR'S NOTE: IF BY 'FUN' THEY MEAN HEAVILY INSURED AGAINST TOM SIZEMORE GETTING ARRESTED? AGAIN.
Various other sites have pegged John Bennett Perry (Yeah, Matt's dad), Max Perlich (Whistler on "Angel"), Peter Dobson ("The Poseidon Adventure") and Mark Rolston ("Profiler") for supporting roles.

Bell, Sturridge & Palmer are JUMPERs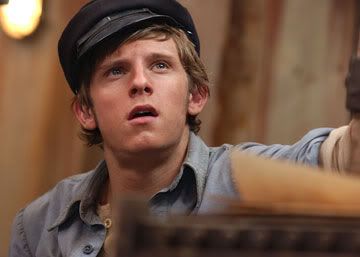 Regency Enterprises has signed Jamie Bell, Tom Sturridge and Teresa Palmer to star in JUMPER.
The story centers on a kid from a broken home who discovers that he has the ability to teleport. In his quest for the man he believes is responsible for the death of his mother, the kid draws the attention of both the NSA and another kid who has the same abilities. Sturridge will play the kid from the broken home, while Bell is the young man he meets, a jumper who shows him the ropes. Palmer will play the love interest.
Doug Liman will direct the film, which is based on Steven Gould's novel of the same name.

Another Rydell High Grad using Hairspray?
John 'Danny Zuko' Travolta isn't the only ex-Rydell High student about to reignite his love affair with the microphone. Apparently, "Grease 2" starlet – who was a class below Zuko, I believe EDITOR'S NOTE: SNICKER. THE MOVIE CERTAINLY WAS.....AHEM..... – Michelle Pfeiffer is also now in talks to star in the musical redux "Hairspray".
With Pfeiffer now close to singing onboard the New Line comedy, the film's cast is shaping up to be a more star-sudded event than an MTV Movie Awards after-party. Also in the film are Billy Crystal and Queen Latifah.
Pfieffer has an amazing voice. Yeah OK, so "Grease 2" was about as finely tuned as a discount-store piano, but the gal really proved her singing ability in it (I can still hear her singing daggy hits like "Cool Rider") Not to mention, how darn – ah, sexy too – fine she performed in the underrated "Fabulous Baker Boys". Will be good to see her strutting her stuff again on screen. Let's hope the deal gets made – and soon.

Here Be MONSTERS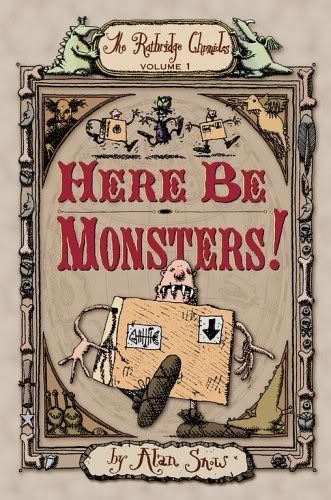 Laika Entertainment has picked up the rights to HERE BE MONSTERS! by Alan Snow. Henry Selick will oversee the adaptation of the book into an animated feature film.
The best-selling British children's novel centers on a young boy who tries to save his town from a dastardly takeover plot. He falls foul of the appalling outlaw, Snatcher, and is trapped alone in the town with every way home sealed. Meanwhile Snatcher and his men are working tirelessly in secret on a fiendish and dastardly plan to take over and destroy the entire town. With the help of Willbury Nibble, QC, some friendly boxtrolls and cabbageheads, a frustrated inventor and the rats & pirates from the Ratbridge Nautical Laundry, the young boy tries to thwart Snatcher's evil plans and find his way home. EDITOR'S NOTE: A PLUCKY BRITISH BOY (SOMETHING THE ISLE SEEMS TO CHUCK OUT LIKE LOLLIPOPS), A HAMMY RADA ELDER STATESMAN, SOME CHARACTER-TYPE BRIT HENCHMEN....AND A BUNCH OF CG STUFF. UMM....YAY.
Paramount Enrolls in H.I.V.E.
Paramount Pictures has picked up the rights to the young adult novel H.I.V.E. by Mark Walden.
The title stands for Higher Institute of Villainous Education, a venue where kids with off-the-charts criminal acumen are educated to become super-villains. EDITOR'S NOTE: I WONDER IF THEY ACCEPT POST-DOC APPLICANTS? (AND WHAT ABOUT FINANCIAL AID?)!
Lynda Obst will produce.
Dinklage is Sinister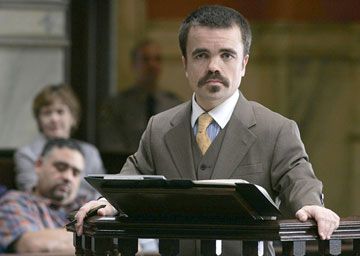 EDITOR'S NOTE: SO I GUESS "THRESHOLD" IS GONE FOR GOOD, HUH?
Walt Disney Pictures and Spyglass Entertainment have set Peter Dinklage to play Simon Bar Sinister in the big screen version of UNDERDOG.
As previously reported, the live-action adaptation will center on the adventures of a humble dog named Shoeshine Boy who became the superheroic Underdog who spoke in rhymes.
Englund Steps Behind Camera
Robert Englund is set to direct KILLER PAD. Filming is scheduled to begin in late April.
The horror-comedy, written by Dan Stoller, centers on three friends who use money from an insurance claim to move out of their parents' homes. They score a place in the Hollywood Hills and refuse to believe that the house has a dark history.
The film will star Shane McRae, Eric Jungman and Daniel Franzese. EDITOR'S NOTE: WHO?
Wayne Rice and Avi Chesed will produce. Master P will do the soundtrack. EDITOR'S NOTE: OH. RIGHT. I'M NOT THE TARGET DEMO.
Deschanel and Webber among indie 'Life'-ers
Zooey Deschanel, Harry Dean Stanton, Bill Paxton, Chris Klein, Bruce McGill, Deborah Rush and Mark Webber are getting ready for "The Good Life," an indie coming-of-age drama by first-time director Steve Berra. Lance Sloane and Patrick Markey ("A River Runs Through It") are producing, while Paxton is executive producing. Phyliss Laing is co-producing.
Berra drew on his experiences to write the screenplay, which is set in a Nebraska town obsessed with football and tells the story of a mostly normal young man (Webber) who makes the best out of fitting in where he obviously doesn't. Deschanel is a girl who encourages the young man to pursue his own path, while Stanton is a movie theater owner who employs him. Klein is a bully ex-football player living off his high school fame, while McGill is the football coach who is a god in the town. Paxton plays a Judy Garland fan.
Delay saga for Luhrmann '30s project
Baz Luhrmann's untitled 1930s period epic starring Russell Crowe and Nicole Kidman, which was eyeing a September start date in Australia, has been pushed back because of scheduling conflicts and budget debates with 20th Century Fox, sources have confirmed. Crowe is set to star with Denzel Washington in Universal Pictures' "American Gangster," and the project will begin filming in July in New York, according to Universal. That film is being directed by Crowe's "Gladiator" director Ridley Scott and is being produced by Brian Grazer, who also produced Crowe's "A Beautiful Mind" and "Cinderella Man."
Because of the "Gangster" shooting schedule, while Crowe is committed to starring in the Luhrmann project, he could be unavailable to start another film in September.
"When Baz is ready, I'm there," Crowe told the Sydney Morning Herald. "Gangster" itself is getting a second incarnation. It originally was to have been directed by Antoine Fuqua with Washington starring as a Harlem heroin druglord and Benicio Del Toro as a New York City detective. EDITOR'S NOTE: LET ME KNOW WHEN LUHRMANN STARTS THE FILM UP AGAIN. I'LL NEED TO RE-UP MY MEDS.
Banderas set to lead trek as 'Conquistador'
Antonio Banderas has signed on to play famed Spanish conqueror Hernan Cortes in "Conquistador," a historical epic being directed by Andrucha Waddington.
Conquistador tells the story of the fateful expedition led by Cortes that sailed west from Cuba in 1519, in hopes of expanding the Spanish Empire. Cortes and his band of soldiers came upon what is now Mexico and swiftly brought about the destruction of the Aztec empire, led by the legendary ruler Moctezuma. Nicholas Kazan ("Reversal of Fortune") wrote the screenplay. A September production start is anticipated on location in Spain, Mexico and South America
New Line has POWER AND GLORY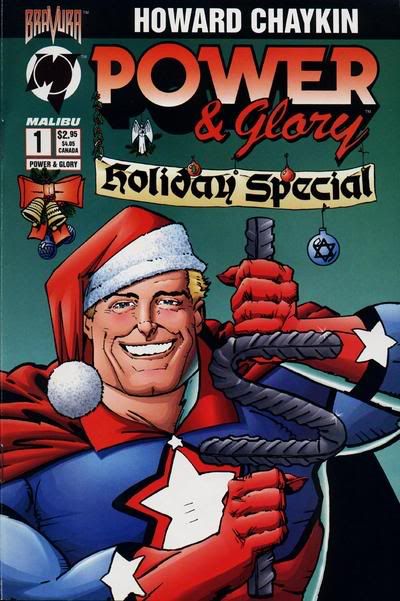 New Line has picked up the rights to the graphic novel POWER AND GLORY by Howard Chaykin.
The story revolves around a crime fighter who's genetically engineered to be a superhero but fears using his powers and needs to be teamed with a former CIA agent.
FREDDY VS. JASON's Damien Shannon and Mark Swift will adapt. Chris Bender and JC Spink will produce.
The graphic novel was first considered for adaptation to the big screen starting back in May 1998.
The CONAN Report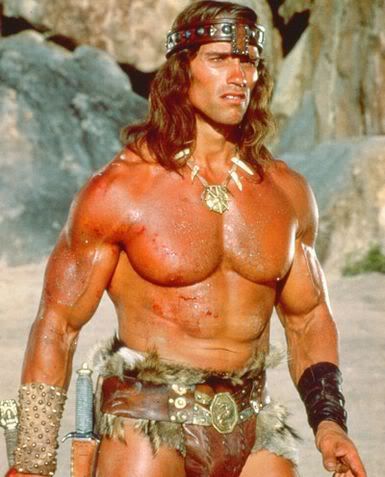 EDITOR'S NOTE: SHUDDER. HE SCARES ME ON SO VERY MANY LEVELS...
The Arnold Fans.com continues to publish reports about a possible deal for Arnold Schwarzenegger to reprise his role as Conan.
In a note from a Warner Bros., an executive (presumably Alan Horn) stated, "The only thing I can tell you at this time is that the WB does want more than one Conan film since the property is seen as a franchise which has spawned toys, comic books, video games etc. I can also tell you that if Arnold wants to make two more Conan films, we will gladly make that deal happen."
EDITOR'S NOTE: GOODY.