Friday (March 31st) STAR WARS....Pictures, and MORE!
EDITOR'S NOTE: LET'S START IT OFF WITH SOME LOVELY ARCANA. (I THINK

ALL

ARCANA IS LOVELY. BUT NONE MORE SO THAN

STAR WARS

ARCANA).
AND NO...ARCANA IS NOT THE PLANET THAT ODDBOB IS FROM.

THAT

WOULD BE....SNIFFLE BOO HOO WHINE WHINE WHINE...
ALDERAAN.
How do the AT-AT Walkers get to the surface of Hoth?
As revealed in the
Star Wars: Complete Locations
book published by DK Books, the AT-ATs arrive on Hoth via Incom Y-85 Titan dropships. The book even has an illustration of what the landing ship looks like. As described in the movie, the dropships had to land beyond the edge of the energy field and then march overland to destroy the shield generators.
In The Empire Strikes Back, when Darth Vader is informed that the Rebels are on Hoth, he says, "and I'm sure Skywalker is with them." How did he know Luke's name?
Vader had some opportunity to do some fact checking in the three years between
A New Hope
and
The Empire Strikes Back
. According to the Marvel Comics series, he found out Skywalker's identity from a captive Rebel pilot undergoing interrogation. This scene is also retold in the
Vader's Quest
comics series from Dark Horse.
What Vader didn't know... or perhaps feigned ignorance about before his dark Master... was the connection between Luke Skywalker and Anakin Skywalker.
EDITOR'S NOTE: SNARKY STUDENT RAISING HER HAND HERE.....IS SKYWALKER THE ANTILLES OF TATOOINE (WHICH IS THE SMITH OF CORELLIA)? I MEAN, DID NOT THE ALL-POWERFUL EMPEROR OR MR. MEANIE VADER MAKE ANY SORT OF CONNECTION ABOUT THIS?
In The Empire Strikes Back, when Luke is leaving Dagobah, Obi-Wan says to Yoda "That boy is our only hope." Yoda then states, "No there is another." Does this mean that Obi-Wan does not know about Leia? Did he not see her in Episode III?

As you find out in Episode III, Obi-Wan Kenobi is fully aware of Leia's existence. His gloomy statement has more to do with the faith he had put in Luke. Knowing Leia's strengths in the political arenas, he had profound doubts about her abilities to become a Jedi capable of ending the Sith rule.
Why in the opening crawl of Empire does it state that the Rebels ("Freedom Fighters") were led by Luke Skywalker? Clearly, Leia is still in charge!
If you want to split hairs, it's really General Rieekan in charge, but if you put his name in the title crawl, you'll have an audience full of people just wondering who that is. These title crawls favor brevity and dramatic emphasis over technical accuracy -- the Episode I crawl says two Jedi Knights have been dispatched, but one's actually a Master, and the other's a Padawan. In this case, though, it can be argued that it is correct... from a certain point of view.
EDITOR'S NOTE: OBI-WAN AND YODA'S "

CERTAIN POINT OF VIEW

" IS WHAT MY MOMMY WOULD CALL

LYING

. (BUT SHE'S NOT A JEDI, SO WHAT DOES

SHE

KNOW!?)
"
Evading the dreaded Imperial Starfleet, a group of freedom fighters led by Luke Skywalker has established a new secret base on the remote ice world of Hoth."

Luke's rank as commander aside, he did lead the Rebels to Hoth, as described in the daily Star Wars newspaper strips by Archie Goodwin and Al Williamson (reprinted by Dark Horse Comics as Classic Star Wars). He found the ice planet, and spearheaded the relocation effort that brought the Alliance to the chilly planet.
In The Empire Strikes Back, we see Han Solo strapped to a chair with Darth Vader and stormtroopers standing around him. We then see Han being lowered toward some kind of device with a red light and sparks. My question is what does the Empire do to torture Han? And if it's so bad, why isn't he bleeding or scarred?
EDITOR'S NOTE: IT KINDA LOOKS LIKE A DENTIST'S CHAIR WITH FORWARD MOTION. (WHICH WOULD MAKE

MANY

PEOPLE TELL STATE SECRETS IN A HEARTBEAT!)
The presence of sparks reveals the true nature of the device: It's a form of electrical torture. Han is strapped to a scan grid, a device intended to analyze metals. The scan grid collects data on a substance's thermal and magnetic properties by zapping a series of electrical charges of varying power into the test subject. The machine then observes and records the effects of these surges. Scan grids are common in mining facilities as they are used to determine the exact nature of ores and containment materials.
EDITOR'S NOTE: DO YOU EVER GET THE SENSE THAT THEY ARE JUST MAKING THIS STUFF UP? (NAWWWWW.....)
Vader had a scan grid on Cloud City specially modified into an interrogation array for the torture of Han Solo. While it is extremely painful, it does not leave any long-term physical damage. Vader was torturing Han in a bid to attract Luke to Cloud City through disturbances in the Force. Had he desired, the torture could have been much worse, but Vader did not want to risk killing the bait.
EDITOR'S NOTE: PLUS, WHEN HE TIPPED THE CHAIR FORWARD, HE SAW WHAT CUTE BUTT HAN HAD.
In The Empire Strikes Back, why does Vader stop Boba Fett from shooting Chewbacca in the carbon-freezing chamber? Was it the fact that C-3PO, Vader's droid, was attached to Chewie's back?
Although a stirring short story that appeared in
Star Wars Tales #6
suggests that Vader did indeed recognize C-3PO on Cloud City, there really was no connection between the Dark Lord and the golden droid back when
Empire
was made. Vader's restriction of Fett was primarily meant to show just who was in charge and that no one fires a shot without Vader's say-so.
Granted, it's hard to read expressions through immovable plasteel armor, but it looks more as if Vader is reminding Fett about his "no disintegrations" order than as if he's having gooey memories about a protocol droid he once built.
EDITOR'S NOTE: NOT TO MENTION, FAMILIARITY WITH 3PO INSPIRES MURDEROUS NOTIONS EVEN IN THOSE

NOT

PRE-DISPOSED BY SITHDOM, YES?
In Episode V, when Han Solo is lowered into the carbon-freezing pit, he emerges as a fully formed carbonite block. Where do the rectangular frame and the control panels attached to the block come from?
The carbon-freezing process is meant for the transport of mined Tibanna gas. The valuable gas is sealed in blocks of durable carbonite for transport. These blocks are lined with monitoring sensors to gauge the stability and purity of the inner gases. When Vader planned to use carbonite to capture Luke Skywalker, he had the Ugnaughts modify the crude facility and prepare a modified storage block with medical sensors to keep an eye on his victim's life signs. The block is in the pit, and when Han is lowered into the chamber, he is pressed up against the block by the molten flow of carbonite.
In The Empire Strikes Back, Luke tells the Rogue pilots that the AT-AT's armor is too strong for blasters. Yet after they take one down using a tow cable, it takes only two shots to destroy the whole thing. Why is this?
In the National Public Radio dramatization of
The Empire Strikes Back
, Wedge identifies the cause of the explosion. "
I think its power plant is about to rupture, Luke
," says Wedge in the fourth episode, "Fire and Ice." That snowspeeder strafing run may speed up the explosion by a few seconds, but it is more for show.
Based on that precedent, a number of spin-off books have noted that the AT-AT walker's neck assembly is more vulnerable to cannon fire than the rest of its armor. While that is true, it doesn't mean that a shot to the neck will result in an explosion every time. (If that were the case, surely more than one intrepid snowspeeder pilot would have given it a go.)
To re-create the excitement of the Battle of Hoth, several LucasArts video games (such as Shadows of the Empire) allow players to rope AT-ATs and shoot' em while they're down, with satisfyingly explosive results. Those are game mechanics designed to make play more exciting, however, and shouldn't be construed as indicative of what would "really" happen if you went for the throat of an AT-AT.
EDITOR'S NOTE: WHAT WOULD

REALLY

HAPPEN. SNICKER. OOOO....THINGS EXPLODING! GROOVY!
In The Essential Guide to Alien Species, it says that space slugs are usually only 10 meters long. Why is the one the Millennium Falcon flies down so big?
No one knows. The slug the Falcon encounters is supposed to be a wonder. Its inexplicable off-the-charts size was meant to evoke salty tales of unimaginably huge sharks, whales, or other fishes lurking off the edge of the map in seafaring days. Space slugs ordinarily split by mitosis when they reach their upper size. Occasionally, through freak mutation, they don't and just keep growing.
The Expanded Universe
has played up the rarity of truly colossal slugs. The one the Falcon encounters is estimated to be over 800 meters long.
In The Empire Strikes Back, what is that thing that swallows up R2-D2 on Dagobah?

That droid-gulping horror was a dragonsnake, a large omnivorous predator that lurks beneath the muddy waters of Dagobah. Because of its tendency to stay mostly submerged, it is often mistaken for a swamp slug. Only the oily, black hide of its knobby-spined back was visible in the film -- because that was the extent of the creature's fabrication. Without the rest of its impressive form built, the practical model used on set resembled a big bloated leech. It was controlled by underwater divers during the shoot, and was simply referred to as the "swamp creature."
How did Boba Fett and Darth Vader get to Cloud City before Han Solo and the others? Did they find short cuts or something?
Since the hyperdrive on the Millennium Falcon wasn't fully functional, Han had to coax his beloved freighter from the Anoat system to Bespin at a dreadfully slow speed.
EDITOR'S NOTE: BESPIN IS

IN

THE ANOAT SYSTEM. THEY WERE ALREADY IN THE ANOAT SYSTEM AND WERE LOOKING FOR WHAT WAS THERE SINCE THEY COULDN'T GO TO HYPERSPACE. (IN CASE THERE'S A QUIZ, YOU'LL NEED TO HAVE THIS CORRECTED INFO). AHEM.....
Boba Fett spotted them making their departure. The crafty bounty hunter figured that since the Falcon wasn't on the other side of the galaxy by now, its hyperdrive must have been faulty. Armed with that supposition, he was able to calculate their likely destination: Bespin.
Slave I had no engine problem, so Fett was able to make the short jump to Bespin, case the planet, inform Vader, await the Dark Lord's arrival, and plan his trap with time to spare.
EDITOR'S NOTE: OUR VERY OWN (TALENTED AND GIFTED) DWEEBPAL JOEL WROTE A STAR WARS SONG. BE FOREWARNED THAT IT

IS

INSIDIOUS. (YES...LIKE

THAT

IN-SIDEOUS). ONCE IT GETS IN YOUR HEAD, YOU WILL HAVE TO RESORT TO THE GILLIGAN THEME SONG TO PURGE IT.
JOEL'S NOTE: I start humming around this morning and came up with this little parody I thought you'd appreciate (forgive me if you get this stuck in your head for the rest of
the day).
to the tune of Good Morning Starshine (from Hair)
Good morning Star Wars,The force be with you
We cheer for the Jedi, The Empire we boo
Good morning Star Wars, The force makes you strong
join in with me
as we sing
our early morning Star Wars song
Yoda, Chewie, Lando, Qui Gon, R2D2
and C-3PO
Palpatine, Darth Vader, Darth Maul, Boba Fett
Jar Jar, Jabba, Jango
Obi Wan Kanobi, Han and Luke and Leia
Early morning Star Wars song
EDITOR'S NOTE: THIS IS A VERY CLEVER SONG (IMHO). OF COURSE, WE NOW MUST GO TO JOEL'S HOUSE AND HIT HIM WITH STICKS TO STOP IT FROM PLAYING OVER AND OVER AND OVER IN OUR HEADS.
AND NOW...TIME FOR STAR WARS SHOPPING!
Go Fly a Star Wars Kite
Watch the battle between Jedi and Sith amongst the clouds with these highly-detailed Star Wars kites from The Kite Factory, to be released this spring.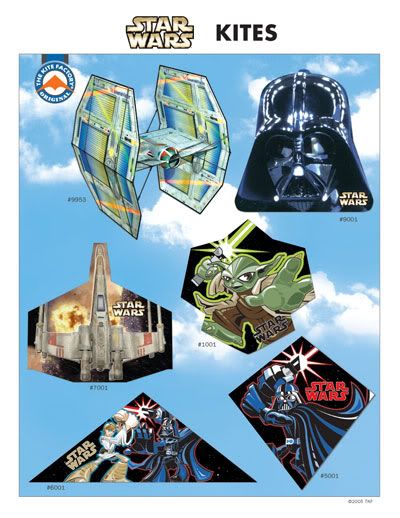 Fans can take their pick from the new lineup of kites which include:
the 13" x 13" Yoda Micro Kite made from Rip-stop nylon and fiberglass with a flight handle, line and manual;
the 34" x 33" Darth Vader helmet Figure Kite made from Rip-stop polyester and fiberglass with a flight handle and line;
and the 24" x 24" x 19" 3-D TIE fighter kite made from nylon and fiberglass with a flight handle, line and helpful manual.
For a complete Star Wars kite collection, be sure to also look for the previously-released illustrated Darth Vader Diamond Kite, the triangular Delta Kite featuring Luke Skywalker and Darth Vader dueling and Starfighter Figure kite -- on store shelves now.
For first-time flyers, The Kite Factory President Frank Alonso offers these handy tips. "
Pick a large open area,
" Alonso says. "
A park or wide beach with appropriate wind condition is ideal. To launch it, hold the kite up with your back to the wind. Let it go as wind picks it up. Slowly give more line as it goes up. And don't forget to follow basic safety rules, for example, do not fly in storms or near power lines."

2006 Galactic Heroes Wave 3
"Aren't you a little cute for a
stormtrooper
?"
A New Hope
is revisited in the third wave of Hasbro's 2006 Galactic Heroes. These four new 2-packs will be available in stores late this summer.
Greedo & Han Solo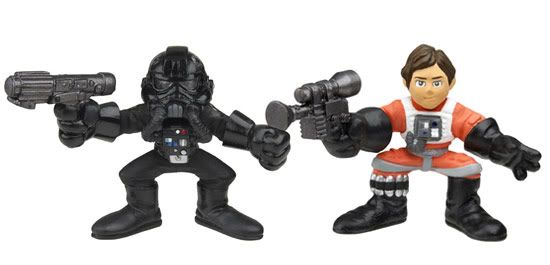 TIE Pilot & Wedge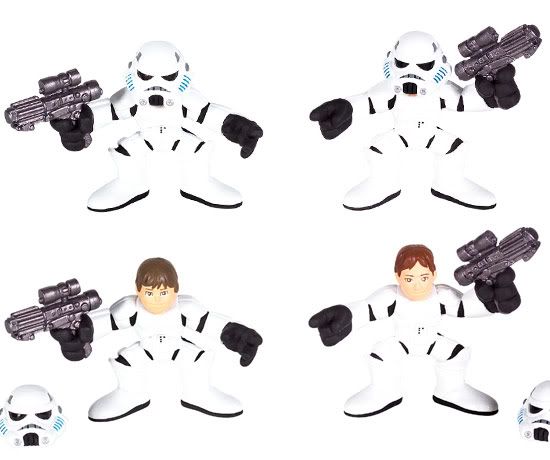 Luke Skywalker (Stormtrooper) & Han Solo (Stormtrooper)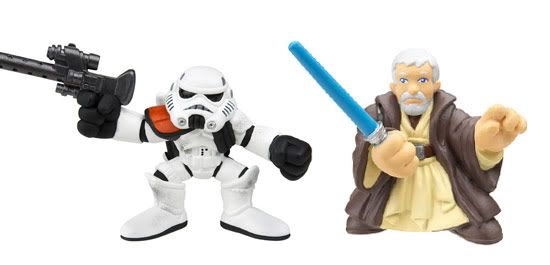 Sandtrooper & Obi-Wan Kenobi
EDITOR'S NOTE: IF THE REAL STORMIES WERE THIS CUTE, THEY'D HAVE WON THE WAR!
AND NOW...THE WEEKLY PICS ----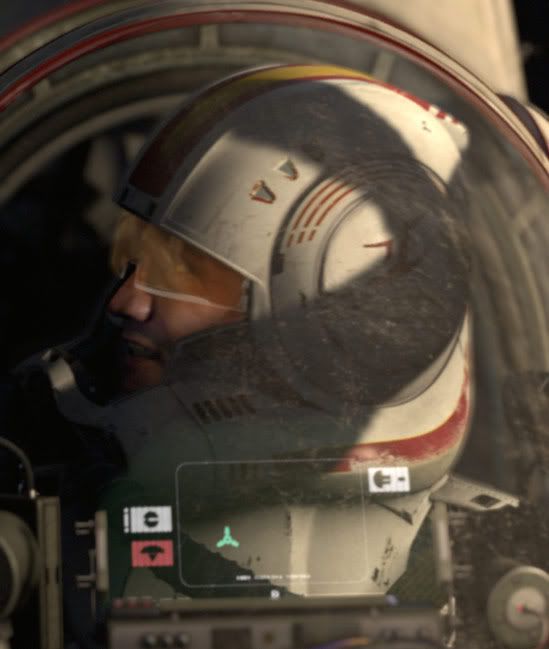 A clone trooper pilot navigates his ARC-170 starfighter through the space battle over Coruscant.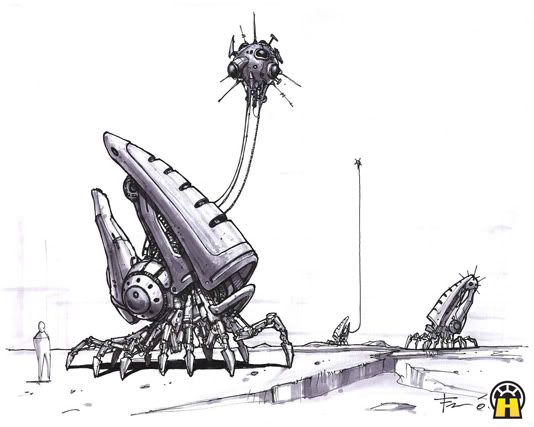 TJ Frame experimented with this idea of a Separatist droid with a detachable floating head.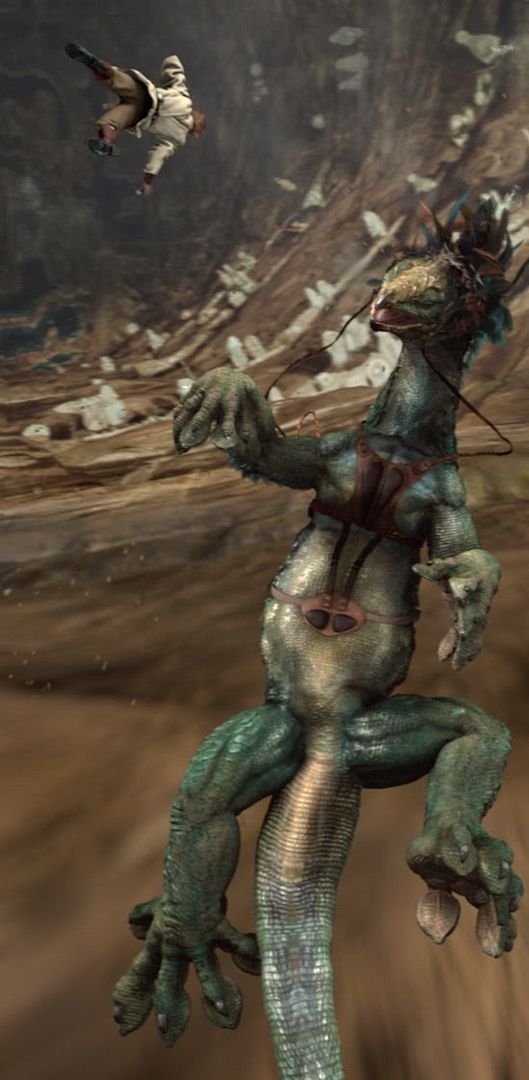 Obi-Wan and his varactyl Boga quickly plummet down the treacherous Utapau sinkhole after being hit with a blast from Commander Cody. EDITOR'S NOTE: BIG MEANIE CMMDR. CODY. POOR BOGA. SNIFFLE.



An early Mandalorian shock trooper design, illustrated by Ralph McQuarrie.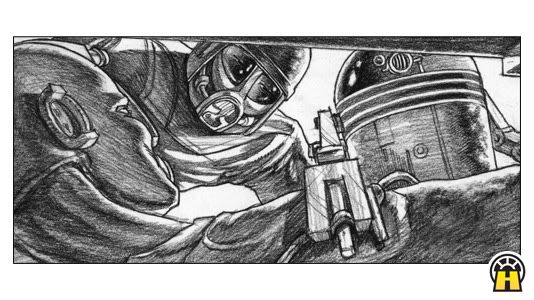 Deak Starkiller finds his droids C-3PO and R2-D2 hiding from Imperials in this early storyboard by Alex Tavoularis.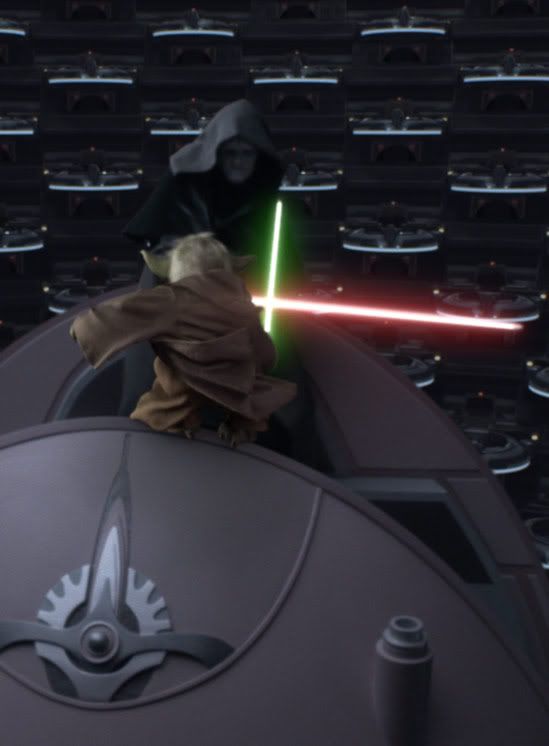 The duel between Jedi Master Yoda and Emperor Palpatine rages on in the Coruscant Senate room.