Dweebing & Thesping...together AGAIN
EDITOR'S NOTE: THEATER DWEEBS AND SCIFI/MOVIE/TV DWEEBS....TWO DIFFERENT CREATURES? AU CONTRAIRE, MES AMIS.
AND HERE'S A CASE IN POINT------
THEATER REVIEW


Tolkien's 'Lord of the Rings,' Staged by Matthew Warchus in Toronto



By BEN BRANTLEY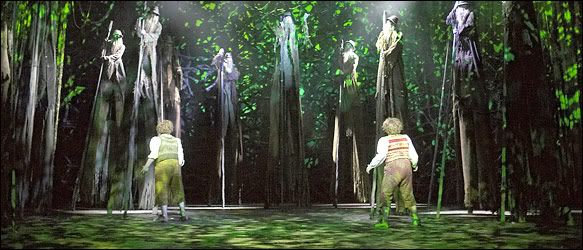 Hobbits confront the Ents in Fangorn Forest in "The Lord of the Rings," a dramatization of the Tolkein work.
TORONTO — An hour or so into what feels like eons of stage time, one wise, scared little hobbit manages to express the feelings of multitudes. "
This place is too dim and tree-ish for me
," mutters a round-ish, twee-ish creature named Pippin, groping through a shadowy forest in the second act of the very expensive, largely incomprehensible musical version of "The Lord of the Rings," which opened Thursday at the Princess of Wales Theater here.
You speak not the half of it, O cherub-cheeked lad of Middle Earth. The production in which you exist so perilously is indeed a murky, labyrinthine wood from which no one emerges with head unmuddled, eyes unblurred or eardrums unrattled. Everyone and everything winds up lost in this $25 million adaptation of J. R. R. Tolkien's cult-inspiring trilogy of fantasy novels. That includes plot, character and the patience of most ordinary theatergoers.
Presumably, there is a contingent out there that will regard this curiously homespun-feeling behemoth as a sort of sacred ritual. Indeed, perhaps the sanest approach to this production, adapted from Tolkien's books by an international team of artists led by the British director Matthew Warchus, is to look upon it as an arcane religious pageant that can be fully appreciated only by the initiated. That would be those familiar enough with the source material (preferably to the point of being fluent in Elvish)
EDITOR'S NOTE: I HAVE SUCH A HARD TIME WITH ELVISH. MY KLINGON SUBJUNCTIVE CASE KEEPS GETTING MISHMASHED WITH MY ELVISH PREDICATIVE CASE.
to understand the totemic significance of the amorphous shapes that pass through an eternal, vision-taxing twilight, murmuring dialogue that, when intelligible, brings to mind vintage "Prince Valiant" comic strips.
Let me hasten to add that I was not a Tolkien virgin when I walked into the Princess of Wales Theater.
I read the "Ring" trilogy (and its delightful predecessor, "The Hobbit") at least twice when I was a child. And I sat as happily as a little boy at a PlayStation through the more than nine hours of Peter Jackson's three-part movie version. Had I not, I would not have begun to have made sense of many of this production's aspiring edge-of-the-seat moments, including the final climax in which the pesky ring that causes so much trouble is destroyed. (Please don't write to say I've spoiled the show for you; believe me, I'm doing you a favor.)
EDITOR'S NOTE: AND THE SHIP SINKS, AND BETH DIES, AND DARTH VADER IS LUKE'S FATHER.
AND ROSEBUD IS A SLED. (WE'LL LEAVE KAYSER SOZE OUT OF IT, THOUGH).
The woman who accompanied me to the show had no prior acquaintance with the world of Tolkien, and she gave up on trying to make sense of the story early in the first of the show's three acts. As a fashion editor, she was able to derive some pleasure from discovering parallels between the costumes and current style trends. If you lack such resources to draw upon, you may find this "Lord of the Rings" is less like a spectacular fashion show than a seriously long (more than three and a half hours) drill team competition for high schools devoted to the nurturing of geeks, goths and hippies manqué who are really annoyed that they were born too late for Woodstock.
In following the adventures of the hobbit Frodo Baggins (James Loye) in his quest to save the ancient world of Middle Earth from the forces of darkness, this "Lord of the Rings" makes extensive use of a 40-ton stage (featuring 17 elevators) that revolves and rises, more than 500 often cumbersome costumes (Rob Howell designed them and the sets) and vast projected images that bring to mind much-magnified biology class slides. The program credits give prominent place to moving-image direction (the Gray Circle), illusions and magic effects (Paul Kieve), special-effects design (Gregory Meeh) and a "Tolkien creative consultant" (Laurie Battle).
Yet for all the technology, the show's look is often reminiscent of an arts and crafts fair. Its dominant images include a giant, twiggish wreath that is occasionally lowered to frame exposition sequences (there are lots of those); some striking, if ambiguous, Julie Taymor-ish puppetlike assemblages; sky-scraping stilt walkers; levitating fairies;
EDITOR'S NOTE: I HAVE WORKED WITH

MANY

LEVITATING FAIRIES OVER THE YEARS. (I FIND AS THEY GET OLDER, THEY GET LIGHTER AND LIGHTER, TILL THEY JUST

WISP

AWAY).
and myriad long poles carried by cast members, meant to signify everything from trees (natch) to processional majesty.
The show's mantra could be, "Speak softly and carry a big stick." A lot of the book and lyrics (by Shaun McKenna and Mr. Warchus) are sacrificed to the distortions of electronic amplification and booming background music. The dialogue that can be heard often sounds as if it comes from a Hollywood medieval sword-banger of 50 or 60 years ago. ("
How often we sang together before you left my father's house.
" Or: "
You are wise to ask, Frodo son of Drogo
." Or: "
Then there is a lady in the golden wood, as old tales tell.
")
EDITOR'S NOTE: THAT SECOND ONE NEEDS TO BE OUR RESPONSE TO EVERYTHING, FROM NOW ON! (LOL).

WHY?
EVERYONE TOGETHER NOW
------
YOU ARE WISE TO ASK, FRODO SON OF DROGO.
As for the songs — well, do not be so foolish, mortals, as to think they are mere show tunes. Created by the polyglot team of A. R. Rahman (of "Bombay Dreams" and Bollywood), Varttina (a Finnish folk group) and Christopher Nightingale, the musical numbers are often solemn, incantatory affairs, suggesting Enya at an ashram.
EDITOR'S NOTE: REDUNDANT?
Many of them are performed at least partly in Elvish. (If you think that means a lisping Presley imitator, this is definitely not the show for you.) Others recall the folky parody tunes from the spoof documentary "A Mighty Wind."
EDITOR'S NOTE: OOOOO. I'VE ALWAYS WANTED AN ELVISH AUDITION PIECE! WONDER IF ANY OF THEM ARE A GOOD ELVISH UP-TEMPO?!
The choreography is by Peter Darling, whose work for the London hit "Billy Elliot: The Musical" is breathtaking, but who here seems stymied by the sheer size of his ensemble. There is a protracted Morris dance-style sequence in a quaint tavern, in which the cast members refreshingly hoist benches instead of the usual poles, and much semaphoric gesturing and slow-motion writhing for the fight sequences. Since Paul Pyant's lighting tends to the crepuscular,
EDITOR'S NOTE: OOOO...GREAT WORD! BRAVO BENJI!
it is not always possible to tell who is fighting whom.
Nor is it easy for the cast members to register emotions legibly amid the gloaming. The show's best-known actor is Brent Carver (a Tony winner for "Kiss of the Spiderwoman"), whose hole-pitted line readings as the magisterial wizard Gandalf inappropriately suggest that the old sage is suffering from a Hamlet-like crisis of resolution. Evan Buliung is better cast as the action-figure hunk Strider (a k a Aragorn), and the audience clearly warms to the scenery chewing of Michael Therriault as the whiny, sneaky Gollum, who here looks like an unraveling mummy and sounds like Renfield, Dracula's old sidekick. Mr. Loye does what he can as Frodo, as does Peter Howe as his loyal companion, Sam, but they are no match for the shadows that swamp the stage.
You may be interested to know that, according to a news release, the dress worn by the beauteous Galadriel (Rebecca Jackson Mendoza, who sings of Elvish good will in the style of Celine Dion) has more than 1,800 hand-sewn beads. (The release does not stipulate whether nuns were the seamstresses or if they lost their vision to the work.)
But the show's must-have fashion items are clearly the springing shoes worn by some of the evil Orcs (at least I think that's what they were), who look like a squadron of vengeful houseplants trained in the martial arts.
EDITOR'S NOTE: AND HERE WAS WHERE I HAD TO PAUSE, WALK AWAY FROM THE KEYBOARD, AND LAUGH FOR SEVERAL MINUTES....JUST TO KEEP FROM PEE'ING MYSELF!
The shoes allow their wearers to leap high into the air merely by flexing their knees. This action provides some of the scarce occasions when "The Lord of the Rings" feels other than Middle Earth-bound.
EDITOR'S NOTE: TERRIBLY SNARKY AND PISSY...BUT TERRIBLY WELL-WRITTEN.
EDITOR'S NOTE: AND LEST YOU THINK READING THIS BLOG IS RISK-FREE....HERE'S A LITTLE POST FROM HARVEY FIERSTEIN (SHUDDER) ---
DIVA LAS VEGAS


By HARVEY FIERSTEIN

March 29, 2006 -- Michael Riedel is on vacation this week. Guest columnist Harvey Fierstein fills in.
GREETINGS from the miracle in the desert, the vaudeville of the sand dunes, the mother of all strip malls -
Las Vegas.
I can hardly believe I'm here performing on the very same street as Ruth Brown, Robert Goulet and Barry Manilow as opposed to back on Broadway, where I performed on the same street as Ruth Brown, Robert Goulet and Barry Manilow.
EDITOR'S NOTE: WHY DO I EVEN BOTHER ADDING SNARK TO THESE EMAILS? I MEAN, THIS WHOLE POSTING IS AT A LEVEL OF SNARKOSITY RARELY SEEN IN THE HALLOWED HALLS OF UMM...SNARKDOM.
Are we having fun? Who wouldn't enjoy going to work in a tomb? "Hairspray" is housed at the Luxor Hotel, an Egyptian-esque pyramid featuring incubuses, sarcophaguses and all manner of old things that have me homesick for the Shuberts.
Other Vegas venues include a height-challenged Eiffel Tower; a pirate ship at sea in a green concrete lagoon, and the theater where our "Blue Man Group" pals play - a mini faux Venice providing the charms of canal life, sans smelly water. Still, theater is theater wherever it's played, and being back in Edna's bras and the arms of the ever-adorable Dick Latessa remains as divine as ever.
Not that "Hairspray" is exactly the same here in Casinoville. This edition has been meticulously trimmed to 90 minutes. 'Twas not to please the musicians union as rumored. The chairs here on the strip, unlike backward Broadway's, come with cup holders, and the lobby bars thoughtfully provide drink trays to facilitate carrying a half-dozen quart-sized cocktails to your seat for consumption during the performance.
By limiting imbibing time to 90 minutes, the management saves millions in wet-vac operators and ER visits.
Lest I lead you to believe that these audiences are lacking in theatrical grace, let me say that, unlike on the Great White Way, we hardly ever hear a cellphone ring during a performance. This could be due to the deafening decibel level of these sound systems - or simply because cellphones don't ring when you're talking on them.
Theater scheduling is another disparate area. "Hairspray" plays a pretty normal schedule of 7:30 curtains six days a week with 4 p.m. weekend matinees. "Mamma Mia!," on the other hand, plays only seven shows a week. And other shows can play twice daily five days a week, or only at midnight, or just when Celine's in the mood.
It seems magic shows do best playing afternoons, while Cirque shows thrive late at night, and, in a city that never sleeps but does pass out quite often, there's certainly no wrong time to bare bizarrely augmented breastacles onstage.
Whether drawn here by the sports betting or the endless avalanche of cheap red buffet meat, this is a town teeming with testosterone.
Which brings me to Carrot Top.
Yes, Carrot Top.
He plays another theater in the same pyramid we do. But while "Hairspray" is attached to the casino, his venue is conveniently located next to the food court and just around the corner from the Wedding Chapel. Think: You can be wed, fed and left scratching your head, all within a 50-foot radius.
But to answer the question that burns on lips across Broadway: Is there really a future for theater in Vegas?
Here are the facts as I see them: The average Vegas tourist arrives for a three-day stay. They pay airfare and hotel bills for the chance to become instant millionaires, anonymous sex gods or just to escape their everyday reality. They're in desperate need of entertainment.
Our "Hairspray" audience reaction is just as sing-along, dance-along and clap-along gleeful as any we've had on Broadway, proving that musical theater can fill that entertainment need handily.
But can we sell "The Music of the Night" - the Phantom's joining the Broadway gold rush in May - in numbers large enough to warrant the journey west? That's the question. And the answer is still TBD.
Well, I've got to get back to shaving my legs, chest and eyebrows. Edna's work is never done.
Take good care of the Rialto, and don't worry about me. The only gambling I've done thus far was on an iffy piece of sushi (I lost).
Wish you were here!
Love,
Harvey