Friday (the 13th, eek) Odds-n-Ends stuff
EDITOR'S NOTE: HERE'S WHATEVER'S LEFT WHEN YOU REMOVE HARRY POTTER, MOVIES, TV, DISNEY, AND STAR WARS.
Hasbro in Licensing Deal with Marvel
Hasbro is welcoming such luminaries as Spider-Man, the Fantastic Four, X-Men and Captain America into its stable of action characters.
The toy marketer just secured a new, five-year deal with Marvel Entertainment for the rights to use Marvel's 5,000 characters for toys, board games, and puzzles in return for guaranteed royalty payments of $205 million.
EDITOR'S NOTE: YOWZAH!
The first toys are scheduled to reach the market Jan. 1, 2007.
To cut the deal, Marvel canceled its licensing agreement with Toy Biz Worldwide Ltd. on Dec. 31, a year earlier than scheduled. It will book a cash charge of $13 million to $16 million in the fourth quarter of 2005 to cover expenses associated with the early termination of the Toy Biz deal
EDITOR'S NOTE: A WRAP UP OF THE HOLLYWOOD HAND-WRINGING WE'VE BEEN HEARING ALL YEAR...A COUPLE OF ARTICLES ABOUT HOW THE WORLD IS COMING TO AN END IN FILMDOM.
More pix, fewer bucks (B.O. down 5% from 2004)
HOLLYWOOD -- With the 2005 domestic box office race wrapped up, two things are clear: Warner Bros. and Fox can be glad they're in a virtual tie for first place, but nobody in Hollywood has much reason to smile.
Though the last few months of the year minimized the B.O. deficit (8% in August but down to 5% in December), hopes have been dashed that a strong holiday season could close that gap entirely.
For the year of 2005, B.O. looks to come in around $8.75 billion, down from $9.2 billion in 2004. As has been the trend since 2002, rising ticket prices hide an even sharper drop in admissions -- 11% to 1.32 billion from the 1.48 billion last year.
Even more bad news: 527 new pics were released in 2005 compared with 507 in 2004. Hollywood did less business with more films.
With the exception of blockbusters, nothing worked as well this year. While the top 15 films of 2005 -- those with domestic cumes over $120 million -- were on a par with the top films last year, every film below No. 15 in the top 100 did worse than the one with the same rank in 2004.
EDITOR'S NOTE: UMM..YES, WELL.....ER...DOES SIZE REALLY MATTER?
Among studio rankings, the same trend applies. Top-ranked WB and Fox, both of which made a little more than $1.3 billion (Fox got a $380 million boost from the year's top grosser, Lucasfilm's "Star Wars: Episode III -- Revenge of the Sith"
EDITOR'S NOTE: MY UNDERSTANDING IS THAT FOX GETS VERY LITTLE OF THIS MONEY, THOUGH, SINCE THEY ARE JUST A DISTRIBUTER, AND HAVE A REVENUE CAP WHERE ANYTHING OVER A SMALL PART OF THIS GOES TO UNCLE GEORGE?
), came in slightly ahead of 2004 pack leader Sony.
Final numbers will be released next week, but Sony is set to come in No. 3 for the year, with "Hitch" and "Are We There Yet?" its top earners. Universal, Disney, Par, DreamWorks (thanks mainly to "Madagascar" from its sister toon unit), New Line, Miramax and Lionsgate follow.
But most studios in the No. 3 through 10 positions scored tallies lower than the studios with the same ranking last year.
Among the year's top-grossing films, the same formula worked this year as last.
Most were sequels or entries in well-known franchises, such as "Star Wars," "Harry Potter" and "Batman."
Family-friendly tentpoles such as "Madagascar" and "The Chronicles of Narnia" were once again a good bet. And as with 2004's "Meet the Fockers," this year saw one $200 million-plus breakout comedy, "Wedding Crashers."
Of course, on their own terms, numerous low-budget pics hit big, including "Crash," "March of the Penguins," "40-Year-Old Virgin" and, if current trends continue, "Brokeback Mountain."
But on the whole, mid- and low-tier pics in 2005 did a little worse domestically than in 2004.
The bar was lowered this year. For instance, "Diary of a Mad Black Woman" earned $50.4 million to land at No. 49. Last year, the mid-range earners were more successful and a $50.4 million tally would have put a pic at No. 64.
Some say the content simply wasn't as compelling this year, and it's true that 2004 saw a few unique hits such as "The Passion of the Christ" and "Fahrenheit 9/11." But high-minded pics like "North Country" and "Prime" earned less than $25 million and formulaic fare like "Fantastic Four," "The Pacifier" and "The Dukes of Hazzard" did well, so it's hard to say the problem is quality.
Most execs now admit the competition for Americans' leisure time is now even tougher, especially in the form of videogames, Internet and other digital options.
"
It's a tougher battle for us to get the audience to come into theaters,"
said U vice chairman Marc Shmuger.
Clearly, people are still willing to venture into theaters for the year's biggest events like "Harry Potter and the Goblet of Fire," as well as breakout fare everyone's talking about, such as "Wedding Crashers." And parents still want a few films to enjoy with the kids, such as "Madagascar."
But in other cases, auds are increasingly willing to wait for the DVD. Or, as the slowing DVD market indicates, simply concluding that the pic isn't worth it and renting a TV DVD or firing up the Xbox instead.
Nobody has the answer to turning around the trend of a slumping B.O. But most execs agree that upping the number of films in the market, as happened in 2005, doesn't help.
"
The market needs fewer movies so there is less clutter and what remains can more easily break out,
" observed Warner production prexyJeff Robinov. "
We also need more films with international appeal."
EDITOR'S NOTE: SOMEONE ALSO NEEDS TO REVAMP THE MOVIE-GOING EXPERIENCE AND MARKET THE RE-DO. YES, HAVING MOVIES PEOPLE WANT TO SEE IS IMPORTANT. BUT IF IT'S ONLY ABOUT THE MOVIE, THEN YES, THEY WILL WAIT TO SEE IT ON THE HOME THEATER. THE 'ACTIVITY' OF GOING OUT AND GOING TO A MOVIE NEEDS TO BE UPDATED AND MAYBE EVEN COMPLETELY RE-IMAGINED.
IMHO......
Of course, pics with worldwide appeal tend to have big stars and big effects, which can drive up the costs. With studio production budgets staying about even, that's another reason auds can expect fewer movies in theaters over the next several years.
Beyond focusing the content, Hollywood is hoping 2006 will be the year it draws more people into theaters by improving the experience. Starting in the next few months, thousands of movie screens will be going digital. Besides reducing print costs and making it easier to shift pics between screens, digital will improve picture quality and allow for new effects, like the 3-D process that debuted with "Chicken Little" and is expected to be repeated with several films next year.
EDITOR'S NOTE: OK. THIS IS A START. THE 3-D THING...JUDGING BY THE 3-D IMAX "POLAR EXPRESS" ODDBOB AND I SAW....IS FANTASTIC. BUT LET'S TALK ABOUT PARKING. LET'S TALK ABOUT CONCESSIONS. WHAT ELSE MIGHT BE RE-THOUGHT AT THE THEATER LEVEL?
No matter the solution, the doldrums of 2005 have driven home one point to Hollywood: Despite the growing population and all the new production and marketing tools at studios' disposal, getting butts into seats is a tougher task than ever.
EDITOR'S NOTE: BUT WAIT.....THE DVD THING ISN'T HAPPY EITHER!
Spending on DVDs up 10% (Vid discs running on empty)
For the first time in more than a quarter of a century, consumer spending on homevideo declined this year.
Preliminary projections for overall spending on DVDs and videocassettes in the U.S. for the 52 weeks ending Sunday indicate a drop of less than 1% from the $24.1 billion last year, according to Daily Variety sister publication DVD Exclusive.
Among the factors for the overall decline to $24 billion:
The continued collapse of VHS -- down roughly 60% this year to about $1.5 billion, or just 6% of the overall homevideo market.
A 4% decline in the overall $7.7 billion rental market, which has been sliding since its peak of $8.4 billion in 2001.
Rapidly falling DVD retail prices. Unit sales are up but prices are as low as $1 per DVD.
The continued growth of TV DVDs whose many hours of content keep consumers satisfied longer between purchases.
Top titles not reaching the same heights. Only one title topped $230 million in 2005; last year, there were three, two of which exceeded $300 million.
Despite the overall decline in revenue, spending on all DVDs was up nearly 10% to more than $22 billion. Although the 10% growth rate in 2005 is only about one-third of the more than 28% gain in DVD revs in 2004, a majority of studios enjoyed notable homevid revenue increases this year.
Final results including the Christmas and New Year's weekends will not be tallied until mid-January, but there were no major new releases during the period that would exceed or even match the performance of holiday releases in 2004.
Top execs from several studios had, until the last couple weeks, fiercely and publicly defended their optimistic projections of a huge fourth quarter turnaround for the industry.
But harsh reality began to set in as the summer's top theatrical grossers, such as "Charlie and the Chocolate Factory" ($207 million), underperformed on DVD, and none of the biggest box office performers, including "Star Wars: Episode III -- Revenge of the Sith" ($380 million) and "War of the Worlds" ($234 million), have generated more than 50%-60% of their theatrical gross on DVD so far.
EDITOR'S NOTE: OF COURSE, IN THE CASE OF STAR WARS, EVENTUALLY, WHEN UNCLE G RENEWS IT OR TURNS INTO 3-D, OR HOLOGRAMS, OR WHATEVER, WE WILL BUY MORE VERSIONS OF IT. THAT OUGHT TO COUNT FOR SOMETHING, HUH?
In the past, consumer spending on DVDs of the top summer theatrical hits typically reached 65%-85% of B.O. grosses in the first few weeks of release. Almost all execs reluctantly now concede that the fourth quarter will neither save the year nor even exceed spending during the same period in 2004.
Warner has strengthened its homevid market share dominance to about 21% with its powerhouse catalog and consistent string of new releases, led in the fourth quarter by the surprising opening week and legs of "Batman Begins," which will generate about 90% of its $205 million box office gross on DVD; "The Polar Express," which will soon match its $165 million box office take on DVD; and the studio's even more surprising February release from sister New Line, "The Notebook," which has more than doubled its $81 million B.O. gross on DVD.
EDITOR'S NOTE: CAN'T THESE PEOPLE JUST GO RE-WATCH "TITANIC", OR TUNE INTO LIFETIME (TELEVISION FOR WOMEN)?
Despite Disney's projected decline of at least 6% due primarily to a weak slate of theatrical films capped by a vacuum of summer animated or live-action blockbusters to distribute on DVD this holiday season, the Mouse House remains in a fairly strong but distant second place finish with about 16%. That performance rests primarily on the strength of two releases in the first half of the year that held up as the industry's two top performers for all of 2005: "The Incredibles," at a whopping $355 million, generated nearly $95 million (35%) more in homevideo spending than its box office gross; and "National Treasure," the top rental title of the year, with about $75 million of its total of approximately $230 million, about 50% more than it made in theaters.
Although Paramount and Lionsgate enjoyed the biggest percentage gains in revenue and Sony remained flat at about 12.5%-13% despite adding MGM for the second half of the year, the real market share horse race is for third place. Fox, which was consistently strong from wire to wire in 2005, and Universal, which also suffered from a dearth of theatrical hits and is about to lose 5% of its market share as DreamWorks moves over to Paramount, are in a virtual dead heat near 14%.
Fox was strongest in 2005 in the sales market, led by "Revenge of the Sith," one of six homevideo titles to generate more than $200 million this year, as well as carryover sales of last year's "Star Wars Trilogy," overachievers like "Napoleon Dynamite" early in the year, a steady stream of TV product all year long led by "The Simpsons" and an original DVD movie version of "The Family Guy," and a string of theatrical hits late in the year from "Mr. & Mrs. Smith" and "Fantastic Four" to the animated "Robots."
U started out strong with three titles in the first four months that wound up among the top 10 of the year -- "Meet the Fockers," "Ray" and DreamWorks' "Shark Tale" -- and then suffered a weak middle of the year before finishing strong with DreamWorks' top five finisher "Madagascar," mid-December release "The 40-Year-Old Virgin" (nearly 5 million copies sold in the first two weeks) and more than 1 million copies sold of this week's straight-to-DVD movie "American Pie: Band Camp."
Without a "Spider-Man" movie, Sony ran its June release, "Hitch," to the top 10 of the year with DVD revenue that matched its theatrical gross, and a variety of programming including subsequent seasons of "Seinfeld" and original DVD movies in genres ranging from action and thrillers to the Christian pic "Left Behind 3."
EDITOR'S NOTE: AND NOW, SOMETHING COMPLETELY DIFFERENT. (BUT EVERY BIT AS RELEVANT TO OUR DAILY LIVES).
Apollo & Starbuck White Uniform Exclusive 2-Pack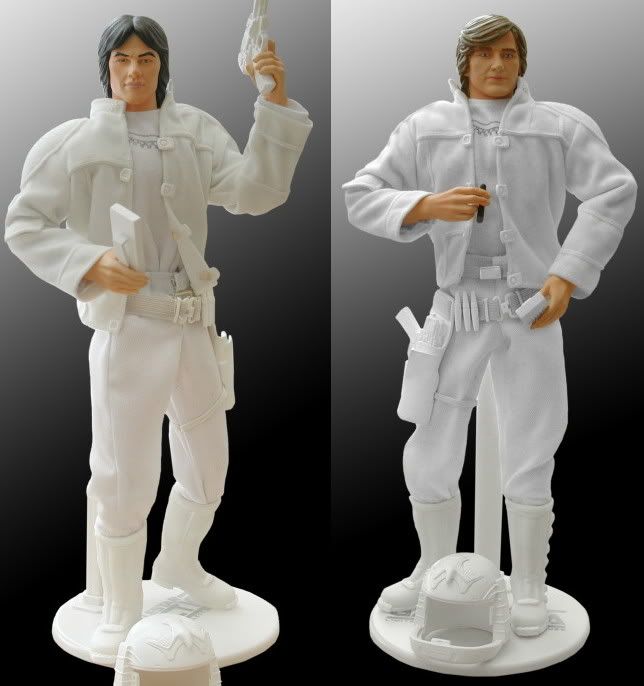 This special edition boxed set of 12" collectible figures of Apollo and Starbuck from the classic 1978 BATTLESTAR GALACTICA TV series is limited to only 500 sets. The set is based on the "Experiment in Terra" episode in which the two main characters are enlisted by the "light of truth and good" that radiates from the "Ship of Lights" to save planet Terra from global destruction.
EDITOR'S NOTE: GLOBAL DESTRUCTION IS SUCH A BUMMER. BESIDES, HOW CAN YOU SAY NO TO THE PLANET TERRA WHEN THEY GIVE YOU SUCH COOL OUTFITS TO WEAR!?
The deluxe packaging features an embossed white on white flapped window box in a clear acetate sleeve. The sets are individually numbered and come with a 'Certificate of Authenticity' personally autographed by actor Richard Hatch, who portrayed the lead central character, Captain Apollo.
The MSR price for the pack is $99.99. The item is expected to be in stock in March 2006.
Click here to pre-order.
http://store.yahoo.com/timespacetoys/bagaapstwhun.html
EDITOR'S NOTE: SHIFTING GEARS YET AGAIN.....
Heightened unreality
(Tripping the light fantastic extends beyond the world of make-believe)
For a moment, let your mind drift back to the year 1902. You're in the famous Montreuil studios of the film pioneer Georges Melies, who has just hired you to be the cameraman on the famous fantasy film "Voyage to the Moon."
EDITOR'S NOTE: SO...ODDBOB...WHAT WAS IT LIKE IN 1902?
The former stage sorcerer proudly gives you a tour of the set, showing off the large-scale cannon that will "shoot" a spacecraft to the moon; the man-in-the-moon who will get a poke in the eye with that rocket; and the troupe of acrobats hired to be moon men.
And you have been hired to photograph it all.
Just as you're rubbing your hands, though, all set to light the trip fantastic, Méliès comes over, puts his arm on your shoulder, looks you straight in the eye, and says with earth-shaking seriousness, "Don't forget, bubby, keep it real."
EDITOR'S NOTE: OR THE FRENCH EQUIVALENT (WHICH NO DOUBT INVOLVES NUDITY AND ABSINTHE)
This year, few cinematographers have been confronted with the problem of unreal reality -- or is it real unreality? -- more than Donald McAlpine, who shot "The Chronicles of Narnia: The Lion, the Witch and the Wardrobe."
"
It was to be a film based on a real world, a world that was part of Earth
," he says of the film's conceptualization. "
Narnia wasn't so much a mythical place but a place on Earth we probably hadn't discovered yet. It was supposed to be realistically part of the world we live in. Not fantasy at all."
Easy to say about a "part of our world" with talking beavers; less easy to realize.
EDITOR'S NOTE: AT THE RISK OF CAUSING MANY OF YOU (ODDBOB, SAMANTHA) TO GO TO THE BAD PLACE......

OOOOOOO! TALKING BEAVERS

! (TALKING BEAVERS ROCK)
For example, the film's villainess lives in a castle made of ice. Just because the idea of the castle was fantastic, though, doesn't mean the ice could be so.
"
How I was going to shoot this ice was the really big problem
," McAlpine says. "
If you light it from the front -- and it's fiberglass molding panels in the shape of ice blocks -- it just looks terrible. If you start lighting from the back, all sorts of weird light goes through the set. It took three weeks of experimenting to find the key. I think I actually found it on a Sunday afternoon when we were to shoot there on the Monday. Panic is a great motivator."
Few cinematographers have found themselves in such an extreme position as David Tattersall, who has led the camera brigade on the most recent "Star Wars" films, including this summer's "Episode III -- Revenge of the Sith."
Beyond deciphering George Lucas' complex universe of planets, creatures and otherwordly settings, Tattersall's biggest challenge was working on a bluescreen set on which the backgrounds -- and even some of the action -- were not visible.
Sometimes he caught a break: When filming a spaceship chase, he could shoot without the constrictions of a previously created background. He could set up his lights any way and let the animators create to its cues later.
But in simpler scenes, when the light had to evoke the mood of the characters -- when the light had to "act," so to speak -- there were difficulties. Showing two young lovers backlit by a window wasn't an easy job.
"
Shooting against a bluescreen window, when the light is coming from where the bluescreen is, can be difficult,"
he says. "
It's been a few years of us messing around, working on different techniques and different types of light to do that, how to squeeze in enormous light sources just off screen, right on the edge of the frame.
EDITOR'S NOTE: NOT TO EVER EVER

EVER

CRITICIZE OUR BELOVED UNCLE GEORGE...... BUT WOULDN'T IT HAVE BEEN EASIER JUST TO BUILD THE DURN SETS?
"
It has to do with the warmth of the light or the coldness of the light or the intensity. You have to be generally aware of the acting mood in a scene and the intention of the sequence
."
Of course, not every idea for an "alternate" reality calls for the creation of intergalactic warfare, as illustrated by many of the Technicolor collaborations between master d.p. Jack Cardiff and the filmmaking team of Michael Powell and Emeric Pressburger (most notably, "The Red Shoes" and "Black Narcissus"). That saturated color effect -- more Maxfield Parrish than Caravaggio -- finds its way into "King Kong."
As cinematographer Andrew Lesnie notes, on the one hand director Peter Jackson's ideas were fantastical ("
Peter's vision of Skull Island was so wild, primal and permeated with an ancient civilization that no one could think of an existing jungle that matched his ideas
") and on the other completely grounded in nature. As such, the New Zealand filmmakers took advantage of what they called "Windy Wellington," reputed to have the cleanest air in the world.
"
The script makes use of what I'd describe as 'fragile' times of day -- pre-dawn, dawn, dusk, twilight -- to represent certain emotional states,
" says Lesnie.
EDITOR'S NOTE: THAT PHRASE 'FRAGILE TIMES OF DAY' IS REALLY A LOVELY IMAGE, ISN'T IT?
"
These were extended sequences that were very complex to achieve, dictating all sorts of scheduling, design and lighting approaches so that we could allow Peter the maximum flexibility to find the dramatic truth of each scene in an organic manner."
Sometimes what's called for is the slow inflection of reality, as with David Cronenberg's "A History of Violence," based on John Wagner and Vince Lock's graphic novel.
In this case, an almost idyllic vision of small-town America is gradually inflected until it is replaced with a nearly hellish view of survival. For Cronenberg's frequent collaborator Peter Suschitzky, photographing such an insinuating drama required responding to the creative moment.
It doesn't hurt, though, when you start off with a fair amount of film history, knowledge that reassures you that your task is -- and has been -- achievable. In this case, Suschitzky remembered another filmmaker who managed to blend the everyday and the violent into a roiling stew.
"In many ways (the movie) reminded me of a Fritz Lang film, in his American period,"
he says. "
A character can't escape his past, his fate. But in no way did I decide to shoot it like a Fritz Lang film.
"
Usually I discover how to shoot a movie by being with the actors, seeing the sets, the clothes and the locations, of course, and talking about the subject with the director. But I'm not the sort of director of photography who decides very clearly up front that it's going to be shot with such-and-such a lens or with a particular filter. I mostly discover a film through my gut."
Suschitzky disdained any formulations for the opening, small-town scenes ("
It does have the atmosphere of an ordinary small town, but none of the slightly kitsch, heightened reality of Norman Rockwell
"), but did duplicate the film's sense of insinuation when he used a filter to alter the colors of the film's lost-in-hell climax
("I had a red set and I suggested we might want yellow in it just because it seemed, at the last moment, that would be an interesting thing to do
"). But flexibility remained his watchword.
Given the nature of "Violence," Suschitzky at least had the opportunity to shoot his exteriors outside. Getting consistent sunlight turned out to be a problem, but at least it was real sunlight.
In 2005, few if any cinematographers tackled the issue of quotidian and heightened reality so directly as did Andrew Dunn. The cinematographer on Stephen Frears' "Mrs. Henderson Presents," Dunn was confronted with a World War II-era backstage story that Frears said should be shot as if it were
"six feet off the ground
." So, as Dunn says,
"It certainly was a real place, real people in a real time, but it has an unreality about it at the same time."

EDITOR'S NOTE: I SURE WISH THIS MOVIE WOULD HURRY UP AND OPEN HERE!
London's old Windmill Theater is at the heart of the film, an establishment that skirted British anti-nudity laws by presenting undressed ladies in "living tableaux" behind backlit gauze. Dunn was able to duplicate these scenes literally, by employing "
the old theatrical mechanics."
In other sequences, Dunn whipped together natural materials to evoke a theatrical set. For example, when the Windmill's producer discovers a new starlet, she's emerging from a dunking in a stream. In her drenched clothing, backlit by the headlights of the producer's car, she both reproduces and transcends the theatricality of the tableaux, bracing the stage's illusions with cinema's immediacy.
In discussing the specifics of his work, Dunn veers off into observations that might serve as a manifesto for all the cinematographers who try to graft the real and the unreal into a sustainable hybrid.
"
As a cameraman, with the ego side of the human being, there is the need to do something to be noticed,"
he admits. "
The other side is, of course, if somebody does look for your name in the credits, you haven't done your job properly because it has to be so much part of the whole that it should go unnoticed -- a sort of sleight of hand, a delicate maneuver that contributes to the texture of something without drawing attention to itself."

EDITOR'S NOTE: WELL PUT. AND I THINK THIS SAME CAN BE SAID FOR ALMOST ALL CREATIVE ENDEAVOURS. (THE BEST ACTING PROBABLY SHOULDN'T BE VISIBLE EITHER, YES?)



(Anthony D'Alessandro contributed to this story.)
EDITOR'S NOTE: AND ONE MORE GEAR SHIFT....A WEE BIT OF OSCAR'IZING---
Robert Altman to ReceiveHonorary Academy Award®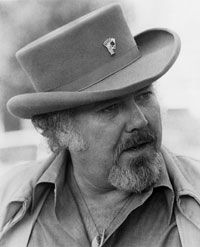 Robert Altman
Beverly Hills, CA — Director-producer-writer Robert Altman has been voted an Honorary Award by the Board of Governors of the Academy of Motion Picture Arts and Sciences.
The Award, an Oscar® statuette, will be presented at the 78th Academy Awards® Presentation on March 5, 2006.
The Honorary Award will be given to Altman to honor "
a career that has repeatedly reinvented the art form and inspired filmmakers and audiences alike."
Altman has received five Academy Award nominations for directing — for "M*A*S*H," "Nashville," "The Player," "Short Cuts" and "Gosford Park" — as well as two additional nominations as a producer of Best Picture nominees "Nashville" and "Gosford Park — but has never taken home the Oscar.
He has directed 86 films, produced 39 and written 37 of them.
"
The board was taken with Altman's innovation, his redefinition of genres, his invention of new ways of using the film medium and his reinvigoration of old ones
," said Academy President Sid Ganis. "
He is a master film maker and well deserves this honor."
Born in Kansas City, Missouri, Altman began his film career working there on documentary, employee training, industrial and educational films. While there, he made his first feature film in 1957, "The Delinquents," a low budget exploitation film which was distributed by United Artists.
He moved to Hollywood and found work directing episodes of television series such as "Alfred Hitchcock Presents" and "Bonanza." In 1969 he was offered the script of "M*A*S*H," the success of which galvanized his feature film career.
Altman's films include such additional titles as "McCabe and Mrs. Miller," "The Long Goodbye," "Thieves Like Us," "Popeye" and "Prêt-à-Porter." His current film, "A Prairie Home Companion" is in post-production.
Altman's Honorary Oscar will be presented, along with other Academy Awards for outstanding film achievements of 2005, on Sunday, March 5, at the Kodak Theatre at Hollywood & Highland®. The Oscars® will be televised live by the ABC Television Network beginning at 5:00 p.m. PST (8 p.m. EST).