Friday (the 13th, eek) TV stuff
Sci-Fi Gives Go-Ahead for Spielberg's NINE LIVES Mini

SCI FI Channel has announced that it has given a greenlight for production of Steven Spielberg and Les Bohem's NINE LIVES.
LIVES centers on several characters who discover a way to reunite with dead loved ones in the afterlife through near-death experiences. Each journey to the other side brings closer an unknown evil.
EDITOR'S NOTE: DRAT THOSE UNKNOWN EVILS, DRAT THEM ALL!
Bohem will write all the installments.
Spielberg, Bohem and DreamWorks Television's Justin Falvey and Darryl Frank will executive produce the miniseries, which will air in 2007.
It's WHO for Sci-Fi
SCI FI Channel and BBC Worldwide Americas announced a major licensing deal for the first series of the latest DOCTOR WHO adventures.
The deal grants the SCI FI Channel the first run rights for series one with an option for series two. The series will premiere on SCI FI beginning in March, airing Friday nights at 9.00pm.
EDITOR'S NOTE: EST. (NATCH)
Russell T Davies, Head Writer and Executive Producer told the BBC, "
The Doctor's made all sorts of journeys in Time and Space, but this is one of his most exciting yet! I'm a huge fan of the SCI FI Channel, and I'm delighted that Doctor Who is appearing on a channel that supports and enhances the entire genre." EDITOR'S NOTE: I GUESS HE HASN'T WATCHED THE SCIFI CHANNEL

LATELY

? (YES. STILL BITTER).
In addition, BBC Video has moved the US release date of the DVD from February 2006 to July 4, 2006 to capitalize on the exposure from the TV broadcast. As part of the deal, BBC Video and SCI FI Channel have agreed to work together on joint marketing promotions to support the brand launch.
EDITOR'S NOTE: AND HERE'S A HODGEPODGE REPORT FROM THE TV CRITICS ASSOC. WINTER CONFAB -----
TCA Notebook: Sci Fi Unveils Nine Lives; Monk Reups
A.J. Frutkin JANUARY 13, 2006 - At NBC Universal's cable portion of the Television Critics Association's annual winter convention, the media conglomerate held three panels:
One on Bravo's upcoming contest show
Top Chef
; one on Sci Fi's upcoming scripted series
Eureka
; and one on USA's critically hailed
Monk
.
Bravo president Lauren Zalaznick announced that despite sister network Trio's dissolution as a cable channel, it would be resurrected as a broadband Web site, including a separate Web site for Trio's most noteworthy series
Brilliant But Cancelled
.
Meanwhile,
Top Chef
, the latest show from
Project Runway
producers Dan Cutforth and Jane Lipsitz, will premiere March 8 at 11 p.m., following
Runway
's finale. The self-explanatory contest series then will move to its regular 10 p.m. slot on the following Wednesday.
Acknowledging the obvious format similarities between the two programs, Cutforth suggested that the contest genre in reality programming may have reached exhaustion. So then why make
Top Chef
?
"
Food shows have been around for ever
," he said. "
Food is universal. We all eat. We all have a relationship with food. Chefs are the new rock stars, and restaurants are so focused on--in the media. I just think there's an appetite for a show that really gives you an insight into that world."
EDITOR'S NOTE: SO THERE'S AN '

APPETITE

' FOR THE SHOW? WAIT. LISTEN. I THINK THE ROLLING OF MY EYES IS SO PRONOUNCED IT'S

AUDIBLE

.
USA Network and Sci Fi Channel president Bonnie Hammer introduced Sci Fi's executive vp and GM Dave Howe, who announced production on several new series, including the 12-hour mini-series
Nine Lives
. From Steven Spielberg and
Taken
writer Les Bohem, the series looks at what happens after death.
Also on the docket is reality series
Who Wants to be a Superhero
?,
EDITOR'S NOTE: OOO OOO ME ME

ME!!!
in which Marvel Comics legend Stan Lee will search for the next great comic book character.
Premiering this summer, Sci Fi's
Eureka
was described as a cross between
Twin Peaks, Northern Exposure
and
The Twilight Zone
.
EDITOR'S NOTE: SO....IT'S CREEPY, AND FUNNY (ISH)?
Set in a small town in which the government has relocated all of the nation's most brilliant minds for research purposes, the show stars Joe Morton (Terminator) as a former rocket scientist and Debrah Farentino (Get Real) as a woman who knows all of the town's secrets. Let the hijinx begin!
Hammer returned to the stage to announce production on two scripted series for USA: One titled
Psych,
about a guy who lands a job as a psychic detective, with no prior experience as a psychic; and
Underfunded
, about a Canadian Secret Service agent, whose department is low on cash. She described both programs as "
strong, smart dramas with a twist of comedy."
On the
Monk
panel, series star Tony Shalhoub was asked whether he reads all of his fan mail. The actor, who won an Emmy Award for his role as a detective with Obsessive-Compulsive Disorder, responded, "
It's actually one guy writing the letter over and over
."
EDITOR'S NOTE: GIGGLE. (

GOOD

ONE, TONY!)
Another TCA member wondered whether viewers ever confused the actor with the character, to which he quipped, "
I do get offered a lot of Handi Wipes. And I can tell you, after four hundred times, it's a little hard to, you know, laugh, as if it's the first time it's ever happened. But people just think that is so funny.
"
Hammer announced a fifth and sixth season pickup of
Monk
. That news came in advance of the fourth season's second half debut this weekend, following a brief hiatus. Sound confusing? Well, Hammer defended the network's somewhat erratic scheduling of the series, saying it was necessary to avoid competing with bigger draws on the bigger, broadcast networks. "
It's a puzzle,"
she added. "
You really have to take a look at what makes sense for the show, build up your audience, keep them, but not throw in repeat episodes, and hope they're going to come back or remember that after three repeat episodes, there will be a brand new episode."

Fuqua piloting Fox's 'Vanished'
Antoine Fuqua has come on board to direct and executive produce the Fox drama pilot "Vanished."
Meanwhile, ABC is reuniting with comedian Bonnie Hunt, ordering a comedy pilot starring the comedian.
EDITOR'S NOTE: SUCH A FUNNY LADY. I HOPE THIS TIME THEY FIND A SHOW WORTHY OF HER GIFTS.
ABC has also picked up the drama pilot "Secrets of a Small Town," while NBC has given a pilot order to the comedy "Lipstick Jungle."
"Vanished," from 20th Century Fox Television, chronicles the disappearance of a senator's wife over the course of the season. On the pilot, Fuqua will serve as executive producer alongside writer Josh Berman through the director's exclusive deal with 20th TV. In addition to the pilot, Fox has ordered two more scripts.
Hallmark going back to 'Bagdad'
PASADENA -- The 1940 Oscar-winning film "The Thief of Bagdad" is getting remade at Hallmark Channel as a four-hour miniseries described as a movie "event."
In addition, the network is going into production on two telefilms: "Though None Go With Me," starring Cheryl Ladd, and a fourth installment in the "Love's" movie franchise.
Hallmark executive vp programming David Kenin made the announcements Thursday during the network's portion of the Television Critics Assn. winter press tour at the Ritz-Carlton Huntington Hotel.
"Bagdad," from Robert Halmi Sr., also is going into production. Described as a movie "event," the length has yet to be determined, but the project could end up as a three-hour movie or even a four-hour miniseries
EDITOR'S NOTE: HALMI DOESN'T TEND TO EDIT MUCH. I'M BETTING AT LEAST 4 HOURS.
MAN FROM U.N.C.L.E. has new HUSTLE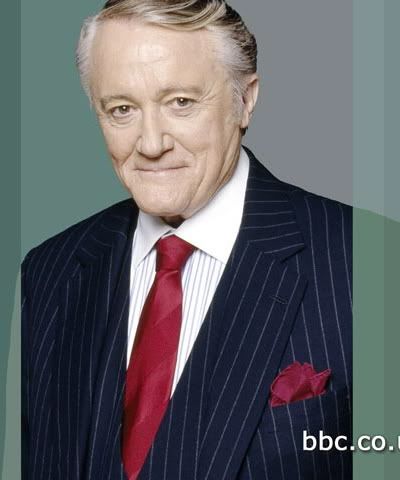 AMC will start airing the UK series HUSTLE on Saturday nights at 10pm.
EDITOR'S NOTE: YEP. EST.
The series stars Robert Vaughn, Adrian Lester, Marc Warren, Robert Glenister and Jaime Murray. The program is already popular on the BBC, where it premiered in 2003. (This year it will start its third season in the U.K.)
Vaughn recently told the Associated Press that HUSTLE was already in production when he got the call at his Connecticut home that he was chosen to be Stroller. He was on the set two days later, which didn't give him much time to prepare for his character. Out necessity, he drew inspiration from his work on THE MAN FROM U.N.C.L.E., which ran on NBC from 1964 to 1968. (Vaughn's co-star was David McCallum
.EDITOR'S NOTE: FOR THOSE OF YOU JUST EMERGING FROM UNDER ROCKS.....)
Vaughn said, "
I imagined that Napoleon Solo had retired from U.N.C.L.E. — whatever U.N.C.L.E. was. What could he do now to use his talents and to supplement his government pension? I imagined Stroller as Napoleon Solo, The Later Years. That's basically who I'm playing."
HUSTLE follows the exploits of a group of London-based con artists who pull off daringly intricate stings to swindle money from "respectable" but despicably greedy marks. With plenty of suspense, style and humor, an occasional touch of romance, and always a series of unforeseen twists, each episode takes the viewer deeper into the hidden world of scammers and grifters to reveal the personalities and perverse artistry of the high-end confidence game.
AMC states, "
during each episode, you'll delve into a world in which no one is what he or she seems - from bank managers to bellhops, cocktail waitress to CEO's - and everyone is working an angle."
EDITOR'S NOTE: SOUNDS LIKE FUN! WONDER WHY IT'S ON AMC AND NOT BBC AMERICA (WHERE A LOT OF THIS SORT OF STUFF USUALLY TURNS UP). WELL....PROGRAMMING MY VCR STARTING TOMORROW NIGHT!