Friday (the 13th, eek) Movie stuff
Serenity 2 unlikely, says Whedon

EDITOR'S NOTE: SOB. WAIL. MOAN. (SNIFFLE)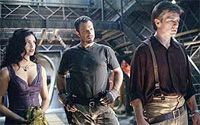 Seems that "Serenity" trilogy we're drooling for is now nothing more than a dream. We got our feature-film (based on "Firefly") and that's all it looks like there's going to be : screening at multiplexes anyway.
Buffy's pop, Joss Whedon, tells
Empire Online
that there probably won't be a sequel to "Serenity", even though he did intend on doing one had the first film made a bit of bank.
"
A sequel's unlikely
", a regretful Whedon told the site. "
But it's amazing what permutations of something can happen."

EDITOR'S NOTE: TEASING US WITH SLIM HOPES...
Whedon said there's a chance that the Firefly gang might return to the small screen though, "
As long as I was able to service the characters with integrity and had enough money so that I wasn't hampered, then I would love to return Serenity to TV. I love that universe; it continues and those characters live on. There could be a series, there could be a miniseries, there could be all sorts of things. I'm not ruling anything out. I'll let it simmer for a while and see if anyone calls." EDITOR'S NOTE: OR...

YOU

COULD CALL

THEM

!
A month or two ago, rumours surfaced that a "Serenity 2' might take the form of a telemovie, airing exclusively on The Sci Fi Channel. That could still be the plan.
The good news is folks, "Serenity" has been dispatching in dozens and dozens from online retailers like Amazon.com, so I'd be very surprised if we didn't see "the boat" cruise back onto some form of screen in the near future.
Sarandon Will Be Wicked in ENCHANTED
Walt Disney Pictures has signed Susan Sarandon to star in ENCHANTED. She joins a cast that already includeds Amy Adams and James Marsden.
As previously reported, the story centers on a princess-in-waiting who is banished from a classical animation world by a vainglorious queen and dumped into a modern-day, live-action Manhattan.
Sarandon will play a wicked queen intent on destroying true love.
EDITOR'S NOTE: YEAH.....ALL THE QUEENS

I

KNOW ARE LIKE THAT TOO. (
NOT NAMING NAMES..
...)
The film is being directed by Kevin Lima from a script by Bill Kelly.
Image in Media Joins MONSTER CLUB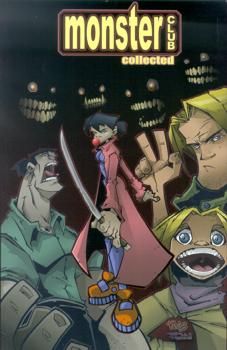 Canadian independent producer Image in Media is joining up with Treehouse Film and Television Ltd. and China Film Animation Ltd. to produce MONSTER CLUB THE MOVIE.
The 3-D animated feature film will be based on Britain's AP Comics Monster Club created by Kit Wallis.
EDITOR'S NOTE: 3-D IS OUR FRIEND! (I AM A CONVERT)
The story centers on Mia and her three friends, all agents for the Organization, as they attempt to stamp out a monster epidemic worldwide.
EDITOR'S NOTE: A WORLDWIDE MONSTER EPIDEMIC! SEE, NOW, THAT WOULD EXPLAIN A

LOT

, WOUDLN'T IT?!
The project was first announced back in the Fall of 2002.
Bender, Barber Connect with FIVE ANCESTORS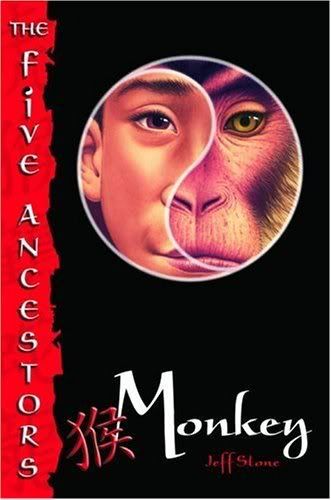 Nickelodeon Movies has set Lawrence Bender and Karen Barber to produce a feature film adaptation of Jeff Stone's adventure book series THE FIVE ANCESTORS.
Set in 17th-century China, the series follows the adventures of five young monks, each of whom specializes in a different style of "Animal" kung fu. After a rebel brother monk leads an attack on their secret temple, the monks are forced to flee and must rely on their training and instincts to survive.
EDITOR'S NOTE: I'M HAVING A "JACKIE CHAN ADVENTURES/ KID'S WB" FLASHBACK. (NOT THAT THAT IS A

BAD

THING.....)
AND WHILE WE'RE HANGIN OUT IN ASIA......
Yun-fat & Li Will Wear GOLDEN ARMOR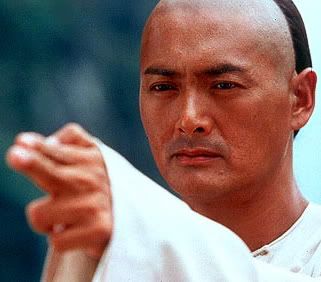 In February, Chow Yun-fat and Gong Li will start filming Zhang Yimou's latest film WEARING GOLDEN ARMOR ACROSS THE CITY.
The story, which is based on Chinese playwright Cao Yu's classic play
Thunderstorm
, is set during the Tang dynasty, with the plot revolving around an emperor, an empress and a general.
EDITOR'S NOTE: UMMM...AREN'T THEY ALL?
Cao Yu is regarded as "the Shakespeare of China". In 1933, when he was only 23 years old, he finished his virgin play
Thunderstorm
, which he followed up by
Sunrise
(1936) and
The Wilderness
(1937).
It is already being reported that battle scenes will involve an estimated 20,000 extras. Filming will take place in Chongqing.
Zhang Weiping will produce.
Ribisi and Dourdan Get STRANGER

Revolution Studios has signed Giovanni Ribisi and Gary Dourdan for PERFECT STRANGER. They will join a cast that already includes Halle Berry and Bruce Willis.
The psychological thriller centers on a woman who goes undercover both online and off to investigate a friend's murder. Ribisi will an IT wiz and hacker and Dourdan will portray Berry's on-again, off-again boyfriend.
James Foley will direct from a script by John Bokenkamp, which was rewritten by Frank Rinzulli and Todd Komarnicki.
Graff doing his time in 'Slammer'
Helmer Todd Graff is in negotiations to direct the Sarah Jessica Parker starrer "Slammer" for Revolution Studios. "Hairspray's" Marc Shaiman and Scott Wittman will compose the songs and score for the musical-comedy.
Described as in the vein of "Private Benjamin," the story centers on publicist Maggie Ray (Parker), who is framed for theft and shipped to Sing Sing Prison in New York. In an attempt to polish the prison's image, she produces an inmate-led musical that could save her career. Sara Goodman penned the script, based on a story by Tim Metcalfe and John Slotnick
Fincher has stomach for 'Torso'
David Fincher is carving out room in his schedule for "Torso," a thriller based on a graphic novel written by Brian Michael Bendis and Marc Andrey-ko, which he will direct for Paramount Pictures. Ehren Kruger is writing the adaptation, which will be produced by Pandemonium's Bill Mechanic, Angry Films' Don Murphy and comic artist Todd McFarlane.
"Torso" tells the true but relatively unknown story of Treasury Department agent Eliot Ness' time after his Al Capone days, when he moved to Cleveland to be the city's public safety officer. Torsos began appearing in the river, and Ness began receiving notes taunting him to catch the killer. Ness, who had no experience in police work, put together a team of ex-officers to apprehend the serial murderer.
The graphic novel was written by Bendis and Andreyko and drawn by Bendis in the late 1990s.
Bendis has since gone on to become one of the top writers in comics, with acclaimed runs on "Daredevil" and "Ultimate Spider-Man." Several of his creator-owned comics are in development around town, including "Jinx," which is set up at Universal Pictures with Charlize Theron attached
First Look nets U.S. release for 'Little Fish'
NEW YORK -- First Look Studios has caught U.S. rights to the Aussie drama "Little Fish," starring Cate Blanchett as an ex-heroin addict. The company's domestic theatrical division, First Look Pictures, will unveil the movie theatrically in March, while its domestic home video division, First Look Home Entertainment, will follow with a DVD release.
In Rowan Woods' dark film, Blanchett plays a woman struggling to rebuild her life while taking care of a junkie mentor (Hugo Weaving) who has been deprived of drugs by his dealer/lover (Sam Neill). Her world is further complicated when an ex-boyfriend (Dustin Nguyen) returns for a final drug deal, recruiting both her and her brother (Martin Henderson) in the process
EDITOR'S NOTE: GREAT CAST! DOESN'T SOUND LIKE A VERY HAPPY FLIC, THOUGH. (WHY MUST

ART

BE SO

DEPRESSING

!???)