Breaking items (of an ODDS-N-ENDS nature)
EDITOR'S NOTE: A FEW FRESH ITEMS. IN NO PARTICULAR ORDER. (CAUSE DWEEBING CAN'T BE

CROWDED

OR

PIDGEONHOLED

, DARNIT!)
Pirates of the Caribbean: Dead Man's Chest
Watch the exclusive trailer for 'Dead Man's Chest,' as Johnny Depp reprises his role as Captain Jack Sparrow.
EDITOR'S NOTE: THE QOTD'S PRAYER --- PLEASE BE AS GOOD AS THE FIRST ONE. PLEASE DON'T SQUANDER SUCH AN ADORABLE CAST AND FRANCHISE. PLEASE DON'T BE LIKE THE SECOND "BOURNE" MOVIE. (
HEY....I ADMIT I WAS THE FIRST IN LINE TO SCOFF WHEN THEY SAID THEY WERE MAKING A MOVIE OUT OF A THEME-PARK RIDE. NOW I AM A BELIEVER. I SIT WITH BIG BROWN EYES BATTING AT THEM; DON'T DISAPPOINT THIS DOE-EYED WAIF...........OR WHATEVER
).
http://movies.yahoo.com/feature/piratesofthecaribbeandeadmanschest.html
EDITOR'S NOTE: AND HOW ABOUT SOME GROOVY PICS TO TIDE US OVER TILL NEXT JULY? (TIDE. PIRATES. SEA-FARING. SNICKER).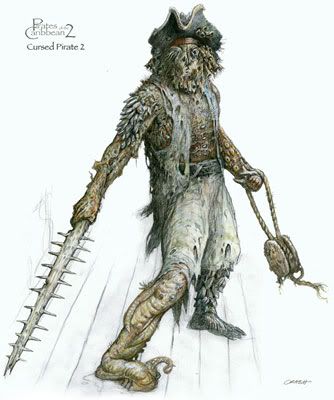 CONCEPT ART OF A CREATURE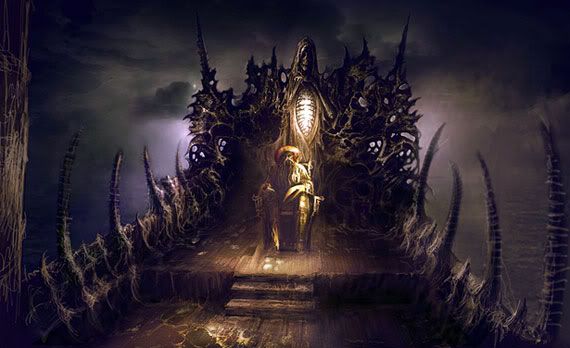 MORE CONCEPT ART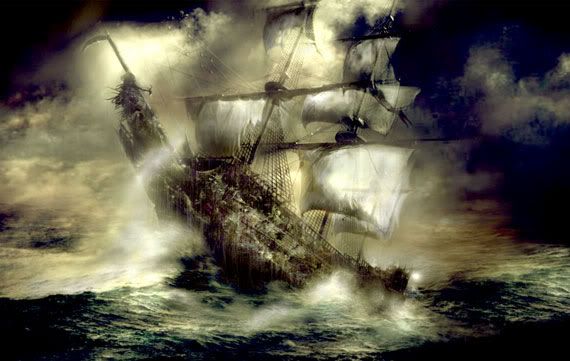 YEP...STILL MORE GORGEOUS ART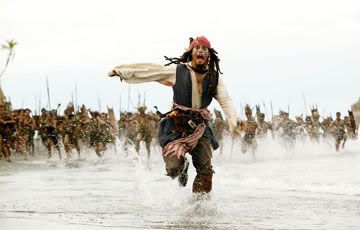 CAPTAIN JACK RUNNING FROM THE NATIVES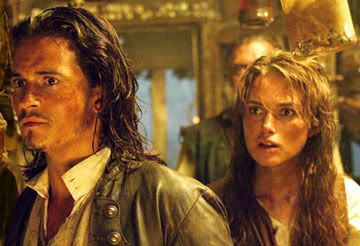 AIN'T THEY LOVERLY?
SIN CITY: Recut-Extended-Unrated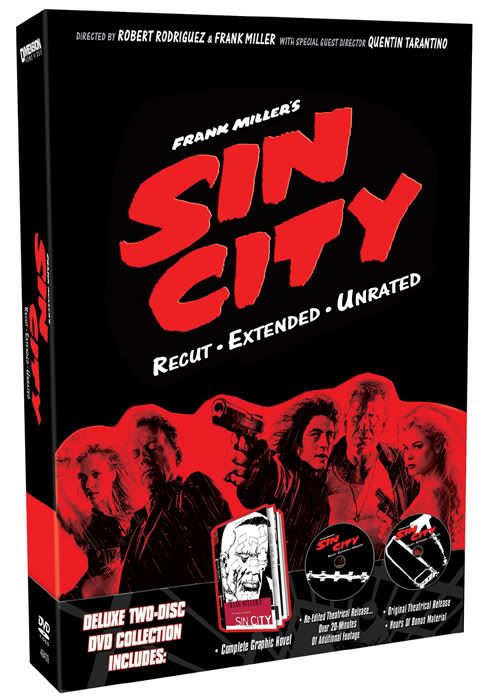 Frank Miller's
Sin City
became one of this year's most stylish, hip and creative films.
Now you will get to take another trip to the dark edge of Old Town with the much-anticipated
SIN CITY: RECUT - EXTENDED - UNRATED,
the complete, expanded and unrated version of the film with never-before-seen footage integrated directly into the feature by director Robert Rodriguez.
This two-disc DVD is presented with hours of all-new bonus materials supervised directly by Rodriguez showing how the film was brought to life. Plus the complete reprinted first issue of Frank Miller's
Sin City
graphic novel
The Hard Goodbye
is included.
SIN CITY: RECUT-EXTENDED-UNRATED will be available on two-disc DVD on December 13th for $39.99 SRP from Dimension Home Video.
EDITOR'S NOTE: JUST IN TIME FOR SOMEONE TO BUY THIS FOR ME FOR XMAS! (HOW FORTUITOUS!)
Robert Rodriguez ("Desperado," "From Dusk Till Dawn," "The Faculty") and comics idol Frank Miller co-direct FRANK MILLER'S SIN CITY, based on a series of graphic novels created by Miller, highlighted by a special segment from guest director Quentin Tarantino ("Pulp Fiction," "Kill Bill" series). Sin City is infested with criminals, crooked cops and sexy dames, some searching for vengeance, some for redemption. Visually-stunning, the film has been translated from page to screen by remaining absolutely faithful to the look, feel and dialogue of the books.
DVD CONTENTS
DISC ONE
• Original Feature Film Presentation
• Feature Commentary with Robert Rodriguez & Frank Miller
• Feature Commentary with Robert Rodriguez & Quentin Tarantino
• Feature Commentary of Austin Premiere Audience Reaction
• Behind-the-Scenes Featurettes
--A Hard Top With A Decent Engine: The Cars of Sin City
--Making the Monsters: Special Effects & Make-Up
--Trench Coats and Fishnets: The Costumes of Sin City
--Booze, Broads & Guns: The Props of Sin City
--How It Went Down: Convincing Frank Miller to Make The Film
--Special Guest Director, Quentin Tarantino
• Sin-Chroni-City Interactive: As the viewer watches Sin City, it becomes apparent that the characters and their stories are not isolated, but intertwined. It is also revealed that the timelines for these stories are not in synch—and yet not entirely independent. This interactive feature allows the user to get a timeline view of the happenings of Sin City. The user can see the overview schematic of the scenes in chronological order and then zoom in for more detail on any of the events.
• Teaser and Theatrical Trailer
DISC TWO
• Robert Rodriguez DVD introduction
• Sin City: Recut-Extended-Unrated Feature Film Presentation (with 23 added minutes) Full-length expanded cuts of each individual episode ("Customer Is Always Right," "The Hard Goodbye," "Big Fat Kill" and "That Yellow Bastard") split out into short films – each with their own title cards and in their own complete form; viewers can watch separately and in any order desired.
• 15 Minute Flick School – See how everything was done, including the development of the look of the movie before there was financing, plus early screen tests, rehearsal tapes, final effects. Narrated and cut by Robert Rodriguez.
• All Green Version – A high speed look at the entire movie with only its green screen elements.
• The Long Take – A full uninterrupted 17 minute take during the filming of Quentin Tarantino's segment. See what it is like to sit in the middle of a whirlwind of creativity while the camera is rolling. It's an up-close and personal view of the directors and the stars as they do their creative thing.
• Sin City: Live in Concert – The Sin City filmmakers, cast and crew head over to Antone's restaurant one night after shooting "That Yellow Bastard." Bruce Willis' band and Robert Rodriguez's band Chingon play a benefit show. Included are the full versions of Bruce and his band playing the song "Devil Woman" and Rodriguez and his band playing the "Theme from Sin City."
• 10 Minute Cooking School: Sin City Breakfast Tacos – Discover Robert Rodriguez's meal of choice during the long night hours of making Sin City. This featurette shows how to make Rodriguez's grandma's secret homemade flour tortilla recipe as well.
EDITOR'S NOTE: TALK ABOUT A FULL-SERVICE DVD! MOVIE PLUS

DINNER

! (THAT'S MY KIND OF DIRECTOR....THINKING OF OUR DINING NEEDS,........... WHILE SHOWING US GRAPHIC GORE).
Here are additional details:

- Rated: Not Rated - Original Feature running time: Approximately 124 minutes - Recut Feature running time: Approximately 147 minutes - DVD aspect ratio: 1.85:1 enhanced for 16x9 TV screens - DVD Sound: Dolby® Digital 5.1 Surround Sound - DTS 5.1 Surround Sound (Original Feature Only) - DVD Language: English
EDITOR'S NOTE: THIS NEXT ITEM ISN'T EXACTLY 'BREAKING'. BUT IT'S SO FUNNY, I JUST HAD TO POST IT POSTE-HASTE.
Goblin King Jareth Deluxe Action Figure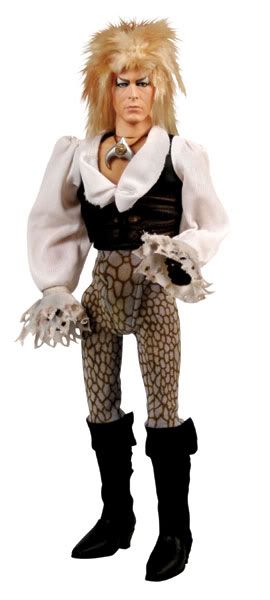 EDITOR'S NOTE: SHOULDN'T THIS BE ON EVERY KID'S CHRISTMAS LIST? !!! I AM JUST ABOUT DRIVEN SPEECHLESS HERE.....

Alter Ego Comics has posted an image of the Goblin King Jareth Deluxe action figure, which will be released in second quarter of 2006.

It is the first in a series of 12" collectible action figures based on 1986 film LABYRINTH from Jim Henson.
The figure of the Goblin King Jareth, as portrayed by David Bowie in the film, will feature brown & blue eyes as well as twenty-seven points of articulation. It will come dressed in a Regency shirt, breeches and riding boots. The figure will also come with three magical crystal balls
EDITOR'S NOTE: LET'S NOT GO THERE....TOO LATE!
, a riding crop, and an intricate necklace.
The Goblin King Jareth Deluxe Action Figure from Palisades Toys will come with a price tag of $33.99.
EDITOR'S NOTE: APPARANTLY YOU

CAN

PUT A PRICE ON BEAUTIFUL AND BIZARRE.