Long time no Dweebing
EDITOR'S NOTE: AS OUR OLD PAL JAR JAR WOULD SAY....
MEESA SO SORRY WEESA HASN'T DWEEBED LATELY.
I MEAN, IF JAR JAR HAD A DWEEB BLOG.
AND IF JAR JAR WERE REALLY OUR PAL.
AHEM.....
A FEW ODDS-N-ENDS TO GET BACK IN THE SWING OF IT. AND THEN, MORE LATER.
People's Choice Awards
Airing on CBS January 10, you can vote on a number of
People's Choice
categories, including
Revenge of the Sith
, and favorite male star, Samuel L. Jackson.
Looks like you can vote once per day.
People's Choice Awards Voting
:
http://www.pcavote.com/
EDITOR'S NOTE: I WENT TO VOTE JUST TO GET SOME ROTS VOTES IN THERE. BE FOREWARNED THAT THIS IS THE PEOPLE'S CHOICE AWARDS. WHICH TRANSLATES AS
PEOPLE NOT LIKE ANYONE YOU KNOW, OR WOULD CARE TO KNOW.
SOMETIMES THE CHOICES ARE....ODD. AND RARELY IS 'I

DON'T GIVE A RAT'S BEHIND'

ONE OF THE OPTIONS. SAD TO SAY.
BUT GO AND VOTE FOR ROTS!
Head returning for Buffy movie?
Remember that planned "Buffy" spin-off that was set to revolve around Anthony Stewart Head's character of Watcher Rupert Giles? It was all-set for a BBC unleashing at one stage?
How things change. But possibly, in a good way.
Head's Giles character – for the dilettante, he was the British chap who guided Buffy the Vampire Slayer on her many adventures – will star in a "Ripper" series for DVD, says the actor.
"
It's gone from, being a series to a two-hour movie that might be part of a series of DVDs that we were talking about doing for the different characters from the shows. It's got a lovely story, and I hope he does something wonderful with him",
Head told Buffy Magazine, reports
TV Squad
and
Whedonesque
.
There's also DVD spin-off's in the works with the characters of Spike (James Marsters) and Illyria (Amy Acker).
The Giles film, set in England, has been on and off for a number of years now.
EDITOR'S NOTE: WELL, THAT SHOULD KEEP THE WHEDON-ITES HAPPY FOR A BIT, EH?
Is Dale Cooper back on Duty?
Deny Deny Deny Davo (as he usually does) – but according to Lynch's former "Twin Peaks" co-creator Mark Frost, Kyle MacLachlan's "Twin Peaks" snoop Dale Cooper is indeed being coaxed back into active duty.
"
We've talked a little about [a new project], and it's a possibility down the road,"
Frost tells
MTV
. "
I think it would be hard to re-create the world of 'Twin Peaks' at this point, but Kyle is still there and still a terrific actor, and that's a character we could possibly take other places."
David Lynch initially planned on doing more than one "Twin Peaks" spin-off film, but when "Fire Walk With Me" bit the big one at the box office – and was trimmed to shreds by the studio - he changed his mind.
A couple of years back a UK production company called Phoenixmedia contacted us to let us know that they were trying to get a new "Twin Peaks" movie off the ground. Called "With a Thousand Angels", it would've again centred on the character of murdered Prom Queen Laura Palmer. The company had hoped to get Lynch's approval. We assume, they never did.
"
Many people have been asking about the involvement of David Lynch, as far as we are concerned there will be no movie if David Lynch is not on board"
, the company said at the time.
No word on what format Frost is considering bringing Cooper back in.
EDITOR'S NOTE: ISN'T THIS HORSE THEY ARE ATTEMPTING TO BEAT DEAD YET?
AND WHAT DID I TELL YOU...RANDOMNESS ----- (THOUGHT THIS ONE MIGHT INTEREST OUR THEATER DWEEBS) -----
Cat on a Hot Tin Roof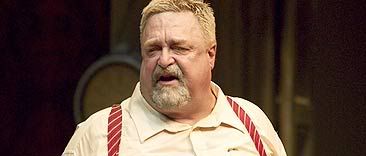 John Goodman stars as Big Daddy in the Tennessee Williams play.
By Jay Reiner
Geffen Playhouse, Westwood
Through Dec. 18
The newly renovated and reconfigured Geffen Playhouse is off to a good start with Gil Cates' solid production of "Cat on a Hot Tin Roof," one of Tennessee Williams' very best plays.
Cates has been faithful to the always relevant theme at the play's center -- mendacity -- and the results are as sobering as they are cathartic.
"Cat" has always been something of a bait-and-switch play. In Act 1 we get what amounts to a long, ornate aria of operatic proportions from Margaret (Jennifer Mudge) -- Maggie the Cat -- designed to lure us into the play with its litany of longing and complaint, shimmering with repressed sexual desire. Her impassive husband, Brick (Jeremy Davidson), the main object of her affection and complaint, does little more than stay out of the way as Maggie takes over the rhythms and energies that propel the play forward into deep-fried Southern discomfort and deception country.
The switch comes in Act 2 when terminally ill Big Daddy enters the scene and immediately takes over the play. Big Daddy in this case is John Goodman, of whom there are few bigger or, as it turns out, better. Goodman turns in a performance to match his girth, a rumbling, rambling rage of Shakespearean proportions, bringing to mind at times both Falstaff and King Lear inhabiting the same body.
Big Daddy is the doomed patriarch of the clan who, like Lear, has to figure out how to divide up his kingdom, which in this case is 28,000 acres of the finest land on the Mississippi delta. He can leave it to unctuous, older son Gooper (Matthew Glave) and his fertile, scheming wife, Mae (Kirsten Potter, both are excellent), or he can leave it to Brick, his alcoholic son who is in a barren marriage with Maggie and who harbors a deep, dark secret about his sexuality that may not make him a good candidate for fatherhood.
If Big Daddy is even bigger than usual, Big Mama is surprisingly smaller. Academy Award-winning Brenda Fricker tones down her performance to an emotional level that plays well off Goodman's outsize exertions. The added vulnerability is touching, although at times she could project just a bit more.
Mudge one day (perhaps during this run) will make a terrific Maggie the Cat. She has the right ingredients -- beauty, toughness, cunning, intelligence and she looks good in a slip. The performance hasn't quite jelled yet, but it's close, and Mudge does manage to find life in the line even if some of the torrent of words are rushed.
In the least well-written of all the parts, Brick, even Paul Newman had trouble bringing the character to life in the film. Davidson tries hard -- too hard, at times -- to bring the passive character to life, but he lacks the charisma indicated by the text and his accent is closer to New Jersey than New Orleans. He does, however, make his character's alcoholic haze convincing, which gives the play's ending a slightly different spin. Brick is in no condition to service Maggie, and that he might is a final bit of mendacity that this production seems to dispel. The exquisite bedroom set is from John Arnone and delicately lit by Daniel Ionazzi.
CAT ON A HOT TIN ROOF Presented by the Geffen PlayhouseCredits: Writer: Tennessee WilliamsDirector: Gilbert CatesSet design: John ArnoneLighting design: Daniel IonazziCostume design: Robert BlaclkmanSound design: Jon GottliebFight choreography: Bo FoxworthCast: Big Daddy: John GoodmanMargaret: Jennifer MudgeBig Mama: Brenda FrickerBrick: Jeremy DavidsonMae: Kirsten PotterGooper: Matthew GlaveReverend Tooker: William Dennis HuntDoctor Baugh: Gibby BrandSookey: Sonya EddyDixie: Zoe Photenhauer