A Bit of TV Dweebing
EDITOR'S NOTE: SOME OF THESE ITEMS ARE A TAD OVER-RIPE; WE'RE STILL PLAYING CATCH UP. (
DONCHA LOVE THE HOLIDAYS? THAT MONTH-LONG STUPOR?
)
EXCEPT FOR THOSE OF YOU.....AND YOUR QOTD LOVES YA...WHO WAIT LIKE EMPTY VESSELS, WAITING TO BE FILLED BY THE DWEEBLETTER. NEVER LETTING OTHER INFO IN UNTIL IT RECEIVES THE QOTD-STAMP-OF-APPROVAL.
BLESS THE SOPRANOS, TENORS, AND BLONDS, EVERY ONE....
Sci Fi Renews Battlestar
Sci Fi Channel has picked up
Battlestar Galactica
for a third season, ordering 20 new episodes of the show, which goes back into production in February 2006.
The renewal comes on the heels of the network's announcement that it had also picked up new seasons of
Stargate SG-1
and
Stargate Atlantis
,
EDITOR'S NOTE: ZZZZZZZZZZZ
which along with
Galactica
, form the nucleus of Sci Fi's highly-rated Friday night lineup.
EDITOR'S NOTE: WELL, GALACTICA IS GREAT. SO OF COURSE IT WAS THE LAST OF THE THREE TO GET A RENEWAL. (AND AT LEAST BEN BROWDER GOT A RENEWAL, EVEN IF THAT FORCES US TO WATCH THAT PIECE-O-DRECK "STARGATE").
YES. IN CASE YOU ARE WONDERING. I AM STILL BITTER.
AH...."FARSCAPE". SNIFFLE.....
The entire principal cast will return for season three, including Edward James Olmos and Mary McDonnell.
Also returning are executive producers David Eick and Ronald Moore, who developed the show based on the template established by the '70s-era ABC space opera of the same name.
Meanwhile, the net also announced that it will begin airing the remainder of
Galactica's
season two beginning Jan. 6, as part of a specially branded "Sci Fi Friday" package.
EDITOR'S NOTE: GUESS I NEED TO WATCH THE LAST COUPLE OF EPS FROM THE SUMMER RUN. (
HEY...I'M CAUGHT UP ON "LOST". TOO MUCH GOOD STUFF; NOT ENOUGH TIME. AND DARN THAT OCCASIONAL

REAL LIFE

INTRUSION. DARN DARN DARN
).
Little wonder Sci Fi has shown such enthusiasm for the series; it generally lures more than 3 million viewers each week and its adoption by the 18-49 demo has helped the net own Friday nights in that category.
Robocop joins CTU
Alex Murphy has been enlisted by CTU.
Former "Robocop" star Peter Weller – most recently seen in the fourth season of "Enterprise" – has joined the cast of TV's "24", says Variety.
Weller will play Christopher Henderson, a federal agent who first hired Jack Bauer (Kiefer Sutherland) for CTU a decade ago. JoBeth Williams, of "Poltergeist" fame, plays the fed's wife.
Also new to the FOX series are Julian Sands ["Warlock"] whose been aptly cast as billionaire baddie Vladamir Bierko.
EDITOR'S NOTE: WASN'T JULIAN SANDS GENERAL VEERS? OR SOMEONE IMPERIAL?
In the show's fifth season, due to air in January, Jack (Sutherland) has been living with a woman (Connie Britton) and her son (Brady Corbett) for the past 18 months, while everyone – but Tony and Michelle, naturally – think he's six-feet-under.
The WB Heads to the CITY OF GOLD
The WB is developing an adventure series called CITY OF GOLD. The show written by Harley Peyton centers on an archeological expedition in the Amazon, with the conflict between a father and son at the core.
If the show goes into production it would take place in a different part of the world each year/season. Tollin-Robbins Productions will produce.
EDITOR'S NOTE: SOUNDS LIKE POTENTIAL FUN.
Lindo, Roache Might be KIDNAPPED
NBC is in talks with Delroy Lindo and Linus Roache to join the new suspense series KIDNAPPED. They would be a part of a cast that already includes Mykelti Williamson, Carmen Ejogo and Boris McGiver.
The series, written by Jason Smilovic, revolves around a wealthy New York family whose 15-year-old son is kidnapped and held for ransom with the story being told from multiple points of view.
Michael Dinner will direct. 25C Productions will produce.
Multiple-Ending Shows on Order By Networks for 2006
Although the 1998 feature film
Sliding Doors
performed only modestly at the box office, its multiple-endings format has loomed surprisingly large over series development for Fall '06, with at least two projects following similar "what-if" story paths.
UPN has ordered the hour dramedy
Split Decision
, about a teenage girl who gets to remake herself when she attends a new high school. Written by Liz Tigelaar (American Dreams), and produced by Spelling Television, the series will show what it would be like if the girl were to hang out both with the popular and artsy crowds.
Meanwhile, Fox has ordered the comedy
Chicken or Beef
?
EDITOR'S NOTE: THE SHOW MIGHT NOT BE ANY GOOD, BUT THE

TITLE

MAKES ME GIGGLE.
Written by comic actors Heather Morgan (The Comeback) and Patrick Bristow (Ellen), and produced by Bulls Eye Entertainment, which includes former UPN programmer Tom Nunan, the series will follow two versions of a plot, with what actually happened revealed at the end.
EDITOR'S NOTE: INTRIGUING IDEAS. SOUNDS LIKE THE SPLINTERING OF AUDIENCES AND THE STRENGTH OF CABLE IS REALLY HAVE A POSITIVE EFFECT ON RISK-TAKING AND OUT-OF-THE-BOX THINKING. YAY.
In other development news, Fox also has ordered an untitled, semi-autobiographical project to star actor Christopher Kennedy Lawford. Written by Mark Reisman (Frasier) and produced by Imagine Television and 20th Century Fox TV, the single-cam series will revolve around a new generation Kennedy who enters politics at a low level. To be loosely based on Lawford's own life, the project reportedly will include episodes that were featured in his 2004 memoir,
Symptoms of Withdrawal: A Memoir of Snapshots and Redemption
, which chronicled Lawford's life of privilege, and his recovery from a well-publicized drug and alcohol addiction. As an actor, Lawford is best known for his roles on daytime dramas
All My Children
and
General Hospital
.
Spike likes drama slateNet adds more scripted skeins to sked

Spike TV is revving up its scripted bizbiz, unveiling its first drama development slate touting projects from TV heavyweights Frank Spotnitz, Vince Gilligan, Denis Leary, David Eick and David Hoberman.
Among the offerings is "Amped," from "The X-Files" exec producers Spotnitz and Gilligan and Fox 21. Four-hour event series follows a mysterious outbreak in present-day Los Angeles that alters citizens with violent and disturbing consequences.
EDITOR'S NOTE: WHY IS ALIEN ALTERATION ALWAYS PORTRAYED AS A

BAD

THING. ALIENS COULD COME ALTER

ME

ANY TIME THEY WANT. (AS LONG AS THEY START WITH MY REAR END).
Leary's Apostle Picturesand Ken Sanzel ("Johnny Zero") are prepping "The Big Empty," about everyday private investigators caught in the middle of an unsavory world. Sony TV Pictures will produce.
Projects are among the first to emerge from the Viacom-owned men's cabler, which established a new programming team under topper Doug Herzog this summer (Daily Variety July 5), naming former Showtime exec VP Pancho Mansfield to run the cabler's original efforts.
His priority is mining a couple of hours to complement upcoming off-net shows "The Shield," which Spike bought in July (Daily Variety, July 18), and "CSI: NY," which joins the schedule later next year. Hit-challenged cabler's only previous original breakthroughs were reality series "The Joe Schmo Show" and "The Ultimate Fighter."
Already looking good for a series pickup is "Blade," based on the comicbook and film trilogy of the same name, from "Batman Begins" scribe David Goyer and New Line TV. David Simkins (NBC's "Book of Daniel") has come aboard as showrunner.
That project goes into production shortly for a June premiere. Mansfield said Spike is hoping to greenlight two or three scripts to pilot for next year.
"
We're looking at shows with a male point of view in two areas: the action-adventure show, as embodied by 'Blade,' and the character-driven arena,"
Mansfield said. "
All our shows will be testosterone-driven, but we want real soul and challenging characters to go with that."

EDITOR'S NOTE: THEY MAKE IT SOUND ALL MACHO. BUT THE SHOW DESCRIPTIONS ARE MORE APPEALING TO ME THAN ANYTHING ON "LIFETIME". (AND I REALLY DON'T THINK I'M THE ONLY CHICK IN THE WORLD WHO FEELS THAT WAY).
From exec producer David Eick ("Battlestar Galactica""Battlestar Galactica") and scribes Hans Bauer and Craig Mitchell ("The Flock"), "The Bridge" concerns two homicide detectives on either side of the El Paso/Juarez border. Then there's "Full Ride," based on Elwood Reid's behind-the-scenes book about the high-stakes world of a star college football player, for exec producer Larry Sanitsky ("Riding the Bus With My Sister"). Lions Gate TV produces both projects.
Spike has partnered with Fox TV Studios on a number of skeins, including "Paradise Salvage," from feature writer Jim Kouf ("National Treasure") and Gary Randall, which centers on childhood friends who later in life embark on a real treasure hunt; and "Crystal Meth Cowboys," from Jackie Zambrano ("Big Easy") and producers Geoff Brandt and Matt Loze ("The Outer Limits"), which revolves around a straight-arrow cop who learns the ropes from a tough sheriff in New Mexico.
Along with "Big Empty," Sony is producing Mark Rosner's "Tequila County," about an Iraqi war hero-turned-sheriff who is overwhelmed by the level of crime in his small town.
Also in the mix are an untitled series from scribe James DeMonaco ("The Negotiator"), director Scott Brazil ("The Shield") and exec producer David Hoberman ("Monk") about a bank heist that goes terribly awry; "Fresh Tracks," about aspiring NASCAR drivers, from Michael Angeli ("Medium"); and a "Grand Theft Auto"-style project from Matthew Cirulnick, Flame TV and Cube Vision Prods. (Daily Variety, Nov. 7).
EDITOR'S NOTE: CABLE IS OUR FRIEND.
THIS NEXT ONE IS OLD NEWS. BUT JUST IN CASE YOU HADN'T HEARD ----
Sydney's last Hurrah
Finally, Jennifer Garner can help hubby Ben Affleck get that long-awaited "Gigli" sequel off-the-ground. Why? Because come May, she'll be as free as a jungle boar.
"Alias", I'm afraid to tell my wife, is gone. ABC announced that they've chopped the series, with the final episode set to air in May.
Stephen McPherson, president, ABC Entertainment, says the Emmy-Winning series has had quite the life.
"
Right out of the box, 'Alias' attracted a cult following of fans that were completely invested in the show,"
he said. "
J.J. Abrams and his team developed characters that were compelling and storylines that were intricate and engaging, and Jennifer and the rest of the cast brought them to life. We owe both the storytellers and the fans a send-off worthy of a show that has been such a big part of the pop culture vernacular. J.J., Jeff Pinkner, Ken Olin, Jesse Alexander and Jeffrey Bell have an amazing story arc planned for the remainder of the season. 'Alias is not going to wind down as it comes to an end, it's going to rev up, and we're going to make it the event it deserves to be."
EDITOR'S NOTE: AND HERE'S HOPING THAT VAUGHN IS PART OF THAT?
Added Mark Pedowitz, president, Touchstone Television: "
'Alias' has sustained its identity as a critical favorite because J.J. Abrams and everyone involved in this series set the bar for quality entertainment. We have been honored to work with them all, especially Jennifer Garner, who has our eternal admiration and appreciation for her dedication to the role and unarguably the best demeanor in the business."
Alias executive producer Jeff Pinkner added: "
This news, and its timing, is a mixed-blessing. Though we're obviously very saddened to face the reality that 'Alias' is coming to an end, the lasting quality of every good story is determined by its conclusion—this news gives us the freedom to end the series in the climactic way it deserves."
"
Five years ago J.J. Abrams designed 'Alias' to encompass a unique and challenging blend of spy-adventure, family drama and love story that contained deeper mythological elements
," he continued. "
The arc we have planned for the remainder of the season will honor all of these disparate elements, as we wrap up the story of Sydney Bristow in a surprising and, we think, thrilling way."
EDITOR'S NOTE: BUT OH YOU TEASE....
"
J.J., and all of us here feel blessed by our fans, the brilliant cast we've been fortunate to work with, our amazing crew and the support of Touchstone and ABC."
There were rumours that the show might go on for a further season and be headed by new cast members Rachel Nichols as Rachel Gibson and Balthazar Getty as Thomas Grace, but that was obviously an unripe idea.
Original co-star Michael Vartan hasn't been confirmed for the final episode. He's currently filming "Rogue" in Australia, but I'd say there's a chance he could return for a quick cameo.
EDITOR'S NOTE:

MORE

THAN A QUICK CAMEO, PLEASE?
BUT WAIT....MORE "ALIAS" STUFF -----
Rachel Nichols Flies 'Solo' on 'Alias'
Garner mentors new cast member on and off camera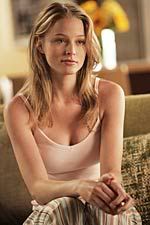 Although she has yet to give birth, pregnant superspy Sydney Bristow (Jennifer Garner) on ABC's espionage romp "Alias" must have been feeling like a proud mama in "Solo," the recent episode in which Rachel Gibson (Rachel Nichols), a young agent that Sydney has been mentoring since her rescue from an evil, faux-CIA organization (a parallel to Sydney's own history), goes out on her first spy mission on her own.
And in true "Alias" style, there was not only a miniskirt but a leopard-print coat to go with it. Even this early in the season, that is nothing new for Nichols.
"My first day on set,"
Nichols recalls, "
I met Jen and she said, 'I'm glad you're here. Now you can wear the bikini.' I got the script for my first big fight scene, and I'm wearing a minidress, fishnet stockings, a red wig and stiletto heels. It was like, welcome to 'Alias.'"
This is a big wardrobe shift from Nichols' last TV job as a buttoned-down FBI profiler in FOX's short-lived "The Inside" this past summer.
"
I think I wore the same suit every day for 'The Inside
,'" she says, "
except that one episode where I got to wear jeans. Then this one is ca-razy. I'm sure there will be many occasions for me to sport a rubber dress, grass dress, the dress made out of pieces of nature, anything they want."
Nichols is settling into the "Alias" family, which was fractured early in the season by the "death" (anyone who watches the show knows this word must be in quotes) of Sydney's CIA-handler/fiance/baby-daddy Michael Vaughn (Michael Vartan).
"First of all,"
Nichols says, "
it's the nicest set on the planet. Even though you hear it's the nicest set on the planet, you're not really positive until you walk on and meet everybody -- then you realize that to say it's the nicest set on the planet is an understatement. Everybody is so happy to be there.
"But, yes, the Vaughn, sadly, is gone. I'm hoping they bring [the villainous] Sark back, because, hey, who doesn't like a little David Anders? I would be down for some Sark."
EDITOR'S NOTE: TAKE A NUMBER, GIRLFRIEND.
Sydney and Sark had a few knock-down drag-outs in his time on the show as her blond, British nemesis, so how does Nichols think Rachel Gibson would fare?
"I think he'd kick my little butt
," she says.
"I could run away from him. Maybe I'm faster. I think that's going to be Rachel Gibson's technique -- she runs when there's a big man that she knows she can't take."
By the way, it looks like Nichols will get her wish, as Anders starts shooting next week for a return by Sark scheduled to air in mid-December.
EDITOR'S NOTE: WOOHOO!
So far, Nichols doesn't know a whole lot about Gibson's history.
"
I'm on a need-to-know basis, let's face it
," she says. "
They're very tight-lipped, the writers. They don't tell you a lot in advance about what's going to happen to your character.

"I don't even know if I have parents, and if I have parents, do I like my parents? Are they bad parents? Do I have siblings? For all I know, I could have a cork leg, and they haven't told me that yet. That might cut down on the fighting. That may be how they'll be able to explain why Rachel is not as agile and gazelle-like as Sydney.


"I could be bionic. As long as they don't write into the script that I used to be a man, they can do whatever they want."
On the show, Gibson looks up to Sydney, and on the set, Nichols has decided that Garner is her new hero.
"
When I met her
," she says, "
I thought to myself, 'I don't know if I'm nice enough to be on the show.' It's the trickle-down theory. It all starts with Jen. She knows everybody's name; she knows their kids' names; she knows their birthdays. She has the coffee truck come once a week, and she has the hot-dog truck come, whether she's there or not. She celebrates Christmas; she celebrates all the holidays. She's the bionic one."
Asked if Garner may be the best thing that ever happened to her real-life husband, actor Ben Affleck, Nichols says, "
Yeah, whoa, totally. He's been saved. She was the salvation. She's going to be such a cute mommy. You should see her talk to her belly."
Currently polishing her fighting skills and working out with Garner's personal trainer, Nichols did bring some talents of her own to the party.
"
I've told them,"
she says, "
since I know how to speak French, if they ever need a language in a jiffy, that's the one they should let me do."
Fighting in an "Alias" getup though, is harder than it looks.
"Put me in some bloomers and some kneepads, and I'll be fine
," Nichols says.
"But I tried on a couple dresses, and the costumer said, 'Can you kick in it?' 'Only if I lift it up around the boobs can I kick, so it'll be interesting.' Thank god for Lycra. That, and the heels that I have to wear will have to be superglued to my feet."
Reminded that the pre-pregnancy Garner could hotfoot it wearing stilettos, Nichols says, "I
should watch some back episodes to study up on her running technique. Again, this is why I'm so fortunate. I don't have to be good at anything."
EDITOR'S NOTE: A FUNNY GIRL.