Star Wars on Thursday
EDITOR'S NOTE: BUNCHES MORE SW TOMORROW (TIME PERMITTING). BUT HERE'S A SMATTERING TO WHET THE WHISTLE.

Vote For Revenge

Revenge Of The Sith
is in the running for
Hollywood Movie Of The Year
as selected by the Hollywood Film Festival award committee.
Be sure and vote!
http://movies.yahoo.com/feature/movieawards/index.html
Tell your friends to vote as well!!
EDITOR'S NOTE:

BATMAN BEGINS

WAS LEADING WHEN I WAS OVER THERE VOTING. I COULD SEE VOTING FOR "CRASH" OR "THE CONSTANT GARDENER" OR EVEN "CINDERELLA MAN". BUT "BATMAN BEGINS" IS JUST A MOVIE. ROTS IS SOMETHING MUCH MORE. VOTE NOW!
Lightsaber Spoons Return
EDITOR'S NOTE: OH GOSH AND OH GOLLY. LIFE SURE IS GOOD.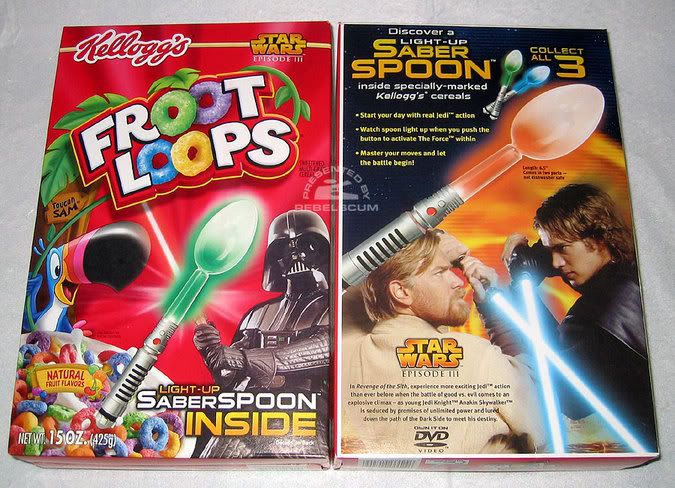 If you missed out on the lightsaber spoons from the spring promotion, here's some good news. They are coming back. New boxes promoting the
Revenge of the Sith
DVD release are starting to appear
EDITOR'S NOTE: GROCERY SHOPPING IS ABOUT TO GET FUN AGAIN!!! (TRA LA LA LA LA LA)
AND HERE'S A FUN CRAFT PROJECT (FROM THE STARWARS

KIDS

WEBSITE) ---
Revenge of the Sith Poetry Magnets
When was the last time you wrote a poem about the Force on the refrigerator?
EDITOR'S NOTE: WELL....NEVER. (
NOW I FEEL LIKE A FAILURE
).
Poetry magnets are a great way to spark your creativity and inspire you to write. They're also a fun way to communicate with your family and friends! Rearranging word magnets into funny sayings or interesting little poems is easy once you make your very own
Revenge of the Sith
Poetry Magnet set.
For this craft project we will be using the words to the opening crawl -- as well as some oddball words
EDITOR'S NOTE: WHAT, PRAY TELL, WOULD A TRUE DWEEB CONSIDER 'ODDBALL'? BOGGLES THE MIND, DON'T IT?
to make your poems extra funny.
But you can always use any words you want such as Yoda's memorable quotes from the movie, or even R2-D2's beeping.
And don't forget Chewie's distinct roar! It's all up to you!
Follow the simple instructions below to make a
Revenge of the Sith
Poetry Magnet set.
What You Need: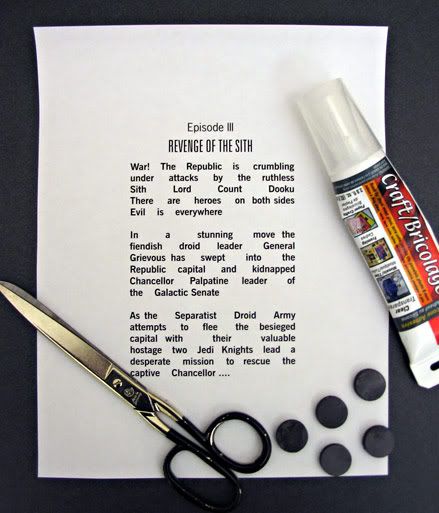 * Thick cardstock white paper or posterboard
* Colored pencils and markers
* Silicone-based or craft glue
* Scissors (or papercutter)
* Individual magnets or a flat magnet sheet
* Printout of the
Revenge of the Sith
Opening Crawl Text
* Printout of additional words
How to Make Revenge of the Sith Poetry Magnets:

1.
First print out the opening crawl text to Revenge of the Sith here,
http://www.starwars.com/kids/activity/crafts/f20050928/img/episodeiii.pdf
or use it as a guide to handwrite the words on a thick piece of card-stock white paper.
A section of white poster board is fine to use instead.
Just don't use flimsy regular white paper or the glue will seep through and discolor your words.
2. If you are using individual magnets
then go ahead and cut up your words into rectangles that are all around the same size. If you are using a flat sheet of magnets do not cut yet and wait until the next step.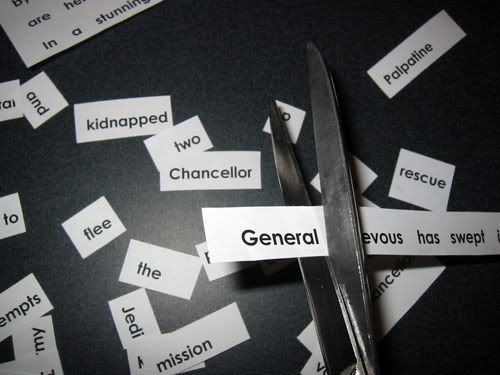 3. Now is the time to glue your words to the magnets. Using a silicone-based or heavy-duty craft glue (it's stronger than the usual glue you may be used to), glue each word you cut out to a magnet.
Or if you have a magnet sheet, glue the entire sheet of words to your magnet sheet. Make sure the words are facing up!
EDITOR'S NOTE: SADLY, IT IS FOR PEOPLE LIKE ME THAT THEY ADD THESE OTHERWISE OBVIOUS BITS OF ADVICE.
Let dry for a few hours.
NOTE: Those of you using a magnet sheet will need a parent or another adult

EDITOR'S NOTE: DOES ANYONE KNOW A GROWN-UP WHO CAN HELP ME? (LIKE ANY OF US KNOW ANY GROWNUPS!)

to cut the words for you into same-sized rectangles. Since the magnet sheet makes it more difficult to cut. The adult may use an X-acto knife or a papercutter used in offices and copy shops.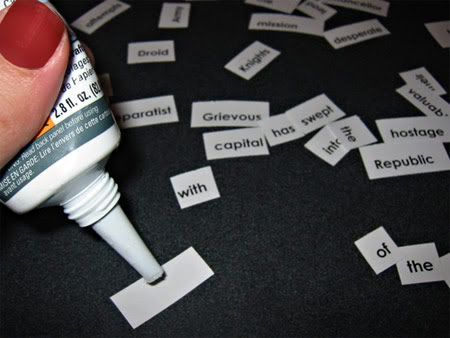 4. Once all your magnet words are separated out, feel free to decorate them even more with glitter glue or colored markers.
EDITOR'S NOTE: OOO. THEY SAID THE WORD 'GLITTER'. I HAVE TO STOP AND GIGGLE.
Or just let them be plain in design like the poetry magnet sets you might see in the store.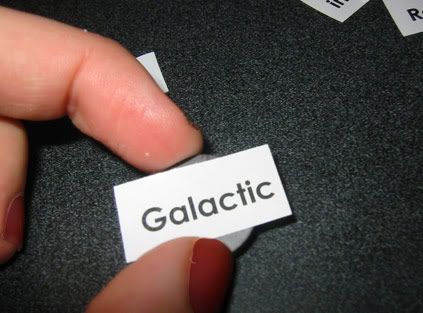 5. You can display your magnets on a metal area like a locker or lunch box, but one of the best places is the refrigerator.
EDITOR'S NOTE: FOR THOSE OF YOU WHO HAVEN'T SEEN MY REFRIGERATOR....WELL....LET'S JUST SAY I HAVE A LOT OF

OTHER

STAR WARS STUFF TO CLEAR OFF BEFORE WE HAVE ROOM FOR MAGNETS!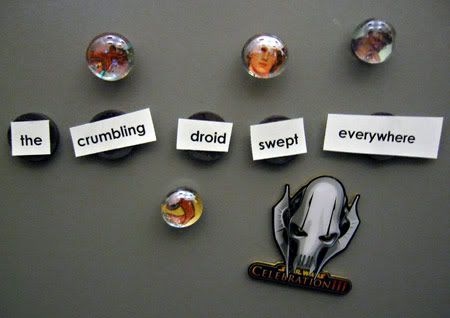 6. Now you're ready to create your own magnet poem! Think of all the fun poems or sayings you can make by rearranging the words to the
Revenge of the Sith
opening crawl text! Be creative!
EDITOR'S NOTE: THE PRESSURE, THE PRESSURE.
HERE'S SOMETHING ALREADY MADE FOR US. WE JUST GO TO THE STORE AND BUY IT. (PHEW!)
Best Buy Unleashes Darth Vader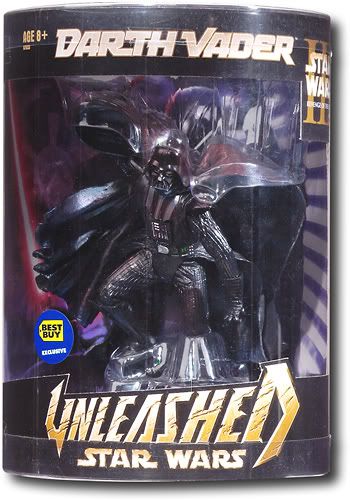 Best Buy is offering an exclusive Darth Vader Unleashed figure in a new package, and is due out on 10/21
EDITOR'S NOTE: AND HERE'S ANOTHER GO-TO-WEBSITE-AND-VOTE THING. I HAVEN'T CHECKED IT OUT YET, BUT IT LOOKS LIKE FUN DEAL FOR THOSE INTO THE EU ---

New Jedi Order Fan Awards
New Jedi Order Encyclopedia
founder Jeff Driscoll writes in to let us all know about the awards:
It's hard to believe that only six years ago many of us were venturing into bookstores only to find a new Star Wars book on the shelves - the cover a horrific depiction of a mutilated humanoid and the story just as engaging.
Vector Prime
EDITOR'S NOTE: FEH.
began a series that ran for 19 action packed books, a handful of short stories and eBooks, and even a comic book series.
The onset of the Yuuzhan Vong showed that the Star Wars galaxy was ready to take a jump into a more mature galaxy where our heroes weren't safe every time they ran into battle.
Our characters evolved and changed and we were just along for the ride.
In celebration of the 6 year anniversary of the New Jedi Order as well as the second release of the Post-NJO stories, Dark Nest 2: The Unseen Queen,
the
New Jedi Order Encyclopedia
(
http://www.njoe.com/
)
is proud to be heading a unique fan project:
The NJO Fan Awards.
We may not have quite as much show as the actual award shows - there's no red carpet here - but the idea remains the same.
From categories such as Best Romance and Best New Character all the way up to the main ones of Best Main Character and Best Book, the NJO Fan Awards will showcase the best (and in a few cases the worst) aspects of this exciting addition to the Star Wars saga.
To vote, please visit
www.njoe.com
and continue on to the NJO Fan Awards Voting Booth.
You'll find more instructions once you begin the actual process.
Voting is open from September 27 through October 17. Every vote counts and we'd love to get your opinion about all the aspects of the NJO.
Please then return to NJOE beginning on October 23rd and the next 3 following Sundays (October 30, November 6, and November 13) as we reveal the results of the voting.
Thank you all, and

May the Force be With You

,Jeff Driscoll("Acky12")NJOE Founder
Vote here

:
http://www.njoe.com/vote/