How about some MOVIE news!?
GNOMES! Gone Wild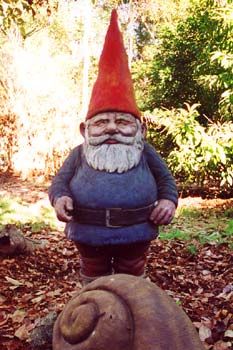 Vanguard Films has picked up the fantasy comedy GNOMES! by Micah Herman and Kyle Newman.
EDITOR'S NOTE: I KNOW THERE ARE JOKES HERE. SOME OF THEM PROBABLY INVOLVE ODDBOB. I THINK I'LL JUST SIT AND GIGGLE, AND YOU CAN WRITE YOUR OWN JOKES ON THIS ONE.
The story centers on a boy who discovers that the garden gnomes in his backyard actually are alive. When he starts to suspect that his mom's new suitor is a gnome-eating troll, the boy enlists the gnomes' help.
EDITOR'S NOTE: ONE OF MY BOSSES IN THEEVILPLACETHATSHALLNOTBENAMED WAS A GNOME-EATING TROLL. (
OF COURSE, THE OTHER ONE WAS AN EVIL DWARF. IF I'D KNOWN IT WAS SO DWEEBY, I WOULD HAVE ENJOYED IT MORE
?)
Herman and Newman will co-direct film.
Bale Might Have PRESTIGE
Christian Bale is in discussions to star in THE PRESTIGE, for director Christopher Nolan. He would join a cast, which already includes Hugh Jackman.
EDITOR'S NOTE: CHRISTIAN BALE AND HUGH JACKMAN IN THE SAME FILM? NOT SINCE LIAM NEESON AND EWAN MCGREGOR....SLURP. (
AND DWEEBPAL JOEL MIGHT NEED SMELLING SALTS!
)
PRESTIGE centers on two rival magicians in turn-of-the-century London who battle each other for trade secrets. The rivalry is so intense that it turns them into murderers. The title refers to the residue left after a magician's successful trick.
Jonathan Nolan wrote the script, which is based on Christopher Priest's novel.
Production is supposed to begin in January 2006.
Headey to Play Queen in 300
Warner Bros. Pictures has set THE CAVE's Lena Headey to play the queen in 300. She joins a cast which already includes Gerard Butler, David Wenham, Dominic West, Vincent Regan and Rodrigo Santoro.
The script, written by Deborah Snyder and Kurt Johnstad, is based on Frank Miller's graphic novel of the same name.
The story centers on the real-life battle of Thermopylae, in which King Leonidas
EDITOR'S NOTE: WHO MAKES SOME EXCELLENT CHOCOLATE, BY THE WAY. (AHEM....)
and 300 Spartan warriors fought to the death against the massive Persian army. According to lore, their bravery led to Greece uniting and giving rise to democracy.
EDITOR'S NOTE: JUST LIKE A STHSPARTAN TO TAKE CREDIT.....
Gang Productions and Atmosphere Pictures will produce the film. Filming begins on October 17th in Montreal
Favreau to Lead MARS Adventure
Paramount Picturs has hired actor-director Jon Favreau to direct JOHN CARTER OF MARS.
The script, by Mark Protosevich, is an adaptation of the Edgar Rice Burroughs sci-fi series.
The story begins with a Civil War veteran whose retreat into a cave to avoid capture by Apache Indians takes an otherworldly turn as he's transported via time portal to the planet of Barsoom and taken prisoner by 12-foot-tall green men.
EDITOR'S NOTE: WONDER IF WE NEED TO RE-THINK THE CIVIL WAR CASUALTY COUNTS. (I MEAN, DID THIS HAPPEN OFTEN?)
Burroughs wrote 11 volumes of Carter's adventures.
Alphaville Productions' Sean Daniel and Jim Jacks will produce. Harry Knowles will co-produce.
EDITOR'S NOTE: FATHARRY IS A PRODUCER. HOW INCESTUOUS. (WONDER IF HE'LL FAWN ON HIMSELF)?
Sutter to Generate SPECIES for Warner
Warner Bros. has brought on Kurt Sutter to write the script for SPECIES X.
The story centers on a police detective who realizes he might be from another world.
EDITOR'S NOTE: THEY SAY IF YOU WONDER ABOUT IT, IT'S PROBABLY NOT TRUE. (IT'S ALL THE ONES

NOT

WONDERING THAT PROBABLY ARE).
In the course of a murder investigation, the cop has reason to question who he is as a man, until he realizes he's not a man. A tug-of-war emerges among a faction of good and evil aliens.
The project was created by by Jason Hall and Nathan Hendrickson.
Basil Iwanyk and David Goyer will produce the film
Emmerich Travels to 10,000 B.C.
Columbia Pictures has hired Roland Emmerich to direct 10,000 B.C. The prehistoric epic centers on tribal life at the dawn of modern man.
10,000 centers on a young mammoth hunter who embarks on a journey through uncharted territory to secure the future of his dying tribe. In the process, he saves the one he loves.
EDITOR'S NOTE: SO IS THIS GOING TO ALL BE IN GRUNTS? (WITH THE BAD TRIBE BRITISH, OF COURSE?)
John Orloff is writing a new draft of the script, which is based on an idea that Emmerich came up with ten years ago. Emmerich and Harald Kloser wrote the original draft.
Centropolis Entertainment's Roland Emmerich & Michael Wimer will produce the film. Harald Kloser and Tom Karnowski will executive produce.
Jackson, Walsh to Oversee HALO
Universal Pictures and Twentieth Century Fox have brought Peter Jackson and Fran Walsh, his wife, to executive produce the upcoming film HALO, based on Microsoft's videogame.
Jackson said, "
I'm a huge fan of the game and look forward to helping it come alive on the cinema screen."

Alex Garland wrote the script. No director has been attached yet. The movie's release date is currently set for mid-2007
Rodat booked for DW's 'Town'
Oscar-nominated writer Robert Rodat has been tapped to adapt Thomas Mullen's novel "The Last Town on Earth" for DreamWorks Pictures.
Set in 1918, the book tells the story of how a small rural town reels when a self-imposed quarantine fails to keep an influenza epidemic at bay and the foundations of life and mortality come apart at the seams. Random House will publish the novel.
David Beaubaire is overseeing for the studio.
Rodat received an Oscar nomination for penning "Saving Private Ryan," which was released domestically by DreamWorks.
He wrote "The Patriot" and has "Olympia" set up at Soy.