Another Sad one
EDITOR'S NOTE: OUR FIRST REAL DWEEBING DAY BACK POST-HURRICANE RITA, AND IT'S A SAD ONE, SORRY TO SAY......
Don Adams of 'Get Smart' Dies at 82
Sep 26, 1:36 PM EST
The Associated Press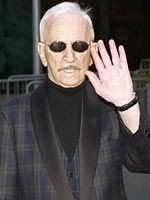 LOS ANGELES -- Don Adams, the wry-voiced comedian who starred as the fumbling secret agent Maxwell Smart in the 1960s television spoof of James Bond movies, "
Get Smart
," has died. He was 82.

Adams died of a lung infection late Sunday at Cedars-Sinai Medical Center, his friend and former agent Bruce Tufeld said Monday, adding the actor broke his hip a year ago and had been in ill health since.

As the inept Agent 86 of the super-secret federal agency Control , Adams captured TV viewers with his antics in combatting the evil agents of Kaos.

When his explanations failed to convince the villains or his boss, he tried another tack: "Would you believe ...?"

It became a national catch phrase.

Smart was also prone to spilling things on the desk or person of The Chief (actor Edward Platt). Smart's apologetic "Sorry about that, chief" also entered the American lexicon.

The spy gadgets, which aped those of the Bond movies, were a popular feature, especially the pre-cell-phone telephone in a shoe.

Smart's beautiful partner, Agent 99, played by Barbara Felden, was as brainy as he was dense, and a plot romance led to marriage and the birth of twins later in the series.

Adams, who had been under contract to NBC, was lukewarm about doing a spy spoof. When he learned that Mel Brooks and Buck Henry had written the pilot script, he accepted immediately.
"Get Smart" debuted on NBC in September 1965 and scored No. 12 among the season's most-watched series and No. 22 in its second season.

"Get Smart" twice won the Emmy for best comedy series with three Emmys for Adams as comedy actor.
EDITOR'S NOTE: R.I.P, MR. ADAMS.
AND ON A DWEEBING NOTE, I'LL TRY TO GET SOME DWEEB-POSTING BACK IN MOTION TOMORROW.....