Friday MOVIE Dweebing
Santa Clause gets Short
Though he won't be the one wearing the fat-suit for once, funnyman Martin Short has agreed to co-star in "The Santa Clause 3", which re-teams him with "Jungle2Jungle" co-star Tim Allen.
In the sequel, Short will play Jack Frost, the legendary iceman with some darstardly deeds planned for Christmas. Naturally, jolly Saint Nick/Scott (Allen) gets in his way.
The film, directed by Michael Lembeck ["The Santa Clause 2"], will see Short ["Three Amigos!", "Clifford"] pocket a cool seven-figure salary for his impendingly silly turn, says Variety.
"Santa Clause 3" is scheduled to begin shooting on Nov. 14 for a holiday 2006 release.
EDITOR'S NOTE: SEMI-SHAMEFUL CONFESSION TIME…..I REALLY LIKED THE FIRST TWO SC MOVIES. (SILLY, SWEET, FUN.) A SIGN THAT I'M LOSING IT? OR MAYBE NEVER HAD IT TO BEGIN WITH?
Wedge considering Robots 2
The success of FOX's "Robots" has Rupert and the lads thinking sequel.
Director Chris Wedge, currently co-producing a sequel to "Ice Age", tells the
Sydney Morning Herald
that it's likely Rodney's going to get another outing.
The film, should it go ahead, would see Ewan McGregor back behind the mic to play the loveable old-style droid.
He is also working on two more films - one described as being "
a smaller feeling movie but fun in its own right"
and the other described as more of an "
action feel
" film.
Wedge spent some time Down Under promoting "Robots" pre-theatrical, and whilst there came up with an idea for an Aussie family film. "
We have been
thinking about it, seriously," the director said. "
Cane toads is what we were looking at."
EDITOR'S NOTE: CANE TOADS. AH. YES. CAUSE THAT JUST

SCREAMS

'FUN FOR THE WHOLE FAMILY'. (RIGHT UP DWEEBPAL MARGARET'S…AKA, FRIEND-OF-FROGS…ALLEY, I GUESS)

Stiller and Rock Head Back to MADAGASCAR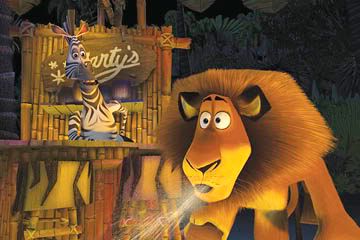 DreamWorks Animation has signed Ben Stiller (Alex the Lion) and Chris Rock (Marty the Zebra) to once again provide the voices for their characters in the sequel to MADAGASCAR.
Jada Pinkett Smith will also return for the sequel to voice Gloria the Hippo. Andy Richter will voice again and the studio is in talks with David Schwimmer, Sacha Baron Cohen and Cedric the Entertainer.
Eric Darnell and Tim McGrath will co-direct.
In addition, DreamWorks is working on a short film starring the penguins, which will come out in 2009.
EDITOR'S NOTE: OK, "MADAGASCAR" IS FINE AND I'LL PROBABLY GO SEE THE SEQUEL. BUT THE

PENGUINS

ARE THE REAL STARS! YEAH, BABY!!! LET'S SEE MORE OF THOSE SNARKY DOODS!
Bruno and Bill at it again
"Bandits" and "Armageddon" co-stars Bruce Willis and Billy Bob Thornton will team for a third time for "The Astronaut Farmer", says The Hollywood Reporter.
The movie, co-starring Virginia Madsen and Bruce Dern, will be directed by the Polish brothers, and tells of an eccentric farmer (Thornton) who dreams of space travel and sets out to build a rocket in his barn. His neighbors consider him an oddity, the government thinks he is a threat and the media see him as a story. Willis plays Thornton's NASA buddy, Madsen his wife, and Dern, Madsen's father.
EDITOR'S NOTE: I WISH THEY'D PUT THORNTON, TOM CRUISE, ANDIE MCDOWELL, AND MAYBE KEVIN COSTNER ALL IN ONE MOVIE. SO I COULD AVOID IT. (AND NOT MIX THESE PEOPLE IN WITH ACTORS LIKE MADSEN AND WILLIS THAT I LIKE AND WANT TO SEE, CONFUSING THE ISSUE WITH THOSE I DON'T WANT TO SEE).

A QOTD CAN DREAM, RIGHT?

Adrian Grenier is wearing Prada
Adrian Grenier, star of HBO's "Entourage" has snagged himself a plum movie gig, according to The Hollywood Reporter.
Grenier, whose film credits include "Drive Me Crazy" and "Harvard Man", is suiting up for the world of high fashion in Fox 2000's "The Devil Wears Prada."
The deal marks Grenier's first studio film role since his breakout performance on HBO's "Entourage," in which he plays movie star and "Aquaman" topliner Vincent Chase.
Anne Hathaway, Meryl Streep and Emily Blunt already have boarded the adaptation of Lauren Weisberger's best-seller, which is set at a cutthroat fashion magazine in Manhattan. Hathaway will play the assistant of a nightmare boss (Streep). Grenier has signed on to play Nate, the love interest of Hathaway's character, in the movie, which begins shooting in the big apple next Monday.
Meantime, Variety adds that Simon Baker will play the lead role in the film.
Richards turns down Pirates?
The much hankered-for appearance by rocker Keith Richards in a future "Pirates of the Caribbean" sequel - in which he would have played Jack Sparrow's (Johnny Depp) father - might be off, says SciFi Wire.
Richards, about to embark on a tour with Mick and the lads, apparently went so far as to trying on costumes for the movie, but at the end of the day - passed. "
The idea of working for Disney gives me the shivers in the first place",
Richards said.
EDITOR'S NOTE: YEAH, THE MOUSE IS A LITTLE EVIL. ON THE OTHER HAND, RICHARDS IS REALLY CREEPY AND WEIRD. (AND HE HASN'T DEALT WITH SCARIER CORPORATE SPONSORS THAN DISNEY IN THE PAST?)
The first of the two sequels, "Dead Man's Chest", is scheduled to open next year. No word if they'll recast the role of Sparrow's father.
Is Zellweger going to be a Cabaret singer?
Renee Zellweger's about to shine her slippers, re-visit some hot steps and enrol in a second semester of vocal training.
Yep, the Oscar Winner's intent on doing another musical.
Zellweger's planning to redo someone else's musical moment, notably Liza Minnelli's, says Sky News.
Studio bosses are apparently chewing the fat with the fiesty Oscar Winner to star in a remake of "Cabaret" (1972). "
I do love a challenge as an actress and this would be one of the biggest",
Zellweger tells the site.
EDITOR'S NOTE: I DON'T THINK THE ACTING PART WILL BE THE BIG CHALLENGE, BUT MORE THE SINGING PART. ZELLWEGER HAS A PLEASANT (IF SLIGHTLY TINY VOICE), BUT SHE ISN'T EXACTLY A BELTER, AND SHE DOESN'T REALLY HAVE MUCH RANGE.
The film would tell the same story - A female girlie club entertainer in the Weimar Republic era Berlin romances two men while the Nazi Party rises to power around them - but will encompass a few more new tunes apparently.
EDITOR'S NOTE: CAUSE KANDER AND EBB AREN'T GOOD ENOUGH?

The second coming of Don Quixote
Like a simmering saucepan, eventually the contents start boiling away again. Terry Gilliam may have failed to bring "The Man Who Killed Don Quixote" to the screen first-time around, but he might be about to lift the lidd of the troubled project again.
Talking to Moviehole this week, Gilliam said he might be having another crack at it.
EDITOR'S NOTE: OH JEEZ. LET IT DIE?
Gilliam tells us that his "Tideland" producer Jeremy Thomas is now on board and that he already has someone in mind for the lead. Originally, French actor Jean Rochefort was attached to play the titular role, but due to an incredible streak of health problems, as documented in "Lost In La Mancha", it's unlikely he would be considered for a return engagement.
"I have some ideas",
Gilliam says.
Our interviewer also suggested Gerard Depardieu for a leading role - and Gilliam's response suggested the legendary frenchman might already be on his list.
Meantime, Johnny Depp, who was set to star in "Quixote" as a time traveller, before it crumbled, tells Coming Soon that he would consider having another stab at it - should Gilliam manage to get it going again.
"Every time I see him, he threatens to do something,"
Depp told the site. "
I just saw him last night. I'd love to do it again…well, I don't want to do that again. If there's any way to avoid the curse, that would be better. I'd love to do the film, if at all possible, and I stress that 'if at all possible' because it was really going to be good, that was the thing we all felt. It was really sad. It was really going to be good, like the best of Terry Gilliam. I felt really good about my character, and the good news is that if he wants to go back and do that, I already know the character, so I have less homework to do."

One big screen transfer that's overDrew
The Hollywood Reporter says Warner Bros are transporting literary legend Nancy Drew to the big screen.
Newcomer Emma Roberts, soon to be seen in "Aquamarine", will play the title character.
In Andrew Fleming's "Nancy Drew: The Mystery in Hollywood Hills", Drew accompanies her father on a business trip to Los Angeles, and she stumbles on evidence about a long-unsolved crime involving the death of a movie star. Her resourcefulness and personal responsibility are put to the test when she finds herself in the middle of the fast-living, self-indulgent world of Hollywood.
EDITOR'S NOTE: AND HOPEFULLY THE TITIAN-HAIRED YOUNG DETECTIVE IS NOT SULLIED BY THE HOLLYWOOD EXPERIENCE?

Mr Fantastic is Amazing
One-time 007 candidate Ioan Gruffudd has signed on to topline Walden Media's "Amazing Grace" for director Michael Apted, says The Hollywood Reporter.
Co-starring Albert Finney, the movie is based on the life of British anti-slavery pioneer William Wilberforce (Gruffudd), and follows his 18th century political career, which placed him at odds with some of the most powerful men of the time, including the king.
Finney will play John Newton, a Wilberforce confidant.
Meantime, Gruffudd's also returning for a "Fantastic Four" sequel, co-star Julian McMahon tells IESB. According to McMahon, the film has made enough money to warrant a sequel and he's looking forward to plonking Doom's mask on again. Rumour has it that a new villain, the Puppetmaster, will also be introduced in the next one.
Hulk and Dracula teaming up?
Eric Bana has squiggled his John Hancock on the line to star in a movie based on ethicist and writer Raimond Gaita's bestselling 1998 memoir, "Romulus My Father".
The book chronicles the mental illness of Gaita's mother and his father's almost saintly goodness and eventual breakdown. It is also a meditation on the legacies of war and migration and the importance of friendship. Richard Roxburgh will direct the film. Earlier this year, Roxburgh talked about first-choice, Bana.
"
Bana fits the bill in an enormous number of ways
," he told The Australian. "
His father's Croatian and his mother is German; he is a motorcycle enthusiast and is heavily involved in being a father. All these things have great overlaps with the material in the story – Romulus was a Romanian man married to a German immigrant."
Oz-based sales outfit Arclight Films has taken international rights to the film, set to lens in Feb.
No SCREAM for Neve
Moviehole is reporting that Neve Campbell will not be returning to SCREAM 4 despite her talks with the Weinstein Co.
EDITOR'S NOTE: YAWN….
The site is reporting though that the Arquettes will most likely return as Gail and Dewey.
Apparently, Wes Craven will not be involved. And there is no word yet about Kevin Williamson's involvement.
The whole project is in the extremely early stages of development.
McMahon Won't Bond With Film
In "Bond, James Bond" news, Moviehole is reporting via a scoop, that Julian McMahon will not be the next 007.
EDITOR'S NOTE: YAWN AND SNORE.
Per their "indside" info, "
McMahon's new reps blew the deal for him by demanding an outrageous amount of money; this foul-up was made even more embarrassing when it transpired that the contract on offer was not, in fact, an offer; it was the standard Bond deal memo that everyone meeting with the producers is required to sign."