SadDweebs
EDITOR'S NOTE:
LET'S SIT RIGHT BACK AND WE'LL HEAR A TALE, A TALE OF A FATEFUL TRIP......

NOW THAT I HAVE THAT INSIDIOUS TUNE STUCK IN YOUR DWEEBY MINDS, SAD NEWS TODAY. L'IL BUDDY GILLIGAN....BOB DENVER....DIED TODAY.
IF THAT DOESN'T MAKE YOU (OF MY GENERATION) FEEL OLD, HOW ABOUT THE FACT THAT HE WAS

70

?!
HERE'S THE ARTICLE ABOUT MR. DENVER'S PASSING, AND THEN A

LOVELY COMMENTARY

FROM OUR VERY OWN DWEEBPAL

CHEWYANDY

------
Bob Denver, TV's Gilligan, Dead at 70
Sep 6, 1:47 PM EST
The Associated Press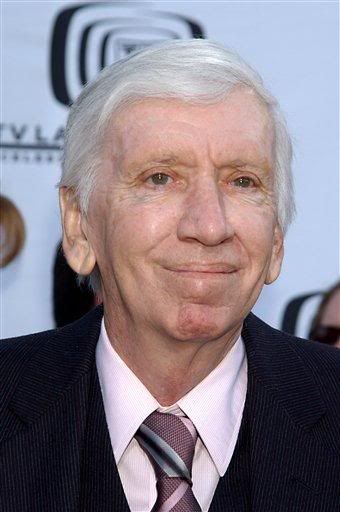 LOS ANGELES -- Bob Denver, whose portrayal of goofy first mate Gilligan on the 1960s television show "Gilligan's Island," made him an iconic figure to generations of TV viewers, has died, his agent confirmed Tuesday. He was 70.
Denver died Friday at Wake Forest University Baptist Hospital in North Carolina of complications from treatment he was receiving for cancer, his agent, Mike Eisenstadt, told The Associated Press. Denver's death was first reported by "Entertainment Tonight."
Denver had also undergone quadruple heart bypass surgery earlier this year.
Denver's wife, Dreama, and his children Patrick, Megan, Emily and Colin were with him when he died.
"He was my everything and I will love him forever
," Dreama Denver said in a statement.
Denver's signature role was Gilligan. But he was already known to TV audiences for another iconic character, that of Maynard G. Krebs, the bearded beatnik friend of Dwayne Hickman's Dobie in "The Many Loves of Dobie Gillis," which aired from 1959 to 1963.
"Gilligan's Island" lasted on CBS from 1964 to 1967, and it was revived in later seasons with three high-rated TV movies. It was a Robinson Crusoe story about seven disparate travelers who are marooned on a deserted Pacific Island after their small boat was wrecked in a storm.
The cast: Alan Hale Jr., as Skipper Jonas Grumby; Bob Denver, as his klutzy assistant Gilligan; Jim Backus and Natalie Schafer, as rich snobs Thurston and Lovey Howell; Tina Louise, as bosomy movie star Ginger Grant; Russell Johnson, as egghead science professor Roy Hinkley Jr.; and Dawn Wells, as sweet-natured farm girl Mary Ann Summers.
TV critics hooted at "Gilligan's Island" as gag-ridden corn. Audiences adored its far-out comedy. Writer-creator Sherwood Schwartz insisted that the show had social meaning along with the laughs: "
I knew that by assembling seven different people and forcing them to live together, the show would have great philosophical implications."
CHEWYANDY'S COMMENTARY ------
My fellow dweebs
Not to take away from the suffering in New Orleans, or from the morbid custody battle for the supreme court on Capitol hill with the loss of Bill Rehnquist, but today is a sad day for TV fans.
It was announced today that Bob Denver passed away on Friday -- Gilligan has left the Minnow. I am saddened at his passing, but also gladdened at the legacy that he left behind.
I was lucky enough to meet Bob Denver (aka "Gilligan") and the girl of my wet & dry dreams, Dawn Wells (aka "Miss Mary Ann Summers") at Book Expo some years ago when I was a book publishing dweeb. Dawn was promoting her "Mary Ann's Gilligan Island Cookbook" and was handing out samples of coconut cream pie. I was too busy drooling over her (and the pie) to do
little more than shake hands with Gilligan. I remember that he was amiable and somewhat quiet, very pleasant. He loved his fans and even told me so! I talked to him about my favorite episodes, including the famous dream-sequences where Gilligan dreamt that he was a vampire, Dr Jekyll, etc. I even asked Dawn to yell "fresh fish" in her best Eliza Doolittle cockney accent, so that Bob could change into Dr Jekyll.
I wasn't obliged, but I did get a hug from Dawn (*blush*)
I must say that when the cameras turned on, Bob was there to support Dawn in her moment rather than steal the spotlight (as many fans were clamouring for him as well.) I got my picture taken with both and I even got lei'd by Mary Ann (my wife still asks me why I hold onto it.) I also remember that they were both very short compared to my 6'1" frame. Short and
sweet.
It would be a day long remembered.
Oh, by the way, my maternal grandmother (ChewyNana) finally passed away of old age at 100 years old peacefully in her sleep over the weekend. She wasn't in any pain or discomfort. I'll only sit shiva for her, though, not Gilligan, and certainly not for Rehnquist. Nana was never a TV icon, nor an ultra-conservative supreme court justice, but she lived a very full life, survived two husbands, and exited on her terms with dignity and with the Lyons family secret noodle kugel recipe, which is now lost to the ages (although I think it had something to do with canned fruit cocktail, egg noodles, half & half, eggs, cork flake crumbs, and sour cream.)
I wasn't there with her, but I was lucky enough to have visited her a month ago with my wife & daughter when my mother threw her a birthday party celebrating her life. We had bagels & lox, whitefish, chocolate cake, champagne mimosas, ruggelach -- the whole schmere. I had wisely pre-cautioned my mother against the yelling of "surprise!" - so I'm convinced that my foresight bought Nana another month of existence.
Funny, the doctors said there was nothing wrong with her .. I guess that she just grew tired of living and was ready to sleep forever. She was normal weight, no heart disease, and had all her faculties.
It was just her time.
I'm glad that I'll always remember Nana's eyes lighting up when I presented her with a big box of Godiva chocolates. Boy, she loved dark chocolate. She had five or six while I was there! I wouldn't even be surprised if her grave marker will say "death by dark chocolate" in Yiddish. I sure hope that there isn't any confusion if they use the Yiddish word for "dark" in her epitaph, though.
But just as a box of chocolates is finite, so is life (I will spare everyone a profound Gumpism here) and we all must enjoy the box we'e given one piece at a time.
Now, the loss of three individuals, according to "Rick" from Casablanca, probably don't amount to a hill of beans in this crazy world; especially when compared the all the death and destruction in Iraq, and locally to all the misery in Louisiana.
However, when you're all feeling morose about the loss of Bob Denver, know that it's okay to mourn, because Gilligan is already immortalized in TVland, and in our hearts. My Nana will always be remembered to me for her cooking, her entertaining, and for scolding me when I tracked tar from the beach in Hollywood, FL, past the pool, across the shuffleboard court, and into the lobby of her apartment building on A1A.
See, there's a little Gilligan in all of us!
I know that we all look forward to our daily dweebing and Karen's snarky running commentary, which makes our days that much better.
So, in honor of those who have left a positive impression on our lives, let's take a moment to think about how you can help someone else this week. Simply perform do the littlest mitzvah
(i.e. a true good deed, without expectation of reward or credit) and know that you did something to make the world just a little bit better for others. Think about how you want to be remembered and celebrated by others, and your life will improve as you do the same
for everyone else.
Peace,
Chewyandy
p.s. sorry to be so deep today -- I guess I just needed an outlet and Karen's site presented itself as an opportunity to emote.