Harry Harry Harry
EDITOR'S NOTE: A LITTLE BIT OF HARRY POTTER. NEVER A BAD IDEA.
Yates comments on next Harry Potter installment
Today there was a small article in
The Independent
about the politics behind shooting certain scenes for the next Harry Potter installment.
Right now David Yates, the director of OOTP, needs to secure 17 different councils to shoot the scenes for the next movie, and some of them are not being co-operative.
"

A highlight of the superhero's next film outing will (hopefully) see Potter, played by Daniel Radcliffe leading a high-speed broomstick chase, James Bond-style, down the Thames.Unfortunately, the film's director, David Yates, who is currently masterminding pre-production, says that several local councils are refusing to play ball.
"

So far, we have spent a lot of time on boats on the Thames,"

he tells me."

I want to do a great big wizard chase past the London landmarks and it is going to be very exciting, but it has not been easy to set up."
Yates has assigned the task of sorting all this out to his location manager over the next four months. Filming for OOTP is scheduled to begin next spring.
Heyman confirms: OOTP may be filmed overseas
EDITOR'S NOTE: TIRED OF NEGOTIATING WITH THEIR OWN FOLKS?The HP producer told ScreenDaily.com: "We are exploring all options to determine the best place in the world to make the film. We are looking at the UK and other places all over the world."
Filming it in eastern Europe?
With its top-notch facilities, cheaper rates and tax incentives, the Czech Republic and other eastern European countries such as Hungary and Romania are among becoming increasingly attractive locations for film-makers priced out of the UK by the strong pound.
Levine and Dale interviewed at BookExpo America
Arthur Levine and Jim Dale, American editor and audiobook narrator of the Potter series respectively, appeared at BookExpo America.
Newsday caught up with them and posted interviews with the two in their blog. While they didn't reveal anything new, they did drop a few very vague hints.
Some would consider his comments slightly spoiler-ish,
"There's a new character named Maclaggen," he said, and spelled the name. And ...? And nothing. Levine clammed up. Jim Dale had mentioned yesterday that somebody dies. True? "I can neither confirm nor deny." Does Harry have a girlfriend? "I can't say ... He's definitely growing up in all areas of his life." Later, he said he didn't experience this book to be as dark as the last, though the overall arc of the series is that the "world is getting more pernicious (dangerous)." This one, he said, "has more romance in general." And then he and marketing VP Jennifer Pasanen, who was sitting in, started humming "Love is in the air."
Well, it's a clue.

New GOF picture released
Trio at the Quidditch World Cup campsite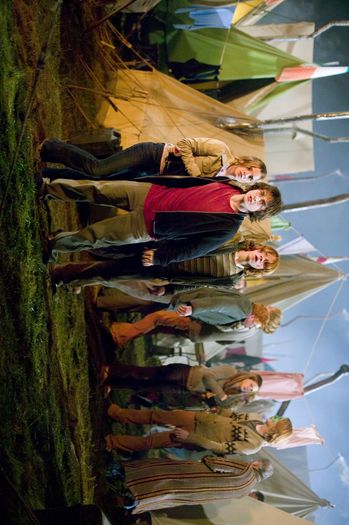 Warners casts spell over 'Potter' satire
Tuesday evening in a small Brooklyn club, about 50 hipsters gathered to sip ale and dabble in illegality: They watched "Harry Potter and the Sorcerer's Stone."
But this wasn't precisely the 2001 Warner Bros. Pictures version. The soundtrack had been changed to the voice of an unreliable, creepy narrator who called Professor McGonagall "Professor Hardcastle McCormick" and hinted that Harry liked to tipple -- a book on tape gone very wrong.
It was the voice of Brad Neely, a comic book artist from Austin who created "Wizard People, Dear Reader" as a joke in 2004. "I never thought it would get this kind of attention," he said. "It was just for laughs."
His narration has audiences in stitches, but Warners isn't laughing.
After initial screenings generated buzz, the studio began canceling contracts to rent the print in the spring at such venues as New York's Anthology Film Archives and the Alamo Draft House in Austin.
"We wanted to respect the studio's decision in that they don't want people to do this," an Alamo representative said.
"The print is their property, and all they did was inform us that they did not want to honor that booking," Travis Miles of the Anthology Film Archives said. "They credited the funds toward another rental."EDITOR'S NOTE: SPORTING OF THEM. (NOT A BIG SENSE OF HUMOR, BUT SPORTING).
Sponsored by the zine Stay Free, editor Carrie McLaren said Warners threatened not to service those theaters with any more studio-related product if they continued with "Wizard" events. "They want to stop the film but do it silently," she said. "It's soft censorship."EDITOR'S NOTE: IT'S A COPYWRITED PROPERTY. I DON'T THINK THIS QUALIFIES AS CENSORSHIP THAT THEY DON'T WANT HARRY POTTER PORN OUT THERE. (OR HARRY POTTER ALCOHOL ABUSE, OR WHATEVER).
The legality of "Wizard People," however, is unclear. "Technically, even to create a derivative work is something you need a license to do," transactional entertainment lawyer Laurie Soriano said. "When it's for your private use, courts and legislatures are OK. When you start engaging in commerce, that's when you start running into trouble."
That's one of the main sticking points for Warners, which in a statement expressed a need to protect the "integrity" of the original material and concerns over commercial (and noncommercial) uses of it that "tarnish the brand." Additionally, the studio notes a responsibility not to confuse fans of the series with "material that is not true to the source material, and may not be age-appropriate."
As for Neely's next endeavor, he's avoiding recent works altogether. "I'm doing a comedy about the Civil War, from the point of view of Ulysses S. Grant. Anything before 1912 is up for grabs, but I'm going to make sure I get permission first," he said. EDITOR'S NOTE: THERE YA GO. AND MAKING GRANT'S STORY INTO A DRINKING GAME IS PROBABLY NOT THAT FAR FROM THE TRUTH, TOO!