Star Wars. Newsy stuff.
EDITOR'S NOTE: YES. THERE IS STILL NEWS COMING IN ABOUT STAR WARS. NOT JUST ME. OTHER FOLKS ARE STILL GENERATING IT TOO.
$303.9m Worldwide for Episode III in 5 Days

'Revenge of the Sith' has grossed a staggering $303,949,700 worldwide in five days (the movie opened on Wednesday May 18th in a few territories).
Here are the figures at
Box Office Mojo
for various countires. It's not clear whether some of these grosses are for the weekend or since the movie's debut.
Australia - $10.4m
Brazil - $2,312,942
Bulgaria - $251,994
Chile and Peru - $748,087
China - $3m
Colombia - $658,195
Croatia - $159,729
Czech Republic/Slovakia - $516,325
Denmark - $2.2m
Dominican Republic - $72,390
Ecuador - $215,707
Finland - $856,527
France - $22.6m (weekend)
Germany - $17.8m
Hungary - $1.2m
India - $261,686
Indonesia - $219,384
Italy - $4m
Mexico - $6,391,240
New Zealand - $1.4m
North America - $158,449,700 (first 4 days)
Philippines - $841,744
Poland - $1.6m
Puerto Rico - $1,080,623
Romania - $136,427
Russia - $4.5m
Serbia/Montenegro - $62,284
Spain - $9.7m
Sweden - $2.7m
Taiwan - $1,280,549
Thailand - $1.2m
Trinidad & Tobago - $97,394
United Kingdom - $27.5m (first 4 days)
Rick McCallum Talks Star Wars TV Series

Rick McCallum was recently interviewed on Irish radio (May 17th).He told Red FM listeners that after a month off in August, they'll start coming up with ideas for the live action Star Wars TV series.
EDITOR'S NOTE: HURRY!
Scoop Patrol: More STARS WARS Before PHANTOM?

Another scooper, MK, wrote in with his story of meeting none other than George Lucas, while in Hawaii on his (MK's) honeymoon.
MK had this to say about his chance encounter with the Master:
I was vacationing at the Mandarin Oriental in Hawaii for my honeymoon in 2004. I ran into George Lucas and his family on the beach there. I was sitting in a hammock, just about to get up, and he asked me if I was done. I said yes and began to leave....

He said so "Where are you from" ... I said I was from NY. He said "Are you here for the shoot?" I said no, "Here on my honeymoon."

I told him I was a big STAR WARS fan and was anxiously awaiting the conclusion of the most recent trilogy.

I asked him if STAR WARS was going to end with this next installment and.

He said, "'Star Wars' will never end. My involvement may, but the story will go on...."

EDITOR'S NOTE: AWWW....NEAT!



I said what do you think would be more interesting.... telling a story prior to PHANTOM MENANCE or after RETURN OF THE JEDI?

(Lucas) said, no question about it, prior to PHANTOM MENACE. He said, that if he did ever do another storyline.... that he would do when the Jedi regained control of the universe from the Dark Lords (there were many of them) 800 years before PHANTOM MENACE. And a young Jedi named Yoda was instrumental in the effort.

EDITOR'S NOTE: UNCLE GEORGE ISN'T JUST THE MAKER...HE'S A REAL DWEEB HIMSELF!




None of these stories are (or can truly be) confirmed at this moment, so only time will tell.
Premiere addresses copyright theft
By Jonathan LandrethBEIJING --
Seven of the 330 closely guarded prints of "Star Wars: Episode III -- Revenge of the Sith" in China screened here last week before its international release, securing the capital's membership in an exclusive movie premiere club that includes Cannes, London and New York.
What Yoda fans in the West did not get with their glamour and champagne or popcorn and soda was a lesson about piracy.
Before the lights dimmed at a plush cineplex in Beijing's Silicon Alley, 20th Century Fox China business director Xiang Ming took to the stage in front of about 1,000 guests, including four wearing the robes of the Jedi knights.
"Yesterday, a real 'Star Wars' fan called me to say how excited he was. But then he said he knew that meant that the pirates would be excited, too,
" said Xiang, whose English name is Luke, as he stood between a very short Darth Vader and Dan Glickman, president and CEO of the Motion Picture Assn.
The fan, who chose not to give his name, said he would rally others like himself to report the makers and sellers of counterfeit DVDs in an effort to stop the undercutting of the boxoffice and help China's nascent film market gain a stable footing.
For his part, Xiang agreed to reward the 10 most vigilant fans with authentic "Star Wars" memorabilia.
Chinese authorities helped seize 140 million pirated DVDs last year, evidence of a problem the MPA says puts China atop the list of offenders of intellectual property rights, contributing heavily to an estimated loss in annual revenue for the big Hollywood studios of $3.5 billion.
Glickman was in China to address the piracy problem and lack of free market access, a problem felt by Xiang in his scramble to promote the premiere after the Film Bureau waited until April to approve "Sith" for one of 20 annual slots for foreign films.
Still, Weng Li, an official in charge of China Film's joint distribution of "Sith," predicts "Sith" will bring in as much as 100 million yuan ($12 million) in China.
Just three days after the film's premiere, crisp pirated DVDs of "Sith" featuring accurate Chinese subtitles were being sold on Beijing's main thoroughfare for about a third the price of a ticket to the local cineplex.
Even so, Weng's prediction may come true, as boxoffice receipts for "Sith's" opening weekend hit 25.22 million yuan ($3 million), setting a new record for a Hollywood film in China, according to Xiang."
My vision is to make Fox big in China and make China big in Fox
," he says.
Pre-Order 500th Vader Today!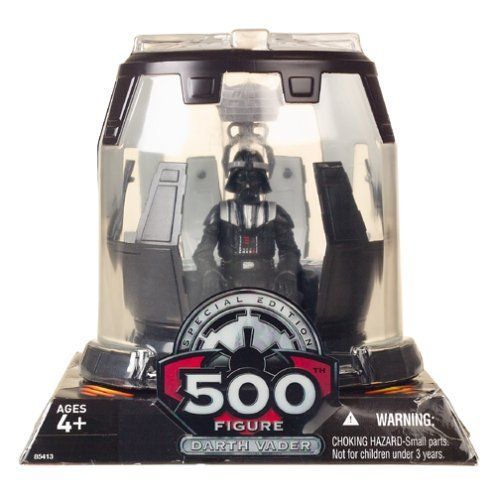 Now available for pre-order at Amazon.com is the 500th Star Wars Action Figure, Darth Vader! Priced at $16.99 and scheduled to start shipping in June, this is sure to be the hottest figure of the summer!
Orders yours today!!!!!
EDITOR'S NOTE: PRETTY DARN GROOVY, HUH??! (I'VE ORDERED MINE. NATCH).
CP+B's BK Site Has a 'Sith Sense'
MDC Partners' Crispin Porter + Bogusky rolled out a new Web site for Burger King that allows user to play 20 questions with Darth Vader, part of Burger King's Star Wars marketing push.
The "Sith Sense" Web site (
www.sithsense.com
) is part of Burger King's marketing tie-in with
Star Wars Episode III: Revenge of the Sith
.
The site challenges visitors to think of an object, which Darth Vader then tries to guess by asking multiple-choice questions. He's aided along the way with whispered suggestions from Burger King's CP+B-inspired pitchman, "The King."
EDITOR'S NOTE: RAISE YOUR HANDS IF YOU THINK THAT BK 'KING' IS WAY

WAY

SCARIER THAN DARTH VADER?!
The Sith Sense Web venue has links to Burger King's Internet site and a "summon a friend" viral option. New York Web shop Firstborn Multimedia collaborated with Miami's CP+B to build the site.
Burger King is two weeks into a six-week campaign promoting the fast-food restaurant's marketing tie-in with the latest Star Wars episode. The effort includes 10 television spots.
A Firstborn representative said the Sith Sense site would be promoted through banner ads and a mention in a TV commercial, although Burger King hopes to repeat the viral success of CP+B's earlier "Subservient Chicken" effort.
EDITOR'S NOTE: AND SPEAKING OF BURGER KING.....
Group asks Burger King to halt 'Star Wars' deal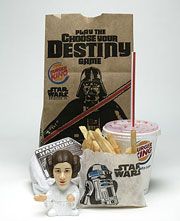 The Force may — or may not — be with Burger King's latest Star Wars-themed Kids Meals.

Burger King's 'Star Wars' tie-in is the fast-food chain's first global promotion.
By Rene Alston, USA TODAY
One day after a record-shattering weekend for
Star Wars, Episode III: Revenge of the Sith
, an advocacy group is asking Burger King to stop the tie-in of its Kids Meals with the film because it is rated PG-13.
The same group, Dove Foundation, got McDonald's 13 years ago to apologize for "confusion" from its promotion of PG-13
Batman Returns
with Happy Meals. Now, it's going after BK's latest Kids Meal promotion — targeted at kids ages 4 to 9. The meals feature characters from Sith or other Star Wars films.
"
When Burger King puts that in a Kids Meal, there's an implicit endorsement of the movie
," says Dick Rolfe, chairman of Dove Foundation.
This is no small matter. Product licensing and promotion is a $100 million annual business. Since the first Star Wars was released in 1977, the six films have racked up almost $9 billion in merchandise sales and product promotions.
For Burger King, the stakes are huge. The No. 2 burger chain is in the 16th month of a major rebound. The Star Wars promotion, dubbed "Choose Your Destiny," is the 50-year-old chain's first global promotion.
Burger King officials insist the promotion isn't specific to the latest film (the others are rated PG), but one that relates to the chain's long-term relationship with the Star Wars franchise. Executives point out that only four of the 31 Kids Meal toys are specific to Sith.
The toys "
clearly celebrate not just one film but the entire Star Wars saga,"
says Edna Johnson, a Burger King spokeswoman. "
The reception at our restaurants and from our customers has been overwhelmingly positive."
But Rolfe says "
the tie-in is very specific to this film."
Wrappers around Kids Meal toys all promote Sith, he notes.
Dove Foundation, a non-sectarian family advocacy group, sent an overnight letter to Burger King last Thursday requesting the promotion be stopped. It also conducted a national phone survey of 889 adults and says 83% felt the promotion was not appropriate for kids.
Another critic says the fault isn't that of Burger King but Star Wars creator George Lucas.
"It's irresponsible of George Lucas to OK the marketing around this PG-13 movie to young children,"
says Susan Linn, a Harvard psychologist and author of
Consuming Kids: The Hostile Takeover of Childhood.

EDITOR'S NOTE: WHAT A RELIEF THAT POVERTY AND WAR ARE ALL WRAPPED UP, SO WE CAN CONCENTRATE ON BIG STUFF LIKE THIS!

Exclusive Star Wars M&M's Tin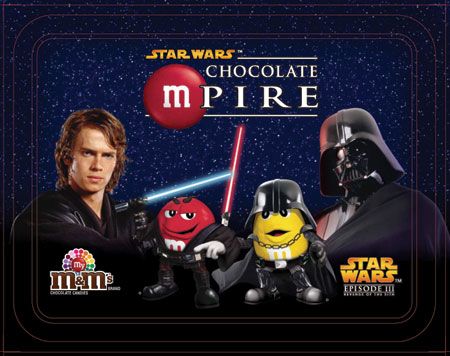 Fans of the saga and chocolate lovers can now personalize a batch of M&M's Brand candies with their own Star Wars-inspired messages.
What's more, a Limited Edition Star Wars Tin, available only from the My M&M's Star Wars website, will come chock full of 32 ounces of your own personalized M&M's.
At the site, shoppers will be allowed to customize their choice of two M&M's colors from a selection of 13, ranging from Dagobaqua to Death Star Silver.
Two pre-sorted blends of three colors each are also available. Fans can choose pre-selected Star Wars slogans or customize their own messages on two lines using up to 16 characters (8 per line). These are printed on the milk chocolate variety M&M's.
Once the colors and messages are set, shoppers can pick how they'd like the candies packaged:
The Gungan Gift Bag with a choice of nine color ribbons (2 oz)
Sidious Silver Tin (1.6 oz)
Coruscant Box with silver ribbon (2 oz)
Queen Amidala's Elegant Fabric Bag (embroidered, 2 oz)
Jabba the Bag (8 oz)
Limited Edition Star Wars Tin (holds four 8 oz bags)
Head on over to the My M&M's Star Wars site
EDITOR'S NOTE: SEE WEB ADDRESS, BELOW.
today and get your personalized Star Wars candies as a gift for a friend or to pass around the sidewalk party camped outside your local theater showing Revenge of the Sith!
http://shop.mms.com/customized/starwars/step1.asp?CID=157
EDITOR'S NOTE: THIS MIGHT JUST BE A MUST BUY. (SO MUCH FOR SAVING MONEY THIS YEAR. SIGH.....)
AND A WEE BIT MORE FROM THE WEIRD-SIDE OF THE FORCE. (THANKS TO DWEEBPAL JOEL FOR PASSING THIS ONE ALONG).
"Sith" Fans Maimed in Lightsaber Mishap
The Force--let alone common sense--was definitely not with them.
Two British Star Wars fans sustained critical injuries after constructing their own lightsabers from fluorescent light tubes filled with liquid fuel.
EDITOR'S NOTE: LETTING THOSE FOLKS IN ARKANSAS AND LOUISIANNA TAKE A BREAK FROM THEIR USUAL TOP-O-THE-HEAP ON STUPID-HUMAN-TRICK NEWS, EH! (SO NICE OF THE BRITS).
According to British media reports, a 20-year-old man and his 17-year-old female friend
EDITOR'S NOTE: SO NOW FAN

GIRLS

ARE JUST AS IDIOTIC AS THEIR MALE COUNTERPARTS! CHICKS ROCK! (?)
were filming a mock duel in homage to
Star Wars: Episode III--Revenge of the Sith
, the latest chapter of George Lucas' record-breaking franchise.
The duo were reportedly emulating one of Sith's key battles, a lightsaber clash between Ewan McGregor's Obi-Wan Kenobi and Hayden Christensen's Anakin Skywalker.
The two Brits suffered severe burns when their homemade sabers exploded. The two had been videotaping their clash. They have been hospitalized at Hemel Hempstead in Hertfordshire since the accident Sunday.
Aside from fiery accidents, the Sith craze is being blamed on a string of robberies. In separate incidents in Illinois and Florida, dark side-inspired crooks wearing Darth Vader helmets are being sought by police on assault and robbery charges.
EDITOR'S NOTE: BET THEY WON'T HAVE A SINGLE REPORT OF ROBBERIES BY JEDI, THOUGH.
Meanwhile, in other Sith-related news, federal authorities have shut down online file-sharing network Elite Torrents. The network had
Star Wars: Episode III--Revenge of the Sith
available as a download hours before the film even bowed in U.S. theaters on May 19.
Officials for the Justice Department and Department of Homeland Security said users of the site had downloaded Sith more than 10,000 times in its first 24 hours of availibility.
EDITOR'S NOTE: FINALLY. HOMELAND SECURITY GOES AFTER STUFF I CARE ABOUT.
Still, the online leak hasn't hurt Sith's bottom line, as the film broke all kinds of box-office records, including a Chewbacca-size $50 million on its first day of release.
All told, the film has raked in nearly $183 million domestically, per BoxOfficeMojo.com, with the lucrative Memorial Day weekend looming.
EDITOR'S NOTE: ALL FOR YOU, UNCLE G!!!