Disney Items. (While I'm not SW'ing)
EDITOR'S NOTE: WHILST I'M STILL BEING STRONG AND PUTTING OFF ADDING ANY STAR WARS STUFF TO THE DWEEB-BLOG, HERE'S A BIT OF DISNEY'ING.
HERE'S A WONDERFUL CLUMP OF ARTICLES FROM THE HOUSTON CHRONICLE ABOUT THE DISNEYLAND #50 CELEBRATION -----
50 years of magic

'Walt's Folly' has lured 500 million visitors and launched a worldwide empire. Now it's time for a birthday bash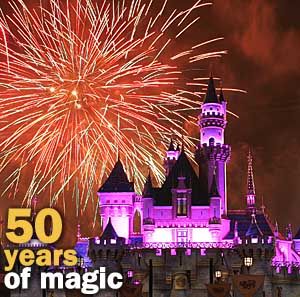 ANAHEIM, Calif. -- It was sweltering that day. And crowded. People gathered at the entrance even if they didn't have tickets. That's how eager they were to get inside.
"Hotter than hell
" is how Art Linkletter, the emcee and Walt Disney's longtime friend, remembers it. "
The asphalt had just been rolled, and people's shoes got stuck in it. But we carried on. We didn't worry about stuff like that."
Fifty years is a long time, but those who were there when Disneyland opened its gates July 17, 1955, still remember the tiniest details -- rides that broke down, wet paint that rubbed off on guests' clothes, the smile on Walt Disney's face.
It wasn't a perfect opening, but Disney's dream -- to build a family theme park unlike any other -- became a reality that day.
The memories are flooding back, too, as the Happiest Place on Earth recognizes its 50th anniversary with an 18-month celebration, dubbed The Happiest Celebration on Earth, beginning this month.
The celebration extends to Disney enterprises worldwide, but more than any other amusement park -- including those of Disney's Orlando, Fla.-area empire -- the original House of Mouse has its own culture, history, traditions and rituals, passed down from generation to generation.
Fans devote themselves to tracking down the original recordings of songs played on Main Street. They maintain Web sites devoted to attractions that no longer exist, troll eBay in search of mint-condition E-tickets and speculate in chat rooms about new lighting schemes for Snow White's castle. They decipher the telegraph message being tapped out in the Frontierland train station and flock by the thousands to Disneyana conventions where ride designers are treated like rock stars.
EDITOR'S NOTE: SEE JOEL...PEOPLE NUTTIER THAN WE ARE!
"
A lot of us who grew up in California feel like Disneyland isn't just a theme park -- it's a really big part of our lives,"
said David Koenig, author of Mouse Tales, an unauthorized, behind-the-scenes look at the park. "
It's something that belongs to us, a part of our family traditions."
Attention to detail
Disneyland's extraordinary level of detail and craftsmanship sets it apart from other theme parks, Koenig said.
EDITOR'S NOTE: ABSOLUTELY. IT'S THE DIFFERENCE BETWEEN A FUN DAY AT A THEME PARK, AND A FUN DAY LIVING IN A DIFFERENT UNIVERSE ALL-TOGETHER (OR MANY OF THEM, ACTUALLY).
Whether it's the sounds you can hear coming from closed-off storefronts on Main Street if you lean close to the windows, or the mechanical fish that leap from a little-noticed pond on the fringe of Frontierland, "
you can come here a hundred times and always discover something you never noticed before."
Disney's 1948 visit to the Chicago Railroad Fair spurred his dream for a "Mickey Mouse Park," which some dubbed "Walt's Folly." The original park barely resembled the sprawling complex that covers 430 acres today and includes Disney's California Adventure theme park, Downtown Disney (a mall of retail shops and restaurants) and three hotels.
There were 18 attractions then; there are more than 60 now. But some things remain almost as they were when the park opened (with some tweaks and updates): Peter Pan's Flight, Mad Tea Party, Mr. Toad's Wild Ride, the Jungle Cruise. Sleeping Beauty's Castle seems as magical as ever.
The original park was built on 160 acres that were once orange groves. Ron Dominguez's family was one of 17 that sold their land to Disney, and although he recalled that his mother was sentimental about giving up their 10 acres, it led to a 39-year Disney career for the now-retired Dominguez -- from ticket taker on opening day to a variety of supervisory jobs and eventually executive vice president of Walt Disney West Coast.
Old-timers say Disney, who died in 1966, was a frequent visitor, prowling the park at dawn and trying to figure which attractions could be improved. He often slept in a small room above the firehouse on Main Street rather than drive home -- although he inadvertently locked himself inside the night before the park opened and would have missed his own opening had no one heard him shouting for help.
The room isn't used anymore, but a light is always kept on in tribute.
When Disney was there, "
you wouldn't recognize him at all
," said Oscar Martinez, 69, a chef at Carnation Restaurant who began working at the park in 1956. "
He wore a straw hat and overalls, like a farmer. You would never see him in a suit, and he always came out very early in the morning."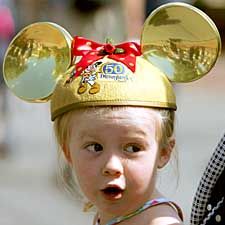 Aleah Alexander, 4, of San Luis Obispo, California, enjoys the 50th-anniversary festivities.
EDITOR'S NOTE: CHECK OUT THE SHINY GOLD #50 SPECIAL MOUSE EARS!!!!
Martinez has served popcorn, scooped ice cream, flipped burgers and sliced sandwich meat in the 49 years he has worked at Disneyland. His wife, Shirley, used to work at the park, too, in the Plaza Gardens, where Disney often visited to drink milkshakes.
"
She used to make them for him
," Martinez said. "
He liked them made special, not too runny. Vanilla or chocolate."
EDITOR'S NOTE: HOW COOL WOULD IT BE TO HAVE YOUR VERY OWN THEME PARK!? SIGH.......
By then, Disneyland had become a rousing success. But on that first day, when the turnout was expected to be 15,000 and more than 28,000 crammed inside -- among them Frank Sinatra, Debbie Reynolds, Sammy Davis Jr. and Kirk Douglas -- there were doubts.
"
It was such a mess
," said Bob Penfield, a ride operator. "
People came pouring in. We tried to control them, but there was no way, because it was a preview for the press and invited guests and celebrities, so people didn't have to buy tickets to get in. They could just jump the fence. It was a tough day."
EDITOR'S NOTE: THIS IS WHAT HAPPENS WITHOUT CABLE TV.
According to reports, there were problems everywhere -- a power outage in Fantasyland, restaurants running out of food, rides breaking down.
"It was a hectic day
," Dominguez said. "
Like anything that's brand-new, it's a different way of doing business. But we survived."
Dealing with challenges
Disney, too busy with the live broadcast by ABC-TV, was unaware of the problems. Linkletter, assisted by co-hosts Ronald Reagan and Bob Cummings ("I
picked two guys who were great talkers
," Linkletter said), kept the show moving from one venue to another.
"
It was criticized by a lot of newspapers for that first day because things didn't work
," said Linkletter, who recently celebrated his 93rd birthday. "
They didn't expect all those people, and besides, everything was so new that a lot of the rides hadn't even been tried yet."
Linkletter still recalls the day -- several years before the park opened -- when Disney asked his friend to join him on a driving trip. "
He didn't want any real estate people to know what we were doing, because he said the price would change,"
Linkletter said. "
There were no freeways then, just little towns and orange groves. We were an hour and a half out of the city, heading toward San Diego. But that was where he planned to put Disneyland.

"I thought, 'He's out of his mind.' "
That was before 50 years of magic.
NEW EVENTS AND ATTRACTIONS
Disneyland's 50th-birthday bash in Anaheim, Calif., began May 5 and continues for 18 months. Among enticements:
• Parade: Walt Disney's Parade of Dreams features floats that become mini stage shows, music and more than 50 Disney characters. Performances are twice daily in late afternoon and early evening.
• Fireworks: A new fireworks show, billed as Disney's most spectacular, lasts about 17 minutes, almost twice as long as the park's average pyrotechnic display. It starts between 9:30 and 10 p.m. daily.
• Historical exhibit: Disneyland: The First 50 Magical Years tells the story of the park's evolution through art and rarely seen film footage. It's open daily in the Main Street Opera House.
• Beauty: Sleeping Beauty's Castle has a new look: It's bejeweled and golden for the anniversary, with crowns atop its turrets.
• Other attractions: The Buzz Lightyear Astro Blasters is an interactive Tomorrowland attraction that lets riders pilot their own Star Cruiser. Beginning July 15, a re-engineered Space Mountain ride will reopen with redesigned rockets, new special effects and an onboard soundtrack.
• Admission: $53 for adults, $43 for ages 3-9.
• More information: Access
www.disneyland.com/50th
,
http://www.mouseplanet.com/
and
http://www.anaheimoc.org/
; call 714-781-4565.
DID YOU KNOW?
• Building fast: From groundbreaking to opening, Disneyland was built in just 365 days.
• Building cheap: Disneyland cost $17 million to build in 1955, about $116 million in today's dollars.
• Drawing a crowd: More than 515 million people have passed through the turnstiles since Disneyland opened in July 1955.
• Bargain prices: Ticket books were offered for the first time in October 1955. Admission: $1.
• One first: The Matterhorn, which opened in 1959, was the world's first steel roller coaster.
• Another first: The Disneyland-Alweg Monorail was the first daily operating monorail in the Western Hemisphere.
The dish on Disney
Along with 50 years of magic, California's Disneyland has resulted in 50 years of surprises. A few tidbits:
• Flash Mountain: On Splash Mountain, high-spirited women sometimes lift their blouses for the cameras that snap souvenir pictures. These girls-gone-wild photos are usually destroyed by park employees, but more than a dozen were smuggled out and posted on an Internet site called "Flash Mountain."
• Bottling Davy: In New Orleans Square, near the Pirates of the Caribbean exit, a door marked "33" leads to an ultra-secret, ultra-exclusive private club. Club 33 is the only place in the park that serves alcohol (including a chardonnay specially bottled for the club by Fess "Davy Crockett" Parker.) Its 480 members pay an initiation fee of $8,000-$27,000 and yearly dues of $4,000-$15,000. The waiting list for membership is said to be seven years long.
• Hoop dreams: High up inside the hollow Matterhorn, there's a basketball court. It's part of an employee break room. Los Angeles Lakers center Vlade Divac has been up there to shoot hoops.
EDITOR'S NOTE: OK...

ONE

STAR WARS MOMENT....
• By George: When you enter the Star Tours ride, a voice over the loudspeaker asks for an "Egroeg Sacul" to come to the booth. That's "George Lucas" spelled backward.
• Backward thinking: Sleeping Beauty's Castle is based largely on "Mad King" Ludwig's Neuschwanstein Castle in Bavaria, but with one big difference: The top is on backward. Walt Disney didn't want it to look too much like the real thing.
• Senior citizen: Disneyland's original Tinker Bell was a 71-year-old Hungarian circus performer named Tiny Kline. The first to fly off the top of the Matterhorn on a zip line, she previously worked as a stunt aerialist, hanging from a flying airplane by her teeth.
• Liberating Minnie: In August 1970, yippies invaded Walt Disney World, took over Tom Sawyer's island and raised a Viet Cong flag. Leaflets said their intent was to "liberate Minnie Mouse." The park was closed until police rounded up the infiltrators.
• On the payroll: As a teenager, Steve Martin worked in Merlin's Magic Shop in Fantasyland. Ron Ziegler, Richard Nixon's press secretary during the Watergate scandal, once worked as a skipper on the Jungle Cruise ride.
• Deep freeze: Contrary to urban myth, Walt Disney's body is not cryogenically preserved (and is not stored in a frozen chamber beneath the Pirates of the Caribbean). Disney, who died in 1966, was cremated, and his ashes interred at Forest Lawn in Glendale, Calif.
EDITOR'S NOTE: YOU STICK WITH YOUR STORY, AND WE'LL STICK WITH OURS!
Celebration in a magical World
Park in Florida also honoring 50-year milestone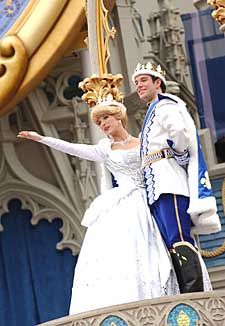 IN THE MAGIC KINGDOM: Cinderella and Prince Charming smile and wave to the crowd during Cinderellabration.
EDITOR'S NOTE: WHAT THEY DO TO THE ENGLISH LANGUAGE WOULD BE CRUEL....IF IT WEREN'T SO DOGGONE CUTE
Officially, the Happiest Celebration on Earth commemorates Disneyland's 50th anniversary in Southern California. But Florida's Walt Disney World honors the occasion, too, with new shows and attractions taken from parks across the world.
Here's a hint of what you'll find:
Magic Kingdom
• Cinderellabration: A musical spectacular direct from Tokyo Disney Resort, Cinderellabration follows Cinderella and all the classic -- and modern classic -- characters on her and Prince Charming's route to "happily ever after."
• Stitch's Great Escape: This Tomorrowland attraction takes guests into the world of Lilo and Stitch, featuring a new adventure set before the events seen in Disney's animated adventure of Experiment 626 chronicled in Lilo and Stitch. Follow Stitch's misadventure through the halls of the Galactic Federation Prisoner Transport Center.
Epcot
• Soarin': This popular attraction, which takes Disneyland guests up and over some of California's most eye-catching features, debuts at The Land pavilion in Epcot.
• Turtle Talk with Crush: Crush, the laid-back, 152-year-old surfer turtle from Disney-Pixar's Finding Nemo, makes a splash at Epcot's The Living Seas. This interactive show features innovative real-time animation using digital projection and sophisticated voice-activated animation.
• Echoes of Africa: This inaugural exhibit, based at the American Adventure pavilion's American Heritage Gallery, features important pieces from the Walt Disney-Tishman African Art Collection.
Disney-MGM Studios
• Lights, Motors, Action! Extreme Stunt Show: Inspired by the Paris Disney Resort attraction of the same name, this high-octane stunt show features specially designed cars, motorcycles and jet skis.
• The Magic of Disney Animation: Follow the progression of Disney's animated classics and modern masterpieces from storyboards to the silver screen. After learning how Disney makes its screen magic, guests can try their hand at creating their own animated figures.
Disney's Animal Kingdom
• Lucky the Dinosaur: From Disney's California Adventure comes Lucky, an animatronic dinosaur created by Disney's Imagineering. Lucky skulks the grounds interacting with guests of all ages. Lucky stands on two legs, is about 9 feet tall and pulls a cart of flowers. In DinoLand U.S.A., he greets guests and signs autographs with his four-leaf clover signature.
TICKET OPTIONS
Florida's Walt Disney World has created pricing that can help you customize a visit:
• Magic Your Way: Tailor your tickets to the parks, attractions and other entertainment offerings based on the length of your stay. The longer you stay, the less you pay. Creating a custom ticket is easy. First, choose the number of days you want on a base ticket that allows you to visit one theme park each day. Then select from a menu of ticket options. With Park Hopper tickets, you can come and go as you please through all four theme parks each day for the length of the ticket.
• More information: Access
http://http:/disneyworld.disney.go.com
; call 407-934-7639.
EDITOR'S NOTE: THIS FLEXIBLE TICKET THING SOUNDS GROOVY, BUT IT SOUNDS LIKE WE REALLY NEED A CALIFORNIA EXCURSION IN THE NEXT YEAR, DOESN'T IT? (HMMM....JOEL....MARGARET???)
Dis already plans expansion for H.K. theme park
Hong Kong Disneyland doesn't open until September, but officials are already talking about expanding the theme park.
The park has room to add new attractions after it opens on Sept. 12, Disney spokeswoman Esther Wong said. "
We have not fully used up our land yet
," she said. But Wong declined to give a timetable or other details for the plan, saying that the company is focused on a successful opening.
On Wednesday, Hong Kong's financial chief, Henry Tang, told reporters that Disney plans to add more attractions so that visitors will return to the park in the second or third year of operation.
The park is a joint venture between the Hong Kong government and The Walt Disney Co. It's being built on reclaimed land on outlying Lantau Island. Officials say the park is a key part of Hong Kong's plan to become a prime destination for vacationing families
EDITOR'S NOTE: FAMILIES WITH LOTS AND LOTS OF MONEY.