Harry Potter (not...whimper...Star Wars)
EDITOR'S NOTE: ALL THINGS MUST PASS? (SOB. WHIMPER). IF WE HAVE TO LEAVE THE STAR WARS UNIVERSE (SOON TO RETURN, SOON TO RETURN!!!), GOING TO HOGWARTS IS THE NEXT BEST THING.
J.K.Rowling Official Site
EDITOR'S NOTE: AN ENTRY BY JK HERSELF:
What is the significance of Neville being the other boy to whom the prophecy might have referred?
Finally, I am answering the poll question! I am sorry it has taken so long, but let me start by saying how glad I am that this was the question that received the most votes, because this was the one that I most wanted to answer.
Some of you might not like what I am going to say – but I'll address that issue at the end of my response!
To recap: Neville was born on the 30th of July, the day before Harry, so he too was born 'as the seventh month dies'. His parents, who were both famous Aurors, had 'thrice defied' Voldemort, just as Lily and James had.
Voldemort was therefore presented with the choice of two baby boys to whom the prophecy might apply.
However, he did not entirely realise what the implications of attacking them might be, because he had not heard the entire prophecy.
As Dumbledore says:

'He [the eavesdropper] only heard the beginning, the part foretelling the birth of a boy in July to parents who had thrice defied Voldemort. Consequently, he could not warn his master that to attack you would be to risk transferring power to you.'
In effect, the prophecy gave Voldemort the choice of two candidates for his possible nemesis.
In choosing which boy to murder, he was also (without realising it) choosing which boy to anoint as the Chosen One – to give him tools no other wizard possessed – the scar and the ability it conferred, a magical window into Voldemort's mind.
So what would have happened if Voldemort had decided that the pure-blood, not the half-blood, was the bigger threat? What would have happened if he had attacked Neville instead?
Harry wonders this during the course of 'Half-Blood Prince' and concludes, rightly, that the answer hinges on whether or not one of Neville's parents would have been able, or prepared, to die for their son in the way that Lily died for Harry.
If they hadn't, Neville would have been killed outright. Had Frank or Alice thrown themselves in front of Neville, however, the killing curse would have rebounded just as it did in Harry's case, and Neville would have been the one who survived with the lightning scar.
What would this have meant? Would a Neville bearing the lightning scar have been as successful at evading Voldemort as Harry has been? Would Neville have had the qualities that have enabled Harry to remain strong and sane throughout all of his many ordeals?
Although Dumbledore does not say as much, he does not believe so: he believes Voldemort did indeed choose the boy most likely to be able to topple him, for Harry's survival has not depended wholly or even mainly upon his scar.
So where does this leave Neville, the boy who was so nearly King?
Well, it does not give him either hidden powers or a mysterious destiny. He remains a 'normal' wizarding boy, albeit one with a past, in its way, as tragic as Harry's.
As you saw in 'Order of the Phoenix,' however, Neville is not without his own latent strengths. It remains to be seen how he will feel if he ever finds out how close he came to being the Chosen One.
Some of you, who have been convinced that the prophecy marked Neville, in some mystical fashion, for a fate intertwined with Harry's, may find this answer rather dull.
Yet I was making what I felt was a significant point about Harry and Voldemort, and about prophecies themselves, in showing Neville as the also-ran.
If neither boy was 'pre-ordained' before Voldemort's attack to become his possible vanquisher, then the prophecy (like the one the witches make to Macbeth, if anyone has read the play of the same name) becomes the catalyst for a situation that would never have occurred if it had not been made.
EDITOR'S NOTE: NOT TO DRAG US BACK INTO THE STAR WARS UNIVERSE, BUT SOME OF THIS PROPHECY STUFF.....IS IT SELF-FULFILLING? ARE ANAKIN'S DREAMS REAL OR DID HE MAKE THEM REAL BY OVER-REACTING? HOW DOES ONE INTERPRET OMENS AND PROPHECIES?.....HAS SOME FAIRLY BIG IMPLICATIONS THAT OTHER SAGA AS WELL, EH?
Harry is propelled into a terrifying position he might never have sought, while Neville remains the tantalising 'might-have-been'. Destiny is a name often given in retrospect to choices that had dramatic consequences.
Of course, none of this should be taken to mean that Neville does not have a significant part to play in the last two novels, or the fight against Voldemort.
As for the prophecy itself, it remains ambiguous, not only to readers, but to my characters.
Prophecies (think of Nostradamus!) are usually open to many different interpretations. That is both their strength and their weakness.

EDITOR'S NOTE: AS YODA ALSO NOTES. COOL STUFF FROM THE HORSE'S MOUTH, EH?!



Introducing... PotterParties.com
We're happy to announce our support of
PotterParties.com
, which is, at its most basic level, an international database of parties celebrating the release of
Half-Blood Prince.
But it's really so much more than that - it's, as the site slogan reads, "The only thing you need to know to find and plan your ideal event!"
Rather than list all of what the site has to offer here, I'd encourage you to browse the site and see for yourself.
Bear in mind that because the site just opened and few stores have officially announced plans for July 16th, the listings are not exactly extensive yet.
EDITOR'S NOTE: FOR THE HOUSTON POTTER'ITES, I JUST CONFIRMED WITH BORDERS BOOKS ON KIRBY AND ALABAMA THAT THEY WILL, IN FACT, BE DOING A MIDNIGHT RELEASE PARTY ON THAT 15TH/16TH OF JULY. (I GUESS SAMANTHA AND I WILL HAVE TO DRIVE VERY FAST TO GET BACK IN TIME?)
Warwick Davis talks about GOF and OOTP
The actor who played the part of Professor Flitwick in the first four movies recently participated in an interview with movie magazine,
Empire
.
When asked about David Yates' job as director of OOTP he said:"
Absolutely, yeah, exactly – he as director has this huge task, you know. And number four was a very, very big movie. It had a lot of big scenes – big crowd scenes, and it was a very long, arduous film to work on, but hopefully the results will be worthwhile."
Also in the interview, Warwick expresses his hopes to be in the fifth movie.
HBP Deluxe Edition cover art released!
The press release reads:
"In this spectacular artwork for the Deluxe Edition, layers of mystery unfold in a forested glen, where we find Harry Potter and Dumbledore peering through dense branches."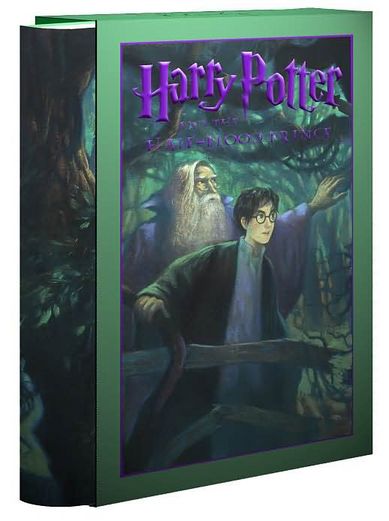 EDITOR'S NOTE: WELL YES. YES WE DO. NO LILY-GILDING AT ALL, ACTUALLY.

JKR attending Scottish conference for HBP release
Jo Rowling has just updated the news section on her official site giving us some insight into her plans for the release of the sixth book.
She will be attending a special launch at Edinburgh Castle and on the stroke of midnight, on the 16th, will be reading from the book.
Seventy reporters, representing English-language newspapers, will be attending the event.
Also, competitions will be run by newspapers from Britain, Ireland, South Africa, Australia, New Zealand and Canada with the lucky winners being sent to the event as a reporter. Alternatively, you can enter the competion on the Bloomsbury website.
Each reporter will be given the weekend to read HBP in a specially created "Reading Room" and they will later get to put their questions to Jo at the Harry Potter Children's Press Conference, which will be broadcast on TV and radio stations around the world.
New interview with Dan Radcliffe on MSN
MSN video has an interview that extends off of one seen last Saturday on ABC's
Goblet
special.
In it, Dan talks about Harry's feelings towards Cho Chang.
I feel really sorry for him at some parts because I know how it feels to be going
, [imitates nervous guy],
and having nothing to say. He falls completely in love with Cho Chang--it's not even a crush--he loves her. Because, it sort of drives you to extremes, particularly when it's the first girl that you've ever fancied or had a crush on. It's not a crush, it's love--and you're meant to be together.

Q&A with Dan Radcliffe
Both
DanRadcliffe.com
and
DanRadcliffe.co.uk
received a preview of the newsletter Daniel will be sending out to fans in the coming weeks.
It starts with:
For this newsletter, I have decided to answer several questions which have been posted on Danradcliffe.com
.
Q: How many times a week do you have guitar lessons and do you enjoy them?
A: Unfortunately, because I have been so busy on Goblet of Fire and revising for my exams I have stopped having lessons as there weren't enough hours in the day!!! However I hope to get back to them when things ease up a little.
Q: Currently what are your favorite songs?
A: Retreat by The Rakes, Not Everyone by Nine Black Alps and Tuned To A Different Station by Dogs
Q: How tall are you?
A: 5'5 and a half inches – the half inch is very important!
Q: What movie have you seen recently?
A: The German film The Edukators directed by Hans Weingartner - loved it!
Q: Most played song on your ipod?
A: No Surprises by Radiohead
Q: What is the most bewildering thing about girls?
A: I never know whether they are laughing with me or at me.
Q: What is your favorite book at the moment?
A: I have just finished 1984 by George Orwell and loved it.
Q: Have you learned to cook anything yet?
A: Yes, I love cooking Baked Gnocchi Bolognese (it's very easy and a bit of a cheat). It's a recipe by Delia Smith and you can find it at Danradcliffe.com and Danradcliffe.co.uk. If I can make it – anyone can!!!!!!
Q: Is there anything about girls that annoys you?
A: Yes, girls who are totally obsessed with being cool.
Q: What is your favorite Simpsons episode?
A: Currently Homer Loves Flanders (Series 5)

EDITOR'S NOTE: FOR PROPRIETIE'S SAKE, I HOPE SOMEONE

BESIDES

ODDBOB WAS TAKING NOTES?
Pattinson, Ianevski speak
Empire Online
had the good fortune to bump in to Robert Pattinson (Cedric Diggory) and Stanislav Ianevski (Viktor Krum) out and about on London's West End last night.
Pattinson said
:"[Krum is] the guy who's actually playing, but I don't actually do any Quiddictch in the movie. I do a bit of talking about Quidditch, I guess."
He promised an even better film this time. "
I think basically the characters have been developed pretty fully in the first three, and it's just going to take another turn into being more of a thriller, is more boom boom boom, to the climax. I think it's a much faster paced, action-y film than the others. I think that it's a little bit darker, and they kill off key characters. There's always going to be a little bit of a twist – killing someone is always a bit of a shock."
We even took the opportunity to pump him for information about Ralph Fiennes' role as He Who Must Not Be Named, Lord Voldemort. "
I'm not actually allowed to say anything about it, but it is fantastic. That will be the most stunning sequence in the Potter series."

Half-Blood Prince Security Measures
As published by "The Sun", 5/23/05 (Thanks to Laura for the transcript!)
Forty guards - backed by CCTV cameras - have been brought in to scan production lines at a secret Potter plant in old East Germany.
Harry Potter and the Half-Blood prince
is being produced in seperate chunks to stop workers leaking the plot before its official July 16 release.
More than 1,000 staff are scrutinised on the way in and out of the Druckerei GGP works at Possneck, which is surrounded by an 8ft chain-link fence with a guarded gate.
Security staff have orders to examine all bags - and even lunchboxes - as well as make random checks on lockers, desks and other workplace areas.
Mobile phones and recording devices are banned to stop printers reciting sections of text about Harry's adventures at Hogwarts School.
Publisher Bloomsbury is desperate to avoid a repeat of the security shambles before the launch of the last epic -
Harry Potter and the Order of The Pheonix
- when a copy was found in a Suffolk field. Author JK Rowling, 39, is especially anxious that the identity of the half-blood prince is not revealed to fans before they buy the book.
An employee at the plant said,
"It feels like we are dealing with a manual on how to start a nuclear war instead of a children's book.

EDITOR'S NOTE: THIS IS MUCH MORE IMPORTANT!

We have all been photographed and we must wear special badges at all times. Two guards are positioned permanently in the space dividing the bookbinding department from the printing presses. And there are always four outside the main entrance checking everyone in and out.

"Security staff are even riding shotgun on the container filled with shredded waste when it is driven to be emptied. We heard the British publishers wrote a clause saying we would be liable for something like £2million is one single word of the book leaked out."


The plant is about 70 miles from Germany's POW castle Colditz. The first batch of 250,000
Half-Blood Prince
books will be ready within two weeks.
JK plans a break before writing the seventh and final book.
EDITOR'S NOTE: I DON'T THINK SHE ASKED OUR PERMISSION ON THIS, DID SHE???!!!
JKR to write crime fiction novels after HP?
The Times of London
has a piece exploring the possibility of Jo Rowling writing crime fiction books after the Harry Potter saga ends.
"
AA Milne tried to write adult novels and was never reviewed without the mention of Tigger, Pooh and Piglet,"
[Jo] said recently. "
I would imagine the same will happen to me. That's fine, my shoulders are broad enough."
Rowling has written two unpublished adult novels and is keen to return to a "liberating" mystery project she worked on between the fourth and fifth Potter books. "
I was writing something else for a while, which was great. I might go back to that,"
she said.
EDITOR'S NOTE: NOT ONLY DON'T I WANT TO HAVE TO GET A

LIFE

ANY TIME SOON, BUT WE HAVE TO KEEP THESE BOOKS COMING OUT ON SCHEDULE TO KEEP RADCLIFFE/GRINT/WATSON IN THE GAME FOR THE

MOVIE

ROLES. J.K. HAS TO THINK OF

US

! (SHE CAN HAVE A LIFE, OR WHATEVER, WHEN SHE FINISHES CATERING TO

OUR

NEEDS!)
Rupert confirmed for role in 'Driving Lessons'
Variety is reporting that Rupert Grint is set to star alongside Laura Linney and Julie Walters (Mrs. Weasley) in the new Jeremy Brock film,
Driving Lessons
.
Driving Lessons
is apparently a comedy/drama about a shy teenage boy (Rupert) who starts to escape from the influence of his domineering mother (Linney) when he goes to work for a retired actress (Walters).
Shooting starts next month in London and Edinburgh.