Movies. Whatever.
EDITOR'S NOTE: MOVIE NEWS. (MOVIES THAT ARE NOT STAR WARS, I MEAN. SO WHO CARES?)
JUST TO PROVE THAT I CAN. AND JUST BECAUSE THERE IS A LOT OF NEWS FLOATING OUT THERE THAT I'VE BEEN REMISS IN REPORTING, WE SEGUE AWAY (IF EVER SO BRIEFLY) FROM LUCAS-LAND.
BE FOREWARNED....WE'RE COMING BACK TO STAR WARS SOON. (STILL TONS OF SW NEWS WORTH DWEEBLOGGING ABOUT. AS IF YOU HAD ANY DOUBT?)
SPIDER-MAN 3:
Variety reports that Topher Grace is joining the cast of SPIDER-MAN 3, alongside returning stars Tobey Maguire, Kirsten Dunst and James Franco. Thomas Haden Church has also been cast as an as-yet-unnamed villain.
Spider-Man 3 is slated to open May 4, 2007, with production beginning early next year. Grace (That '70s Show) will also play a Spidey nemesis, though his character is being kept under tight
wraps.
SPIDER-MAN 3 will be the first movie in the Marvel franchise in which the webslinger will face not one but two enemies. SPIDER- MAN 3 is written by Alvin Sargent, who also penned the second entry, and again directed by Sam Raimi.
EDITOR'S NOTE: IF #3 IS ANYWHERE NEAR AS #2, WE SHOULD PROBABLY GO STAND IN LINE NOW.
(DESPITE THE FACT THAT IT ISN'T A STAR WARS MOVIE).
There have also been reports that Spidey 3 starts filming in January, and that it might not be the final Spidey flick. There have been some rumors that they will film 3 and 4 simultaneously. Or back-to-back, at least.

JONES Draft Whips it Good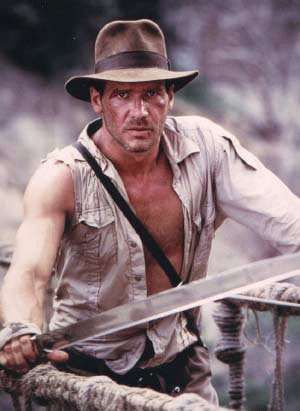 EDITOR'S NOTE: THIS PICTURE DOES NOT REPRESENT WHAT INDY WILL LOOK LIKE BY THE TIME THE DURN 4TH FLICK MAKES IT TO THE SCREEN. SO ENJOY YOUNG MR. FORD WHILE YOU CAN.
George Lucas and Steven Spielberg have apparently given approval to screenwriter Jeff Nathanson draft for INDIANA JONES 4.
Paramount Pictures still has to get Harrison Ford to sign off on the script, though. Ford has not read Nathanson's script yet.
Scheduling the production of INDY 4 will be difficult because Spielberg is heading to Europe next to shoot a movie about the aftermath of the 1972 Munich Olympics and is expected to follow that with a film about Abraham Lincoln and the Civil War.
EDITOR'S NOTE: AWW COME ON, COUSIN STEVE. ALL THOSE HISTORICAL THINGS WILL STILL BE...UMM...HISTORY IF YOU POSTPONE THEM TO DO INDY 4 AHEAD OF THEM. THEY WON'T BE ANY

MORE

DEAD, OR HISTORICAL, RIGHT?
Paul Bettany breaks the Code
Ron Howard's looking to ol' pals to fill the roles left in "The Da Vinci Code". Paul Bettany, who co-starred in Howard's "A Beautiful Mind", will play the albino fanatic, Silas, in the movie, says Variety.
The role of Silas had previously been linked to funnyman Jim Carrey and more recently, "Doctor Who" star Christopher Eccleston.
Tom Hanks, Jean Reno, Audrey Tautou, Ian McKellen and Alfred Molina are Bettany's new drinking buddies.
EDITOR'S NOTE: GREAT CAST. AND WE SAW A SUPER TRAILER YESTERDAY. (WHIST SITH'ING FOR THE THIRD TIME). WE SURMISED THAT THE ONLY THING 'IN THE CAN'

IS

THE TRAILER, SINCE THE MOVIE DOESN'T COME OUT FOR A YEAR.
More Snicket and Samara on the way

Husband and wife producing team Walter F. Parkes and Laurie MacDonald ["The Ring"] have a severe case of sequelitis at the moment and no amount of fresh ideas are going to ease the fever, it seems.
The duo tell
IGN FilmForce
that they're eyeing a "Ring 3" and a "Lemony Snicket 2", as we type.
"We had a year of sequels,"
MacDonald laughed. "
Ring 3, we're talking about. We actually had kind of a cool approach to it. That's kind of in the beginning stages. Lemony Snicket's is still something Paramount is interested in pursuing and we're going to be talking with them more."
Parkes continues, "
It's easy to scale down Ring 3 as a small picture that's not incredibly expensive. Lemony Snicket's, [there is] the creation of the world, and therefore they tend to be expensive. And there's Jim Carrey, so you have to be absolutely certain that the market's there and the idea's there before you embark on that."
EDITOR'S NOTE: IS THERE A MARKET FOR SNICKET DEUX? I MEAN, THE FIRST ONE WAS SUCH AN

UNFORTUNATE (AHEM)

WASTE OF SOME ENTERTAINING ART DIRECTION (AND BOOKS).
So would Naomi and little Dave be written out of "The Ring 3"? "
Not necessarily, but it's by it's very nature a small, intimate movie."

Bowman on Elektra director's cut and sequel
Superhero Hype
got their hands on a copy of an interview "Elektra" director Rob Bowman gave Dreamwatch magazine, in which the spin-off helmer discusses a director's cut disc and the possibility of a third film in the Elektra/Daredevil universe.
Firstly, there's a fatter film on the way. "
I did a director's cut that will be coming out in November",
says Bowman, of "Elekta". "
That is an R-rated movie, it has things that were removed to get the PG13 rating. It's not 18 minutes longer, but in many parts of the movie it's a little different. The music is different in some parts and I don't feel obligated to have this adrenalized pace that I know some people think is important for a theatrical movie."
Bowman says there's still plans to do another "Elektra" or "Daredevil" movie. "
I think it's still on the cards, I haven't heard anything about it but I know that was always the plan."
EDITOR'S NOTE: DID 'ELEKTRA' DO ANY KIND OF BOX OFFICE? I THOUGHT IT WAS A DUD? AND WHAT ARE THE CHANCES THAT THE LEADS WANT TO DO MORE OF THESE? (JENNIFER GARNER DID SOME INTERVIEWS WHERE SHE WAS SCATHING ABOUT THE 'ELEKTRA' EXPERIENCE, DIDN'T SHE?)
Bowman was also asked if he'll be returning to the director's chair for the next "X-Files" movie.
"
It's in development hell, but it's in the works. All parties involved want to do it. I think Chris [Carter] and Frank [Spotnitz] have written a script and David [Duchovny] and Gillian [Anderson] - as far as I've been told - are interested in doing it. If they invite me to direct it I will and if they don't I wish them all the luck in the world".

EDITOR'S NOTE: WHIMPER. WHY IS IT IN 'DEVELOPEMENT HELL'? IF EVERYONE'S ON BOARD, AND I HEARD THEY HAVE A GOOD SCRIPT, WHY WOULD IT BE LANGUISHING? SNIFFLE.



BROTHERS GRIMM Poster
BlackFilm.com has posted the poster for Terry Gilliam's upcoming film THE BROTHERS GRIMM. The movie stars Matt Damon and Heath Ledger.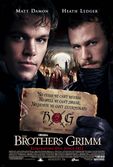 The story centers on brothers Jake and Will Grimm who have made a career out of traveling from village to village pretending to rid them of "enchanted" creatures. Their bluff is called, however, when they are forced by Napoleon's French government to investigate a haunted forest where girls have been disappearing mysteriously.
Rodriguez and Tarantino Team for Film
Quentin Tarantino and Robert Rodriguez will be teaming up to make a film for Bob and Harvey Weinstein's new company.
The two filmmakers will each write & direct a 60-minute horror film. The films will be packaged under the title GRIND HOUSE and will be released in the spring of 2006.
"
It also will include its own trailers, bonus materials and added extras from other filmmakers that will be packaged together between the two horror flicks in a tribute to the old, big-city movie houses like those on New York's 42nd Street that earned the moniker grindhouses for programing genre pictures back to back,"
reports Reuters.
Early Test Screening Review of Burton's CHOCOLATE FACTORY

The World of KJ has posted a review of CHARLIE AND THE CHOCOLATE FACTORY, which a temp score in place and several unfinished special effects shots.
Overall they were not too impressed with the film. The review states, "
Remaking classic films makes perfect sense on paper. You'll strike the nostalgia chord with filmgoers familiar with the material, all while making it accessible to new ones. The thought being why create new stories when you can just remake old ones. Sometimes the results are spectacular but more often than not, remakes tend to struggle to match up to the legacy laid forth by their predecessors. Unfortunately, 'Charlie and the Chocolate Factory' falls into this category."
In addition the review adds, "
The visuals in the chocolate factory are for the most part well done. But the screenplay offers nothing new so you're left cold and unattached. The filmmaker's changed the ending from the original film..."

EDITOR'S NOTE: THIS TAKEN FOR WHAT IT'S WORTH AND WITH NO BACKGROUND ON THE FOLKS WRITING THE PREVIEW-REVIEW. NOT THAT IT MATTERS, BECAUSE IT'S JOHNNY DEPP, ROALD DAHL, AND CHOCOLATE. SO WE'RE GOING REGARDLESS, RIGHT?!




CHOCOLATE Trailer Looks Sweet

A CHARLIE AND THE CHOCOLATE FACTORY is premiering on Moviefone's site. The trailer provides a fairly extensive look at the upcoming Tim Burton film.

You can check it out
here
.
http://movies.channel.aol.com/franchise/exclusives/charlie_
and_the_chocolate_factory_movie
EDITOR'S NOTE: GREAT TRAILER. TAKES YEARS TO DOWNLOAD, BUT WORTH IT!
DARK CRYSTAL Sequel in the Works
The Jim Henson Co. is working on the sequel to THE DARK CRYSTAL. The film will be called THE POWER OF THE DARK CRYSTAL.
The story is set many years after the first film. Original heroes Jen and Kira are now king and queen, and must fight to save their kingdom when the crystal is once again split. David Odell and Annette Duffy wrote the script. No director is yet attached.
POWER will be a combination of live-action animatronic characters with CG animation. The Henson Co. plans to start shooting this fall and hopes to release the film in 2007.
Scoop: Chiklis to Join Liu in RISE
An anonymous inside source has reported that FANTASTIC FOUR's Michael Chiklis is in negotiations to join Lucy Liu in Sam Raimi's Ghost House thriller RISE. He will play a detective tracking the same cult of Undead that left Lucy's character in the morgue.
GOTHIKA's Sebastian Gutierrez is directing. Filming starts this summer.
This has not been officially confirmed.
Urban Looks to be the OUTLANDER
DOOM's Karl Urban is in discussions to star in the Weinstein Company's epic science fiction project OUTLANDER. The story centers on a man from another galaxy who crash-lands on Earth at the time of the Vikings, bringing with him an alien predator.
Howard McCain will direct from a script he wrote with Dirk Blackman.
The alien creature for the film will be created by production designer Patrick Tatopoulos, whose credits include INDEPENDENCE DAY, GODZILL and I ROBOT.
The movie is set to begin filming in New Zealand this October.
EDITOR'S NOTE: SOME OF THESE ARE LEFT OVER NEWS ITEMS FROM CANNES. (OLDIE, A BIT, BUT NOT TOO MOLDY).
Cleese goes prehistoric for D'Works-Aardman ani
DreamWorks Animation SKG and Aardman Animations announced Thursday the fourth film on which they will collaborate, a prehistoric comedy called "Crood Awakening," written by ex-Python regular John Cleese, for 2008 release.
The announcement came as DreamWorks Animation hit the beach at Cannes for the fourth time with a 30-foot-high inflatable nylon Gromit to promote the upcoming feature-length film "Wallace & Gromit -- The Curse of the Were-Rabbit."
Calling the now-traditional visit the "great annual event," DreamWorks animation czar Jeffrey Katzenberg was joined by Aardman co-founders Peter Lord and David Sproxton and "Wallace" creator and director Nick Park at the Palais' Salle Bazin.
Katzenberg said he asked Cleese (who voiced a character in "Shrek 2") to pen the new film from an original story by Lord and Sproxton, who will be executive producers. "
The Croods are sensationally unevolved
," Lord said. "
They haven't got fire, or the wheel. But they learn how to tell jokes."
EDITOR'S NOTE: SO WHO NEEDS FIRE, WHEN YOU'VE GOT FUNNY?!
Allen headed back to London
Woody Allen, whose films are synonymous with Manhattan, isn't abandoning New York -- he said Thursday that he intends to return there to make movies in the future.
But first to shoot yet another film in London, where he filmed his newest movie "Match Point" which received its world premiere in an Out of Competition screening at the Festival de Cannes Thursday.
"Of course I am going to make a film in New York again, but I had such a wonderful experience working in London that I couldn't wait to do it again, and so I am going to (shoot another movie there) this summer
," Allen said. "
The weather in London was cool and the skies were gray, which was perfect for me."
The second London film, a comedy, will star Allen opposite the director's new muse and "Match Point" female lead Scarlett Johansson, who attended the press conference with British co-stars Johnathan Rhys-Meyers and Emily Mortimer.
Wood lands Fab role in Taymor pic
Evan Rachel Wood will star in the untitled Julie Taymor musical, a love story directed by Taymor that will use classic Beatles songs. The story centers on an American girl (Wood) and a British boy and is set against the backdrop of the social upheaval of the 1960s.
Although not about the Fab Four, the musical will use their songs to drive the narrative, with the actors singing and dancing to the classic tunes. The film is set to feature numerous Beatles songs. Dick Clement and Ian La Frenais wrote the screenplay.
Cronenberg has 'History of Violence'
David Cronenberg, who is in Cannes with his In Competition film "A History of Violence," will next direct "Painkillers," a futuristic thriller that reteams him with producer Robert Lantos, who is repped at the festival by Atom Egoyan's "Where the Truth Lies."
The producer and director on Friday confirmed the project, which has been in development for several years. Based on Cronenberg's first original screenplay in eight years, "Painkillers" is budgeted at $35 million and is being readied for release in late 2006. Andras Hamori ("Fateless") will produce with Lantos.
Picturehouse develops a slate
Picturehouse will serve as the new moniker of the recently formed theatrical distribution company, a joint venture of HBO and New Line Cinema, headed by Bob Berney.
Already off and running, Picturehouse announced it has acquired worldwide rights to "Fur," a fanciful tale set in the late 1950s and centering on famed photographer Diane Arbus, who will be played by Nicole Kidman.
The project, which has begun filming in New York, is being directed by Steven Shainberg ("Secretary") and also stars Robert Downey Jr. Picturehouse also has acquired North American rights to "The Thing About My Folks," which stars Peter Falk and Paul Reiser in a semi-autobiographical film written by Reiser and directed by Raymond De Felitta, and "Ushpizin," a drama set in the world of ultra-Orthodox Jews, directed by Giddi Dar
Duff makes it 2 'Dozen' for Fox's sequel
Hilary Duff is joining the cast of "Cheaper by the Dozen 2" for 20th Century Fox, reprising the role she played in the 2003 hit.
Duff returns as the daughter of the characters played by Steve Martin and Bonnie Hunt, who are set for the sequel. Also on board is Eugene Levy.
The sequel sees Martin's brood facing off against Levy's perfect family of eight blond children."
The franchise rocks, and the sequel's gonna be fun,"
Duff said in a statement.
EDITOR'S NOTE: SOME PEOPLE SHOULD JUST SIT QUIETLY AND NOT SPEAK.
Adam Shankman is directing. Rob Simonds, Shawn Levy and Ben Myron are producing.
The 2003 rendition of "Dozen," a remake of the 1950 Clifton Webb-Myrna Loy-Jeanne Crain comedy, grossed more than $190 million at the worldwide box¬office.
From Bruce Wayne to Michael Clayton
Former Caped Crusader George Clooney will headline "Michael Clayton", a new Indy Legal thriller from "Bourne Supremacy" scribe Tony Gilroy.
According to Variety, Playboy Clooney will don a suit to play an elite big Apple attorney - known as 'The Janitor' to his colleagues, because he works behind the scenes to clean up his high profile clients' messy personal problems - who we drop in on over the worst four days of his career.
Clooney is expected to start filming the flick next January in New York.
Jedi Knight's both discover Wisdom
Now this should fill the void of a "Star Wars" movie next year. Three from Uncle George's space-serial are getting back together for a new flick.
Anakin, Mace and the chap who taught them how to straddle their sabers are set for a nail-biting suspense thriller, set in our galaxy.
Hayden Christensen and Samuel L.Jackson have agreed to star in "Wisdom and Hindsight", a psychological thriller genre from Nick Gillard, best known as the stunt co-ordinator on the "Star Wars" flicks.
"Wisdom" marks the Stunt Co-ordinator/Swordmaster/Stuntman's first foray into directing. The film, eyeing a Sep-Oct start, will reportedly be in the vein of serial killer chillers like "Se7en".
Gillard was the second unit director on "Reign of Fire", and action unit director on "Attack of the Clones".
Be interesting to see what he can do with the keys to the kingdom.
EDITOR'S NOTE: GUESS MR. C AND MR. J WANT TO CAPITALIZE ON THEIR LIGHTSABERED BUFF PHSYIQUES BEFORE THEY GET ALL SQUISHY AGAIN?
BUT WAIT....MORE YOUNG ANI NEWS.....

Hayden's Next Film
The Sun-Times is reporting on Hayden's next film - sounds like this one is quite a departure from Star Wars:
He's good, he's bad. Who can keep track?
Hayden Christensen, Anakin Skywalker/Darth Vader in "Star Wars: Episode III -- Revenge of the Sith," has found there is life after going to the Dark Side.
He will star with hottie-du-jour Mischa Barton in "Decameron."
His sci-fi fans might want to sit down now: The boy wonder plays one of two young Florentines who must cope in the Italian countryside, which has been hit by a black plague.
"It's a sexy comedy about adventure and love," Christensen says, adding, "There are no Jedis around."
Speaking of Jedi fallout, the Toronto native says that "Star Wars" "has put me on a higher playing ground. I was eager to take advantage of this phenomenon and started a production company." His fame doesn't mean he's gossip-column fodder. "I just turned 24. I'm single," he says. "I don't even go out that much." Yes, he lives at home with his parents.EDITOR'S NOTE: SO MUCH FOR THE DARK SIDE BEING PARTYPARTYPARTY, HUH?
Pfeiffer the 'Woman' for Rudin
Michelle Pfeiffer has signed on to star in "I Could Never Be Your Woman" for heavyweight producer Scott Rudin. Bauer Martinez is set to finance and handle distribution on the picture.
Amy Heckerling is directing the romantic comedy from her own script about a successful professional woman in trouble with her love life. The rights to the project had previously been with Paramount Pictures where Rudin was based for more than a decade. Rudin is in the process of moving to the Walt Disney Co. The development follows Bauer Martinez's recent launch of a U.S. distribution arm, which has been accompanied by a wave of high-profile deals for the company
Weitz has another of those American Dreamz
Director Paul Weitz, of the brilliant "In Good Company", is calling on old friends to join him for his next plight.
According to Variety, he's rounding up some of the folk who have starred in his previous movies for an ensemble film called "American Dreamz". Dennis Quaid from Weitz's "In Good Company", Chris Klein from Weitz's "American Pie" and Hugh Grant, who starred in "About a Boy", another of Weitz's films, are all in talks.
Mandy Moore is also believed to be chatting about a possible part. The film is a satire of American showbiz and politics.
"The movie examines the role of dreams and ambitions in American culture
," Weitz said. "
It's about what's wrong with America and how close it is to what's right with America."
According to the trade, Grant would star as a disaffected British TV personality, whilst Quaid would play a U.S president on the verge of a nervous breakdown.
The film is tipped to be getting underway as early as July.
The Invisible Jet lands in Australia?
They might have to start scattering some large letters on a hill near Sydney soon - Australia's shaping up to be a mini-Hollywood of sorts.
Hot on the heels of "Ghost Rider" and "Superman Returns" comes word that "Wonder Woman" might be eyeing a Down Under shoot too. Producer Joel Silver tells The Age that he's keen for the Invisible Jet to get a parking spot in Oz.
"
When I make Wonder Woman I'll probably do it in Australia
," said Silver. "
I love working in Australia. It makes great sense to me."
Silver said he's no idea who will be strapping on the Wonder-Bra or when the film will get underway. "
There's no timeframe yet. We've got Joss Whedon writing the script. When we have a script we'll make a decision about what we're going to do."

Kevin Costner is The Guardian
Looks like - thanks to his supporting turn in "The Upside of Anger" - that Kevin Costner's career may be back on track. Production Weekly reports that the Oscar Winning is teaming with 'It' Boy Ashton Kutcher for "The Guardian", a new Disney pic from "Holes" director Andrew Davis.
Kutcher stars as a young man whose life is spiralling out of control, and Cosnter plays a legendary rescue swimmer who takes Kutcher's character under his wing when he joins the Coast Guard. Seems the vet swimmer lost his crew in a fatal crash - so is the perfect one to teach the young rebel about sacrifice. The project looks set to start shooting in Louisiana in October.
EDITOR'S NOTE: YAWN. OOO. SORRY. I DRIFTED OFF TO SLEEP JUST READING THE DESCRIPTION. (LET ME GUESS...THE YOUNG MAN IS REFORMED/REDEEMED/WHATEVER. AND THE MENTOR DIES?)
Woo and Chang to Remake French Thrillers
John Woo and Terence Chang have teamed up with France's StudioCanal to develop modern-day remakes of three French thrillers:
HONOR AMONG THIEVES, RIDER ON THE RAIN, and THE PRONE GUNMAN.
Currently the filmmakers plan to hire up-and-coming directors for the films which will be budgeted at around $15 million to $20 million each.
THIEVES centers on a doctor and a criminal who become acquainted in the French Foreign Legion, is the first project to be assigned a writer. And RIDERS is about a hired killer trying to get out of the game, also will be placed in contempo settings.
Rhys Meyers Joins Cruise on MISSION

Paramount Pictures has hired Jonathan Rhys Meyers to star with Tom Cruise in MISSION: IMPOSSIBLE 3. Rhys Meyers will play an associate of Ethan Hunt (Cruise).
Rhys Meyers has been seen in BEND IT LIKE BECKHAM and most recently he starred in CBS' ELVIS.