Star Wars. The COUNTDOWN. 5 Days. (musings)
EDITOR'S NOTE: THINGS TO THINK (OUCH) ABOUT AS WE GO INTO THE HOME-STRETCH.
Forced to explain
10 things the final 'Star Wars' should resolve
Not all "Star Wars" questions must be answered.
I say that as someone who, at age 8, determinedly wrote my own fan fiction — in scribbled longhand on legal pads — during the long, dark days between the 1977 original and "The Empire Strikes Back."
Life will, in fact, go on even if you don't know which planet Cloud City was on (Bespin) or what creature lurked in the Death Star garbage compactor (a dianoga) or why the rebels chose an icy hell like Hoth as their base (who knows).
EDITOR'S NOTE: WHO WOULD LOOK FOR THEM THERE? (I MEAN BESIDES DADDY DEAREST).
But some issues have lingered all along, unaddressed questions that a viewer has every right to have answered without buying a library full of novelizations and reference guides. These aren't really plot holes; they're themes that need closure.
Ten open items on the docket, along with odds they'll be resolved in "Revenge of the Sith":
1) Leia. Yes, she kicked butt, but you get the sense George Lucas never quite knew what he wanted to do with her. (It's also a fair bet that when writing the original "Star Wars," he hadn't yet decided on her being Luke's sister.)
EDITOR'S NOTE: THAT LAST BIT, SO SAYS ANH AND ESB PRODUCER GARY KURTZ TO ANYONE WHO'LL LISTEN...IN BARS, AIRPORTS, SELF-HELP FUNCTIONS.
We eventually learn her backstory — raised as a princess on Alderaan by Bail Organa — but her purpose in the rebellion seems diminished after Luke appears. Perhaps Han Solo is meant to be her consolation prize, but (and no golden bikini comments here) why doesn't Anakin Skywalker's daughter get more of a role?
EDITOR'S NOTE: SHE WAS AWFULLY YOUNG TO HAVE ALL THAT THRUST ON HER. HANDING OFF THE FLYBOY HERO STUFF TO LUKE AND HAN WHILE SHE HANDLED THE POLITICS (A LOT OF WHICH HAS TO BE OFF-SCREEN, RIGHT?) WAS PROBABLY A RELIEF.
AND HAN ISN'T TOO BAD A CONSOLATION PRIZE, HMMM?
It's truly puzzling because Leia seems to have at least nascent Force powers. Unless there's some weird father-to-son midichlorian genetics at work, she presumably should have as much Jedi potential as Luke.
EDITOR'S NOTE: YES SHE DOES. (EU)
"You have a power I don't understand, and could never have," she tells Luke in "Return of the Jedi." He replies, "You're wrong, Leia, you have that power too. In time, you'll learn to use it as I have."
Yet all she gets are hints and glimmers while Luke gets the full Jedi treatment. Why?
Odds of resolution: 3 in 10. Leia's appearance in "Sith" is likely to be limited.
2) Vader and family. When exactly does Vader figure out that Luke is his son, and why can't he sense a Force connection with Leia — especially when he tortures her in Episode Four?
One hole was tightened in Lucas' "Empire" DVD. In the theater version, the Emperor describes Luke as a "great disturbance in the Force," but doesn't really tie him to Vader.
In the new edit, the Emperor insists Luke is "the offspring of Anakin Skywalker."
"How is that possible?" asks Vader.
"Search your feelings, Lord Vader, you will know it to be true."
No, thanks. We're still wondering when Vader figures it all out.
EDITOR'S NOTE: I SEEM TO RECALL (AND THIS MIGHT BE FROM SOME POST-ANH/PRE-ESB COMICS) THAT VADER NOTES THE FORCE-STRENGTH OF THE PILOT WHO BLOWS UP THE FIRST DEATH STAR, AND IN THE PROCESS OF SEARCHING FOR INFO ABOUT HIM, FIGURES OUT THAT LUKE IS HIS SON.
Plus, if both Luke and Leia are spirited away soon after being born, how come Vader learns about one but not the other? In one theory, Vader believes Leia died along with her mother. Why, then, would Luke have survived?
Which brings us to the matter of Padmé's potential demise. Luke has "no memory" of his mother. Leia says she "died when I was very young," yet remembers "images, feelings. She was very beautiful, kind, but very sad." Unlikely, then, that Padmé dies in childbirth, though she presumably passes away while the twins are still babies, before Leia is spirited off to Alderaan.
The timeline of the twins' birth, separation and concealment is essential.
Odds: 7 in 10 on the twins and Padmé, 4 in 10 on Vader.
3) Politics. Lucas has never hidden his disdain toward politicians. It permeates "Attack of the Clones." (Witness Anakin's dictator-in-training rant while trying to woo Padmé. Bad form!) But his political metaphors are clunky as he tries to merge his lords-and-knights theme with the legislative machinations of the Republic.
You sense Lucas is fascinated by medieval royalty, but can't quite make up his mind how he wants galactic politics to function. Naboo, for instance, elects queens, yet apparently appoints senators.
Lucas seems keen to show democracy corrupted, with Darth Sidious holding the reins. Add in the Trade Federation, the Commerce Guild, banking clans and all the other loose affiliations in "Phantom Menace" and "Attack," and it should be no surprise the Republic is about to crumble.
If democracy is so cherished to the Republic, why is there so little backlash when Jar-Jar stands up in Episode II, and proposes to create an army and hand the Chancellor emergency powers? Because the Sith control so many senators?
Sounds like Lucas was torn between cheap shots at politicians and trying to praise the democratic process. I'd like at least one political-textbook moment in Episode Three.
EDITOR'S NOTE: THE GALAXY IS A VERY BIG PLACE. DOESN'T IT STAND TO REASON THAT THERE ARE ALL SORTS OF PERMUTATIONS ON GOVERNING? SOME THAT MIGHT NOT MAKE A WHOLE LOT OF SENSE TO OUR EARTH-BOUND, AMERICAN-CENTRIC WAY OF LOOKING AT IT?
AND SO AS NOT TO MAKE EPISODE 2 A LESS-ARTICULATE INSTALLMENT OF "THE WEST WING", MOST OF THE HEATED DISCUSSION ABOUT THE CREATION OF THE GRAND ARMY AND ABOUT GRANTING PALPATINE EMERGENCY POWERS HAPPENS OFF-SCREEN. THERE WAS A LOT OF DISAGREEMENT ABOUT IT IN THE SENATE, AND CONTINUING INTO THE TIME-FRAME OF EPISODE 3.
BUT YES, MUCH OF THE SENATE WAS UNDER THE SWAY OF THE SITH, AND WAS ALSO INCREDIBLY CORRUPT. BY THE TIME THINGS COME TO A VOTE IN THIS BODY, BACK-ROOM DEALS HAVE OFTEN MADE THE VOTE ACADEMIC.
Odds: 4 in 10.
4) The Sith. One of Lucas' most fascinating inventions, and one of his least explained, even in the official databank, which threads the needle by introducing details not in the first five films.
Most viewers probably know the Sith represent the Force's dark side, though it isn't clear why or how. We know they come in pairs — a master and an apprentice — so we can trace the Sith lineage.
At first, Darth Sidious is the master and Darth Maul the apprentice; after Maul is killed, we can presume Count Dooku (Darth Tyranus) becomes the new apprentice. Under the two-at-a-time theory, you have to presume that Tyranus is somehow killed if Sidious takes Anakin under wing and transforms him into Darth Vader.
The Sith are so crucial because they help explain Vader's motives. But nowhere is it clear why the Sith are so peeved at the Jedi and the Republic. (Even the databank says the Sith order "self-destructed.")
"At last we will have revenge," seethes Darth Maul. Revenge for what? That implies the Jedi subdued the Sith, but nothing in the films confirms that.
EDITOR'S NOTE: THE SITH IMPLODED, BUT ONLY AFTER LONG AND BLOODY BATTLE WITH THE ANCIENT JEDI. AND YOU KNOW BAD GUYS....THEY'RE ALWAYS LOOKING FOR SOMEONE ELSE TO BLAME FOR THEIR SHORT-COMINGS AND FAILURES.
Odds: 7 in 10.
5) Vader's ambitions. When Vader finally learns that he has an heir, he sets out to convert Luke to the dark side. What else does he want to accomplish?
"We can rule the galaxy as father and son," he offers Luke. This presumes Vader expects to supplant Emperor Palpatine. Will Vader assassinate him? Seems unlikely. Is Palpatine arranging a succession plan? Maybe, but the Emperor's role in "Jedi" was so muddled that you can't be sure.
It's plausible that once Vader discovers he has a son, he wants Luke to go the Sith way. And we see Anakin angry that Obi-Wan has held him back, and filled with rage over his mother's death. How does this translate into a thirst for galactic domination?
Odds: 8 in 10. Absolutely essential to understanding Anakin's downfall.
6) Jedi training. We know from Qui-Gon Jinn and Obi-Wan that a Padawan learner must complete trials in order to become a full Jedi. We know Anakin bristles at Obi-Wan's schedule.
Why, then, is Luke's Jedi training so haphazard? In "Empire," he hangs with Yoda on Dagobah, learns basic Force skills and then cuts short his training to dash off to Cloud City.
Yet when "Jedi" starts, he seems to have mastered his Jedi might. Back on Dagobah, the Little Green One tells him, "No more training do you require." Then Yoda retrenches and says Luke must face Daddy Darth before he can be a real Jedi.
In the post-Republic years, does Yoda excise the Padawan bit? And why does Luke have to face his father? Seems beyond the scope of the usual trials.
Could we get a ruling on exactly when and how you become a full card-carrying Jedi?
EDITOR'S NOTE: ALL THIS SEEMS PRETTY OBVIOUS TO ME. A) LUKE'S TRAINING IS HAPHAZARD CAUSE THEY'RE NOT FULL UP WITH TIME TO GIVE HIM THE WHOLE MEGILLAH. AND B) YODA TOSSES IN THAT BIT ABOUT MEETING VADER BECAUSE THAT IS YODA'S AGENDA. IT DOESN'T NECESSARILY HAVE MUCH TO DO WITH LUKE'S JEDI TRAINING PER SE. (YODA IS A MANIPULATIVE LITTLE MUPPET, AIN'T HE?)
Odds: 2 in 10. We'll be too busy watching Anakin bristle.
7) Shortfalls of the Jedi. Yes, yes, we know the dark side clouds everything. That seems a rather facile explanation for some enormous Jedi missteps.
Mace Windu, for example, tells Padmé that Dooku "couldn't assassinate anyone. It's not in his nature."
Yeah, right. The council knows Jedi can go bad (that Sith thing), so why not consider that another of their order has turned, especially given Qui-Gon's reported Sith sighting?
And were they truly so blind that they didn't know Sifo-Dyas commissioned a clone army?
In Episode II, diner cook Dex not only identifies a Kaminoan saber dart but offers up this chestnut on why Obi-Wan can't find Kamino: "I should think you Jedi would have more respect for the difference between knowledge and wisdom." Let me translate: "Danger, Will Robinson!"
Even Yoda acknowledges standards are slipping. He calls arrogance "a flaw more and more common among Jedi." So his solution is to sit back and complain? Why not call the Jedi in and dress them down?
Talk about hubris. Lucas must, absolutely must, explain these shortcomings in "Revenge."
EDITOR'S NOTE: I THINK THIS HAS BEEN EXPLAINED PRETTY WELL. IVORY TOWER. (LITERALLY). THE JEDI ARE SO INSULAR AND ISOLATED FROM THE REAL WORLD, THEY WOULDN'T KNOW A SITH PLOT IF IT FELL ON THEM. (WHICH, IN FACT, IT SORT OF DOES,EH?)
Odds: 8 in 10.
8) Your inner Jedi. If "Star Wars" politics are messy, the Jedi credo is a shambles.
There's nothing wrong with the stoic approach Lucas channeled into the Jedi philosophy. But the Zen approach seems to clash with the "feelings" Luke is repeatedly counseled to harness by Obi-Wan, Yoda and even Vader.
At the very moment Anakin Skywalker most needs to channel these feelings — when his own mother dies in his arms — he finds no solace in his Jedi training. How do we know? "To be angry is to be human," Padmé says to soothe him as he fills with rage.
"I'm a Jedi," he snaps. "I know I'm better than this."
Then we get the rage (and revenge on the Tusken Raiders) that opens him to the Dark Side.
What use are lofty Jedi pronoucements if they lack a way to resolve a basic human emotion?
Odds: 1 in 10. We know the Jedi are all but wiped out in the Clone Wars, so their response to the Sith's growing power probably isn't a group hug.
EDITOR'S NOTE: IF SO, IT'S PROBABLY NOT A BIG GROUP. (GIGGLE). WHY SHOULD THIS NEED EXPLAINING? HAS CELIBACY WORKED REALLY REALLY WELL FOR THE CATHOLIC CHURCH? JUST BECAUSE HINDSIGHT MAKES IT CLEAR THAT THE TIME FOR CHANGE WAS OVERDUE, DOESN'T MEAN AN ENTRENCHED AND CALCIFIED JEDI LEADERSHIP CAN SEE THIS.
9) Yoda. Given that he's arguably the most revered character in the entire series, why is Yoda such a mystery?
His race? Unknown. (Though the thought of a planet full of Yodas is pretty cool, no?) His original master? Unknown. His role in shaping the Jedi council? Unknown.
We know he's almost 900 years old, which means he witnessed a good chunk of the Republic's history. He certainly should have at least some familiarity with the Sith, which makes you think he should have been savvier about the Dark Side's potential.
Who were his other Padawans? Dooku was one, and we can assume Luke was his final, if not official, learner. But who else was his Jedi offspring?
And why did he choose to go to Dagobah, of all places, after the Republic fell? Was that a strategic decision? Did he just like hanging in the galactic bayou?
Rather than that stupid Ewok TV movie, Lucas might have spent some time sharing a backstory on Yoda. I certainly would have paid to see it.
Odds: 5 in 10. Dagobah might get some time, but I'll be impressed if we get more than a few other scraps about Yoda's backstory.
EDITOR'S NOTE: I'M BETTING THIS IS YET TO COME. UNCLE GEORGE DOESN'T USUALLY WITH-HOLD INFO (LIKE YODA'S ORIGINS) UNLESS HE IS PLANNING TO GO PLAY THERE AT SOME LATER DATE. (AND NO, I DON'T THINK A PLANET OF YODAS SOUNDS COOL. 900 YEARS OF NAGGING. IT SOUNDS WHINY AND ANNOYING. IMHO).
10) The Force's source. So which is it: a "quaint old religion," as portrayed in the first three films, or is it all about biology and midi-chlorians, those microscopic life forms described in the next two?
Many fans hate the midichlorian concept; I'm not that down on it. I like Lucas' attempt to surpass the original films' mealy-mouthed animism. But it's a huge step to go from lively bacteria to Qui-Gon's theory that Anakin was conceived by midi-chlorians. That would be a Force to be reckoned with.
I'd wager most longtime fans are waiting for a good Force mechanics explanation in "Sith."
Also: Remember how Yoda, Obi-Wan and Anakin appear as phanstasms at the end of "Jedi"? I'd also like to know why some Jedis — Yoda and Obi-Wan, notably — vanish when slain, while others (in the Geonosis battle, notably) just ... die. Vader doesn't at the end of "Jedi," either, though maybe that's the dark side at work.
In any case, let us know: Do Jedi actually die, or do they just go to that great cantina in the sky?
Odds:4 in 10. A lot of Jedi are set to die in "Sith," but I doubt it will explain Luke's visions.
EDITOR'S NOTE: OK. I'M WITH HIM ON THIS ONE. THERE HAVE BEEN A FEW HALF-HEARTED ATTEMPTS TO MAKE THIS ALL COME TOGETHER. I'D LIKE A BIT MORE FROM-THE-HORSE'S-MOUTH INFO ON ALL THIS.
Star Wars: Quotable Characters
The best lines from your favorite characters.
Quoting Star Wars... You know you've done it! Maybe you laid a little Darth Vader on your buddies during a heated PlayStation battle, or maybe you're smooth enough to have tried some Lando out at the club.
In anticipation of the May 19th release of
Star Wars: Episode III - Revenge of the Sith
, we're running a series of features with our faves from the Star Wars universe.
Today, we're breaking down the ten most quotable characters from a galaxy far, far away. If these aren't part of your everyday lingo... well, that's probably a good thing.
But feel free to print this out and use it as a quick reference at parties. They're always a hit.
EDITOR'S NOTE: NOW DON'T SCOFF. YOU JUST AREN'T GOING TO THE RIGHT PARTIES.
The risk in doing a feature like this is that we can't possibly include everyone's favorite lines. But we get paid to write this stuff and you don't, so you'll just have to deal. Oh! And as much as we're fond of Chewie and R2, all growls, beeps and whirs are being withheld. This isn't a "most unintelligible lines" piece. Finally, you may notice an almost complete lack of quotes from the prequel trilogy... We don't mean to hate, but we gotta keep it real.
#10 - Boba Fett
The strong, silent type... Boba Fett didn't say much, but when he did people listened. When the armor-clad bounty hunter was brought before Darth Vader, during his hunt for Luke Skywalker, Vader made it clear there were to be no disintegrations. Even Vader paid heed when Fett made sure Han was going to survive the carbon freezing process. Badass Bounty Hunter extraordinaire...
"
As you wish."
- Boba Fett, The Empire Strikes Back
"
He's no good to me dead
." - Boba Fett, The Empire Strikes Back
9 - Emperor Palpatine
The Emperor, back before you knew he was just a politician who liked to play dress up, was one hardcore dude. The throne room scene from Jedi provided plenty of quotes that are nothin' but pure evil. Note that you have to say these with a scowl on your face and a slight British accent...
"
Everything is proceeding as I have foreseen."
- Emperor Palpatine, Return of the Jedi
"
By now you must know that your father can never be turned from the Dark Side. So will it be with you
." - Emperor Palpatine, Return of the Jedi
"
Oh, I'm afraid the deflector shield will be quite operational when your friends arrive." -
Emperor Palpatine, Return of the Jedi
"
So be it... Jedi."
- Emperor Palpatine, Return of the Jedi
"And now, young Skywalker... you will die."
- Emperor Palpatine, Return of the Jedi
#8 - C-3PO
Busting out with a line or two from C-3PO might not score you as many cool points as some of the other characters, but there's no denying that he's everyone's favorite effeminate robot...
"We seem to be made to suffer. It's our lot in life."
- C-3PO, A New Hope
"
Don't you call me a mindless philosopher, you overweight glob of grease
!" - C-3PO, A New Hope
"
You'll be malfunctioning within a day, you nearsighted scrap pile
!" - C-3PO, A New Hope
"
No, I don't think he likes you at all.... I don't like you either
." - C-3PO, A New Hope
"
Listen to them, they're dying, R2. Curse my metal body! I wasn't fast enough."
- C-3PO, A New Hope
"
We're doomed!"
- C-3PO, A New Hope
EDITOR'S NOTE: WHICH CAN DO DOUBLE DUTY AND ALSO SOUND LIKE DR. SMITH ON "LOST IN SPACE".
"Let the Wookiee win
." - C-3PO, A New Hope
"
Sir, the possibility of successfully navigating an asteroid field is approximately 3,720 to one."
- C-3PO, The Empire Strikes Back
"
It's possible this asteroid is not entirely stable."
- C-3PO, The Empire Strikes Back
"
I'm standing here in pieces, and you're having delusions of grandeur
." - C-3PO, The Empire Strikes Back
"
Artoo, I have a bad feeling about this."
- C-3PO, Return of the Jedi
"
I do believe they think I am some kind of god." -
C-3PO, Return of the Jedi
"
I'm rather embarrassed, General Solo, but it appears you are to be the main course at a banquet in my honor."
- C-3PO, Return of the Jedi
"
Wonderful. We are now a part of the tribe
." - C-3PO, Return of the Jedi
#7 - Luke Skywalker
He went from being a whiney, punk kid from Podunk, Tatooine, to a cool and confident Jedi. And all along the way Luke Skywalker kept spittin' these classic lines...
"
But I was going into Toshi Station to pick up some power converters
!" - Luke Skywalker, A New Hope
"
Who is she? She's beautiful
!" - Luke Skywalker, A New Hope
"
It looks like I'm going nowhere."
- Luke Skywalker, A New Hope
"
I'm Luke Skywalker. I'm here to rescue you
." - Luke Skywalker, A New Hope
"
I care."
- Luke Skywalker, A New Hope
"
I have a very bad feeling about this
." - Luke Skywalker, A New Hope
"
You'll find I'm full of surprises
." - Luke Skywalker, The Empire Strikes Back
"
I warn you not to underestimate my powers
." - Luke Skywalker, Return of the Jedi
"
Your overconfidence is your weakness
." - Luke Skywalker, Return of the Jedi
"
You've failed, your highness. I am a Jedi, like my father before me."
- Luke Skywalker, Return of the Jedi
#6 - Princess Leia
A hottie princess with a little sass! What's not to love? Princess Leia took no junk from those Imperial slugs. She also played it pretty cool with her man, Han, always keeping him on his toes...
"Help me, Obi-Wan Kenobi; you're my only hope."
- Princess Leia, A New Hope
"I recognized your foul stench when I was brought on board."
- Princess Leia, A New Hope
"Aren't you a little short for a stormtrooper
?" - Princess Leia, A New Hope
"Into the garbage chute, flyboy."
- Princess Leia, A New Hope
"
Will somebody get this big walking carpet out of my way!?"
- Princess Leia, A New Hope
"
You came in that thing? You're braver than I thought
." - Princess Leia, A New Hope
"I'd just as soon kiss a Wookiee."
- Princess Leia, The Empire Strikes Back
"Why, you stuck up, half-witted, scruffy-looking nerf-herder
." - Princess Leia, The Empire Strikes Back
"Would it help if I got out and pushed?"
- Princess Leia, The Empire Strikes Back
"You do have your moments. Not many of them, but you do have them."
- Princess Leia, The Empire Strikes Back
"
Captain, being held by you isn't quite enough to get me excited."
- Princess Leia, The Empire Strikes Back
"
I have a bad feeling about this
." - Princess Leia, The Empire Strikes Back
"
I love you
." - Princess Leia, The Empire Strikes Back
"Someone who loves you
." - Princess Leia, Return of the Jedi
#5 - Lando Calrissian
Oh, schnap! It's the pimp himself, Lando Calrissian. Listen up, people! If you're having a little trouble with the ladies, or maybe your boss is giving you problems at work. Just pop in your copy of Empire Strikes Back and give some of these a try. You'll be a smooth operator in no time...
"
Why, you slimy, double-crossing, no-good swindler
." - Lando Calrissian, The Empire Strikes Back
"
How ya doin' you old pirate
?" - Lando Calrissian, The Empire Strikes Back
"
I'm responsible these days. It's the price you pay for being successful."
- Lando Calrissian, The Empire Strikes Back
"
She's the fastest hunk of junk in the galaxy
!" - Lando Calrissian, The Empire Strikes Back
"
You look absolutely beautiful. You truly belong here with us, among the clouds
." - Lando Calrissian, The Empire Strikes Back
"This deal is getting worse all the time."
- Lando Calrissian, The Empire Strikes Back
"
Someone must have told them all about my little maneuver at the battle of Taanab
." - Lando Calrissian, Return of the Jedi
"
Don't worry, my friend's down there. He'll have that shield down in time... Or this'll be the shortest offensive of all time
" - Lando Calrissian, Return of the Jedi
#4 - Obi-Wan Kenobi
That wizard's just a crazy, old man! Maybe so, but we much prefer the mysterious story-telling, Cantina ass-kicking Obi-Wan to the library visiting, diner-patronizing version that we've seen in the prequels thus far. Recite a few of these classic lines and you'll be amazed as John Williams' score begins playing softly in the background...
"
That's a name I've not heard in a long time... a long time
." - Obi-Wan Kenobi, A New Hope
"
The Jundland Wastes are not to be traveled lightly
." - Obi-Wan Kenobi, A New Hope
"
Mos Eisley Spaceport You will never find a more wretched hive of scum and villainy."
- Obi-Wan Kenobi, A New Hope
"
Watch your step. This place can be a little rough
." - Obi-Wan Kenobi, A New Hope
"
This little one's not worth the effort. Now come, let me get you something."
- Obi-Wan Kenobi, A New Hope
"
That's no moon. It's a space station."
- Obi-Wan Kenobi, A New Hope
"
In my experience there's no such thing as luck."
- Obi-Wan Kenobi, A New Hope
"
These aren't the droids you're looking for
." - Obi-Wan Kenobi, A New Hope
"
There is a great disturbance in the Force
." - Obi-Wan Kenobi, A New Hope
"
Who's the more foolish...the fool or the fool who follows him?"
- Obi-Wan Kenobi, A New Hope
"
Use the Force, Luke."
- Obi-Wan Kenobi, A New Hope
"The Force will be with you, always."
- Obi-Wan Kenobi, A New Hope
"
Luke, don't give in to hate – that leads to the dark side."
- Obi-Wan Kenobi, The Empire Strikes Back
"
He's more machine now than man; twisted and evil."
- Obi-Wan Kenobi, Return of the Jedi
"
You're going to find that many of the truths we cling to depend greatly on our own point of view
." - Obi-Wan Kenobi, Return of the Jedi
EDITOR'S NOTE: OUR CURRENT GOVT. USES THIS ONE A LOT, DOESN'T IT? HMMM....
#3 - Yoda
He was pretty cool when playing the role of crazy little swamp hermit, but Yoda is best known for dropping the Jedi wisdom like no other. Here are a few snippets of green goodness...
"
Away put your weapon. I mean you no harm
." - Yoda, The Empire Strikes Back
"
How you get so big eating food of this kind
?" - Yoda, The Empire Strikes Back
"
Mudhole? Slimy? My home this is!"
- Yoda, The Empire Strikes Back
"
Ohh. Great warrior... Wars not make one great."
- Yoda, The Empire Strikes Back
"
I cannot teach him. The boy has no patience
." - Yoda, The Empire Strikes Back
"
Fear is the path to the dark side. Fear leads to anger. Anger leads to hate. Hate leads to suffering. I sense much fear in you."
- Yoda, The Phantom Menace
"
A Jedi's strength flows from the force
." - Yoda, The Empire Strikes Back
"
You must unlearn what you have learned
." - Yoda, The Empire Strikes Back
"
Size matters not. Look at me. Judge me by my size, do you?"
- Yoda, The Empire Strikes Back"
No. Try not. Do... or do not. There is no try."
- Yoda, The Empire Strikes Back
"Ready are you? What know you of ready
?" - Yoda, The Empire Strikes Back
"No. There is another."
- Yoda, The Empire Strikes Back
"
When nine hundred years old you reach, look as good you will not. Hmm?"
- Yoda, Return of the Jedi
EDITOR'S NOTE: ODDBOB'S FAVORITE? (TO BE FAIR, HE SUBSTITUTES "WHEN

850

YEARS OLD")
#2 - Darth Vader
Recognize! His appearance was scary enough, but when he spoke – even though it just sounded like James Earl Jones with a coffee can on his face – you knew there was gonna be some serious trouble. Vader brings the pain...
"
Don't be too proud of this technological terror you've constructed. The ability to destroy a planet is insignificant next to the power of the Force." -
Darth Vader, A New Hope
"
I find your lack of faith disturbing
." - Darth Vader, A New Hope
"
Your powers are weak, old man
." - Darth Vader, A New Hope
"
He will join us or die, my master
." - Darth Vader, The Empire Strikes Back
"
Apology accepted, Captain Needa
." - Darth Vader, The Empire Strikes Back
"
You have learned much, young one
." - Darth Vader, The Empire Strikes Back
"
You are beaten. It is useless to resist."
- Darth Vader, The Empire Strikes Back
"
Impressive. Most impressive
." - Darth Vader, The Empire Strikes Back
"
No, I am your father
!" - Darth Vader, The Empire Strikes Back
"
You may dispense with the pleasantries, Commander."
- Darth Vader, Return of the Jedi
"
What is thy bidding, my master
?" - Darth Vader, Return of the Jedi
"You are unwise to lower your defenses!"
- Darth Vader, Return of the Jedi
"
You don't know the power of the Dark Side!"
- Darth Vader, Return of the Jedi
#1 - Han Solo
100% guaranteed to be so cool that you just can't stand it... Han Solo is easily the most quotable character in the Star Wars universe. He always kept his cool under pressure and had a certain je ne sais quoi with the ladies. That scoundrel...
"
You've never heard of the Millennium Falcon? It's the ship that made the Kessel run in less than twelve parsecs."
- Han Solo, A New Hope
"I'll bet you have."
- Han Solo, A New Hope
"
Hokey religions and ancient weapons are no match for a good blaster at your side, kid
." - Han Solo, A New Hope
"
Traveling through hyperspace ain't like dusting crops, boy
." - Han Solo, A New Hope
"I take orders from just one person: Me!"
- Han Solo, A New Hope
"Wonderful girl! Either I'm gonna kill her or I'm beginning to like her
." - Han Solo, A New Hope
"What an incredible smell you've discovered!"
- Han Solo, A New Hope
"I've got a very bad feeling about this
." - Han Solo, A New Hope
"You know, sometimes I amaze even myself
." - Han Solo, A New Hope
EDITOR'S NOTE: OF COURSE EVEN BETTER IS LEIA'S RETORT "THAT DOESN'T SOUND TOO HARD".
"No reward is worth this."
- Han Solo, A New Hope
"
Great kid! Don't get cocky."
- Han Solo, A New Hope
"
Who's scruffy-looking?"
- Han Solo, The Empire Strikes Back
"
You look strong enough to pull the ears of a gundark
." - Han Solo, The Empire Strikes Back
"
Never tell me the odds."
- Han Solo, The Empire Strikes Back
"
Sorry sweetheart. I haven't got time for anything else
." - Han Solo, The Empire Strikes Back
"
I have no time to discuss this with the Committee
!" - Han Solo, The Empire Strikes Back
"
Laugh it up, fuzzball."
- Han Solo, The Empire Strikes Back
"
Hurry up, goldenrod, or you're gonna be a permanent resident!"
- Han Solo, The Empire Strikes Back
"You like me because I'm a scoundrel. There aren't enough scoundrels in your life
." - Han Solo, The Empire Strikes Back
"
I'm nice men
." - Han Solo, The Empire Strikes Back
EDITOR'S NOTE: DOESN'T HE SAY "I'M A NICE MAN"?
"
I know."
- Han Solo, The Empire Strikes Back
Space invaders
As the world braces itself for a new bout of Star Wars fever with Revenge of the Sith, Tim de Lisle offers 40 reasons why the franchise hails from the dark side
EDITOR'S NOTE: GRRR. (
I HATE EQUAL OPPORTUNITY DWEEBING
). I AGREE WITH ALMOST NONE OF THIS SNIPEY, PETTY SHINEOLA. BUT LET IT NEVER BE SAID WE CAN'T TAKE THE HEAT.
) The sheer length
A long time ago, in a Hollywood far, far away, sequels were not taken seriously. After striking gold with
Jaws
, George Lucas's friend Steven Spielberg didn't bother making Jaws 2 - he moved on to
Close Encounters
.
Star Wars is the only major motion picture ever to have generated two sequels and three prequels (
Star Trek IV
doesn't count). Lucas, who swore for years that he would not add to the original trilogy, can't even stop now: last month he announced plans to extend Clone Wars, the television cartoon version of the saga. In space, no one can hear you screaming for less.
2) The sheer size
Star Wars movies can be a critical flop, as the last two instalments have shown.
What they cannot be is a non-event.
Revenge of the Sith
may be rubbish, but it will still be big. Its success is a self-fulfilling prophecy - it has already been massively marketed, merchandised, cross-promoted and pre-publicised.
The first film was a surprise hit; the rest have been sledgehammers.
Over the past generation, the media's coverage of pop culture has swung from detachment to hype, from appraisal to cheerleading. The media have fragmented into a thousand little bits, and most of those bits want a piece of something as big as Star Wars. There are still many excellent critics, but their voices don't ring out in the same way. They can make a small film, like
Sideways
, but they can't break a blockbuster. There has been a kind of climate change, and the role of Esso, not the only culprit but a major one, has gone to Star Wars.
3) The woodenness
In the first film, Lucas imagined, and shakily realised, a galaxy made of rock, sand, plastic and metal. Nothing was wooden - except the dialogue. The characters in the first film don't so much hold conversations as stand there like cavemen, lobbing chunks of monologue at each other. As Harrison Ford said to Lucas in a moment of majestic exasperation: "
You can type this shit, George, but you sure can't say it."
EDITOR'S NOTE: BUT HE'S HAD ANGER-MANAGEMENT CLASSES SINCE THEN.
The first plausible exchange in the sequence comes some way into
The Empire Strikes Back
, when the superfluous verbiage melts in the face of the steam rising between Ford and Carrie Fisher, or perhaps Lucas's sheer ignorance of human relationships.
At moments like this, Ford turned into an unofficial script doctor, notably when Leia tells him she loves him (as you do, seeing someone you've got the hots for about to be frozen in carbonite). In the script, Han replied "I love you too," which was both predictable and implausible - he's supposed to be a bastard, albeit one slowly disclosing a heart of gold. Ford changed it to "I know," which is smug and shallow, but at least in character and free from monosodium glutamate.
EDITOR'S NOTE: I THINK PEOPLE HAVE MISCONSTRUED THIS LINE FOR YEARS. A) SOLO ISN'T A CAD; HE HAS HIS OWN SELF-PROTECTIVE LAYER A MILE DEEP. B) HE ISN'T BEING SMUG AND SHALLOW. HE'S TELLING HER THAT HE KNEW THIS ALL ALONG AND THAT

HER

SELF-PROTECTION IS OK. THAT IF HE DIES, THEY DON'T REALLY HAVE THINGS LEFT UN-SAID, BECAUSE

HE ALREADY KNOWS

.
The irony is that a really gifted writer was right there on set. Carrie Fisher went on to write several memoirs that showed a sharp wit, an ear for language and an eye for the absurd. Only one of these qualities can have been learnt from her time on Star Wars.
4) The ramifications
As the director Paul Schrader said to the film historian Peter Biskind: "
Star Wars was the film that ate the heart and soul of Hollywood. It created the big-budget comic-book mentality."
EDITOR'S NOTE: OH, BITE ME.
5) The view from there
In his memoirs, Alec Guinness describes going to church one Sunday after becoming a god-like figure to a generation of children as Obi-Wan Kenobi. He is tapped on the shoulder by a woman who has her son with her, asking for an autograph. With the dignity of a double knight, he makes them wait until after the service. The mother proudly tells him that her son has seen Star Wars many times. Guinness gives the autograph on one condition: "
That you never watch that awful film again."
EDITOR'S NOTE: UNGRATEFUL OLD COOT.
6) The chromosomes
The heroes are male, apart from Leia and Padme, who are royal and arguably token. The villains are male. The droids are transparently male. The teachers are male. The fans are nearly all male. The crew is nearly all male. The whole milieu - speed, war, guns, DIY - is male. Attack of the clones? It's just a bad case of the blokes.
7) The meals
The meals are one of the blokiest things about the original trilogy. From the moment Luke's home is blown up, there aren't any. In space, no one can hear your tummy rumble.
EDITOR'S NOTE: YOU KNOW, IN MOST MOVIES, THEY DONT' SHOW THE CHARACTERS GOING TO THE BATHROOM, EITHER. WONDER WHY THEY DON'T EXPLODE?
8) The hollow centre
Star Wars was "
a conscious attempt at creating new myths
," Lucas said. So how do his stories and characters stand up against, say, those of Homer?
It would be harsh, and hard, to pit five movies against 24 books of epic poetry, but there's a realistic yardstick available in the shape of last year's attempt to do
Troy
the blockbuster.
Troy
was widely regarded as a thin and patchy version of
The Iliad
, but it is more involving than any of the Star Wars films.
EDITOR'S NOTE: OH MERCIFUL HEAVENS, YOU HAVE TO BE KIDDING?! (IF HE PRAISES "THE HULK", I'M OUTTA HERE!)
When Achilles kills Hector, you can feel it hitting the audience hard. The first wince on that scale in Star Wars comes (look away now if you haven't seen
The Empire Strikes Back
) when Darth Vader slices off Luke Skywalker's hand. And the hand is duly mended. If Achilles had been dreamt up by George Lucas, he could have taken his injured heel to C-3PO, who would have fixed it in no time. Star Wars has assumed a myth-like place in contemporary American culture, but it lacks the edge, the depth and the resonance of the real thing. Its most mythical moment is when Darth Vader says to Luke Skywalker, "
I am your father
" - which is borrowed from Sophocles. Bland and calculating, Star Wars is a McMyth.
9) The arsenal
Lucas did well with the lightsabers, which are electronic epees, both retro and futuristic. But the guns are feeble. A popgun with a red light coming out of it is still a popgun.
EDITOR'S NOTE: LET'S SHOOT HIM WITH ONE AND SEE HOW HE FEELS ABOUT IT THEN.
10) The thing Yoda does
The font of all wisdom, the teachers' teacher, is Yoda, a big eared, green skinned, 900-year-old elf. A problem with the English language has he. Plonking platitudes he generally utters. Spot this in case we, an amusing quirk he has been given. Sentences he chops in half! Then back together puts! The way round wrong! "The Force I sense in you," says he. "Teach you more, I can." Later, himself he excels: "Hard to see the Dark Side is." It was impossible to imagine a more irritating character - but Lucas managed it (see 27).
11) The imperialism
Chichester, last Sunday: a very English town centre. At Tesco, Sainsbury's, Waitrose and Iceland, Darth Vader is on the Corn Flakes ("FREE INSIDE: lightsaber maze") and the Frosties bars ("FREE INSIDE: sticker dispenser"). At WH Smith, there are books, sticker albums, and three film magazines: Empire has Vader on "the world's first breathing cover", Total Film has a special supplement, and Premiere promises a "Star Wars blowout!". At Clintons' cards, there are four giant posters for £3.99 each, one "exclusive to Clintons".
At Woolworths, there's one Star Wars section by the door, and another in the toy department, with lightsabers from Basic (£7.99) to Electronic (£19.99), stacks of Star Wars Lego, Darth Vader pyjamas (£9.99, possibly not the most restful bedwear for a small boy) and Revenge of the Sith Y-fronts (five for £5.99) and boxers (two for £4.99). Hearteningly, nobody is buying any of them, although the Lego looks perfectly wholesome.
EDITOR'S NOTE: NO ONE IS BUYING? RIGHT. THAT'S WHY THEY MAKE ALL THIS STUFF, AND BIGNAME PRODUCT SUPPLIERS ARE BEGGING TO PARTICPATE?
Lucas was canny about merchandising from the start. He retained the rights where normally they would have gone to the studio, 20th Century Fox. So far, the merchandising has turned over an estimated $9bn, although Lucas protests that only "2-3% goes back to the film-makers". It's about infiltration as much as cash. All along, Lucas has wanted more than just to be at your local cinema and in the window of the video store. He wants to be part of the fabric of your day, from breakfast to bed. And we have allowed him to be.
EDITOR'S NOTE: UNLIKE ALL THE OTHER ARMS AND LEGS OF THE ENTERTAINMENT INDUSTRY WHICH HAVE NO MONEY-MAKING AIMS AT ALL? AT LEAST UNCLE G PLOWS MOST OF THE MONEY BACK INTO FILM-MAKING AND TECHNOLOGY RESEARCH.
12) The marketing drivel
The biggest plug of all in the high street is at Orange, the phone company. Darth Vader looms out of the window. Inside is loads of guff. "Enjoy exclusive access to Star Wars Episode III with Orange ... personalise your Orange phone with our hyper-galactic range of exclusive Star Wars mobile content and features." This isn't personalising your phone: it's commercialising your life.
13) The acceptable face
One piece of this year's merchandising has the wit and charm that the rest lacks. It's Darth Tater - Mr Potato Head meets Darth Vader. At Woolies, it's sold out. If only Lucas could have found him a role in the films.
14) The control-freakery
George Lucas didn't get where he is today without certain controlling tendencies. The latest example comes in the novelisation of the new film. The first surprise is that it's in hardback. The second is that the author, a sci-fi novelist named Matthew Stover, dedicates the book not to his wife, his parents or his kids, but to George Lucas. Turn back a page or two and you find the copyright line: © Lucasfilm. The dedicatee is the owner. Somehow it spoils the effect.
15) The target market
When Lucas started work on the script, in 1972, he was aiming at 10- to 12-year-olds, but by the time he finished, two-and-a-half years later, he referred to it being for eight-to-nines. So the process of writing had infantilised it, something it in turn would inflict on entire generations. The adult viewer, coming to it late, wants to go up to Lucas and yell at him like Woody yelling at Buzz in Toy Story: "You. Are. A. Children's Entertainer!"
EDITOR'S NOTE: ISN'T IT POSSIBLE...AND WORK WITH ME HERE....THAT IT IS THE AUDIENCE THAT HAS CHANGED? KIDS ARE MORE SOPHISTICATED. AND YOUNGER THAN BEFORE. I REALLY DON'T THINK YOU CAN LAY THIS AT MR. L'S FEET.
16) The collateral damage
In 1999, as
The Phantom Menace
loomed, a deal was done with the British publisher Dorling Kindersley to produce spin-off books with subtitles like A Visual Dictionary. Dorling Kindersley ordered 13m books. They sold 3m. Their profits turned to £25m losses, the chief executive resigned, the share price collapsed, the board admitted to a "seriously misjudged over-investment", and the company was taken over by Penguin. The billion-dollar turkey had managed to bring down the Platonic ideal of the children's publisher.
17) The snobbery
At first the Force is open to all: Luke is told he just has it. Then it turns out to be hereditary. Darth Vader is increasingly addressed as "Lord Vader". In the prequels, the air is as thick with honorifics as it is with CGI creatures. Lucas delved deep into his imagination and came out with ... Debrett's in space.
18) The prudishness
As Carrie Fisher trotted along the corridors of spaceships in her Snow White outfit, her breasts bounced. It was too much for the crew, who insisted that she restrain them with gaffer tape. This was 1977, the year of Studio 54 and
Saturday Night Fever
. Hollywood had spent the past decade breaking free from the straitjacket of American puritanism. Lucas, pottering away in his shed with his tool kit, was putting it back together.
19) The leaden Tin Man
Lucas could have done anything he liked when he dreamt up the android C-3PO. In a classic example of how people faced with unlimited choice tend to make bad ones, he opted for a garrulous, stagey, servile prig, who may be encased in shiny metal but still manages to come over as the person he is underneath - an English actor.
20) The pitch for the Sith
At the ShoWest convention in Las Vegas in March, Lucas accepted the galactic achievement award and gave cinema owners a glimpse of the new film. "
It's not like the first one
," he told them. "
It's more emotional. I describe it as a Titanic in space. It's a real tearjerker, and it will be received in a way that none of us can expect."
So the old Lucas logic is still in good order: we can expect something none of us can expect. And he just happens to liken his new baby to the most lucrative movie ever made.
21) The Oscars
The original Star Wars won six - technical, but still, six - Oscars. This year
The Incredibles
, another children's blockbuster but sharper, wittier, more human and more original, won only two.
EDITOR'S NOTE: AND THIS IS UNCLE GEORGE'S FAULT HOW???
22) The lost plot
In 1999, after a 16 year break, Star Wars returned with
The Phantom Menace
. And the first thing viewers saw was this, at the top of the scroll: "Turmoil has engulfed the Galactic Republic. The taxation of trade routes to outlying star systems is in dispute." An argument about tax: it was just the kind of thing people go to the cinema to escape. As inciting incidents go, this has to be the dullest ever.
EDITOR'S NOTE: IF YOU WERE PAYING ATTENTION AT ALL....AND YOU ARE CLEARLY TOO BUSY BEING SUPERIOR TO THE FILMS TO BOTHER....YOU WOULD KNOW THAT A) THAT ISN'T REALLY WHAT THE WAR IS ABOUT, AND B)THAT POLITICAL STUFF IS CREEPY AND FASCINATING AND EVERY BIT AS IMPORTANT AND EXCITING AS SPACE SHIPS.
23) The crawling
Among the thousands of Star Wars websites twinkling away in cyberspace is a new one: thankyougeorge.com, launched to let the fans "thank the maker" for his efforts. Anyone can send a message "free of charge", although the Thank You George! T-shirts are $12. First in line was old Luke Skywalker himself, Mark Hamill, now 54: "I would like to thank George Lucas," he wrote, "for rekindling the childhood imaginations of those of all ages, and for showing us that artistry and integrity are not mutually exclusive." Hmmm. The obvious riposte would be a rival site called darnyougeorge.com. The name is still available.
24) The lack of humanity
Lucas says
Revenge of the Sith
will be "more emotional" than its predecessors. That won't be hard. Even Tom Shone, who mounts a case for the defence in his book, Blockbuster, conceded: "
People were always a weak point
." Anthony Lane nailed it in a memorable New Yorker review: "
A long time ago, in a galaxy far, far away, people made movies with people in them, and some of those movies made sense. Then something happened, and the people started to vanish from the movies, along with most of the sense. For a while, the spectacle was fun to observe, but slowly the pictures tipped into insanity, or at any rate into the hypnotically bad. The joke was that the number of viewers willing to submit to such hypnosis went not down but through the roof. Historians . . . are now agreed that the change became irrevocable shortly before the end of the second millennium, with a George Lucas film entitled Star Wars: Episode 1 - The Phantom Menace."
25) The elegant variation
Elegant variation, a phrase loaded with irony, is that thing sports reporters do when they've just mentioned someone by name and don't want to do it again, so Wayne Rooney turns into "the Manchester United striker", "the temperamental wonder-boy", etc. At StarWars.com, they find themselves mentioning George Lucas rather a lot, so at second mention he is liable to become "the man whose ideas would change film-making forever".
26) The cyber-reach
Lucas has never made the mistake of saying that he is bigger than Jesus, but the internet has come along to say it for him. If you Google "The Bible", you get 11.5m links. "Jesus Christ" gets 8.1m. Star Wars beats them both put together, with 25.2m. It isn't as big as God (72.2m), but then He's been around for a lot longer.
27) The black sheep
With Leia and Luke, R2 and "Threepio", Lucas showed that he could devise characters millions of people would like. Twenty years later, with Jar Jar Binks, he came up with one that those same millions couldn't stand. Cloying, shrieky, barely audible, a gangling exhibitionist goat with an attention-deficit disorder, Jar Jar is a bigger bore than the tax dispute. "
But children like him,"
Lucas protested. Maybe some did, but the trick is to come up with characters for children that don't make adults feel sick, and even give them laughs on a level that goes over the kids' heads. Jar Jar's humour is beneath the kids.
28) The inflated reputation
Phantom Menace
isn't just bad, it's epically, laughably, staggeringly bad. But it received quite a few good reviews ("Captivating" - New York Post, "An astonishing achievement in imaginative film-making" - Roger Ebert, Chicago Sun-Times).
Star Wars itself is similarly over-rated. In 1999, 162,000 British film fans voted in a poll to name the best picture of all time. The winner, with more than a third of the vote, was Star Wars. Second was
Titanic.
You can argue that Star Wars is very good at what it does (just), but you can't, with a straight face, make out that it is better than all the serious films ever made. As Lord Attenborough said when asked for comment: "
The emphasis on that somewhat bedraggled word entertainment is enormous."
29) The fans
Revenge of the Sith
opens on May 19. The queue outside Grauman's Chinese Theatre in Hollywood began on April 2. By April 7, the queuers had been told the film won't be shown there. They refused to believe this and carried on queuing.
30) The arrogance
Some of the acting is so stagey, today's audience takes it as camp. In 1999, an interviewer made this point to Lucas. He didn't like it all. "
It's not deliberately camp. The film is based on a Saturday-matinee serial from the 1930s, so the acting style is very 1930s, very theatrical, very old-fashioned. People take it different ways, depending on their sophistication ... Cinema has only been around for 100 years or so - not long enough for people to really understand it."
Up to a point, Lord Vader.
31) The ramifications II: Noise

Much of Star Wars' impact lay in its soundtrack. Lucas insisted that it should use Dolby Stereo throughout, which set a trend. Cinema sound became sharper, brighter, and much, much louder.
EDITOR'S NOTE: AND THIS IS BAD WHY?
32) The politics
It all starts as The Rebellion v the Evil Empire, the little guy taking on the big machine - although, if you listen closely, it's stated that the Jedi had ruled for generations, so it's a restoration they're after, not a revolution. Still, clear enough. And in the age of the cold war, Americans could comfortably be anti-imperial. Ronald Reagan took the cue, built a defence system called Star Wars, and labelled the Soviet Union "the Evil Empire". But then that empire fell, and the only one left was ... So the Jedi changed sides. Darth Vader became not so bad. And the politics of the galaxy turned into a UN-style soup.
EDITOR'S NOTE: THE GRAY AREAS A LITTLE BIT BEYOND THIS GUY?
33) The character development
When Han Solo swaggers into the story, he is a mercenary. Within two hours, he has become a star pupil, meekly accepting a medal from Princess Leia at an intergalactic version of a prep-school prizegiving. The mercenary has turned into a boy scout.
EDITOR'S NOTE: OH DON'T EVEN GET ME STARTED ON THIS ONE. SHEESH...
34) The ramifications III: Blockbusting
Star Wars wasn't the first blockbuster - that was
Jaws
. But it was the definitive one. Tom Shone quotes one studio head on the success of the much-derided
Pearl Harbor
: "
We seem to be able to sell almost anything, regardless of quality
."
Phantom Menace
proved the point, becoming the first billion-dollar turkey. A third of its audience hit back by avoiding
Attack of the Clones
- but two-thirds didn't.
35) The kid
For 20 years, the one thing you could say for Lucas's oeuvre over his friend Spielberg's was that he didn't have any of those obnoxious kids. He blew this in
The Phantom Menace
. Anakin Skywalker is the worst kind of precocious brat.
36) The ramifications IV: The rebirth of corn
"
When all was said and done
," Peter Biskind wrote in Easy Riders, Raging Bulls (1998), "
Lucas and Spielberg returned the 1970s audience, grown sophisticated on a diet of European and New Hollywood films, to the simplicities of the pre-1960s Golden Age of movies ... They marched backward through the looking-glass."
And life followed art. First Reagan, then George W Bush returned American politics to a set of simplicities, corny, infantile, reassuring and often fictitious.
EDITOR'S NOTE: OH GREAT. SHRUB IS GEORGE LUCAS' FAULT? AMERICA HAS BEEN ANTI-INTELLECTUAL FOR A LONG TIME. AND THE DUMBING DOWN OF THIS COUNTRY IS NOWHERE NO HOW THE FAULT OF STAR WARS. IF ANYTHING, THE PLOT OF SW (ESP. THE PREQUELS) ARGUES

AGAINST

A LOT OF WHAT'S GOING ON RIGHT NOW IN OUR GOVT.
37) The dying Scotsman

Ewan McGregor can do many things, but playing the young Alec Guinness isn't one of them. Half the point of McGregor is that he isn't plummy and stilted like some British actors. So Lucas gets him to be ... plummy and stilted. His Guinness impression ends up closer to Ralph Fiennes - without the brilliance.
38) The talent problem

Lucas had ambition, drive, stamina (two and a half years writing the script) and vision (he founded Pixar before selling it). But he wasn't good at writing, or even directing. On the set of Star Wars itself, he was reported to have two instructions for the cast and crew: "OK, same thing, only better," or "Faster, more intense". He didn't direct again for 22 years. When he handed over to Irwin Kershner for
The Empire Strikes Back
, several things improved straightaway: the camera moved, there was texture and atmosphere. Lucas's career is like a controlled experiment from the makers of Trading Places: what would happen if you gave a film-maker everything except a talent for making films? The answer is: great success, but no great films.
39) The repetition
When George Lucas Sr asked his son to join him in the art-supply business, George Jr said, "Dad, today you're going to do exactly what you did yesterday, and tomorrow the same. This is your life and you love it. But I only want to do something once." Discuss.
40) The titles
Star Wars is a good name for a movie - simple, concise, lapidary. But Lucas has never matched it.
The Empire Strikes Back
is rhythmic and conversational but obvious.
Return of the Jedi
is flat: it was going to be Revenge of the Jedi, until someone pointed out that the Jedi are too good to pursue anything so base as vengeance.
The Phantom Menace
is a dusty old cliche.
Attack of the Clones
is fresher but still nothing special.
Revenge of the Sith
inadvertently captures the exhaustion of the long-distance film-maker. It's as if Lucas raided the posters on his own office wall, reusing the content of the third film and the rhythm of the fifth. Still, the word Sith has possibilities. You wonder if it will turn out, in a sudden twist, to be the story of Anagram Skywalker. And Harrison Ford, if he turns up at the premiere, must surely go up to Lucas, give him a bear-hug and murmur in his ear: "You can type this Sith, George, but you sure can't say it."
EDITOR'S NOTE: SO MANY OTHER THINGS I COULD DEBATE IN THIS. BUT WHY BOTHER. WE GOT OUR BLOOD PUMPING, WE FEEL SUPERIOR TO SOMEONE TOO LAME TO WANT TO HAVE ANY FURTHER CONVERSATION WITH, AND NOW WE CAN MOVE ON.
· Revenge of the Sith opens on May 19.
Top 10 Things Giant Loves About Star Wars
EDITOR'S NOTE: NOW THESE FOLKS ARE MORE THE TICKET, EH?!
The sixth and final chapter of the
Star Wars saga, Episode III: Revenge of the Sith
, hits theaters May 19. Fans everywhere are ready.
And, as usual, so is GIANT magazine. In its June/July issue, on newsstands May 17, GIANT fondly recalls not 50, not 100, but 233 things we love about Star Wars.
EDITOR'S NOTE: WAY WAY MROE THAN THE 40 PETTY, SILLY THINGS FROM THAT PREVIOUS GUY! (AND MORE MEANS BETTER, RIGHT?)
It is perhaps the most comprehensive salute to Star Wars ever attempted - and the editors of GIANT handle it with ease.
Obviously, the Force is with them.
Culled from its sprawling, nine-page feature, here are GIANT magazine's Top 10 Things We Love About Star Wars (So Far)…
1.
The Force
. You've gotta love anything that "binds the galaxy together" and lets you control weak-minded people.
2.
The Lightsaber
: best weapon ever. "Not as clumsy or random as a blaster," Obi Wan tells Luke. "An elegant weapon." Makes a cool sound, too.
3.
The line "Stay on target…Stay on target…"
Always good advice.
4.
Yoda.
Judge him by his size, do you? We sure don't.
EDITOR'S NOTE: YEAH. HE SURE WHINES AND NAGS LIKE A

MUCH

BIGGER GUY. (SNICKER)
5.
The Millennium Falcon
. Han and Chewie's ship is more powerful than it looks - much like Yoda. (Plus, it has a 3D chess table!)
EDITOR'S NOTE: THE BEST TRANSPORTATION IN MOVIE HISTORY!
6.
The freaky alien band at the Mos Eisley Cantina
. Our favorite is the big blue guy.
EDITOR'S NOTE: HIS BACK-STORY IS REALLY FUNNY, TOO. IN THE SHORT STORY COLLECTION "TALES FROM THE MOS EISLEY CANTINA", HE IS SO OBSESSED WITH EATING, HE SIGNS OVER THE BAND'S SERVICES IN EXCHANGE FOR FOOD. (MY KINDA GUY!)
7. (tie)
Darth Vader/Darth Maul
. Vader is one bad mother; Maul makes him look like Mr. Rogers.
8.
Luke's "Leia is my sister!" moment
. Followed closely by the "
OMG, we totally kissed!" moment.
9.
The fact that this all took place "a long time ago," rather than in the future
. It's a pretty cool little twist when you think about it.
EDITOR'S NOTE: THERE YA GO, ANDREW. VALIDATION (BELATED) FOR THAT TIME YOU GOT BEAT UP AT SCHOOL FOR ARGUING THIS POINT. (lIKE YOU WERE EVER GOING TO BE ANYTHING

BUT

A DWEEB?)
10.
Jabba the Hutt.
A huge, hedonistic party animal who puts Leia in a brass bikini. Our kind of scum.
EDITOR'S NOTE: A LITTLE BIT MORE EQUAL-OP TOLERANCE. WE'RE STRONG WITH THE FORCE; WE CAN TAKE IT. (AND WE CAN ALWAYS FORCE-CHOKE THEM LATER, IF WE RUN OUT OF PATIENCE).
Star Flops
David M. Ewalt
Everyone makes mistakes. Luke Skywalker rushed out of Jedi training. Han Solo should have paid his debts on time.
And yes, Star Wars fanatics, even George Lucas has occasionally blundered. As Darth Vader said: "Search your feelings...you know it to be true." Being director, creator and all-around deity of the Star Wars universe isn't an easy job; Lucas has to oversee a wealth of movies, toys, television shows, books, magazines, games and more. It's only natural that some of those ideas turn out to be as rotten as Jabba the Hutt.
Besides, the Force is strong in this one. When George Lucas screws up, it's a powerful mistake. No half measures for this auteur--he's not just going to make an ill-conceived television special. He'll make the worst show ever. And it doesn't help that there are millions of crazed fans ready to pounce on the slightest slipup.
Whether it's televised train wrecks, musical scares, computer-generated disasters or videogame snooze fests, the Star Wars franchise has seen its share of bad ideas. The good news is that, as painful as they must have been to make, they're equally fun to remember and laugh at. So into the garbage chute, flyboy. Read all about the greatest Star Wars misses. But be cautious. You will never find a more wretched hive of scum and villainy
The Star Wars Holiday Special Special
This 1978 CBS program may well be the worst piece of Bantha poodoo to ever soil U.S. airwaves. Riding high off the 1977 release of the first Star Wars movie, Lucas set out to make a few extra bucks with two painfully awful hours of cornball humor, slipshod animation and embarrassing performances. The story follows Chewbacca's attempts to reunite with his family for "Life Day," complete with endless scenes of his family--wife Malla, son Lumpy, and father Itchy--groaning at each other in Wookie, sans subtitles. It boasts the full movie cast, with the notable exception of Alec Guinness, who presumably had the good sense to read the script first.
Other "talent" on parade includes guest stars Bea Arthur, Art Carney and Harvey Korman, who appear as a cantina bartender, Kazzook trading agent and sniveling space drunk, respectively. It only gets weirder when Jefferson Starship performs as a holographic rock band. Lucas was said to be so ashamed of this program that he has systematically hunted down and destroyed every copy he can get his hands on. Despite his efforts, enterprising fans can locate low-quality bootlegs at science fiction conventions and on the Internet.
EDITOR'S NOTE: OK, THEY GOT US THERE. THIS IS UNBELIEVEABLY BAD. I DON'T DO DRUGS, BUT I CONSIDERED IT AS AN OPTION AFTER WATCHING THIS.
A COUPLE OF THINGS IN ITS 'DEFENSE'.
A) UNCLE G HAD ALMOST ZERO INPUT INTO THE MAKING OF THIS. BLAME SHOULD REALLY FALL ON CBS JUST ABOUT 100% (
I THINK THAT WAS THE NETWORK, WASN'T IT?)
)
B) AND WE PROBABLY CAN THANK THIS SHOW FOR THE MARVELOUS CONTINUITY OF THE EU, BECAUSE AFTER UNCLE G SAW HOW DREADFUL THIS WAS, HE NEVER RELINQUISED CREATIVE CONTROL OF ANY SW PROJECT AGAIN.
C)ALSO, THE ONE REALLY COOL THING IT HAD GOING FOR IT WAS THAT IT HAD A NIFTY CARTOON IN THE MIDDLE THAT INCLUDED THE VERY FIRST APEARANCE BY NONE OTHER THAN BOBA FETT HISSSELF.
AND D) I MIGHT NOT BE A DRUGGY, BUT THIS IS A VERY FUNNY WAY TO POLISH OFF SOME CHEAP WINE.
Jedi Arena
Remember Pong? What if those little computerized paddles were Jedi warriors? That's essentially what you get with this 1983 videogame. Released by Parker Brothers for the Atari 2600, Jedi Arena recreates the Star Wars scene where Obi Wan Kenobi teaches Luke to use a light saber, only instead of Alec Guinness and Mark Hamill in Technicolor, you get two rectangles swinging sticks at an orange blob. The sound, graphics and game play were primitive even by 1983 standards, and fans were left as cold as winter on Hoth. Besides, what's the fun of using a light saber to bounce stuff at each other? Gamers want to fight with those things. After Jedi Arena thudded into stores, Lucas didn't release another home console videogame for eight years.
Christmas In The Stars
The holiday season seems to be George Lucas' Achilles heel. Originally released on vinyl in 1980, this album features the song stylings of C-3PO, Luke Skywalker's gold-plated droid, who makes it clear why robots must never be programmed with the ability to sing. Each track--from the cornball "What Can You Get a Wookie for Christmas (When He Already Owns a Comb?)" to the earsplitting "R2-D2 We Wish You a Merry Christmas"--is bad enough to make you wish Santa would fall straight into the Great Pit of Carkoon. Even backing vocals from a before-he-was-famous Jon Bon Jovi can't rescue lyrics like "The odds against Christmas being Christmas are 365 to 1/Christmas, you see, could have easily never begun" and "Everyone will have a cookie/I brought extra for the Wookie."
EDITOR'S NOTE: YEAH. ANOTHER TIME WHERE WE GOTTA SAY, WHEN THEY'RE RIGHT, THEY'RE RIGHT. BUT IT MAKES (LIKE THE BOOTLEG I HAVE OF THE HOLIDAY SPECIAL VIDEO....THANKS DWEEBPAL ADRIAN) FOR A GOOFY COLLECTIBLE.
Greedo Shoots First
For hard-core fans, this misstep has come to represent all that is wrong with the current Star Wars empire.
EDITOR'S NOTE: AWW COME ON FOLKS, LET IT GO. IT'S UNCLE G'S SANDBOX. HE CAN PLAY IN IT HOWEVER HE LIKES, RIGHT?
When Lucas rereleased the Star Wars movies to theaters as "Special Editions" in 1997, he recut much of each film, including the infamous alien cantina scene where viewers first meet Han Solo. Harrison Ford's legendary character was a dangerous rogue, and as we first see him, he shoots a bounty hunter named Greedo in cold blood. For the Special Edition, Lucas recut the scene so that Greedo shoots first and misses. Solo's murder becomes self-defense, and the story line of a scoundrel smuggler who finds redemption was turned tame and boring. Subsequent rereleases tampered with the scene even further, to the point where Web sites like www.hanshootsfirst.org are demanding release of the original theatrical version. In fan parlance, the hated edit has come to represent anything poorly conceived or uncool: "Man, that's the worst idea since Greedo shoots first!"
The Ewoks
Are they cute, cuddly teddy bears or maddening midgets in hair shirts?
EDITOR'S NOTE: OH JEEZ. I LIKE EWOKS. (
AND NOT JUST WITH MINT JELLY
). RIMSHOT. NO REALLY. I DON'T KNOW WHY FOLKS ARE SO HET-UP ABOUT EWOKS. THERE ARE FEW THINGS SILLIER THAN A BUNCH OF DWEEBS DISDAINING SOMETHING BECAUSE IT'S NOT 'COOL' ENOUGH. (SPLITTING HAIRS, HMMM??)
Return of the Jedi
, released in 1983, found Luke Skywalker and friends trying to destroy an Imperial shield generator on the forest moon of Endor. Much to their surprise, they found the planet was inhabited by Ewoks, ursine natives who lived in tree houses, hunted with spears and sang cutesy songs by the firelight.
On one hand, the casting of Ewoks provided the biggest single employment opportunity for little people since
The Wizard of Oz
. On the other, many viewers thought their saccharine appeal nearly ruined the flick. To be fair, plenty of fans enjoyed the critters, and Ewok merchandise sold briskly.
EDITOR'S NOTE: THANKS TO DWEEBPAL SAMANTHA, DISNEY, AND NOW BURKER KING, I HAVE EWOKS IN 3 DIFFERENT SIZES! (ONCE AGAIN PROVING THAT LIFE IS GOOD).
But later spinoffs crossed to the dark side of the Force. Two critically reviled live-action TV movies and a Saturday morning cartoon show milked the Ewoks until fans prayed Endor would get ravaged by forest fires. Even today, commercials for a video game called Star Wars Battlefront prominently advertise that you can hunt down and blow away the little furry jerks.
EDITOR'S NOTE: UNCLE GEORGE HAS A SENSE OF HUMOR, AND HE IS GOOD TO YOU. EVEN WHEN YOU SNIVVLE AND WHINE.
The Babes of Star Wars
Lovely ladies from a galaxy far, far away.
EDITOR'S NOTE: NOT ENTIRELY PC....THE WHOLE 'BABE' THING. BUT WHAT THE HECK? (AT LEAST WE ACKNOWLEDGE THE FEMALE PARTICIPATION IN THE SAGA. AND MOST OF THESE 'BABES' ARE NOT JUST NEAT LOOKIN...THEY ARE ALSO STRONG, KICK-BUTT CHICKS!)
In anticipation of the May 19th release of Star Wars: Episode III - Revenge of the Sith, we're running a series of features with our faves from the Star Wars universe.
Today, we're breaking down the ten loveliest ladies from a galaxy far, far away. We've scoured
the universe to compile this list, but feel free to drop us a line if we've left out any of your favorites.
There's just something special about a hot chick with blue skin or a couple of tails coming
out of her head... I guess.
And now that we're all thoroughly disturbed by that image... here's our top ten Star Wars babes:
#10 - Zam Wesell (Leanna Walsman)
As you'll see in this feature, Lucas has a habit of casting megababes in bit parts. Unfortunately, their good looks are sometimes obscured by odd makeup, costumes or prosthetics. In the case of Zam Wesell, despite the fact that she's wearing that horribly unflattering metal hat, you
can still tell Leeanna Walsman is a babe. Leeanna got her start on the Australian stage – that's where she was noticed by the Star Wars casting director – and has gone on to star in a number of television series.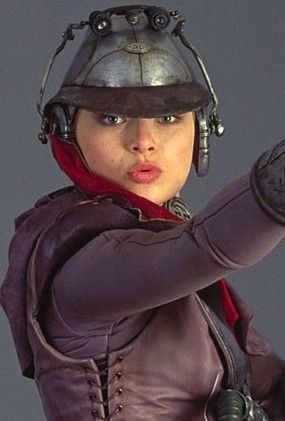 #9 - Ann & Tann Gella (Nifa & Nishan Hindes)
Who?! You know... the two Twi'lek twin masseuses that were with Sebulba (that pimp!) in Episode I. They weren't in the movie for very long, but they got plenty of attention given their brief appearance. They even had their own CCG card, remember? Since the days of Episode I,
the girls that played the blue-skinned Twi'lek twins, Nifa and Nishan Hindes, have gone on to establish modeling careers. Watch for 'em.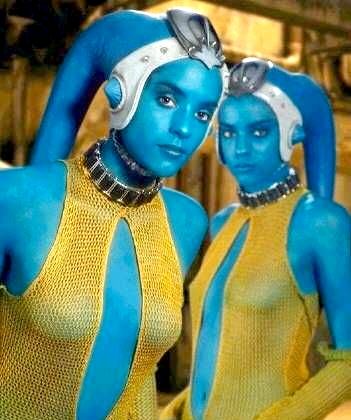 #8 - Beru (Shelag Fraser & Bonnie Piesse)
Respect! Aunt Beru was one sassy lady back in the day. She may have spent most of her time in the kitchen, but you can bet Uncle Owen never complained. Well, okay... maybe Aunt Beru wasn't such a babe (unless you're into that kind of thing), but the new (old) Beru, played by Bonnie Piesse in Episode II, raises the character's babe factor enough to make our list.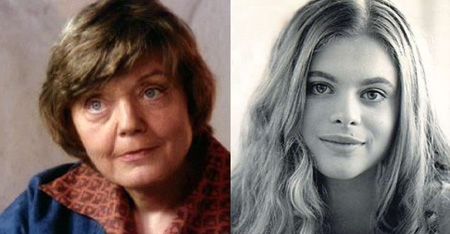 #7 - Oola (Femi Taylor)
Oola, the dancer from Jabba's palace in Return of the Jedi, is a classic Star Wars babe.
Yeah, I don't really know how she stacks up by today's standards, but back in the day... man, there was just something about her. Don't you agree? The actress that played Oola, Femi Taylor, is still rockin' after all of these years, as evidenced by her recent appearance at Celebration III.
EDITOR'S NOTE: AND THIS 'BABE' DESERVES MAJOR KUDOS BECAUSE WHEN THEY WERE ADDING SOME ROTJ SCENES TO THE SPECIAL EDITIONS, THIS GAL STILL LOOKED FIT AND FAB IN HER SKIMPY COSTUME. MORE THAN

15 YEARS LATER!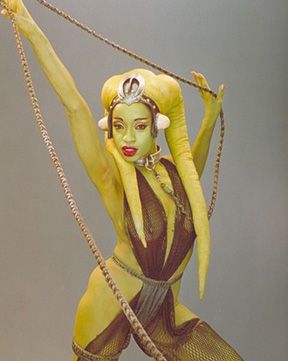 #6 - Aurra Sing (Michonne Bourriague)
Here's a prime example of Lucas taking a perfectly fine looking chick and dressing her up all
weird. Model Michonne Bourriague had a super-brief appearance as Aurra Sing in Episode I (mostly to support a tie-in with some "expanded universe" product), but she left a lasting impression on fans. Her character was based on a concept sketch by Doug Chiang that he called "Babe Fett." Nice. Michonne is apparently spending most her time these days modeling skimpy swimsuits and making the convention rounds with Mara Jade model Shannon Baksa. (Note: Baksa lovers may be wondering why she didn't make our list. It's because she isn't actually in
any of the films. Don't cry.)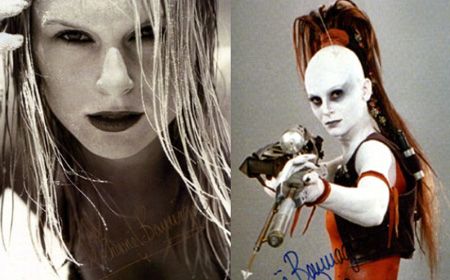 #5 - Dorme (Rose Byrne)

Honestly, there's not a whole lot that stands out about Padme's handmaiden Dorme in Episode II. Maybe they were intentionally downplaying her looks as to not interfere with the allure of Natalie Portman. That said, there's no denying that Rose Byrne is a hottie. Since Episode II came out her career has really taken off. She's starred in Troy and Wicker Park, and is currently filming Sofia Coppolla's Marie-Antoinette.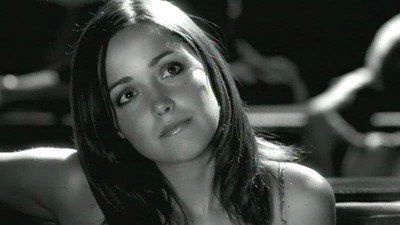 #4 - Sabe (Keira Knightley)

Right now some of you are thinking... "Keira Knightley was in Star Wars?!" Yeah, get with it.
EDITOR'S NOTE: DUH. OF COURSE WE KNEW. WE ARE NOT DWEEB AMATEURS.
Knightley played Queen Amidala's decoy in The Phantom Menace. Sure, you couldn't really tell she was a babe back then, but Keira has had so much success in the past several years that we just had to put her on our list. So lovely.
#3 - Aayla Secura (Amy Allen)

Amy Allen gets much props! Not only is she the beautiful Twi'lek Jedi Aayla Secura in Episode II and III, she's a visual effects artist for ILM. Most recently, Amy served as the visual effects coordinator on Elektra. You'll be able to see her on the big screen later this month in Episode III. Amy has also been making the convention rounds, so there's sure to be plenty of pics of her online in the company of geeky, overweight dudes.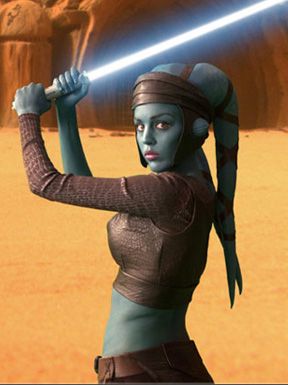 #2 - Padme (Natalie Portman)

Natalie Portman reprises her role as the lovely Padme Amidala in Episode III. This
time she's gonna be preggers, so don't expect those sexy outfits she wore in Attack of the Clones. Coming off critically acclaimed performances in Garden State and Closer, Miss Portman is currently filming the graphic novel adaptation of V for Vendetta. What else can we say? We love Nat.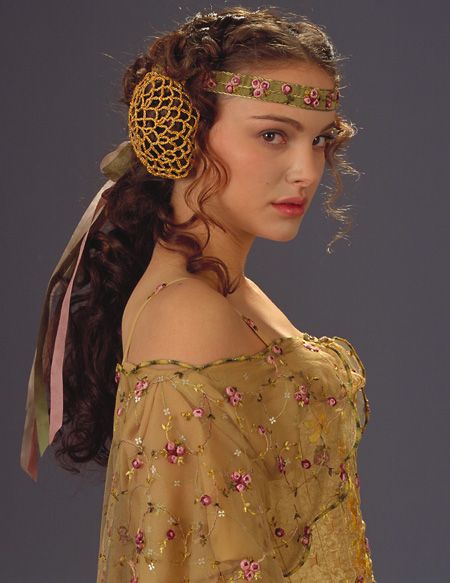 #1 - Princess Leia (Carrie Fisher)

We like our Star Wars babes with some sass, and that's why the top spot in our
countdown belongs to Princess Leia. Carrie Fisher's portrayal of the improper
princess easily makes her the standout babe from all six Star Wars flicks. And then there's the
whole metal bikini factor. I think that played an important part in the hormonal development of every male child of the 1980s. Princess Leia, we salute you!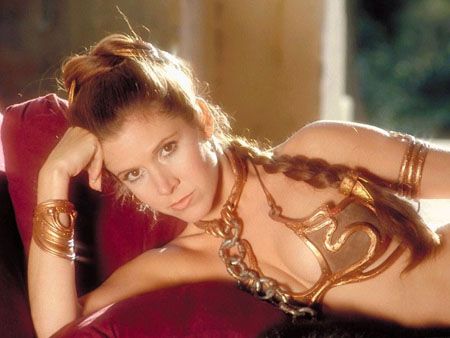 Honorable Mention: Yaddle
It's true that beauty is in the eye of the beholder, but how can you look at this lovely specimen and not be in awe? Yoda was definitely tryin' to touch a piece of that.
EDITOR'S NOTE: OH MERCIFUL HEAVENS. AN IMAGE NOW BURNED INTO MY BRAIN FOR ALL ETERNITY.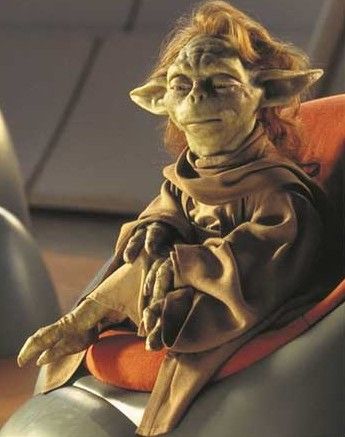 Unrest in the Senate
EDITOR'S NOTE: YOU KNOW ME...I LOVE THIS POLITICAL MACHINATION STUFF. BE FOREWARNED.....MINOR SPOILERS!
"As a practical matter, the Senate no longer exists..." This uncharacteristically gloomy proclamation from frustrated political idealist, Mon Mothma, is nonetheless accurate.
Democracy is one of the casualties of the Clone Wars.
In a conflict started by traitors to the Republic, Supreme Chancellor Palpatine surrounded himself with loyalist Senators determined to preserve the grand institution. The Republic they idealize, however, is only a shadow. By the time the first cannons fire in the Clone Wars, the government is already riddled by corruption.
In the state of emergency sparked by the war, Palpatine instituted sweeping proclamations that transformed the system, taking power away from the Senate -- from the people. These are some of the politicians active in the twilight days of the Senate and the trappings of their declining office.
EDITOR'S NOTE: THESE PICS ARE IN ORDER OF THEIR BIOS, BELOW: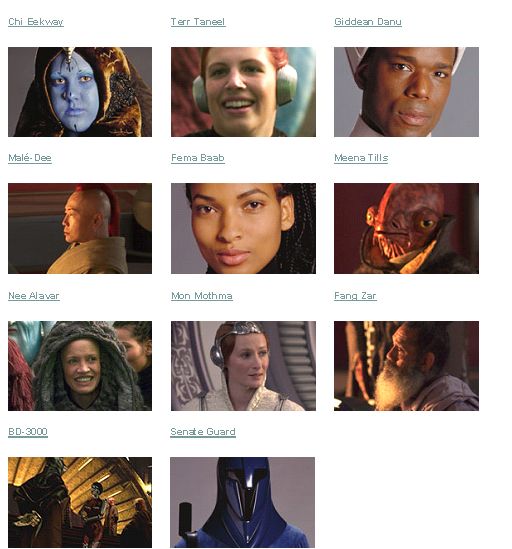 Chi Eekway
An influential Senator during the Clone Wars, Chi Eekway was a member of the inner circle of loyalists that advised Chancellor Palpatin during those trying times. She grew increasingly concerned with the Chancellor's expanding executive powers, and was one of a cabal of Senators determined to preserve democracy in the Senate, no matter the cost. In the earliest days of dissent against the burgeoning Empire, Eekway advised patience.
Enveloped in heavy robes with only her blue-skinned face visible, Eekway was rumored to have close contact with the mysterious Baron Papanoida.
Terr Taneel
As the democratic ideals of the Republic began to disappear under the alarming reforms of Chancellor Palpatine, Senators Bail Organa and Mon Mothma organized a quiet resistance against these new outrages. They invited only a select few into these initial discussions, including the human Senator, Terr Taneel.
Taneel was a loyalist, serving in a committee close to Palpatine during the Clone Wars. She was one of the receiving Senators who waited on the Senate landing platform following Palpatine's rescue from General Grievous' clutches. Though she was grateful for a successful resolution to the terrible Battle of Coruscant, she nonetheless believed something needed to be done to save the Republic from Palpatine's machinations.
Giddean Danu
A grim, humorless man for grim, humorless times, Giddean Danu was a loyalist Senator during the end days of the Clone Wars. For his consistent clarity of voice, and unwavering reason and restraint during these tumultuous times, he was invited by Senators Bail Organa and Mon Mothma into a inner circle of alarmed political idealists struggling to develop a plan to counter Chancellor Palpatine's ascent in power. Danu was pragmatic. He recognized how deeply the Senate was corrupted and how few within its ranks acknowledged its moral decay. He felt that the nascent rebellion needed the support of the Jedi order in order to succeed.
Malé-Dee
Malé-Dee served in the Galactic Senate during the transition from Galactic Republic to Galactic Empire. He was one of the Petition of 2,000, signatories that formally expressed their concerns with Palpatine's rule during the crisis of the Clone Wars. The petition called for him to relinquish his emergency powers, and do away with his appointed governors. Malé-Dee was one of the handful of Senators present when Padmé Amidala presented the Chancellor with the petition.
Fema Baab
Fema Baab served in the Galactic Senate during the final days of the Republic. She was one of the many loyalist Senators who enthusiastically greeted the returning Chancellor Palpatine following his liberation from Separatist capture during the Battle of Coruscant.
Meena Tills
Before it became an active supporter of the Rebel Alliance in the Galactic Civil War, the watery world of Mon Calamari was part of the Delegation of 2,000 -- Senatorial representatives concerned with the manner that Chancellor Palpatine had waged the Clone Wars. The Petition of 2,000 identified Senators formally complaining on Palpatine's conduct, and requesting that he return his emergency powers to the Senate following the resolution of the conflict.
Nee Alavar
Nee Alavar served in the Galactic Senate during the transition from Galactic Republic to Galactic Empire. She was one of the Delegation of 2,000, petition signatories that formally expressed their concerns with Palpatine's rule during the crisis of the Clone Wars and called for him to relinquish his emergency powers. She was part of a small group of Senators present when Padmé Amidala presented the Chancellor with the petition.
Mon Mothma
A stern, stately woman, Mon Mothma was the Supreme Commander of the Alliance to Restore the Republic. Mothma was an influential loyalist Senator in the final days of the Galactic Republic. She was one of the first to be wary of Supreme Chancellor
Palpatine
s policies during the Clone Wars. When Palpatine created a system of territorial governors to report to him directly, Mothma realized that the Senate was quickly losing its last vestiges of political influence.
She worked closely with Bail Organa of Alderaan to organize fellow Senators who shared similar ideals and outrage. The original cabal that tentatively explored what few options remained included Senators Chi Eekway, Terr Taneel, Padmé Amidala, Fang Zar and Giddean Danu, but it was her and Organa who remained at the core of this nascent Rebellion.
Mothma remained a senator until the end, despite her opposition to Palpatine's policies. When the outrages became too difficult to ignore, and the debate moved from the Senate floor to the battlefields of distant worlds, Mothma helped forge the Alliance that eventually toppled the Empire and restored freedom to the galaxy.
Fang Zar
The outspoken Senator Fang Zar was opposed to Chancellor Palpatine's sweeping executive proclamations and decrees that riddled the Galactic Constitution with amendment after amendment. For his idealism, he was selected by Senators Mon Mothma and Bail Organa to join a cabal of concerned politicians searching for a way to stop the Chancellor.
In these dark times that saw an end to the Republic, Zar was dismayed that the Senate had come to such a dire position. He signed the Petition of 2,000, a formal declaration of complaint against Palpatine's policies, and a request to relinquish emergency powers back to the Senate and do away with a newly installed system of regional governors. He was also one of the delegates who presented the petition to Palpatine, to little effect.
BD-3000
Wherever Senators congregate, their mechanical attendants follow. While the look of the politicians representing the worlds of the galaxy varies greatly, their droids are often surprisingly uniform. Droid manufacturers and distributors on Coruscant sell their wares in huge numbers to the Senate politicians, resulting in some very commonly encountered models.
While the standard humanoid protocol droid is a bestseller, the BD-3000 luxury attendant droid was been rapidly growing in popularity. Its chromed finish, smooth surfaces and eye-pleasing shape make it standout, whether in the halls of the Senate chambers, or the polished corridors of the Galaxies Opera House.
Senate Guard
An elite security force assembled to protect members of the Galactic Senate, the Senate Guard were garbed in outdated yet symbolic blue robes and helmets. The stoic guards stood watch over the massive Senate rotunda on Coruscant, and its members could be found aboard almost all senatorial transports.
Under the rule of Chancellor Palpatine, the role of the Senate Guard was steadily marginalized. Palpatine installed his own elite guard, the red-robed Royal Guardsmen, for the protection of his office. With the spread of his clone forces that accompanied the transition from Republic to Empire, the Senate Guard grew largely redundant and were eventually phased out.
Memorable 'Star Wars' moments
Up close and personal in a galaxy far, far away
COMMENTARY
By Wendell Wittler
MSNBC contributor
Every movie has its memorable moments, and with five movies going on six, the "Star Wars" series has a starship-load of them. From the grand scale of exploding Death Stars to the personal drama of Jedi training. Or how about the alien spectacles of Jabba the Hutt's lair and the Clone factory or the strangely banal threat of a giant trash compactor? From Obi-Wan's mystical death-without-leaving-a-corpse to the simple pleasure of watching a binary sunset on Tatooine, there's a lot to take in here, and everybody has their favorites.
Most Memorable for All the Wrong Reasons
: The pod race ("The Phantom Menace"). While intended as an homage to the chariot race in "Ben Hur," this sequence reminded me of something else: As various alien-looking drivers lined up in their well-worn disjointedly-modular vehicles it took me back to the Saturday Morning cartoon "Wacky Races," with champion podder Sebulba as Dick Dastardly and young Anakin as Tom Slick (I know, that's a different cartoon, but there's no such thing as logic in podracing).
EDITOR'S NOTE: WAS I DEPRIVED OF CARTOON VIEWING AS A CHILD? I DON'T GET THESE IMAGES. AND I HAPPEN TO RATHER LIKE THE POD RACE....(THINGS GOING FAST. GOOD SUBWOOFER ACTION. WHAT'S NOT TO LIKE?).
Throw in the two-headed bilingual track announcer from the planet NASCAR, close-ups of Anakin's frozen Jedi gameface, sideline comments from Jar Jar Binks and a cameo appearance of Jabba the Hutt — who falls asleep during the race — and you have a panoramic view of everything that was disappointing about the first prequel.
On the other hand
Best Chase/Race Scene
: The speeder chase on Endor ("Return of the Jedi"). Outer space dogfights are one thing, but when the cameras piggy-backed onto levitating Harleys weaving through a dense forest of massive trees at literal breakneck speed, it was one of the greatest thrill rides in movie history to date, a magnificently executed technical marvel for 1983 and still stands up. It also showed off the heroics of both Jedi Luke and Princess Leia, becoming the series' least artificial "see, the woman can be strong, too" scenes.
Most Repeated Line:
"I've got a bad feeling about this" (All Episodes). It's not what you'd call a classic movie line. It's not unique to Star Wars like "May the Force be with you" or "Let the Wookiee win." It was previously said in "2001," in reference to HAL the computer. Lucas admitted "
I liked using it whenever something really bad was going to happen
" and thus it became the cinematic equivalent of a "Bridge Out" highway sign.
Luke said it the first time he saw the Death Star. Han Solo said it in the giant trash compactor, and when he was taken captive by Ewoks. Leia said it and C-3PO said it. Obi-Wan said it twice in the first two prequels, but when Anakin said it while chained to a pillar in the Geonosian execution arena, it became a classic case of Stating the Obvious. Considering the Jedi Knights' psychic abilities, it's surprising that it's been used as frequently by non-Jedi characters. It would be disappointing not to hear it from Yoda in "Episode III."
Most Repeated Image
: Somebody's gonna lose a hand from that thing (every episode except "Phantom Menace"). We see several ways that lightsabers can damage a human body (beheadings, impalings, clean cuts in half), but there is a strange recurring theme in the severing off of a hand or arm.
In "A New Hope," Obi-Wan cuts the arm off an alien tough guy threatening Luke in the Cantina. In "The Empire Strikes Back," Luke takes the arm (paw?) off a Wampa on the Ice Planet, but in his first battle between Darth Vader, it's Luke's lightsaber hand that's excised. Fortunately, lightsabers cut real clean, preventing much blood loss, and we learn that robotic limb replacement is a simple procedure in this galaxy. When Luke returns the favor in the final battle of "Return of the Jedi," he's stopped in his tracks staring at Vader's fully-mechanized arm on the floor.
"Attack of the Clones" sees Obi-Wan disarm (or dis-hand) a "female shapeshifter assassin" in a crowded bar (What is it with Kenobi in bars?), and the evil and powerful Count Dooku shows just how evil and powerful he is by cutting Anakin off at the shoulder (explaining why the arm Luke later cut off wasn't original equipment). And I couldn't help notice that it's always the right arm or hand (although I hear that may change in "Revenge of the Sith").
EDITOR'S NOTE: I GUESS MORE FOLKS ARE RIGHT-HANDED THAN LEFT IN THE SW UNIVERSE TOO? SO YOU CUT OFF THE HAND HOLDING THE WEAPON, YES? (AND YA GOTTA LOVE A SAGA WITH MULTIPLE AMPUTATIONS).
Best Totally Non-Jedi Dialogue:
"I love you." "I know." ("The Empire Strikes Back," "Return of the Jedi") Probably the biggest difference between the original trilogy and the prequels is the contribution of Han Solo. The injection into this mystically majestic saga of this un-Jedi anti-hero rogue/scoundrel/smart-ass mercenary was brought it down to earth — or whatever planet it got down to. And Han's best moment was when he was about to be frozen in Carbonite, and Leia, who had been openly resisting his rogue/scoundrel/smart-ass charm for the whole movie, professes her love to him and he replies with those famous semi-last words: "I know."
So, of course it had to be Leia freeing/defrosting him in the next chapter, and their first exchange of dialogue had to be a reversal of the two lines. He's just that kind of guy and this is just that kind of relationship.
EDITOR'S NOTE; THIS IS WHAT I'M TALKING ABOUT. SOMEONE WHO 'GETS' THE LEIA/HAN DYNAMIC! (AND UNDERSTANDS JUST WHAT THAT 'I KNOW' WAS SAYING)
Most Shocking Moment:
"I am your father" ("The Empire Strikes Back"). Spoken strategically by Darth Vader to try to recruit Luke to the Dark Side, those four words suddenly redefined the "Star Wars" series as a family saga. And as Luke tried to deal with the fact that he had just had his hand cut off by his dear old dad, Mark Hamill put out one minute of the strongest emotional performance in the entire series.
EDITOR'S NOTE: I LIKE THIS AUTHOR. ALL THOSE NAYSAYERS OVER THE YEARS. LUKE'S JOURNEY IS THE MOST INTENSE OF ANY OF THE CHARACTERS (SAVE MAYBE ANAKIN'S) AND MARK HAMILL DID A LOVELY JOB. ONE FOR WHICH HE RARELY RECEIVES DUE CREDIT.
Strategically, it wasn't the Sith Lord's best move as he watched his son, in an act of defiance almost as jarring as the revelation, take a flying leap down a bottomless shaft (those shafts seem to be part of the design of every large structure in the galaxy), and miraculously, yet somehow naturally, survive.
Most Anticipated Moment
: Yoda in action ("Attack of the Clones"). I, for one, have been waiting ever since that annoying little creature in "Episode V" revealed himself to be a Jedi Master for a chance to see the 800-year-old, two-foot-tall hero show what he could do in a fight.
When he first appeared in the prequels 30 years younger but no more physically imposing, it was a disappointment, but when his fully CGI-realized form dropped his walking stick, pulled out his lightsaber and confronted Count Dooku, who had just defeated two younger Jedis, you just knew he was going to open up a pint-sized can of whoop-ass, and if not for Dooku pulling the cliched "make him stop fighting a moment to save his friends" trick, I'd have placed all my bets on Yoda.
The Ultimate 'Star Wars' Moment
: "Use the Force, Luke" ("A New Hope"). It's now a movie cliché: the hero eschews technology in favor of faith to accomplish a seemingly impossible task. But during the assault on the Death Star, when Luke Skywalker turned off his targeting computer and relied on the Force to guide his hand, it cast in stone the importance of "that quaint old religion" to the entire saga. Yet, the Force can't take all the credit; this scene also featured the series' happiest surprise when, just as Darth Vader had Luke's x-wing in his sights, Han Solo and the Millennium Falcon came out of nowhere to join the battle, blasting the bad guys and bouncing Vader out where he'd live to fight again, while redeeming the rogue/scoundrel/smart-ass mercenary as a pretty good guy after all.
Among all of the "Star Wars" homages to filmmakers Akira Kurosawa and Ray Harryhausen, and the allusions to World War II, and all the recurring themes and foreshadowings (which the series' out-of-orderness often made way too obvious), the most memorable moments in "Star Wars" are the ones that you could appreciate on more than one level.
But the binary sunset was cool too.
Wendell Wittler
is the alias of an online writer in Southern California.

Is There Life After 'Star Wars' for Lucasfilm?
By LAURA M. HOLSON
HERE is a question fit for Yoda: Now that the director George Lucas has finished the last of his six "Star Wars" movies, what will become of his company, Lucasfilm, the entertainment empire that Anakin Skywalker built?
To hear Mr. Lucas tell it, Lucasfilm will be less ambitious, not more. There will be no more live-action, blockbuster movies, he said, and that means fewer peaks and troughs. In the past, the company's profits would soar during years when a "Star Wars" film was released, only to fall off a cliff between movies.
From now on, he said, Lucasfilm will be a "widget driven" enterprise, churning out books, video games and television shows, with a more predictable rate of return of 10 to 20 percent a year. Eventually, he said, the hit-driven cult of personality surrounding both him and "Star Wars" will give way to "a sane reality."
"
I have no intention of running a film company
," said Mr. Lucas, whose new film, "Star Wars: Episode III - Revenge of the Sith," will be released this month. "
That is the last thing in the world I'd do."

"I'm trying to get back to that place that the company functions without me and 'Star Wars,' where they don't need some genius at the head to run the company,"
this multibillionaire added.
"What I am doing is so I don't need to be a visionary."
But as Lucasfilm enters its post-"Star Wars" phase, it is far from clear whether the handpicked executives who have worked so closely with Mr. Lucas for decades will emerge as leaders in their own right. More to the point, those who know him wonder how much control he is ready to give up.
Mr. Lucas, 61, started the company in 1971 in Marin County, north of San Francisco, as a production vehicle for his movies, but he has since compiled a dizzying array of entertainment businesses that would make any Hollywood studio chief jealous. They include video games (LucasArts), special effects (Industrial Light and Magic), sound editing (Skywalker Sound) and "Star Wars" product licensing (Lucas Licensing).
As the sole owner of Lucasfilm, a company that analysts estimate has nearly $1 billion in annual revenue and virtually no debt, Mr. Lucas has no one to answer to - and he can manage the transition from "Star Wars" as he sees fit. "
I don't have to do anything
," he said in an interview last week from his office at Skywalker Ranch near San Rafael, Calif. "
I can work for a year to get the company in gear without rationalizing it."
Over the next several months, he said, he plans to concentrate on revving up future projects, including two recently announced "Star Wars" television series. The goal, he said, is to build the Lucasfilm archives with hundreds of hours of digital programming, so that one day the company's executives can start their own television channel or form some other new concern.
COLLEAGUES who have known Mr. Lucas the longest said a revamping of the company - including a rethinking of his own role - was inevitable. "
Is it a time of change? Yes,"
said Jim Morris, a 17-year Lucasfilm veteran who oversaw its special effects and sound divisions before he joined Pixar Animation Studios last year as a producer. "
Are there issues with him letting go? Probably. But when you take the whole package, I wouldn't bet against him. In George's mind, he would see, over time, building a creative bench."
Above all, he said, "
George wants options
." And those options include, of course, taking the company public one day.
This summer, Lucasfilm's roughly 1,500 employees will move into the Letterman Digital Arts Center, the company's newly built headquarters in San Francisco. Mr. Lucas spared no expense in designing the $350 million campus, which is in the Presidio, a former military base, and offers sweeping views of the Golden Gate Bridge. He added, among other things, a serpentine creek constructed from the remnants of a stream bed he bought from a Northern California farmer.
Some Lucasfilm employees have protested the move to the new headquarters, saying they would have to uproot their families in Marin County or suffer a commute of an hour or more. But several top executives say that having nearly all the employees together in one facility for the first time, far from the mystique of Skywalker Ranch and Mr. Lucas, may aid the evolution to a less Lucas-dependent environment.
EDITOR'S NOTE: WELL HE'S CERTAINLY EARNED THE RIGHT TO MAKE THESE CHOICES. AND ALL PARENTS EVENTUALLY HAVE TO SEE IF THEIR CHILDREN CAN STAND ON THEIR OWN, YES?
Mixed Emotions for 'Star Wars' fans
Joseph P. KahnThe Boston Globe
Jimmy Carter was president, gasoline cost 62 cents a gallon, and Elvis fans would soon be mourning the King's passing. It was May 1977, and Geoffrey Rosenberg still remembers the way George Lucas's "Star Wars" cast a spell on him and millions of moviegoers during that time long ago and far away.
Next week Lucas completes the saga of Anakin Skywalker with the release of "Star Wars: Episode III - Revenge of the Sith," the sixth and final installment of his sprawling epic.
Among fans like Rosenberg, who grew up with "Star Wars" and who remains a sci-fi buff, the event is already stirring mixed emotions. For if Lucas changed the DNA of popular entertainment with "Star Wars," he also changed the lives of countless fans in the process.
To end it here and now, many say, is cause for sadness and frustration as much as for frenzied anticipation.
"
It's bittersweet
," admits Rosenberg, 46, a Natick, Mass. businessman who caught "Star Wars" in Los Angeles the day it opened, and was mesmerized. "
I'm excited to see the new film. But I recognize he's taken too long, quite frankly, to roll out the last three."

Jim Manning also saw "Star Wars" 28 years ago - he was 7 then - and he not only grew up with the original three episodes, but also credits them with shaping his adult worldview.
He compares the curtain dropping on "Star Wars" to what Boston Celtics fans felt when Larry Bird retired."
To me, these were more than movies. They were a philosophy of life
," says Manning, 35, an Amherst, N.H., pharmaceuticals sales manager who liked the two previous "prequels" that disappointed many "Star Wars" devotees. "
There's a lot of polarity in my generation between the born-again types and those who totally lack faith. 'Star Wars' bridges that gap by showing that even good kids like Anakin can make bad decisions that lead to self-destruction
."
Manning, like many other fans, plans to see the film as early as possible. He's taking a day off from work on May 19 to be sure he'll see it on Day One.
So will Kate DiStefano, who'll attend an opening day screening with several friends."
We'll see the movie, go out to dinner, discuss the movie - and maybe see it again,"
says DiStefano33, who lives in Methuen, Mass.
"People I know are psyched to see this
." Nevertheless, she adds, "
I'm stuck somewhere between excitement and disappointment that it's all coming to an end."
EDITOR'S NOTE: I KNOW EXATLY HOW SHE FEELS!
Credit Lucas's prowess as a filmmaker and marketing genius for tugging fans' emotions in several directions at once.
If the Force is fully back with us, it's propelled by a prerelease campaign as relentless as any droid army raid on Naboo.
As even casual fans know, moreover, Episode III follows the transformation of Jedi hero Anakin Skywalker into Darth Vader, the evil warlord who bedevils his own offspring, Luke and Leia, in the original "Star Wars." How and why Anakin travels to the "dark side" remains shrouded in mystery, however, creating unprecedented curiosity about how Lucas will resolve this key plot point.
Fan Lori Sartre, cofounder of the
www.starwarschicks.com
website,
EDITOR'S NOTE: HEY! I'M WEARING ONE OF THEIR T-SHIRTS FOR EPISODE 3!
says when people ask her whether the latest movie can possibly match the best of the series, she reassures them that it can hardly misfire."
I say, 'How can they not do a good job
?' " Sartre says. "
If Anakin becomes Darth Vader, you have to go: yeah!"
She adds: "
You know it will end as a downer. You know he'll turn bad. But for fans like myself in their early 30s, the originals were literally kids' movies. We're grown-ups now, and this is a grown-up movie. We expect something dark."
Fandom for Sartre is a serious hobby. Her office in the Museum of Science, where she works as a graphic artist, is decorated with numerous "Star Wars" items. She also belongs to the 501st Legion, a group of more than 2,500 "Star Wars" fans that proclaims itself "the world's definitive Imperial costuming organization." Costumed members attend charity and promotional events, and will be unusually busy around Episode III's release, Sartre reports.
To whatever extent fans make the new film a runaway hit or not, Lucas's empire seems secure - and securely prosperous. So far, the "Star Wars" movies have grossed almost $3.5 billion and have taken in another $9 billion from film-related merchandise. All have been issued in both VHS and DVD formats, and will be released in remastered 3-D versions at the rate of one per year, beginning in 2007.Lucas has also announced plans for two "Star Wars" television spinoffs, one a live-action series and the other an extension of the "Clone Wars" animated series that airs on the Cartoon Network. Lucas says both are at least a year away from production.
Meanwhile, "Star Wars" characters appear in more consumer-products ads than ever, with Yoda shilling for Diet Pepsi and Darth Vader hawking Kellogg's Corn Flakes. The franchise has seldom been stronger.
That hardly satisfies people like Marie Gunnerson, though, a baby boomer for whom "Star Wars" once captured, if not guaranteed, a bright future of medical miracles and personal space travel. The fact that Lucas once toyed with the idea of making nine films, not six, has left her feeling let down, not just eager to see the latest and last installment."
I feel my faith was taken for granted."
says Gunnerson, a project manager in Maynard who declined to be specific about her age. "
I purchased all the movies and watched them multiple times. I invested my emotions in the promise that more films would come along. If Lucas's excuse is that he's too tired or old, well, he has people who could carry this on."
EDITOR'S NOTE: FAR BE IT FROM ME TO SAY 'GET A LIFE'. BUT GET A LIFE. ONE DRUNKEN INTERVIEW IN ROLLING STONE ALMOST 30 YEARS AGO, IS NOT A SIGNED CONTRACT. OTHER THAN THAT ONE TIME, HE HAS CONSISTENTLY STATED THAT IT IS ANAKIN'S STORY, WHICH HAS 6 CHAPTERS. READ THE BOOKS AND COMICS OF THE EU. GOOD BOOKS CAN DO THINGS THAT MOVIES CAN'T, AND THE BETTER AUTHORS BRING FRESH EYES AND INSIGHT TO THE SAGA. THAT IS, IF THIS STRANGE, AGELESS WOMAN CAN READ......
Bill Carter feels just the opposite, expressing relief that Lucas is wrapping things up and moving on. Although a serious fan - Carter collected "Star Wars" action figures as a kid and made the first three films "the center of my universe," as he puts it - he's been unhappy with the last couple of movies. The glut of "Star Wars" merchandise and Lucas's progression from maverick artist to pillar of the Hollywood establishment do not sit well with Carter, either."
I hated Episode II,"
says Carter, an events manager at Harvard University. "
The story was full of holes, and the acting was horrible. So now, for better or for worse, it will be done. No more expectations. No more doubts."
EDITOR'S NOTE: OK, HERE'S ANOTHER ONE THAT NEEDS TO GET OUT MORE. I LOVE ALL THIS STUFF. BUT SHOULD WE REALLY BANK THAT MUCH OF OUR EMOTIONAL NEEDS ON WHAT UNCLE GEORGE DOES OR HOW A MOVIE TURNS OUT? PROPORTION, PEOPLE! PROPORTION!
But will the Force truly no longer be with fans like Sartre? That remains to be seen.
Since the last episode came out, Sartre has become a mom - she named her son Walker - and has presumably moved into a different phase of life. Still, she says, so engaged has she been by other aspects of the "Star Wars" universe - the novels, comic books, and costuming group - that next week's opening does not yet feel like some sort of ending."
I'm engulfed with 'Star Wars,"
Sartre says. "
So I know, whatever happens, there's a 'Star Wars' beyond May 19th for me."
EDITOR'S NOTE: EXACTLY! MY KIND OF CHICK. I AM PROUD TO WEAR HER T-SHIRT!