One Week....and a little bit more. STAR WARS. (oddsnends)
EDITOR'S NOTE: FIRST UP ON THE STAR WARS FRONT, A MISH MASH OF NEWSY ITEMS GATHERED FROM MY 'PENDING' FILE.
ROTS Expected to Be Top Box Office 2005

There a new article up on
St. Louis Post-Dispatch
talking about this summer's movies and just who will reign the box office.
They say Episode III is a no-brainer.
EDITOR'S NOTE: ALL TOGETHER NOW...DUH!
The release of "Star Wars: Episode III - Revenge of the Sith" on May 19 is the culmination of more than a quarter-century of event-driven movie marketing. George Lucas' "Star Wars" saga has generated $3.4 billion in global box office and $9 billion in merchandise sales since 1977, yet the sixth and presumably final film in the series faces an unusual amount of skepticism. While the public devoured the first three "Star Wars" movies without reservation, puzzlement at Lucas' subsequent tinkering with the originals and widespread disappointment over the subsequent "The Phantom Menace" and "Attack of the Clones" have made some moviegoers skeptical about "Revenge of the Sith." Yet, few analysts doubt that it will be the biggest movie of the summer, if only because it's the subject of so much hype - and so much curiosity about why family-man Anakin Skywalker (Hayden Christensen) succumbs to the Dark Side and becomes the evil Darth Vader.
New Advance Sales Record for Fandango
The PR Newswire
carried this fantastic press release today!
Have you got your tickets?The Force is Strong With SITH
Friday May 6, 5:48 pm ET Final STAR WARS Movie Breaks Advance Ticketing Records on Fandango LOS ANGELES, May 6 /PRNewswire/ --
With less than two weeks to go before the May 19 opening of STAR WARS: EPISODE III - REVENGE OF THE SITH, Fandango, the nation's largest online and phone movie ticketing service, reports that SITH is projected to be the top-selling title in the company's five-year history.
EDITOR'S NOTE: GO TEAM!! (REMEMBER WHEN THEY WERE JUST STARTING TO TICKET VIA COMPUTER...WAY BACK IN 97!.....AND THE COMPUTERS SHUT DOWN TRYING TO KEEP COUNT ON THE ANH RE-RELEASE?!)
The film is well-positioned to dethrone Fandango's current ticketing champ, LORD OF THE RINGS: THE RETURN OF THE KING.
EDITOR'S NOTE: UNCLE G CAN WHUP TOLKEIN'S DERRIERE!
Other recent news includes:
* SITH has seen a 75% week-over-week increase in ticket sales on Fandango.
* SITH has accounted for 79% of Fandango's weekly ticket sales (as of May 6, 10:00 a.m. PT).
* 80% of film fans responding to a Fandango poll said they plan to see SITH during its opening weekend (May 19-22).
* It's the most anticipated film of the summer, according to 70% of film fans responding to an online poll at Fandango.com.
* SITH is Fandango's fastest-selling movie to date (at this point in a film's sales cycle -- nearly two weeks before opening weekend).
* Moviegoer anticipation is so high that the company is already selling advance SITH tickets online for a theater that hasn't even opened yet.
"
The force is strong with this one
," says Fandango President and CEO Art Levitt.
EDITOR'S NOTE: REALLY ORIGINAL, ARTIE, BABY.
"
The final installment of the STAR WARS saga is clearly attracting not only the long-time fans, but also mainstream ticket-buyers throughout the country. Based on our advance sales, SITH will likely enjoy one of the largest opening weekends in box office history."

More Episode III Cover Stories
With only a few short weeks to go, Revenge of the Sith excitement is starting to appear everywhere, including some truly noteworthy appearances on newsstands around the world.
Here are some more magazines to keep an eye out for.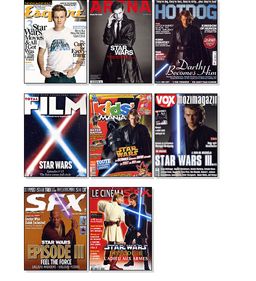 In North America, Ewan McGregor is spotlighted in the latest issue of Esquire magazine, with a feature interview about his involvement in the Star Wars prequel trilogy.
In the UK, the June 2005 edition Arena magazine is available in two flavors -- light and dark -- with McGregor fittingly representing the light side and Hayden Christensen on the dark. Inside, the article "Till Death Do Us Part" has interviews with both the stars.
Also in the UK, Hot Dog magazine #62 has a glaring Anakin Skywalker on the cover, and inside features 20 pages of coverage on Episode III, including interviews with producer Rick McCallum, Christensen, and Anthony Daniels, plus a Star Wars A-to-Z primer, covering everything from Anakin to Zam Wesell.
Again in the UK (and abroad), SFX magazine celebrates the conclusion of the saga with a trilogy of covers for their May (#130) issue: look out for Mace, Anakin and Obi-Wan. This issue includes interviews with McCallum, Roger Guyett, Daniels, and Temuera Morrison.
One of the most impressive entries on UK newsstands is the June 2005 edition of Total Film magazine. Touted as the Star Wars Collectors' Guide, this issue is actually available in a slipcase that includes issue #102 of the magazine and a separate 35-page supplement that covers the entire saga.
EDITOR'S NOTE: SO HOW COME ALL THE COOLEST STUFF IS BRITISH? (I MEAN, IN ADDITION TO THOSE GREAT ACCENTS, THEY GET ALL THE GROOVY MAGAZINES)!
In France, Kids' Mania magazine gets into Episode III with a guide to Anakin's progression to the dark side, from kid to Dark Lord to redemption, a Who's Who (or Qui es Qui) of Sith's major players, and a look at the Star Wars Lego Video Game.
Another French-language magazine available abroad (including Luxembourg, Belgium, Switzerland and Canada) is Le Cinéma SFX. The April-May edition has Anakin and Obi-Wan on the cover, and inside has 12 pages of picture-packed coverage.
EDITOR'S NOTE: LOOKIE, ODDBOB. NOT ONLY IS IT EVIL...IT'S IN FRENCH! (LET'S WAIT WHILE ODDBOB COLLECTS HIMSELF).
In Hungary, Vox Mozimagazin is available in two different covers -- one with Anakin, and the other with his darker helmed identity -- as well as over 25 pages of Star Wars coverage. This includes a starter map of the Star Wars galaxy, a family tree chart, and a look at the infamous Star Wars Holiday Special.
EDITOR'S NOTE: EEK. THOSE HUNGARIANS ARE CRUEL. CAN'T LET THOSE HOLIDAY SPECIAL DOGS LIE, HUH?
Keep checking starwars.com for more round-ups of magazines from around the world, and check your local newsstands for the latest in Star Wars covers.
Hear Episode III Soundtrack Previews at Sony Classical
Can't wait until the 19th to get your Revenge of the Sith fix? Sony Classical has just released the soundtrack to the saga's final chapter, composed and conducted by Star Wars maestro John Williams.
To get a taste of what to expect from this truly exceptional score, head on over to
http://www.starwars.sonyclassical.com/
for a quick preview of each of the album's 14 tracks.
One of the coolest features of this package is a Star Wars soundtrack first: an exclusive DVD containing over 70 minutes of music videos set to selections from all six of John Williams' Star Wars film scores. A separate video for each chapter is featured, introduced individually by Ian McDiarmid (Palpatine) who weaves the storyline into a cohesive musical experience.
Fans can check out the Episode III video now at starwars.com.
The
Revenge of the Sith
soundtrack has plenty of classic motifs to keep original trilogy aficionados reeling back (or ahead) to the adventures of Luke Skywalker and company, and lots of dark, new, brooding tracks that really send this score to places no Star Wars strains have ever been.
Dan Goldwasser at Soundtrack.net reports on the speculation regarding some of the ambiguously announced "bonus tracks" that are available through select retailers.

"
Back in 2002, Sony Classical teamed up with Wal*Mart to release a different version of the soundtrack to STAR WARS: EPISODE II - ATTACK OF THE CLONES, which was a pressed CD including a bonus track, "On the Conveyor Belt
," Goldwasser reports. "
While many fans were disappointed with this move, in which an actual score cue was limited to a particular retailer, this time around, Sony is doing things better."

There will be two bonus tracks for EPISODE III. Both will be available digitally – the pressed CD in all stores is the same (including the bonus DVD) – but separately.
If you buy the soundtrack through Wal*Mart, you get a digital download of an interview with John Williams. If you buy the soundtrack through Target, the album comes with a DownloadCard, which will allow you to access a radio-edit of "Battle of the Heroes," which has dialogue and sound effects.
Best of Vanity Fair Star Wars Slideshow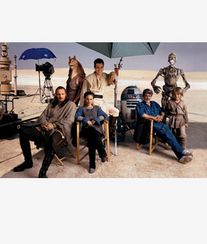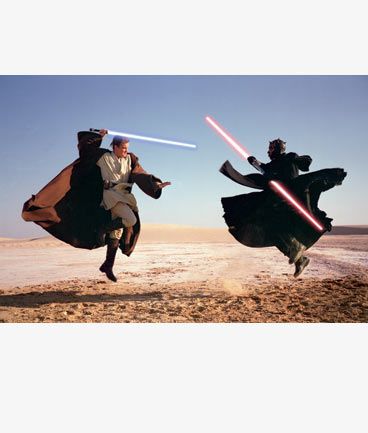 Starting today, Vanity Fair magazine will feature a special slideshow on their site
VanityFair.com
of famed celebrity photographer Annie Leibovitz's photos of Star Wars prequel cast and crew from 1999, 2002 and 2005.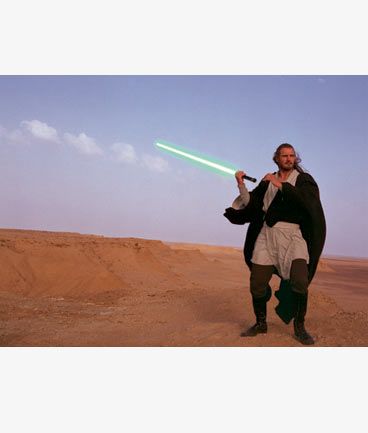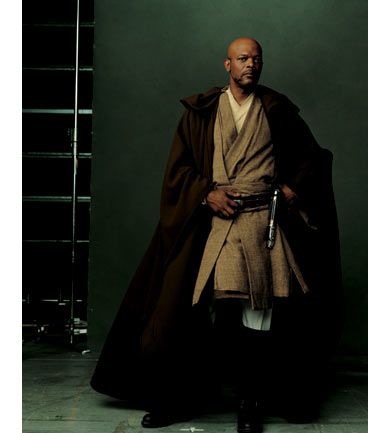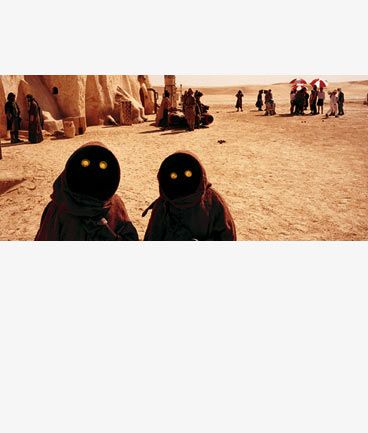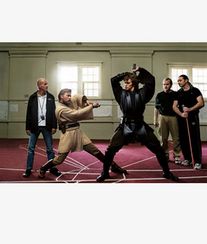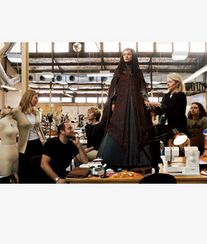 This memorable slideshow will run in conjunction with the opening of Revenge of the Sith. The photo slideshow -- which includes the images of George Lucas, Hayden Christensen, Natalie Portman, George Lucas, Samuel Jackson, Nick Gillard, Trisha Biggar as well as the most recent photograph of key cast and crew from the entire saga including Harrison Ford, Carrie Fisher and Mark Hamill -- runs until May 29.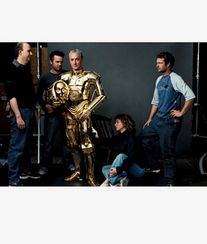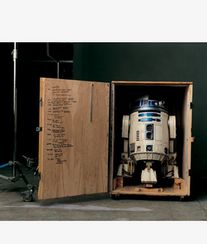 To read more about the Vanity Fair slideshow, click:
http://www.vanityfair.com/features/portfolio/050509fepo
EDITOR'S NOTE: I COULDN'T HELP MYSELF, I HAD TO INCLUDE A LOT OF THE PICS. BUT THERE ARE A FEW STILL ON THE VF SITE THAT I DIDN'T PUT HERE, IF YOU'RE A COMPLETIST ABOUT IT.
STAR WARS AND CANNES

On May 15, the Festival de Cannes will honor George Lucas with the Trophy of the 58th Festival in recognition of his cinematographic career. Organizers said that Lucas will receive the award on the same day that his film "Star Wars: Episode III -- Revenge of the Sith" has its world premiere at Cannes.
Festival artistic director Thierry Fremaux will present the award at a special reception on
board the Queen Mary 2, the world's largest ocean liner, which will be anchored in the bay off Cannes for the event.
The presentation will be preceded by a special screening of a film in homage to Lucas, directed by festival president Gilles Jacob.
No Episode III IMAX
Jo writes in and helps us better understand why Lucasfilm is not producing a Revenge of the Sith IMAX feature.
Apparently, the film could be converted in 11 days, so there's still hope.
World Enteractive has part of the transcript of a conference call with IMAX investors where the topic came up.
Marsh
: Sure, I just wanted to focus on the film slate for a second. I think you've put together a pretty good film slate for the year, but there's a pretty major picture coming out two weeks from today by a gentleman with whom you've had some relations in the past who seems to like your product. Are we too close to the release window for you to do anything with that, or are you just not interested in doing anything with that film?
Wechsler
: You're talking about Star Wars?
Marsh
: Yeah
Gelfond
: Look, I believe that we were interested in doing something with that film, but a variety of factors, including their postproduction schedule, as well as the potential economics just didn't work out. So, you know, every picture you have there's a lot of criteria that go into it, and it includes the nature of the film, where they are in the postproduction process, how practical it is for you to do it, and a big one is what are the financial terms going back and forth, and it is a picture we had talked to them about, but for a variety of reasons it isn't going to happen. As Brad went through the math at the first part of the presentation, to make this really attractive for exhibitors, you have to do a million dollars a year in box office, and we're really comfortable we have a great film slate. You know, if it had worked out, that would have been great, but we think our film slate is great without it.
Marsh:
And that one might have given you $500,000 out of the gate. That particular producer has publicly expressed an interest in perhaps reformatting all of the films. Can you just talk about what the potential is with regard to that and how that might play into a future film slate, and then also, more generally, has the time in fact decreased in terms of your ability to turn a film. I mean, I think that the last time we had spoken, you were at about a month for you to reformat a film. Have you been able to compress that at all?
Wechsler
: I think I'm going to go with the second question first. I think we were even quicker than a month for
Spiderman
last year, right?
Gelfond
: I think for
Robots
it was 11 days.
Wechsler
: Yeah, so we're doing it in half that time. So, yes we continue to make progress. It's not like Moore's Law. You can't do it in a day.
EDITOR'S NOTE: SO, IT'S NOT GOING TO HAPPEN? OR MAYBE LATER? THAT DIDN'T REALLY CLEAR MUCH UP, DID IT?
Disney Star Wars Weekends Event
EDITOR'S NOTE: WHIMPER.
Disney website lists some of the events planned for Star Wars Weekends between May 20 and June 12th:
Two Distinct Zones - Explore the Empire or the Rebellion as you make your way into the Rebel Base or take the path to the Imperial Sector.
An Epic Cast - See over 40 different characters from the entire Star Wars saga, including - for the first time - Anakin Skywalker and Darth Sidious.
Celebrity Celebrations - Join an actor from Star Wars and an artist from Lucasfilm for: - Autograph Sessions- "Legends of the Force" Star Wars Hollywood-style Motorcade- "Stars of the Saga" Talk Show and Q&A
Star Tours Attraction - Take a turbulent trip through outer space on this popular Disney-MGM Studios attraction.
EDITOR'S NOTE: URP.
Behind the Force - Go behind-the-scenes for an exclusive look at Star Wars: Episode III Revenge of the Sith.
Padawan Mind Challenge - Win Star Wars prizes in these fun-filled children's trivia contests.
Who Wants To Be A Millionaire - Play It! Star Wars Edition - Take a spot in the audience and play along for your shot at the hot seat, Star Wars style.
Jedi Training Academy - Give your kids a chance to train with a Jedi Master and test their skills against Darth Vader and Darth Maul.
Tatooine Trivia Trials - Take home prizes in these terrific trivia tests for adults.
Hyperspace Hoopla - Gather with Star Wars characters for an entertaining conclusion to every Star Wars Weekend day of events.
A Galaxy of Photo Opportunities - Be sure to bring your camera to preserve the memories!
EDITOR'S NOTE: JUST EMAILED MY FLORIDA FAMILY. THE GOOD NEWS? THEY ARE GOING TO GET ME A DARTH MICKEY (WHICH I DESPERATELY CRAVE). THE BAD NEWS? THEY ARE GOING TO BE THERE OPENING DAY, AND I AM NOT. YES, I'M BITTER. BUT IN THIS INSTANCE, I BELIEVE IT IS QUITE JUSTIFIED! (HARUMPH. SOB).
Good Charlotte Plays TRL's Star Wars Special
Celebrities and Good Charlotte are set to take over Skywalker Ranch for a special edition of MTV's "Total Request Live" (TRL) in celebration of
Star Wars: Episode III Revenge of the Sith
, which hits theaters worldwide on May 19.
TRL's Star Wars special -- airing on May 13th at 5:00 p.m. (ET/PT) -- is hosted by MTV VJs Damien Fahey and La La Vasquez, and features a special performance by Good Charlotte, who are also passionate Star Wars fans.
"
When we heard about this MTV Star Wars party at Skywalker Ranch, we had to be there
," said Good Charlotte lead singer Joel Madden. "
We are huge Star Wars fans and never thought we'd even get the chance to visit the Ranch, much less perform there in front of George Lucas. And we can't wait to finally see the movie -- this will be a big day for us and our fans."
The Waldorf, Maryland-based group, fronted by the Madden brothers Joel and Benji, have been on the charts with such hits as "Lifestyles of the Rich and Famous," "Boys and Girls," and "Hold On."
In addition to an exclusive performance from Good Charlotte, MTV will bring viewers and Star Wars fans all the action and excitement from the party at Skywalker Ranch with plenty of surprises. Invited guests will get an advance screening of
Revenge of the S
ith and MTV will be there to get their reaction and feedback.
Some of the invited celebrity guests include: Elijah Wood (Lord of the Rings), Seth Green ("Family Guy," Italian Job), Danny Masterson ("That '70s Show"), Topher Grace ("That '70s Show"), Mila Kunis ("That '70s Show"), Josh Schwartz ("The O.C."), Peter Gallagher ("The O.C."), Michael Rosenbaum ("Smallville"), Donald Faison ("Scrubs"), Jonathan Tucker (The Texas Chainsaw Massacre ), Brendan Fehr (Final Destination), Macaulay Culkin (Saved), Orlando Jones (Runaway Jury , Office Space), Kevin Smith (Director and Silent Bob), Kathleen Robertson (Scary Movie 2) and more.
EDITOR'S NOTE: SEE, IF WE WERE HIP, WE'D GET TO BE ON THIS SHOW TOO. (TALK ABOUT A RANDOM ASSORTMENT OF PEOPLE THAT HAVE NOTHING TO DO WITH STAR WARS!)
Viewers will also get a glimpse of the incredible and rarely seen sites of Skywalker Ranch as MTV takes them on a guided tour.
Go on Safari with "Animal Icons: Star Wars Creatures"
Why do Wookiees live in trees? What do elephants have to do with AT-ATs? And what kind of animal is Obi-Wan's trusty Boga?
Fans can get answers to these questions and more on "Animal Icons: Star Wars Creatures" airing May 18, at 9 p.m. ET, [6 p.m. PT] on Animal Planet.
The "Animal Icons" series focus on animals -- real and imaginary -- that have made a significant mark in popular culture. Featuring interviews with filmmaker George Lucas, members of Industrial Light & Magic, the Episode III Art Department, and various cast and crew of the Star Wars saga, "Animal Icons: Star Wars Creatures" takes an in-depth look at some of the most interesting creatures in a galaxy far, far away that have not only become a permanent fixture in pop culture, but have sparked the imagination of film audiences worldwide.
"
We've done programs on comic book creatures inspired or influenced by animals, animal symbols used in politics like the donkey and the elephant, and so on
," supervising producer and writer Steven Smith says. "
But the release of Revenge of the Sith seemed the perfect time to look back on the entire history of Star Wars creatures, and consider the role that actual Earth animals, as well as animals in folklore, played in the design of George Lucas' vision."
EDITOR'S NOTE: DOES THIS NOT SOUND COMPLETELY AND TOTALLY GROOVY???!!!!
The segment is narrated by C-3PO actor Anthony Daniels. The executive producer is Kevin Burns of Prometheus Entertainment -- the same person who also created the impressive Empire of Dreams documentary for the Star Wars Trilogy DVD box set.
"
It was Kevin's idea to do a special on Star Wars creatures,"
Smith explains. "
Since 1977, Kevin has been a passionate fan of Star Wars, and a collector. After our collaboration with Lucasfilm on the documentary
Empire
of Dreams, we all hoped that there would be another chance to explore the Star Wars universe from a unique perspective with 'Animal Icons.'"
"Animal Icons: Star Wars Creatures" showcases various interviews with members of the Lucasfilm Art Department and the ILM production crew about the creatures they helped bring to life.
Episode III Concept Artist Ryan Church gives fans a sneak peek of the creatures from
Revenge of the Sith
including the beloved Wookiees and their home planet of Kashyyyk.
While ILM Visual Effects Supervisor Rob Coleman talks in great detail about the character designs and earth-animal influences for creatures featured in
The Phantom Menace
,
Attack of the Clones
and
Revenge of the Sith,
ILM model maker Lorne Peterson chats about Lucas' dog Indiana, who was not only the namesake of another memorable franchise but also influenced the creation of Chewbacca himself.
"
We also feature wonderful test footage of real elephants, used to create the Imperial walkers for The Empire Strikes Back, as well as a highly detailed study of the arena sequence in Attack of the Clones, which had some fascinating connections with real animals,"
Smith says.
The show also interviews Producer Rick McCallum about how Lucas was able to use CGI to more fully realize the creature designs he'd been attempting since the 1970s. Star Wars concept artist Terryl Whitlach discusses the undersea creatures in
The Phantom Menace
. Other interviews include Lucas himself as well as original trilogy actors Mark Hamill, Carrie Fisher, Harrison Ford, and Warwick Davis.
"Throughout the making of this program, we were fascinated by the degree of intense biological and zoological study done by the filmmakers to give their creatures a sense of reality, such as Watto in The Phantom Menace,"
Smith says. "
Rob Coleman has a great story about his concern over the fact that Watto was heavy and yet he could fly. When he questioned George Lucas about how this could be, George matter-of-factly pointed out that bumblebees had a similar ability despite their weight, and added that what Rob didn't know was that Watto had a helium-like substance in him that also kept him in the air! Similarly, the influence of climate on the characters' design was something the creators took very seriously -- how a desert planet or an ice planet would influence the adaptability and features of characters like
bantha
and
tauntaun
, respectively."
EDITOR'S NOTE: IN FACT, ISN'T TERRYL WHITLATCH A SPECIALIST IN BOTANY OR ZOOLOGY?
For an additional treat for fans, "Animal Icons: Star Wars Creatures" not only features footage from
Revenge of the Sith
, but also rare behind-the-scenes images of creatures from the original trilogy.
"
As with Empire of Dreams, we were given access to the Lucasfilm archives, and we went out of our way to try and find fresh outtakes, behind-the-scenes shots, and other images that hadn't been widely seen
.," Smith reveals.
"
Producer Brian Wild and I have tried to acknowledge all of the significant non-human characters in the Star Wars films, which is certainly a tall order in a one-hour documentary
!" Smith continues. "
We could have spent twice as much time on the subject, especially since everyone we spoke to was very enthusiastic about the theme of the show. We hope that fans who feel that they've seen and heard everything about Star Wars will feel that they've considered the films from a fresh perspective."
"Animal Icons: Star Wars Creatures" is produced by Prometheus Entertainment and Fox Television Studios in association with Animal Planet.
EDITOR'S NOTE: THIS IS THE EVENING OF MAY 18. SO WE WILL HAVE TO PROGRAM OUR VCRS AS WE WILL PROBABLY ALREADY BE IN LINE!!!
AND HERE'S A NOTE FROM ONE OF OUR NYC DWEEBPALS:
Hey Karen, Agent Kendall here.Just wanted to share about an event that's happening here in NYC to commemerate the opening of EPIII.**************************
SITH IN THE CITY: A Night of Star Wars Comedy
In honor of the impending theatrical release of the latest epistle from George Lucas...
You are Invited to a Live Taping of the Darth Vader Talk Show!
Everyone from Endor to Outer Gungan Knows that there is only one Dark Ruler of Late Night TV, Darth Vader. Join Darth and Kevin Vader (His younger 1/2 brother) for a special episode of their interplanetary award winning nightly talk show celebrating REVENGE OF THE SITH. As always they are joined by the Mos Eisely Cantina Band and perform the show under the watchful and sarcastic eye of Emperor Palpatine.
Guests include: Jar Jar Binks, John Williams, Peter Mayhew (Chewbacca), The Director of The Star Wars Holiday Special, Anthony Daniels (C-3PO), and many more...
Plus: Stupid Jedi Tricks and a Erotic Star Wars Fan Fiction, More Deleted Scenes, and Films from Sean Conroy and Luke Ward.
Starring These Star Wars Nerds: Andrew Secunda, Chad Carter, Jesse Falcon, Glennis McMurray, Eliza Skinner, Brian Fountain, Jon Daly, Brett Gelman, Chad Carter, Owen Burke, Jack Helmuth, Eric Appel, Rob
http://www.ucbtheatre.com/schedule/showdetails.php?showid=675
In honor of the impending theatrical release of the latest epistle from George Lucas...
For One Night Only, the biggest Star Wars comedy nerds in the galaxy will be performing a show 29 years in the making, a comedy show of only Star Wars Related Comedy.
So Jump on a Dewback and grab your buddy IG-88 and make reservations today.
Starring: The Cowboy and John, Andrew Secunda, Aaron Bergeron, Chad Carter, Jack Helmuth, Justin Purnell, Owen Burke, Paul Scheer, Chris Gethard, and many more.....
**********************I've been taking classes here. TV nerds should recognize Paul Scheer from VH1's Best Week Ever. Owen Burke is a regular on some of their talking head shows. And for the video game nerds, Curtis Gwinn writes for Atari. Fans of Todd Solondz might recognize John Gemberling in the new movie Palidromes.

I plan on seeing this so I'll write a review for you.

Also the other day I got off the subway and saw some Stormtroppers lost looking at a subway map.

Agent Kendall out.
EDITOR'S NOTE: YES, DO LET US KNOW ABOUT THIS AGENT KENDALL!
Lathan, Rob Huebel, Eric Linn, Aziz Ansari, Alison Becker, Nick Kroll, Curtis Gwinn, John Gemberling, Chris Gethard, Scott Brown, Anthony King and Paul Scheer.