Star Wars. The Countdown. 6 days. (a mishmash)
EDITOR'S NOTE: A COUPLE MORE (NON-SPOILER) REVIEWS. AND SOME WEIRDNESS/ODDSNENDS/NEWS/ETC.
FIRST UP.... THIS WAS SENT TO ME BY A COMPLETE NON-DWEEB, AND IT IS NOT ONLY POLITICALLY QUITE CORRECT, IT IS ALSO HYSTERICALL FUNNY.
RUN TO YOUR COMPUTER. GO TO THIS LINK!!!

http://www.storewars.org/
Join the adventures of Cuke Skywalker, Obi-Wan Cannoli, Chewbroccoli and the rest of the Organic Rebels fighting against Darth Tader and the Dark Side of the Farm. And if you like the movie, pass it on!
Free Star Wars Poster in USA Weekend
From
USA Weekend
:
The force is with you and so is USA WEEKEND.
Pull out this poster > -> a pre-production drawing of Anakin Skywalker, autographed by George Lucas > -> before you catch Episode III Revenge of the Sith.
You can find the Star Wars poster in USA WEEKEND's 5/15 issue. Check your local newspaper or look online at
usaweekend.com
Late Show Star Wars Top Ten List
Sith's Revenge sends in a portion of the David Letterman newsletter:"SITH" HAPPENS:
What happens when Darth Vader, C-3PO, R2-D2, a Stormtrooper, an Imperial Guard, Darth Maul and an Ewok gather in one place?
Find out when Dave introduces a special Top Ten list featuring those and other Star Wars characters on Monday, May 16th.
MSNBC Guide to the Star Wars Galaxy

MSNBC
has posted an interactive Star Map of the characters of from all 6 Star Wars movies.
http://msnbc.com/modules/starwars/map/
EDITOR'S NOTE: AND NOW, LET'S TAKE A BRIEF RESPITE FOR TOTALLY YUMMINESS.....
Arena Magazine Features Hayden & Ewan

Mark writes:The June issue of Arena comes in a cardboard envelope (with Hayden/Ewan) and the mag itself has a fold out of both of them, plus an article.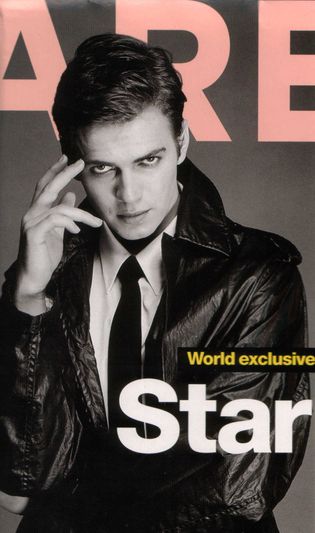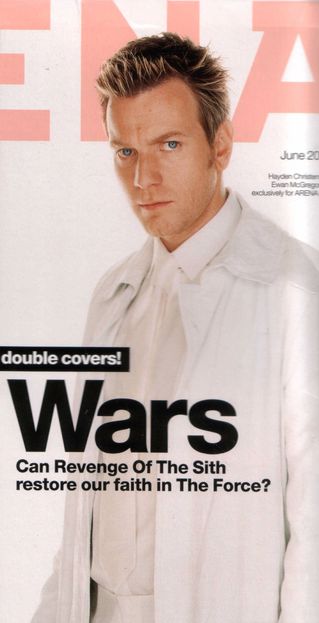 EDITOR'S NOTE: IS DROOLING ALL OVER MY KEYBOARD BAD FOR IT?
Vader Sends His Regards: Star Wars Ecards
Sometimes it's just easier to have Darth Vader do the talking.
Now you can tell friends and family how you feel with fun Revenge of the Sith Ecards -- located in the
downloads section
of the front page of
StarWars.com
.
Choose from exciting stills from Episode III of Anakin Skywalker, Padmé Amidala, Obi-Wan Kenobi, Yoda, the Wookies and much more.
Then pick your favorite line from the film, or funny expression. And to give the card an extra-cool feature, add a sound effect or a music clip.
If you have the latest Internet Explorer or other browsers, be sure to turn off your popup blocker to receive cards from friends and family.
Don't forget to also check out other cool downloads like the Revenge of the Sith desktop wallpaper, printable posters and buddy icons for instant messaging.
EDITOR'S NOTE: WHO (BESIDES ODDBOB) KNEW THAT EVIL CAN BE SO VERY ENTERTAINING?!
Natalie Portman's New Hairdo
Here is the scan from TIME magazine (courtesy of
NatalieEmpire
) that shows Natalie with her newly shaved head.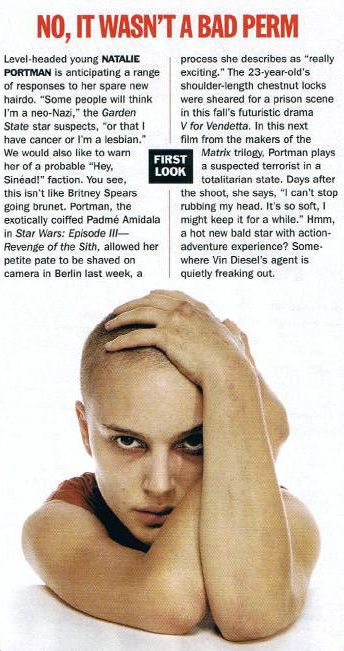 Can't wait to see how she will style for the Ep3 premieres. ;)
Here's a clip from the Time article:
Portman, the exotically coiffed Padme Amidala in
Star Wars: Episode III - Revenge of the Sith,
allowed her petite pate to be shaved on camera in Berlin last week, a process she describes as "really exciting."
The 23-year old's shoulder-length chesnut locks were sheared for a prison scene in this fall's futuristic drama
V for Vendetta
.
EDITOR'S NOTE: AND DARN IT ALL IF SHE DOESN'T

STILL

LOOK GORGEOUS! (THE SIGN OF REALLY GOOD CHEEKBONES).
Droids In Strange Places
Check out the overnight remodeling done by a group on Astronomy students to the University of Arizona Steward Observatory, completed at 12:01 AM May 12, exactly one week before they get to see Episode 3.
CaptKieranFlar of the stealthy clone commando team responsible for this reported in with this info:
Early this morning several notes appeared across the Observatory building, condeming the Imperial servants working there, and a not so subtle bribe of doughnuts to not interfere with the display.
3 cans of spray paint + 20 square yards of fabric+ 4 hours of time= One sexy droid
Episode III Ad At Australian Station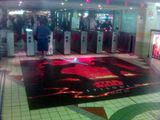 Those are the main ticket gates at Town Hall station in Sydney - the busiest station in the CBD. There are posters everywhere else in the station as well. Pretty hard to miss!
EDITOR'S NOTE: AND IN BORING HOUSTON, I'VE SEEN NARY A SINGLE AD. (HARUMPH)
Fan Trys to Steal EP3 Billboard
this humorous story reported in the "The West Australian" Newspaper on Wednesday:"
On Monday night, one eager fan swapped his lightsaber for light fingers when he tried to steal a giant Darth Vader billboard on the corner of Wellington and Barrack streets. The offender was caught but not before $6000 damage."
EDITOR'S NOTE: AND THEY SAY ALL SCIFI DWEEBS ARE BRAINIACS!?
Entertainment Weekly Episode III Cover
check out the Entertainment Weekly Star Wars cover, which will be on newsstands Monday, May 16th.

Burger King Toys By Wave
We've recieved a list by assortment of the Burger King toys set for the Revenge of the Sith promotion.
While there may not be a science to how, when, or what order these toys will be released in, here's what fans can look forward to in each assortment.
Assortment 1:
Han SoloMillenium FalconJabba the HuttWicketLuke SkywalkerDarth Vader
Assortment 2
:YodaX-Wing FighterR2-D2ChewbaccaDarth MaulDarth Vader
Assortment 3:
Emperor PalpatinePodracerPadme AmidalaJawaObi-Wan KenobiDarth Vader
Assortment 4
:General GrievousJedi StarfighterJar Jar BinksBogaPrincess Leia OrganaDarth Vader
Assortment 5
:Clone TrooperDarth Vader's TIE FighterBoba FettWampaC-3PODarth Vader
Assortment 6:
WattoLandspeederBattle DroidTarffulMace WinduDarth Vader
Each assortment comes in boxes of 200, 39 of each figure plus 5 Darth Vaders.
Each assortment is released in order week by week for the 6 week promotion.
There will also be a scratch of game Choose Your Destiny, similar to the
Spiderman
contest last year.
"
At my branch we have heard nothing about beggining early, we can't put out anything until the 16th. Some Burger Kings may put out the toys early if they run out of the Cranium Cadoo promotion currently going on, but they are not supposed too
."As we've already recieved one report that the toys are out, now would be a good time to check with your local BK.
EDITOR'S NOTE: ALREADY HAVE MY MILLENIUM FALCON, HAN IN CARBONITE, LUKE, AND WICKET. THESE TOYS ARE SERIOUSLY COOL (NOT THE USUAL FAST FOOD JUNK AT ALL!)
Free AOL Disc At Burger King
news about a free AOL CD packed with extras you can access without installing AOL!
Burger King has Star Wars themed AOL Trial CD's. The CD contains a trivia game, wallpapers, screensavers, teaser trailer, and a couple interviews (possibly webdocs).
No need to install AOL, just follow instructions on the included insert.
Path to the Dark Side Check Series

Our Price: $29.95
Box of 150 checks single or duplicate
Exclusive Dark Side Checkbook Cover
Certificate of Authenticity
Surprise collectible/keepsake
Ships May 19

"Path to the Dark Side", a limited production edition of Star Wars Character Checks, is the first check series ever produced to feature Darth Vader.
This limited production series will only have one base stock printing on May 19, 2005 to coincide with the release of
Star Wars: Episode III
and will only be available while supplies last. The story of Darth Vader is distinctly told through eight key scenes chosen from the six Star Wars feature cinema presentations.
Each time you write a check you will experience the rise of Darth Vader as Anakin Skywalker is transformed from young slave to the ultimate villian.
Path to the Dark Side is more than just a check series-- it is a full Star Wars experience.
Produced by The Anthony Grandio Company, Path to the Dark Side is unlike any check series you have ever used before.
Each check is printed with Star Wars information on both sides of the check. The check front contains both a main image of Anakin Skywalker during his transformation to Darth Vader and the related background scene. The background scene highlights the moment that is key to Anakin's transformation during that portion of the saga. Both scenes are printed in full color and at a color intensity level that is uncommon to checks purchased through traditional bank check printers.
The endorsement side of the check contains the Path to the Dark Side logo and a text summary of Anakin's transformation to Darth Vader as it relates to the scenes appearing on the front side of the check.
Each check contains securrity features but unlike traditional checks these security features are not just generic bank statements. Each check features a set of completely different security features specific to Darth Vader and the moment of transformation featured on the check.
The tone and coloring of each check turns more ominous as Anakin's fear, anger and hatred takes him further toward the Dark Side.
Purchasers of the Path to the Dark Side Pre-Order will receive:
A special commemorative certificate redeemable for one box of either one-part or duplicate wallet style check.
A commemorative Path to the Dark Side checkbook cover that is exclusive to the pre-order.
The Path to the Dark Side cover consists of the official Darth Vader in Flames--Episode III artwork stamped in a metalic red foil on black castillion vinyl and packaging exclusive to the pre-order.
While the Path to the Dark Side check series is an open edition, the pre-order package is limited in number. A "must have" for Star Wars enthusiasts, collectors, and lovers of Darth Vader.
ORDER NOW!
Please note: Path to the Dark Side base stock will not be printed until May 19, 2005. Purchasers of the pre-order will receive a certificate that must be returned to The Anthony Grandio Company along with your banking documents in order to receive your printed checks. See the certificate for complete redemption instructions. Photocopies of the certificate will be allowed for those who wish to keep their certificate intact for their collection. Checks will ship after June 1, 2005.
EDITOR'S NOTE: THESE LOOK PRETTY GROOVY, BUT I THINK I'LL STICK WITH MY FULL-SAGA CHECKS. (THEY HAVE HAN AND LEIA AND OTHER CHARACTERS. MORE FUN TO SWITCH IT OUT).
EDITOR'S NOTE: A COUPLE OF NON-SPOILER REVIEWS, INCLUDING ONE SENT IN BY PLANOKEVIN (THANKS, KEVIN!!!)
Star Wars Episode III : Revenge of the Sith
Ewan McGregor, Hayden Christensen, Natalie Portman, Ian McDiarmid, Samuel L.Jackson, Jimmy Smits, Frank Oz, Anthony Daniels, Christopher Lee, Kenny Baker, Keisha-Castle Hughes, Silas Carson, Bruce Spence, Temuera Morrison
Remember when you were a youngster having a birthday party and ending up gravely disappointed by it all because you never got the present you expected?
That's how I felt baring witness to George Lucas's first two-chapters in the "Star Wars" prequel trilogy.
Plain let down. Like homebrand cola to the preferred fizzy original, both of the recent "Star Wars" films – prequels to the original trilogy (1977 – 1983) – didn't quite have the same kick as their predecessors.
Instead of the thrills, spills, cool characters, even cooler villains, and solid storytelling of the vintage originals – which I grew up watching again, and again, and again; god bless, cinema triple-features! - we were left with little more than a 2-hour plus ad for both the toy line, and a showreel for the George Lucas's progress in special-effects technology.
Like the presents you got instead for your birthday that time, you still enjoyed the previous films to an extent – "Attack of the Clones" being the more tolerable - but really wished it could've been that present you were hankering for.
The third and final part in the back-story of Anakin Skywalker – the fallen Jedi who would become that tall, heavy-breathing clunk of black metal known as Darth Vader – was always going to be the most eventful chapter.
EDITED OUT SPOILERS.
Did George Lucas really direct this?
The same guy who slapped together the previous two cock-ups? Surely not? This one is so darn good!
EDITOR'S NOTE: TRYING TO BE BLASE AND NOT TAKE THIS TO HEART. (BUT GIGGLING AND DROOLING ANYWAY).
Surely he hasn't learnt from the mistakes he made with the first two films and given us the film we've all wanted from the get-go?
"Sith" is a satisfying package - good plot, impressive but never overbearing effects, and, to an extent, some good – shock! - Performances.
Hayden Christensen brings much more depth and complexity to the character of Anakin Skywalker than last time around, and Natalie Portman, though reduced to the sidelines for most of the proceedings, is allowed to give a more emotional performance this time.
But best of all is Ian McDiarmid, as the villainous Darth Sidious. He is an absolute corker – just his evil laugh and sinister speaking voice are enough to hold an audience. In fact, near of all the actors in the film – Ewan McGregor as the film's key good guy, Obi-Wan Kenobi, Jimmy Smits as Senator Bail Organa, and Samuel L.Jackson as stern Jedi Mace Windu - have been given much more range to 'act' here.
And thankfully, there's next to no Jar Jar Binks – the exasperating trawl we loved to hate from the first two prequel films - who doesn't even get a line.
EDITOR'S NOTE: AWW...POOR, MALIGNED JAR JAR.
Yes, "Sith" is still a platform for special effects, but there's a much more entrancing storyline taking precedence – and like an out of control twister, you'll be swept up in it.
From the opening space battle to the continuous lightsaber duels, and Skywalker's ominous fall from grace, this is an exhilarating, inexorably dark, somewhat distressing rollercoaster ride of fun.
Yes distressing. While the first two films felt as if they were squarely aimed at ankle biters, "Sith" is a gift to those adults who grew up with the series and have remained a fan all these years. The younger ones might actually be a bit frightened in this chapter, it does get pretty dark and some scenes will indeed disturb.
"Sith" still has its problems – too much ass kicking CGI Yoda, dorky dialogue, and a rather weak secondary villain (General Grievous), but all in all, they're such minor flaws.
This is probably the film "Star Wars" fans have been waiting for – OK, not quite as good as "Star Wars" or "Empire Strikes Back", but much more enjoyable than "Return of the Jedi" - making one even wonder whether the first two instalments in the prequel trilogy were even necessary.
I'm sure the very rich Lucas wouldn't have it any other way though.
"Revenge of the Sith" will still remind you of a birthday party – but only one that was such a blast you'll be sad to see it end.
And so the curtain falls on the six-part "Star Wars" series, and your reviewer looks back with fond, fond memories. Thanks Uncle George. Rating : 4 OUT OF 5 STARS
From dweebpal PlanoKevin:
Secrets of 'Sith'
SPOILER ALERT!

(EDITORS' NOTE: NOT REALLY)

Continue reading only if you're dying to know details about ''Star Wars: Episode III'' baddie General Grievous, improvements on Yoda, and who really steals the movie
by Jeff Jensen
1. Impress you with improved acting, Yoda will.
While the syntactically challenged Jedi's whirligig lightsaber chops and super-ball nimbleness stole the show in
Attack of the Clones
, animation director Rob Coleman was convinced he could do better.
''My desire was to bring extra subtlety to his performance
,'' says Coleman, who accomplished this goal by ''going back to film school'' — studying Gollum in
The Lord of the Rings,
researching actors and their process, and making his animators
''leave their computers for a while''
and act out the performances, which were videotaped.
Look for the close-up of the wise old warrior worriedly rubbing his head: Coleman says it's an homage to Akira Kurosawa's
Seven Samurai
, requested by George Lucas.
2. He ain't a whiny Padawan no more.
Lucas felt bad that Hayden Christensen got slammed for playing Anakin as a petulant brat in Clones.
''Anakin was a teenager. A pain in the ass teenager
,'' says Lucas,
''and I hate to say it, but that's what a lot of teenagers are!'
'
Christensen says he wanted to make Anakin darker, but Lucas asked him to refrain until Sith.
''The choices I had to make in Clones really weren't that exciting for me
,'' says the 24-year-old actor.
''This time, there was enthusiasm all around
.''
To play the older, cockier, and ultimately stone-cold-evil Anakin in Sith (He kills kids! Bad Annie! Bad!), Christensen lowered his voice half a register and bulked up 25 pounds.
''George said, 'I want you to put on some size. Think Rambo.'''
And yes, that's him in the Vader suit.
''It was very empowering. You get this beastly feeling inside you.
'' Beastly sounds good — much better than petulant.
3. The bad guy steals the show.
Ian McDiarmid has played the suspicious politico Palpatine (in one form or another) in five Star Wars films over 22 years, but he finally gets to shine in Sith with a seductively shady performance that imbues the film with dark, insidious menace.
''It's nice to go out with a bang,''
says the 60-year-old Scot, known otherwise for an acclaimed career in English theater.
Through Palpatine, Sith vibrates with the zeitgeist — trumped-up wars, politics of fear, church/state conflicts — and McDiarmid digs it.
''It's saying we want to be careful because the freedoms we have are so easily eroded,''
he says.
''We can so easily be persuaded into thinking we're doing the right thing.''
The actor came up with Palpatine's sinister croak during
Return of the Jedi
after seeing the concept art for his character.
''He looked like a disgusting reptile — an old toad, in a way
,'' he says.
''I thought he came from the depths, so the voice should come from the depths of me.''
EDITOR'S NOTE: SOMETIMES ACTORY TALK IS LAUGHABLE. BUT THIS GUY, MAKES IT WORK.
McDiarmid relished his lightsaber work but sniffs at his sparring rival, Yoda.
''He's terrible. Never turns up. Sends his funny little dummy that gets moved around,''
he deadpans.
''Most unprofessional.''
EDITORS' NOTE: BRITISH IS JUST BETTER. BETTER AT EVIL. FUNNIER.
4. General Grievous is Darth Vader's daddy.
Kinda. A Jedi-killing four-armed alien/android with a skeletal canine mug, who twirls lightsabers like deadly rotary blades, the computer-generated Grievous falls in the storied Star Wars tradition of rich secondary characters.
Lucas originally wanted a powerfully erect posture for the 'droid, but decided during production to change course and have him rendered hunched and sickly. He even has a chronic cough.
Coleman says the idea was to foreshadow Star Wars' more famous half-man/half-machine:
''He's like the alpha version of Vader
.'' Grievous' vampiric movements were inspired by the German horror classic
Nosferatu
, one of many monster-movie references in Sith. (Vader's entrance is so Frankenstein, you may find yourself inspired to shout, ''It's alive!'')
5. Lucas got some help from an old Jedi named Spielberg.
Although to hear Lucas tell it, he was doing the
E.T
. director the favor. ''I
was getting ready to shoot in Australia
,'' says Lucas,
''and Steven was whining on the phone all the time, 'Ohhh, I don't have anything to do, I'm sitting here by the pool, and poor me, I don't have a movie to direct...'''
So Lucas sent one of his computer artists chez Spielberg to hang with the director and map out some action sequences, including Yoda's duel with Darth Sidious and Obi-Wan Kenobi's tussle with General Grievous (though Spielberg's plan for the latter was so epic, Lucas could use only bits of it).
Spielberg weighed in on other scenes, too, such as Anakin and Obi-Wan's climactic battle on the lava planet of Mustafar. His involvement was enough to inspire on-set rumors that Lucas was bringing Spielberg to Australia to codirect. Not true, according to all parties.
EDITOR'S NOTE: STILL,

ANY

COUSIN STEVIE INFLUENCE IS BOUND TO BE A GOOD THING.
AND GOING FROM THE SUBLIME TO THE REALLY RIDICULOUS.....

ODDBOB QUOTES SOMEONE ELSE:
I look at May 19th, the day "Star Wars: Episode III" is released, as one of the single greatest days of my life. My mom just sees it as a window of opportunity to clean the basement.

How Lightsabers Work
Chances are that you have seen a lightsaber at one time or another, whether on the evening news or down at the local cantina. Therefore you know that a lightsaber is an amazing and versatile device that is able to cut through nearly anything in a matter of milliseconds.
Have you ever wondered how these remarkable weapons work? Where does the energy come from, and how are they able to contain that energy in a rod-like column of glowing power?
In this edition of HowStuffWorks, you will have a chance to look inside a lightsaber and discover the source of its incredible characteristics. Let's get started!

Important Safety Information
A lightsaber is not a toy! Keep it out of reach of children at all times. Lightsaber locks are required in most states.

There are two ends to any lightsaber -- one end has the belt ring, while the other end houses the blade arc tip and blade emitter. NEVER point the blade emitter of a lightsaber toward your own body. NEVER look down the "barrel" of a lightsaber, even if you are "sure" it is in safe mode. If you accidentally activate the lightsaber, serious injury could result.

A lightsaber is a unique device, created by hand -- the controls will be slightly different on each individual lightsaber that you buy. But all lightsabers share the same general characteristics. If you were ever to pick up and examine a typical lightsaber, here are several things that you would immediately notice:
A lightsaber is normally about 30 centimeters long, about the size of a large flashlight.
At one end is the hand grip, belt ring and on/off switch (a.k.a., the Activation Matrix).
At the other end there is the blade arc tip and stabilizing ring.
Somewhere on the case (generally near the blade end of the lightsaber) you find one or two adjusting knobs for blade power and blade length.
When you turn on the lightsaber (*see important safety tips), you will notice the blade rapidly extending to its set length. You can adjust the length using the blade length adjusting knob. The lightsaber blade will make a distinctive sound that is typical of an arc wave energy field. You will also feel a gyroscopic effect in the handle, which again is a distinctive characteristic of the arc wave blade. This gyroscopic effect can take some getting used to, so be sure to handle any active lightsaber with extreme care until you are completely familiar with its feel and handling.
Slicing and Dicing
Once active, the blade of a lightsaber can be used in four different ways.
The most common use, of course, is slicing. A lightsaber is like a sword on steroids. Cutting through any human limb -- even an entire torso -- is trivial. It's like cutting through a banana with a machete.
With practice you can also use a lightsaber like a knife. For example, if you need to cut open the belly of a large domestic animal like a horse or a tauntaun, the lightsaber is the perfect tool. Simply use the tip of the blade and control the depth of your cut just like you would with a scalpel.
Nearly anything you would normally find around the home or office is easy to cut with a lightsaber, including steel pipes, reinforcing beams, mounting struts and so on. If you happen to find yourself hanging upside down in a cave, a lightsaber is the perfect tool to use to cut the rope.
Another common use is melting. For example, if you come upon a three-foot-thick blast door, you cannot "slice" your way through it like you can with a normal steel or concrete partition. But you can plunge the blade of your lightsaber straight into the door and then melt your way through it to cut out an opening. This normally takes several minutes, but the results are most impressive to anyone on the other side of the blast door.
Another important use of a lightsaber is deflection, in two different ways:
A lightsaber blade can deflect another lightsaber blade and block its path.
A lightsaber blade can deflect blaster bolts. In most cases you will want to deflect the bolts back at the person who shot them at you in the first place, but it is also possible to deflect them toward other objects and people in the room.
A lightsaber user with a strong affinity for the Force has a distinct advantage in the latter situation. By using the Force, the wielder can anticipate the path of the blaster bolt and align the blade with that path prior to the bolt's arrival. Using normal visual tracking to accomplish the same effect can be far more difficult.
Inside the Lightsaber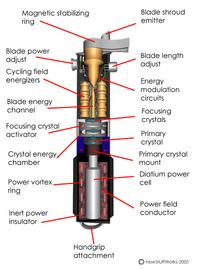 The construction of a lightsaber is a Jedi art passed down primarily by word-of-mouth from a Jedi master to his young Padawan learner. Therefore the interior features of any two lightsabers can vary in their details.
However, the main features are remarkably consistent from lightsaber to lightsaber because of the common lineage of information.

The four major components inside any lightsaber include:
The power cell and associated components
The crystal energy chamber
The energy channel and blade arc tip
The controls
In the next sections we'll look at each of these elements in detail.
The Power Cell
Obviously a lightsaber contains a tremendous amount of energy -- far more than a blaster, for example. Any device that can melt its way through a three-foot-thick reinforced blast door in a matter of minutes obviously has access to tremendous energy reserves. Estimates range as high as several megawatt-hours of stored energy.
The source of this energy is a diatium power cell -- a device no larger than a roll of LifeSavers®. Diatium power cells are available from a variety of military and some civilian sources.
Surrounding the power cell is a power field conductor and the power vortex ring. These two devices work in concert with one another to move the available energy toward the energy gate.
The energy gate controls the flow of energy into the crystal energy chamber.
The Crystal Energy Chamber
Really the heart of any lightsaber, the crystal energy chamber is responsible for primary energy conversion. At least two crystals (typically of the Adegan variety) are used in the energy chamber.
The first crystal is known as the primary crystal. It converts the energy channeling from the power assembly and then transfers its output to one or more focusing crystals. The focusing crystals are held in place by the focusing crystal activator.
The crystal energy chamber is the reason why all lightsabers are built by hand, and then only in the latter stages of Jedi training. The builder must align the crystals perfectly or risk detonation of the lightsaber upon activation. Only through the use of the Force can the proper alignment be guaranteed.
With several megawatt-hours of energy on tap, detonation is of course a catastrophic event. For this reason, initial activation is normally done remotely with an inexpensive droid.
The Energy Channel and Controls
The energy channel is where the actual lightsaber blade is generated. Energy flowing from the crystal energy chamber is converted to the arc wave that will become the blade. The arc wave flows up through the blade energy channel and past the cycling field energizers. These energizers are responsible for the gyroscopic effect discussed earlier in the article.
The refined arc wave makes its way to the blade arc tip and from there becomes visible as the glowing blade of the lightsaber that is so familiar.
The on/off switch, also known as the activation matrix, as well as the blade length and power adjustment controls are typically located near the cycling field energizers. Using these controls, the lightsaber's owner can tune the blade for specific applications.
Double-bladed Lightsaber
Although they are rare, you will occasionally see a double-bladed lightsaber. There is no magic here -- it is simply two normal lightsabers mounted back-to-back in a single hilt.
The risk of personal injury is much higher with a double-bladed lightsaber, and their practical applications around the home are limited. Therefore, it is probably best to save your money and stick with the single-blade version.
Using Your Lightsaber Around the Home
Although a lightsaber is typically used as a defensive weapon by Jedi knights, the availability of lightsabers on consumer sites such as eBay is growing.
It is a sad fact of life, but if a Jedi knight falls on hard times, his lightsaber is one source of quick cash. He can always build another one.
If you are lucky enough to acquire a lightsaber, you are probably purchasing it for personal defense purposes. A lightsaber completely blows away a can of pepper spray as a deterrent in muggings or robberies.
However, many new owners are pleasantly surprised by the many domestic uses of a lightsaber around the home or office.
Let's examine a few of the more common applications here, and then you can use your imagination to come up with others.

The big advantage of using a lightsaber, of course, is that you can both cut and toast the bagel in one stroke.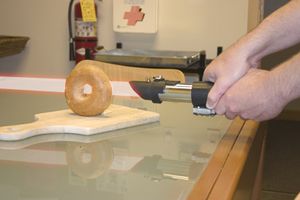 Hedge Trimming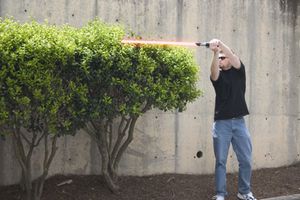 More Uses
Lighting a Cigarette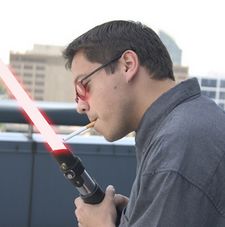 Reheating coffee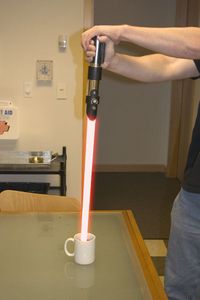 Serving Cake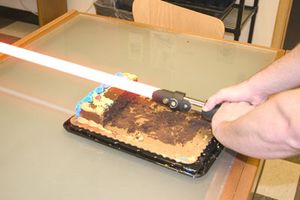 Felling a Tree



EDITORS' NOTE: AND SINCE WE'VE ALREADY TRAVELLED SO VERY FAR DOWN THE SILLY PATH....
How To Build A Death Star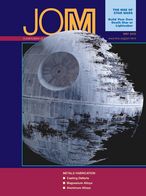 Ciro writes:I'm an engineer and it was very amusing to see on the cover of this month's respected Journal of Material (JOM) an image of the Star War's Death Star and how they are going to cover a discussion on building Star Wars weapons.
I guess we engineers do have sense of humor.
JOM: May 2005Volume Number: 57Issue Number: 5
THIS MONTH'S THEME: Metals FabricationThe Death Star was a looming metallic emblem of all that was evil in the Star Wars universe. The space-based battle station was capable of destroying entire planets with a single, illogical blast of a laser beam.
To learn more about the fantastic science of the Star Wars movies, as well as TMS members' ideas on building some Star Wars weapons, see the artilce on page 12. Photo by Lucasfilm Ltd.