Monday. Harry Potter. (notstarwars)
EDITOR'S NOTE: DESPITE THE FACT THAT STAR WARS IS ALL I REALLY CAN THINK ABOUT RIGHT NOW (LIKE YOU ARE PONDERING WEIGHTIER MATTERS???), I AM GOING TO DIGRESS TO OTHER, NON-SW ITEMS FOR A WEE BIT. LEST WE EMERGE AFTER 5/19 COMPLETELY LOST IN THE WILDERNESS.
GobletofFire.com
Warner Bros has updated the official US
Goblet of Fire
site to include a waiting page and a much larger version of the teaser poster.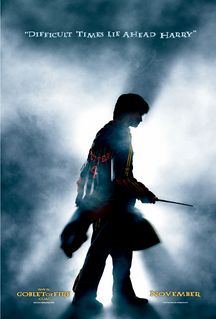 EDITOR'S NOTE: AWFULLY GROOVY POSTER!!! (AND DID YOU SEE THE TEASER TRAILER YET?) SEE EARLIER POST FROM THIS WEEKEND FOR THE WEB ADDRESS AND CHECK IT OUT)!