One week...and a little bit more. STAR WARS. (marketing)
EDITOR'S NOTE: IF ALL ADVERTISING WERE AS MUCH FUN AS STAR WARS ADVERTISING, I MIGHT NOT BE SO EAGER TO ESCAPE ITS EMPLOY.....
Burger King Commercials Start Tonight
ADWEEK
talks about the new Burger King ad campaign starting tonight.
Did you catch one of the very first showings during American Idol?
EDITOR'S NOTE: NOPE.
Burger King will launch a six-week promotion tied to the release of the new Star Wars movie with a 15-second television spot on tonight's episode of American Idol, the company said.
The ad is the first of 10 that have been produced to promote the hamburger chain's association with
Star Wars Episode III: Revenge of the Sith
, which opens in theaters May 19.
The spots will run on broadcast and cable networks for the next six weeks.The eight general-market television ads in the campaign were created and produced by MDC Partners' Crispin Porter + Bogusky in Miami. The two ads for children were created and produced by Interpublic Group's Campbell Mithun in Chicago.
EDITOR'S NOTE: OK. I'M ON A DIET. SO ALL YOU SKINNY PEOPLE GO TO BK AND SEND ME THE TOYS!
Revenge is a Sith Best Served Cold: Pepsi's New Darth Dew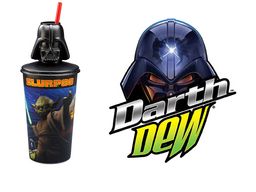 Vader. Maul. Tyranus. Sidious. Dew. What's that? Haven't heard of the latest addition to the Empire's den of Darths? Pepsi's latest Slurpee exclusive, Darth Dew, joins the Sith set this week, infiltrating some 5,800 7-Eleven stores across the U.S. and Canada.
EDITOR'S NOTE: AND YET ANOTHER TASK FOR YOU DWEEBPALS OUT THERE. AS IT TURNS OUT, THERE ARE NO 7-ELEVENS IN HOUSTON. I WILL GLADLY PAY, IF SOMEONE OUT THERE (IN A 7-ELEVEN-FRIENDLY CITY) WANTS TO BUY A SLURPEE AND SEND ME THE CUP(S)!???
Dew was seduced by the dark side of the Force. Once called Mountain Dew Pitch Black, Pepsi has twisted the grape-flavored Dew into a devilishly delicious Sith Slurpee,
EDITOR'S NOTE: IMAGINE YOUR TONGUE ALL FROZEN FROM DRINKING THE SLURPEE. NOW SAY 'SITH SLURPEE' REALLY FAST. (GIGGLE)
destined to send chills through legions of thirsty Star Wars fans.
From May 2-31, Darth Dew will be available at participating 7-Eleven stores in four different action-illustrated cups complete with 3D Darth Vader topper.
Fans can also visit
http://www.slurpee.com/
and enter to win a one-week trip to LucasArts' studio in San Francisco and be featured as a character in an upcoming Star Wars video game! Other prizes include Xbox video game consoles with the Episode III video game, Darth Vader Voice Changing Masks, Game Boy Advance Episode III video games, and Darth Dew t-shirts.
Before heading down to your local 7-Eleven
EDITOR'S NOTE: I CAN'T DARN IT! STOP TEASING ME THIS WAY!!!
to try Darth Dew, fans should heed the sage advice of their favorite Jedi Master: "
Once you start down the dark path, forever will it dominate your destiny. Consume it, you will."

Well, something like that.
The Real Scoop On Target Clones
While the source of this information chooses to remain anonymous, we have an extremely high level of confidence in the details provided.
Things to know about the Target Clone Trooper:
1. May 8th was the revision date, not the release date. That means that the 8th is when the Clone officially replaces the Lava Vader on the pegs.
EDITOR'S NOTE: LIKE ANYONE BESIDES 'SCALPERS' HAS ACTUALLY SEEN LAVA VADER ON ANY PEGS?!!
A revision date is the first day of the week that this is to be completed. So stores have all this week to make that change.
2. This item has/had no official "release" date. Unlike the Lava Vader (which had special handling instructions), and the other E3 toys, which did.
3. We received word that the item could be placed for sale upon receipt, (to fill the Lava Vader hole). It is really at the discretion of each store to hold the item for the revision, or put it out right away.
4. This item is again limited to 50,000, with a second wave due to show up.So, collectors stay tuned, it appears more Clones could show up at any time.
Episode III Ad on Russian Tram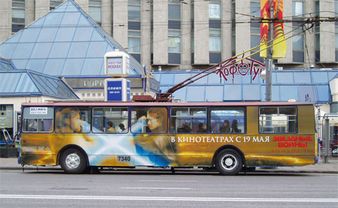 Kirill sends in a picture of an Episode III ad on a Russian tram in Moscow
EDITOR'S NOTE: IN CASE YOU WONDERED IF COMMUNISM WAS OFFICIALLY DEAD?
UK Episode III Vader Billboard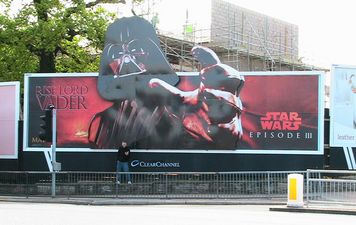 Richard writes:This appeared outside Bounds Green tube station, North London, England, last week, right on my doorstep! I guess the Imperial campaign will be strong for this one!
EDITOR'S NOTE: I REST MY CASE. BRITISH. COOL. DO WE SEE THIS IN HOUSTON? NO, WE DO NOT.
Gone to the dark side
The toys are hot, but "Revenge of the Sith" is not kids' stuff.
By Geoff BoucherTimes Staff Writer
Some of the hottest toys in America for kids ages 4 and up are $20 "Star Wars" light sabers that have been upgraded to change colors or vibrate with "feel the Force" combat action. The plastic swords do more than make cash registers ring; each one is a reminder to youngsters that a brand-new "Star Wars" film hits theaters May 19.
But there is a dark side to the retail force.
Despite the flood of playthings that have clogged toy aisles for the last month, "Star Wars: Episode III Revenge of the Sith" is not a film for the youngest fans.
The last film in the storied franchise but the first to receive a PG-13 rating, "Sith" is too grim and too intense for 5- and 6-year-olds, according to the filmmaker himself. George Lucas said he is already taking heat from parents who are bracing for trauma or tantrums — the former if they take their young children to "Sith," the latter if they don't.
"
There's nothing I can do about it
," Lucas said last week at his Marin County headquarters, Skywalker Ranch. "
That's the story."
To Lucas, the story is the dark, final chapter to an opus he began writing in 1971 — but to many parents, it is the latest popcorn movie of the summer to tell its youngest fans that they should stay home with the baby-sitter on opening night. The gap between the toy aisles and the box-office window has been growing in recent years — it was never more evident than with the dark and disturbing 2003 "Hulk" movie
EDITOR'S NOTE: IF, BY 'DISTURBING', YOU MEAN REALLY REALLY BAD?
— but this time around, the movie in question is a pop-culture happening of the first order.
EDITOR'S NOTE: FAR OUT, MAN. WE'RE GOING TO A 'HAPPENING'!!!
The plot of "Sith" is the transformation of Anakin Skywalker into Darth Vader.
SPOILER ALERT.
One sequence of his descent into evil is especially bracing: It's when a group of "younglings," the 7- to 10-year-old proteges of the Jedi, are slaughtered by the villain in his quest to snuff out the knighthood. The light-saber massacre occurs off-screen, but the framing scene and the glimpse of corpses afterward make his deed clear."You don't ever see it," Lucas said. "It's implied. But it's very important that he turn very bad."Far more explicit is pain that Skywalker suffers later in the film; after a climactic light-saber battle on a lava planet, the villain howls from the loss of limbs and the graphic charring of his flesh.
END SPOILER ALERT
The intensity of those sequences makes for some incongruous tie-ins this time around for the franchise that practically invented Hollywood toy and product synergy. That gruesome scene on the lava planet? That's the inspiration behind Darth Vader's face on new boxes of "lava berry explosion" Pop-Tarts and Keebler's "Lava Stripes" fudge cookies.
EDITOR'S NOTE: WELL, THAT CRAP ISN'T GOOD FOR KIDS TO EAT ANYWAY. (GIGGLE)
Nowhere is "Sith" more visible than in toy aisles, thanks to an array of new playthings and games from the Rhode Island-based Hasbro Inc. toys.
Brian Goldner, who oversees the company's U.S. line of toys, said the sale of "Sith" toys to very young children does not send the message that "Sith" is a movie for them to see."
We sell a tremendous variety of toys for 'Star Wars,' and we sell different toys for different ages as well as for collectors,"
Goldner said. "
I don't think anyone expects those children to be at the movie on opening day. The toys are a way to participate too, for the kids that won't be at the theater."
EDITOR'S NOTE: ALTHOUGH I DO THINK THE STAR WARS CIGARS AND WHISKEY ARE TAKING IT TOO FAR, DON'T YOU? (SNICKER).
But Harold Schechter, a professor at Queens College in New York and author of "Savage Pastimes" and other writings on pop culture violence, said the sale of toys to the very youngest of consumers is an instance of "
Lucas wanting his cake and eating it too. He wants a movie that will appeal to the older teens, but he still wants this movie to be all things to all people with the retail presence."
EDITOR'S NOTE: SO UNCLE G FINALLY GOES GROWN-UP ON US AND HE CATCHES FLACK. FOR EPS 1 AND 2, HE CAUGHT WHAT-FOR CAUSE THEY WERE PERCEIVED AS TOO 'KIDDIE'. THE POOR GUY CAN'T WIN FOR LOSIN.
For many parents, news that "Sith" will be PG-13 — meaning parental guidance is suggested and that material could be inappropriate for those younger than 13 — means that they will have to scout the film first.
"
What I will do is before taking my 6-year-old son, I will go and watch the movie and try to predict how he would take it,"
said Bruce Stein, who has already ruled out taking his 3-year-old daughter. Stein has more insight into the "Sith" issue than most parents. A former president of both Mattel Toys Worldwide and Kenner Toys, Stein had firsthand experience with films-as-toys, including some "Star Wars" projects. He now is a partner in the Hatchery, a company with varied entertainment projects in the realm of family fare, among them a "Benji" movie. "
I don't think the mistake here is putting the movie out with a PG-13 rating, I think the mistake if any is in putting out a preschool line of toys,"
Stein said.
What is undeniable is the humongous success of "Star Wars" as a toy entity.
The "Star Wars" films have made $9 billion in merchandise sales with products as varied as a $340 metallic replica of Yoda's light saber to an $8 Darth Vader edition of Mr. Potato Head.
EDITOR'S NOTE: ANOTHER TOY THAT MUST COME LIVE WITH ME POSTEHASTE!
That staggering retail total is triple the franchise's box office sales.
Nothing is hotter than the plastic "Sith" light sabers that are all the rage with 5-year-old boys.
Wal-Mart, a powerhouse in U.S. toy sales, had overnight hours early last month to give collectors first shot at the debut of the "Sith" toys, and now sandlots everywhere are packed with youngsters mimicking Anakin Skywalker and his more heroic offspring, Luke. (Hasbro declines to discuss sales to date, but in toy industry trade publications the item is hailed as the season's brisk seller.)
"
With that and our new talking Darth Vader mask, it gives the kids a chance to take it to a whole new level, with the sound of his breathing and everything,"
said Hasbro's Goldner. "
Even if they can't go to the movie, they can be part of it."
More often, youngsters find that the toys, comic books and cartoons that are geared toward them are tied into movies that they cannot be part of at the Cineplex.
After years of comic books heroes reaching the screen as uninspired juvenilia, movies such as "Spider-Man" and "X-Men" scored big money and acclaim with PG-13 efforts that were fun romps but also kept the attention of older teens by including brutal fistfights and an impaling here and there.
Fantasy films, too, have taken a turn toward the more mature scripts and harrowing images, as evidenced by the "Lord of the Rings" series and the most recent "Harry Potter" installment.
The "Rings" movies were rated PG-13, while the "Potter" films were able to keep the action in the PG territory.
EDITOR'S NOTE: LET'S SEE HOW LONG HP CAN STAY KID-FRIENDLY, GIVEN THE DIRECTION THE BOOKS ARE HEADING.
This summer, "Sith" is joined by "Batman Begins," another PG-13 film, as the latest entry in the category of children's heroic fare forced to grow up and grow dark for its 21st century revival.
Any traces of camp that may have lingered from the "Batman" television series of the 1960s are wiped away in this go-round by director Christopher Nolan, who is best known for the complicated crime thriller "Memento." His take on the caped crusader is being described as a psychologically gripping one geared to adults.
"Batman Begins" arrives June 15 with some parallels to "Hulk."
EDITOR'S NOTE: OOO. LET'S

HOPE

NOT!
That summer 2003 film was clearly not geared toward children — director Ang Lee turned the tale into a horror story laced with Freudian ruminations — but still had toy tie-ins such as the "Hulk hands," noise-making plastic gloves that were aimed at preschoolers and elementary school kids.
Does this all create an unspoken contract that the movie will be an all-ages affair?
Yes and no, said Diane Nelson, executive vice president of Global Brand Management, a division of Warner Bros. that handles the retail life of Batman in connection with the film."
You could say the toys are part of all the different cues that help define these event [movies], that the toy is sending a message that the film is coming and it may be for the kids,"
Nelson said. "
But you can also say that the array of products gives different consumers of different ages a way to participate in the Batman [experience] and that whether the parent decided to let the child go to the movie or not, this gives the child a way to experience part of the event."
Nelson has a 5-year-old son who, as might be expected, already has a Batmobile and a growing collection of "Batman Begins" toys. "
He won't be seeing the movie, but the toys give him a way to have fun with this movie he would be aware of no matter what."
As for the darkness of "Sith," it follows two "Star Wars" installments that were unkindly reviewed in some quarters for having a lightweight screen presence.
EDITOR'S NOTE: EXACTLY!
Lucas said the previous film, "Attack of the Clones," would have been PG-13 had he not excised certain scenes. He knew this film would draw the stronger rating because
"we cut off a few more arms, a few more legs."
Twenty-eight summers have passed since Lucas gave the world a family classic, "Star Wars." "Sith" is not that movie. Worse than gore, Lucas said, may be watching a father turn evil and a family splinter in "Sith."
"
For little kids
," Lucas said,
"that's pretty hard to take.... I'm not making these, oddly enough, to be giant, successful blockbusters. I'm making them because I'm telling a story, and I have to tell the story I intended."
The spots be with you: 'Star Wars' everywhere
By Gail Schiller
Chewbacca is busy recording ringtones for Cingular Wireless. Yoda is using the Force to lure a Diet Pepsi away from a fellow diner patron. And Darth Vader is preparing to fight a boy armed with a light-up SaberSpoon from a Kellogg's cereal box.
EDITOR'S NOTE: AIN'T LIFE GRAND!??!!
As "Star Wars" fans eagerly anticipate the May 19 opening of "Star Wars: Episode III -- Revenge of the Sith," the final installment of the most successful and celebrated film franchise in history, the classic "Star Wars" characters from a galaxy far, far away are taking a far more active role in pitching products in TV spots here on Earth than they have for any of the earlier films in the franchise.
As part of their promotional deals with Lucasfilm for "Sith" -- which include tens of millions of dollars of marketing support for the movie -- Burger King, Kellogg's and Cingular Wireless commercials will feature such perennial "Star Wars" favorites as Chewbacca, R2-D2, C-3PO and Darth Vader in their TV commercials. Pepsi has exclusive rights to feature Yoda in its spot. And two other promotional partners, PepsiCo.'s Frito-Lay and Masterfoods' M&M's, are featuring their own animated Cheetos and M&M's brands dressed up as "Star Wars" characters in their TV spots.
While "Star Wars" characters have been featured in other advertisers' TV spots to a limited extent in the past, this is the first time they have appeared in our world, not their own fictional galaxy, according to Lucas Licensing president Howard Roffman.
It also is the first time Lucasfilm has allowed its world-renowned characters to be featured in so many different commercials at one time as the foundation of a campaign, he said."
This is the first time we've really allowed people to go further in terms of using the 'Star Wars' characters as icons,"
Roffman said. "
Because they're so much a part of the popular culture, we were willing to let the characters exist in situations other than the way in which you see them in the films. What we're doing this time is a sign of the fact that these are cultural icons that have established themselves over the past 28 years and that allows you to have some fun with it."
Marketers said it was a huge step for Lucasfilm -- which has been extremely protective of its characters in the past -- and it was prompted by the studio's desire to land bigger promotional deals."
Now they're thinking it's more important to get the word out about 'Star Wars' than protect their characters,
" said Aaron Gordon, president of entertainment marketing firm Set Resources. "
It goes against their initial policy of not selling out their characters or diminishing them by putting them in TV commercials."
EDITOR'S NOTE: RIGHT TIME RIGHT PLACE. MAYBE, EARLIER, IT WOULDN'T HAVE WORKED, BUT FOR SOME REASON, IT DOESN'T FEEL LIKE DIMINISHING AT THIS JUNCTURE. IT FEELS HIP. AND LIKE LFL IS VERY CONFIDENT AND LOOSE.
But Roffman said that "Star Wars" has been "
commercialized from the very beginning
" and that the company's past concerns were about protecting the integrity of the characters, not overcommercializing them.
"
Tie-ins and promotions have been sold for a long time
," Roffman said. "
It has worked because people like 'Star Wars,' and they like buying 'Star Wars' product. When something becomes as well established as part of the cultural lexicon as 'Star Wars,' it gives you the license to take more liberty with it and have more fun with it. These film releases are events, and this is part of what people have come to expect."
EDITOR'S NOTE: EXACTLY. IT'S A PART OF THE FUN OF THE 'EVENT' OF STAR WARS OPENINGS.
With mounting competition for promotional dollars and marketers' demands for large-scale tie-ins on the rise, Lucasfilm might have felt pressured to offer up the "Star Wars" characters, marketers said.
"There are about 20 to 30 companies that will do one or two film promotions each year,"
Gordon said. "
Every single studio is fighting over who gets these promotions
."
With such hit films as "Shrek 2" and "The Incredibles" offering promotional partners custom animation for spots, the bar has been raised.
While such actors as Hayden Christensen and Natalie Portman -- who play the central human roles in "Sith" -- do not appear in any of the spots, the costumed characters do have starring roles.
Some marketers said characters including Chewy, Darth Vader and C-3PO, all of whom go back to the first film that launched the series in 1977, are even more iconic and valuable for their spots than the real-life actors.
"
Given the success of this movie franchise and all of the hype and excitement currently being generated as this last installment of the franchise is getting ready to launch, we felt it was very important for us to be able to use these characters not only in our commercials but in our content,
" said Vance Overbey, executive director of advertising at Cingular Wireless.As part of its promotion, Cingular is offering its 50 million customers access to "Star Wars" ringtones, games, video clips, graphics and animated screensavers as well as other content from all six movies. It is also selling Sony Ericsson handsets preloaded with exclusive "Star Wars" content and a RAZZ headset preloaded with 10 famous sound clips from the "Star Wars" saga. Cingular said it is the first collection of "Star Wars" wireless content ever to be released in the U.S.
Both Lucasfilm and its promotional partners declined comment on whether they had to pay additional fees beyond their marketing spends to use "Star Wars" characters in their commercials. But Cingular is believed to have gotten the rights to use the characters in both its exclusive content offerings and in its commercial spot -- which features Chewy struggling to alter his monotone grunt for Cingular ringtones as Darth Vader, C-3PO, R2-D2 and storm troopers impatiently wait their turn -- in exchange for a multimillion-dollar media buy.
Lucasfilm and all its promotional partners also declined comment on how much they were spending on media tied to the release of "Sith."
Roffman said that while "Sith" has more promotional partners than any other "Star Wars" film, more media dollars were spent by tie-in partners on "Star Wars: Episode I -- The Phantom Menace" in 1999.
Other brands tied into "Sith" also said it was important to have the "Star Wars" characters appear in their commercials. "
It's really a fantastic opportunity to be associated with such icons of pop culture,"
Burger King senior director of national promotions and sponsorships Cindy Syracuse said. Burger King, which also partnered with Lucasfilm for the first two "Star Wars" movies, said it is running eight commercials tied to its adult promotion -- a scratch-and-win game fixed to specially marked value meal packaging. Two other commercials will promote its kids meals offering one of 31 toys celebrating the "Star Wars" saga.
EDITOR'S NOTE: OH HEAVENS. 31? SOMEONE GO BUY SOME HAMBURGERS FOR ME, PLEASE!!!
Syracuse said the global promotion in about 50 countries will close the "Star Wars" circle for the quick-service restaurant, which also is offering spacy green cherry ICEEs and star- and lightning bolt-shaped chicken tenders as part of its promotion.
"
We began the 'Star Wars' adventure with them almost 30 years ago, and we're finishing the adventure with them,"
she said.
Pepsi said it was important to the company to have exclusive rights to the computer-generated Yoda to stand out from other promotional partners.
"We felt we could differ from others by having Yoda in our fold,"
said Frank Cooper, vp promotions, interactive and entertainment marketing at PepsiCo. "
Yoda's symbolic significance within the culture allows us to tie in our brand in a really powerful way."
Chewy also makes a brief appearance in the Pepsi spot.
Pepsi's promotion includes an online sweepstakes with more than $1 million in prizes and a partnership with 7-Eleven Inc. to offer Darth Dew Slurpees and four limited-edition 3-D cups at participating stores nationwide.
The Kellogg's promotion will feature "Star Wars" characters, cast members, premiums and giveaways across virtually all of Kellogg's brands on more than 100 million product packages from April through June in 180 countries. It is only the second time Kellogg's has done a global film tie-in.
For its promotion, M&M's is daring consumers to go to the dark side with the first-ever dark chocolate M&Ms and creating a parallel "M-pire" of M&Ms dressed up as characters from all six Star Wars movies, including M2-D2 and M-3PO.
EDITOR'S NOTE: M&M STAR WARS CHARACTERS ROCK!!!
Even Hasbro, the master toy licensee for "Sith," has created a toy line of M&Ms dressed up as "Star Wars" characters.
EDITOR'S NOTE: MUSTHAVEMUSTHAVEMUSTHAVE!
For its part, Frito-Lay is launching Twisted Cheetos snacks that temporarily change the color of your tongue to "Darth Vader Dark" or "Yoda Green."
EDITOR'S NOTE: AND THERE'S MY POINT. IF I WAS WORKING ON ADVERTISING FOR SOMETHING THAT CHANGED THE COLOR OF MY TONGUE, I'D REALLY LIKE MY JOB!
The Force Behind Star Wars

The franchise may be getting a little long in the tooth, but creator George Lucas will still make a mint on it. Let's count the ways
Chances are that George Lucas'
Star Wars: Episode III -- Revenge of the Sith
will be one of this summer's box-office hits. It's the sixth -- and presumably final -- installment of the franchise that set new standards for special effects when the first one was released in 1977.
But for all of its supergalactic buildup, Stars Wars: Episode III could also end up being a big disappointment.
EDITOR'S NOTE: HERE'S MY TUCHUSS. KISS IT.
It already has the unmistakable feel of being part of a faded franchise
EDITOR'S NOTE: TO WHOM?
, even though it'll likely still do north of $200 million in the U.S. alone. And less than stellar box office could be bad news for the film's small army of promotional partners, who have already had to contend with the tightfisted, controlling Lucas.
To get an idea of why Sith might underperform, take a look at the numbers for
Star Wars: Episode II, Attack of the Clones
, the fifth in the series.
It grossed $310.7 million at the U.S. box office in 2002, according to movie tracker Nielsen EDI. That was enough to make it the year's No. 3 flick, behind
Spider-Man
and
Lord of the Rings: The Two Towers
. But Episode II did $120 million less at the box office than 1997's
Star Wars: Episode I -- The Phantom Menace
, according to EDI.
More important, Episode II saw a drop of 25% from the first weekend to the second, while the 1997 installment saw its box office increase by 3.2% between weekends one and two.
Clearly, not a lot of overage Wookie lovers were walking out of
The Phantom Menace
humming a John Williams tune.
EDITOR'S NOTE: IS THERE ANY OTHER FRANCHISE WHERE 310 MILLION IS CASTIGATED AS DISAPPOINTING? OR THAT HAS ITS BOX OFFICE PARSED SO SIDEWAYS TO COME UP WITH THAT ASSESSMENT? SHEESH!
What will an underperforming Star Wars mean exactly?
To Lucas, not that much. The former wunderkind has become among Hollywood's wealthiest players, thanks to the Star Wars franchise.
And his partners may already see the handwriting on the wall. Fox, which distributes the films, collects only about an 8% fee (the Hollywood standard is 15% to 17% of the amount theaters return to the studio).
For years, Fox executives have viewed the high-profile Star Wars films as a promotion vehicle for their other releases. This year, Episode III will be preceded by a trailer for Fox's July 8 superhero flick
Fantastic Four
, based on the Marvel comic book. (Fox declined to comment for this story, as did Lucas, through a company spokeswoman.)
STAR WARS FOREVER?
Toymaker Hasbro pays among the highest royalty rates around (estimated to be 20%) to be part of the Star Wars family. Industry standards usually run from 6% to the mid-teens. (Hasbro declined to talk about rates for this story.)
Hasbro revamped its deal with Lucas when it became obvious Hasbro wasn't going to make the kind of money it had originally anticipated. According to its Securities & Exchange Commission filings, Hasbro has cut $85 million from what it guarantees to Lucas and gave him warrants to make up for it. That means if Lucas can deliver, he gets paid more money. Moreover, to make sure that the $515 million it has already paid to Lucas gets recovered, Hasbro is extending its deal to 2018 to cover new Star Wars cartoons, action figures, and other products that will come down the line.
"
We believe that this is a great franchise that will live a long, long time
," says Brian Goldner, head of U.S. toys for Hasbro.
TAKING THE RIDE.
Still, Lucas had no problem getting partners. Pepsi is rolling out a commercial starring a singing Yoda, Chewbacca is seen recording ring tones in a commercial for Cingular, and Mars is featuring an M&M Darth Vader.
Other sponsors include Burger King, Kellogg, and America Online. Eidos is making a Star Wars video game featuring LEGO-based characters, and Sony is rolling out the latest installment of its Internet game Star Wars Galaxies: Episode III -- Rage of the Wookies.
Add in the other computer games, magazines, and books that Lucas will peddle, and the return of this Jedi will be worth more than $1 billion. (Lucas' prior five films have generated more than $3 billion in worldwide box-office sales and $9 billion in retail sales since 1977.)
So his partners seem willing to take a ride along with Lucas.
"
The Star Wars franchise can make a big difference at retail, because the characters are incredibly popular and draw consumers to our display,"
says a spokesperson for Pepsi.
"That helps us stand out from the crowd."
Indeed, Pepsi's Web site had more than 700,000 clicks for its Yoda sweepstakes within the first 24 hours.
B.O. CHAMP?
The big hope, of course, is that the new Star Wars installment will reclaim some of the early films' charm and action, leaving behind Episode II's dopey characters and pointless plot.
EDITOR'S NOTE: GRRRRR.....
And Time Magazine did call it "darker, scarier, better." But "darker and scarier" has already earned the film a PG-13 rating, which means a smaller potential audience than its PG predecessors had.
"
What [the rating] will do to this film is anyone's guess,
" says Paul Dergarabedian, president of box-office tracker Exhibitor Relations. Still, he predicts that Star Wars: Episode III will do "
very big business, enough to jump-start what has been a slow box office so far this year."
Doing very big business in a lackluster year isn't that great an accomplishment. But it may not matter to the 61-year old Lucas, who has told intimates that he hopes to start making smaller, more artistic movies.
And Star Wars won't be orphaned anytime soon. The Jedi master is planning two cartoon series based on his franchise, which will be created by a new Singapore-based animation studio that Lucas announced last summer -- even though top animation officials are already housed at Lucas' Skywalker Ranch in California. Lucas is also at work on remastered versions of the entire Star Wars series, to be released down the road in high-definition video. Never let it be said that Lucas is anything but a force when it comes to getting every cent out of his franchise.
EDITOR'S NOTE: I WOULD PITY THIS PERSON'S CLEARLY SAD, WRETCHED LIFE.........IF IT WEREN'T FOR THE FACT THAT I AM GLAD THEY SUFFER.
Harrods Joins the Dark Side
Press Release
In celebration of the Final episode of the Star Wars saga, Harrods will be having a day of Star Wars festivity.
On Saturday 14th May, the Harrods Toy Kingdom will commemorate the completion of one of cinemas longest and most anticipated epics.
Harrods will be playing host to Darth Vader, Jedi Knights, Stormtroopers and Bounty Hunter, Jango Fett.
The characters will wander through the department all day, and be interactive with customers, and help demonstrate some of the Star Wars merchandise, such as the new Star Wars computer games, where you can test your witts against Darth Vader, or Jango Fett - just watch out for the Jedi's mind tricks!
Customers who come dressed as their favourite character can have the chance to win Star Wars goodies, and can complete their look - whether its Yoda, a Sith or even Chewi, with face painters which will be in store all day.
Fans young and old can also help the Lego team use the Force to build a life size replica of Darth Vader himself, which will be built on the shop floor throughout the day, and then will be on display for a limited period after the 14th May.
A Star Wars day just wouldn't be the same without a tribute to the original Jedi knight, in the form of DJ Yoda. One of the most admired and original DJs on the UK music scene, and tipped by Q Magazine as one of '10 DJs you must see before you die', as well as voted as 'One of the Top Three DJ's in the World' in Hip Hop Connection magazine - DJ Yoda will be performing an exclusive set, from 2.30pm.
May the 14th be with you!
EDITOR'S NOTE: AND ONCE AGAIN, MY POINT IS PROVEN. THE BRITS ARE JUST COOLER THAN WE ARE!
Brace for Attakus: Star Wars Dioramas
Attakus, producers of the highly detailed line of limited Star Wars character sculptures, has some incredible Star Wars pieces in the works which will have fans clearing out space in their collections to make room for some sizable new additions.
Attakus' ambitious new Star Wars diorama line, called the Star Wars Metal Collection, will include two enormous dioramas to launch the series: the Death Star and Dagobah.
The dioramas, scaled to about the size of Hasbro's 3 3/4" figure line, will be constructed of resin and include highly-detailed painted pewter figures to display with them. The Death Star set is scheduled for release sometime this year, with Dagobah to follow soon after.
EDITOR'S NOTE: I THINK I'M GLAD I DON'T HAVE ROOM TO DISPLAY THIS. IT EASES THE DESIRE TO HAVE IT. A BIT.
Because of their size, each diorama will be offered in two parts to be sold separately.
The Death Star set from
A New Hope
, for example, will be comprised of a sectioned hull of the Millennium Falcon as one unit, and the hangar/corridor from the Death Star interior as the other.
The Falcon section, which represents about one-third of the scaled ship's actual width, is opened on one side to allow viewing of the detailed interior. Additionally, each of the two sections will be offered with an exclusive figure -- either Han in stormtrooper disguise or Luke in trooper disguise.
Additional figures to be sold separately will include Darth Vader, Han (regular costume), Luke (regular costume), Leia, Obi-Wan, Chewbacca, C-3PO, R2-D2, four different stormtroopers, and a mouse droid.
The Dagobah set from
The Empire Strikes Back
will include Yoda's hut with several trees, and a partially submerged X-wing fighter sold separately.
Exclusive figures included with the two sections are Luke sitting and Luke in a handstand.
Related figures sold separately include Luke with Yoda in backpack, Luke in X-wing pilot uniform, Luke in Bespin fatigues, Yoda, Vader with removable head, spirit of Obi-Wan, and two-legged R2-D2.
EDITOR'S NOTE: SOUNDS PRETTY DARNED FAB, DON'T IT?!
Yoda Goes Missing!
Interesting news out of Australia, as the date for the big release comes closer:
A giant YODA supersite disappeared last night from Petrie Street, Brisbane.
The Supersite measured 12.66 metres x 3.35 metres and was installed on May 1 for the launch of
Star Wars Episode III Revenge Of The Sith
on May 19.
John Scott Marketing Manager Twentieth Century Fox Film Distributors said "
with each Star Wars release we plan an additional run of window clings, bus shelters, metro lites to compensate for all of the creative that disappears. Never, however have we had a supsersite stolen of such proportions, and after only three days"
.
For all our readers considering stealing advertising, please remember that it is against the law to do so despite how good it may be to have a giant Yoda hanging on your wall.
EDITOR'S NOTE: YES, IT'S THE DARKSIDE. BUT SOMETIMES EVIL IS JUST

WORTH

IT, YA KNOW?!