Star Wars/the stuff to buy
EDITOR'S NOTE: I MIGHT EVEN HAVE TO GET A JOB.....
EXCLUSIVE CONTENT FROM THE UPCOMING STAR WARS: EPISODE III REVENGE OF THE SITH AND THE REST OF THE STAR WARS SAGA IS NOW AVAILABLE ON A CINGULAR PHONE NEAR YOU
Cingular customers can access a complete collection of Star Wars content before the May 19, 2005 theatrical release of its final installment
NEW ORLEANS -CTIA-March 14, 2005 - A short time ago, in a galaxy not that far away, Cingular Wireless entered into a partnership with Lucasfilm Ltd. to give Cingular customers access to the best and most anticipated collection of wireless content from Star Wars: Episode III Revenge of the Sith and other chapters of Star Wars--the world's most popular and enduring theatrical saga of all time. Now Cingular customers can enjoy an intergalactic suite of rich wireless content from all Star Wars movies before the much-anticipated release of Revenge of the Sith on May 19, 2005.
As the most successful film series in entertainment history, Star Wars has amassed millions of loyal, enthusiastic fans who eagerly await new ways to experience the Star Wars universe. Cingular is thrilled to drive this universal demand for Star Wars content to the wireless arena, giving more than 49 million Cingular customers access to a "Jabba"-sized collection of original mobile content.
"
The Star Wars brand is recognized and loved by people of all ages
," said John Burbank, vice president of marketing, Cingular Wireless. "
Fans of the Star Wars saga will appreciate the virtually anytime, anywhere access they'll have to their favorite Star Wars moments and characters directly from their Cingular handset. I think it's safe to say we've got the hottest wireless ticket in town."
"
We're excited that Cingular is giving our fans the ability to download so many of their favorite Star Wars sounds, music and graphics directly to their Cingular handset
," said Jim Ward, vice president of Marketing and Distribution for Lucasfilm. "
With the release of Revenge of the Sith, the final Star Wars chapter, we are celebrating a saga that spans almost 30 years. It's great to work with Cingular to invite millions of people to celebrate this moment with us."
THQ Wireless Inc., a global leader in mobile entertainment and subsidiary of THQ Inc. (NASDAQ: THQI) is teaming up with Cingular to offer downloadable Star Wars content such as music tones, voice tones of movie quotes, sound effect tones, mobile games, animated screensavers, colorful wallpaper graphics and MMS greeting cards as well as cast interviews, character biographies, behind-the-scene features, and trivia based on the previous five films.
Cingular's collection of official Star Wars content, to be rolled out over the next five months, will include:
9 brand new, custom created games
More than 50 animated screensavers
More than 50 MMS greeting cards
More than 100 ringtones, which includes Music Tones, polyphonic and voice tones
More than 200 colorful wallpaper graphics
Cingular customers can download their favorite Star Wars ringtones, graphics and greeting cards starting at $1.99. Star Wars games will start at $5.99. Customers have a direct link to Star Wars content by accessing the web through their Cingular phone or PC (
www.cingular.com/starwars
).
The site will be updated with new, dynamic content every few weeks, making it a true blockbuster experience for those bona-fide Star Wars fans.
Downloadable content for
Star Wars: Episode III Revenge of the Sith
will be available beginning April 4, 2005.
Content now available includes:

Ringtones: "Star Wars Main Theme," "Binary Sunset," "Imperial March," "Yoda's Theme"
Wallpapers: Darth Vader, Hans Solo, Luke Skywalker, Princess Leia, Chewbacca, Boba Fett
Beginning April 5 through June 4, Cingular Wireless will offer the Sony Ericsson S710 and the Sony Ericsson Z500a with free preloaded Star Wars content. The S710, which retails for $449.99, will be offered at a special promotional price of $399.99 with a two-year contract. The preloaded Z500a will retail for $49.99 with a two-year contract and a $30 mail-in rebate.
Both exclusive, limited edition packages will include:
C-3PO voice ringtone
TIE fighter sound effect ringtone
Graphics of Darth Maul and the original Star Wars cast (Hans Solo, Princess Leia, Chewbacca and Luke Skywalker)
Star Wars: Episode III Revenge of the Sith game demo with full purchase option
Video clip
Additionally, when Cingular customers purchase either one of the special preloaded Sony Ericsson devices, they will receive two free movie tickets to see Star Wars: Episode III Revenge of the Sith. For complete details, visit your closest Cingular retail store or
www.cingular.com/starwars
.
EDITOR'S NOTE: NOT TO BE A TOTAL LUDDITE, BUT I SORT OF KNOW HOW TO TURN MY CINGULAR CELL PHONE ON AND OFF. DOES ANYONE KNOW HOW TO UPLOAD THESE GROOVY RINGTONES AND STUFF?
Code 3 Sculpted Posters
Pre-Production photos: changes will be made to coloration before production.
EDITOR'S NOTE: AIN'T THESE PURTY?!
The artisans at Code 3 Collectibles, who have been impressing fans with their extremely accurate die-cast replica Star Wars vehicles, have now turned their talents toward the imagery that has most profoundly inspired the spirit of the saga.
The iconic poster art for
Star Wars: A New Hope
,
The Empire Strikes Back
, and
Return of the Jedi
have all been rendered three-dimensionally for the first time, capturing the heroes and villains of the original trilogy in exquisite detail.
Tom Jung's idealized portraits of Luke and
Leia
are brought to life in the Star Wars Style "A" edition, with
Vader
's helmet, two droids, and
X-wing
s all emerging from the background in a way that remains true to the original. Roger Kastel's Empire Strikes Back artwork, dubbed the "Gone With the Wind" style, captures Han and Leia's swoon and the frigid
Hoth
environment in chilling detail. Finally, Return of the Jedi's Style "A" artwork by Tim Reamer gracefully sums up the original trilogy in a poetic symbol, the raised
Jedi
lightsaber
before a diminutive
Endor
and
Death Star
.
These hand painted cold cast resin sculptures are among the first in a series of three-dimensional movie poster artwork that Code 3 is launching, with the possibility of more Star Wars editions to come. Each cast is showcased within an artistic frame-like edge, with overall dimensions measuring 10.5" x 8" x 1.5".
Enjoy an added dimension to these iconic standards by getting your sculpted Star Wars posters from StarWarsShop.com today.
Get Between These Star Wars Sheets
Some of the, ahem, warmest memories first generation Star Wars fans have are sleeping between Star Wars bed sheets back during the years of the original trilogy. Recently, many of these vintage linens have been brought out of hiding to enjoy new status as the haute couture of dorm room decoration.
EDITOR'S NOTE: YOU KEEP TELLING YOURSELF THAT, HONEY, BUT YOU ARE SLEEPING ALONE, RIGHT?!
But there's no need to dig out those ratty old sheets anymore -- Dan River has produced a new line of comforters, drapes, pillows, and more to make any room lay back with some Star Wars cool.
Designed with three major themes -- Dark Side, Galactic Heroes, and
Lightsaber
Duel -- each set will feature twin or full sheets, comforters, and bed skirts, with coordinating pillowcases, shams, drapes, valances, and snuggle pillow.
EDITOR'S NOTE: PERFECT. A 'SNUGGLE' PILLOW. HELPS WITH THOSE LONELY NIGHTS.....
The colorful hues of the Dark Side design are easily able to rouse sleep from tired bones. The Star Wars Heroes design allows you to crash on virtual pop art. And the
Jedi
-themed Lightsaber Duel will surround, penetrate, and bind your bedroom together with its Forcefully-inspired set of blue and gold patterns.
EDITOR'S NOTE: SOMEONE WRITING THIS PROMO COPY IS TRYING TO HURT US.
Dan River's new assortment of artful bedroom linens are truly a sight to behold, or, in the case of the snuggle pillow, be held.
EDITOR'S NOTE: CHECK OUT HOW MUCH COOLER THIS VINTAGE STUFF IS, THOUGH -



Sith Action Figure Preview
In the long-standing tradition of exciting Star Wars toys, games and action figures, Hasbro unveiled their Revenge of the Sith line earlier this month at Toy Fair International 2005 in New York.
Over the coming weeks, starwars.com and Hasbro are pleased to bring you closer previews of the first wave of Episode III toys ready to hit shelves on April 2, 2005. EDITOR'S NOTE: DESPITE MY ALREADY DROOLED-ON SHIRT-FRONT, I HAVE A LONG-STANDING RULE NEVER TO BUY THE TOYS TILL AFTER I SEE THE MOVIE. (IT JUST WOULDN'T BE RIGHT).
BESIDES...SOME OF THE TOYS ARE REALLY ALMOST SPOILERS, IF YOU HAVEN'T SEEN THE MOVIE YET.



EDITOR'S NOTE: MON MOTHMA, MON MOTHMA!!!! OH GOLLY!!!




EDITOR'S NOTE: AREN'T THE SCULPTS INCREDIBLE!?
Mustafar Final Duel Playset -- with Obi-Wan Kenobi and Darth Vader action figures, and play features like battle discs



EDITOR'S NOTE: OOO...LOOKIE. MOUNT DOOM!!!
Toys "R" Us Midnight Madness Signs

Here's a good way to see if your local Toys "R" Us is going to be open at midnight April 2. Look for this poster in their window.
Note it says you can check Toysrusinc.com for a list of stores, but that page doesn't appear to be on-line yet. (Since many ask, this the midnight late April 1 as it changes to April 2.)
SW EIII Playskool Jedi Force Figure Assortment 2
Estimated ArrivalApril 2005
Although this item may arrive at anytime, Hasbro estimates this will be released in April 2005. You may order it now and we will NOT charge your credit card until this item is ready to ship to you. Item Number: HS07145BPrice: $64.99
Description:
Playskool Star Wars Jedi Force basic figures. Includes 6 individually packaged figures with accessories: 1x Darth Vader & Probe Droid, 1x R2-D2 & C-3PO, 1x Chewbacca & 3-in-1 Tool, 1x Luke Skywalker & Rescue Pod, 1x Anakin Skywalker & Hangglider and 1x Yoda & AT-ST (Subject to Change).
EDITOR'S NOTE: AWW...LOOKIT THE CUTEMS TOYS!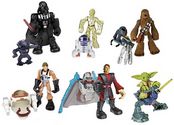 EDITOR'S NOTE: AND LEST WE FORGET WHAT MAY IS ALL ABOUT....
EDITOR'S NOTE: AND MY VOTE FOR MOST IN-DEMAND TOY OF THE YEAR (A GRATUITOUS EXTRA SHOWING OF THESE PICS, CAUSE HE'S SO DARN CUTE)....