Dweebing or ELSE, Disney
EDITOR'S NOTE: Reserve this date!!!!
"

Pirates of the Caribbean: Dead Man's Chest" on DVD December

5.
(and lookie lookie....what a coincidence....just a DAY AFTER MY BIRTHDAY!!!! ahem.....)

Disney Refuses To Promote Unhealthy Foods To Kids
MEDIA OUTLETS ARE UNDER FIRE for allowing characters, like Nickelodeon's SpongeBob, to promote sugar-heavy foods to kids. In response, Disney announced Monday that it would only license its characters for use in marketing foods with limits on potentially unhealthy ingredients.
Disney said the policy will apply in the U.S. immediately, and will move overseas in the next few years. Editor's Note: Now that they've sold all the mickey-head ice cream pops they can and now that Chip and Dale have both had open heart surgery.
The company said it would not permit characters such as Mickey Mouse and Winnie the Pooh Editor's Note: You mean the HONEY JUNKIE?! (I loves me some Winnie, but he ain't exactly the poster-child for fitness, ya dig?) --as well as the Disney brand--to be used for foods that don't meet its standards limiting calories, fat, saturated fat and sugar. For example, foods would be okay if "added sugar will not exceed 10 percent of calories for main dishes and side dishes and 25 percent of calories for snacks."
More broadly, Disney said it would make changes to the contents of food for kids at its parks and resorts.
"Disney will be providing healthier options for families that seek them, whether at our parks or through our broad array of licensed foods," said Disney President-CEO Robert Iger. "The Disney brand and characters are in a unique position to market food that kids will want, and parents will feel good about giving them." Editor's Note: KIdding aside, the parks have gotten Much much MUCH better at providing healthy options. It used to be there was no way to eat healthily there, and now there are lots of choices for health and also for vegetarians and such.
Still.....I hope they don't get rid of ALL the bad stuff. I mean it wouldn't exactly be the HAPPIEST PLACE ON EARTH without sugar, salt, and FRIED stuff.
Media companies that run ads for foods with high sugar content, and other potentially unhealthy contents targeted to kids--as well as the marketers who make and plug the products--have come under fire. Congress and public health groups have accused both of contributing to the growing problem of childhood obesity.
Earlier this year, the Center for Science in the Public Interest said it would sue both Nickelodeon parent Viacom and Kellogg to get them to halt marketing of "junk food" to children. Editor's Note: And where are the parents in all this? Is it really sensible to sue a company who makes junk? Isn't it easier to just not feed your kids the stuff?
Of course, I don't have kids (and am also not a LAWYER) so what the heck do I know, huh?!
And.....more on this......

Disney Expects Park Restaurant Operators To Heed Guidelines
MOST RESTAURANTS AT WALT DISNEY World and Disneyland are handled by the company's own food and beverage division, so compliance with its own initiative to serve healthier foods shouldn't be a challenge.
However, several outside companies ("operating participants," in Disney parlance) run restaurants at Disney properties, and those restaurants will be required to follow Disney's new food-and-nutrition guidelines.
"We have had initial conversations" with the participants, said a spokeswoman for Burbank, Calif.-based Disney. "There's certainly a big interest on their part to work with us, integrate with us and carry out our guidelines." Editor's Note: Yeah. Cause Micky carries a very big gun. (And I hear Pumba is packin too).
Los Angeles-based Wolfgang Puck Co. operates a cafe at Disney World. "Wolfgang Puck Gourmet Express is excited by Disney's recent decision to serve healthier food in their theme parks," Wolfgang Puck Company said in a statement prepared for Marketing Daily. "We will continue working toward offering healthier options for both children and adults as we introduce new recipes and ingredients in our restaurants." Editor's Note: Ooo....look who drank the kool aid! (the sugar FREE kool aid, natch).
McDonald's, Rainforest Cafe and Earl of Sandwich also operate restaurants at Disney World.
Disney's new guidelines cover three areas: food licensing and promotions aimed at children, food served to children at the parks and resorts, and trans fats. Beginning this month, kids' meals served at the company's U.S. parks and resorts will automatically include applesauce or carrot sticks as a side dish instead of French fries, and juice, low-fat milk or water instead of soda. Fries and pop are available on request.
The company aims to remove trans fats from Disney menu items by the end of 2007, and have outside vendors remove trans fats from menus by the end of 2008.
Currently, the guidelines apply only to Disney's domestic properties, but the company plans to make it a global initiative, according to a spokesman. Disney also operates parks in Japan and France.
Parents sparked the health initiative, the spokesman said. "We were hearing from families who buy Disney products. They wanted a wider range of food, particularly more nutritious food," he said. The company does not disclose how many children visit the parks each year. Editor's Note: All of the kids in the world?

Fans Find New Dimensions in "The Nightmare Before Christmas."




Since it first hit the movie theaters in 1993, Tim Burton's "The Nightmare Before Christmas" has become a holiday tradition -- one that spans two holidays! As animation legend Don Hahn describes it, it truly is a "cult classic." Now that beloved classic is returning to the theater, in a way you've never seen it before. Don told about the process of turning "The Nightmare Before Christmas" into a 3D spectacular, and how the unique charm of the movie was preserved.
As he describes it, audiences will not be seeing your grandfather's 3D. Instead of red-and-blue lensed glasses, "Nightmare" will be shown with special polarized lenses -- no blurry picture, no headaches, just scenes that seem to leap off the screen. How'd they do it?
"I don't know how to explain it in simplified terms, but basically we used a computer to make a three-dimensional model of every scene, and then we 'projected' the movie onto it," he says.
The process took six months -- first creating a computerized colorless image of every scene modeled in three dimensions, than combining it with the original frames of the film. And the original frames are exactly what you'll see on the screen -- nothing was added or cut.
"This is a movie that people really love -- they know every frame almost," Don explains. "We really wanted to respect the connection fans feel to this film."
Director Tim Burton, composer Danny Elfman, and many more of the creative team who brought "Nightmare" to life were heavily involved in the restoration (which also included remastering the soundtrack so that it sounds clearer and better than ever). The result is a "Nightmare Before Christmas" that's even more magical. Editor's Note: It's funny....I adored this movie when I first saw it....right after it came out years ago....and I for some reason, I don't think I've seen it since. Sure wish I had time to go to the movies,cause I really want to see this 3d redo!
And for those of you with a tad too much time (and money) on your hands....

Creating a Disney Collection to Be Proud of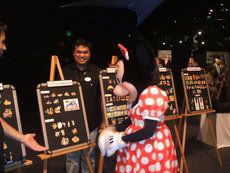 An ever-growing number of Disney fans have taken the jump to owning a slice of Disney for their own. Whether it's a lanyard full of pins to keep and trade, a portfolio of exquisite original Disney art, or a roomful of everything Winnie the Pooh, a lot of us are Disney collectors.
We've put together a little guide to starting your collection (it doesn't have to cost a fortune!), maximizing your fun, and caring for your treasures.
WHERE TO START

You don't have to stick to the beaten path -- almost anything is collectible. Editor's Note: Isn't this a slightly terrifying statement? (Not that it's WRONG. Just a little scary). You can do a theme collection -- for instance fairies Editor's Note: I collect them! Of course, I do a lot of musical theater, so I don't have a choice....(oooo...bad bad bad....very NPC...sorry sorry sorry), Autopia memorabilia, Disney TV. Or collect a particular kind of objects -- animation art, Disney sunglasses, key chains, postcards, promotional drink cups, figurines, Christmas ornaments, dolls, jewelry, or hats. Or only collect a particular era (maybe the fabulous '50s), or artist, or film. The possibilities are endless! Editor's Note: Oh, heck. Collect them ALL. And live with a lot of cats. And piles of newspapers!
As our examples show, your collection doesn't have to be expensive, either -- key chains and postcards start at around a dollar each. Many people start with inexpensive theme park souvenirs, then gradually add vintage or unique objects as their interest and knowledge grow. Editor's Note: And before long, they're hocking their furniture and selling their hair to suppor their collecting!
Displaying your beautiful Disney collection adds to the fun. Think of interesting ways to show off your treasures: ornament a Christmas tree with your Disney key chains, put your postcards in shadowboxes, or adorn a backpack with your pins.
Fill gaps in your collection by trading with other collectors. It's a lot of fun! Collector's groups make it easy to meet people who share your interests. Editor's Note: Or go online and share your "art" nudes! If you like the social aspect of collecting, don't miss Disneyana events that let you learn more about collecting and make new friends.
If you're interested in collecting one-of-a-kind, possibly high-ticket items like original art or historical autographs, how can you protect yourself from fraud?
There are a few things you can do to make wise purchase decisions:
Choose known, reputable sources, like DisneyShopping.com, galleries carrying official Disney items (such as Courvoisier Galleries®), or the shops at Disney Theme Parks.
Research an item BEFORE you bid or buy. Learn what it should look like, and about how much it's worth. Ask the seller any questions you have, and only buy when you feel confident.
CARE FOR YOUR COLLECTION
Some collections are easier to care for than others. Your hat collection probably just needs occasional dusting Editor's Note: What is this 'DUSTING' of which they speak?, while if you decide to invest in priceless one-of-a-kind art pieces, you'll be concerned with framing, display, and possibly even insurance issues.
Local climate conditions can really affect the items in your collection. If you have valuable pieces, talk to an experienced local framer about dealing with extreme humidity or dryness if these are issues where you live.
A little care in placement can keep your framed art or other paper-based collectibles safe. Hang art no higher than eye-level (heat and humidity rise). Avoid direct sunlight when you place your pieces for display. Never hang a framed picture (or any other heavy object!) over a bed or a baby's crib.
Framing materials should be of the highest quality. Don't place glass over framed art -- UV-protection acrylic, which filters out many of the UV rays that damage your art, is a better choice. Ideally, choose a framer who specializes in the type of material you collect -- whether it's stamps, animation cels, or works on paper.
Finally, don't overclean -- sometimes your art fares best if left alone. Don't use harsh cleaning products, abrasives, or hot water to clean your Disney sculptures, pins, or fine art! Gold leaf and painted details can be removed, surfaces can be scratched, and porcelain can even crack outright if exposed to too much heat. Dust with a soft cloth -- if more cleaning is needed for a valuable object, it's better to have a professional do it than take a chance on ruining your treasure.

AND MOST IMPORTANTLY …
Have fun! Your collection should be a source of joy. Editor's Note: Collecting is a happy happy thing. And once my meds kick in, it'll be safe to go back to ebay!
Message for DweebpalJoel: JOEL JOEL JOEL.....check this next one out!!! WE MUST GO BACK TO DISNEY WORLD RIGH AWAY!!!!

Where Dreams Really Do Come True!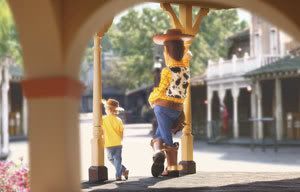 The Disney Parks have always been places where dreams come true -- you have only to look at the smiles on Guests' faces to know it. Any theme park offers food, thrills, and fun, but Guests at Disneyland® Resort or Walt Disney World® Resort get to experience what's been called "the Disney difference": the unfailing friendliness and attention to detail that makes people not mere "visitors," but very welcome Guests.
But during one very special time, starting on October 1, 2006, and continuing until December 31, 2007, almost anything can happen -- and it will. During The Year of a Million Dreams, Guests at Disneyland Resort and Walt Disney World Resort will find whole new ways to smile.
Suddenly you are not watching a parade, you are IN the parade. Not only do you see a princess, you BECOME a princess. Or a pirate. It's imagination in full-force. Make believe, made real.
It's all part of a day's work for the Disney Cast who will roam the Resorts literally making wishes come true.
During the Disney Dreams Giveaway* promotion over a million extra-special dreams, some thought impossible, will be randomly awarded. A Cast Member might tap you on the shoulder and announce that you've been invited as a special guest to enjoy a stay that night in the all-new Cinderella Castle Suite -- in the heart of the Magic Kingdom® Park. You may receive a Dream FASTPASS® badge to enjoy some of the most popular Disney attractions with little or no wait. Or a Cast Member might even let you know you've been selected to win a Grand Marshal World Tour trip to Disney Parks around the globe.
But can the Disney Resorts possibly deliver a million dreams? Yes indeed -- a million and a quarter, in fact! Carrie Schoen and Steven Ruffner told us what to expect and what it's been like bringing this unique event to life.
To begin with, preparing the Cast Members at the Resorts for the event has been a long -- but exciting -- process.
"We're breaking new ground and to be part of it is amazing," says Steven. "We're in training right now, and the electricity in the room is just out of control. It's so fun to be a part of this!
"Every Cast Member will go through some level of training, depending on how much they interact with Guests. We are going through the most intensive training -- but every single person in our entire Resort has gone through some sort of training."
Carrie adds, "The energy created at the resort is so exciting. The interesting thing for me was going around the room on our first day of training and hearing all our Cast's magical moments, and I'd have to say that 80% of them involved their own childhood, visiting Walt Disney World with their families or watching Walt on TV. And to know that we're contributing to that legacy. Our families and families around the world -- we're keeping that heritage alive."
Of all the dreams to be randomly awarded, one of the most beguiling is the chance to stay at the new Cinderella Castle Suite at the Magic Kingdom Park, and the Mickey Mouse Penthouse at Disneyland Resort. Steve and Carrie have seen pictures, and they promise us that both destinations are spectacular -- custom-built to fulfill any Disney-lover's wildest wishes.
Both Cast Members say that "The Year of a Million Dreams" has personal meaning for them, because Disney has been a part of their own childhood dreams come true.
For Steve, it was visiting Disneyland Resort on a picnic with his fellow altar boys -- "I still remember sitting there with my buddies mapping out what we were going to go to first, what attractions we were going to ride. I will always remember how much we wanted to maximize every second we were in the Park!"
And for Carrie, it was a special family event. "We came to Walt Disney World the year I finished high school. I was 17. And seeing my mother's face when she got on "it's a small world," because she remembered it from the world's fair. She kept talking about it the whole trip down and was so excited to see it -- she virtually turned into a little kid in front of me. And that's when I realized it was so much more than an amusement park. That's my magical moment!"
That moment is one of untold thousands that occur at the Resorts every year -- and this year will bring that magic to life in ways that we have only dreamed of in the past.