Splish Splash
FALL IN LOVE WITH "THE LITTLE MERMAID" ALL OVER AGAIN
A flash of red hair, a flick of translucent fin - children and dreamers everywhere immediately recognize her as Ariel, the little mermaid. Since 1989, "The Little Mermaid" has enchanted audiences with its lovely songs and lively retelling of Hans Christian Andersen's classic fairy tale.
Editor's Note: And when we say 'retelling' we mean, really, completely rewriting. But he's dead, and the songs are good, so what the heck!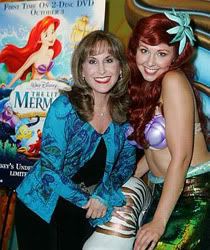 Jodi Benson, the voice of Ariel, meets her onscreen alter ego at the El Capitan Theatre. Photo by Alberto Rodriguez©Berliner Studio/BEImages
On October 3, "The Little Mermaid" will be available in a two-disc Platinum DVD edition
Editor's Note: Huzzah Huzzah!!!! I never saw this one in English, only in FRENCH. Can't wait to see it and understand what Ursula is saying. (Since she was speaking some sort of weird-ass guttural country French).
, and we thought it would be a fun time to take a look at how it was created.
Did you know that toymakers assumed before the movie was finished that Ariel would be blonde, and had do redo their prototype dolls and toys when they learned the truth? Do you know what Disney film inspired Ursula's distinctive way of moving? Read on to get an inside look from "The Little Mermaid" directors Ron Clements and John Musker, who had joined Jodi Benson (the voice of Ariel), composer Alan Menken, and other luminaries at El Capitan Theatre to celebrate the DVD release.
First of all, anyone who meets the directors will not be surprised that Ariel ended up with flaming red tresses.
"
We're both redheaded - or were! - and red hair just seemed to fit Ariel's personality
," laughs Ron.
It's easy to see why the two men made such a great creative team -- they have an easy rapport that leads them to speak almost in unison as they answer questions about the film, trading words effortlessly, and laughing over shared reminiscences.
The movie that they've created together looks better than ever, with a crisp new look and brilliant colors courtesy of an excellent restoration.
Editor's Note: Here they are restoring something less than 10 years old! It makes you wonder how all those REALLY old ones lasted at ALL!
But it's the same "The Little Mermaid" they remember.
"
We probably hadn't seen it in nine years, since it was re-released theatrically in '97. It's fun to see again,"
says John.
Especially fun was reteaming to do the commentary track on the DVD, they both tell us - remembering how it was in the late '80s, when they were working on the film with their close partners, composers Howard Ashman and Alan Menken.
John explains that Howard and Alan
"Actually wrote the score in the animation building. There was a room set up with a synthesizer and all that. Howard and Alan came out from New York and relocated for the whole process. And in a room next door, storybook artists were starting to work on ideas for 'Under the Sea' and some of the songs. I think that was what it was like in the early days of Disney animation -- how it was done for 'Snow White' and 'Cinderella.' The composers were right there."
Ron adds "
In the old days, the room the director was in was always called the music room, because it had a piano and so much of the early work, like the "Silly Symphonies" and 'Snow White' was so music-driven. Over the years they got away from that, so 'Little Mermaid' was a throwback."
Editor's NOte: More like a

RE-Discovery....

of what made the movies (and the studio) shine to BEGIN with.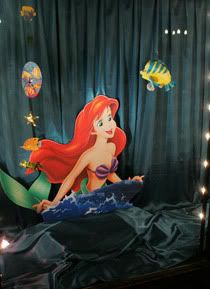 Still flipping her fins -- the Little Mermaid hasn't aged a day.
Editor's Note: Umm....yeah. CAUSE SHE'S A CARTOON! (duh).
Photo by Alberto Rodriguez©Berliner Studio/BEImages
Another piece of Disney history that went into the creation of the "The Little Mermaid" was a True-Life Adventures film called "Mysteries of the Deep." Made in 1959, the film took viewers into a beautiful underwater world - and it became a key resource for Ron and John, both landlocked Midwestern boys.
"It had some great footage of an octopus walking along the ocean floor

," recalls John.

"We were working on Ursula at the time, and Ruben Aquino, the lead animator on Ursula, took that footage and used it for a basis for her walk, with her tentacles kind of slapping and slithering along. They took some of the film and had Photostats made of it, and drew on top of them

."
Another underwater resource was motion model Sheri Stoner. They filmed her underwater so they could capture the motion of her hair.
"

People don't think about this, but underwater is much more complicated to animate because hair always has to move, and any kind of fabric has to float, and the ripples and bubbles under the water ... gravity is different,"

says John.
On the other hand, the directors claim that animals are always easier to create in animation than people - so the Little Mermaid was in many ways more challenging to animate as a "real girl" than she was when half-fish.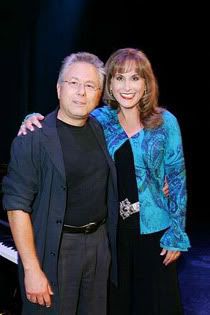 Alan Menken and Jodi Benson performed "Part of Your World"at the El Capitan. Photo by Alberto Rodriguez©Berliner Studio/BEImages
The unveiling of the restored "The Little Mermaid" at the El Capitan reunited many of the key players from the making of the film - composer Alan Menken and "Ariel" voice Jodi Benson (who performed a showstopping rendition of "Part of Your World" together), along with Ron and John, Sheri Stoner, and the moderation, animation legend Don Hahn. They talked as if the film were made just yesterday - and the sparkling color and lively songs make us realize that "The Little Mermaid" will truly never grow old.