A little Catching up on This...AND That
Editor's Note: It's amazing, dweebpals, how little dweebing you get done, when you are actually doing your JOB at your JOB. (Sheesh...who KNEW?!) But I am determined (NOT being of sound mind or body) to keep up with the dweebing as best as I can.
So here's a smidge of random catching up. (We really haven't missed much; it's been VERY slow in dweebland).
First up, some very sad news ---
Actor Edward Albert dies
Edward Albert, who starred opposite Goldie Hawn in the 1972 comedy "Butterflies Are Free" and was the son of "Green Acres" actor Eddie Albert, has died. He was 55.
Albert died Friday from lung cancer at his home in Malibu, said Alan Silberberg, a family friend.
Born in Los Angeles in 1951, Albert's middle name was Laurence -- named after family friend and acting legend Laurence Olivier, who was his godfather. Albert made his film debut at age 14. He played a runaway who comes across a disturbed Civil War veteran, played by Anthony Perkins, in the 1965 drama "The Fool Killer."
Albert attended Oxford University and studied psychology at UCLA.
Editor's Note: His dad lived to be almost 100. So sad. He was a lovely actor. RIP, Mr. Albert.....
Sam Raimi has Archenemies

IESB.net
reports that "Spider-Man" helmer Sam Raimi has inked a deal to produce the film adaptation of the Dark Horse comic series, "Archenemies".
Sam Raimi, Josh Donen and Mike Richardson will produce the film, currently set up at Paramount, which is based on the comics penned by Drew Melbourne.
Says Wikipedia : The 4-part comic series focuses on the superhero Star Fighter and his archenemy Underlord, as well as roommates Ethan and Vincent. They just happen to be the same people, though neither Ethan (Star Fighter) nor Vincent (Underlord) are aware of that fact.
Editor's Note: This is SO real! I mean, raise your hands if you've had a roommate situation JUST like this! (In fact, I'm pretty sure my DOG has a dual identity as a nefarious villain from another time/space dimension. I think his NV (nefarious villain) name is

Ralph

).

Ethan and Vincent are each horrible roommates, though they are unable to give up their apartment in order to escape the other. Ethan's a slob who likes throwing parties simply to annoy Vincent. Vincent is creepy. Vincent most likely hates Ethan more than he ever could hate Star Fighter.

At the same time as they're fighting between each other (in both their identities), Vincent is attempting to become a member of the The Masked Circle, a secret society of supervillains that both his father and brother already belong to.
Editor's Note: Of course, now we KNOW about it, so I guess it AIN'T SO

SECRET

, Huh?!
Spike in Love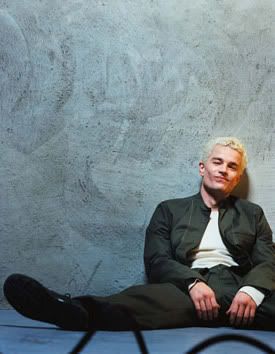 Former "Buffy" biter James Marsters - most recently seen as Braniac on TVs "Smallville" - will join Hilary Swank and Gerard Butler in "P.S, I Love You".
Based on the best-selling Cecelia Ahern, the Warner Bros. release centers on a grieving young widow who discovers her late husband has left her a list of tasks revealed in 10 monthly messages that are intended to ease her out of grief and transition her to a new life. Marsters will play the late husband's best friend.
Editor's Note: If it didn't have such a cool cast, I think I'd go into a diabetic coma just READING that synopsis.
Shooting is set to start in mid-October in New York and Ireland. Richard LaGravenese ("Living Out Loud") directs, according to The Hollywood Reporter.
The Passion of the Outlander
Jim Caviezel has signed to star in a sci-fi pic called "Outlander," for director Howard McCain. New Zealand actor Karl Urban ("Doom") was the original choice for the lead.
According to The Hollywood Reporter, the story centres on a man from another galaxy who crash-lands on Earth during the time of the Vikings. By accident, he brings with him an alien predator that he must destroy with the help of a Viking tribe.
Editor's Note: Right. And there's no doubt a nubile Viking chick who teaches the space guy about luuuuuv?
McCain wrote the screenplay with Dirk Blackman.
Sophia Myles and Jack Huston are in negotiations to join the cast of the film,
Editor's Note: Unless their agents can get them OUT of it?
which will start Oct. 15 in Halifax, Nova Scotia.
Long and Q aboard Die Hard sequel
After weeks and weeks of back-and-forward rumblings, Justin Long has finally been confirmed for the new "Die Hard" film.
Maggie Q ("Mission : Impossible 3") has also been added to the cast of the pic, titled "Live Free or Die Hard".
Interestingly enough, Variety doesn't say anything about Long's character being the son of John McClane (Bruce Willis) – as was originally planned. Seems now he'll just be a token computer expert – no relation to the NYC copper - who helps McClane take on a terrorist organization around the July Fourth holiday.
Editor's Note: Just so we can have Bruce Willis in a Tank shirt and all sweaty?
Q will play a world-class hacker at odds with McClane.
Jones and Theron bite into Haggis
Oscar winners Charlize Theron and Tommy Lee Jones are in discussions to topline Paul Haggis' next feature film, an untitled mystery thriller that is serving as his directorial follow-up to his Academy Award-winning hit "Crash."
According to The Hollywood Reporter, Warner Independent Pictures is co-financing and will distribute domestically.
The story follows a veteran father in search of his son, an exemplary soldier who recently returned from Iraq and has mysteriously gone AWOL.
The story is based on an investigative article by Mark Boal in Playboy titled "Death and Dishonor," which told the true story about an officer-father who rejected the Army's claim of AWOL status for his son and discovered a murder.
Haggis fictionalized the elements and will direct from his original screenplay based on a story he wrote with Boal. Haggis is producing with Larry Becsey.
Editor's Note: Good casting. And anything by Paul Haggis is going to be interesting and well-written.
Jackman Picks A Plumm Summer
Hugh tracks a puppet kidnapping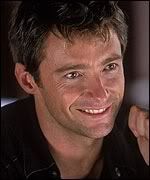 Hugh Jackman doesn't always want to go on bezerker rages or seek eternal youth across time and space. Sometimes he just wants to help investigate a puppet-knapping case. Editor's Note: ???????
He's signed on to the cast of A Plumm Summer, Caroline Zelder's indie drama about two kids trying to crack the case of Froggy Doo, a beloved, famous children's entertainer who's snatched in 1968. Their competition? The FBI, which clearly had so little to do back then that they investigated a puppet kidnapping. Editor's Note: Hugh Jackman. So there's a puppet and some kids? HUGH JACKMAN.
William Baldwin, Lisa Guerrero and Henry Winkler are also on the case for the movie, which is shooting right now.
Scarlett Is Mary Queen Of Scots/Johansson stars in another period piece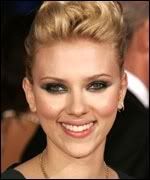 Scarlett Johansson must like living in the past. Editor's Note: It's just that she LOOKS so good doing it! She's currently playing Mary Boleyn in The Other Boleyn Girl and has now signed up for Mary Queen Of Scots.
The story follows the antagonistic (read: bitchy) relationship between Mary (Johansson) and England's Queen Elizabeth I, who did everything she could to undermine her rule. Cracker creator Jimmy McGovern wrote the script, but there's no director or other cast attached yet.
While we know she's just filmed Elizabeth sequel The Golden Age, there's some part of our psyche that wants the producers to back a truckload of money up to Cate Blanchett's house and let her Elizabeth duke it out with Johansson.
The plan is to crank the cameras next summer.

Chevy Chase as Mel Gibson?
Chevy Chase mightn't be attending too many dinners at Mel Gibson's place in the future.
The comic legend is out to take the Mickey out of Gibson's infamous DUI incident in an episode of "Law and Order".

In the episode, which started filming this week, Chase guest stars as a television celebrity who is pulled over for drunk driving while wearing blood-soaked clothes, and whose religious prejudice comes out after his arrest. The episode titled "In Vino Veritas" is slated to air on Friday, November 3, 10-11 p.m ET/PT.

Chase seems to be on the trail of a comeback. He also recently appeared in the big-screen release "Zoom" opposite Tim Allen, and next appears in the family comedy "Goose on the Loose". The actor is also rumoured to appear in a cameo in the forthcoming "Fletch Won", from director Bill Lawrence.
Editor's Note: And let's close with something fun for the whole family! (Well....the whole family if you're a bunch of DRUNKS).

'Studio 60′ Drinking Game
Aaron Sorkin's new NBC show STUDIO 60 ON THE SUNSET STRIP already has it's own drinking game!

Studio 60 Drinking Game Rules ---

Take a sip when:
Someone makes a thinly veiled reference to an actual NBC show.

A cast member of either West Wing or SportsNight guest stars or cameos. (Bradley Whitford does NOT count.)

The camera completely circles any characters talking to each other.

Amanda Peet calls someone by the wrong name.

Anyone carrying a clipboard gives exposition.

The "director" yells some technical jargon to a flunkie.

Any character starts to drink an alcoholic beverage but puts it back down.

There is a TV on in the background showing something else happening.

Anyone makes snide cracks about bloggers or the internet.

Drink the whole bottle if:
A real cast member, past or present, of Saturday Night Live is name-checked.

Anyone says "bing" in any context.

A major religion or a political figure is ridiculed.

And check into rehab whenever:
A character struggling with a substance abuse problem falls off the wagon.