MORE Star Wars stuff
THE (LOVELY) EXPANDED UNIVERSE:
Drew Karpyshyn: Blazing the Path of Destruction

Dark Influences
The Sith Lords have grown from shadowy menaces lurking in the peripheries of Star Wars fiction to full-fledged central characters in their own dark dramas.
The latest chapter in Sith lore comes from Drew Karpyshyn, fantasy and science fiction writer, and award-winning writer/designer for the computer game company,
BioWare.
Karpyshyn's first entry into the Star Wars expanded universe was the enthralling
Knights of the Old Republic
video game, which told the captivating tale of Darth Revan from the most intriguing, and surprising, vantage points.
Now, Karpyshyn has written his first Star Wars novel,
Star Wars: Darth Bane: Path of Destruction
, out today in hardcover from Del Rey Books.
How has your work in computer games influenced your writing?

The most obvious influence comes from my work on Star Wars: Knights of the Old Republic. In researching the game I developed a real appreciation for the extended Star Wars universe; I became fascinated with the sheer depth and volume that existed beyond the movies. Being drawn into this world was the first big step towards writing Path of Destruction.
More generally speaking, I find that working in computer games has helped me better understand the concepts of agency and motivation. In game writing you tend to focus on presenting your story in a way that motivates players to make choices, then allows them to act on those choices. I like to think my non-game writing takes this principle and applies it to my characters, giving them strong motivations and more dynamic personalities. Since story is often about character, strong characters with drive and purpose help deliver a stronger overall story.
What are the differences between writing for games and writing novels? Do you have any preference?
While there are a lot of similarities, I find there are a couple major differences between the two genres. The first is in the final product: games (at least, BioWare games) tend to have a much broader and far-reaching scope than any novel. Take KOTOR: we had nine major characters who could join the party, hundreds of people you could meet and roughly 500,000 words of dialog -- about the equivalent of five full novels.
However, because the player is in control of major sections of the story, a game is forced to deal with things on a more superficial level. We don't know what order players are going to visit our worlds, or which choices they are going to make. Because of this, we sacrifice complexity to maintain control of the story.
Conversely, in a novel the author has complete control. Every move by every character is
known well in advance, allowing the author to spin a very complicated, intricate story that digs way, way down into the core of the major characters. In short, games are wide and far reaching but the story tends to stay more on the surface, while novels are much more limited in focus but incredibly deep.
The second difference has to do with the actual creative process. A novel is a very individual effort: the author sinks or swims on his or her own merits alone. I did get a lot of help from my editors, but in the end the book is quite clearly a reflection of my own personal vision. A game involves creative input from hundreds of people: artists, designers, programmers, animators, writers, etc. The end product is a reflection of a group vision, with every person contributing in their own way. In a game, you sacrifice some creative control for the sense of community that comes from sharing and building your ideas with other talented and creative people
.
Is Path of Destruction the first of a series? Will we see more of Darth Bane?

I hope so! Without giving anything away, I can honestly say Bane's saga doesn't end with the events of the book. I'd love to spend more time with the character, but that's not really my call. I hope fans feel the same way, and if Path of Destruction generates a demand for more Darth Bane, maybe the powers that be will tap me on the shoulder once again.
The Rule of Two -- talk about putting all your eggs in one basket! How can a system that relies on there being only two Sith in the entire galaxy at any time hope to survive? A single accident would be enough to wipe out the entire order forever, and being adept in the Force doesn't immunize one against accidents.
You have to be careful not to oversimplify the Rule of Two. On the surface it's basic and straightforward, but this is a philosophy that helped to shape the course of galactic history. There are levels below the surface, and a greater depth and complexity than first meets the eye.
I don't want to give too much away, as I do explore this in the book, but one element that is critical to the philosophy but may not be readily apparent is a belief in the power of the Force and its ability to enhance the power of the individual. An accident could wipe you out, but if you are worthy of being a Sith Master you have to believe you are strong enough to shape your destiny through the dark side so that there are no accidents. The fact that this philosophy kept the Sith line alive for over a thousand years is a pretty strong argument that there is some merit to it.

Who is Darth Bane?
Where did you get the idea for Darth Bane?
I think Bane's first appearance was in the Dark Horse comics, but my decision to use him as my central character was based on discussions between me and my editors. The comics introduced this character, but he wasn't the primary focus of that story. I found the character to be intriguing and compelling, but what really sold me was the opportunity to examine how someone evolves into the monster Bane finally becomes.
How involved was LucasBooks in this project?
Obviously they had to be involved on some level to make sure this novel fits in with the rest of the Star Wars intellectual properties. Path of Destruction introduces a new era in the Star Wars universe [for novels], and it was important to maintain the Star Wars "feel" and keep the story in line with existing continuity.

In the early stages of developing the story I had a lot of help from my editors Shelly Shapiro and Sue Rostoni, from Del Rey and Lucasfilm, respectively. I worked out the original concept of the book and then with their feedback hammered away at it until we all felt it was something really special. When it came to the actual writing, however, I was pleased to see they let me sink or swim on my own.


How did your views of the Force, and especially the dark side, evolve in the course of writing this book?
Much of the groundwork was laid through the work our team did on KOTOR. I think the big breakthrough came when I realized that, in and of itself, the dark side philosophy is not "evil." It's really about the power of the individual rather than the acceptance of collective good.
Understanding this makes you realize how appealing the dark side can really be, and that's where the true danger lies. Nobody starts out wanting to be reviled or a villain, but through the book I hope readers can gain a better understanding of how it could actually happen.
Since light and dark are two sides of a single thing, the Force, and not separate things themselves, why can't Force users balance both disciplines, drawing from each as the situation requires? In other words, why isn't there a third group of Force users, neither
Jedi
nor
Sith
but occupying a gray zone between them? I don't know if you can answer that, but it's something I've always wondered about...
I think there are people like this. In KOTOR we touched on this with the character of Jolee Bindoh, but I think there is an inherent flaw in being a "gray" Jedi. For me the key differences in the light and dark comes down to how you perceive the Force. Is it a great, binding energy that we serve by allowing it to act through us? Or is it a tool that we use to serve our own needs? Do you believe in the power of the individual, or the value of teamwork and the group? It's hard to live your life believing that the best answer is to become a strong individual at all costs and be willing to sacrifice yourself for the good of the group. They ideas aren't easily compatible, which is why "gray" Jedi are so rare.
Editor's Note: Yes, but this oversimplifies the two choices. Sometimes, a situation calls for very individualistic responses. And sometimes, working with a team is the way to go. And sometimes the TEAM is evil. (My last JOB, for instance.....)
Was it a challenge to write a book featuring a villain as the main character? Did you have to go over to the dark side a bit yourself in order to write it?
It was a challenge, because I didn't want to soften Bane up at all. He is a monster, and I wanted to portray that. At the same time, I wanted the readers to sympathize with and understand him and his motivations. As for going over to the dark side, it wasn't as hard as you think.
Remember: the dark side itself isn't evil. It's more about individualism, which can actually be a very good and desirable thing. Self-improvement, confidence, attaining your goals through your dedication and hard work: these are noble traits. The trick comes in recognizing when this nobility becomes corrupted by greed or hate.
Editor's Note: EXACTLY! There's no "I" in team. But spelling is over-rated.
THINGS TO BUY:
Over 1,500 Customizable Prints Now Available at StarWarsShop
StarWarsShoppers may have noticed a new feature added to the StarWarsShop custom t-shirt shop recently -- custom posters and prints! That's right -- all the images that are available to make into t-shirts are now available in a wide range of print sizes and formats, from standard pin-up posters to matted and framed canvas prints.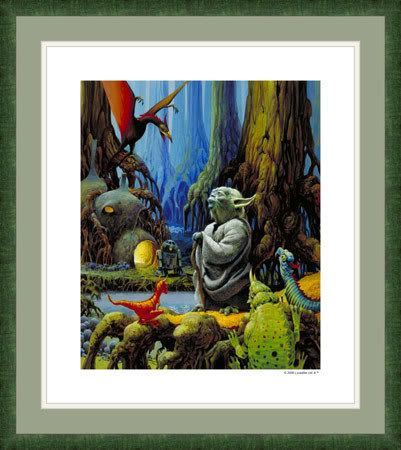 If there's a particular image that you think perfectly captures the spirit of Star Wars, chances are the new print shop offers it in a variety of sizes among their current listing of over 1,500 images. Categories include characters, battle scenes, movie titles, posters & art, starships & vehicles, Clone Wars, and locations.
Sizes range from the small portfolio (around 11"x16") to huge (35"x50").
Star Wars art aficionados will be pleased to discover a cache of original concept art pieces that are available for the first time ever in a large size -- early Ralph McQuarrie concept artwork,
Editor's Note: McQuarrie's stuff is GORGEOUS. This is VERY cool!
rare Italian Papuzza poster illustrations, Doug Chiang production paintings, and unpublished vintage poster art from the classic trilogy years are just a few of the images you'll find available for poster-size reproduction.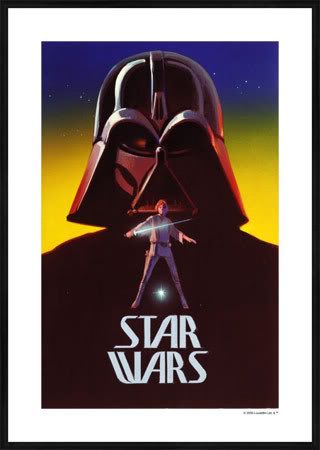 One of the great functionalities of the new Star Wars print shop is the wide range of sizes, matting, and framing services available, all of which can be previewed before purchase. The variety of matting and framing styles will boggle the mind, and will likely keep you juggling variations for the best combination of print, single- double- or triple-matte, and frame. You even have a choice of regular, non-glare, or UV-protected acrylic glazing!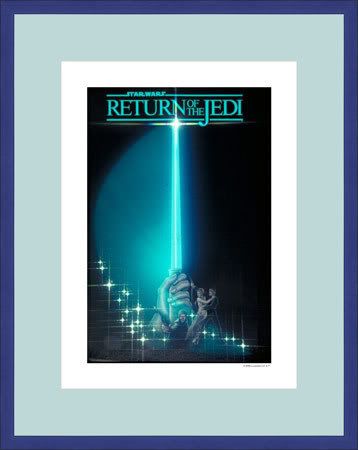 There are also options available for the print itself -- poster, matte print, gloss print, matte canvas, or gloss canvas. All selections (except for the "basic" format) are printed in UV-resistant archival inks that preserve the color of the original artwork.
There's even the option to personalize the print with a name and/or phrase when giving as a gift!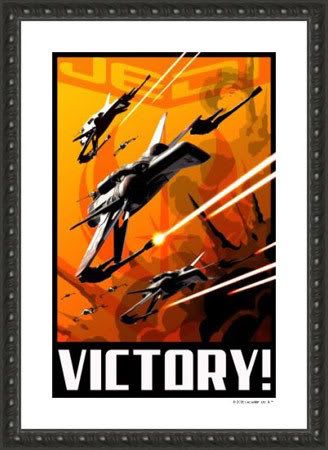 StarWarsShop's new print-on-demand feature
is a fantastic resource for fans and collectors looking for the perfect presentation of their favorite Star Wars images.
Make sure to stop by StarWarsShop
to browse through the hundreds of images now available as prints -- and why not pick up a t-shirt while you're at it!
Editor's NOte: We might have already posted info about this next item. Getting dottier..... But what he heck!? It's so cool, it bears another posting!
Star Wars 30th Anniversary Coin Album Now at StarWarsShop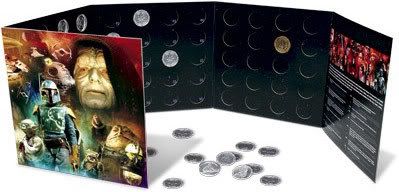 The first figure featuring the new 2007 design is
now available for pre-order from StarWarsShop
, and includes a bonus album for the series' all-new set of 30th anniversary collector coins!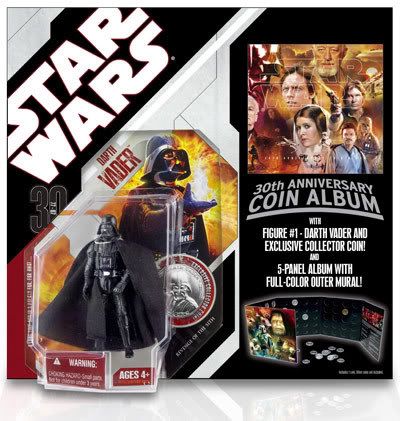 Darth Vader, as he appeared in
Revenge of the Sith
, launches the first wave of 2007 figures in the stunning new packaging unveiled earlier on starwars.com. Even better, collectors will be able to start displaying the exclusive collector coins bundled with each figure right away, since Darth Vader comes with a five-panel coin collecting album which holds 60 coins and features a brilliant full-color mural showcasing the many characters of the Star Wars saga.
Editor's Note: Sigh....what if I just want the coins and not all those duplicate figures?
SIGH

......
Start celebrating 30 years of Star Wars early with this fantastic figure and collector album pack, which brings the fun of Star Wars coin collecting back to action figure collectors!
Pre-order yours now at StarWarsShop!
Editor's Note: And here's more of what's coming in this 30th anniversary line ---
30th Anniversary Collection
Here's the first batch of new figures for 2007's 30th Anniversary Collection for your viewing pleasure.
Note that Figure #01 will be Darth Vader who will come with the Coin Album.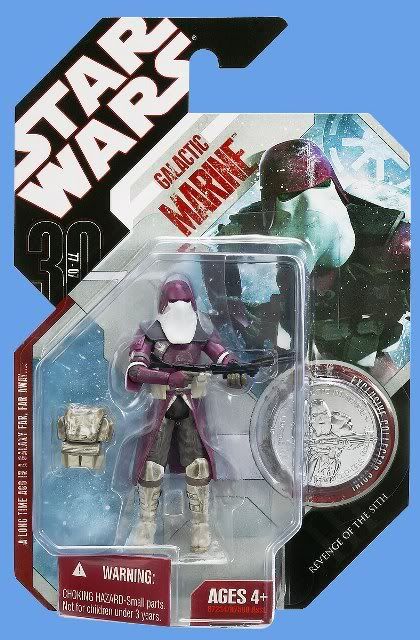 Figure #02 - Galactic Marine You wanted him...you're getting him. Call him what you will ("Clone Commander"?), but you are going to need a few of these guys.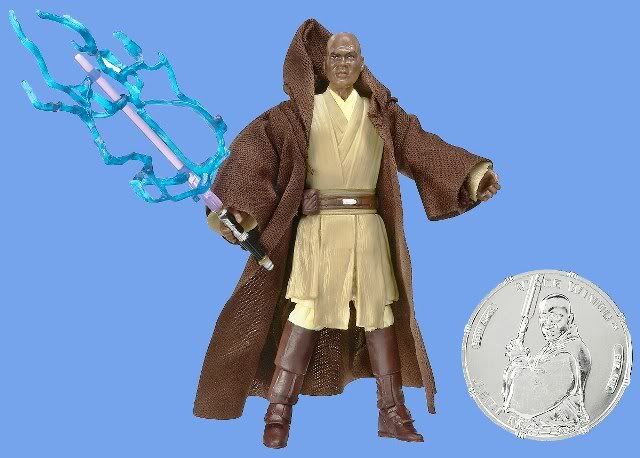 Figure #03 - Mace Windu Mace Windu FINALLY gets the SA treatment. 'Nuff said.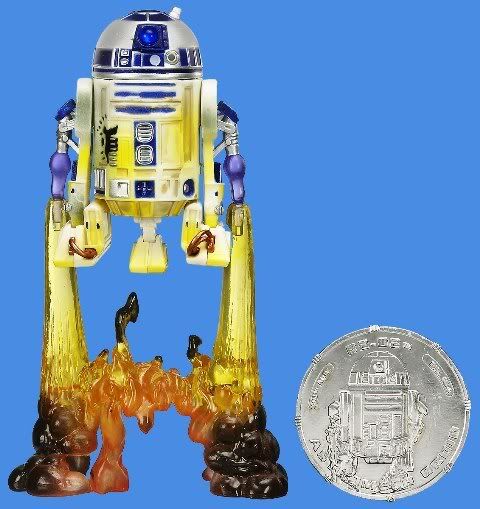 Figure #04 - R2-D2 Might this be the repaint of R4-G9 that we've all been waiting for? Could be....but this figure also comes with a blast effect seen from the Battle of Coruscant.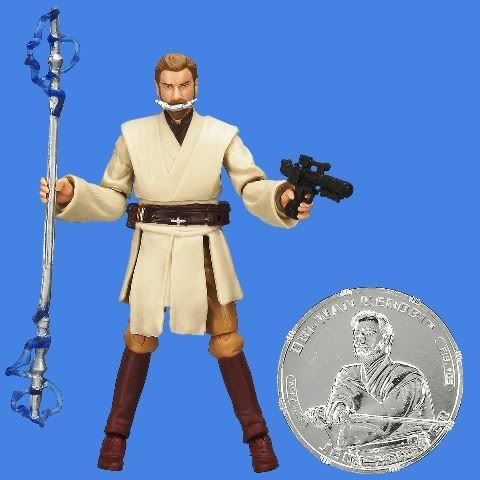 Figure #05 - Obi-Wan Kenobi An updated version of Obi-Wan Kenobi III-55 with new accessories based on his appearance on Utapau.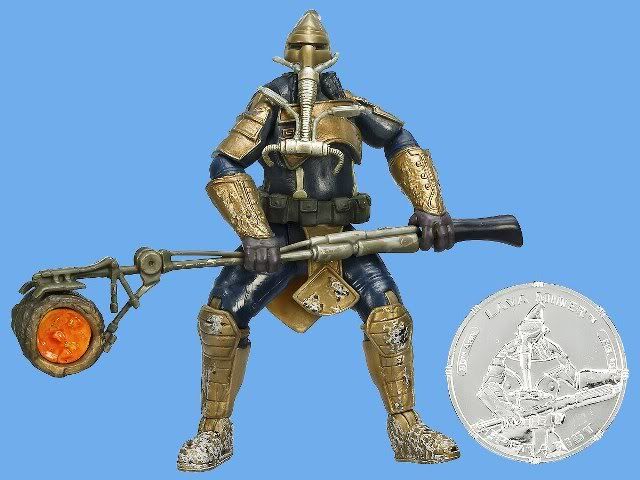 Figure #06 - Mustafar Lava Miner An all-new figure of the mysterious character glimpsed briefly on Mustafar.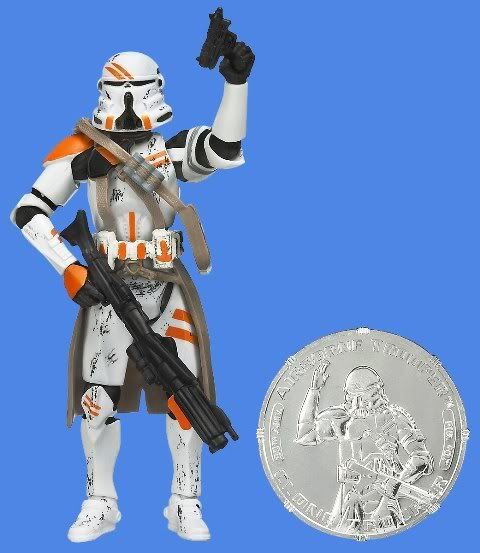 Figure #07 - Airborne Trooper Another often-requested clone trooper, this time from Utapau. A repaint of the figure from Mace Windu's Attack Battalion, or is THAT figure a repaint of this one?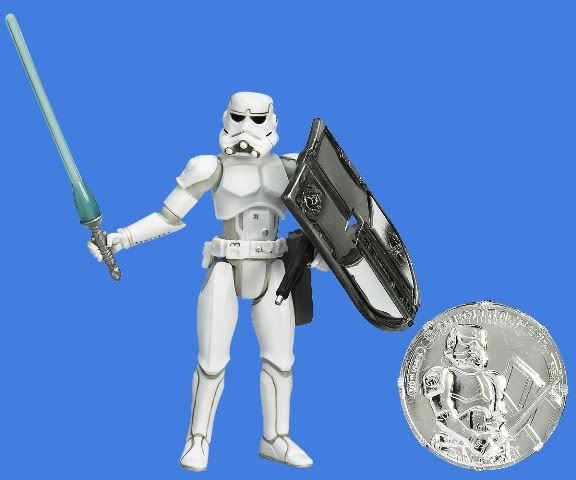 Figure #08 - Concept Stormtrooper A retooled figure based on the Mcquarrie Concept Stormtrooper, which was Fan's Choice Figure #4, and it the first in the Ralph McQuarrie Signature Series.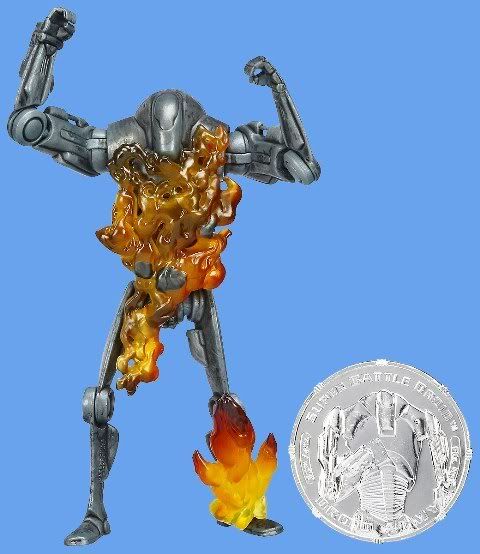 Figure #09 - Super Battle Droid This army builder figure has seen better days...because now he has a fiery mess all over his body! Looks like he's sporting new arms at least.
Kurt S. Adler's New Darth Vader Fabriche Figurine
Editor's Note: I'm not normally an Adler fan....but I might have to make an exception for THIS one. TOO funny!!!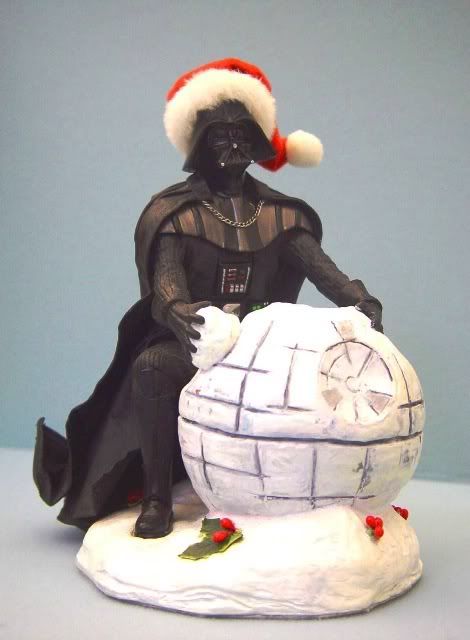 Kurt S. Adler, Inc. Introduces Star Wars Darth Vader Fabriche Figurine to celebrate the release of the first three Star Wars films on DVD.
NEW YORK CITY--- To celebrate the release of new Star Wars DVDs, Kurt S. Adler, Inc. introduces the Star Wars Darth Vader Fabriche Figurine. Kurt S. Adler, a leading designer and supplier of holiday ornaments and accessories, unveils these holiday designs in conjunction with the upcoming release of a two-disc DVDs of Star Wars (since retitled as
Episode IV: A New Hope), The Empire Strikes Back
and
Return of the Jedi
that include the films as they first appeared in theaters, as well as the recent DVD release of new, restored versions in the four-disc Star Wars Trilogy.
Kurt Adler's collection features the 7-inch Darth Vader with Death Star Fabriche figurine.
Handcrafted with a mixed media technique, Fabriche combines modern methods and materials, resulting in the effect of movement and lifelike expressions.
Also new are blown-glass ornaments featured in Kurt Adler's award-winning Polonaise Collection.
Darth Vader's bust has been precision-cut into a spectacular Polonaise Heirloom Egg ornament in Poland. Darth Vader and Yoda debut as blown-glass Polonaise ball ornaments.
Kurt Adler's Fabriche Collection introduces porcelain ornaments, standing 3.5 inches, depict Leia, Luke, Amidala, Emperor and the Storm Trooper.
A porcelain five-pack mini ornament set includes a Darth Vader head, Yoda head, Boba Fett head, C3PO head, and Storm Trooper.
A variety of stockings, including vinyl, felt and styles with plush character heads, are offered.
Editor's Note: More info and pics on the rest of all these....oh goody/oh joy!....when they become available.
STAR WARS PICS:
Another 2007 Sneak Pic. Crawling in Style. These Jawas have used their innate mechanical skills to truly trick out their treaded ride.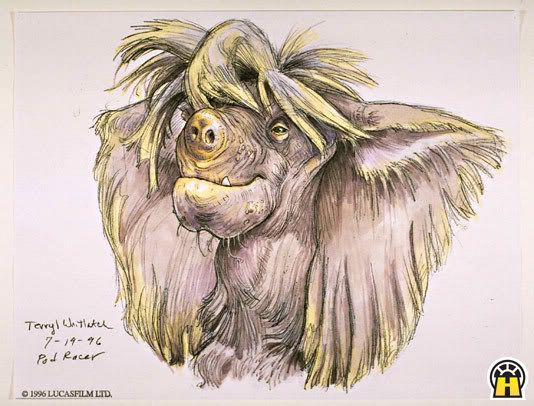 Just Call Him Shaggy. The Podracer pilot Boles Roor was first known as Shaggy, for reasons made obvious in this illustration by Terryl Whitlatch.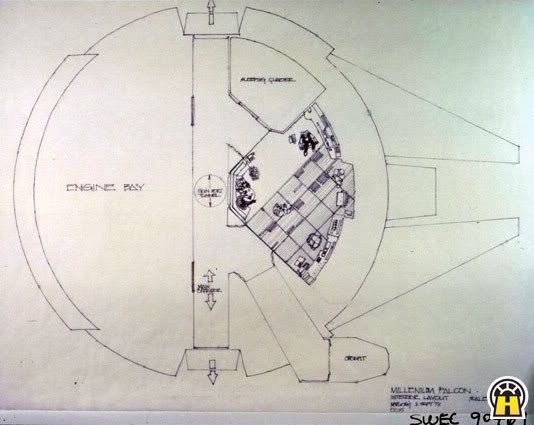 Inside the Falcon. The floorplans for the Falcon in Empire (by Nilo Rodis-Jamero)present a unique view of the ship's interior, including a lateral corridor that bisects the ship, and an angled forward compartment with the chessboard as its vertex.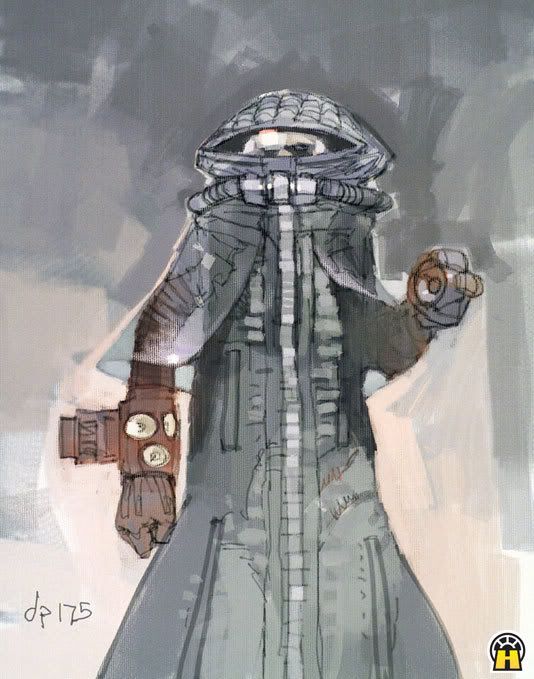 Early Mustafarian. Even before the world of Mustafar had been given its final name, Episode II concept artist Dermot Power was asked to think ahead and imagine its inhabitants.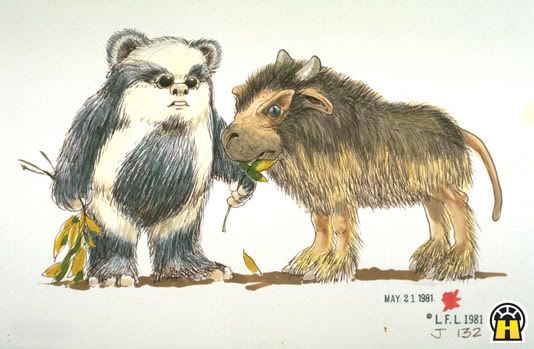 Dare to be Cute. Joe Johnston illustrates an adorable Ewok feeding a pet bordok.
Editor's Note: AWWWWWWW. I mean, SERIOUSLY.....awwwwwwwww!!!
THIS one on the other hand, is just FRIGHTENING!!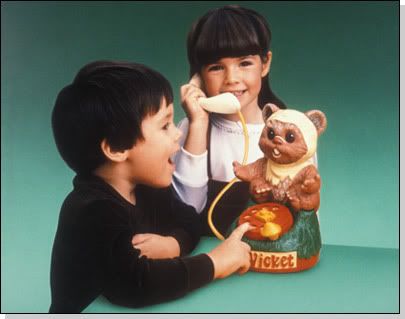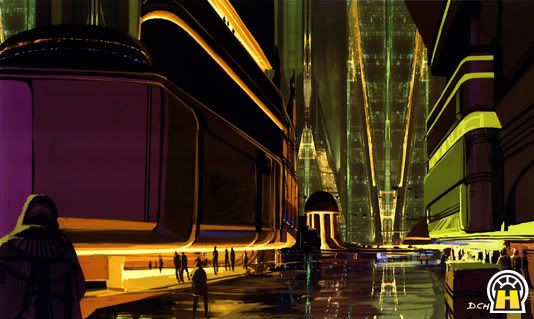 Night On the Town. This Doug Chiang painting of Coruscant's glittering entertainment district hints at inspiration from similar work done by Ralph McQuarrie.
Editor's Note: Is this not a GORGEOUS pic!!!???