Quickie Catching Up
Editor's Note: I have a great big STAR WARS post steeping. Meanwhile, the dweeb world does NOT stand still waiting for me to steal time to be the dutiful QOTD.
mea culpa, mea badda....
Here's a few breaking/hot items to tide us over:
Pirates of the Caribbean 4?
According to China Daily, "Pirates of the Caribbean : At Worlds End" will be the final instalment in the current 'Pirates' series, but that doesn't mean Disney haven't already decided to do more 'Pirates' films.
Mark Zoradi, president of the Disney Motion Pictures Group said that the eagerly awaited third movie may not be the last Pirates film.
"
The third film... will conclude the initial Pirates trilogy, though it is unlikely to be the last Pirates sequel
," says Zoradi.
EDITOR'S NOTE: Duh. The current one just cleared something like a jazillion dollars, so what are the chances Disney will stop making them?
Peter Jackson talks TEMERAIRE and HALO
In an interview with AICN, Peter Jackson discussed two of his upcoming projects: TEMERAIRE and HALO.
Regarding HALO Jackson said:
"
We certainly didn't set out with HALO to find a first time filmmaker to do HALO. We wanted somebody on HALO that would have 3 qualities. One, a very important one, is that they wanted to do it really badly. They had to be absolute HALO fans. That was important because there are a lot of people who would be happy to do HALO for the paycheck, there's a lot of people who would be happy to do it for the publicity they're going to get from it and the kick it'll give to their career and all that and all of that sort of stuff. There's lots of reasons to do HALO that would be attractive if you're not a HALO fan, but we didn't want any of those people, we wanted somebody who was a real HALO fan."
Editor's Note: So they're looking for a very pale, 12-year-old boy?
Regarding TEMERAIRE Jackson said:
"
Yeah... We just... you know, we wanted something... We're doing these small movies, which is great and we're enjoying that, but we just wanted something that exciting and fantastical that we could start to think about and start to work on and develop. We read these books and thought they were really great. I'm a complete sucker for that world of history combined with the fantastical."
Editor's Note: And short people with hairy feet?
"
The one thing I am going to do is I'll start the guys at WETA designing some things. We've just acquired the rights ourselves. We haven't gone in conjunction with a studio or anything else. We just bought it ourselves
."
"I
don't really know yet how we'll structure it, because obviously it's more than one film, for sure, so it'll be interesting to just have a think about that. And it's the future books, too... I think Naomi is already doing her 4th book and I think she's planning a 5th and 6th book as well. We've optioned all TEMERAIRE books, including future ones."
Brad Pitt in MI:4?

According to Thisislondon.co.uk, Paramount wants Brad Pitt to replace Tom Cruise in the next
Mission Impossible
film.
The report says that Paramount is willing to offer Pitt over $40 million to star in the film, a move that would make him the highest paid actor in movie history. Other actors have made more on various movies, but never as a flat upfront rate.
Editor's Note: He would be good in this role (not that the bar was set that HIGH by the previous tenant). But 40 million? Aren't there other people who would be good enough not to put the studio in hock to pay Pitt?
"
They're set on Brad taking over as a gutsy new head operative who puts together his own unique team of specialists
," an insider told the site.
Brad Pitt's production company, Plan B, is based at Paramount and he is clearly the biggest star on their roster.
Time will tell how this one pans out.
DreamWorks makes plans for MR. PEABODY & SHERMAN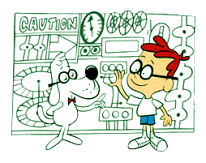 According to the Hollywood Reporter, DreamWorks Animation will bring the time-traveling cartoon adventures of MR. PEABODY & SHERMAN to the big screen.
The animated TV series centers on the genius dog Mr. Peabody and his boy Sherman.
Rob Minkoff has signed on to direct the film, it will be the first animated feature he has directed since THE LION KING.
The film had previously been in development at Universal Pictures.
Editor's Note: Don't make this if you don't get the snarky smart humor. PLEASE?
Editor's NOte: Seguing to TV (huzzah huzzah, there's lots of new tv to watch now! The reruns are over. Huzzah huzzah!).
First, for those of you who missed this tidbit in the latest TV Guide ---
Secret of LOST's numbers revealed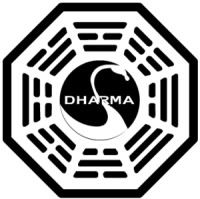 Two secrets of the hit ABC TV show LOST have been revealed via THE LOST EXPERIENCE, an alternate reality game.
A video detailing elaborate back story has turned up on YouTube over
here
.
http://www.youtube.com/watch?v=_PPCCcXarkc&eurl
=
In short, the numbers represent the Valenzetti Equation: a mathematical formula having to do with the timetable for humanity's extinction.
The show's sinister Dharma Initiative seems to have been an effort by the mysterious Hanso Foundation to ward off that inevitability. When Dharma failed, Hanso's nefarious acting leader, Thomas Mittelwerk, set in motion a plan to release a virus that would kill 30 percent of the world's population.
Editor's Note: Gee, that's seems sort of snippy....your plan doesn't work, so you're gonna kill a lot of people? (I mean, couldn't you write a tell-all book exposing the people that foiled your plans, and then go on a lot of talk shows?)
The third season can't get here quick enough.
USA Renews THE DEAD ZONE, PSYCH
According to Variety, USA Network has given THE DEAD ZONE, starring Anthony Michael Hall, a sixth-season pickup of 13 episodes. Also, PSYCH has chalked up a second-season renewal of 16 episodes.
USA previously renewed MONK for its sixth season of 16 episodes and THE 4400 for its fourth season of 13. The network schedules more successful scripted programs than any other cable channel.
"
We have two solid blocks of original programming
," said Jeff Wachtel, executive VP of original programming. "Monk" and "Psych" air Friday; "The 4400" and "The Dead Zone" air Sunday.
Wachtel said a fifth original scripted hour will emerge out of three projects in development. The most far advanced, with a completed pilot, is "In Plain Sight," starring Mary McCormack as a federal marshal who supervises people in the witness-protection program while pretending to her mother, sister and boyfriend that she's a run-of-the-mill government employee.
The two others are in script development, still to be cast: "To Love & Die in L.A.," about a daughter who discovers her long-lost father is a contract killer, and "Burn Notice," about a maverick ex-CIA man who becomes a private investigator, using his special-ops training to help people in trouble.
Editor's Note: I thought I had heard that "Dead Zone" was closing down. Excellent news that it's coming back! (more huzzah'ing).
Showtime embraces 'Brotherhood'
Showtime has picked up the drama series "Brotherhood" for a second season.
Editor's Note: more Jason Isaacs!
Meanwhile, HBO has opted not to renew its first multicamera sitcom, "Lucky Louie," for a second season.
"Brotherhood," from Mandalay Television, has been picked up for 10 additional episodes. In its first season, the violent, profanity-laced drama series about brothers on opposite sides of the law was praised by critics but fared modestly with viewers. The show's premiere in July drew 454,000 viewers and 1.2 million viewers overall for the pilot episode's seven airings.
"Brotherhood" marked the first Showtime series that got exposure on a broadcast network when the pay cable network's sibling CBS broadcast the pilot in primetime.
3 commit to Hallmark's 'Love'
Teri Polo, Barry Bostwick and Robert Mailhouse have signed on to star in the Hallmark Channel original movie "Love Is a Four-Letter Word."
The two-hour movie revolves around two divorce lawyers who are representing clients divorcing each other and who fall in love while settling the case. Polo and Mailhouse portray the lawyers, and Bostwick plays one of the clients.
The project, an Alpine Medien production in association with Larry Levinson Prods. and RHI Entertainment, is targeted for a Valentine's Day premiere. Robert Halmi Jr., Larry Levinson and Nick Lombardo are executive producing. Harvey Frost (Hallmark Channel's "Meet the Santas") is directing from a script by Jill Blotevogel (ABC's "Invasion").
Editor's NOte: Moving into the literary segment of this post ----
Tolkien's THE CHILDREN OF HURIN to be published
According to the Associated Press, J.R.R. Tolkien's unfinished tale THE CHILDREN OF HURIN is set to be published next spring.
The book, which has been published previously only in excerpts, has been edited by Tolkien's son into a completed story. Christopher Tolkien has spent the past 30 years working on the book, an epic tale his father began in 1918 and later abandoned. The tale includes the elves and dwarves made famous in other Tolkien works.
Editor's Note: Oh goodie. Cause you can never have too many elves and dwarves. (Certainly not if the elves are played by Orlando Bloom....but I digress....)
"
It has seemed to me for a long time that there was a good case for presenting my father's long version of the legend of the 'Children of Hurin' as an independent work, between its own covers,"
Christopher Tolkien said.
The new book will be published by Houghton Mifflin in the United States and HarperCollins in England. The real question now becomes, will MGM and/or New Line go after the big screen rights to the film?
Editor's Note: And last in our quickie catch-up, you have probably already read this one, but just in case.....thank you for dweebpal PlanoKevin for sending this along.
Rowling halted at airport security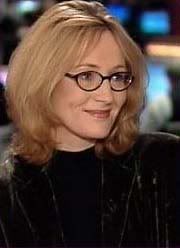 According to the Associated Press, J.K. Rowling, author of Harry Potter, said that she won an argument with airport security officials in New York to carry the manuscript of the final Potter book as carryon baggage on her flight back to London. Had security agents not relented, she said on her Web site on Sept. 13, she might not have flown.
"I don't know what I would have done if they hadn't—sailed home probably
," Rowling wrote.
Rowling was in New York to take part in a book reading for charity on Aug. 1 with fellow writers Stephen King and John Irving. Security was drastically tightened after Aug. 10 when British police said they had intercepted a plot to blow up U.S.-bound airliners.
"
The heightened security restrictions on the airlines made the journey back from New York interesting, as I refused to be parted from the manuscript of book seven,"
Rowling wrote. "
A large part of it is handwritten, and there was no copy of anything I had done while in the U.S
." Eventually, she added,
"They let me take it on, thankfully, bound up in elastic bands."
Editor's Note: I wonder if anyone was reading over her shoulder while she tied up Harry (bad OddBob, bad bad) with rubberbands?
Rowling said she was still considering two possible titles for the last of the boy wizard's adventures. "
I was quite happy with one of them until the other one struck me while I was taking a shower in New York
," she wrote. "
They would both be appropriate, so I think I'll have to wait until I'm further into the book to decide which one works best."
Editor's Note: So now we get that mental picture of JKR SHOWERING every time we think of book seven. Lovely.