BREAKING OSCAR NEWS!!!
Editor's Note: Here's a philosophical question....Is it POSSIBLE to have breaking news about something that doesn't happen until February of NEXT year?
Ponder that until the QOTD can get back in the SWING of dweebing (hopefully next week).
DeGeneres to Host Oscars

By Christopher Lisotta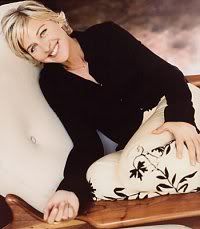 Comedian and syndicated talk-show host Ellen DeGeneres will host ABC's telecast of the 79th Academy Awards. It will be Ms. DeGeneres' first time as Oscar host, as well as her first appearance on an Academy Awards telecast.
"The 79th Annual Academy Awards" will air on Sunday, Feb. 25, 2007.
"
I can already tell she is going to set the bar very high for herself, and therefore for all of us involved in putting on the show,"
the show's executive producer, Laura Ziskin, said in a Friday statement.
"Now all we need is a lot of great movies."
DeGeneres has twice hosted the Primetime Emmy Awards telecast, and co-hosted the show in 1994. Her first solo Emmy stint, which took place shortly after the terrorist attacks of Sept. 11, 2001, garnered her critical and industry praise.
"There's two things I've always wanted to do in my life,"
Ms. DeGeneres said in a statement. "
One is to host the Oscars. The second is to get a call from Laura Ziskin. You can imagine that day's diary entry."