Star Wars...still and again and forever
EDITOR'S NOTE: 'STILL AND AGAIN AND FOREVER'? OR SOMETHING LIKE THAT......I

INTENDED

TO POST THIS YESTERDAY, AND THEN A HUGE STORM BLEW IN AND WE HAD TO TURN OFF ALL THE MACHINES.
SO...BELATEDLY, BETTER THAN NAUGHT....
FIRST UP,
UMMM........OH MY MY MY ---
Darth Vader Calls The Emperor
This link was sent in a few days ago by Donny Carlson. It is from Robot Chicken and in it we see the Emperor's reaction when Darth Vader calls him to report that the Rebels have blown up the Death Star with their "Aluminum Falcon"!
Warning! There is offensive language in the video that is already bleeped out, but this one isn;t for kids in my opinion.
EDITOR'S NOTE: FUNNY, THOUGH.
http://gorillamask.net/rcdarth.shtml
NEXT UP, UNCLE G, BUT INDY ---
Lucas comments on INDIANA JONES 4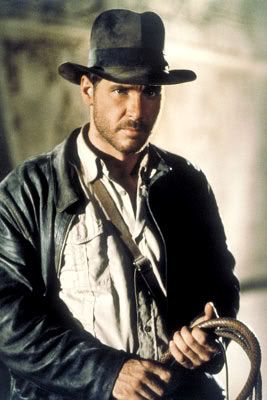 It sure seems as if
Indiana Jones 4
has been in development for a decade now ... oh wait.
The much talked about Indiana Jones 4 seems to finally be headed toward production, again.
MTV recently caught up with Producer George Lucas who made it clear the Indiana Jones 4 won't just blow things up.
"
I think Tom Cruise proved that people are getting bored with that kind of stuff,"
Lucas said when asked about over the top action sequences. "
What they want to see is something different. And 'Indiana Jones,' if nothing else, is always different."
The movie reportedly has a working title of
Indiana Jones and the Ravages of Time
,
EDITOR'S NOTE: THIS IS A JOKE, RIGHT? BECAUSE THAT TEMPTS SOOOOO MANY COMMENTS ON WHAT THE RAVAGES HAVE DONE TO FORMERLY-YOUNG INDY/FORD. THIS MUST BE A LITTLE DECOY, LIKE "BLUE HARVEST: EXPERIMENT IN EVIL" (OR WHATEVER THAT ROTJ DECOY TITLE WAS).
and Lucas says it will "
probably
" start shooting next year.
"
We're working on it, we're working on it
," Lucas added. "
We've been working on it for 10 years. I think it'll be a great film, but it's completely different. It's still got a lot of action, and it's still very funny. I think it works like crazy."
EDITOR'S NOTE: NOT TO QUESTION YOUR JUDGEMENT, UNCLE G, BUT JUST FOR BAROMETER'S SAKE...WHAT DID YOU THINK OF "TEMPLE OF DOOM"???
Harrison Ford is set to reprise his role and Steven Spielberg will direct ... then again, it could all fall apart tomorrow. We will just have to wait and see.
At last, Han shot first
May 12, 2006. 07:01 AM

PETER HOWELL
Personally, I couldn't give a rat's hindquarters whether or not Greedo fired first.
So it was funny that I'd be sitting in a New York hotel room a few years back, pressing a reluctant Harrison Ford on the issue. I wanted his opinion on the controversial alteration of the original
Star Wars
, in which Ford's character Han Solo is made to look like an adroit defender instead of a dirty mercenary.
Creator George Lucas rewrote history for the 1997 special edition release of
Star Wars
by digitally changing the scene where Solo is confronted by the bounty hunter Greedo, who looks like a mutant Smurf.
EDITOR'S NOTE: GIGGLE. STAY TUNED FOR THE EXPANDED UNIVERSE DVD "SMURFS GONE WILD"!
In the original movie released in 1977, Solo fires a lethal ray gun blast at an unsuspecting Greedo, in the celebrated Cantina scene. For the film's 1997 re-release, Lucas manipulated it so that Greedo fires first and Solo second, making the exchange an act of self-defence by Solo rather than murder. Lucas said he wanted Solo to look like more of a good guy.
Many Star Wars fans took umbrage at the change, but Ford dismissed it out of hand. "
You know, you are probably the only guy who cares about this,
" he told me.
He was wrong on two counts. There were a lot of people who cared about this buffing of Solo and besmirching of Greedo. And I wasn't fretting in the implied fan boy sense that a kinder, gentler Han Solo would upset the Star Wars cosmology.
I did care in the movie lover's sense of not wanting to see a film altered for specious reasons, especially for what looked like political correctness on the part of Lucas. So I must amend my opening statement and say the demise of dumb Greedo affected me deeply.
It was with great pleasure, then, that I read in the trades last week that Lucas has finally knuckled under to fan pressure and promised to release the original Star Wars trilogy on DVD in its unaltered form, the way people first saw
Star Wars
in 1977,
The Empires Strikes Back
in 1980 and
Return of the Jedi
in 1983.
The films is out Sept. 12 and available until year's end in "attractively priced" double-disc sets.
They'll be bundled with the 1994 remastered editions in which Lucas made still more changes.
Lucas had vowed he would never reissue the original trilogy in its original form, but a vocal and ceaseless campaign by fans forced a change of heart. An announcement on official website
http://www.starwars.com/
puts maximum spin on his big climb-down:
"
See the title crawl to Star Wars before it was known as Episode IV; see the pioneering, if dated, motion-control model work on the attack on the Death Star; groove to Lapti Nek or the Ewok Celebration song like you did when you were a kid; and yes, see Han Solo shoot first."
And hey kids, you can also buy exclusive T-shirts from the site, celebrating the new/old trilogy. The first one has the slogan, "Han Shot First."
I call this a big win for lovers of unmolested cinema, even if it galls to see Lucas fleecing the fans yet again, and it's been a long time coming. It gives me hope that Hollywood may finally be getting the message that movie lovers don't want to have their cherished memories trampled.
Around the same time Lucas was monkeying with the Star Wars trilogy, renaming and numbering each movie like some kind of mad Sesame Street exercise, Steven Spielberg was busy bowdlerizing E.T., to make Earthlings look less threatening to alien visitors. He digitally altered the scene where FBI agents aim guns at little E.T., replacing the weapons with walkie-talkies. His excuse, laudable in intent if not in execution, was that he'd become a father since he first released the film in 1982, and he couldn't tolerate guns in a movie made primarily for children.
The message from Lucas and Spielberg was that these films were theirs to do with as they pleased. True enough. Missing from their arrogance, however, was any notion that the public had any personal stake in the matter.
EDITOR'S NOTE: OK, AS A MEMBER OF THE PUBLIC WITH PERHAPS TOO

MUCH

PERSONAL STAKE IN THINGS LIKE THIS, I AGREE THAT WE SHOULD BE CONSIDERED. BUT JUST TO A POINT. A) IT

IS

THEIR PLAYGROUND TO MESS WITH HOWEVER AND WHENEVER THEY PLEASE. AND B) WE, THE PUBLIC....OR RATHER

THEM

, THE PUBLIC ( WE DWEEBPALS ARE INFORMED, ABOVE THE SODDEN MASSES, AND EVEN SMELL REALY PURTY) CAN'T OFTEN BE COUNTED ON TO MAKE REASONED JUDGEMENTS ON MUCH OF

ANYTHING

. ("STARGATE", "CATS", MOST OF THE CURRENT POPULATION IN GOVERNMENTAL WASHINGTON D.C......)
As with songs and photos, movies awaken powerful emotions in the human mind. They create connections, some of them completely irrational, which can last a lifetime. We can all remember movies from our childhood that changed the way we viewed the world. And when a movie achieves immortality, as
Star Wars
and
E.T
. certainly have, the memories and connections are all the stronger.
The advent of computerized special effects allowed filmmakers to return to their classic works and to easily make changes to characters and structure. I suspect these were done mainly for monetary motives, to sell old rope for new, even though Lucas and Spielberg made it seem like the work of a great painter, adding a few additional brushstrokes to make a masterpiece even more masterful. But if Leonardo da Vinci were alive today and wanted to paint a moustache on the Mona Lisa, would we be obliged to let him do it?
EDITOR'S NOTE: YES, I THINK WE WOULD. (AND THEN SHE'D LOOK LIKE AN AUNT OF MINE....BUT I DIGRESS).
BEAR IN MIND THAT MANY OF THE TRUTHS......OK, STARTED TO QUOTE OBI-WAN...... BUT JUST CAUSE HE WAS ANNOYING WITH HIS SITUATIONAL TRUTH-TELLING, DOESN'T MEAN HE WAS WRONGO. MANY OF OUR FONDEST CINEMATIC NOSTALGIAS ARE GLOSSED OVER AND RE-WRITTEN IN OUR HEADS OVER TIME.
And if director Victor Fleming were around and wanted to have the Wicked Witch of the West sent to a halfway house, instead of being melted in
The Wizard of Oz
, would he have that right? If Fleming also wanted to have Atlanta flooded rather than torched in a remade
Gone With the Wind,
should we just hand him the digital hose?
EDITOR'S NOTE: AND WOULD FUTURE GENERATIONS IN GEORGIA THANK US?
I don't object in principle to directors' cuts of movies, so long as the original versions are left intact and still readily available. I preferred the longer versions of
The Abyss
and
Apocalypse Now
, and I found the colourized version of the
The Night of the Living Dead
quite interesting.
But to do as Lucas did up until now, denying fans DVD versions of original editions of films they cherish, was something unworthy of a Jedi master. And it seems many fans really do miss those old movies — a poll yesterday on the Internet Movie Database showed 41 per cent of more than 8,000 respondents are planning to buy the new/old Star Wars trilogy on DVD, compared with 32 per cent who are happy with the special edition version. (An additional 26.5 per cent couldn't care less.)
If you're looking for something really cosmic in all this, consider the announcement this week by Silicon Graphics, the high-end computer maker that supplied Lucas and Spielberg with the hardware for their digital vandalizing, that it is in big trouble and seeking bankruptcy protection.
Is it coincidence, or karma?
EDITOR'S NOTE: HOW ABOUT BOTH VERSIONS, LIKE WE'RE GOING TO NOW HAVE? ALL VERSIONS. MAYBE EVEN

ANOTHER

VERSION WHERE WE EACH EDIT JUST THE PARTS WE LIKE BEST. THEN WILL ALL YOU NIT-PICKERS, AND PEOPLE-WITH-THE-VISION-LEFTOVER-IN-UNCLEGEORGE'S-PINKY....WILL YOU ALL THEN,

FINALLY

, SIT DOWN AND BE QUIET, FOR PETE'S SAKE?!
petehowell@aol.com
STAR WARS Television Series Light Years Away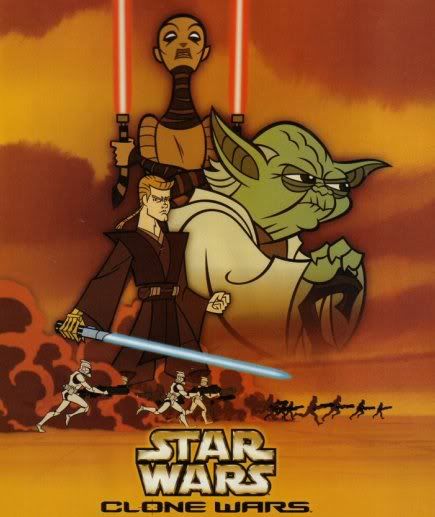 In an interview with If Magazine, producer Rick McCallum mentioned that a Star Wars live action TV series appears to still be a ways away. The show will be set in between Episode III and Episode IV and contain all new characters.
"
We're interviewing writers, and seeing a lot of people, but I would say it wouldn't be happening for about eighteen months
," McCallum said. "
Don't believe a single thing [you've heard]. It happens between Episode III and Episode IV. It will be all new characters. It will be the missing twenty-year period during Luke growing up. Think about bounty hunter, that's all I can tell you. It's no one else that you will know. It's really early stages, and we haven't sat down to decide what direction to go."
EDITOR'S NOTE: IF IT'S ALL NEW CHARACTERS (EXCEPT FOR THE COYLY HINTED AT BOUNTY HUNTER), HOW DOES LUKE'S CHILDHOOD FACTOR IN? IS THE CHILD LUKE ALSO IN THERE? OR IS HE REFERRED TO, BUT NOT SHOWN?
McCallum also mentioned that the animated Star Wars TV show was about a year away and would follow on from where
Star Wars: Clone Wars
left off.
Skywalker Ranch 2004 Chardonnay
The day has finally come. The 2004 Skywalker Ranch Chardonnay will go on sale Monday, May 15th.
EDITOR'S NOTE: TODAY!
There's a special offer to all readers of TheForce.net & Rebelscum.com for a 10% discount on the Chardonnay. There is still some 03 Skywalker Merlot, however, it will not be included in the discount.
The Coupon Code is: Bacta10 You are going to have to manually enter the coupon code as per the specific instructions below in order to get the 10% off. Plus all new customers get free shipping!
Here are some instructions you can use:
May 15, 2006 - release of the 2004 Skywalker Ranch "Viandante del Cielo" Chardonnay, available at the Francis Ford Coppola Presents online store:
www.nexternal.com/ffcp
You will receieve a 10% discount on all bottles of the Skywalker Ranch Chardonnay - there is a six (6) bottle limit per customer
If this is your first online purchase with FFCP, you will also receive free shipping on this order!
To recieve your 10% discount, you will need to use the coupon code: Bacta10.
Go to
http://www.nexternal.com/ffcp
Order the Skywalker Ranch Chardonnay. You may also order other wine and products for this purchase. When you are finished shopping, click on the "Check Out" button in the shopping cart (left column)
Under "First Time Customers" click on "Click Here to enter your contact information"
Fill out the necessary information and click on the button "Submit Securely"
On the shipping and billing information page, you will see that no discount has yet been applied. However, if this is your first order at FFCP, you will notice that shipping will read: "UPS Ground ($0.00)" - your free shipping has been applied.
On this page, fill out your credit card information.
VERY IMPORTANT: In the "Comments and Special Instructions" box, enter Bacta10.
Check the "agreement" box and click on the "SUBMIT ORDER" button. Your order is complete.
NOTE: though your current total will not reflect the discount, your 10% discount on the Skywalker Chardonnay will be applied before your credit card is charged.
REVENGE'S ROYALTY
Keisha Castle-Hughes and Rebecca Jackson Mendoza on their brief, but important roles
Their roles are brief yet important, for they suggest a transition that bridges the prequel Star Wars trilogy and the original films. For Keisha Castle-Hughes and Rebecca Jackson Mendoza, their singular scenes in Episode III meant not only a chance to be in a Star Wars movie, but also to be Queen for a day.
Castle-Hughes left her native New Zealand to arrive in Sydney for a single day of shooting on a very tight schedule. "
We came to Australia only the day before filming
," she recalls. "
We did the last costume fitting -- which was only the second costume fitting -- so it was very nerve-wracking for them just in case things didn't fit. But it all went fine."
As Queen Apailana, Castle-Hughes inherits a regal design legacy that stretches back to the first prequel,
The Phantom Menace
. Her robes display the style and elegance of peaceful Naboo.
"I liked the whole look of the thing. It made me feel really proud to be wearing it."
Rebecca Jackson Mendoza, who played Alderaan's Queen Breha Organa, also had high marks for the designs of Trisha Biggar. "I
felt like I was in a wedding -- a green wedding gown,"
she says.
"It was originally going to be velvet, but then they decided that might come off too dark, so they changed it."
Although a fan of the original films, Jackson Mendoza admits that it was her brothers who pieced together the significance of her role before she did. "
To be honest, I was kept in the dark up until I got on set,"
she says. "I
knew I was Queen of Alderaan. My brothers are Star Wars freaks, and they said, 'Oh, you're gonna be the surrogate mother of Princess Leia."

EDITOR'S NOTE: NOT SURROGATE. ADOPTED, RIGHT?
The significance of their roles are not lost on these young actresses. "
When I found out this was going to be the last Star Wars film that was ever going to be made, I felt pretty privileged to be in it,
" says Castle-Hughes.
"
As a girl growing up and seeing Star Wars, of course you want to be Princess Leia
," explains Jackson Mendoza. "
And to know that I'm actually playing her mother... I just kept thinking about those buns! I was the mother of those buns! Maybe I taught her how to do those buns!"
EDITOR'S NOTE: AND MAYBE NOW WE WILL GET SOME EXPANDED UNIVERSE BACK-STORIES ON PRINCESS LEIA AS A LITTLE GIRL AND HER LIFE ON ALDERAAN!
LucasArts Unveils 2006 Star Wars Titles

Hot off of its most successful year ever, LucasArts today officially revealed its lineup of titles on display at this year's Electronic Entertainment Expo (E3), May 10-12 in Los Angeles, CA.
Of special interest to Star Wars fans are highly anticipated follow ups to two very popular titles.
This Fall, the battle for control of the galaxy expands with the release of
Star Wars Empire at War: Forces of Corruption.
EDITOR'S NOTE: DOESN'T SOUND LIKE A HAPPY TIME IN THE UNIVERSE....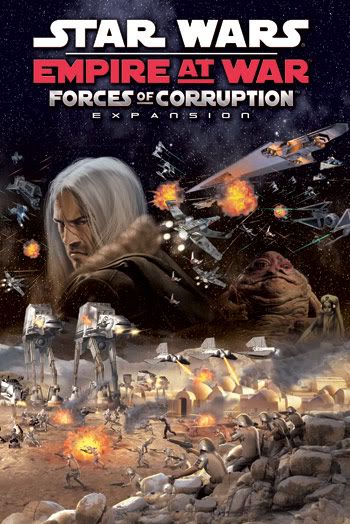 This expansion for the best-selling PC game of Q1 2006 features the underworld's point of view of the Galactic Civil War.
The Rebels have just destroyed the Death Star, and the galaxy is in turmoil. As an aspiring Underworld figure named Tyber Zann, spreads corruption throughout the galaxy using new strategic gameplay elements to influence other factions, steal their funds, slow their production, spy on them and more. Exciting new land-tactical options like customizable, upgradeable bases and guerilla warfare allow for innovative battlefield tactics. Take command of and confront new fighting units for all factions (Rebel B-wings, Imperial TIE interceptors, Darth Vader's Executor Super Star Destroyer and more), and take down anyone who stands in your way of ruling the Underworld, be they new battlefield heroes like Luke Skywalker and Yoda, or the forces of your most bitter rival, Jabba the Hutt. Destroy capital ships with the awesome firepower of the second Death Star, and satiate Tyber's drive for the deadliest capital ship in the galaxy, a devastatingly powerful Super Star Destroyer known as the Eclipse.
Click here to see the trailer for
Star Wars Empire at War: Forces of Corruption.
http://www.starwars.com/gaming/videogames/news/eawfoctrailer.html
LEGO Star Wars II: The Original Trilogy
takes the fun and endless customization of LEGO and combines it with the epic story, characters and action from the original Star Wars movies.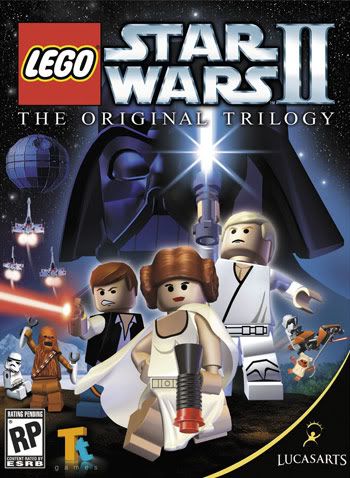 With a unique tongue-in-cheek take on the Original Trilogy,
LEGO Star Wars II
follows the Rebel Alliances crusade to dismantle the Galactic Empire and rebuild a galaxy in pieces. Build and battle your way through your favorite film moments, from Darth Vader's pursuit of Princess Leia aboard her blockade runner to a showdown on the second Death Star, as the game includes even more of the family-friendly LEGO action, puzzles and humor that earned the original LEGO Star Wars such popularity and acclaim.
EDITOR'S NOTE: I WATCHED MY 11-YEAR-OLD NEPHEW PLAY THE CURERNT LEGO VIDEO GAME LAST MONTH WHEN I VISITED THE FAMILY IN FLORIDA. THE LEGO CHARACTERS ARE VERY CUTE, AND VERY FUNKY. AND THE GAME IS EVERY BIT AS INCOMPREHENSIBLE TO MY NON-GAMING EYE/HAND AS THE DARKER, MORE 'SOPHISTICATED' GAMES. I HAD NO IDEA HOW TO EVEN GET OUT OF THE FIRST ROOM I WAS IN, AND MY NEPHEW UNDERSTANDS THE GAME ON SUCH AN ORGANIC LEVEL, HE COULDN'T EVEN EXPLAIN IN ANY LANGUAGE I UNDERSTOOD WHY I KEPT WANDERING BACK AND FORTH BETWEEN ROOMS.
Click here to see the trailer for this game.
http://www.starwars.com/gaming/videogames/news/lego2trailer.html
EDITOR'S NOTE: AND NOW, CROSS-POLLINATION DWEEBING. (FOR YOU FANS OF BOTH SW AND "LOST") ---
Mission: "Lost" in Star Wars -- J.J. Abrams and Damon Lindelof
Remembering Star Wars
A single serendipitous moment is sometimes all it takes for an unknown pilot to hit the airwaves and become of one of the most popular dramas on television today. Oddly enough, it was a vintage Star Wars t-shirt that may have played a pivotal role in the bonding between two strangers -- producer/director J.J. Abrams and writer Damon Lindelof -- who would become the core creative team of the hit show "Lost."
"
The oldest surviving piece of my wardrobe is a long-sleeved Bantha Tracks t-shirt that I got when my dad and I joined the original Star Wars Fan Club
!" Lindelof says. "
It was so big on me that I'd wear it to sleep...but now, somehow, it fits perfectly. I just happened to be wearing that shirt (and yes, there is a bantha on it) the first day that I met with J.J. Apparently, this turned out to be a great way to make a first impression." EDITOR'S NOTE: SEE..THIS IS WHY "ALIAS" AND "LOST" ARE SO GOOD. THEY AREN'T JUST

FOR

DWEEBS, THEY ARE

BY

DWEEBS! IT'S NOT SO MUCH ENABLING, AS

SHARING

.
"
When Damon walked into my office for the first time and he was wearing not just a Star Wars shirt but an ORIGINAL Star Wars shirt -- and I could tell it was his, not just some vintage purchase,"
Abrams adds.
"I
immediately knew that we were long lost brothers. It was the first thing that made me say, 'Okay I love this guy.'"
They soon found themselves comparing fandom notes and waxing nostalgic about their childhood memories of Jedi, Sith and the creatures that inhabited a galaxy far, far away.
"
My first Star Wars memory was seeing the words 'Star Wars' in Starlog Magazine and thinking it was a weird title,"
Abrams recalls. "
I remember seeing an early concept poster by Ralph McQuarrie for the movie. It stuck in my head even though I didn't know what it was -- but it looked important. My second memory is actually seeing it in the theater on opening day in Westwood at Avco Theater and never being the same again."
"It was absolutely the first film that struck a cord and that resonates to this day
," Abrams continues. "
I think it's because everyone relates to being stuck in your life and feeling like something extraordinary is just around the corner. To have something scary and tragic happen, like what happens to Luke's aunt and uncle, is such an engaging story that could take place on a farm in the middle of the U.S. and be just as compelling. And the fact that he ends up being the key to preventing this galactic takeover is kind of an amazing wish fulfillment. I think this taps into a universal desire that we all have to find meaning and purpose that is larger than what we ever could have imagined."
While the saga had Abrams contemplating the hero's journey from the moisture farm to the Rebel Alliance, Lindelof's early Star Wars memories affected him in more hygienic way.
"I remember seeing A New Hope when I was four and being afraid to take a bath because of the trash compactor scene,
" Lindelof laughs. "
From that point on, NO MORE BUBBLES! I needed to SEE what was in the water with me!"
Being wary of the unknown served its purpose more than just in bathing rituals; avid viewers of their show "Lost" know that both Lindelof and Abrams like to play around with unseen forces and bizarre life-threatening incidents that even Darth Vader would be impressed with, complete with black smoke monsters, a group of kidnappers known as "The Others" and misplaced polar bears.
The development of "Lost" began in early 2004, when former ABC president Lloyd Braun requested Abrams -- best known for creating the hit TV spy drama "Alias" -- to write a new pilot script based on the idea of a plane crash and its survivors stranded on an island. Abrams eventually met Lindelof (writer for "Crossing Jordan" and "Nash Bridges") and the two collaborated to create a TV show like no other.
As one of the most expensive pilots in TV history (costing approximately $10 million), the show soon became an unexpected hit for ABC. In its first season, "Lost" won the Emmy Award for Outstanding Drama Series, while Abrams was awarded an Emmy in 2005 for his directorial work on the pilot. In 2006, the show won the critically-acclaimed Golden Globe Award for Best Television Drama.
Han and Chewie of "Lost"
Even though the show's intricate plot points, unusual obstacles and continual cliffhangers make it stand out from other TV dramas, it's the characters whose lives intertwine and reveal key themes throughout each episode that make the fans come back each week for more and discuss the show ad naseum on blogs, boards and web sites. Lindelof and Abrams are first to admit that their appreciation for the memorable characters of Star Wars saga, as well as the films' extensive back story and underlying mythos, has been a significant influence on the "Lost" series.
"
What was so involving to me as a kid (and is the reason I still watch the movies over and over and over) is the complex mythology of the Star Wars universe -- the heroes, the villains, the quests -- but most importantly, the characters
," Lindelof explains. "
Therefore, we always approach 'Lost' through the prism of the people instead of the island. After all, no one's ever really blown up the Death Star, but we can all relate to how it feels to be Luke in that moment because we've been with him for the whole movie."
EDITOR'S NOTE: MY MOM...THENONDWEEB,BUTILOVEHERANYWAY.....DOESN'T THINK THE CHARACTERS IN SW ARE INTERESTING ENOUGH TO RELATE TO IN THAT WAY, TO CARE ABOUT IN THAT WAY. TAKE

THAT

, MOTHER! (I MEAN, J.J. AND DAMON THINK IT'S SO, SO IT MUST BE TRUE!)
"
I don't know how many times in developing stories I have referenced the archetypes of Star Wars
," Abrams says. "
As a fan of Joseph Campbell and the use of myth in storytelling, you could argue that it is a classic paradigm but it is the common language among all of us because we are all so familiar with the Star Wars canon. It's hard to remember breaking a story for an episode of a show whether it was 'Lost,' 'Alias' or even 'Felicity' and not feel like there was some way to reference the love triangle you felt in Episode IV or the struggle of good and evil that you have seen in all six of the films."
"Star Wars is probably the most influential film of my generation,"
Abrams adds. "
It's the personification of good and evil and the way it opened up the world to space adventure, the way westerns had to our parents' generations, left an indelible imprint. So, in a way, everything that any of us does is somehow directly or indirectly affected by the experience of seeing those first three films."
While the creative team finds inspiration in the saga, they also can't resist showing off their characters' more humorous sides with numerous pop culture references to Star Wars sprinkled throughout the episodes.
"The Star Wars movies really defined my entire generation of storytellers
," Lindelof explains. "
For most of us, A New Hope was the first movie we remember seeing and unlike other movies and TV shows, we saw it over and over and over again. The trilogy was a cultural event and a great story, so when one of our characters uses a Star Wars reference everyone in the audience knows what they're talking about."
Out of the multitude of references to the films, it's the wisecracking conman James "Sawyer" Ford's comments that entertain the creative duo the most.
"
I personally love that Sawyer refers to Jin as Chewie because he and Michael speak different languages, but somehow understand each other
," Lindelof says.
"I agree with Damon,"
Abrams says. "
That moment when Sawyer called him Chewie, it was obviously about this lack of communication but it was also classic Sawyer because he is an absolute hideous bigot and racist who believes that anyone who doesn't speak his language is some type of alien creature."
Season One:

Episode: "Confidence Man
"Air date: 11/10/04
Dr. Jack Sheppard helps Shannon past an asthma attack. Hugo "Hurley" Reyes: "Whoa! Dude, that was like a Jedi moment."
Episode: "Exodus Part 1
" Air date: 5/18/05 (Shares the same date as the 1980
The Empire Strikes Back
release.)
Michael to Jin as they are fixing the raft: "No, no, no! This one goes here, that one goes there". (Empire reference of Han and Chewie as they fix the Millenium Falcon).
Episode: "Exodus Part 2"
Air date: 5/25/05
Because Jin speaks only Korean and Michael only speaks English, the "Lost" writers often like to make Han and Chewie references due to the language barrier.Michael: "It's closer, I'm telling you. Look at it. Look, I know, okay? I got one flare. One flare. What? Okay. I know. You don't see anything. Okay. What the hell are you expecting to see? In case you haven't noticed, it's dark. What is it? Is it a ship? Starboard, port? U...port. Port.[Jin speaks Korean] Michael: "Okay, what, what the hell am I supposed to do about that?"Sawyer: "Hey, Han, you and Chewie want to slow down a second and talk to me here? We have to fire the flare."
Season Two
:
Episode: "Orientation
"Air date: 10/5/05
Sawyer refers to Jin as "Chewie" again.
Episode: "Abandoned
" Air date: 1/9/05
Sawyer again makes another reference to Jin when he says: "Yeah, yeah, I know, Chewie"
Episode: "Fire & Water
"Air date: 1/25/06
Sawyer calls Hurley "Jabba"
Episode: "Dave
" Air date: 4/5/06
Dave to Hurley: "You think they blew up the Death Star?"
Fate and the Force

Character references aren't the only Star Wars connections to the popular TV show. The ever-present themes of the Force, destiny and interconnected relationships bind the Star Wars saga together. And "Lost" seems to have similar elements that metaphysically connect the characters together in interesting ways.
"
The idea of destiny -- a larger power at work -- as well as everything happening for a reason, is a big part of 'Lost,'"
Lindelof explains. "
The fans of the show really love the interconnectivity of the characters especially when they cross through each other's flashbacks."
"
There is something that binds the characters together and it's the show itself -- the journey they are going through,"
Abrams adds. "
While there are issues of fate and destiny, the journey of these characters when they are on the island and before they got to the island are very much a part of what makes the show come to life. I think that that question of the arbitrary nature of things vs. some pre-destination is one of the fundamental conversations of the series."
When the two took a break from their busy "Lost" schedule to see
Revenge of the Sith
in 2005, Abrams was overwhelmed by the sense of nostalgia that gripped him during the film.
"
I was probably most affected by the end of the film when we are returned to some of the sets on the ship that we see in the first Star Wars movie, Episode IV
," Abrams says. "
I was surprised by how good it felt to be home. Given all of the scope and scale of everything that had come before, there was something incredibly satisfying and warm and fuzzy about being back in those white hallways that sort of rekindled the feeling you had when you saw the Stars Wars universe for the first time."
While watching Anakin's tragic downward spiral unfold on the big screen, Lindelof and Abrams had a few differing thoughts about the lure of the dark side and our own attitudes towards it.
"
We all flirt with the dark side every day
," Lindelof says. "
Let's face it -- it's easier. And the Jedi who fall to the dark side just have much cooler powers. Force lightning? Yeah, baby! I don't really blame Anakin for being swayed by Palpatine, but at least he came around in the end, right?"
EDITOR'S NOTE: ONLY 20 YEARS AND BILLIONS OF CREDITS SHORT. BUT YEAH. GO ANNIE.
"
Obviously, his fall was inevitable and you learn that from the early films,"
Abrams says. "
You know it's going to happen and watching it happen is tragic. What's fascinating to me is that I grew up in a time when my friends related to Luke and now, my kids relate to Anakin. There is an interesting social comment there -- that when I grew up the hero was an optimistic young neophyte who becomes this hero and the new generation's hero is a strong-willed, ambitious and ultimately vilified protagonist who is misled and, for reasons of ego and heartbreak, literally becomes the very villain that my generation fought against."

EDITOR'S NOTE: WE'VE ALL BEEN TALKING ABOUT HIS FOR THE PAST YEAR, BUT THIS IS WHY THIS GUY CREATES SUCH GREAT ENTERTAINMENT FOR US...HAS ANYONE DISTILLED THE POWER OF ANAKIN'S FALL BETTER?
ILM and Mission Impossible III
In addition to Sith's story, Abrams was seriously impressed by the film's visual effects, so much so that he would later request to work with Episode III Industrial Light & Magic Visual Effects Supervisor Roger Guyett during his big screen directorial debut on Mission Impossible III.
"When I went to the premiere with Damon, I was blown away by, most notably, the opening battle sequence and the volcano sequence," Abrams says. "I happen to think that Roger Guyett is a genius."
Initially, Abrams wasn't so sure he wanted to direct the action-packed film. Even though he was already an accomplished TV series creator and director with hit shows such as "Lost," "Alias" and "Felicity," Abrams' only real experience in the film industry was as a screenwriter of such films as Armageddon, Forever Young and Regarding HenryEDITOR'S NOTE: OH DEAR. WAS THIS IDIOT MOVIE J.J.'S FAULT?! (AND ARMAGEDDON...OR :ALL ABOUT BRUCE WILLIS' EGO" AS I LIKE TO CALL IT)., as well as a producer for The Pallbearer and The Suburbans.
However, after viewing the box set of the first season of "Alias," the Mission Impossible star Tom Cruise became determined to recruit Abrams for the directorial position.
Originally Cruise wanted to work alongside Abrams (along with Steven Spielberg) on War of the Worlds, but Abrams was in the middle of launching the "Lost" pilot on ABC and had to refuse. This time Cruise didn't take no for an answer. Given full reign to rewrite the screenplay from scratch Abrams focused more on Cruise's character Ethan Hunt and his life as a spy living in the normal world.
As with his work on "Lost," Abrams wanted the Mission Impossible III audience to care about Hunt and his life as much as they demand to see an action-packed show. Of course, being impressed by the special visual effects that ILM produced for Revenge of the Sith, Abrams also took the hands-on approach by learning how to do three of the special effects shots personally.
As Mission Impossible III hits theaters May 5, Abrams and Lindelof are excited for the next big thing -- the "Lost" season finale on May 24. Even though the duo couldn't reveal any juicy details about the upcoming finale, Abrams and Lindelof had a few thoughts on what it would be like if the "Lost" castaways accidentally bumped into a few of their favorite Star Wars characters.
"Wow...I think the worlds of both shows are so different, it'd be hard to cross-pollinate," Lindelof says. "I do think, however, that Locke and Yoda would probably have a lot to talk about." EDITOR'S NOTE: AND THEN LOCKE COULD SHOOT HIM?! (OOOO...DARK SIDE DARK SIDE. BAD QOTD, BAAAAAAAAAAAAAAAD QOTD).
"I would like to see Charlie hanging out with the Jawas," Abrams laughs. "I think that would be entertaining. I think it would be incredibly cool if the group came to a clearing in the jungle and Jabba the Hutt was sitting there. I would love to see that episode." EDITOR'S NOTE: ANY MORE DRUGS, AND CHARLIE MIGHT JUST THINK HE'S HANGIN WITH JAWAS. (THAT COULD BE A NEW STONED EUPHAMISM!)

Star Wars Artist Series: Russell Walks
Scholarly Inspirations
After seeing A New Hope for the first time in 1977, Star Wars illustrator Russell Walks remembers that the film not only fed his love for all things fantasy and science fiction, but it also inspired him to pay artistic tribute to this fantastical world of stormtroopers, Jedi and the ominous Dark Lord of the Sith.
"It's understating it to say that Star Wars struck a chord in me," Walks says. "Like everyone else in the theater, I was entertained, but there was something more. I couldn't articulate it, but Star Wars touched something inside me, made me feel something I had never felt before, and when I walked out of the mall that day, I only knew that I wanted to keep that feeling."
"It was a rainy, rainy day, and I was thinking about how different my environment was from the one in which Luke lived, and those thoughts sort of started me thinking about the way Star Wars looked," Walks recalls. "I loved the stormtroopers and TIE fighters, and Han's costume, and I couldn't wait to get home and draw Darth Vader. It occurred to me then that somebody had to have come up with that look. Somewhere an artist had designed Darth Vader's mask. My next thought was nothing less than an epiphany -- I could do that. I could be an artist. It was that simple, and from then on, I knew what I wanted to do."
Drawing and painting since the incredibly young age of 18 months, Walks continued his passion for art all the way through his childhood into early adulthood. "I started drawing before I could speak," Walks explains. "My parents claim that I was drawing realistic interpretations of household objects by 18 months or so, and that if I wanted a glass of milk, I'd draw one and use the picture to get my point across. Although I don't remember this, my mother has saved a few scribbled-looking images that date back to about that time, and looking at them now I guess that with the right combination of myopia and maternal pride, someone might be able to buy into that."
In junior high and high school, Walks attended every art class available, while reading an endless amount of books and comics. "There was sort of a comics 'mini-boom' in the '80s, and I took full advantage. I read just about everything, from Atari Force to Nathaniel Dusk; but my favorites were Jon Sable: Freelance and The New Teen Titans. I subscribed to Starlog, got a job at a movie theater, and spent the early '80s seeing every science fiction movie that came out -- and thanks to the success of Star Wars, there were plenty."
In 1985, Walks watched a series of interviews called "The Power of Myth" with journalist Bill Moyers and writer/philosopher Joseph Campbell. "After seeing the interviews and reading Campbell's masterwork, The Hero with a Thousand Faces, I recognized what it was about Star Wars that had touched so many of us. To put it simply, the ideas and themes in Star Wars are universal and the tale of Luke Skywalker is one that's been told thousands of times over thousands of years. Joseph Campbell calls this story 'The Hero's Journey', and it is a tale of self-discovery; a universal myth in which the names of the characters change, but the story remains the same. George Lucas once said that Star Wars is 'a story for a generation growing up without fairy tales,' and I think that the movie resonates with us. "Because underneath the Jedi robes and stormtrooper armor, Star Wars is about the same thing as The Odyssey or any of the stories our grandparents' grandparents told them. Star Wars is about us, and it resonates with us because we see ourselves in the characters up there on that screen."
In 1994, Walks would later explore the Joseph Campbell/George Lucas connection in the Star Wars Galaxy III series of trading cards for Topps.
"When I look back on the books and movies that meant something to me, it's evident that in almost every instance there was that same spark of recognition," Walks continues. "Those stories were important to me because I identified with the characters, and because I identified with them, I cared about what happened to them. And it's no surprise that in most cases millions of others cared too, because we humans are much more alike than we are different. I guess there is such a thing as a universal truth, a sort of indefinable something that all of us have in common. We can't all articulate it, but I think that consciously or not, all of us can feel it, especially when we share a good story. Campbell said that storytellers and artists are today's shamans and mythmakers, and when I'm sitting in a darkened theater sharing the exact same emotion with 200 other people, I can believe in magic."

Cricket, Star Wars and Disney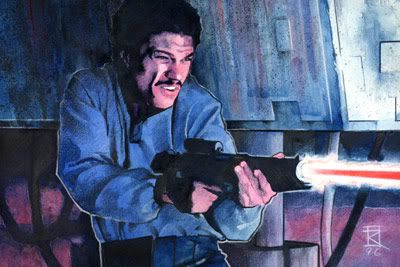 EDITOR'S NOTE: THIS ARTIST REALLY CAPTURES THE FACES SUBTLEY AND BEAUTIFULLY. (IMHO....)

In addition to films, books and comics, Walks found inspiration in other artists -- most notably the legendary Star Wars artist Drew Struzan. "Clearly, Struzan is a big influence," Walks says. "For a long time, I think that my unconscious goal was simply to copy him, and my definition of success was whether or not the finished piece looked like something he could've done. Over the last several years, I've finally started to come into my own, and I can see more of me in my work. Additionally, I really, really admire artists like John Singer Sargent and Andrew Wyeth -- realistic artists whose work has an emotional content. I see that same emotion in 'commercial' artists like Maxfield Parish, and Norman Rockwell, and in comic artists like Jeff Jones and Neal Adams (particularly their stuff from the '70s)."

In 1992, after earning his B.F.A. in painting from Montana State University, Walks bought a copy of The Artist's Market and sent out over a hundred promotional flyers made with rub-on letters and spray-mounted photos onto a sheet of paper. His flyers did the trick and he almost immediately landed a job working for Cricket: The Magazine for Children.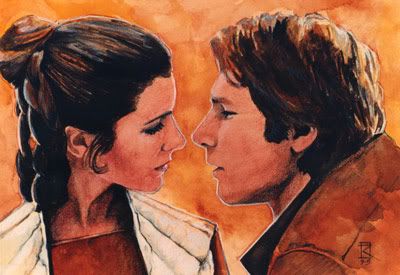 EDITOR'S NOTE: I JUST LOVE THIS PIECE OF ART. (AND HAVE FROM THE FIRST TIME I SAW IT). SO ROMANTIC AND COMPLETELY IN CHARACTER FOR THEM BOTH.
"I was hired to illustrate a story entitled 'The Lively Soccer Ball,' and I was so excited to get the job that I handed in finished work four days after receiving the assignment --- six weeks before my deadline. A month or so after completing the Cricket job, I met Marvel editor Marc McLaurin at the San Diego International Comic-Con. Marc liked my stuff enough to give a job on Hellraiser, and that led to a piece for Cheval Noir at Dark Horse, which led to some Indiana Jones stuff for Diana Schutz. When Diana introduced me to Lucy Wilson at Lucasfilm and I did my first Star Wars painting -- a Chewie card for Topps'Star Wars Galaxy -- 'the circle,' as Darth Vader would say, 'was complete.'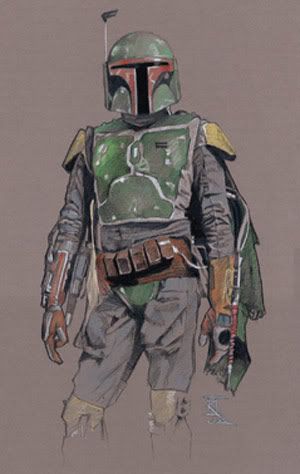 Fans can spot Walks' work in Star Wars Insider magazine (including a 15th anniversary Return of the Jedi poster), several different trading card series for Topps (Star Wars Galaxy I & III, Star Wars Finest, Heritage, Revenge of the Sith), the 25th anniversary Celebration II Star Wars poster, Celebration III Star Wars poster, Tales of the Jedi covers for Dark Horse, and plates for The Hamilton Collection. Most recently, Walks created the 2006 Star Wars Disney Weekends poster.

"Disney approached me with a proposal to do some realistic artwork based on an already existing concept of 'Now that the movies are over, the characters from the movies want to relax -- so they go to Disney World!'" Walks says. "Although I usually art-direct myself, in this instance I was sort of filling in the blanks. Disney knew that they wanted a landscape-style (wider than tall, like a frame from a movie) composition grounded in reality, with Mickey in the middle and Darth and Yoda on either side, surrounded by characters from the saga, and Disneyworld landmarks."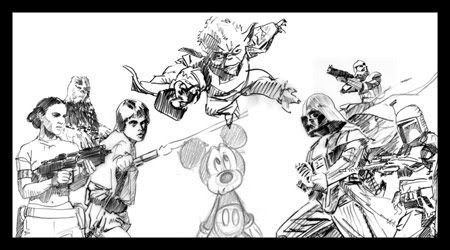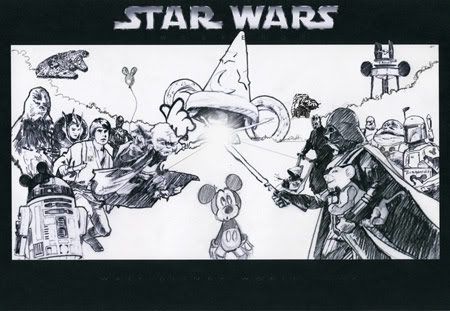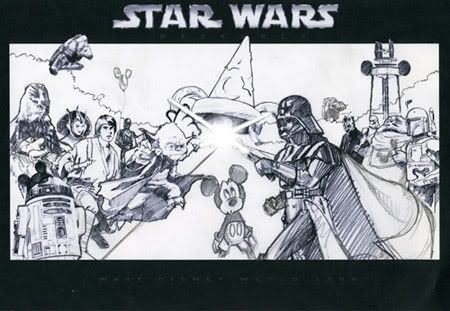 But as with the merging of images from any large franchises into one space, the poster project was not without a few obstacles. "The approval process for this piece of art was particularly challenging, since I was working with two huge companies who are traditionally very concerned with the way their characters are portrayed," Walks says. "As is almost always the case though, every suggestion and change was ultimately beneficial, and I think that we've come up with something that will please both Disney and Star Wars fans. It was fun to paint Boba Fett with a Disney autograph book, and Chewie with a huge Simba toy, and I hope that the fans enjoy juxtaposition of characters from two different universes."

The Process of Padmé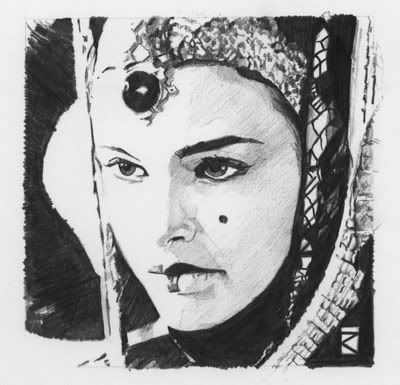 With all the projects Walks tackles on a regular basis, he enjoys the process and likes to learn something new from each assignment. "Every job is different, and I try never to do exactly the same process twice," Walks explains. "Sometimes I use watercolor; sometimes I use acrylic. Sometimes I use an airbrush; sometimes I work traditionally."
For his Padmé Amidala poster that Walks created for Celebration III, Walks explains that he first likes to come up with the concept, and attempts to layout his ideas using a series of thumbnail drawings. "In this instance, I knew that I wanted a close-up of the lovely Natalie Portman, and that I wanted her to be, as Leia said in Jedi, 'Very beautiful. Kind, but sad.' I wanted her to be distracted and a little uneasy, and not really 'in the moment,' like there's a shadow across her heart, even when she's at her happiest."

Once Walks has a concept secure in his mind, he researches reference material that supports his ideas. "Sometimes this is as easy as using an existing photo, other times it involves building costumes and hiring models," Walks explains. "Since there are a limited number of Star Wars photos available, and since the fans have already seen most of those, I find myself shooting models more and more often with my Lucasfilm stuff."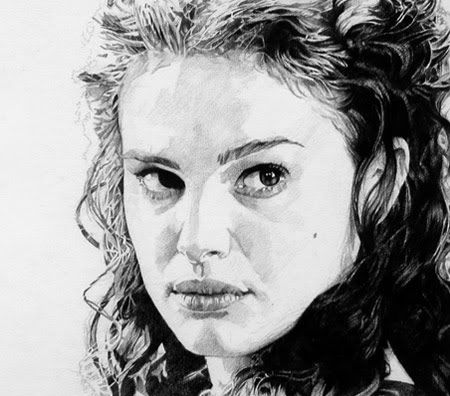 After Walks has his references, he begins to draw. "I do my best to idealize the photos -- making hands bigger, chests broader, etc," Walks says. "When I'm done, I have a complete black and white drawing with all of the values filled in. In the Padmé piece, I enlarged Natalie's eyes just a little bit, and (in the painting stage) I reddened her lips. Sometimes I'll draw the planes of the face in with sienna, so that when I add color, they're not as prominent."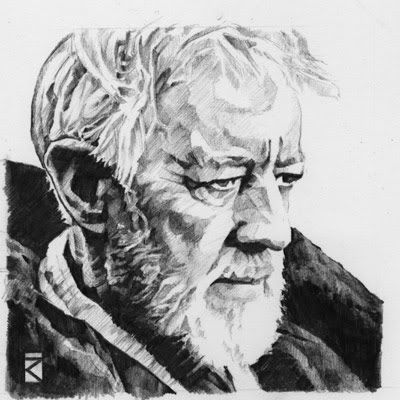 Using an airbrush, acrylic paint, and many masks to prevent overspray, Walks then fills in the colored areas much like hand-tinting a photo. And then he finishes the work with colored pencils to add detail and highlights.

As Walks enjoys success from Star Wars projects, and continues to work on a variety of upcoming illustration, he's quick to point out that he still sets high goals for himself as an artist.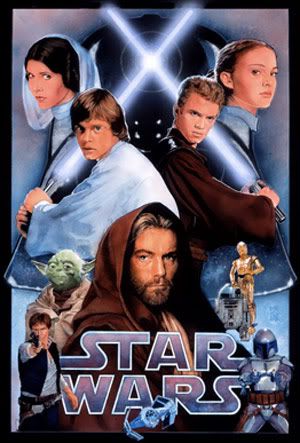 "My only goal is to continue to improve, not only as an artist, but also as a father, husband and person," Walks says. "I read a really cool quotation one time from Hokusai, a 19th century Japanese artist who began painting seriously in his forties. It kind of sums up how I feel about the artistic journey. He said, 'From the age of six, I had a mania for drawing the forms of things...but all I produced before the age of 70 is not worth taking into account. At 73, I learned a little about the real structure of nature...when I am 80 I shall have made still more progress; at 90 I shall penetrate the mystery of things; at 100 I shall certainly have reached a marvelous stage; and when I am a 110 everything I do, be it a dot or a line, will be alive. I beg those who live as long as I to see if I do not keep my word.'"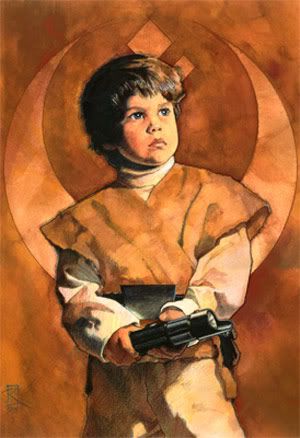 Walks' own advice to budding artist stems back from a philosopher who originally inspired him. "Joseph Campbell said it best, 'Follow your bliss,'" Walks says. "To put it simply, do what you love -- what you're meant to do. If you do that, happiness will follow, and if you don't know what it is that you're meant to do, spend some time finding out. I decided on the way home from the theater that rainy afternoon in 1977 that I would someday do exactly what I'm doing now, and if you could talk to the 12-year-old me, I'm sure he'd say he wasn't surprised that the adult me is a working artist," Walks smiles. "What is surprising, though, is that I've had so much fun on the journey to where I am. Every step on the road has been interesting, and I'd like to think that even my missteps have, in the end, made me a better artist and person." EDITOR'S NOTE: HOW VERY VERY FORTUNATE FOR HIM. TO HAVE FIGURED OUT SO QUICKLY AND EARLY WHAT HE WANTED, AND THEN TO HAVE HAD THE TALENT AND PERSERVERANCE AND LUCK TO ACHIEVE IT.
I WISH.......(AS THEY SING IN "INTO THE WOODS")

To read more about upcoming projects from Walks, visit his official site.
http://russellwalks.com/

August 2006 Comics ...and Beyond!
Here's a look ahead at the Star Wars titles coming this August (and beyond) from Dark Horse Comics.

A man struggles with a dilemma: to claim his rightful heritage and save the galaxy, he will have to turn his back on his only kin and abandon them to a dark fate. Elsewhere, a long-kept secret gnaws at a ruthless bounty hunter. Revealing it could mean certain death for him and his companions, but ignoring it just might drive him mad. An unpredictable third installment in the series that reveals the never-before-seen future of the Star Wars universe! A galaxy of intrigue and danger, romance and adventure awaits! Star Wars: Legacy #3 is by John Ostrander, Jan Duursema, Dan Parsons, Brad Anderson with cover art by Adam Hughes. It is scheduled for release on August 2.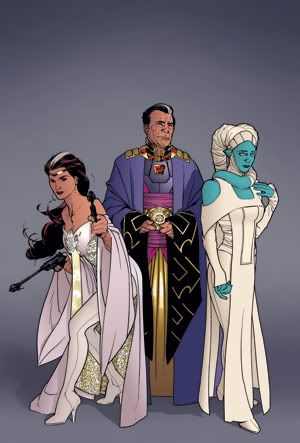 EDITOR'S NOTE: AND LOOK...ALL THE WOMEN IN THE FUTURE LOOK JUST LIKE THE ONES IN THE PAST. VERY SMALL WAISTS AND HIPS, AND EXTREMELY LARGE, AND OVER-EXPOSED BAZOOMIES. (QUELLE SURPRISE...SMIRK).

The reunion of Luke Skywalker and his boyhood friend Janek "Tank" Sunber comes to its shocking conclusion, as one of these two men is forced to make a decision that will change both of their lives forever! With the entire Rebel fleet under siege by a massive Imperial force, Wedge Antilles and Red Squadron launch a valiant defense, but even they know if the fleet doesn't figure out an escape plan soon, there won't be anything left to defend. Meanwhile, chaos reigns on the Rebel command ship as a threat from inside continues to have devastating consequences for the Alliance.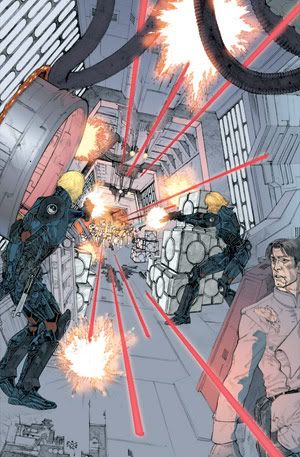 White-knuckled action in an era when Darth Vader was unstoppable and Luke Skywalker was little more than a brave farm boy -- don't miss it! Star Wars: Rebellion #5 is by Rob Williams, Brandon Badeaux with cover art by Wil Glass. It is scheduled for release on August 9.

The Mandalorians have captured one of fugitive Padawan Zayne Carrick's faithful companions, which means one thing -- a rescue mission deep behind enemy lines! Above the mining world of Vanquo, Republic and Mandalorian starfighters battle, while down on the surface, the motley crew of the Last Resort become stowaways on their own ship, piloted by an unknown thief. Even if they regain control of the ship in time to pursue their friend's abductors, how will they ever make it past the Republic and Mandalorian armadas, both of which want them dead! Forget about the Force, what these four need is some cold, hard luck!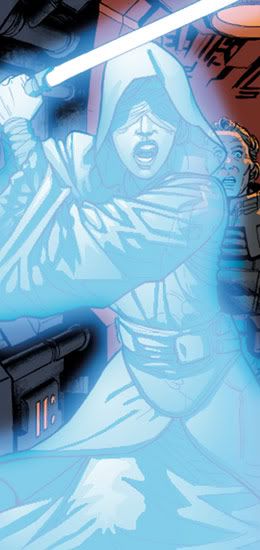 Continuing the ongoing series set four thousand years before the rise of the Empire, Star Wars: Knights of the Old Republic #8 is by John Jackson Miller, Dustin Weaver, Michael Atiyeh with cover art by Brian Ching. It is scheduled for release on August 30.

In September, one of the most influential Star Wars tales gets a brand new edition: Dark Empire II will for the first time be paired with Empire's End in a new collection. With the Empire in retreat, Luke Skywalker undertakes a quest to rebuild the Jedi. His time spent serving the reborn Emperor has tainted Luke with the dark side. When Palpatine unveils an insidious plan to conquer the galaxy using Han and Leia's own children, will Luke be able to stop his one-time master? EDITOR'S NOTE: TRICK QUESTION?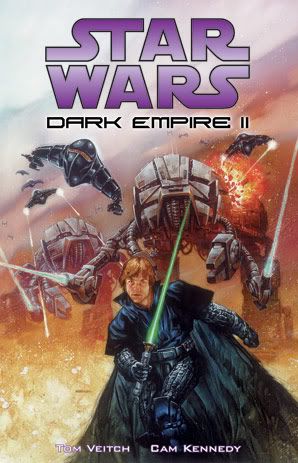 Luke and Lando, Han and Leia, Threepio and Boba Fett -- the gang is all here in one of the most important stories of their lives. Star Wars: Dark Empire II second edition trade paperback, Tom Veitch, Cam Kennedy and Jim Baikie, is due out on September 13.

In October, a giant, affordable volume of X-wing adventures is the perfect opportunity for readers to catch up on some of the most popular stories in the Star Wars universe. Star Wars: Omnibus -- X-Wing Rogue Squadron Volume 2 collects the X-wing story arcs, Battleground Tatooine, The Warrior Princess, and Requiem for a Rogue (issues #9-20 of the X-Wing: Rogue Squadron series). It features the works of Michael A. Stackpole, Jan Strnad, Ryder Windham, Jordi Ensign, Monty Sheldon, Dave Nestelle, Perry McNamee, and Cary Porter. It is due out on October 11.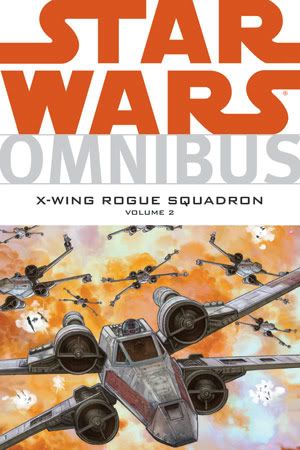 Also in October is the latest collection of Star Wars: Empire comics, which contains a tale that sheds new light on Anakin Skywalker's actions at the Battle of Jabiim during the Clone Wars.
Luke Skywalker confronts the legacy of the Jedi father he never knew in an epic story involving Princess Leia, Darth Vader, and the fate of an entire planet! When Luke and Leia travel to Jabiim recruiting allies for the fledgling Rebellion, they unwittingly set into motion events that will ignite one man's betrayal of his people, pit rebel hero against rebel hero, and attract the attention of the Empire's deadliest enforcer -- Darth Vader! EDITOR'S NOTE: THIS WAS A VERY EXCITING SERIES!




Featuring the works of Thomas Andrews, Scott Allie, Adriana Melo, Michel Lacombe, Joe Corroney and Michael Atiyeh, Star Wars: Empire Volume 6 -- In the Footsteps of Their Fathers trade paperback is due out on October 25.
EDITOR'S NOTE: AND NOW....MORE DWEEBS WITH ARTISTIC SKILLS! ---

Star Wars Sand Sculptures
Chad Cloman writes in with news of this website featuring several very large sand sculptures all with a Star Wars theme. There are several different scenes like Jabba's palace, Endor battle and a few other snapshots of other pieces involved in the show.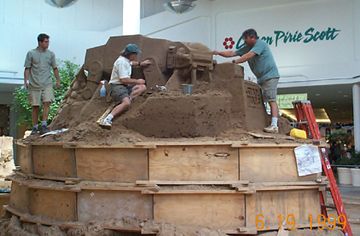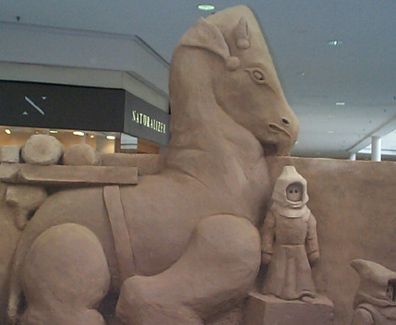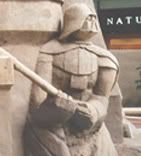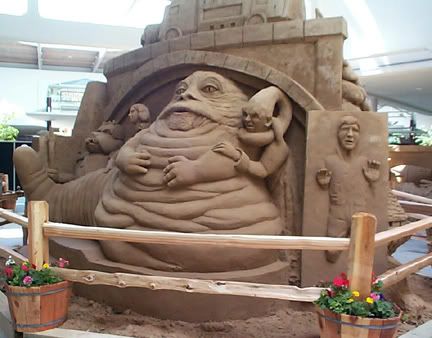 EDITOR'S NOTE: REMEMBER...ALL IN SAND!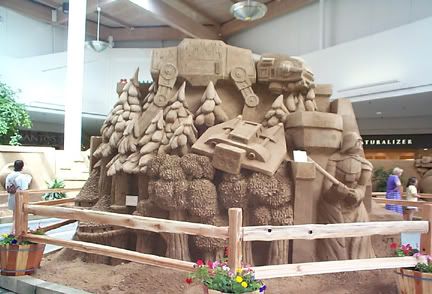 Hyperspace Reveals the Secrets of Star Wars 07
Fans are already primed to make next year a Star Wars year to remember. 2007 marks the 30th anniversary of the beloved saga, EDITOR'S NOTE: WOWIE! (I GUESS I COULD PROBABLY HAVE DONE THE MATH, AND FIGURED THAT OUT. BUT THE OLDER YOU GET, THE LESS MATH IS YOUR FRIEND....)and already there are whispers of possible events that will commemorate that milestone. But what hasn't yet been talked about is the biggest entertainment event of the year: a major addition to the Star Wars mythos. EDITOR'S NOTE: OH, YES PLEASE, UNCLE GEORGE. MORE MYTHOS, PLEASE!

It begins now. As with the earliest glimpses of Episode III, Hyperspace will be the first place to get a look at the secrets 2007 holds.

A new image series, rich with explosive and intriguing concept art, is your first look at next year's biggest Star Wars surprise.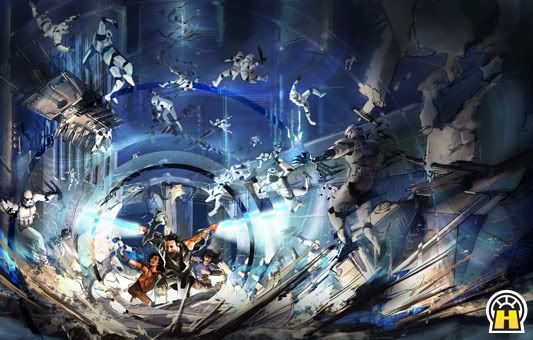 The first concept image from the biggest Star Wars entertainment event of 2007.

EDITOR'S NOTE: AND A COUPLE MORE.....NOT SURE WHAT THESE ARE FROM, BUT THEY ARE MORE SNEAKPEAKING FROM UNCLE G VIS-A-VIS 2007 (RUMOR HAS IT THAT THE PICS ARE FROM AN UPCOMING DARTH VADER VIDEO GAME, PERHAPS? ALTHOUGHT THAT DOESN'T SOUND ALL THAT BIG A DEAL. AND THOUGH LUCASARTS CAN HYPE WITH THE BEST OF THEM, THEY DON'T USUALLY YANK OUR CHAINS MUCH; IF THEY PROMISE BIG THINGS, IT'S USALLY BIG BIG BIG. TIME WILL TELL, AND SINCE I AM A MEMBER OF HYPERSPACE....TOUCH ME....I'L LET YOU KNOW AS SOON AS I HEAR.)--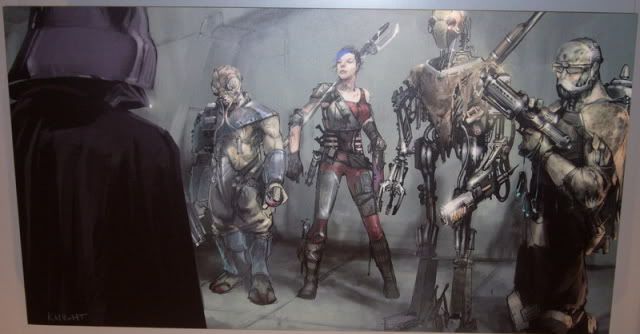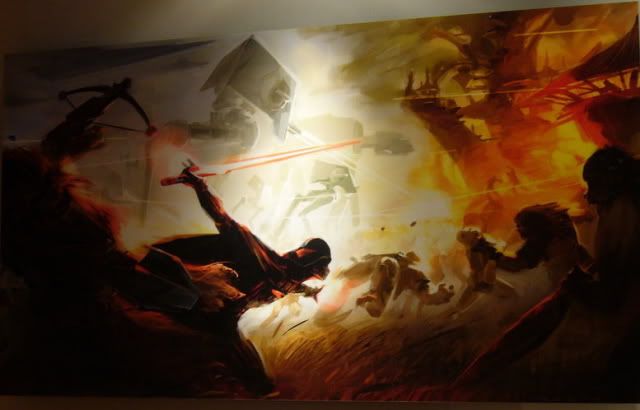 EDITOR'S NOTE: AND NOW....THE PICS OF THE WEEK.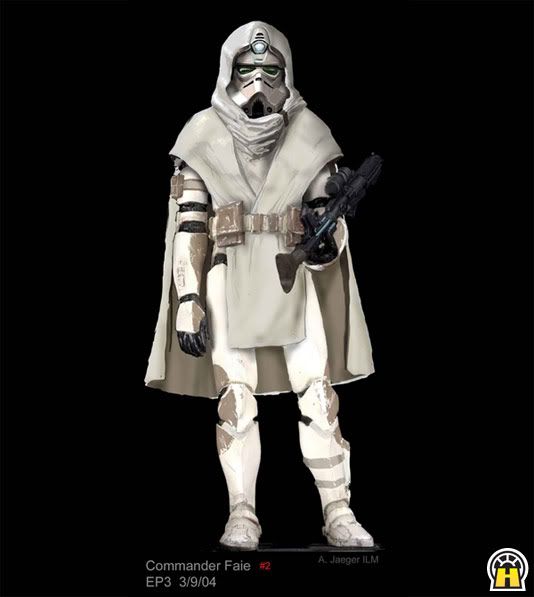 Alex Jaeger establishes the look of Commander Faie, a clone trooper that would ultimately go unseen in Episode III.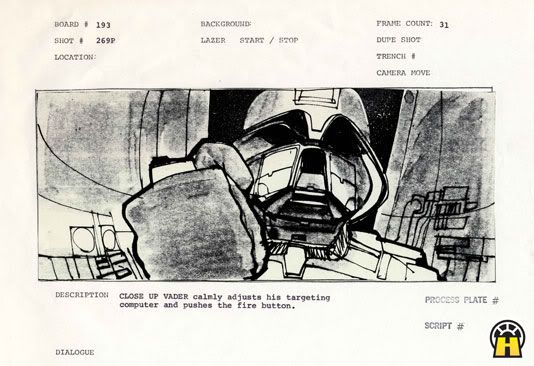 An early storyboard illustration before Vader's design was finalized depicts him in the cockpit of his TIE fighter during the battle of the Death Star.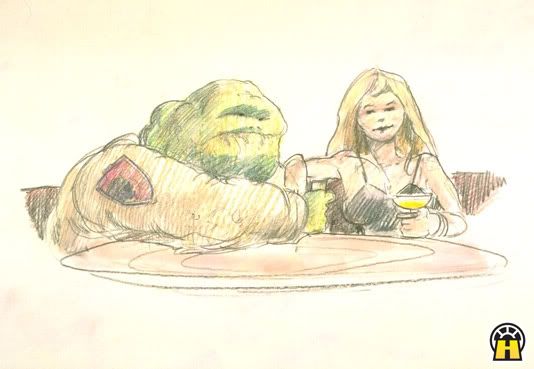 The early draft scripts of Empire produced some very intriguing -- and different -- concept art, including these shady characters in an unattributed illustration.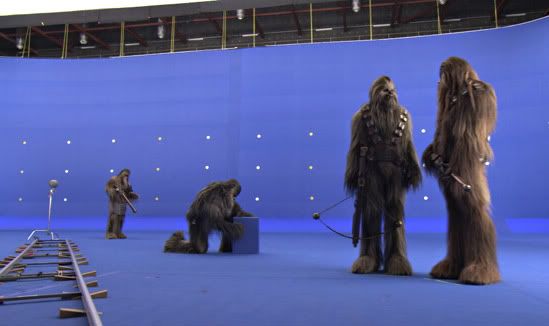 Against bluescreen, these
Wookiee
performers pantomime actions that will be made clear once the visual effects background of
Kashyyyk
is put in place.

EDITOR'S NOTE: LOOKIE LOOKIE, ODDBOB....WOOKIEE MIMES! (WRITE YOUR OWN PUNCHLINE HERE, ALL YOU NON-MIMES...AND NON-WOOKIEES).