Leftovers...dweeb-style
EDITOR'S NOTE: HAPPY WEEKENDING, DWEEBPALS! HERE'S WHAT WE HAVE LEFTOVER FROM MY ON-THE-FLY POSTING OF THIS PAST WEEK.
FYI....SOME FORMATTING PROBLEMS WITH THE POSTING (THE SYSTEM ISN'T ALWAYS TAKING MY SPACING AND LAY OUT). APOLOGIES. WE CAN ONLY DO SO MUCH, AND THEN HAL AND PALS TAKES OVER.
FIRST UP...WHAT WILL I WATCH ON TV ON MONDAY????!!! (AND HOW COULD HE DO THIS DURING SWEEPS???!!!)
Networks grapple with presidential speech timing
NEW YORK -- At least two of the Big Four broadcast networks will carry President Bush's address to the nation on immigration Monday night.
As of Friday, NBC and Fox said they would carry the president's speech from 8 p.m. to 8:20 p.m. EDT.
Both ABC and CBS deferred the decision on whether to carry until sometime Monday. Some of the networks were said to be annoyed that the White House had timed the Oval Office address during the May Sweeps, that critical time in the broadcast year when the networks and their affiliates fight for ratings.
EDITOR'S NOTE: AS OF RIGHT NOW...SUNDAY AFTERNOON.....IT IS STILL JUST FOX AND NBC SHOWING THE PRES. DOESN'T MEAN THEY WON'T BUCKLE BY TOMORROW. FOX IS SHOWING BOTH "PRISON BREAK" AND "24" ON A DELAYED BROADCAST SCHEDULE RUNNING INTO THE NEWS HOUR.
At least one show, Fox's "Prison Break," was scheduled to have its season finale at 8 p.m. Monday.
COOL DVD NEWS:
BUTCH CASSIDY AND THE SUNDANCE KID on DVD in June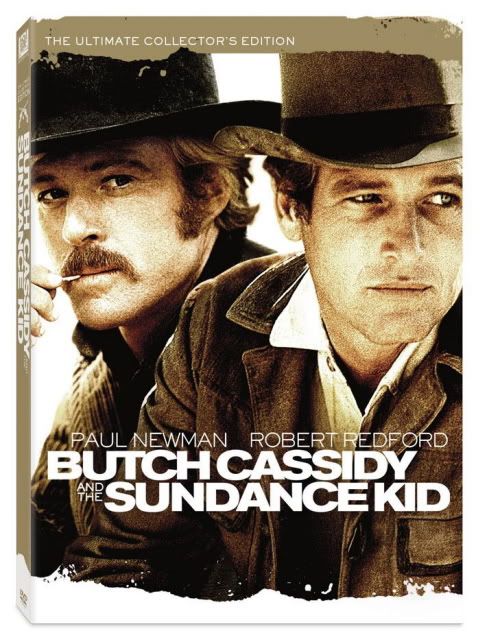 The Butch Cassidy And The Sundance Kid Collector's Edition DVD will be hitting shelves on June 6, 2006 courtesy of Twentieth Century Fox.

The movie stars Paul Newman and Robert Redford as notorious outlaws who work together to relieve banks and trains of their money. Butch Cassidy And The Sundance Kid earned Academy Awards for Best Cinematography, Best Score, Best Original Song, and Best Original Screenplay.

The DVD features:
Disc One:
- Widescreen Feature
- Commentary By Director George Roy Hill, Lyricist Hal David, Associate Producer Robert Crawford And Cinematographer Conrad Hall
- Commentary By Screenwriter William Goldman

Disc Two:
- 2005 Documentary – All Of What Follows Is True: The Making Of Butch Cassidy And The Sundance Kid
- The Wild Bunch: The True Tale Of Butch And Sundance
- History Through The Lens: Butch Cassidy And The Sundance Kid: Outlaws Of Time
- 1994 Documentary – The Making Of Butch Cassidy And The Sundance Kid
- 1994 Interviews
- Alternate Credit Roll
- Theatrical Trailer #1
- Theatrical Trailer #2
- Theatrical Trailer #3
- The Films Of Paul Newman

Total Running time is 110 minutes, the film is rated PG, closed captions are available and it is expected to retail at $26.98 U.S./$37.98 Canada.
MOVIE NEWS:
WOLVERINE Prequel News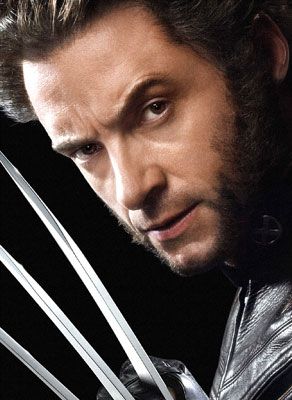 ComingSoon
snagged Hugh Jackman who had a few words on the upcoming
Wolverine
movie. Jackman also stars in the upcoming movie,
X-Men: The Last Stand.

Wolverine is currently in development and a script is being drafted by David Benioff (Troy).
Regarding the Wolverine movie, Jackman said:
"
We have two drafts and David is going to do another draft, and then we'll find our director
," he said. "
I'm not going to make a decision until I have the script right, but I'll definitely look at Brett [Ratner]. I don't want Wolverine to appear to be 'X-Men 4' in disguise; I don't want to make it stylistically the same. I want to do something different. That's my idea. Until we have the script, I don't really know who's right, but there's been a lot of interest from a lot of really amazing directors, so I'm really excited."

Something different? A new direction? Amazing Directors? Sounds like they are on the right track to me.

Four more sign on to haunt 'Halls'
Kristin Davis has joined the cast of Regency Enterprises' family comedy "Deck the Halls." Alia Shawkat and twins Sabrina and Kelly Aldridge also are set to board the project.
Davis, Shawkat and the Aldridges will play opposite Danny DeVito, Matthew Broderick and Kristin Chenoweth in the John Whitesell-helmed film.
The story revolves around two neighbors in a small New England town who go to war when one of them decides to decorate his house for Christmas with so many lights that it will almost be visible from space.
EDITOR'S NOTE: DIDN'T WE ALREADY SEE THIS MOVIE? WASN'T IT SOMETHING WITH TIM ALLEN....OR ONE OF THAT CROWD?
The neighborhood is turned upside down as the two families try to discover the true meaning of Christmas. Davis will play the wife of Broderick's character, while Shawkat ("Arrested Development") will play their daughter. The Aldridges (MTV's "8th & Ocean") will portray the children of DeVito and Chenoweth's characters.
Nolasco, Taylor join robot film
Rachael Taylor and Amaury Nolasco have been cast in DreamWorks' "Transformers" and Tyrese Gibson is in negotiations to join them. Michael Bay is directing the live-action adaptation of the 1980s Hasbro toy line of giant robots that morph into cars, trucks, planes and ships.
The trio join the already cast Shia LaBeouf, Megan Fox, Josh Duhamel, Jon Voight and Bernie Mac. Taylor will play Maggie Marconi, a codebreaker at a think tank. Nolasco and Gibson are Army officers. Angry Films' Don Murphy, Tom DeSanto and Lorenzo di Bonaventura are producing. Steven Spielberg is executive producing. Hasbro's Brian Goldner also is executive producing
EDITOR'S NOTE: HUGE CAST. MOST OF THEM, NO ONE I CARE ABOUT. (IF THEY'D JUST CAST JOSH HARTNETT AND MARKYMARK, I COULD KNOW THAT MOST OF THE PEOPLE I DON'T CARE ABOUT ARE SAFE AND ALL IN ONE PLACE...AWAY FROM A BETTER MOVIE WE ARE WATCHING IN ANOTHER THEATER).
Nicolas Cage is a CRAZY DOG
Nicolas Cage has signed on to star in a cop action-thriller named
Crazy Dog
.

Joe Rueben (The Forgotten) is set to direct the film which was penned by Henry Bean and Nick Kazan.
The story involves a New York City cop who is responsible for the death of a friend due to his own cowardice. The guilt sends the cop on a self-destructive spree before he begins to seek redemption.
EDITOR'S NOTE: OH. DARN. I THOUGHT IT WAS A MOVIE ABOUT MY DOG. DRAT.
Weinstein, IFC spell 'Wordplay'
The Weinstein Co. and IFC Films are teaming to co-distribute the crossword-themed documentary "Wordplay."
Directed by Patrick Creadon and produced by Christine O'Malley, the film explores the passionate puzzle subculture, which boasts such colorful characters as New York Times crossword editor Will Shortz. "Wordplay" generated buzz at January's Sundance Film Festival.
EDITOR'S NOTE: NOT A 'SPORT' THAT SCREAMS ACTION MOVIE, BUT WHO ARE WE TO CRITICIZE THE BUZZ COMING OUT OF THE ESTEEMED SUNDANCE FEST, EH?
TV NEWS:
Casting Call: Lynskey and McKinnon join 'Comanche Moon'
Melanie Lynskey and Ray McKinnon have joined the cast of CBS' miniseries "Comanche Moon," from Oscar-winning writers Larry McMurtry and Diana Ossana.
Based on McMurtry's novel, a prequel to "Lonesome Dove," the story follows Gus McCrae (Steve Zahn) and Woodrow Call (Karl Urban) through their years as Texas Rangers as they create legends for themselves fighting the Comanche to open West Texas for settlement.
McKinnon will play Ranger Long Bill Coleman, while Lynskey will play his wife, Pearl. Lynskey, who plays Charlie's stalker neighbor Rose on the CBS comedy "Two and a Half Men," will next be seen in Clint Eastwood's feature "Flags of Our Fathers." She is repped by ICM and the Susan Smith Co. McKinnon, who recurred on HBO's "Deadwood," is repped by SMS Talent.
EDITOR'S NOTE: THE FALL KICK-OFFS ARE IN FULL SWING! (JUST WHEN EVERYTHING CURRENT GOES INTO SUMMER RERUNS. WHAT A CRUEL TEASE, EH?)
ABC Picks Up Four More Series
Includes Calista Flockhart Drama

Christopher Lisotta

Just days after giving series orders to six pilots for the 2006-07 season, ABC picked up an additional four series, including a drama that marks former "Ally McBeal" star Calista Flockhart's return to series television.
EDITOR'S NOTE: WHILE HARRISON FORD STAYS HOME AND WATCHES THE KIDS?
ABC picked up the Touchstone Television drama "Brothers & Sisters," which stars Ms. Flockhart, former "Six Feet Under" series regular Rachel Griffiths, Balthazar Getty ("Alias") and Patricia Wettig ("Prison Break") in a family soap that focuses on adult siblings. Ms. Wettig's husband, Ken Olin ("thirtysomething"), executive produced and directed the pilot.
EDITOR'S NOTE: GREAT CAST! AND OLIN TENDS TO PICK WINNERS.
The network also picked up another drama from its sister studio Touchstone: "Ugly Betty," the U.S. adaptation of the popular Latin American telenovela that follows the life of a plain but lovable woman working in the fashion industry. Reveille ("The Office," "Deal or No Deal") and Salma Hayek's Ventanarosa Productions are also producing "Betty."
Warner Bros. Television had two of its drama pilots picked up by ABC: "Men in Trees," which stars Anne Heche as a Manhattan shrink who flees big city life for Alaska; and "Traveler," a conspiracy thriller about three Ivy Leaguers who get caught up in a national security emergency.

7th Heaven, the longest-running family drama in television history, in a surprising move, will return for its 11th season on the new CW network thisfall. Mediaweek has learned that a deal has been reached to bring the show back for at least 13 episodes. CW officials refused comment.
EDITOR'S NOTE: WONDER HOW MANY OF THE FAMILY WILL BE PERMANENTLY 'AT CAMP' OR 'STAYING WITH FRIENDS' SO THAT THEY COULD PARE THE COST IN ORDER TO BE RENEWED?
NEW SERIES NEWS
According to the Hollywood Reporter, NBC on May 11 picked up five pilots for the 2006-'07 season, including the Greg Grunberg superhero drama HEROES and the Jeff Goldblum supernatural series RAINES.
HEROES features Alias' Grunberg and Milo Ventimiglia in an ensemble about a diverse group of people who discover they have super powers.
RAINES, meanwhile, stars Goldblum as an eccentric cop who talks to dead victims to crack cases.
EDITOR'S NOTE: WHAT A SURPRISE...GOLDBLUM PLAYING SOMEONE EXCENTRIC! (SMIRK). I CAN'T BEGIN TO IMAGINE WATCHING GOLDBLUM FOR AN HOUR AT A STRETCH, MUCH LESS FOR AN HOUR AT A STRETCH

WEEKLY

. (BUT MAYBE THAT'S JUST

ME

WHO HE ANNOYS SO COMPLETELY?)
The network is the first of the broadcast networks set to unveil its fall 2006 lineup officially next week in its presentation to advertisers in New York.
THE DEAD ZONE
USA Network announced that THE DEAD ZONE will return on June 18 at 10 p.m. ET/PT with a fifth season that will feature guest stars Sean Patrick Flanery,
EDITOR'S NOTE: HI HONEY!
Martin Donovan, Kristen Dalton, Dedee Pfeiffer and Ben Cotton.
THE 4400
THE 4400 comes back for a third season on June 11 as a two-hour special, starting at 9 p.m. ET/PT, and will air in its normal timeslot Sundays at 9 p.m. starting June 18.
On June 4, USA will air
The 4400 Special: Unlocking the Secrets
, a one-hour clip episode that will catch viewers up on the story so far. It airs at 10 p.m.
EDITOR'S NOTE: ONE OF THOSE TIMES WHERE I DON'T BEGRUDGE A CLIPFEST RECAP SHOW AT ALL. THIS SHOW HAD SO MUCH GOING ON AND I REMEMBER ALMOST NONE OF THE DETAILS.
4400 COMING TO THE INTERNET
According to TVWeek.com, the USA Network is expanding the online presence of its scifi series, "The 4400." USA on Sunday, May 21, will release a special "4400" compilation episode, called "The 4400 Special: Unlocking the Secrets," to familiarize new viewers with the series, which kicks off a new season this summer.
The episode will premiere exclusively on Yahoo TV for one week, then will air on USA's Web site, and next will appear on USA's regular network, as well as on sister NBC Universal outlets the SciFi Channel and Bravo.
EDITOR'S NOTE: I GUESS I'M NOT THE ONLY ONE WHO DOESN'T REMEMBER WHAT WAS GOING ON THE LAST TIME THE SHOW AIRED?
This summer, USA will also expand "The 4400" content online, adding Web exclusives such as audio podcasts, an "interactive diary" game and weekly blogs from writers, producers and characters on the show.
"The 4400" tells the story of a group of humans who have been abducted and returned to Earth. New episodes begin airing on Sunday, June 4, at 10:00 p.m. on the USA Network.
BATTLESTAR GALACTICA
James Callis, who plays the nefarious Baltar in SCI FI Channel's BATTLESTAR GALACTICA, says the upcoming third season will build on the events of last season's shocking finale.
EDITOR'S NOTE: UMM...BAD QOTD....WHICH I STILL HAVEN'T WATCHED. (ON TAPE. TO BE VIEWED SHORTLY!)
"
In the upcoming episodes, the simplest way to explain what happens is that the wheat is separated from the chaff."
A
t this month's Saturn Awards in Universal City, Calif., Callis said, "
I'm not actually sure at this moment which I belong to, which bothers me, whether I'm the wheat or the chaff. All I know is that we are necessarily separated.
"
At the end of the second season, the last surviving humans found themselves trying to eke out an existence on the rugged planet of New Caprica, when the Cylons invade and occupy them.
Callis agreed that the new season has drawn comparisons to France under the Nazi occupation of World War II.
"And the first few scripts of this particular season are phenomenal
," he said. "
And far darker and more gritty and more worrying than anything that you have seen before. I really am not just saying that. I remember just reading it going, 'My God almighty, this is remorseless and relentless.' And as such should be very gripping television. Even though it's very, I think, the word is dystopic."
GALACTICA returns with new episodes in October
EDITOR'S NOTE: YOU ARE

KIDDING?!

NOT TILL

OCTOBER

?! (NO SUMMER SEASON?)! DRAT! (GUESS THERE'S NO RUSH FOR ME TO WATCH THE LAST FEW EPS THAT I HAVEN'T CAUGHT UP ON, EH?!)
NIGHTMARES & DREAMSCAPES: FROM THE STORIES OF STEPHEN KING
TNT will premiere NIGHTMARES & DREAMSCAPES: FROM THE STORIES OF STEPHEN KING, a four-week collection of eight episodes drawn from King's stories, on July 12 at 9 p.m. ET/PT, with a commercial-free episode.

STARGATE
In a recent interview, Brad Wright—co-executive producer of STARGATE SG-1 and STARGATE ATLANTIS said he's confident that the longstanding franchise could spin off more series and even a feature film.
EDITOR'S NOTE: WOOHOO. (ZZZZZZZZZZZZZ) WONDER IF THEY'LL FINALLY KNUCKLE DOWN AND HIRE A WRITER. (SNICKER)
Projects in the works include a third TV series, a massively multiplayer online role-playing game and a movie.
"
What we've built is now bigger than all of us,"
Wright said. "
Even if I were to not do the movie, I know somebody is going to do a Stargate movie. It's the second largest franchise for MGM next to Bond. So it's got significant brand potential, and by two series doing as well as they are and a game coming out, that could really, really, really brand the show in a big way. That's what they like in this business: a larger franchise with so many legs to it that it could go into the future for years to come."
The franchise began with the 1994 feature film STARGATE, followed by SG-1 on Showtime in 1996. That series moved to SCI FI in 2002 and will begin its unprecedented 10th season on July 14, becoming the longest-running SF show in American television history.
EDITOR'S NOTE: THIS IS JUST SAD. RANKS RIGHT UP THERE WITH "CATS" BECOMING THE LONGEST RUNNING MUSICAL, AND GOES ALONG WITH THE DUMMING DOWN OF GOVERNMENT AND PROBABLY GLOBAL WARMING. IT IS JUST WRONG WRONG WRONG.
ATLANTIS spun off of SG-1 in 2004 and kicks off its third season also on July 14.
"I know there will be a movie made
," Wright said. "I
know there will likely be another series made, whether I make it or not. It's just too good a vehicle for storytelling. This is exactly what Jonathan [Glassner] and I recognized 10 years ago, when we created the series. The Stargate is dramatically, and in terms of storytelling, a perfect vehicle from which to launch characters and tell stories. That's why it will go for years to come."

HARRY POTTER NEWS:
Nicholas Hooper confirmed to compose OOTP
HPANA recently reported that Nicholas Hooper will be composing the soundtrack for the next Harry Potter movie,
Harry Potter and the Order of the Phoenix
. Warner Bros. confirmed yesterday to Film Music Radio that he will indeed be scoring the soundtrack for the fifth film. In 2004, Hooper won the BAFTA for Best Original Score and was nominated several other times for prestigious awards.
EDITOR'S NOTE: SO FAR, HE APPEARS TO HAVE WRITTEN FOR A LOT OF BRIT TV. (HERE'S HOPING HE IMPROVES ON THE IDIOT WHO DID THE MUSIC FOR "GOF". HACK).
P.S. PATRICK DOYLE. I JUST LOOKED IT UP. LET'S REMEMBER THAT, SO WE CAN THROW THINGS AT THE SCREEN WHEN IN FUTURE WE SEE HIS NAME.
Emma Thompson reprises role in OOTP
Warner Bros. has let us know that Emma Thompson will indeed return for the
Order of the Phoenix
movie as Professor Sybil Trelawney. She shot some of her scenes just last week. Also, we've been told that as the Knight Bus is "in bits," it won't be making an appearance in this film.
EDITOR'S NOTE: AWW....NO FUN PURPLE BUS. BUT.....EMMA THOMPSON! ALL IS RIGHT WITH THE WORLD!
Gwinnett schools to keep Harry Potter
The Atlanta Journal-Constitution
Published on: 05/11/06
Harry Potter won't be expelled from Gwinnett County's public schools.

The Gwinnett County school board voted unanimously Thursday to keep the popular book series about a boy wizard in the district's school libraries.
A Loganville mother asked the board of the state's largest school district to ban the books, which she said promotes and glorifies witchcraft. But school board members said the books have merit and have improved students' reading skills.
EDITOR'S NOTE: WHO'D A THUNK THAT A SCHOOL BOARD IN GEORGIA WOULD ACTUALLY COME OUT ON THE CORRECT SIDE OF SOMETHING INVOLVING LITERACY OR CHOICE?! THINGS ARE LOOKING UP? (NOW EVERYONE WHO'S READ THE HARRY POTTER BOOKS, LETS GET TOGETHER, COMPARE SPELLS, AND PLACE A HEX ON THE SILLY WOMAN WHO STARTED THIS WHOLE BANNING CAMPAIGN! AFTER 6 BOOKS, WE SHOULD HAVE THE POTIONS ALL MEMORIZED, RIGHT?!)

Board member Carole Boyce said her family enjoys reading the books.
"
At the very heart of this issue is censorship
," Boyce said. "
Our students do understand the difference between fact and fiction.

EDITOR'S NOTE: EVEN IF THEIR PARENTS DON'T!

Let's let those who want to read the Harry Potter books have the opportunity to do so."

Laura Mallory, who filed the complaint against the books, said she hasn't decided whether she will appeal the board's ruling to state education officials.
"
I knew what they were going to do, but it's good we live in a country where you can stand up for what you believe in,"
EDITOR'S NOTE: YES WE CAN. NO MATTER HOW IDIOTIC IT MIGHT BE.
said Mallory, a former missionary. "
God is alive and real and he says it [witchcraft] is an abomination. How can we say it is good reading material?"
EDITOR'S NOTE: ESPECIALLY WHEN YOUR LIPS GET SO TIRED JUST READING YOUR GROCERY LIST!

Mallory attended Thursday's meeting, but did not address board members.

Gwinnett's review of the Harry Potter books began in September when Mallory filed her complaint. Media review panels from J.C. Magill Elementary, where Mallory's three children attend school, and the school district ruled the books should remain. The panels are composed of parents, teachers and community members.

Mallory appealed the panels' decisions to the school board and a hearing was held April 20.

The retired DeKalb County school administrator who presided over the appeal strongly recommended the books remain. Board members received the hearing officer's recommendation, a transcript from the hearing, copies of the disputed books and other relevant materials.

Board member Mary Kay Murphy, a former English teacher, said the books help students develop the critical thinking skills they need to be successful in high school, college and life.
"
I support the value of the Harry Potter books to develop children's imagination and ability to read,"
she said.
The Harry Potter series is among the most popular books in children's literature, with more than 270 million copies in print. The series regularly appears on the challenged and banned books lists compiled by the American Library Association.
DA BIZ AND WHATEVER ELSE WE HAVEN'T TALKED ABOUT YET:
Autograph hounds: Depp tops; Diaz the pits
Johnny Depp has the write stuff when it comes to signing autographs while Cameron Diaz is the worst, according to a new list Friday from
Autograph Collector
magazine.
EDITOR'S NOTE: THERE'S A MAGAZINE FOR EVERY CONSTITUENCY, ISN'T THERE!
Depp, followed by George Clooney, topped the magazine's 14th annual survey of Hollywood's best and worst signers.
The "Pirates of the Caribbean" star also was rated best last year.
"
Many stars become bad signers once fame and fortune hits, but not Depp. He's even signed autographs for crowds at the airport while carrying luggage
," said Steve Cyrkin, editor and publisher of the magazine.
As for Clooney, "
he'll joke as he signs, and make fun of how he looks in photos he's handed to autograph,"
Cyrkin said. Cyrkin said the list, which appears in the magazine's June issue, was based on information from a professional autograph collector and an enthusiastic amateur who is a journalist.
EDITOR'S NOTE: I GATHER THE PROBLEM WITH DIAZ IS THAT SHE NOT ONLY REFUSES TO GIVE AUTOGRAPHS, SHE LECTURES ANYONE WHO ASKS FOR ONE ABOUT HOW STUPID IT IS TO WANT CELEBRITY SIGNATURES.
Dogs sniffing out movie piracy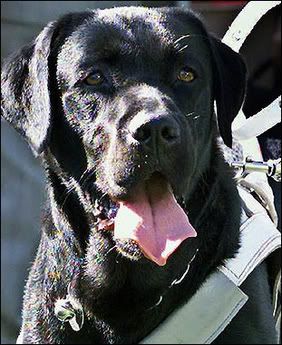 LOS ANGELES (AFP) - Sniffer dogs are the latest weapon Hollywood is using in its war against movie piracy, with British authorities deploying Labrador Retrievers to sniff out counterfeit DVDs, industry officials said.
Just days after a leaked report revealed the industry lost 6.1 billion dollars to piracy last year, Hollywood's main trade group said that the two black labs have been trained by British customs to track down hidden DVDs.

The Motion Picture Association of America (MPAA) said the dogs, named Lucky and Flo, had been put to work at courier service Federal Express's British hub at Stansted Airport, near London.
"
This is the first time dogs have been used anywhere in the world to search for counterfeit DVDs and the results were amazing
," said Raymond Leinster Director General of the Federation Against Copyright Theft, which has partnered with FedEx and British customs to fight movie piracy.

The dogs were trained over an eight-month period to identify DVDs that may be located in boxes, envelopes or other packaging, as well as discs concealed among other goods.

DVDs are often smuggled by criminal networks involved in large-scale piracy operations from around the world, the organisations said in a statement released by the MPAA in Los Angeles.
"
With the cooperation and assistance of FedEx and Customs we were able to properly test the dogs in a real-life situation and prove that they can work in a busy airport environment
," Leinster said.
EDITOR'S NOTE: GO DOGGIES! (IF THEY'D USED AUSTRALIAN CATTLE DOGS INSTEAD OF LABRADOR RETRIEVERS, THE SMUGGLED DVDS WOULD NOT ONLY HAVE BEEN SNIFFED OUT, BUT THE FILMS WOULD HAVE BEEN RE-EDITED TO MAKE THEM BETTER, AND IN SOME CASES INDIVIDUAL ROLES WOULD HAVE BEEN RECAST WITH BETTER ACTORS).
The use of dogs comes at the height of a war Hollywood is waging on piracy across the globe.
A report commissioned by the MPAA two years ago revealed last week that piracy cost Hollywood's big studios more than six billion dollars last year, far more than the 3.5 billion dollars annually that the industry had previously conceded.
eBay Wins Bid To Test Online Media Buying System
DAYS AFTER AN AD INDUSTRY task force unveiled plans to test an electronic trading system for buying and selling media, online auction giant eBay has won the bid.
"
We've looked at a bunch of providers, and eBay came out on top
," confirmed Ray Warren, president of Carat Media Group Americas, and a member of the task force. While the task force has met with a number of potential infrastructure providers, including Google, Warren said eBay was chosen "
based on their scale and their expertise and their brand name, which comes with some credibility in doing this kind of thing. Obviously, we wanted to make sure we get it right."
EDITOR'S NOTE: NEXT TIME I BID ON A HARRY POTTER XMAS ORNAMENT, I WILL SEE IF I CAN'T BUY ME SOME MEDIA TIME WHILE I'M THERE. (SNORT).

eBay first pitched the concept to the Association of National Advertisers' Television Advertising Committee in January, and presented the idea again in a more public form earlier this week during the ANA's Financial Management Committee meeting in Naples, FL.
Details of the test were not disclosed, but it looks to be fairly substantive. The task force has floated a $50 million budget for the test phase.
The idea is still being vetted through the ANA, which is conducting additional surveys of its membership to gauge support, and a formal steering committee has yet to be organized, but the initiative appears to be taking on a life of its own.
The concept of creating a Nasdaq-like media trading system was first broached by Wal-Mart's Senior Vice President For Marketing Communications, Julie Roehm, during the ANA's 2005 Television Advertising Forum in New York more than a year ago, while she was a senior marketing executive at DaimlerChrysler.
The idea is not without controversy, as some of the largest national advertisers are opposed to the idea, and the ANA is not formally endorsing the pilot program--although it is a big proponent along with the American Association of Advertising Agencies for so-called "
eBiz for Media"
systems, and it plans to serve as a forum for discussing the idea through its committees and at forums such as the Financial Management Conference.
Meanwhile, smaller online ad companies have joined the fray--with an announcement from Bid4Spots, an online ad broker that uses an innovative "
reverse auction
" model, that it plans to branch out into TV ad sales over the next year, according to founder and CEO Dave Newmark.
BATTLESTAR GALACTICA Exclusive Comic Con Figure Announced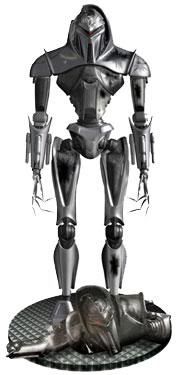 EDITOR'S NOTE: IS IT JUST ME, OR DOES THIS LOOK AN

AWFUL

LOT LIKE A SW SUPERBATTLEDROID?!

Majestic Studios announced that a giant 13.5 inch Battle Damaged Cylon Centurion from the Battlestar Galactica TV series will be sold at the 2006 Comic Con.
"
This will not be just a repaint of our regular version Cylon
," says Majestic CEO Rick Phares. "
It has a completely different head sculpt, which shows just what a few blaster hits can do to a Cylon head. But, since the blasts did not hit the "brains," he just keeps attacking."

The piece will be available on a first come, first served basis. 100 will be available on Preview Night (July 19), the remainder will go on sale the next day.
"
This figure is technically the most difficult project I've had the pleasure to work on
," says Phares. "
It is made up of hand poured polyresin, hard plastic ABS and soft plastic PVC. While we did have the benefit of the exact computer design from special effect company ZOIC, every piece of our figure needed to be engineered from scratch since there are obviously no user's guide or manual for Cylon movement."