And we're BACK....TV Dweebing
Brat Pack's Ringwald to Appear on MEDIUM
Actress Molly Ringwald is coming back to TV for a guest appearance on MEDIUM.
In the episode to air on May 1st, Patricia Arquette's Allison DuBois has visions that lead her to conclude that Ringwald's character is in great danger.
Ringwald last appeared on TV a few years ago. She is best known for appearing in such films as PRETTY IN PINK, THE BREAKFAST CLUB, and SIXTEEN CANDLES.
Jack is Back for 72 More Hours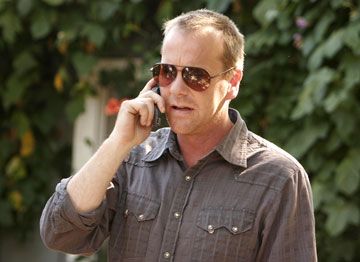 20th Century Fox has signed a deal with Kiefer Sutherland to keep him on 24 for three more days/seasons.
EDITOR'S NOTE: I AM ALMOST TWO DAYS/SEASONS BEHIND. I HAVE THEM ALL ON TAPE. I GUESS I DON'T HAVE TO GET A LIFE AFTER ALL, AND WE ALL KNOW WHAT I WILL BE WATCHING THIS SUMMER.
The deal, reportedly worth $40 million, elevates Sutherland to being the highest paid actor on a drama series. In addition, he'll also become an executive producer on the series.
Per report,
"Sutherland and show producers are considering bringing the drama to the big screen. The actor said he and the writers had once thought about cranking out a film version this summer, but the desire for quality control trumped their eagerness."
EDITOR'S NOTE: I ALREADY FORWARDED THIS NEXT ONE ON TO NON-DWEEBPAL/GILMORE FANATIC DEBS. IF YOU LISTEN CLOSELY, YOU CAN STILL HEAR THE WEEPING. (
AND YES, THE QOTD DOES HAVE NON-DWEEBPALS. A FEW, JUST TO KEEP IT REAL
).
Crushing news for Gilmore Girls fans!
My good bud Michael Ausiello, over at TVGuide.com, has a bit of a news alert for all you "Gilmore Girls" fans. Make sure there's nothing breakable in your reach, before you read this though, OK?
"If you thought rumors of a Lorelai-Christopher hookup in the season finale were as bad as it could get, you've got another think comin' — and this one's a real heartbreaker. Series creator Amy Sherman-Palladino has opted not to renew her contract and will be leaving at the end of the season — and she's taking husband Dan with her. I wish I were joking.
"The news was delivered to me late yesterday, and I'm still in denial. The most fantabulous dramedy in aeons, if not ever, is headed into what is likely to be its final season — and its first season on a brand-new network — without its mama or her right-hand man. [Sigh] Well, you can bet that when I chat with AS-P herself in a few minutes, I'll get to the bottom of this. And once I know anything, so will you. In the meantime, feel free to panic. I know I am."
Initially, the plan was for the new CW network to make a double-header out of "Gilmore" and "Veronica Mars". EDITOR'S NOTE: I JUST HOPE THIS DOESN'T ENDANGER MY ADORED "VERONICA". (A SUPER SHOW!)
Ausiello later said in his weekly column, that : "Relax. Breathe. Read. No decision has been made either way. As I understand it, both sides — Team Palladino and Warner Bros. — are still trying to hash out a deal that would bring them back next fall for a seventh season. But I'd be lying if I told you there weren't some really scary moments yesterday. The situation is extremely fluid, but rest assured the moment I have something definitive to report — no matter what the hour — I will post an update on The Ausiello Report. I am on this story like Emily on the rocks."
Three more 'Flirt'; two 'Drive'
Marco Sanchez, Guy Torry and Marcelle Larice have been added to the CW's comedy pilot "Flirt," while Shahine Ezell and Andres Saenz-Hudson have been cast in Fox's drama pilot "Drive."
Meanwhile, Stephnie Weir has been bumped up to series regular on the ABC comedy pilot "A Day in the Life." "Flirt," from Touchstone TV, stars Wayne Brady as the only man working at a women's magazine.
TBS hookup: 'Boys,' 'Sex'
TBS has found a friend for Carrie Bradshaw.
Turner Broadcasting's comedy-centric cable channel unveiled a companion sitcom for its syndicated acquisition "Sex and the City" scheduled to air in the fourth quarter. The new half-hour, "My Boys," was one of many projects Turner unveiled Tuesday at its upfront presentation at Madison Square Garden in Manhattan.
TBS' drama-oriented sister network TNT had plenty of its own new programming to crow about, including "The Company," a six-hour limited series from executive producer Ridley Scott set for summer 2007. EDITOR'S NOTE: 2007? WHAT ABOUT THIS SUMMER!?
Produced by Sony Pictures Television and Pariah, "Boys" stars Jordana Spiro ("JAG") as a female sportswriter trying to find love despite her tomboy tendencies. Executive producers are Gavin Polone ("Curb Your Enthusiasm"), Jamie Tarses and writer Betsy Thomas ("Run of the House").
Noxon stakes out Touchstone
Former "Buffy the Vampire Slayer" executive producer/showrunner Marti Noxon has signed a two-year overall deal with Touchstone TV.
Under the seven-figure deal, Noxon has joined the studio's drama pilot for ABC "Brothers & Sisters" as an executive producer. She also would serve as showrunner if the drama starring Calista Flockhart and Rachel Griffiths is picked up to series.
Additionally, Noxon will develop her own projects for Touchstone TV
More feature helmers work in TV
Spike Lee, F. Gary Gray, Tim Story, James Mangold, Frank Darabont, Callie Khouri, Barry Sonnenfeld and Adam Shank-man were all furiously shooting or in postproduction during the weekend to get cuts of their latest projects finished and into the studios on time.
But the studios in question were not the film studios they usually work for but rather television studios, and the projects they were completing were not movies but pilots. This year, feature directors turned out in big numbers to helm pilots. In addition to the aforementioned, the list includes Jon Avnet, Joe Carnahan, Peter Berg, Jon Turteltaub, Bruce Beresford, Andy Tennant and Simon West. EDITOR'S NOTE: GOOD NEWS. IF THEY CAN MAKE THE TRANSITION. AND IF THE SCRIPTS ARE ANY GOOD.