And we're BACK...Movie Dweebing
STAR TREK: The Beginning? Or The End?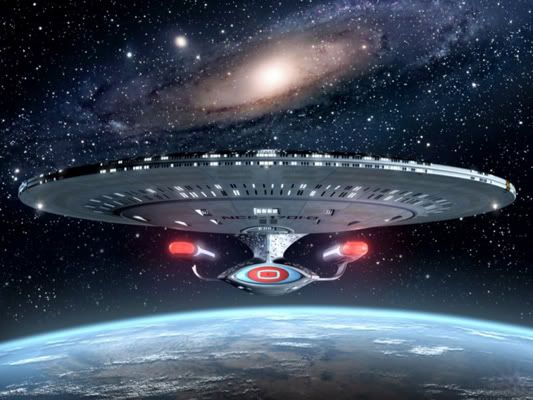 SyFy Portal recently caught up with screenwriter Erik Jendresen who wrote a draft for the STAR TREK feature film tentatively called THE BEGINNING. But with executive changes at Paramount, the project has been abandoned.
Jendresen created "
a story
that would take place betweent the end of the series and the original adventures. He says the idea was being positioned for a possible trilogy, and would in some large part center around the Romulan Wars from Trek mythology."
He admits that his idea has few champions currently at Paramount and its future is unknown.
Star Trek XI Is Down, But It Is Not Out
EXCLUSIVE: Erik Jendresen shares some of his ideas on the future of the Star Trek franchise(April 12 2006) - The following story contains MODERATE SPOILERS for the proposed "Star Trek: The Beginning" film.
EDITOR'S NOTE: EXTREMELY MODERATE, GIVEN HOW UNLIKELY THE FILM IS TO EVER SEE THE LIGHT OF A THEATER.
For the first time in nearly three decades, there is no Star Trek on television, and there isn't some kind of Star Trek film project in the works. Such a rarity might cause unease in the normal person. But for a passionate Star Trek fan? It's like cutting off their arm and beating them with it.
EDITOR'S NOTE: I WOULD MAINTAIN....AND GO WITH ME FOR A SEC HERE... THAT THIS DOESN'T CAUSE ANYTHING, NO UNEASE WHATSOEVER IN A NORMAL PERSON. AND EVEN A NORMAL TREK FAN (AND THEY

DO

EXIST) IS PROBABLY SANGUINE ABOUT IT, WAITING FOR THE TIDE TO TURN AND BETTER ANGELS TO TAKE OVER THE FRANCHISE.
AND THAT GUY WHO WANTS TO CUT OFF HIS ARM AND BEAT HIMSELF (
AND IT IS ALMOST CERTAINLY A GUY
)? WELL, BETTER LIVING THRU CHEMISTRY, MY FRIEND. STAY ON THOSE MEDS.
Last year, Erik Jendresen -- the Emmy-winning writer best known for the "Band of Brothers" miniseries on HBO -- was commissioned to write a script that would become the 11th Star Trek motion picture. Instead, even more uncertainty was created of the Star Trek franchise's fate, opening the door for wild rumors, heavy speculation and reports that are just half correct.
Just before delivering his final script to Paramount, Jendresen shared some of his ideas and hopes for what could be a true new beginning of Star Trek with SyFy Portal.
And now that many observers have buried his project, Jendresen is talking again ... not just about where he thinks Star Trek should go, but quite possibly where Star Trek will go in a movie project that isn't as dead as people think.
EDITOR'S NOTE: OH. OK. I STAND...WELL, SIT....CORRECTED?
The reception of "The Beginning" was a "
classic case of Hollywood regime change
," Jendresen told SyFy Portal's Michael Hinman. "
A project is greenlighted by one regime, and by the time it's delivered, there's a coup d'etat."
Jendresen is referring to the replacement of Paramount co-president David DeLine with Gail Berman, which was part of the Paramount reshuffling after Brad Grey took over as chairman and chief executive officer of the studio in January 2005. DeLine, Jendresen said, was a supporter of the project and of Jendresen's concept. However, new management usually brings new ideas, and that sometimes makes it more difficult for older ideas, like "The Beginning," to peek its head above water.
It's not necessarily that Gail Berman and company aren't interested in Jendresen's idea. They are just trying to evaluate the future of Paramount's most profitable franchise of the last 40 years, and what the next step could be. Paramount could opt for a whole different approach, or officials there could very well re-explore the movie trilogy concept that has been proposed by Jendresen.
Jendresen said the idea of "The Beginning" came about because there was simply a "huge void" in Star Trek canon between 2164, the perceived end of "Star Trek: Enterprise," and 2233, where the original "Star Trek" series picks up. A lot of things are supposed to happen during that time, including the formation of the United Federation of Planets, and the dreaded Romulan War.
EDITOR'S NOTE: HAD PARAMOUNT NOT SPENT THE LAST 40 YEARS...ON AND OFF...SCREWING WITH THE CONTINUITY OF THE TREK FRANCHISE, THIS WOULD ALL SEEM LIKE A MUCH BIGGER GAPING HOLE.
"
So the notion was to do a prequel to the original series and fill that void with, ostensibly, a trilogy,"
Jendresen said. "
Three films, which all would deal with Kirk's progenitor, a man by the name of Tiberius Chase."
The goal of the trilogy was to begin to establish reasons "
to form the United Federation of Planets, a reason to have this deep-seated desire and mission statement to go boldly where no one has gone before."
EDITOR'S NOTE: DOES THIS NEED A BACK-STORY? I MEAN, ISN'T THE URGE TO EXPLORE KIND OF HUMAN NATURE?
So how does one go about doing that? By going for the golden crown -- the Earth-Romulan War.
"
We wanted to reveal the actual cause of that war, which was surprising to all involved at the time,"
Jendresen said without offering details. "
We simply wanted to reveal the truth behind that startling incident."
EDITOR'S NOTE: WE HEARD THE ROMULANS HAD WMDS? AND THE ROMULANS THOUGHT WE WERE INFIDELS? (SNICKER....)
By the time the script was delivered, DeLine was gone and new personnel were in place. And since the project moved into the inactive status, it was easy for others with connections to Hollywood to declare the project dead, even if it really wasn't, Jendresen said.
"
Essentially, what's being said is true
," Jendresen said. "
This is 'dead' because it's not moving forward. It's like a shark. It has got to keep moving or it's dead."
But Hollywood has a knack of bringing things back from the dead, and that includes Star Trek projects. And Jendresen still believes there is at least a decent chance that "The Beginning" will come to fruition on the big screen.
"
There is a producer at Paramount who has been championing this and the notion that we have the opportunity to plug the gap with this trilogy
." Jendresen said, without providing names.
"We have a chance here to fill in the canon, and to create a continuum ostensibly from the beginning from 'Enterprise' all the way out to the future.
"
It should also be indicated that the ultimate intention here was to craft a story that would not only completely satisfy the fans, but just as importantly, bring new people into the franchise."
Casting for DARK MATERIALS Begins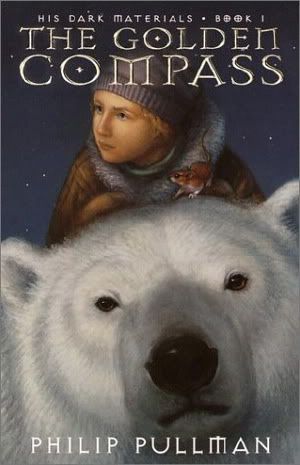 In Oxford yesterday, thousands young girls auditioned for a chance to star in the big screen adaptation of HIS DARK MATERIALS by Philip Pullman.
EDITOR'S NOTE: FORTUNATELY, THERE WERE STILL A LOT OF GIRLS LEFT IN LINE FROM THE LUNA LOVEGOOD AUDITIONS.
The trilogy's first installment, THE GOLDEN COMPASS, centers a young protagonist named Lyra Belacqua who travels to the Arctic Circle to save a friend with the help of a bear and a witch.
The producers are searching throughout England to find an actress aged 9 to 13 who can embody Lyra's
"loyalty, bravery and mischievous nature."
EDITOR'S NOTE: THEY SAY 'MISCHIEVOUS', I SAY PIG-HEADED AND IMPETUOUS.
Sutter IN-CRIME for Warner
Warner Bros. Pictures has set Kurt Sutter to direct IN-CRIME.
The story centers on an unorthodox team of police specialists whose mission is to catch major criminals in the act.
Sutter will do a polish on the script before casting begins. Lorenzo di Bonaventura and Antoine Fuqua will produce
Etel, Watson & Chaplin Dip into WATER
Walden Media, Beacon Pictures and Revolution Studios have set Alex Etel, Emily Watson, and Ben Chaplin to star in THE WATER HORSE.
Based on the Dick King Smith novel, the story a lonely boy in Scotland (Etel) who finds a mysterious egg on the shore of a lake. When the egg hatches, what emerges is a "water horse," a mythical sea monster of Scottish legend.
Jay Russell will direct. Filming will begin in May in Scotland and New Zealand.
'King's Men' holding court in September
Sony Pictures has scheduled the release of its delayed drama "All the King's Men" for Sept. 22, the studio said Wednesday.
The Steven Zaillian-helmed film -- which features an Oscar-caliber cast of Sean Penn, Jude Law, Kate Winslet, James Gandolfini, Mark Ruffalo, Patricia Clarkson and Anthony Hopkins
EDITOR'S NOTE: WOW. QUITE A CAST!
-- originally was slated for a Dec. 16 bow last year amid high hopes for awards-season success. But "King's Men" -- a remake of the 1949 film of the same name, based on Robert Penn Warren's 1946 Pulitzer Prize-winning novel -- was bumped less than two months before its release because the film's editing and music were not finished.
'Dead' team to ride along with 'Fuzz'
The "Shaun of the Dead" team is back, and this time the fuzz has caught up with them.
Rogue Pictures has nabbed North American distribution rights to "Hot Fuzz," a police comedy featuring "Dead" stars Simon Pegg and Nick Frost, director Edgar Wright and producer Nira Park from Working Title Films in association with Big Talk Prods.
The film is tentatively scheduled for release early next year.
Wright and Pegg penned the screenplay for the estimated $12 million film, in which Pegg plays a successful London cop whose jealous co-workers transfer him to a podunk British town and place him with a hapless partner (Frost). The pair stumble upon a series of suspicious accidents.
Krumholtz's number up for Allen pic
David Krumholtz, star of CBS' "Numbers," has signed on to star opposite Michelle Williams in Woody Allen's untitled Paris-set movie. Like most of Allen's movies, story details are being kept under wraps, though it is understood to focus on a trio of young Americans in the City of Lights.
Production begins in the summer. Written and directed by Allen, the movie is being produced by Letty Aronson, Stephen Tenenbaum and Gareth Wiley. Vincent Maraval, Benjamin Waisbren and Daniel Wuhrmann are exec producing.
EDITOR'S NOTE: SO KRUMHOLTZ IS THE NEW ALLEN-STANDIN DESIGNATE? (I LIKE HIM, SO THAT'S GOOD NEWS. DOUBLY GOOD THAT ALLEN IS FINALLY NO LONGER PLAYING HIMSELF OPPOSITE THESE YOUNGER ACTRESSES. SHUDDER....)
Ferris Bueller Vs. The Penguin
Good to see Matthew Broderick's back in the game. Panned or not, "The Producers" film has definitely put him back on the books.
Next cab off the rank for Ferris Bueller is "All Lit Up", a comedy that'll team him with another guy we don't see enough of these days, Danny DeVito. According to Variety, the two will play neighbours who start feuding when one decorates his house so brightly for for Christmas that you can see it from space!
The movie, which starts shooting next month, marks the reunion of "Big Momma's House 2" director John Whitesell and screenwriter Don Rhymer – so expect plenty of highly-intelligent gags.
EDITOR'S NOTE: SNORT. RIGHT. HASN'T TIM ALLEN ALREADY MADE THIS MOVIE? (TWICE?)
Mr and Mrs Smith reuniting for Ocean's?
Channel 4 News reports that Brad Pitt's trying to convince Angelina Jolie to play a role in the forthcoming "Ocean's Thirteen", which starts rolling in July.
With Catherine Zeta Jones and Julia Roberts out of the picture, the sequel is in need of a couple of beauties – Ellen Barkin is the only female cast member onboard at this point, not that these flicks haven't always been about 'the boys' anyway.
Paul Giamatti in horror sequel?
According to
Bloody Disgusting
, the "Cinderella Man" and "Sideways" star is rumoured to have signed onto the sequel to B-horror fave "Bubba Ho Tep".
The film will again star genre-king Bruce Campbell, reprising his role of an aged Elvis Presley who passes time fighting monsters.
In "Bubba Nosferatu: Curse of the She-Vampires", Elvis is shooting a film in Louisiana where he runs afoul of a coven of she-vampires. Giamatti will play the fantastically named Colonial Parker.
Don Coscarelli again writes and directs.
EDITOR'S NOTE: AND NOW, MOVIES BASED ON GAMES AND COMICS: (A SUBHEADING, SINCE THERE IS A PLETHORA IN THE WORKS):
X marks the spin-off
Apparently the "Wolverine" and "Magneto" spin-off films – sorry, of "X-Men", that is, for the uninitiated – aren't the only two spawns of the FOX franchise in the works. "X-Men 2" writer Zak Penn tells
Superhero Hype
that he's at work on a third spin-off film, but fails to mention what the heck it is.
"
Actually, I am contracted to write and direct one of the spin-offs
," he told the site. "
One of the things about Hollywood is that it doesn't mean it's necessarily going to happen, but part of my deal was that I would get to direct one of the spin-offs. It's not going to be 'Wolverine' or the 'Magneto' one that they've announced. It's going to be one that I'm theoretically supposed to write. I just have to find the time to write it."
Penn says he won't have much choice in choosing which characters are in his spin-off because "
It's all about actor availabilities and about Marvel and everyone else".
He did say, however, that the goal would be to use some of the pre-existing characters, from the other films, for the spin-off – whether that be Storm, Juggernaut, Rogue, Colossus and so on – but it would depend on which actors were available to do it. At the same time, he would also like to introduce some other of the other characters from the "X-Men" comics, who have yet to have had a movie outing.
David Dobkin R.I.P.D.

Universal Pictures has signed David Dobkin to direct the big screen adaptation of Dark Horse's comic book,
R.I.P.D..
The comic book, written Peter M. Lenkov, centers on the
Rest in Peace Department
, the dedicated yet dead police officers who patrol the dead beat, made up of the deceased who refuse to go quietly. The story focuses on a cop who joins the department after being murdered and his search for the man who set him up as he does his duty fighting fiendish creatures.
EDITOR'S NOTE: I SWEAR THE UN-DEAD POPULATION IN COMICS-LAND IS MUCH BIGGER THAN THE LIVING ONE.
Neal H. Moritz and Mike Richardson will produce.
COLD FEAR Headed for the Big Screen
Avatar Films and Sekretagent Productions recently optioned the film rights to Darkworks' video game COLD FEAR.
Released in March 2005 by Ubisoft, players step into the role of Tom Hansen, a U.S. Coast Guardsman who is sent to board a drifting Russian whaling ship in the middle of a howling storm on the Bering Sea. He arrives only to discover that terrifying surprises await him on the bloodstained decks of the constantly rocking, shifting vessel. Set in a volatile, dynamic environment, the game will have players overwhelmed by fear as they engage in intense combat with intelligent enemies.
EDITOR'S NOTE: AND I'M SURE THE MOVIE WILL BE EVERY BIT AS 'INTELLIGENT'.
Mo Ramchandani, Jorg Ihle, Corey May and Dooma Wendschuh will produce.
Segal Says 'SHAZAM!'
New Line Cinema has signed Peter Segal to direct the big screen adaptation of DC Comics' SHAZAM!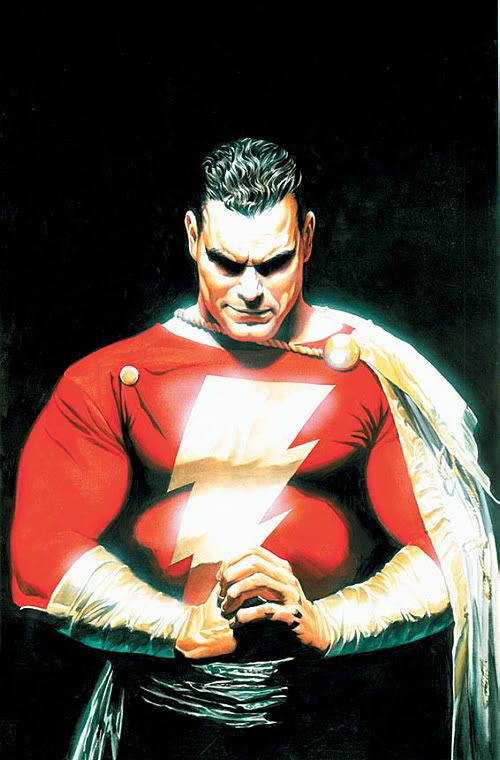 The story centers on Billy Batson, who becomes the superhero known as Captain Marvel when he utters the magic word "Shazam!"
EDITOR'S NOTE: DOESN'T THE ANDY GRIFFITH SHOW OR JIM NABORS OWN THE RIGHTS TO THIS PHRASE?
The name is an acronym for six gods and heroes of the ancient world as well as their attributes: the wisdom of Solomon, the strength of Hercules, the stamina of Aries, the power of Zeus, the courage of Achilles and the speed of Mercury.
EDITOR'S NOTE: RIIIIIIIIIIGHT...... (
WONDER HOW LONG IT TOOK THEM TO COME UP WITH THAT AFTER SOME WAG IN THE COFFEE ROOM FIRST THOUGHT UP THE WORD AND THOUGHT IT WAS COOL?
)
Peter Segal and Michael Ewing will produce. William Goldman and Bryan Goluboff have both worked on the script.
Germany's Stallion is WICKED
Germany's Stallion Film will take the Japanese manga WICKED CITY by Hideyuki Kikuchi and turn it into a live-action film. Mark Dippe will direct and co-produce the $50 million, Engish-language project.
The science-fiction story centers on beasts from a parallel dimension and a secret resistance organization trying to prevent the apocalypse. Mark Dippe and Johnny Hartmann are writing the script.
Kikuchi's manga was adapted as anime, YOJU TOSHI, by Yoshiaki Kawajiri in 1987.