And just a WEE bit more HODGEPODGE'ing
EDITOR'S NOTE: THE WEEK IS JUST TOO CHOCK FULL OF STUFF TO STOP POSTING. ZOWIE! (AND I'M AVOIDING WORKING ON MY TAXES, SO LET THE DWEEBING NEVER END!)
MORE MOVIES
Weinsteins trek with 'Arthur'
NEW YORK -- Madonna, Snoop Dogg and David Bowie are among the voices featured in "Arthur and the Minimoys," a live-action/CGI fantasy feature in production based on multihyphenate Luc Besson's popular French children's book.
The Weinstein Co. nabbed rights to the project in English-speaking territories, the company said Thursday.
Besson adapted his book for the screen and is directing the EuropaCorp.-produced feature, which centers on 10-year-old Arthur (Freddie Highmore of "Charlie and the Chocolate Factory"), who tries to save the home of his grandmother (Mia Farrow) by seeking out his grandfather's treasure in the land of the tiny Minimoys. There he encounters Princess Selenia (Madonna) and Max (Snoop Dogg), who travel with him to a city ruled by the nefarious Malthazar (Bowie).
EDITOR'S NOTE: WOW. WITH THE EXCEPTION OF HIGHMORE, I DON'T WANT TO SEE

ANY

OF THESE PEOPLE IN A MOVIE.
A LITTLE ABOUT THE BIZ:
Confidential movie budgets show how those millions are spent
FEBRUARY 28--Faced with decreasing box office receipts, fewer blockbusters, and a reduced production roster, the motion picture industry is facing several daunting challenges as it gathers this Sunday for the 78th Academy Awards ceremony.
But, really, who wants to focus on all that negative stuff when we can celebrate the lofty salaries, outlandish perks, and assorted other benefits of being a movie star?
The Smoking Gun has obtained internal budget documents detailing where the money was allocated on an assortment of big-budget Tinseltown productions. The records provide a line-by-line account of spending on each movie up to its completion, but do not reveal what the studio paid after that point for marketing and advertising (that secondary sum usually adds tens of millions to a movie's total cost).
Since this is our first posting of such Hollywood records, TSG has decided to initially focus on a quartet of movies by the same director (M. Night Shyamalan) and which were distributed by the same studio (Disney's Touchstone).
In each case, the financial documents were circulated up the ranks at Disney, where a succession of top executives had to sign off on Shyamalan's $70 million-plus budgets. One memo marked "confidential" shows that a dozen Disney officials, including the chairman and CFO of Walt Disney Studios, had to approve a film's total expenditures.
The budgets each run a minimum of 80 pages, so we've chosen to excerpt from three of the documents and reproduce one in its entirety.
The individual budget lines are divided into two categories: "above the line" and "below the line" expenses.
In the "above," or ATL, category, you'll find costs associated with a film's cast, writer, producer, director, stunts, and story rights. The remaining expenses--set design, camera rentals, special effects, film, editing, etc.--are categorized as BTL, or below the line.
Shyamalan is one of the movie industry's most bankable directors, with his four major films--"The Sixth Sense," "Unbreakable," "Signs," and "The Village"--achieving an average domestic gross of $160 million, which compares favorably to numbers rolled up by Steven Spielberg, Peter Jackson, and the Wachowski brothers. In terms of revenue, Shyamalan far outpaces better-known contemporaries like Quentin Tarantino, Tim Burton, Cameron Crowe, Kevin Smith, and the Farrelly brothers.
His films have featured actors from a revolving troupe drawn from all Hollywood strata: A-listers (Mel Gibson, Bruce Willis); children (Haley Joel Osment, Rory Culkin); young stars (Joaquin Phoenix, Adrien Brody, Bryce Dallas Howard); veterans (William Hurt, Sigourney Weaver); a Tony winner (Cherry Jones); and Samuel L. Jackson (Samuel L. Jackson). EDITOR'S NOTE: MR. JACKSON IS APPARRENTLY IN HIS OWN CATEGORY? His next film, "Lady in the Water" is scheduled for a July release and stars Paul Giamatti and Howard. And like his prior movies, it was filmed in Pennsylvania, where Shyamalan lives.
The budget records track the progression of Shyamalan's paydays following the runaway success of "The Sixth Sense," for which he was paid about $2.6 million to write and direct.
With nearly $300 million in domestic ticket sales, "The Sixth Sense" ranks 22nd in terms of all-time box office receipts ("Signs" is at 48 on that list, with nearly $228 million in ticket sales).
In his subsequent three productions, Shyamalan earned between $10 and $13 million per film.
But what the internal documents do not show is if Shyamalan received a share of any film's "back end," which is often customary for major directors and stars. Depending on a movie's success, such "points" can put millions--perhaps tens of millions--in a principal's pocket.
Records show that while Bruce Willis made $14 million for "The Sixth Sense," the film's other star, 10-year-old Haley Joel Osment, was a major bargain. Osment played "Cole Sear," a boy who saw dead people and was the psychological drama's emotional core. And one that only cost $150,000.
By comparison, Willis's private jet tab alone was $450,000 and an unspecified "other allowance" for him was budgeted at $339,492. Actress Toni Collette, who played Osment's mother, earned $1 million. For a small role, actress Mischa Barton (later of the Fox TV hit "The O.C.") was paid $26,050, records show.
Shyamalan's followup, "Unbreakable," carried a $73.2 million budget, though its U.S. gross ended up just shy of $100 million. However, overseas receipts and video/DVD sales surely landed the film in the black. Half the film's cost was attributable to paychecks for Willis ($20 million), Shyamalan ($10 million), and Jackson ($7 million). Actress Robin Wright Penn earned $2.5 million for her role as Willis's wife.
But the "Unbreakable" budget is more noteworthy (or entertaining, at least) for Willis's $1.5 million perk package.
While that figure covered on-set staples like a costumer and makeup artist, the actor, who portrayed morose security guard David Dunn, also got a personal assistant, masseuse, mobile gym, trainer, bodyguard, and other "personal perks," including a $500,000 allowance for private jet charters.
By comparison, the perk package for Jackson--who played comic art enthusiast Elijah Price--was relatively paltry. Jackson only rated first class airfares to Philadelphia from Los Angeles and a $200 per diem. But his gym and golf club memberships and his trainer's tab were footed by the production.
The $70.2 million budget for "Signs" was dominated by the whopping $25 million Mel Gibson was paid for his role as "Graham Ness," a widowed ex-minister bedeviled by crop circles and an alien. In addition, the actor's entourage expenses totaled nearly $1 million, with $300,000 of that figure earmarked for the star's "jet allowance" and another $57,000 for a "chiropractor/masseuse."
Gibson also received in excess of $1000 a day in per diem payments (the average daily "walking around" money provided for other on-location employees was $65).
Phoenix, who played "Merrill Hess," Gibson's brother, was paid $1 million, while Culkin earned $100,000 in the role of Gibson's son, "Morgan Hess." Shyamalan made $12.5 million for writing, directing, and co-producing the film.
The success of "Signs," which recorded a domestic gross of about $228 million, surely resulted in a salary spike for Phoenix, who was paid $5 million for portraying the male lead, "Lucius Hunt," in 2004's "The Village." The $71.6 million film also starred Brody as "Noah Percy," Weaver as "Alice Hunt," Howard as "Ivy Walker," and Hurt as "Edward Walker."
Though his part was originally budgeted for $3 million, Brody was paid $2.75 million for "The Village," which he began filming a few months after being awarded the Best Actor Oscar for "The Pianist." Weaver got $2 million, Hurt $1.25 million, and Howard just $150,000, according to financial records. EDITOR'S NOTE: I WAS FEELING BAD ABOUT SOMEONE ONLY GETTING 150K. AND THEN I REALIZED THAT THAT'S HOW MANY YEARS'-WORTH OF SALARIES FOR NORMAL PEOPLE? (AND HOW MANY YEARS'- WORTH FOR ACTORS IN THE TRENCHES?)!
While "The Village" earned about $115 million domestically (and another $140 worldwide), the film bowed to lukewarm reviews. In Slate, Michael Agger wrote that Shyamalan was continuing to make treacly and formulaic "sealed-off movies that fell apart when exposed to outside logic." Shyamalan "may have wanted to be Spielberg," Agger noted, "but money would be the measure of his success."
Whether or not that's the metric EDITOR'S NOTE: OOO...DEMERITS FOR USING THE WORD 'METRIC'. SHAME SHAME....which guides Shyamalan, the director earned his usual fat salary for "The Village." The components of his $10.7 million payday were: story rights ($7.2 million); writing services ($300,000); producing ($3 million); and directing ($221,000).
EDITOR'S NOTE: UMMM...IT'S NOT LIKE IT'S REAL MONEY, RIGHT? (OH....WAIT.....)

A LITTLE THESPING NEWS
Hedda Gabler
By Alexis Greene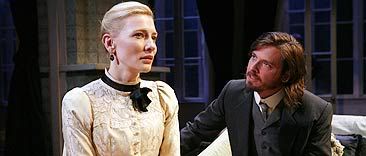 Bottom line: In her U.S. stage debut, film star Cate Blanchett gives a mesmerizing performance in Ibsen's classic drama.

Brooklyn Academy of Music, New York Through March 26

As Hedda Gabler, that Ibsen heroine who is both cold as ice and full of untapped passions, blond, sinewy Cate Blanchett paces the stage like an anguished animal imprisoned in a cage.

In her U.S. stage debut with Australia's Sydney Theatre Company, the film star ("The Aviator") gives a dynamic, complex performance to prove that she is as riveting in the theater as she is onscreen.

Written by Henrik Ibsen in 1890, "Hedda Gabler" always has challenged actresses, who have played her as everything from neurotic to sexually frigid to sexually voracious.

Under the astute direction of Robyn Nevin, Sydney Theatre Company's artistic director and CEO, Blanchett acts Hedda as a complicated woman who can't manage her conflicting emotions.

This Hedda is alternately impulsive and calculating, angry and seductive.

Newly married to the boring academic Jorgen Tesman (Anthony Weigh), she wriggles away from him whenever he touches her, but when lying on a chaise or cadging a forbidden cigarette from prurient family friend Judge Brack (Hugo Weaving, of "The Lord of the Rings"), the suggestive movement of Blanchett's hips and shoulders hints at a woman who is more sexual than she knows. Only in the brief scenes with the romantic intellectual Ejlert Lovborg (Aden Young) does Blanchett become still, momentarily enthralled by the man's sexual presence.

Blanchett's Hedda is humorous -- she's a woman who enjoys making sardonic comments. And there's a bit of Lady Macbeth in this Hedda, too, as she connives with her husband at the expense of the more imaginative Lovborg. Indeed, one of the production's revelations is that, for all of Hedda's disgust with her husband, they are well-matched: Both worry about status, both fear what people will think of them.

At BAM's Harvey theater, you look down on the curving, slightly thrust stage as though you were in an ancient Greek theater, and it is a good vantage point for this production. Designer Fiona Crombie has created an enormous room dotted sparsely with furniture and backed by a high glass wall. The few men and women in Hedda's life leave this room for the outside world, but Hedda hardly ever departs. She prowls in circles, from chair to chaise and back again, as penned up by her physical environment as she is by her personal limitations.

The production has drawbacks. The slow-paced first act struggles to get past Ibsen's exposition, and Julie Hamilton plays Tesman's fussbudget of an aunt as a high-pitched caricature.

But by the second half, Nevin sees to it that the characters and the action draw us in, and the staging holds us through Hedda's final, awful moments. And of course there's Blanchett, mesmerizing us with Hedda's graceful venom and tragically unfulfilled yearnings.

WHEDON'ING:
As Serenity hits DVD shelves across the land, we caught up with the mighty Joss Whedon for a little chat about the continuing adventures of our favourite Firefly-class vessel, his future plans, and his love of a certain Abba anthem.

But beware, ahead be BIG spoilers suitable only for those who have already seen Serenity. If you haven't scroll slowly and stop right after the words "a great boon". You have been warned!

Last time we saw you was at the Serenity premiere party, cutting some rug to Dancing Queen.It gets me on the floor every time! So you were obviously pretty pleased with the film at that point – looking back, are you happy with how it's gone?
Oh, I feel exactly the same way about the film as I did then, which is that I loathe every shot, I made 4 billion mistakes – and I quite like it.

Was it a big difference between TV and film? Did it feel different going in to work every day?
It didn't feel different but it was different. But because I had such continuity with the cast, because I had Jack Green who, apart from acting like you've known him your whole life, lights faster than most TV DPs [Director of Photography]; because I had Rich Sickler, my Assistant Director from Angel; and because I knew what I wanted so much, there was a huge amount of continuity. And every now and again somebody'd be like, "Oh, that's so TV" and I'd be like, "What…when I cut to the two-shot?" People just, because you worked in TV, have to hold it against you. I suppose if I'd come from music video they'd have said, "That's so music video!" What, the cut to the two-shot? You sort of can't win.

But the differences were there, in the size of the thing and the fluidity. Not the size of the screen, although we did have one shot that nobody saw in dailies on in the AVID (editing process) and it wasn't until a preview screening that someone noticed that the camera pulled back to reveal a grip sitting in the corner. An entire man was in the frame. OK, so that's the sort of thing we can't get away with. But when I talk about the size of the thing, it's the giant amorphous beast that is the story and how every little scene that you shoot in one day affects the other 60 days of shooting, and trying to keep hold of that and understand how much momentum you need and how high you need to be and where the energy is and what you're leading to. That's different. You don't have as much leeway, especially in an action movie, for the bizarre meandering that I am perhaps known for.

Given that this was the arc that was meant to end the series when it was so cruelly cut short, did you have to kill lots of your babies to get it down to two hours?
Oh God! You cannot imagine how many things I had to lose – and if I made five sequels I'd still not get all the stuff that I had in there. EDITOR'S NOTE: MAKE 5 SEQUELS. PLLLLLLEEEEEAAAASE! (HECK. MAKE 6).

It's different, it's completely different. But it's the devil's bargain, and it's a hell of a bargain. You get to make a big movie, and you get to watch your beloved friends and heroes up on the screen – but at the same time you can't delve into the nuance of every character's internal life because there just isn't time. The fact is that Kaylee and Inara are best friends – but they do not speak to each other for the entire film. It was just one of those things that fell by the wayside because it had to get shorter and shorter. I had them close together, I'd have them touch – do whatever I could to indicate that they were close, but they literally don't speak to each other.


So you have to trust the alchemy between the characters to somehow convey that?
Well, luckily they're so dialled in that they can feel it. They brought so much of that, so much of themselves to it. I said to Jewel once, "Take that piece of metal and toss it out," when Adam was tossing metal into the airlock. She picked it up and she's like, "This? This is useful! This is gorgeous! We'll need this!" It was pure Kaylee. I was like, "Yeah, OK" so in the scene you can
see her pick it up and start playing with it. I love that. She's not a Method person who has to be in character, she's Jewel until the cameras roll – but this time, she looked genuinely shocked – "How can you say that? Why would you throw this away?"
At the risk of sounding very fangirlish for a moment, I thought the flashback scene at the beginning of the film was a brilliant piece of writing – you managed to give the non-fans some history, give something new to those who had seen the series, and bring us up to date.
Thank you very much. You know, it's the hardest thing in the world to make this movie about nine people who have all already met. So I developed the idea of, "Oh, wait a minute – I should show River and Simon breaking out." Then I was like, "But it has to be a year later" and then everything fell into place and I realised I could do something that would not only introduce everything but reflect her state of mind. I had a great feeling when I got that; it felt like the right way to tell the story, even though traditionally, like in Stagecoach, you'd meet all these people as they met each other. Because I wasn't doing that, to have that prologue was a great boon.
So was it one of those, "Nailed that - now get me a drink" moments?
Yes. There was a drink involved.
Have you any apologies to the fans for killing Wash in such a spectacular fashion?
Not at all. I never apologise. The fact of the matter is that it was necessary to do so for many reasons – the most important being that if somebody doesn't die at the very beginning of that final battle you spend the whole battle going, "This is cool. Look! They're shooting."
EDITOR'S NOTE: SNIFFLE....
True – after that we thought you might kill everyone.
Exactly. After that, I could do a Wild Bunch on your asses. And that's what I needed people to feel. And then, I could cheat insanely. "Oh, looks like Mal's dead! Looks like Simon's dead! Looks like River's dead! – Oh, they're all OK!" The stakes were raised, so it had to be done. So I make no apologies for it, even though I've had some genuinely frightening angry fans.
Really?
Oh, I've had a couple. They weren't even large – it was just the intensity in their eyes, I was backing away. It was a test screening so the executives were all there and I was hiding behind them. But it was the right thing to do and everybody knew it. The only person who wasn't bothered at all by it was Alan, who was hilarious. He kept saying, "Um, my script ends at page 105. Everybody else's seems longer."
"No, that's the end – you land the ship, the credits roll."

"Oh, OK. It just seems like everyone else has more pages."

"No! It's an optical illusion."

"Oh, OK. And every time I go in the cockpit I get this funny feeling in my chest. It itches, I don't know why…"


So is there any hope for a Serenity sequel, or another series?
You know, we didn't exactly set the box office aflame. The DVD is doing quite well. Nobody's said anything. I don't rule it out, I'd love to do it, but I'm focusing on whatever's next, as are my actors. If anybody ever calls for us to come back together, that would be a great joy, but the fact that we got to make this film is, in itself, a bit of a miracle, so you don't ask for another one for a while.
How about Goners and Wonder Woman? Can you tell us more about those?
Not a whole lot. I am still writing Wonder Woman. It is very awesome but incredibly unfinished, but I should be finishing that in a little while and then I'll have a better idea of which film is actually going into production. But I can tell you that the film will be about introducing you to Wonder Woman. She'll be wearing the outfit and there will be the bracelets, the golden lasso and Greek gods. She comes from a civilisation where she's rather perfect, so she's the opposite to Buffy in many ways, but she's going through an adolescent rite of passage because she's new to the world.
But how about the Buffyverse? You mentioned in the webchat you guys did with us when the film came out that you were hoping to return to that soon.
We are trying to put together a Spike movie – I don't know if it's financially feasible. That's what I've been working towards for the past several months, and I should know fairly soon whether or not something's going to happen with that.